I'm about to start huge garden renovations in early September. And there was one key decorating job I needed to complete before my landscape designer arrived. And that was painting the exterior of the back of my house in one of the ziiiingiest shades known to man.
Let me give you a short tour with lots of oh-so-satisfying 'before' and 'after' pictures.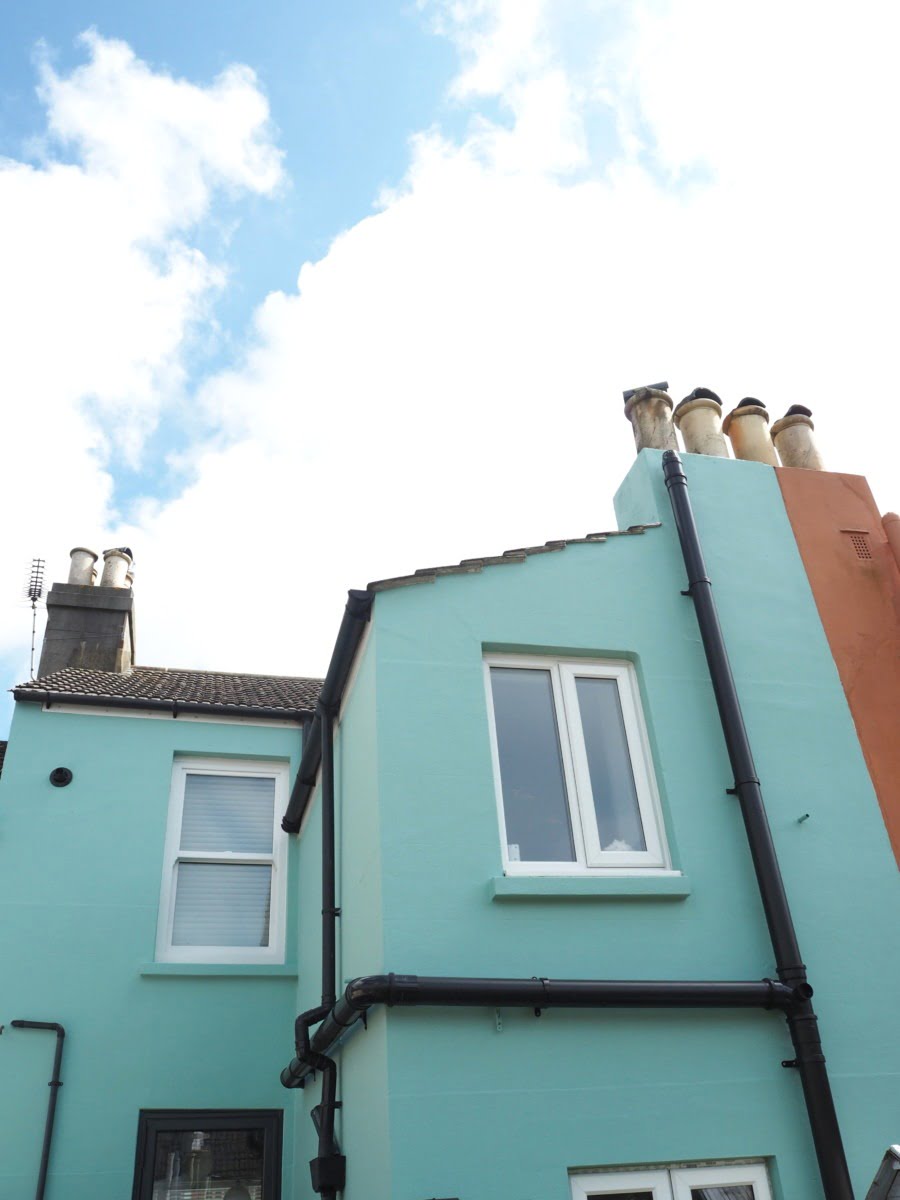 My Home
To give you a little back story on my house: it had been left empty for SEVEN years. That's seven years of no maintenance which every home needs to keep it in tip-top shape. Over the past two years, I've bashed my home into shape with makeovers on my kitchen and bathroom. I'm almost finished the living room and my two bedrooms. I have also done a lot of external work on the house, giving the front some serious 'Curb Appeal' (click on the links if you want to see these makeovers in more detail).
The back of my house is one of the big decorating jobs left to do with my home. My gardener said I needed to get the back painted before she could start on my garden ideas. The exterior of my house needed patching up and freshening up to make it garden-makeover ready.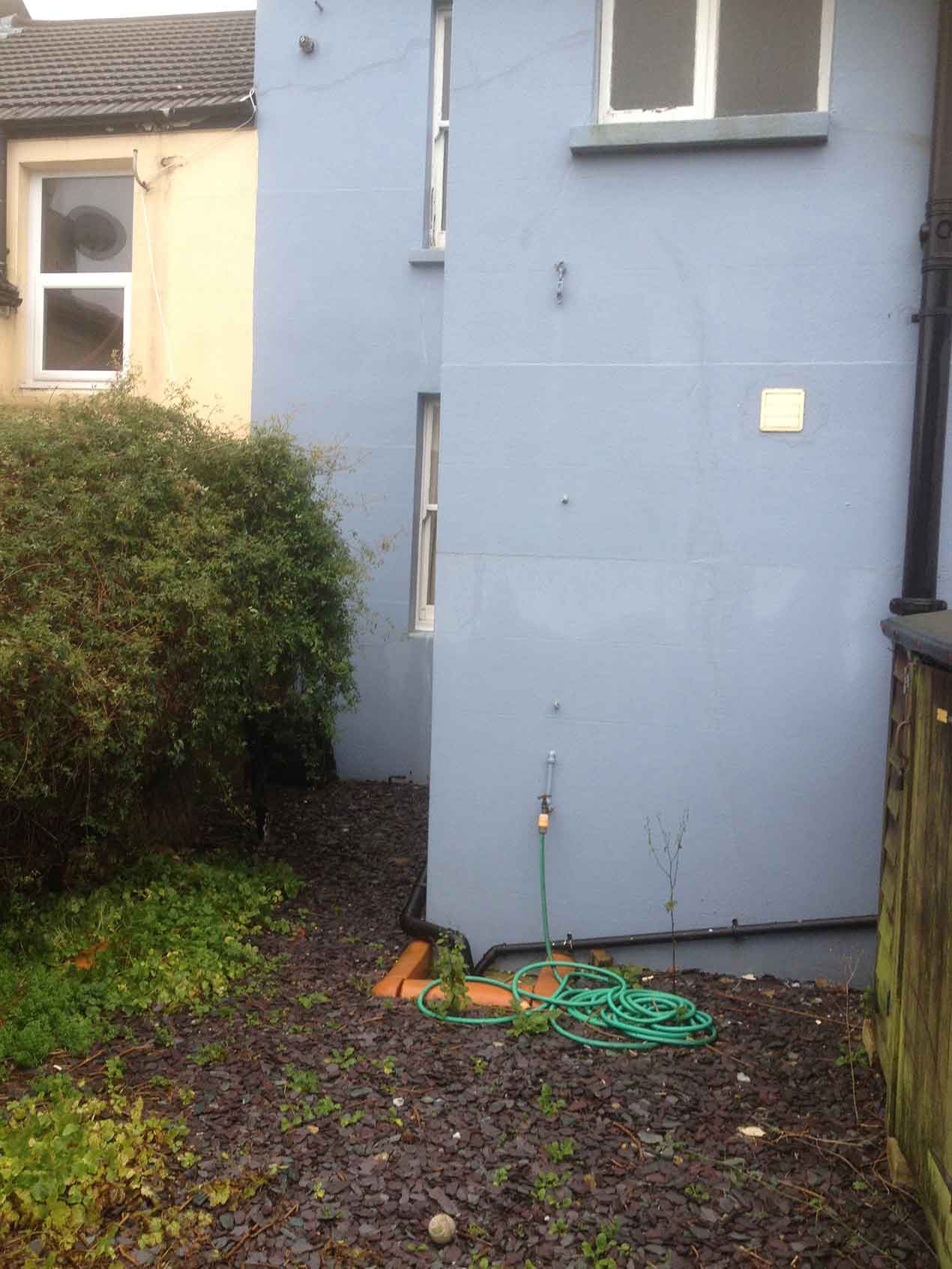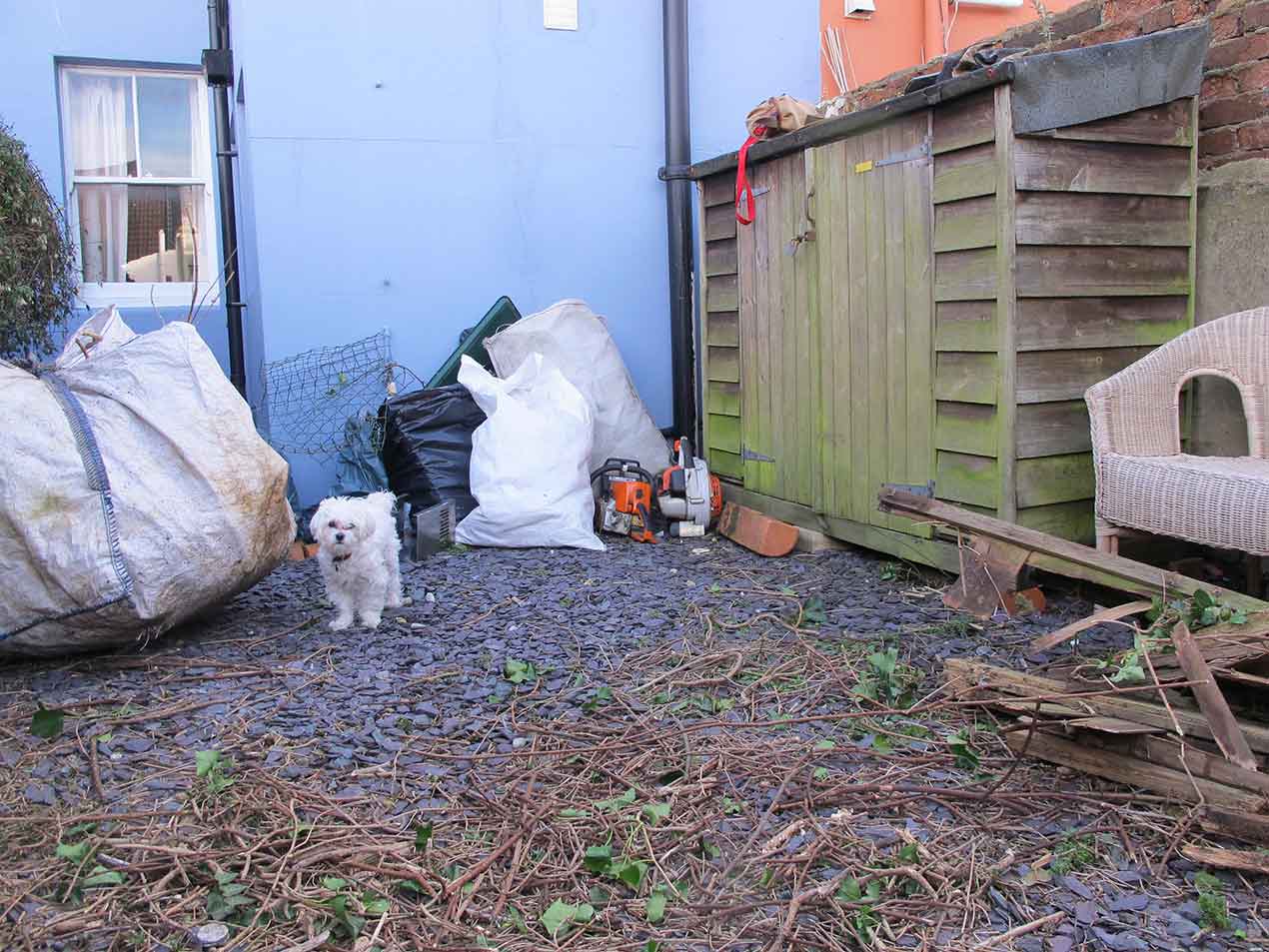 BEFORE
The back of the house was a bit of a state. There were large cracks all along the back which had let water into my house, causing damp in my guest bedroom and in my dining room.
I had put in a new window onto the kitchen and put in a new back door. I'd also filled in a window which had been rendered over but not painted. The guttering and facets where dirty and tired. The paintwork itself was a soft blue but it was covered with a lots of scrapes and bashes where I had workmen using my garden as a storage area during building works.
Basically, it was a mess.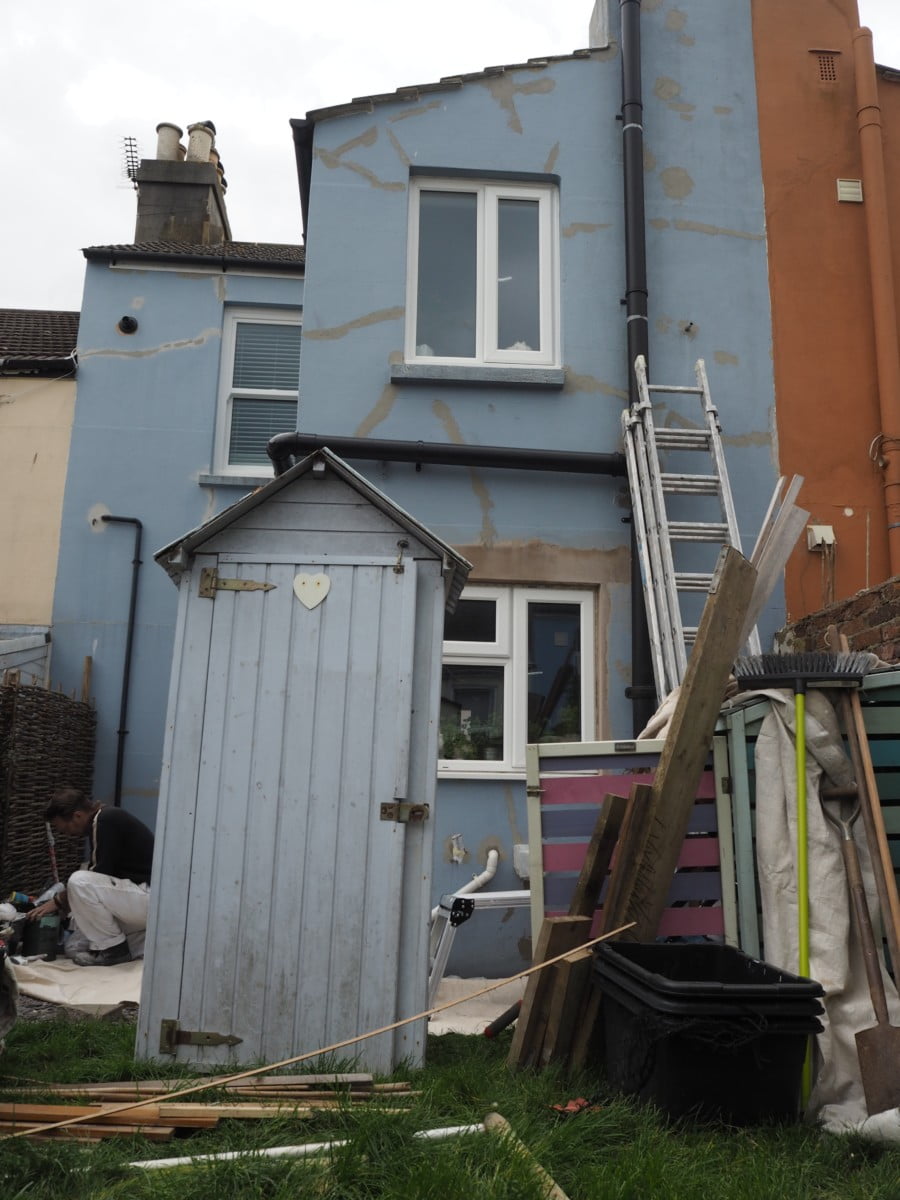 Why did I say No to DIY?
I did think about painting the back of my house myself. I painted my old home on a pair of wobbly ladders. But I'm not good with heights, and I know it would have taken me days to do it. And honestly, from past experience, I don't think I'd have got a great finish.
As my 40th birthday present my mum gave me the money to paint the back of my house. (My mum knows how to make me happy.)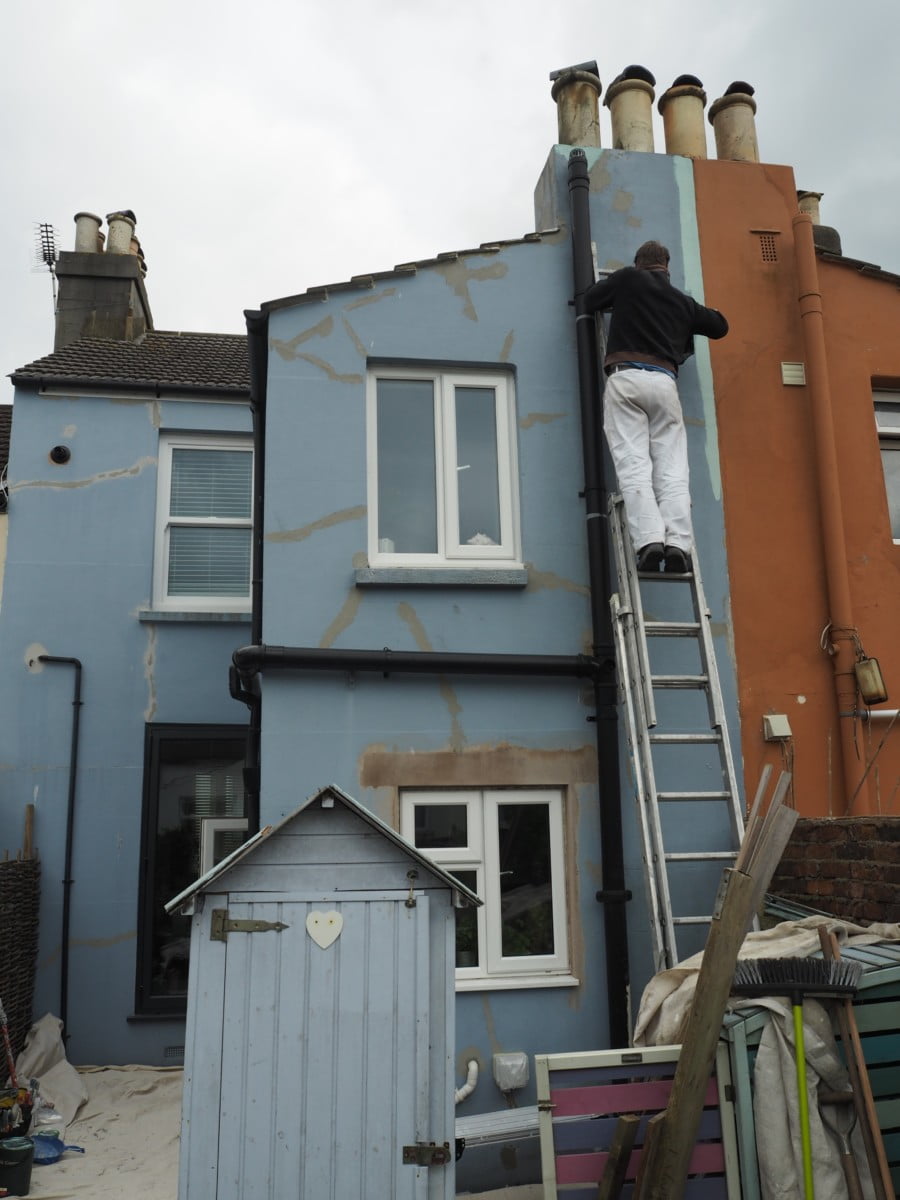 How Long Did It Take?
My friend recommended a local Brighton-based painter – Neil from Langman Decorating – and I booked him to do the back during the next patch of sunny weather.
The paint job took 3 days to do in total. Firstly, he had to prep the back of the house including filling in all the cracks, sanding back the paint work and filling in the holes. This took a day.
Then he could tackle the painting which took another two days. We did have a few issues with rain spoiling one coat of paint but the job finished in the time-frame.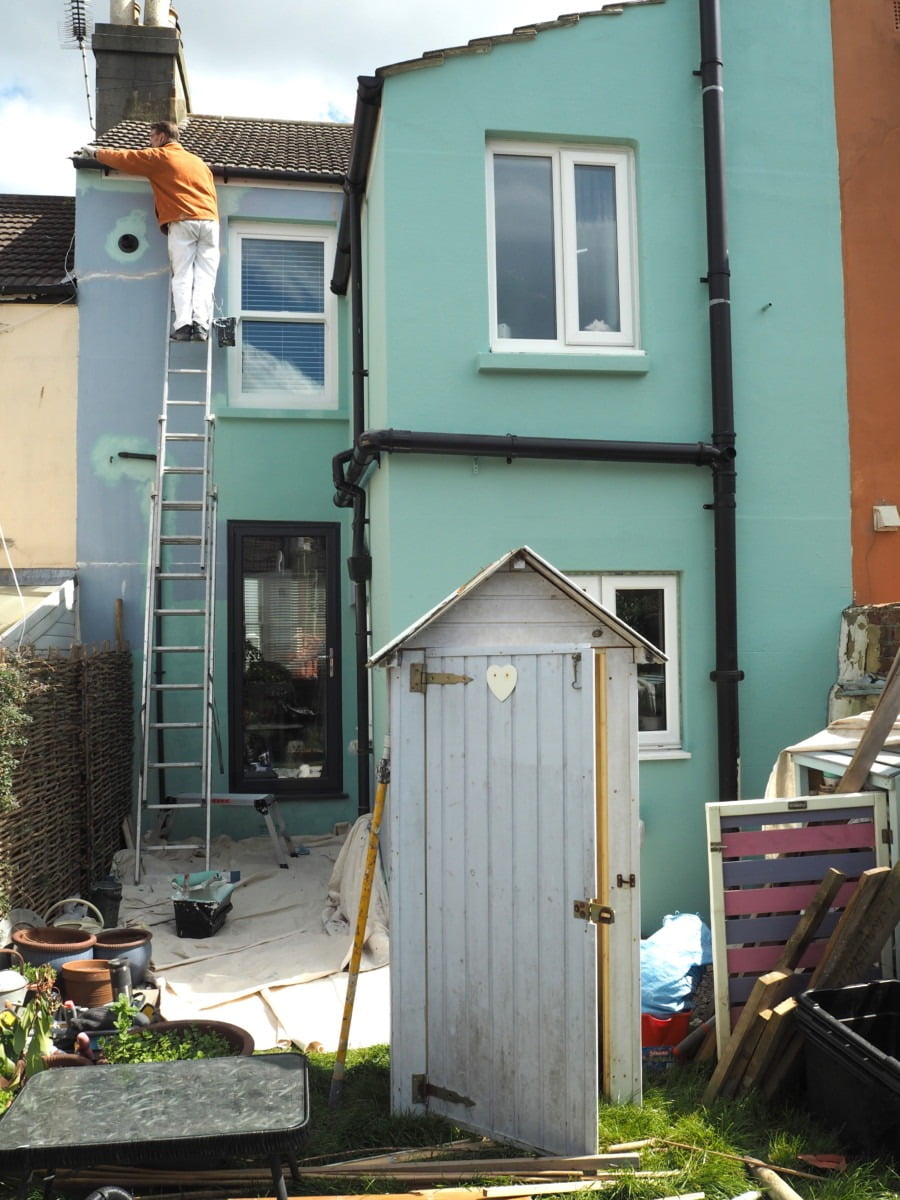 The Paint Colour
I wanted the back to match the front. It took me so long to pick the perfect paint shade that matched my neighbours' paint colours – terracotta to the right and cream to the left.
Plus, I bloody love this colour.
It's called Spearmint by Little Greene Paint Company. It's the best shade ever – and since I had the front painted in the same shade last year, people passing by my home stop and ask me the paint name.
Oh, and I just discovered it's eco-friendly paint which gets a big tick from me.
The walls took two coats of masonry paint. My decorator gave my plastic window frames a really good clean so they sparkled white again. The guttering was also painted over black to look like new, and then the wooden facets (the bits the roof gutter is fixed to) were painted fresh white as well.
Tip: Always use good quality masonry paint if you want your home to look good for longer.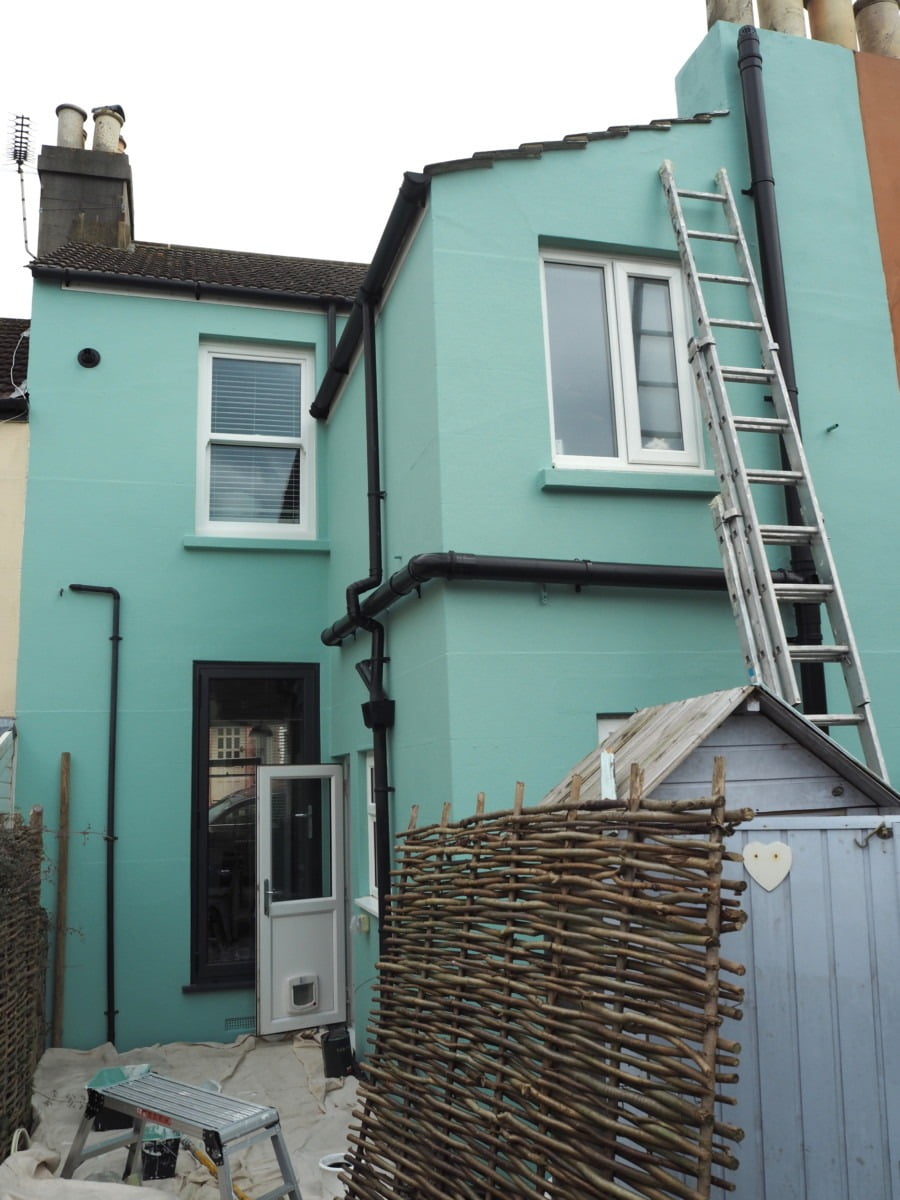 Costs
Labour – 3 x days @ decorator at day rate
Paint – 5 Litres of Little Greene Paint = £62
Total: £422
Ways I saved on costs:
I didn't need scaffolding which would have added another £250 to the overall price.
My windows at the back are plastic so they didn't need painting which save time and money.
I shopped around for a good quote, and was willing to be slipped in between other jobs.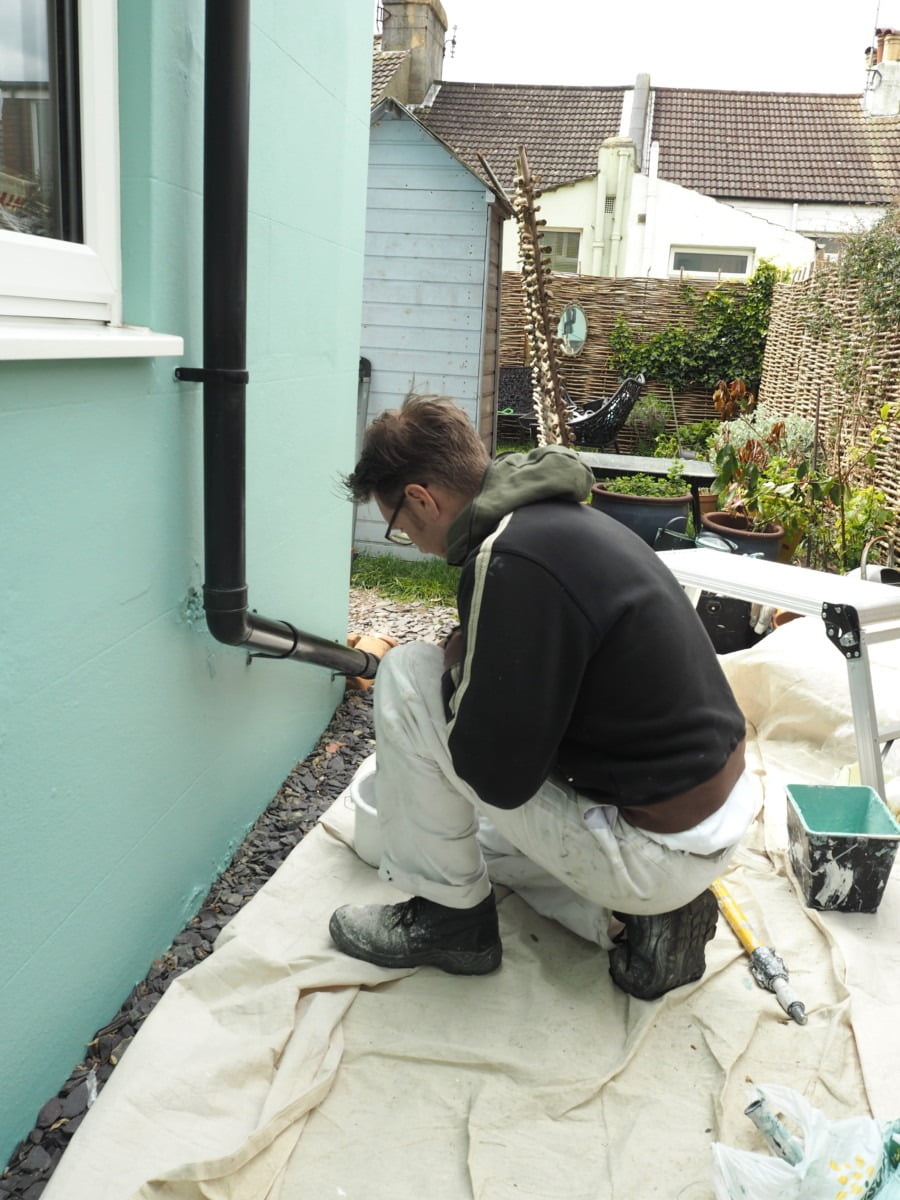 AFTER
Ready, steady – go!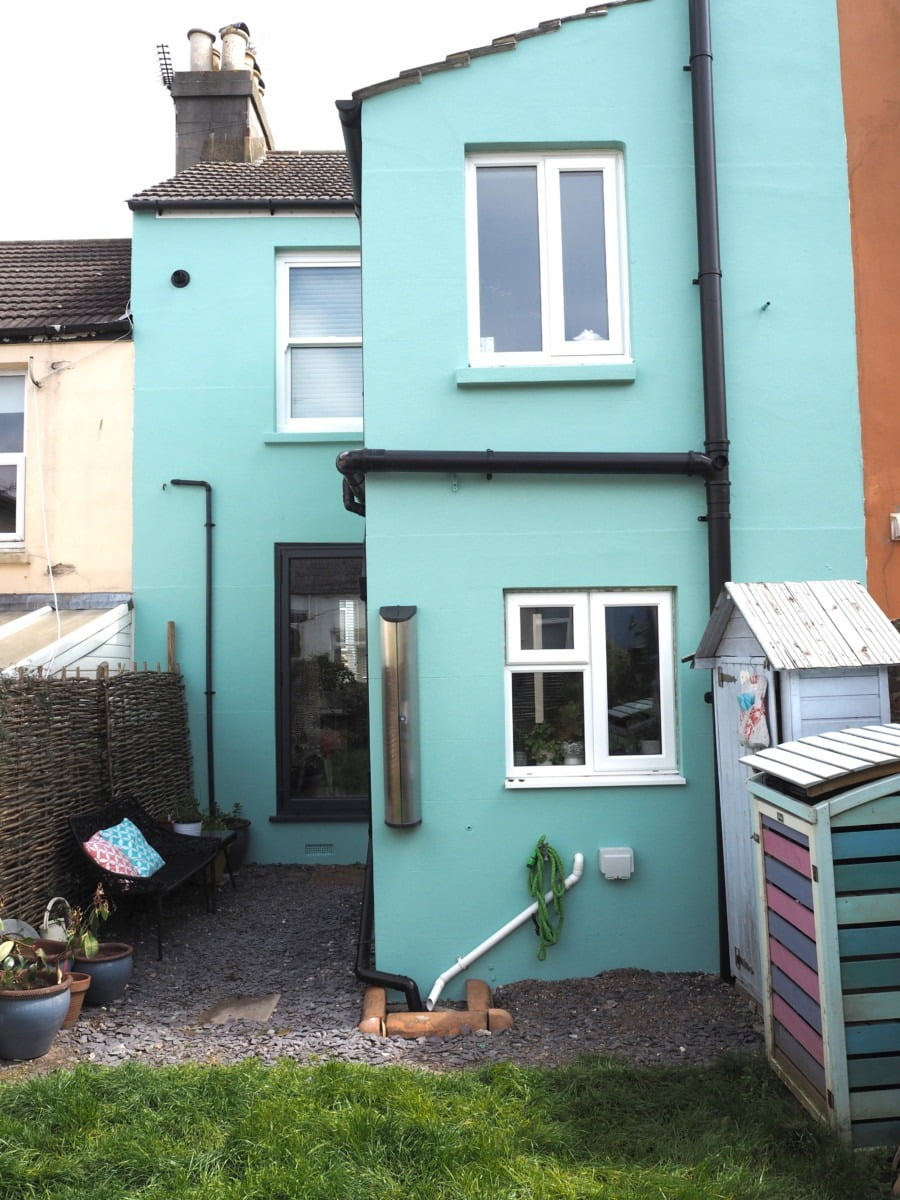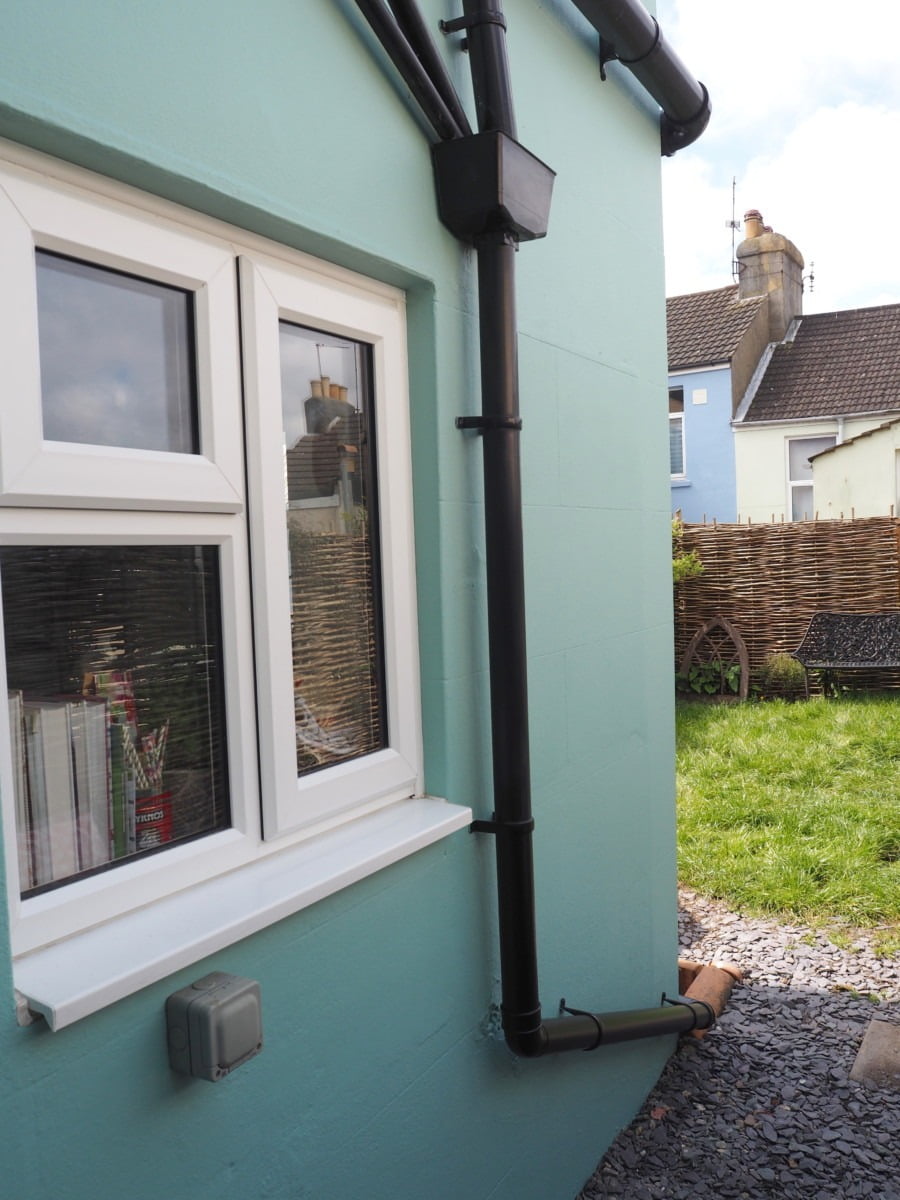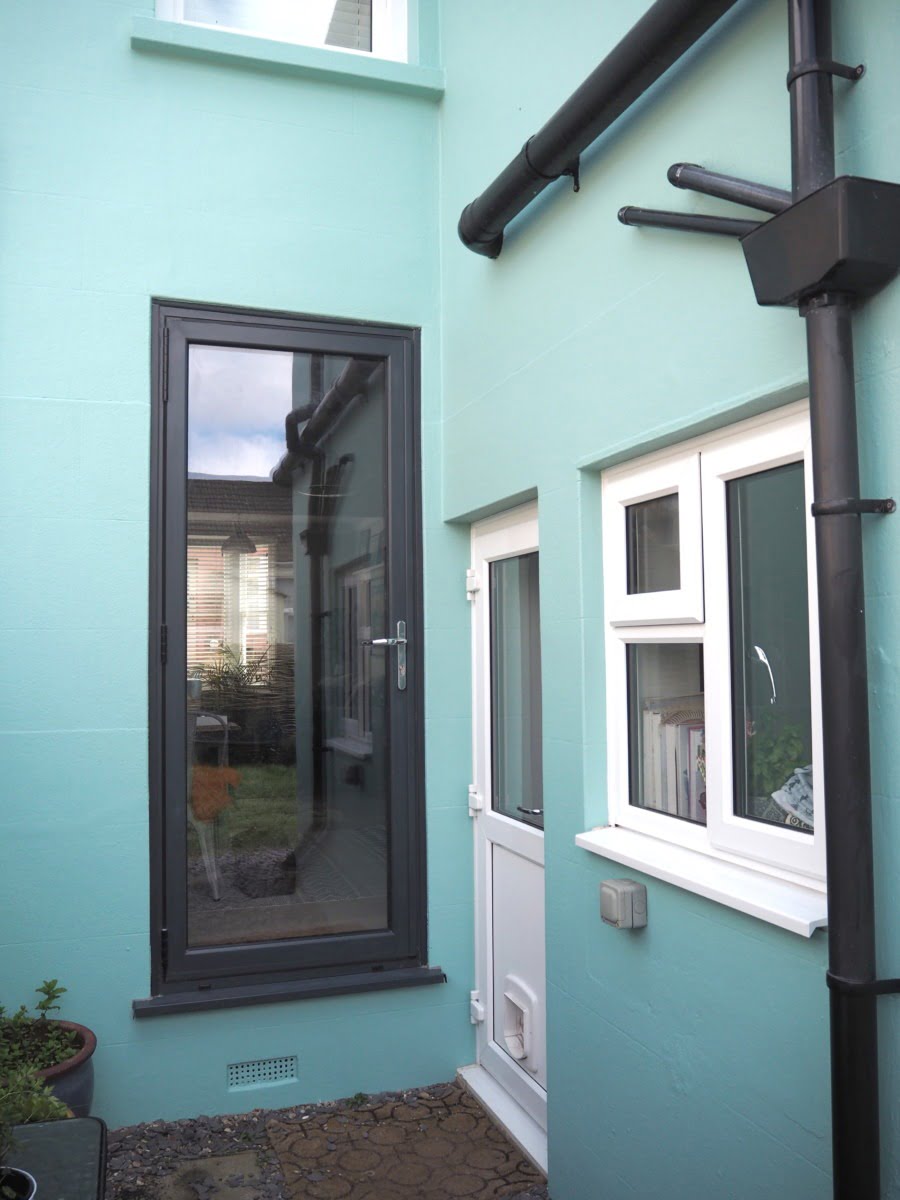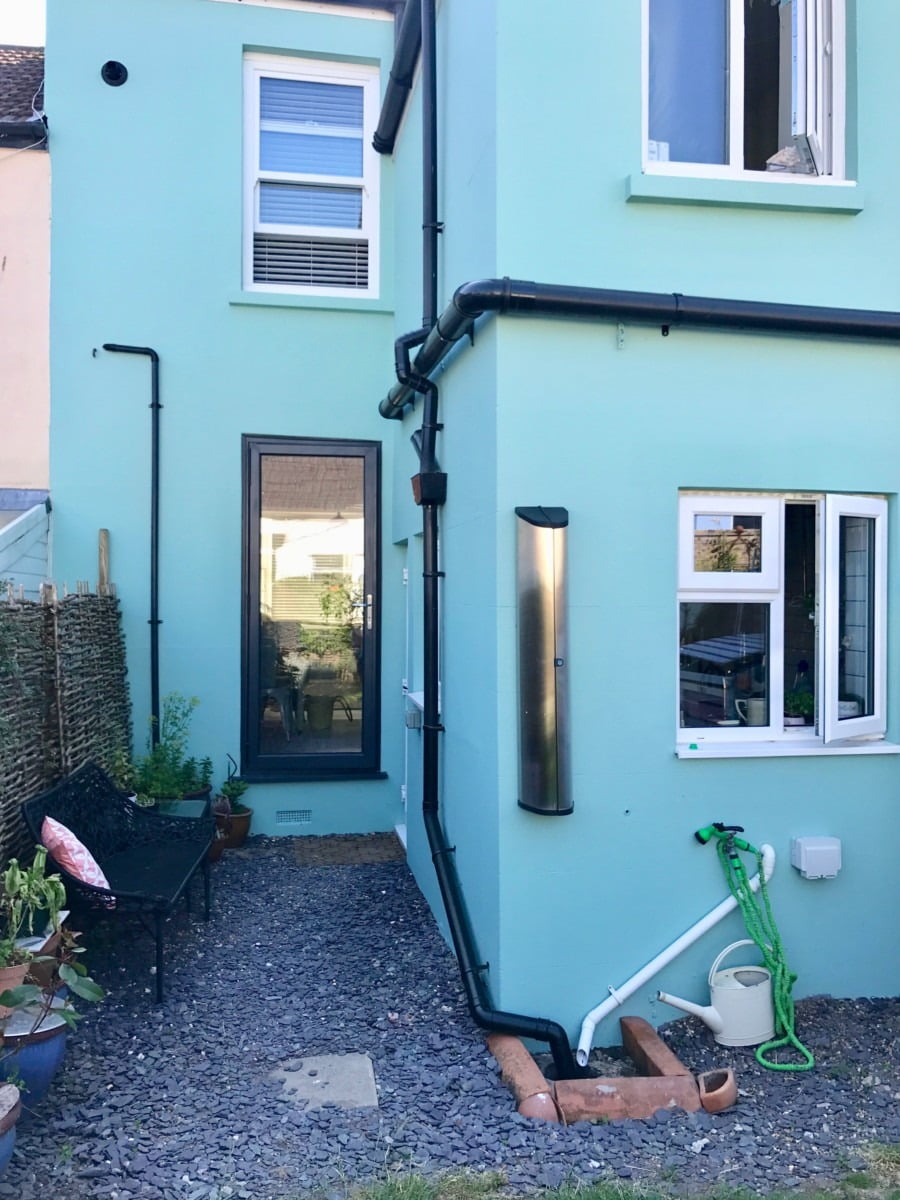 Her's the end result. A sunny, sparkling zesty house. Ready for my garden makeover at the end of the summer.
Now I have this big job done, I can't wait to get my garden transformed into this urban retreat I have planned. No more patchy grass or crumbling walls and lots of 'zoning' going on. And maybe, just maybe a hot tub!
Can you sense my excitement?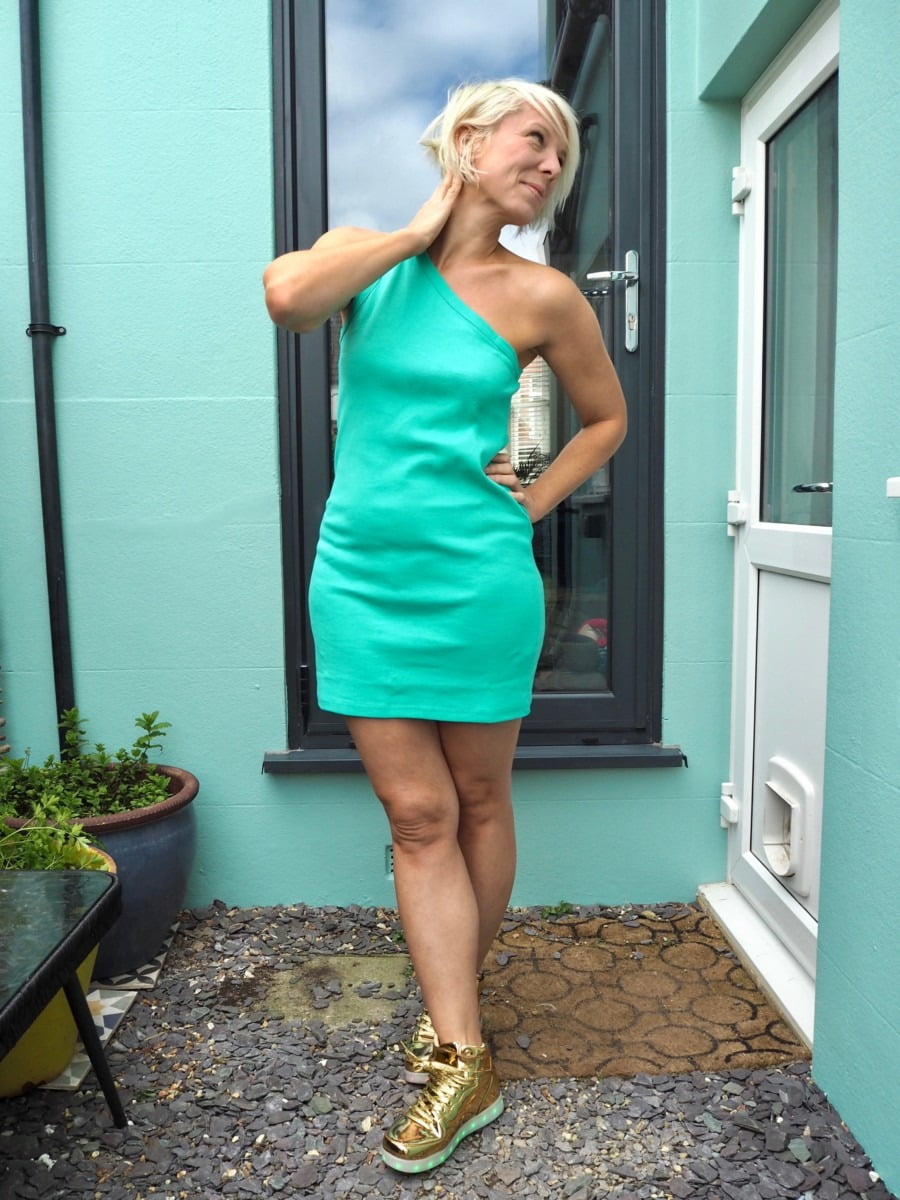 Oh, and randomly….. the dress I bought for my birthday matched the back of my house. Sorry, I couldn't resist posting this photo with my colour co-ordinated home.
I hope this post gives you an idea of how easy it is to get your home painted. As well as some of the costs involved if you are thinking of a similar project. Have you painted your home recently? It would be so helpful if we could all share costings and experience in the  comments box below.
Oh, and on Thursday – I'm revealing 'My Garden Planning Wish List' – I have the plans through for my outdoor makeover – hurrah.
Have a great week.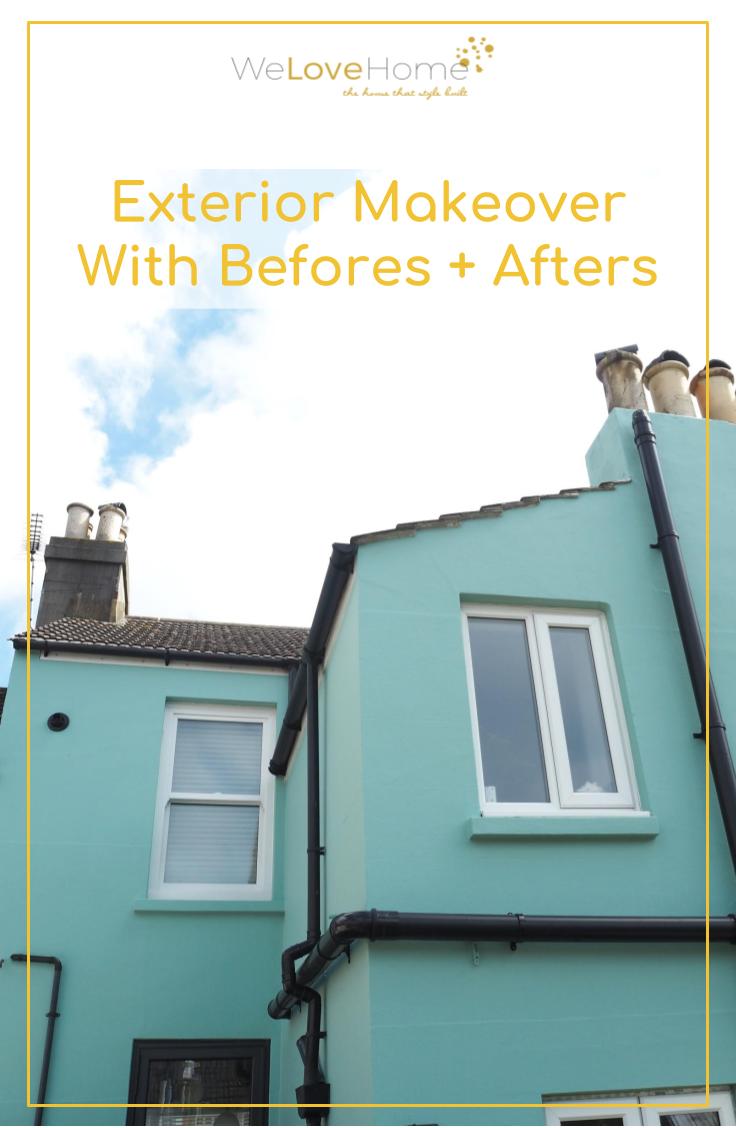 ** Disclaimer. I was gifted some of the products in this post. All photos, opinions and thoughts are my own.