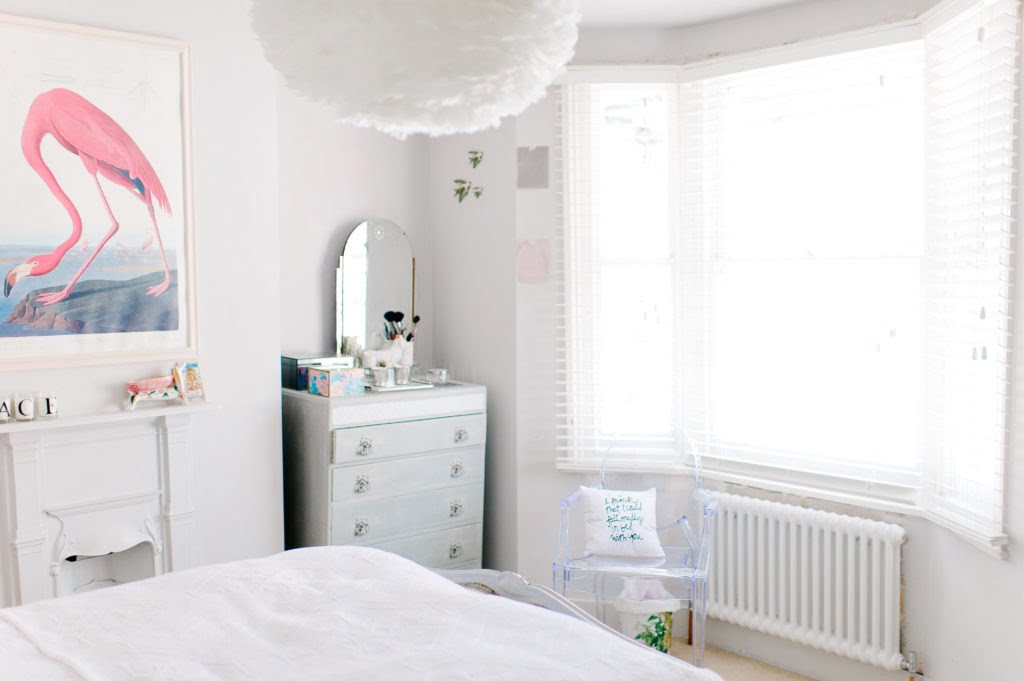 This week, I'm sharing a snippet from a post by design gurus – The LuxePad – who pulled together 52 of the best bedroom design ideas to inspire you. LuxePad asked a whole host of interior stylists to give their bedroom style tips and examples of their styling work. It's a fab post with over 52 modern design ideas for your bedroom which you can read HERE
And guess who's in the mix? Yes, that's right – We Love Home blog – with my very own bedroom design idea – how to blend junk shop finds into a white and pink bedroom.
52 Modern Bedroom Design Ideas
Here's the tips that I shared:
'When decorating my own home, my furniture picks have been dictated by my shoestring budget. This hasn't stopped me having big ideas for my bedroom. I've just had to be style savvy – picking up vintage finds for next to nothing.
I started with soft grey painted walls, then – my tip – is to paint all my furniture in the same colour so they match – helpful when you are dressing your room with higgledy-piggledy junk shop finds.
I'm not adverse to modern designs, in fact I think they are key to stopping a budget home looking to retro or fuddy-duddy. That is why I love statement lighting as it brings a modern twist to an eclectic look. 
The best bit about doing up a vintage home is these purchases don't break the bank, and with a bit of hard work can look amazing. And if you tire of it, you can sell it and buy something new – this suits me down to the ground as my bedroom style is always changing.'
That's my little nugget from the 52 modern bedroom design ideas. I hope you enjoyed it.
Love
Maxine
You May Also Like
9 incredibly cool ways to style your guest bedroom
Your bedroom design dilemmas and how to solve them
My 5 Bedroom Lighting Mistakes (and how to easily avoid them)