**Sponsored post**
Need expert advice on choosing the right window shutters for your home? Check out my easy how-to buyers' guide to shutters with everything you need to know – including how to fit them yourself in collaboration with DIY Shutters. And I have a special 25% discount code just for you. Just scroll down to the bottom.
Now is the time of year where we are all finishing decorating our homes in time for Christmas. And one area of our homes that can't be overlooked is our windows. Shutters are the perfect way to revamp a room with a stylish edge. And they are a fantastically versatile choice for every home, and can work well in a bedroom, living room or even a kitchen.
They can be DIY-measured and fitted for a budget option. They come in a range of colours. They keep the cold out in winter and allow you to control daylight in the summer. They provide flexible privacy too. They are the best!
There are so many options for window shutters, it can be overwhelming to know where to start! Well, don't stress – today here's my guide on how to shop smart for your windows.
Buyer's Guide: How To Choose Window Shutters
Firstly, you need to decide what type of shutter design you want for each room window in your home. There are lots of questions you need to consider starting with – do you want privacy? Is your home dark during the daylight hours? Do you want your window shutters to complement your colour scheme? Here's the four types to choose from:
Full Height
If you want shutters to cover the whole of your window, then you'll want full height from top-to-bottom. They come with an optional divider rail (aka midrail) so you can operate the slats above and below independently – handy if you want to keep top slats open and close the bottom, or if you want to hide handles.
These look especially smart on the front of a property when used in every window giving your home instant curb appeal. They are also fantastic for French doors too.
Good for…
Full height shutters are the perfect treatment for a bathroom as they provide privacy while still letting in light.  Make sure the shutters you choose are water resistant and that they've been finished especially for a damp environment. This will prevent the finish from wearing or warping in your bathroom over time.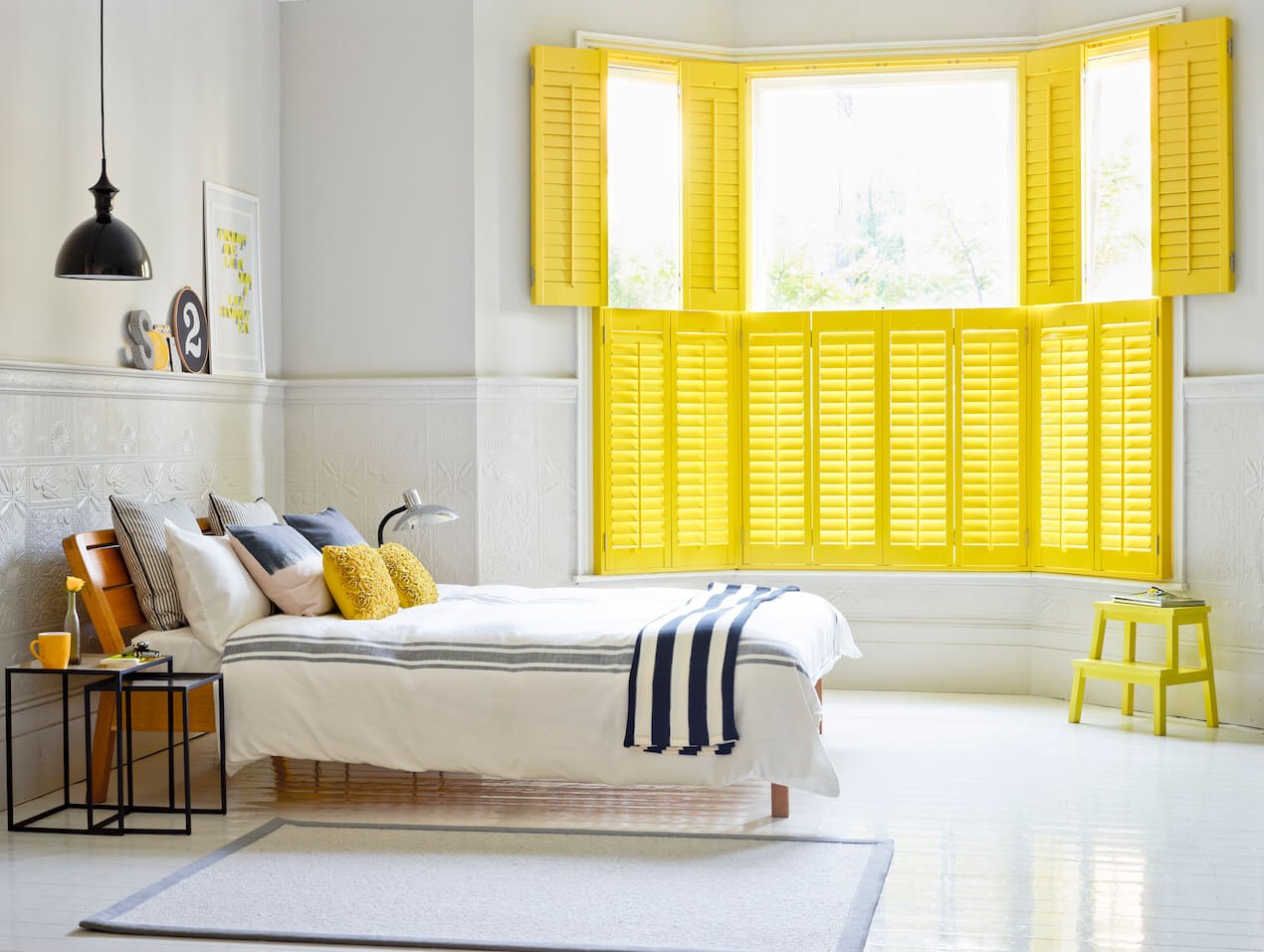 Tier On Tier
These are effectively two sets of shutters at the top and bottom of your windows, that open separately.  They allow you adapt the daylight you need for the task at hand in your room, either to let full light in at the top and filter light in at the bottom or block out the light completely.
They are great for bedrooms where you may want privacy to get dressed but still need natural daylight to get ready in. Or on rooms that overlook a street as passers-by won't be able to peak into your home.
Good for…
A home office is the ideal place to use tier on tier window shutters. Why? Not only will they keep your work space at a comfortable temperature throughout the year, they can filter daylight which may glare on your computer screen.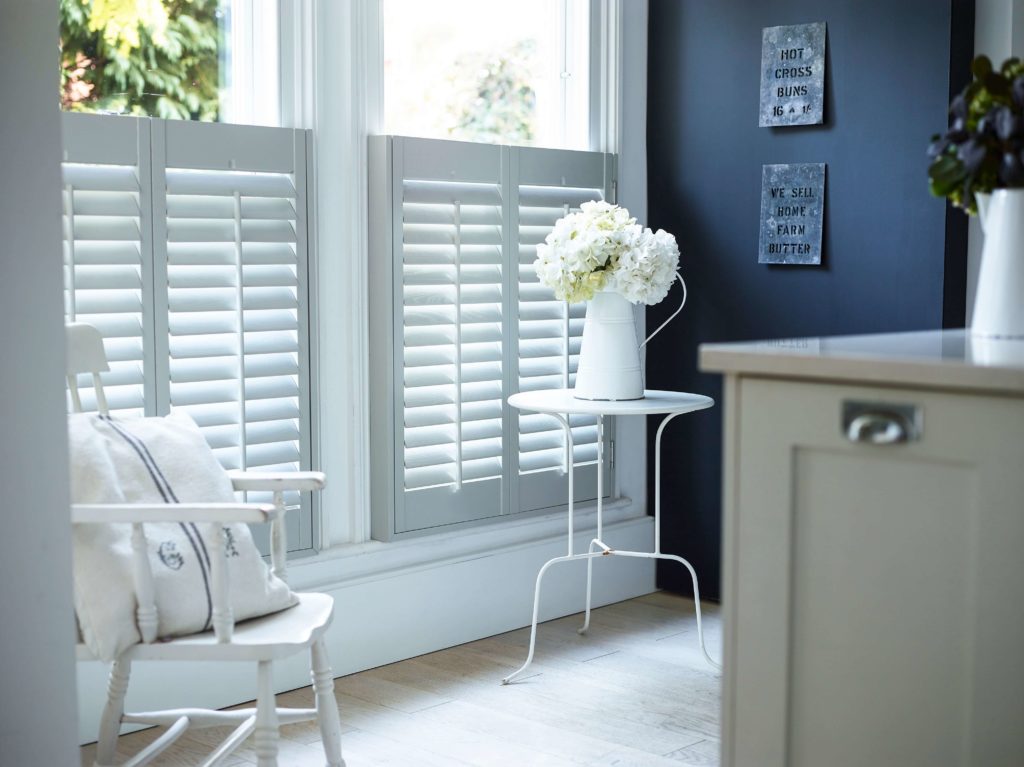 Cafe Style
This design just covers the lower section of the window. Café-style shutters in particular look wonderful when layered with fabric curtains swooping over the top. They are good for smaller homes with petite windows as they look less cluttered.
Looking to save money? With this type of shutter as you are only covering half the window, the overall cost will be slightly lower. Choose for rooms that aren't overlooked like your dining room or open plan living spaces. They can also be fitted to bay windows in a series of coordinating panels – which looks edgy and minimal especially if you go for a bold colour.
Good for…
Kitchens as they are easiest to keep clean in steamy rooms. And unlike fabric window treatments – they can also be cleaned regularly in situ.  Also ideal for north-facing rooms that have limited daylight. Or for a room that overlooks the street so you won't open them a majority of the time but you still want some light in your space.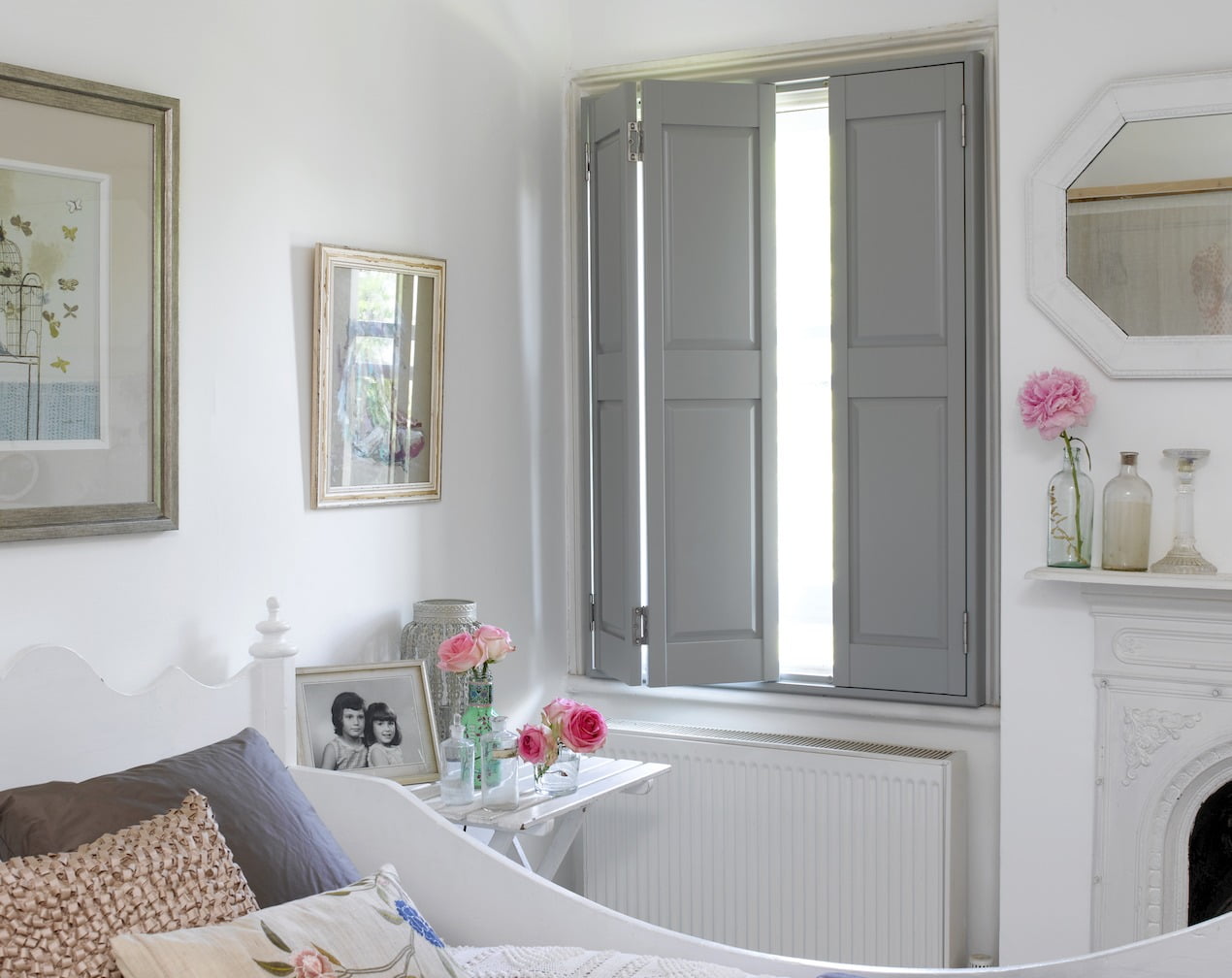 Solid Shutters
Traditional and secure, these top-to-bottom shutters are available completely or partially solid. They look amazing in period properties with big windows. They look wonderful when painted too as they add a block of colour to your room.
Good for…
Solid window shutters look great fitted to any shaped window, even circular or triangular spaces and can be folded back to reveal the window frame. This means feature windows can become a focal point in your home with shutters.
They are good for light sleepers as can be closed to block out the light completely. And they are good for blocking noise too.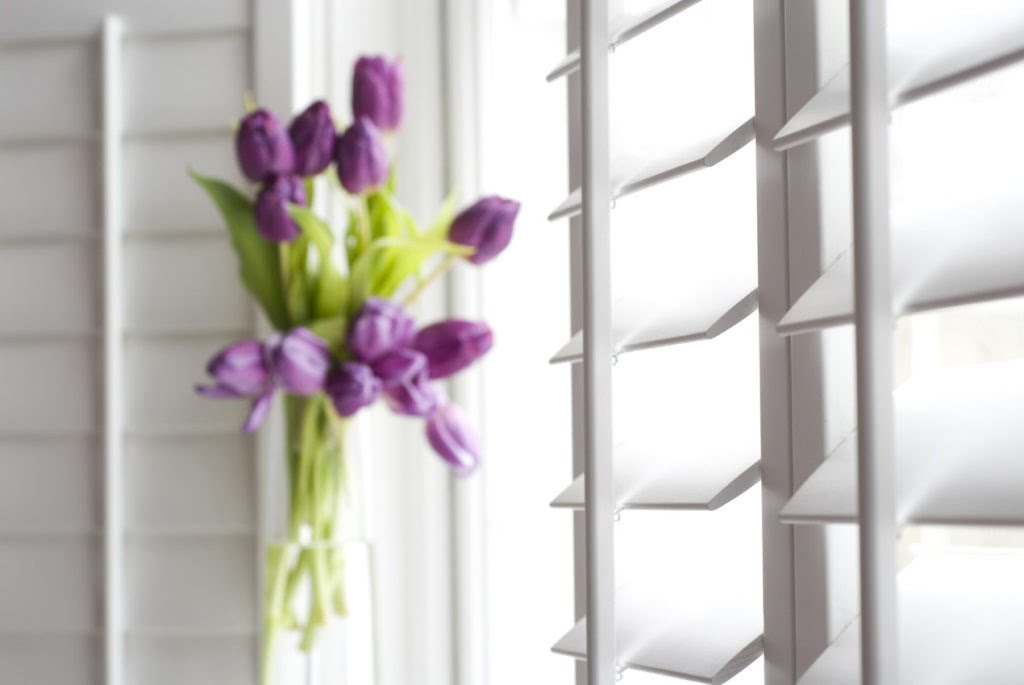 What Material To Go For?
Once you have decided on the shape of shutters for your home, then you need to pick the material you want your shutters to be made from. There are so many options, how to do you choose?
You'll need to have a think about your budget and how much you are willing to spend. Then calculate how many windows shutters you need, and if you want them all made from matching materials.
And finally, think about colours and finishes. Do you want bold shades for a children's room or calming whites for your living space, or natural tones for your garden room?
Window experts, DIY Shutters have four different types of material to choose from – one of these will suit you down to a 'T'.
Affordable Basswood
This is the UK's most popular shutter and for good reason. Basswood shutters are available in 3 neutral shades of white and a range of design options. But they are only available for the full height or cafe style.
Classic Poplar
The most popular range of smooth grain hardwood shutters. The Classic Poplar range comes in a choice of 20 paints and stains so you can match your shutters to your room's decor. This type is ideal for those looking to invest in shutters for you forever home.
Express Classic Poplar
Classic Poplar shutters, for those who just can't wait to get their hands on the UK's most popular shutters. You will pay a slight premium to have then delivered in in 3-5 weeks. Perfect for those in a  hurry before Christmas.
Premium Elm
Solid wooden shutters with a characterful deep grain textured finish. Available in a wide range of designs, paints and stains. Personally, I love the natural wooden finish which will sits so well with the tribal trend and tropical feels.
The Designer Collection
Love colour? Then take a look at this iconic range which is finished in a range of colours from striking black to pure white, and all the brightest colours in between. If you want to create a stir with your decor, you'll want black shutters with rich navy or ivy green walls.
To discover what type of material is right for you and your home visit
HERE
.
How To Save On Cost Of Window Shutters
Easy answer – fit them yourself.  If you are able to put up a shelf or hang a piece of art then you can handle fitting shutters.
The reason why the costs are low is you are not paying for staff to measure your windows nor install them. This means they can pass on the savings to you so that you can get your dream shutters at around 50% off the measured and installed price. All good to know if you are looking to save money.
Use the online shutter measuring guide to measure out your windows. And if you get stuck there is a customer service team on hand to help you. Check out their handy DIY guides HERE.
Install DIY Shutters Yourself
Becoming DIY confident will save you so much money and every shutter that Do It Yourself Shutters supply is custom-made to your exact window or door size and design specification.
Their staff are trained DIY window shutter specialists. Simply email them photographs of your windows and they will email back, showing you exactly where to measure your windows or give you free of charge design advice.
Why not visit DIY Shutters website as they have lots of helpful videos on how to measure and how to fit, so that you can fit them yourself saving you money.
If you would like 25% off your window shutters use the code WLH25 at check out. Valid only on non-express orders until 30th November 2018 🙂 Enjoy.
Just imagine you could have stylish window shutters at your windows in time for Christmas visitors, finishing off the look of your home making it guest-ready. Sounds like a plan? I'd love to hear which is your favourite design in the comments below.
Maxine
You May Also Like
How To Restore Your Sash windows
Your Essential Bedroom Makeover Guide
Make your kitchen lighter and brighter with this one trick