Today is the day! I'm going to show you how to make my DIY copper drawer pulls – just like the ones you can see here in my kitchen. Follow my step-by-step guide, and you'll be soon making handles for your home in no time.
My Own DIY Copper Pipe Drawer Pulls
When designing my kitchen, it was always my intention to add hand-made elements. In such a small space, it would have been tempting to go for an all-white kitchen with handleless units. But that is so not me! My idea was to have a kitchen that reflected my homestyle – eclectic, chic and a little bit boho.
I knew that the handles would be key to nailing my kitchen design. That's why I spent hours on Pinterest looking for the right ones researching vintage, gold, hammered metal, leather… Then one day, I spotted my perfect copper handles in my local coffee shop – the Flour Pot Bakery in Brighton!! They had designed their space with an industrial details using lots of plumbers' copper piping – and when I saw their handles, well…my heart skipped a beat!
Even though my kitchen is an off-the-peg one, I think these copper handles make it look waaay more expensive than it cost. I love the way they have injected a unique style to my kitchen.
But they would also look good on an upcycled piece of furniture or on doors. It's totally up to you!
Here's my how-to guide to making DIY copper handles: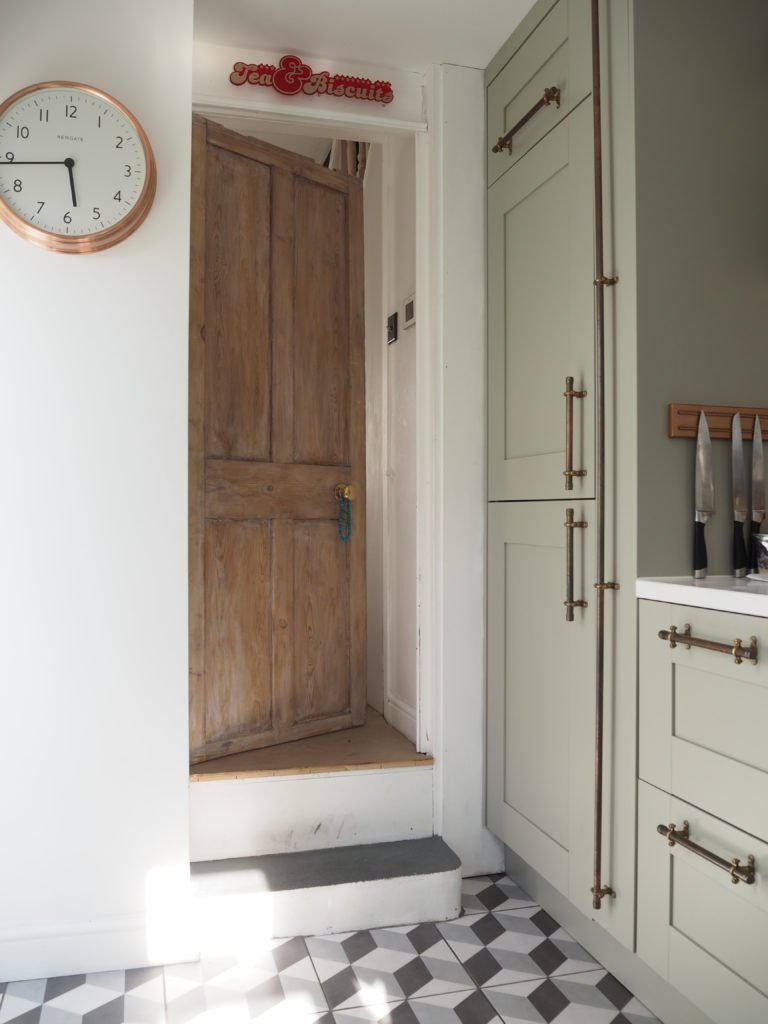 What You'll Need
Plumbers' copper Pipe. THIS is the type I used from Screwfix.
1/2 inch bell hangers – I found THESE ones Amazon.
1/2 inch Copper Slip Cap Fittings – I found THESE
Super Glue
Pipe Cutter
Screwdriver
Copper or brass coloured screws – ones that are not too long for your kitchen door front.
Drill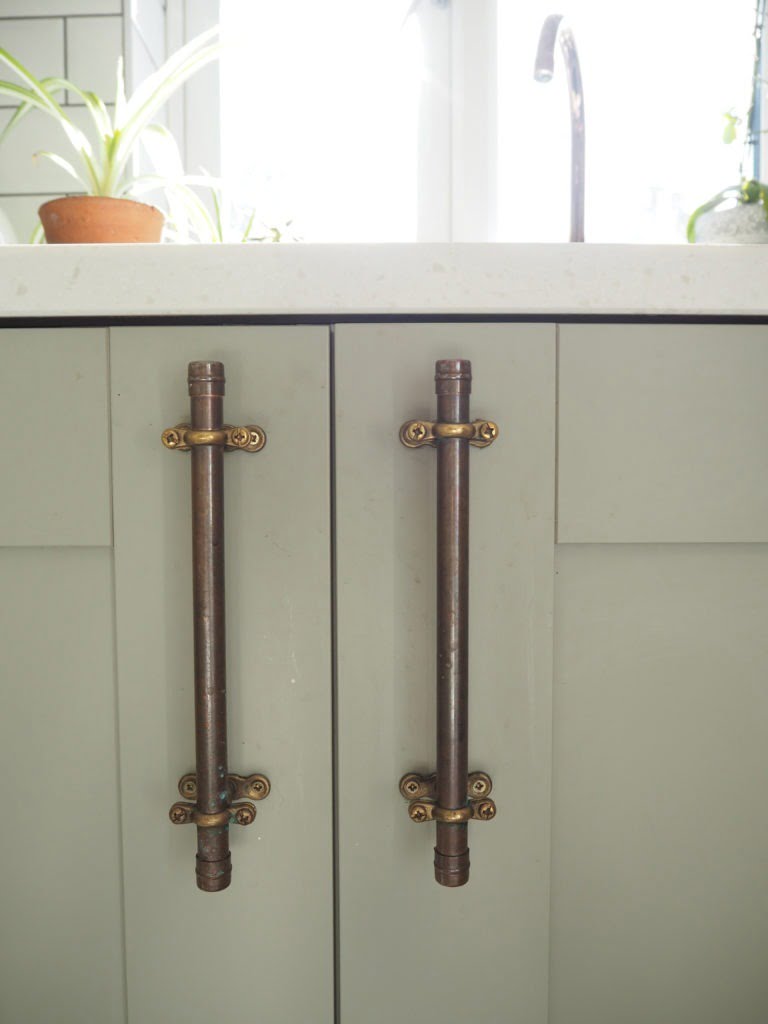 DIY Copper Pipe Handles
I went for plumber's copper piping as it was inexpensive, cheap and easy to find.
When my handles were first fitted they were a much brighter colour which you can see HERE. I don't mind that they have changed colour over time. But if you love a pure copper colour, then a small amount of metal cleaner should do the trick.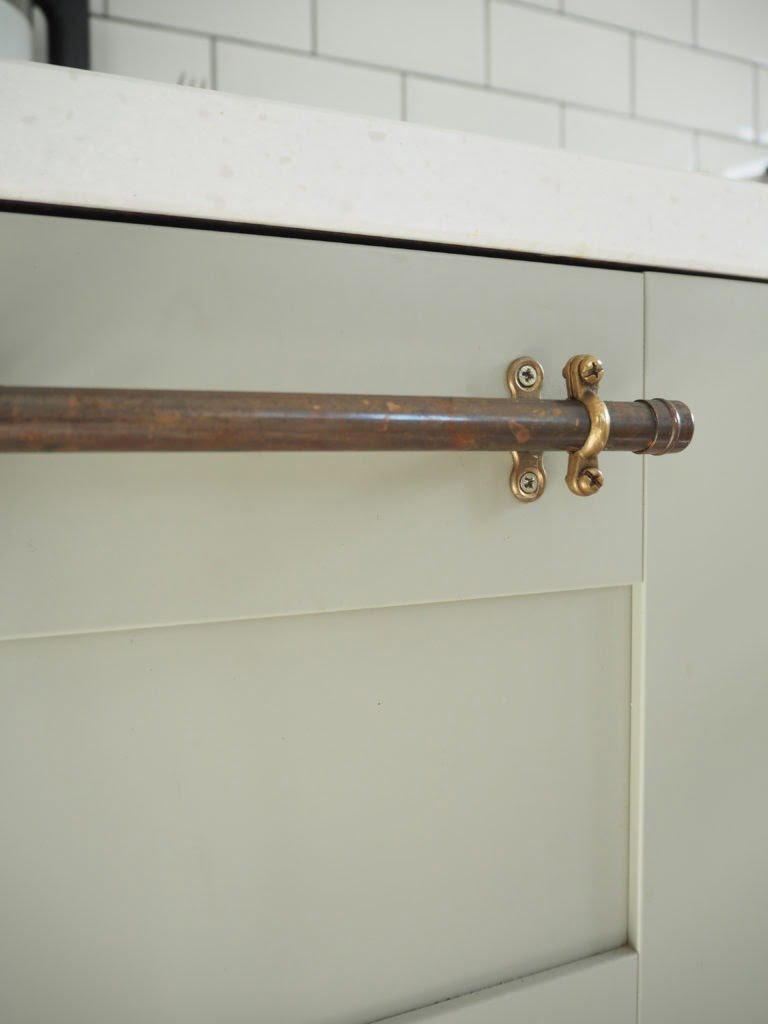 STEP 1:
Measure the size of your units and work out how long you want your handles to be. As you can tell from my kitchen I have some vertically and horizontally. I made all my handles the same width as the indentation of the door. Apart from the extra-long handle from top to bottom- it the pull for my larder.
Once you have your measurements, mark the pipe with a pencil, and cut lengths using either a pipe cutter or a small jigsaw. Some plumbing stores will cut down this for you but you can buy a pipe cutter for around £15.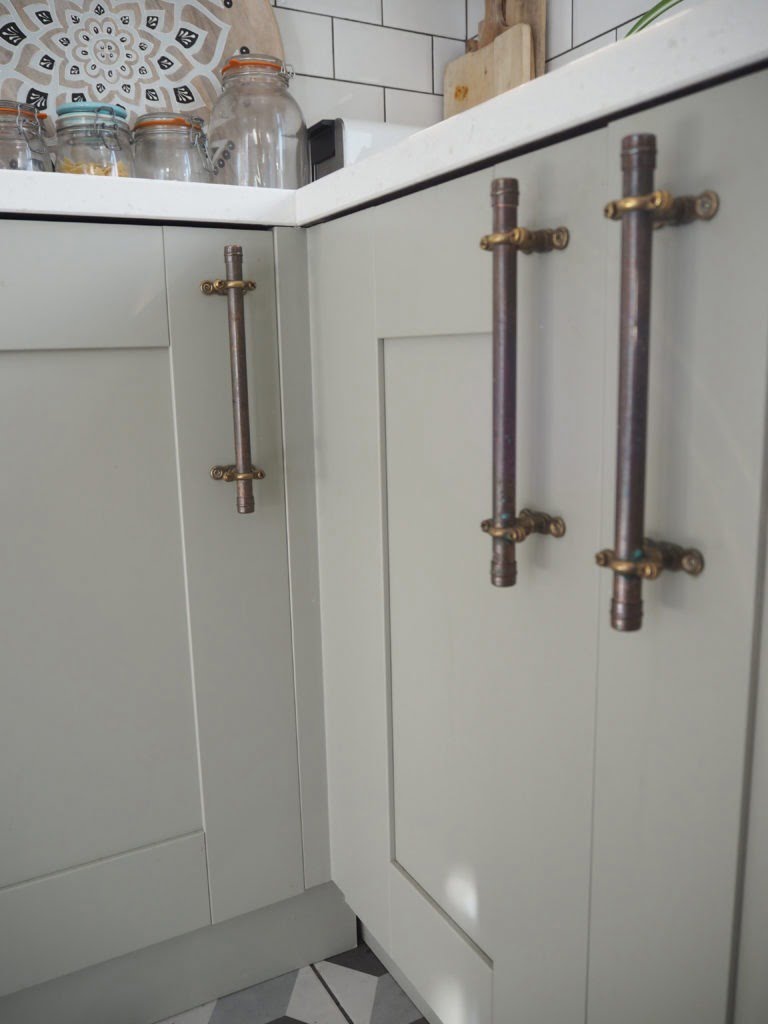 STEP 2:
Neatly apply super glue to both edges of the pipe and the attach copper caps.
STEP 3:
Using a tape measure and pencil, mark out where you want the bell hangers to fit on each handle. Then, slide the copper pipe into the bell hanger and screw it closed on both sides.
I used two per short handle, then four for my super long handle for extra strength. You could go more streamline and just have one per short handle – the style is completely up to you.
Be careful not to over tighten them as this could damage the copper.

STEP 4:
This is the important part to get right! Drill small holes into your kitchen cabinet doors where you want your handles to go. For each bell pull I had to have two fine holes. Then using a screwdriver, attach your cabinet pulls.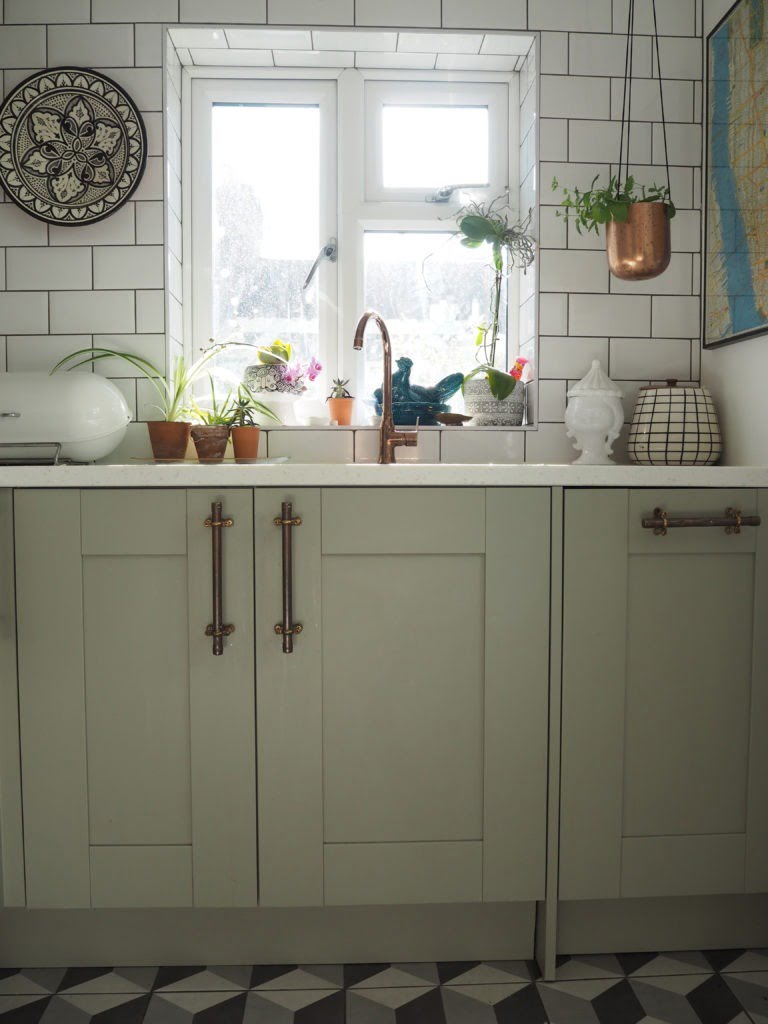 There you have it. In an afternoon you could transform your kitchen, giving it an cool designer look without breaking the bank. These copper handles are ideal for a new kitchen or for updating old units.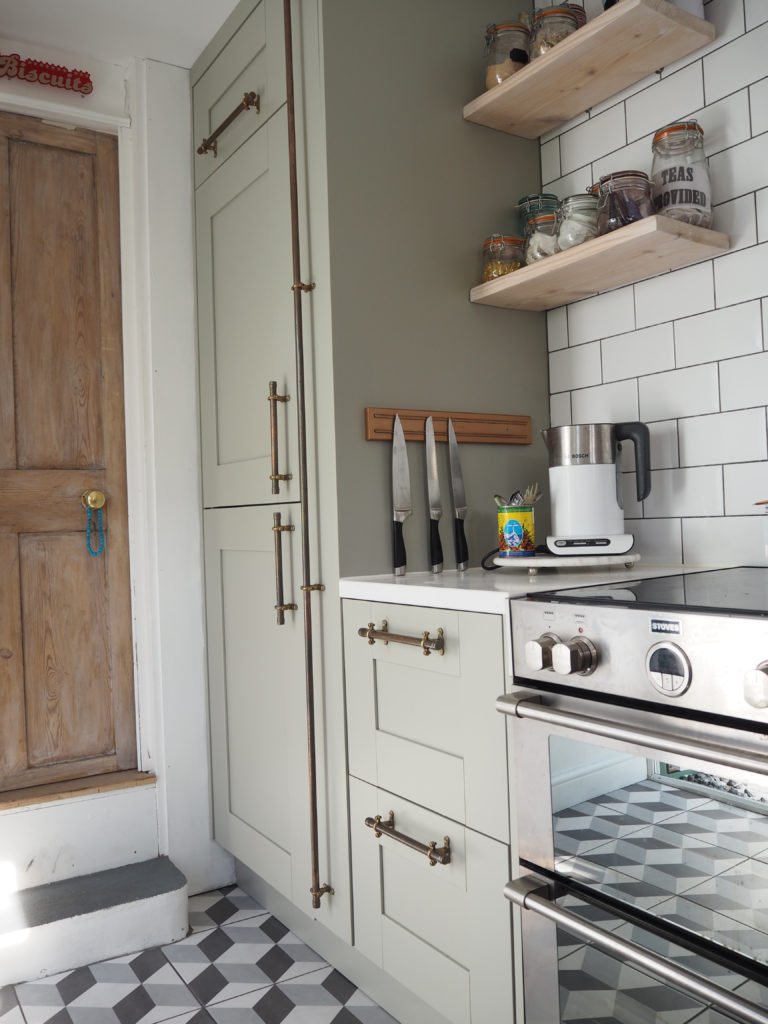 My own DIY copper drawer pulls get so many comments and likes when I share them on Instagram, and lots of requests on how to make them. They have aged so well over the past four years, turning down from a shiny copper colour, to a hand-worn tone where they have oxidized over time.
I love them. Do you?
Love
Maxine
You May Also Like
How To Restore Your Sash windows
Make your kitchen lighter and brighter with this one trick
Top 10 Do's and Don'ts to Kitchen Planning