Shhhh! It's true, I've discovered Brighton's best kept secret and it's the underground treatment rooms at Harbour Hotel Spa in Brighton. Discover what I loved about my spa experience at The Harbour Hotel and I'm sure you'll be treating yourself to a day of unwinding and relaxing in Brighton.
I've never been in a proper spa before and I rarely get beauty treatments. As you can imagine, I was thrilled to be invited to spend a long and leisurely morning at Harbour Hotel Spa on Brighton's seafront. I took my best friend and my cossie and got stuck into the relaxing.
The Underground Spa at Harbour Hotel, Brighton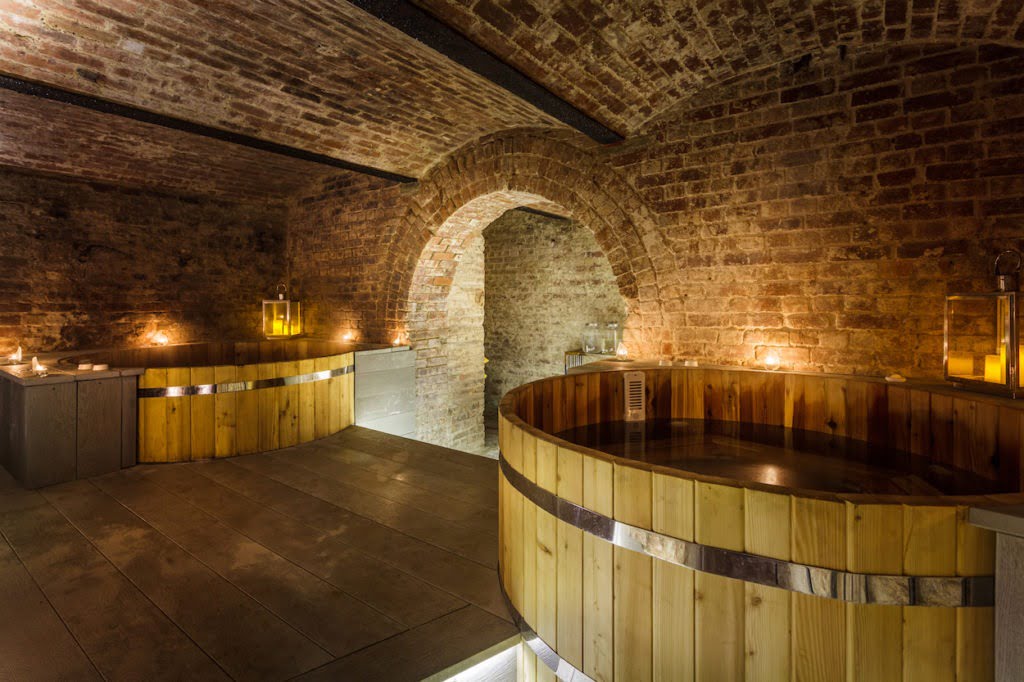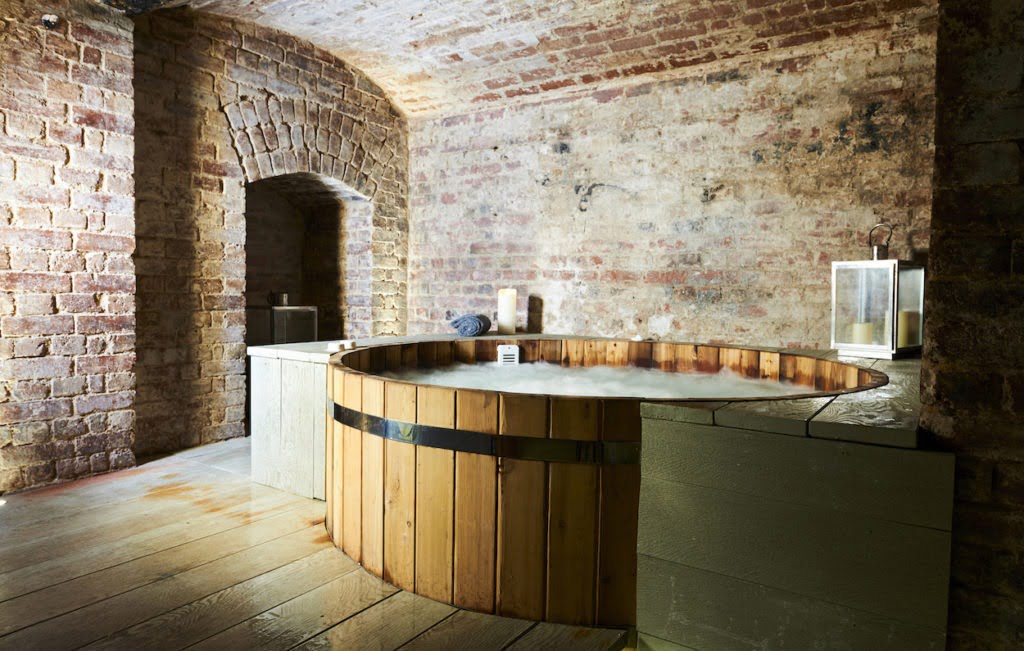 Brighton's Best Kept Secret Spa
I'm from Brighton and I thought that I knew everything there is to know about where to go in my hometown. But I only discovered this spacious spa by chance a few weeks ago.
Situated in the centre of Brighton, the Harbour Hotel is overlooking the seafront and a short walk from all the main attractions.
Squirrelled down in the basement of the Harbour Hotel the Spa is made up of two wooden hot tubs, a steam room, a sauna, a hydrotherapy pool with a waterfall and large cool pool all hidden under the arches in the basement of the building.
My Harbour Hotel Spa Experience
To spoil my best friend in the whole world, I booked us in for a morning spa package. From 10-1pm we could dip in and out of all the pools and bubbly hot tubs, and we both had a 25 minute beauty treatment included too.
We went on a Wednesday morning and we had the place virtually to ourselves. I could have honestly spent all day in there. Because you are hidden underground, you feel shut away from the busy world and time stands still.
After soaking in the bubbly water until my finger's went wrinkly, I had an ever-so-gentle facial. Now skin feels like velvet. ??? My friend had a hot stone massage. The beauticians use Elmis products which our skin feeling soft and smooth. My friend was blissed out by the whole experience. I could hardly speak I was so relaxed. That's how good their treatements are at the Spa
You can see the list of experiences they offer here. There is something for everyone in there from massages to facials. But I think you'll love all the bubble hot tubs, the pool and the hydrotherapy pools.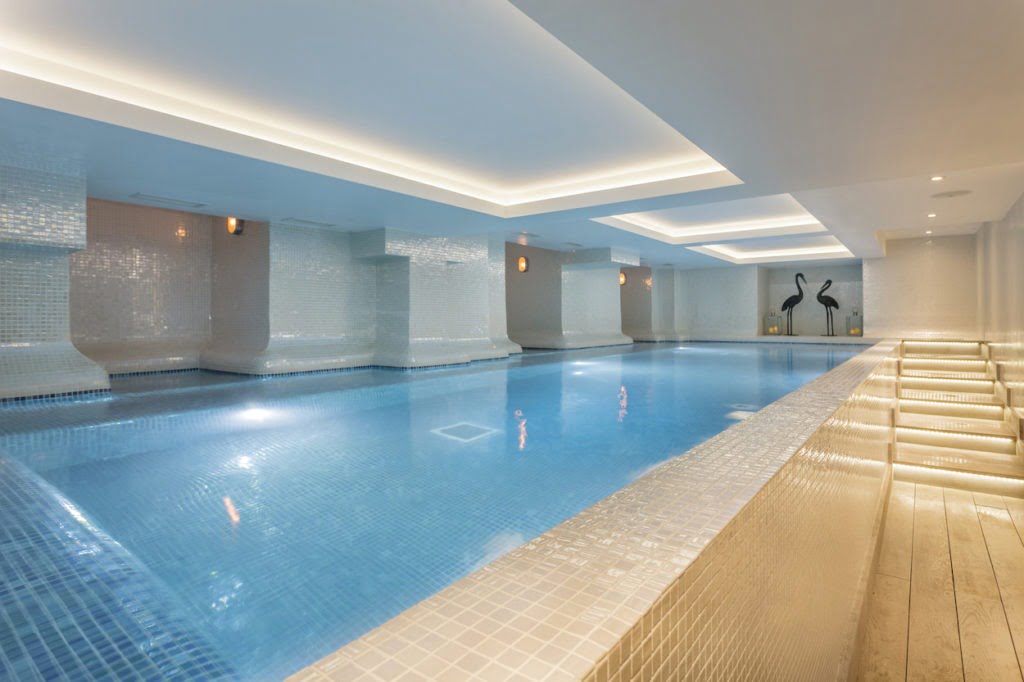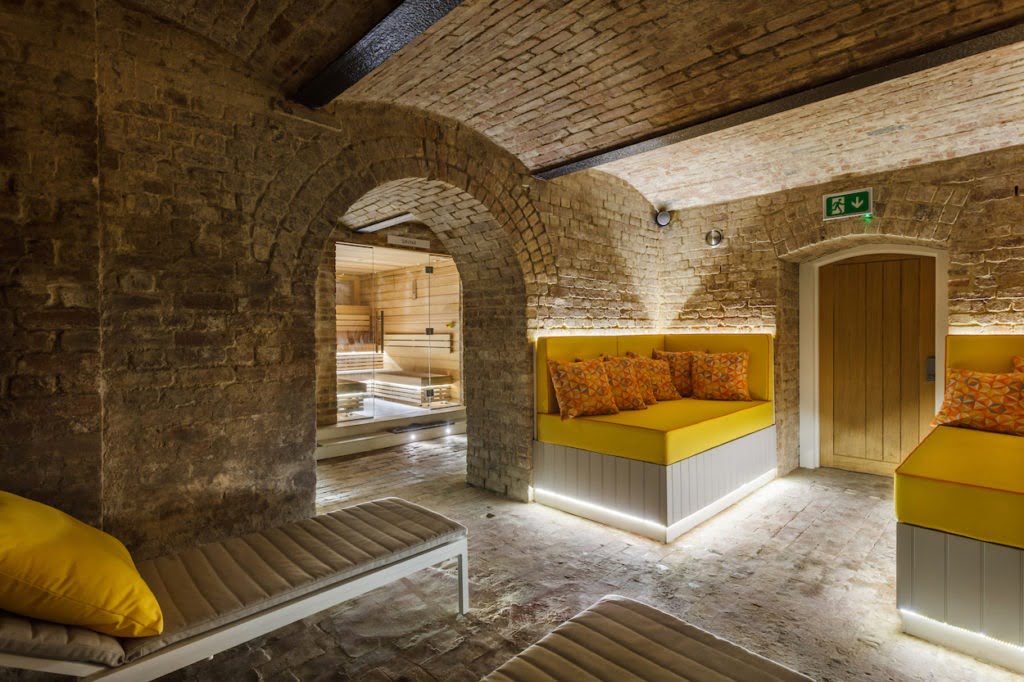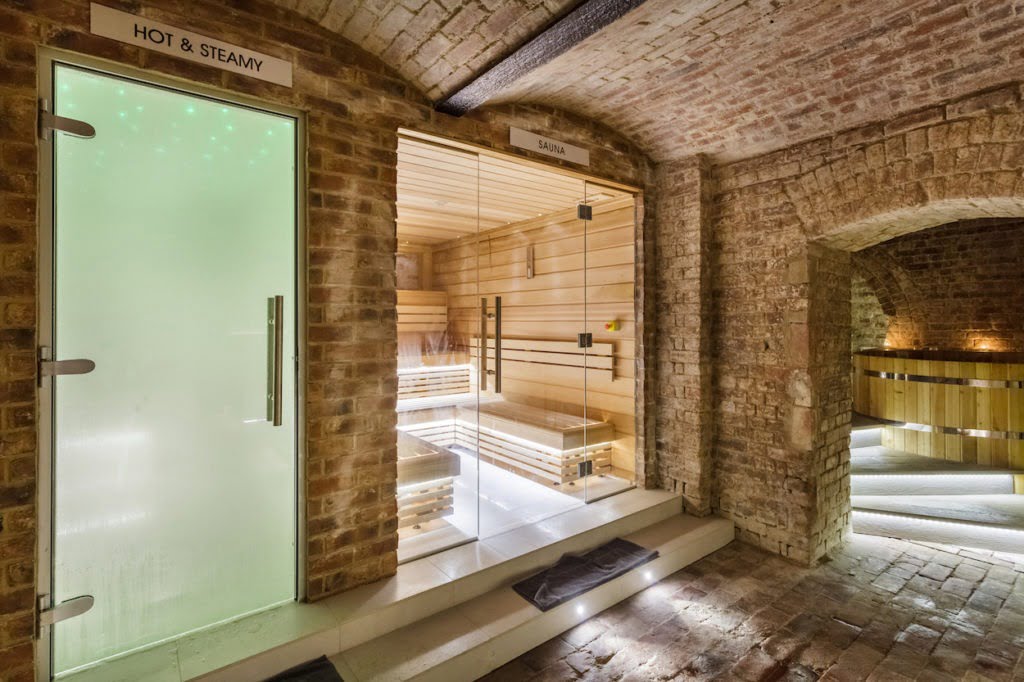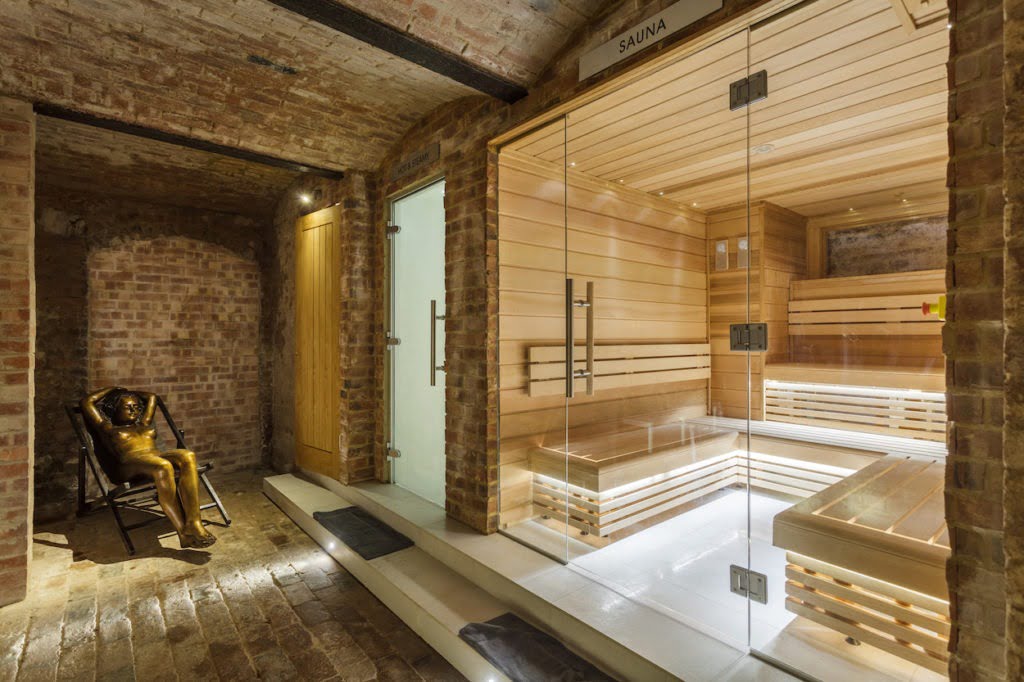 Why Not Spoil Yourself With A Spa Package?
It's tricky taking photos in a sauna (my camera lens kept steaming up) so I'm sharing this snap of their bar area with light shades that look like circus tents, tables made from table football games and chairs that your Granny would be proud of.
Have a scroll down to see my casual spa pose and happy velvet face post facial!
I'm already planning when I can go back. A morning spa with a 25 min treatment and set lunch is £65. I think that is a very reasonable treat if you need a pamper pick me up. You're totally worth
it! Lunch is served in their freshly renovated bar upstairs which I have snapped and shared below.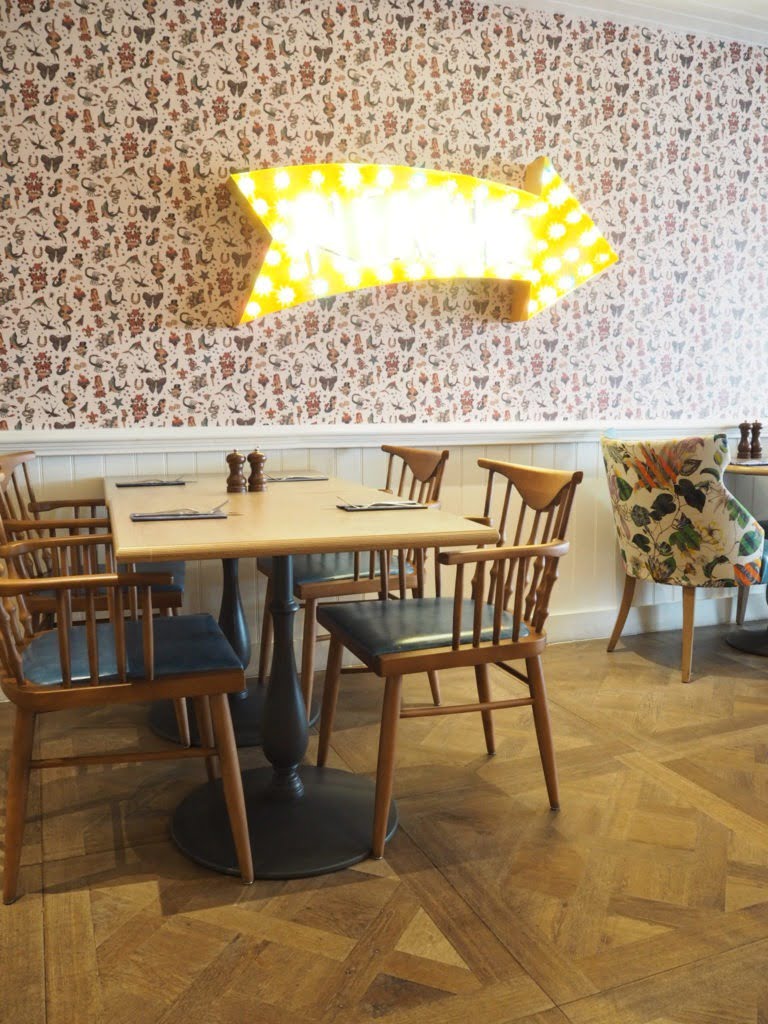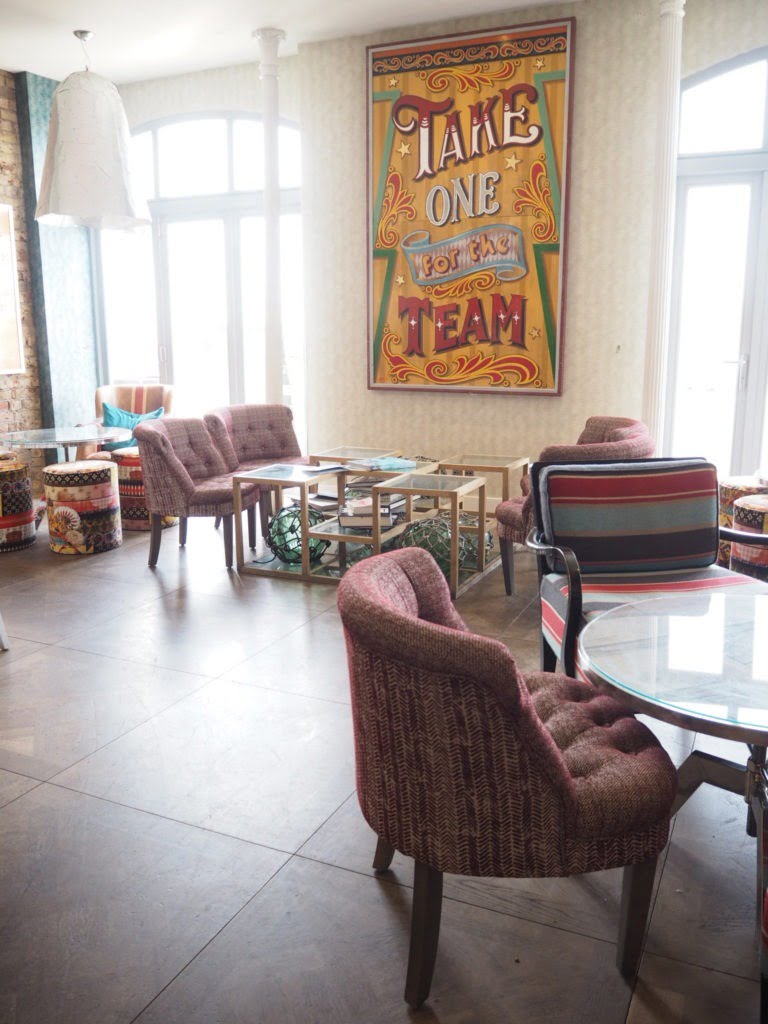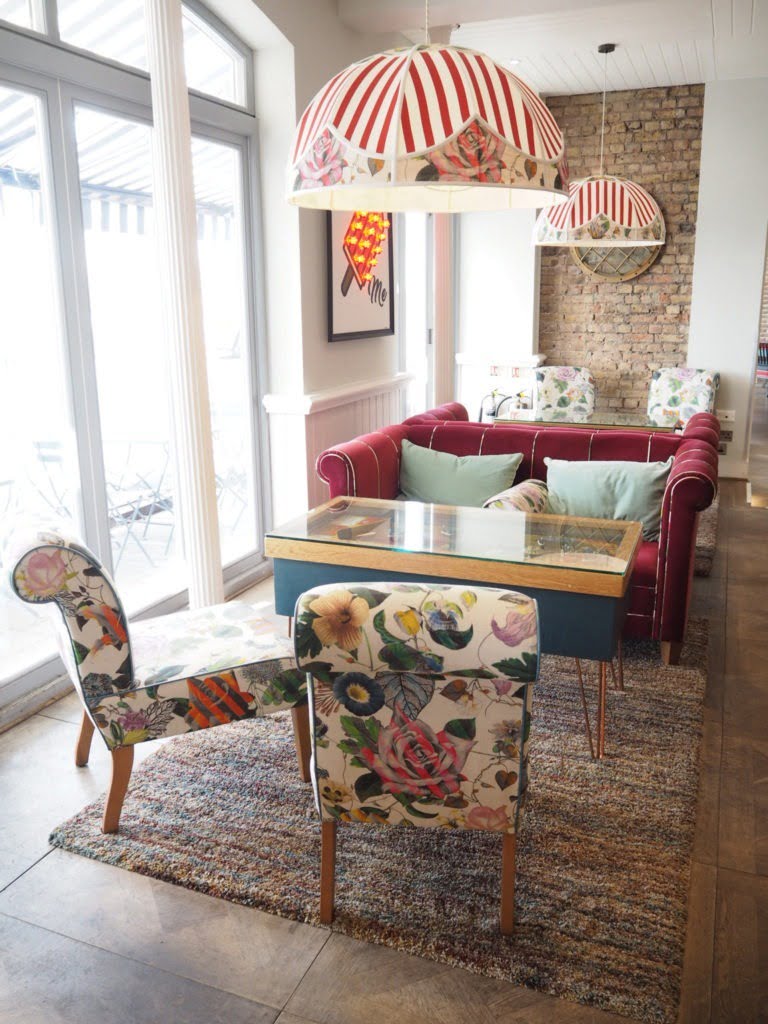 I'm thinking about which of my friends to spoil next to come to the spa. There are various packages and experiences – I like the sound of the Twilight Evening Spa where you have unlimited use of the spa for 5 hours AND the choice of a 70 min beauty treatment.
Anyway, I think you can tell from this post that I'm officially addicted to Spas ?‍♀️ I'm so happy I stumbled across Brighton's The Harbour Hotel Spa hidden. It's a utter gem!
** I was kindly gifted two passes my experience from Harbour Hotel, Brighton. THANK YOU #MyHarbourExperience 
You May Also Like
Summer Street Style In Brighton
My Review of The Ivy Restaurant, Brighton