Today, I want to introduce you to Kimberly Duran from Swoon Worthy – not only is she a multi-award winning interiors blogger but she is all-round boss babe! In this post, she gives us the low down on interior design, blogging, how to take amazing instagram photos and her best Ikea hack EVER. Follow her 10 style lessons – and it will change how you decorate forever.
As part of my weekly IGTV series on instagram, I'm interviewing the best-of-the-best in the world of interiors! And this week I had a glorious treat – one hour with Kimberly Duran from Swoon Worthy blog,
All Images in this post taken by Kimberly for Swoon Worthy
How would you describe Kimberly? Well, she is a multi-award winning UK Interior design blogger, DIYer, painter, cat lover, content marketer, feminist, general badass. Her beautiful multi award-winning blog, Swoon Worthy is the home of Eclectic Boho Glam! Her blog is hugely successful with over 90K visits a month.
In the Instagram LIVE we chatted about her latest DIY updates (and disasters), her nifty decorating hacks, and she shared her sage advice on blogging and social media. And we got to see her beautiful home in THE ACTUAL FLESH. We talked so much – we were cut off by instagram 🙂 You can watch our IGTV here.
10 INTERIOR STYLING LESSONS FROM KIMBERLY FROM SWOON WORTHY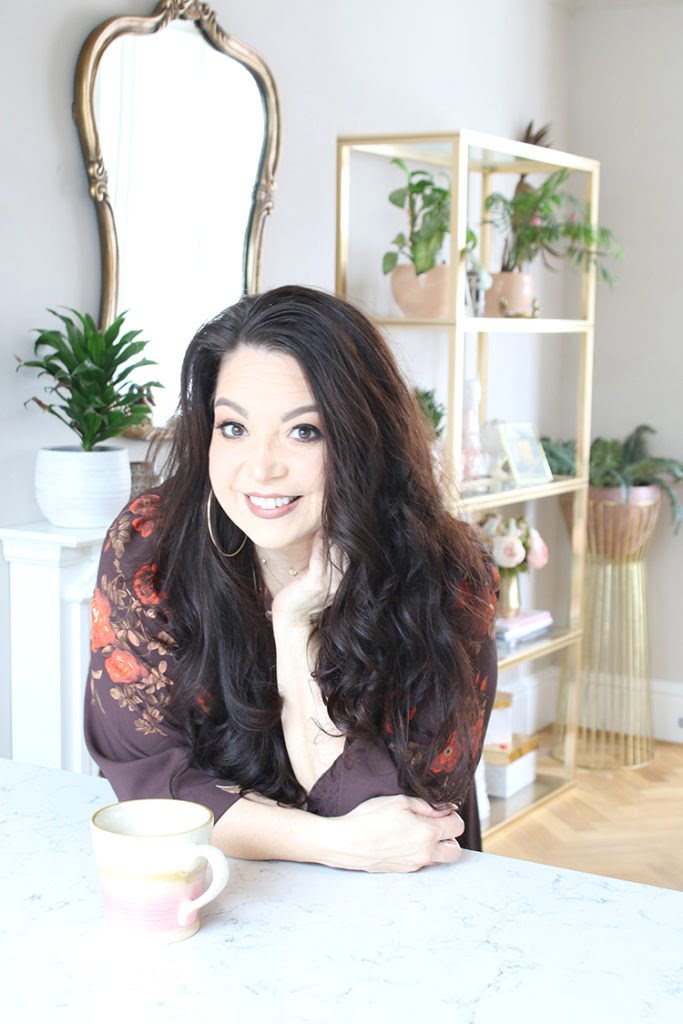 Get To Know Kimberly From Swoon Worthy
Kimberly started her blog in 2010 before interior blogs were a thing. She started charted her home makeovers on-line and in detail. In the past ten years, Swoon Worthy blog has won many awards including Blogger's Choice at the Amara's last year. She's known for her beautiful images and artful styling, clever DIY hacks and her chatty writing style.
We first 'met' over the internet. I had just started blogging and I messaged Kimberly through Swoon Worthy blog for some advice. She was so helpful, friendly and open – that she has since been my go-to for when I need a sounding board for ANYTHING for the past five years! Kimberly is one of the first friends I met through blogging. And we have hung out many times at various awards do. She is one of the most down-to-earth (but also very glamorous) women you are going to meet on the internet.
You'll love her home, her energy and her ideas. All the pictures in her post are from her home. I know – just divine!
You know the drill by now! Put your feet up, grab a cup of tea (or a glass of vino) and let's get engrossed in everything interiors while feasting our eyes on Kimberly's beautiful home.
Hey Kimberly! Let's start at the top – your beautiful home and blog is filled with stunning DIY projects. How did you learn to DIY? And do you have any tips for someone tackling their first DIY project?
Start small! Try a little project first and then build your confidence up. Try painting a piece of furniture with chalk paint, or changing the frame on a picture. And once you have successfully tackled a smaller project (or craft), you'll have more confidence to try a bigger project at home. When my partner & I bought our first house, we were new to DIY so we started to watch How-To Youtube videos and reading up on DIY blogs to get advice on how to tackle projects in our home – and we just gave it a go.
I have save literally £1000s and £1000s by doing DIY jobs at home myself. Luckily, my partner Wayne is also pretty handy and together we have plastered walls, fitted flooring and painted furniture. This is what we have learnt over time. So always start small and build your DIY confidence.
And once you get going, it's worth investing in some good quality tools for the jobs at hand. A drill, hammer, screw driver set – all these things will help you get a better end result.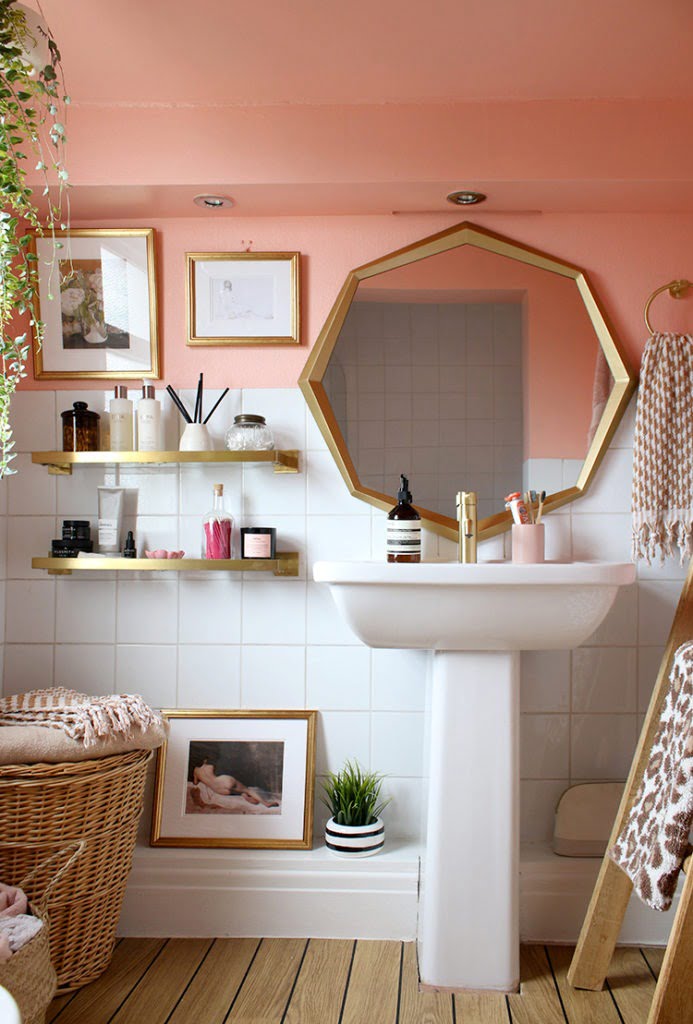 Do you have any storage tips for smaller rooms?
Yes, I do I have just decorated my tiny bathroom giving it a 'midi makeover' so I understand how important it is to have lots of storage in a smaller room. A midi makeover isn't a full makeover but it is when you make a few changes to freshen your room until you can afford to rip everything out and start again. Storage solutions are key a midi makeover!
In a master bathroom, you can have a vanity unit where everything can be tucked away but in a smaller bathroom you might only have room for a pedestal basin. If you can, put up shelves that you can fill with pretty bottles and jars. Pop your cotton wool, earbuds, bubble bath into bottle, jars and containers so that they are close to hand but look pretty. Try your hardest not to have ugly items or clutter out on display if you can – pop them in a box, bag or basket.
If shelving isn't an option, then look out for pretty storage baskets, draw string bags or covered boxes that you can pop your bits and bobs in. And your towels could hang on a neat ladder which will keep them to hand but not taking up lots of space. I wrote a post on 6 Ways To Squeeze Storage Into A Small Bathroom which has more take-away tips.
When it comes to other rooms in your home, the same principles apply. Look out for pretty wicker baskets to house magazines in the living room, storage boxes for wires in your home office, use jam jars for spices in your kitchen – anything can be customised with a can of paint to look pretty in your home. I've even covered old gift boxes with marble paper to create a pretty storage solution in my dining room.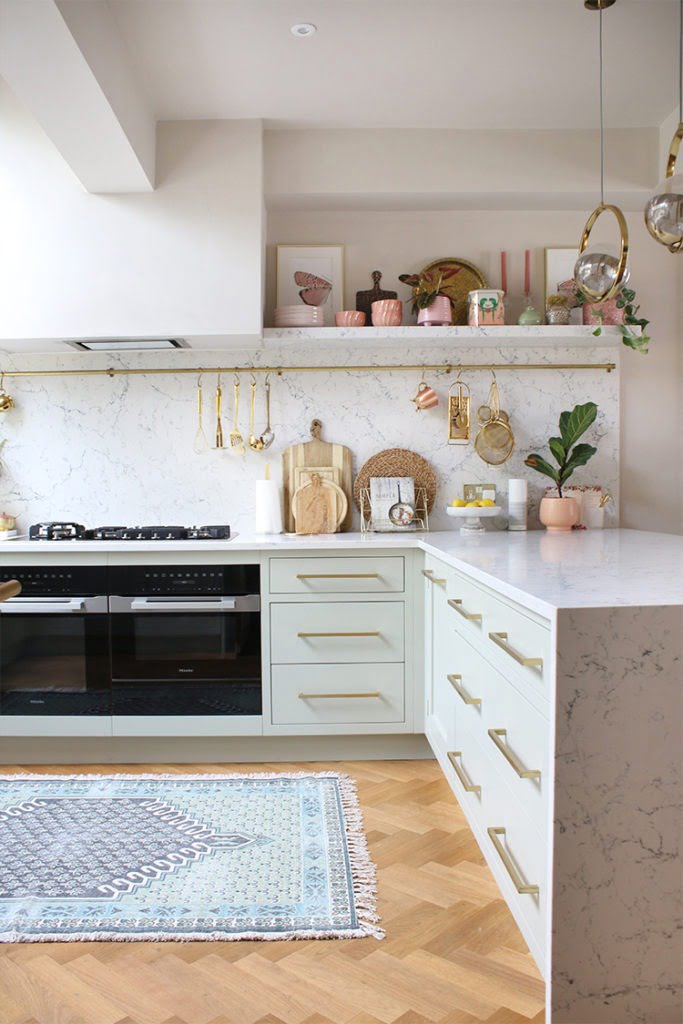 Do you have any ideas for improving your space when you rent?
Look out for things to swap things your rented home that are not going to cost the earth but will make a big visual difference to your space. In a kitchen, you could try switching the unit handles which is an easy job. Then when you move out, put the old handles back on and take your new ones to your next home.
If you need to cover over ugly surfaces like worktops or tiling – or event he front of kitchen and bathroom cabinets, look out for stick-back plastic which you can apply to nay surface. And then peal off when you move out. DC FIX have a great range including marble prints. You can buy wall tile stickers that will transform a space for next to nothing. Wayfair have a good selection of Moroccan tiles sticker designs.
You could swap out dull or ugly pendant shades for something more impressive – Ikea have a fabulous range of wicker light shades that will add impact to a space and are so easy to fit. Rug can cover over unattractive carpet or flooring. There are lots of items you can buy that will add personality to your rented home without you wasting money on things you won't want to keep.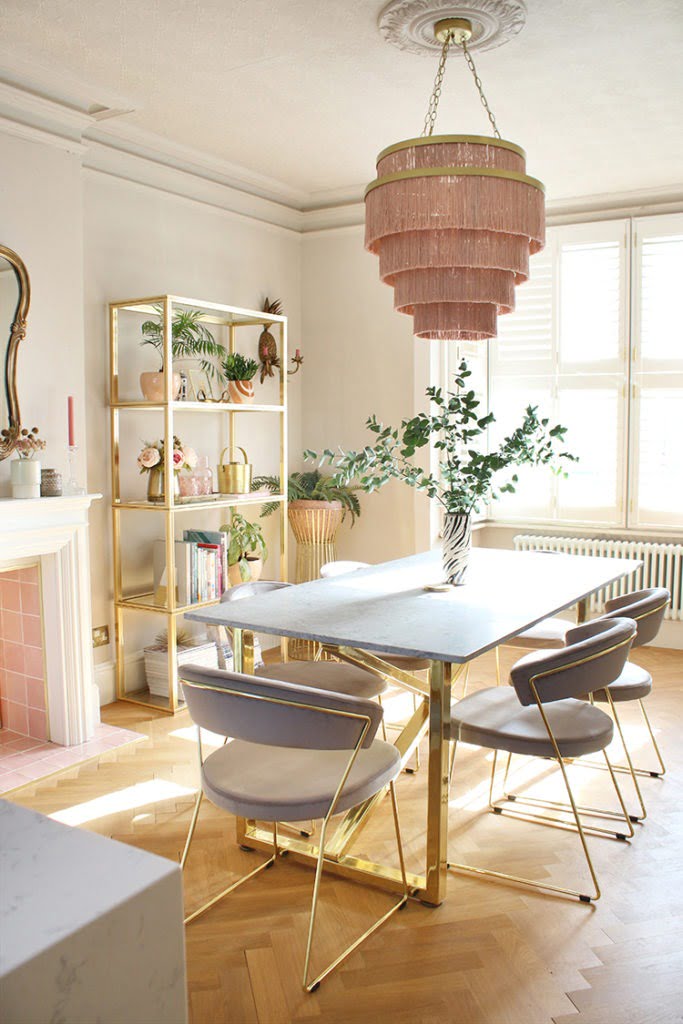 What is your favourite DIY job you have ever done in your home?
It's been my dream to have parquet flooring long before we moved into our current house. Back in 2010, when we moved into our previous home, one of the very first projects we took on was laying new pine flooring in our living room. This time, Wayne and I fitted parquet flooring in our new home and it was surprisingly easy to do. And it has transformed the space.
I knew professional installers would charge a hefty fee to install parquet. Wayne and I studied various YouTube videos and decided to take on the challenge ourselves. And genuinely, I believe that most any fairly competent DIYer can do the same. I've wrote all about it in this post DIY: Laying Engineered Oak Parquet Flooring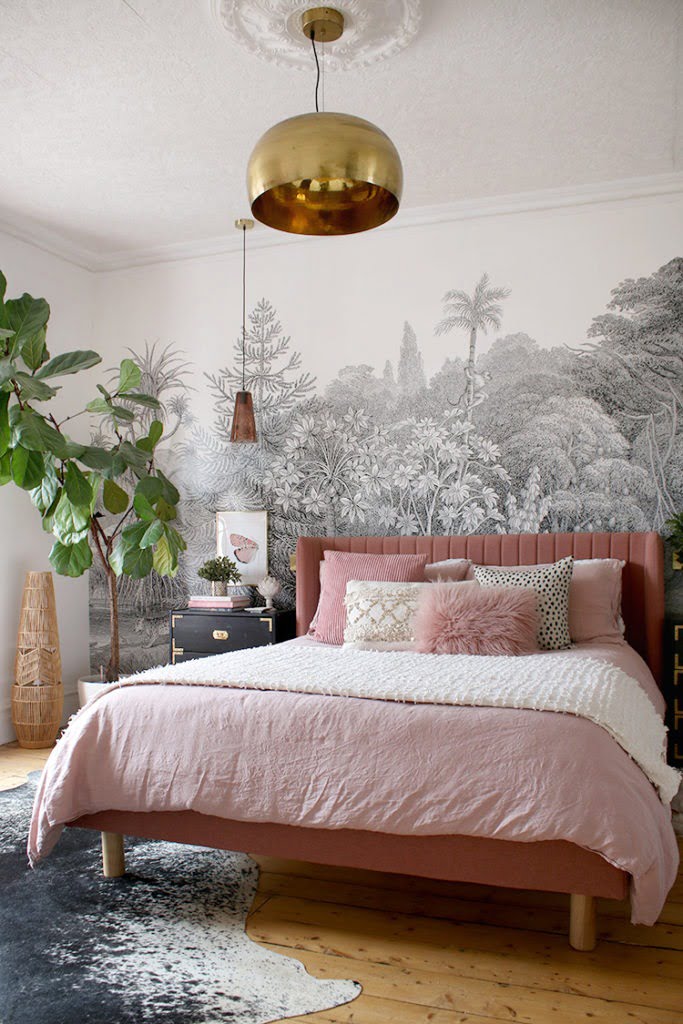 You're the queen of home improvement but have your ever made a decorating mistake that you regret? #diyfail
It has to be my latest paint job on my garden decking! I couldn't get find any tester pots online to try out the colours before I bought them. I just took my chances and ordered several colours from the paint chart. And when the paint arrived, it looked different when painted onto my garden decking.
Instead of a neutral and a sage green, I ended up with a pink and teal decking. It took hours to paint the stripes in these colours, and I nearly gave up half way through. And I don't like the end result. You can see the painted deck here. I'm repainting it this weekend. So take my advice – always get tester pots!!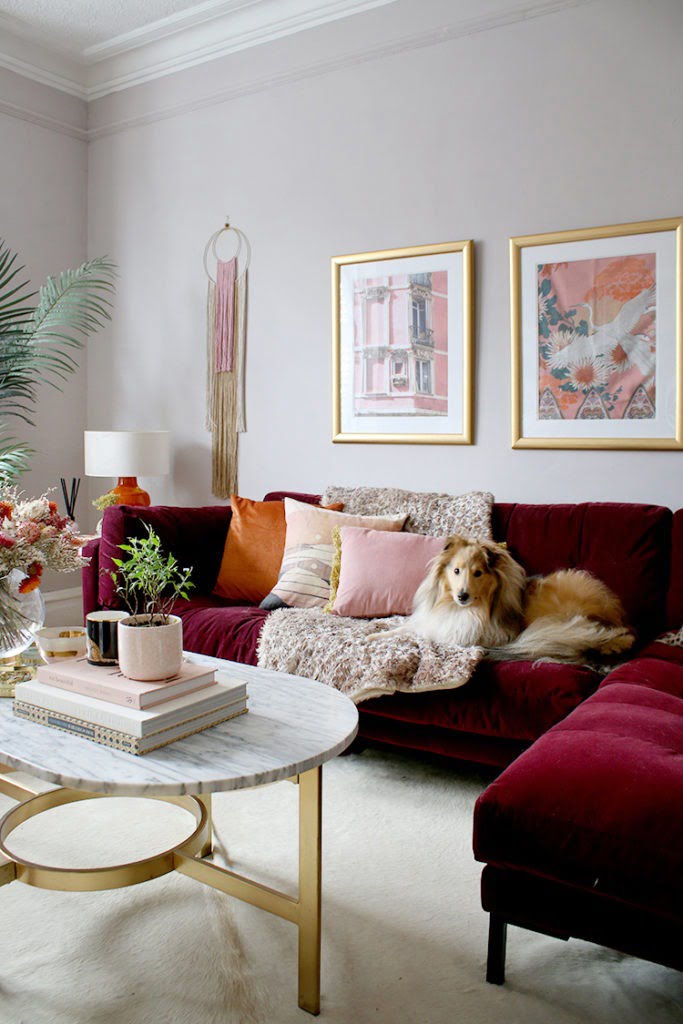 What is your most popular blog post ever?
It has to be the one about how to paint Ikea laminate furniture. It's called The Secret To Painting Ikea Furniture – I found a magic product that you need to use UNDER your primer which they use for painting the plastic in cars. It helps your primer and paint adhere. It's so popular and people LOVE Ikea hacks.
As an award winning interiors blogger, can you share 3 tips for someone looking to start a home decor blog.
1/ Write a great 'About Me' page. Your readers will really want to know who you are and what you are about. This is your chance to bond with your readers, for them to get to know the real you and for you to let your personality shine through.
2/ Try really hard to focus on your niche. Are you passionate about country styling, or vintage interiors or maximalism? Do you love dark interiors or Scandi design? It has to be obvious to your readers what you are about as soon as they land on your home page.
3/ Only write about things you are passionate about! If you write about the things you love, it will come through in your tone, your images and readers will want to come back over and over to your blog.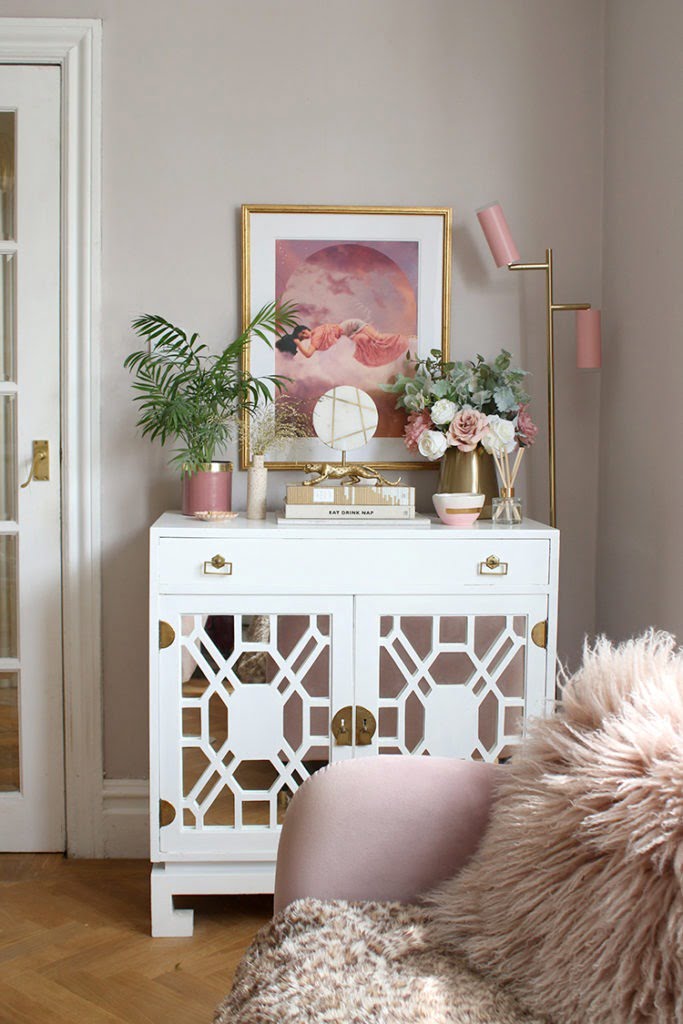 Your instagram account is so pretty… Can you give us your top tips for taking photos for Instagram?
I'm someone who's own photography has come on leaps and bounds since my early days of blogging. I'm self-taught when it comes to taking photos. If I can do it, then anyone can do it! I take photos for my blog and then take additional shots at the same time to share on my Instagram feed.
The ones on my feed are taken with a DSLR Camera (I have a Canon 70D). You do't have to have an amazing camera to win at Instagram – you can take lovely photos with your smart phone too. If you're looking for tips on taking photographs with a DSLR camera, I shared some photography tips here on my blog.
Take some time out to give your home a quick tidy and clean of the space you want to photograph. Make sure messy wires are out of sight. Frame the shot so that you get a good balance, and the viewer knows what the focus and point of the photo is. Also try to edit your photos so that they look the same using an app light Light Room or Photoshop.
I've got lots more tips if you want to check out this post 7 Tips for Taking Pictures of Your Home for Instagram.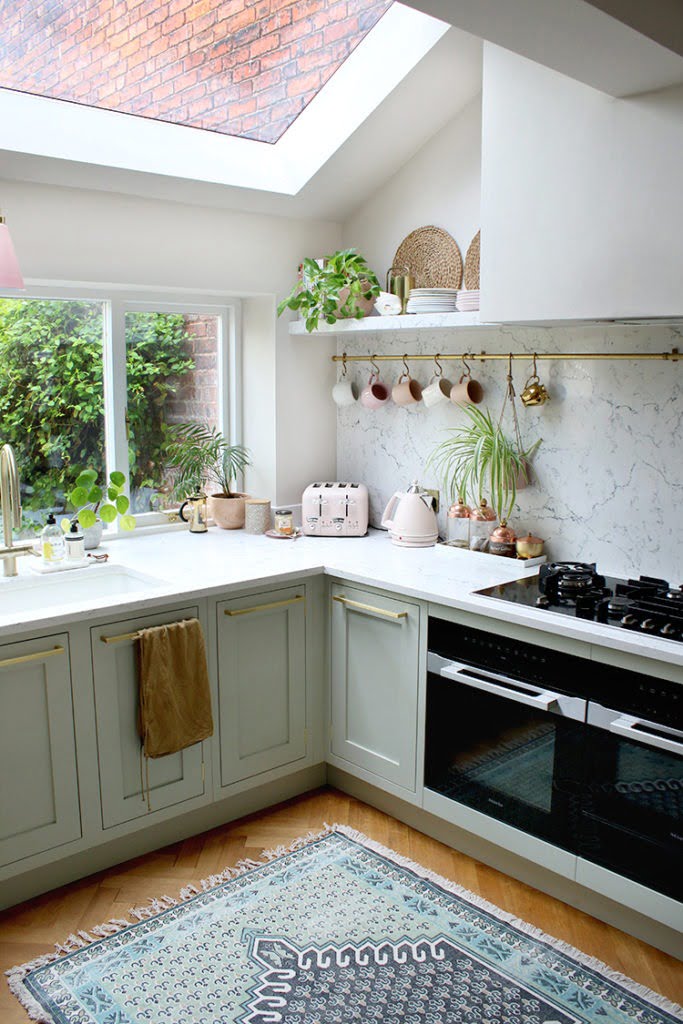 What's next for you and Swoon Worthy?
With my home, I want to tackle my workspace next. At the moment it has grey vinyl flooring but I'm waiting to get an electrician in before we can start decorating. I've done my best with the space in the short term – and I have lots of ideas for what I want to do. It's just a matter of time.
Another exciting project in the pipeline is I'm going to launch a range of my own candles. Whenever I post about DIY candles on my blog, they do so well – and it gave me the idea to create my own range of handmade candles. I've created a small collection which I'll be making at home in my kitchen. I've designed the packaging and picked the scents. This is something I'm very excited about – I probably shouldn't be talking about it yet – but I can't contain myself.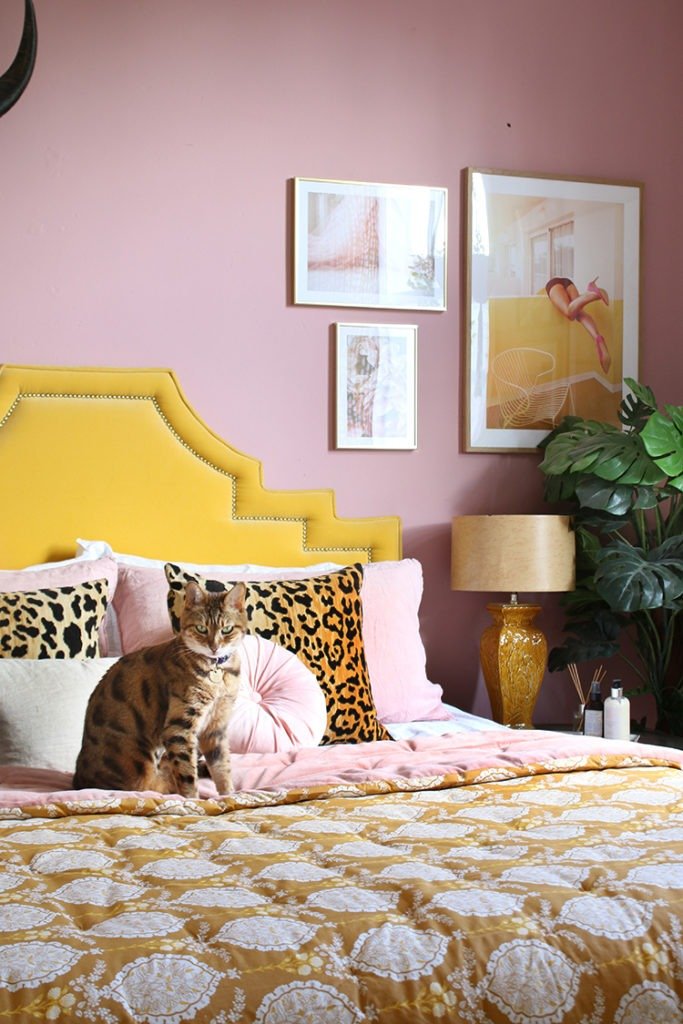 10 Interior Styling Lessons From Kimberly At Swoon Worthy
There you have it – there is the 10 Style Lessons From Kimberly At Swoon Worthy Blog. You can see why we ran out of time on instagram – there is so much more we could have chatted about. You can follow her on Instagram here.
This IGTV with Kimberly was SO POPULAR that it got over 1.5K views in less than 12 hours – that I think I have to have her on my channel again, don't you! Don't forget to check out what all the fuss is about over here. Learn more about Kimberly – and make sure you have a long and hard snoop around her blog. You'll love it.
You May Also Like
WANT TO GET YOUR HOME INTO AN INTERIORS MAGAZINE? HERE'S HOW…
GIVE YOUR BATHROOM A SUMMER REFRESH WITH TROPICAL PRINTS
6 DESIGN IDEAS FOR A MINDFUL HOME