Today, I want to share some exciting news! I wanted to show my latest work appearing in Coast magazine when I was their contributing interior stylist.
In December, I was asked to be a contributing interior stylist for one of my favourite magazines – Coast. Not only did I shoot & style a stunning Danish inspired seaside home but an interview with me appeared on the Editor's letter of the magazine.
Coast magazines is such a lovely lifestyle title which features everything to do with living by the sea. As a stylist who grew up on the Sussex coast, and now lives in Brighton – it is a title that I love to read as it has so much inspiration and ideas.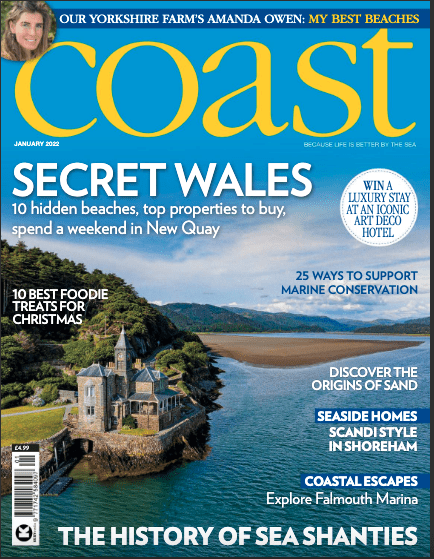 CONTRIBUTING INTERIOR STYLIST FOR COAST MAGAZINE
As part of my job as an interior stylist, I find beautiful home to feature in magazine titles. For this issue of Coast magazine, I found a stunning modern, beach front home in Shoreham that has been decorated to follow Danish design rules.
To complement the piece, the Coast Editor Alex Fisher interviewed me as the guest contributing interior stylist on her Welcome page. We had a lovely chat about what it is like growing up by the sea, and how the coast has influenced my work.
My first ever freelance shoot was with Coast magazine about 15 years ago, so I have very fond memories of this magazine.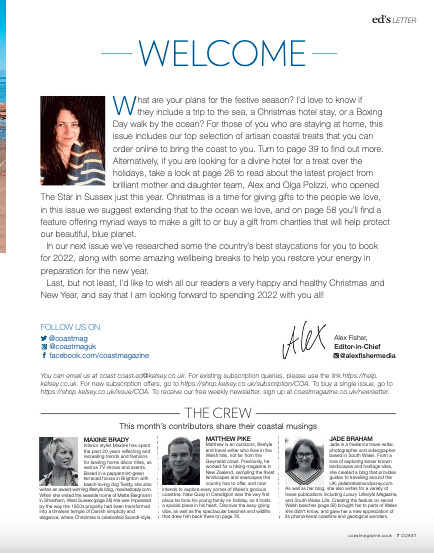 Featuring A Scandi Style House In Shoreham
The main feature I wrote was an in depth look at a 1970s style coastal property which was renovated through out, turning it from an unloved rented house into a chic, contemporary home.
Mette, the homeowner, is Danish and she is inspired by the places that she grew up which is reflected in her chic interior. I've shared the pages from the magazine below but if you prefer to read the feature in full you can click here to download your free online copy.
The house was styled with a traditional Scandi Christmas setting with a real tree, simple handmade decorations and lots of twinkling lights for the December issues.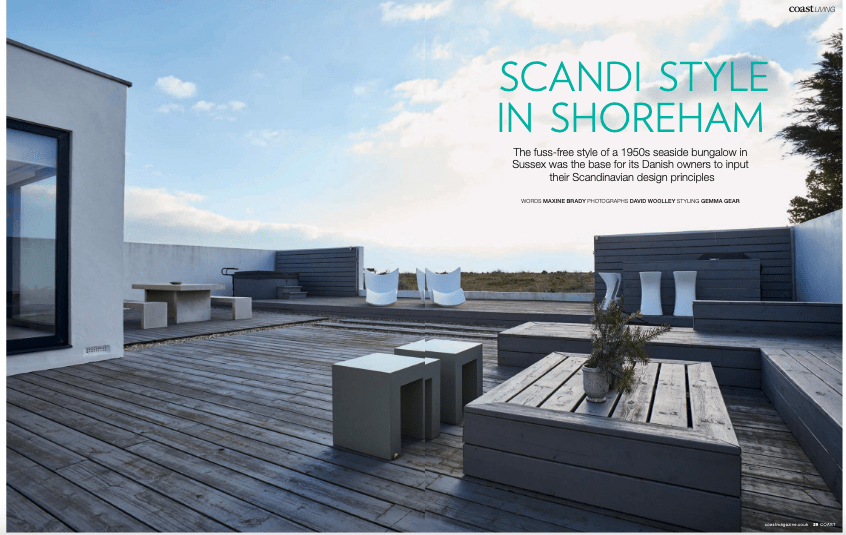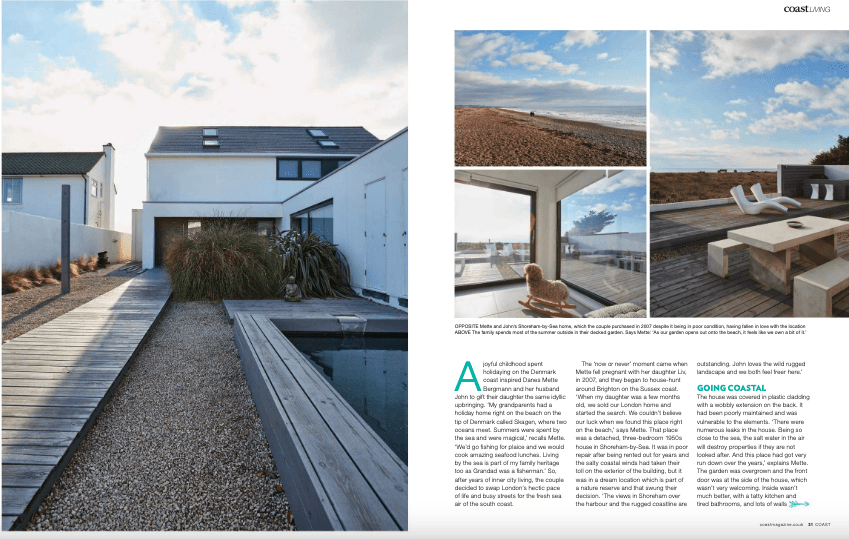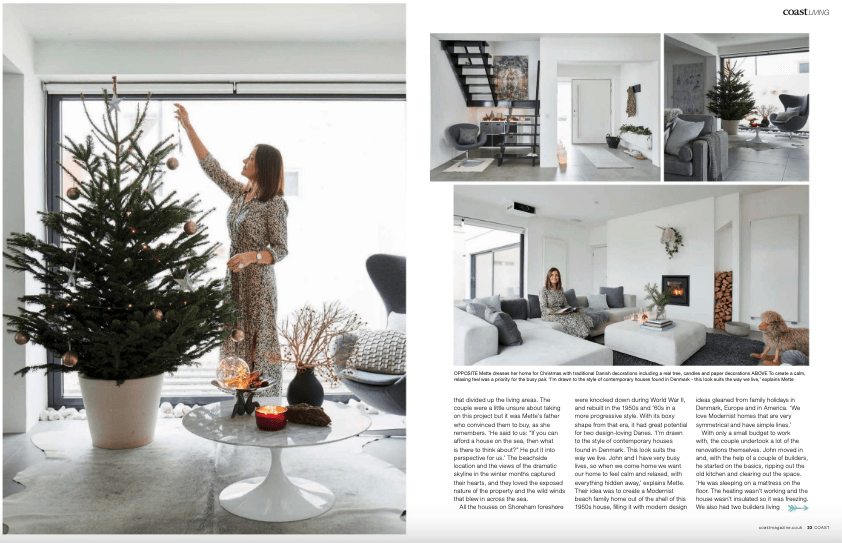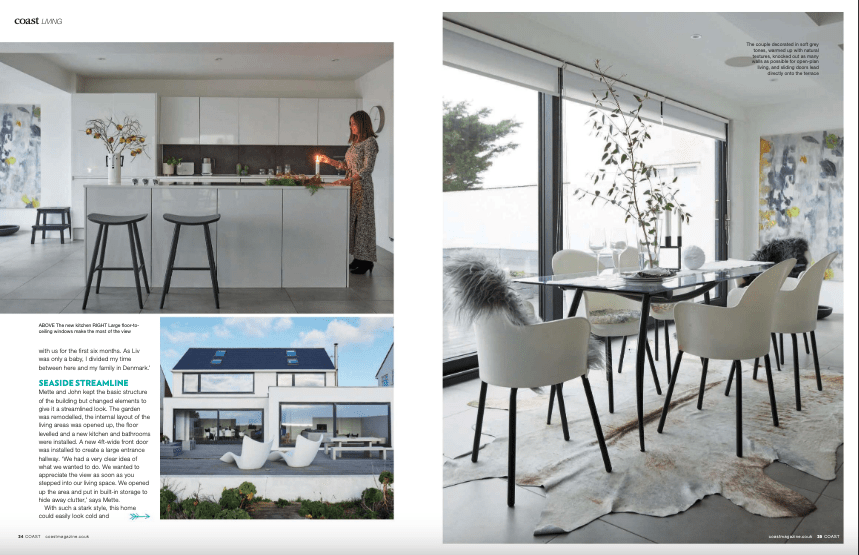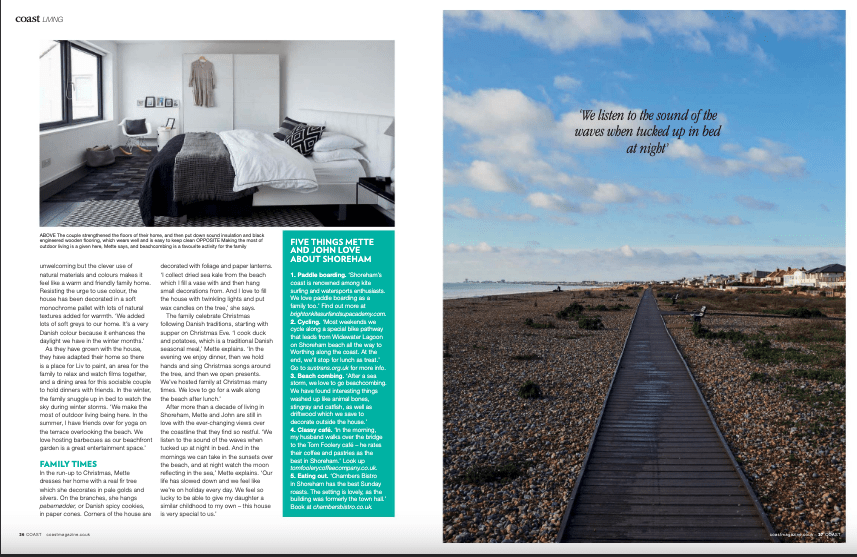 What an amazing place right on the beach. Can you imagine living here? It would be a dream of mine to be so close to the sea and nature.
If you would like for your home to appear in a magazine, then please have a read of this feature I wrote here and please get in touch via my email contact form.
Have a lovely day.