Before Christmas, I was asked by the team behind Curry's popular YouTube channel to style a gallery wall using their top of the range Samsung Frame TV. I want to share with you what I did as well as some styling tip but WAIT… as there is a big twist at the end.
Presenting for Curry's Youtube channel was fabulous experience. They have a dedicated studio filled with props that I could use to dress the set. I had such a fun day! You can watch the video below.
More about the Samsung Frame TV At Currys
The Samsung Frame TV (available from Currys) is no ordinary TV. It's designed to blend into your home with the Art Mode where you can display pieces of art or photos. There are 1200 of piece of art to choose from within the Samsung gallery – and the TV comes with magnet clip on bevelled frames that turn your TV into a real piece of art. The TV fits flush to your wall too so it blends into your gallery wall.
Put it on ambient mode, choose your art and digital 'frame' and you are good to go. You can discover more about how it works here.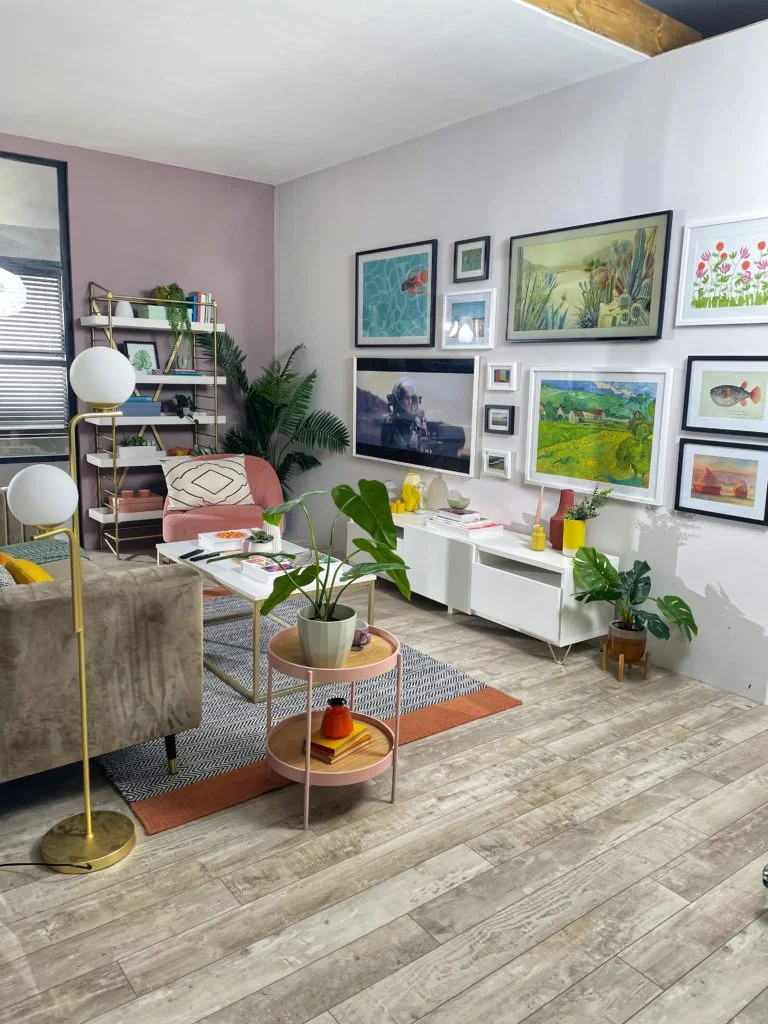 3 Ways to hang your GALLERY WALL Around THE SAMSUNG FRAME TV
When you live in a condo, apartment, or tiny house, every square inch matters, including your walls! A good way to make the most out of your vertical space is by creating a gallery wall where you can display photos, paintings and posters. One of the best spots to place this is on the wall around your TV.
1. Use the Same Style Frames in Your TV Gallery Wall
Using frames that are the same colour and style, ensures the TV gallery wall look is cohesive. The TV becomes the showcase of the design, rather than looking poorly hidden.
Any colours frame will work but keep them consistent with the style of the room itself. Match your frames to the colours in your room for a cohesive look.
In this space, I went for a Century modern look with a pink velvet chair, deep plum walls, retro lights – all of which complements the artwork and frame TV.
2. Choose art that in similar colours or themes
When decorating around the TV, remember that your art is the the focal point. Choose prints or photos that have a theme (it can be natural, places you've visited…etc) or similar colours. Curate your artwork for a purposeful and deliberate look.
Personally, I like artwork that has creates a talking point. Either photos from trips abroad, artwork that reflects fond memories, or pieces of art that I've admired in a real art gallery.
The clever thing about the Samsung Frame TV is you can switch out the art work to suit your mood, that way your gallery wall always looks fresh and interesting.
Before you start hanging any pictures, lay your artwork out on the floor to make sure you have the perfect layout. Take a photo of the layout, so you can keep track of it when you put it up on the wall. And make sure you measure your wall space to double check that your art work isn't going to look cramped or cluttered.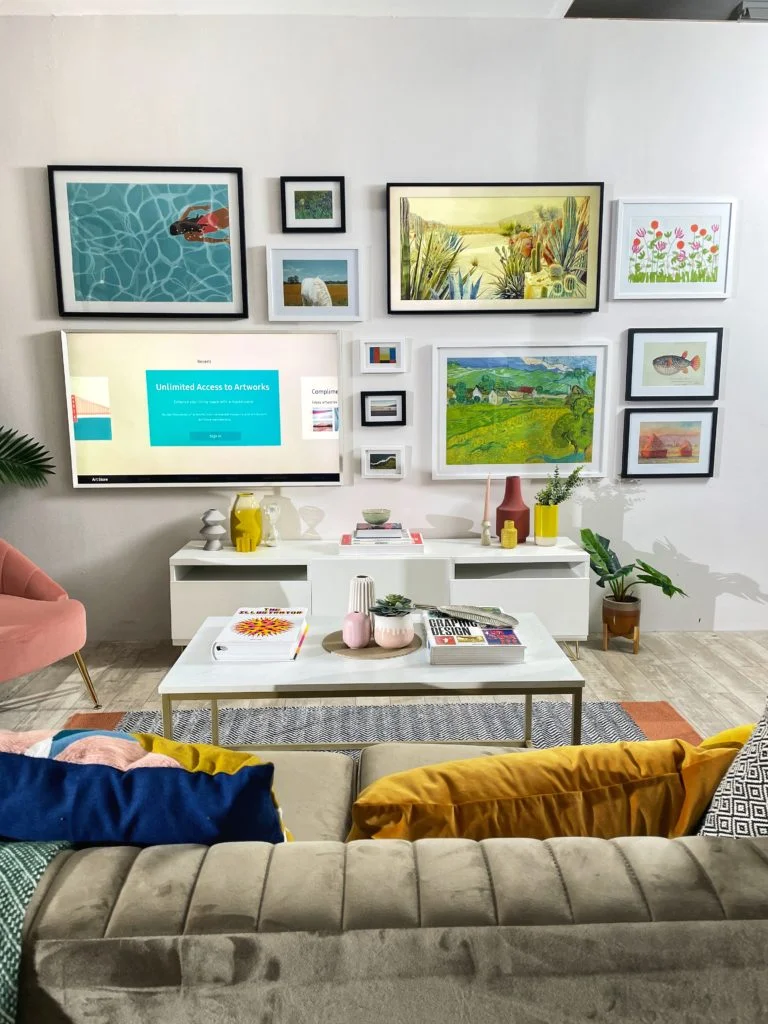 3. Aim for Symmetry and Balance on the TV Wall
A balanced gallery wall will appear calm and well thought-out, and add to your home decor. A wall where items are hung haphazardly feels confusing and unsettling. Not what you want to look at when you are sitting down to watch TV.
You don't necessarily need to hang item in the exact same sized frames, evenly on either side of the TV. In fact, choosing pieces of art in various sizes looks better. Try to make sure that each piece is at least 4cm apart so that they look consistently spaced out. Although it maybe tempting to hang all your fave pieces, don't overdo it or add too many items to compete for attention.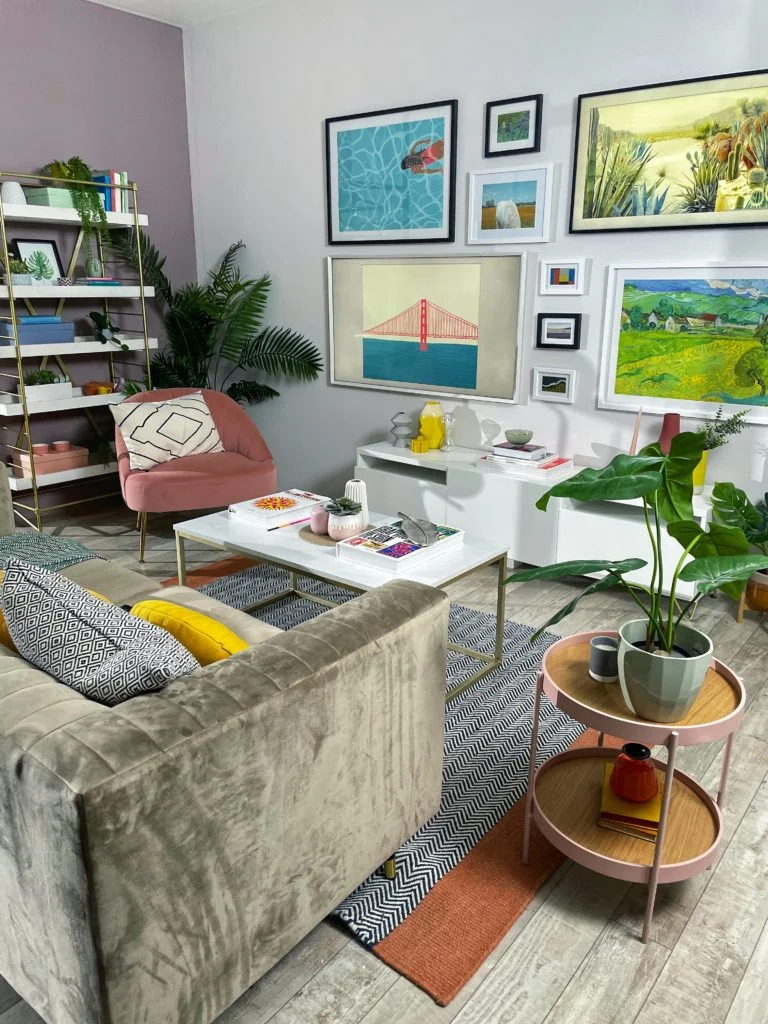 Knowing how to create a gallery wall is allows you to add colour, interest and a ton of personality to your home. And now you know that perfect spot for styling a gallery wall is around your TV – helping it blend seamlessly into your decor! Use these tips to ensure your TV looks great as part of your gallery wall.
If you want to learn more about the TV – click on the YouTube video above.
And if you are looking for a interior stylist TV presenter for your project please get in touch here.
Collaboration with Currys