The whole interior world has gone ga-ga-crazy for furry hides. As an interior stylist, I love an artfully placed skin draped over a sofa or chair, they look achingly-cool. Hides are also super snuggly and the touchy-feely texture is dangerously addictive. Here's my 101 ideas (well, almost 101) to show you how a stylish hide rug can update every corner of your home, complete with my before + after photos.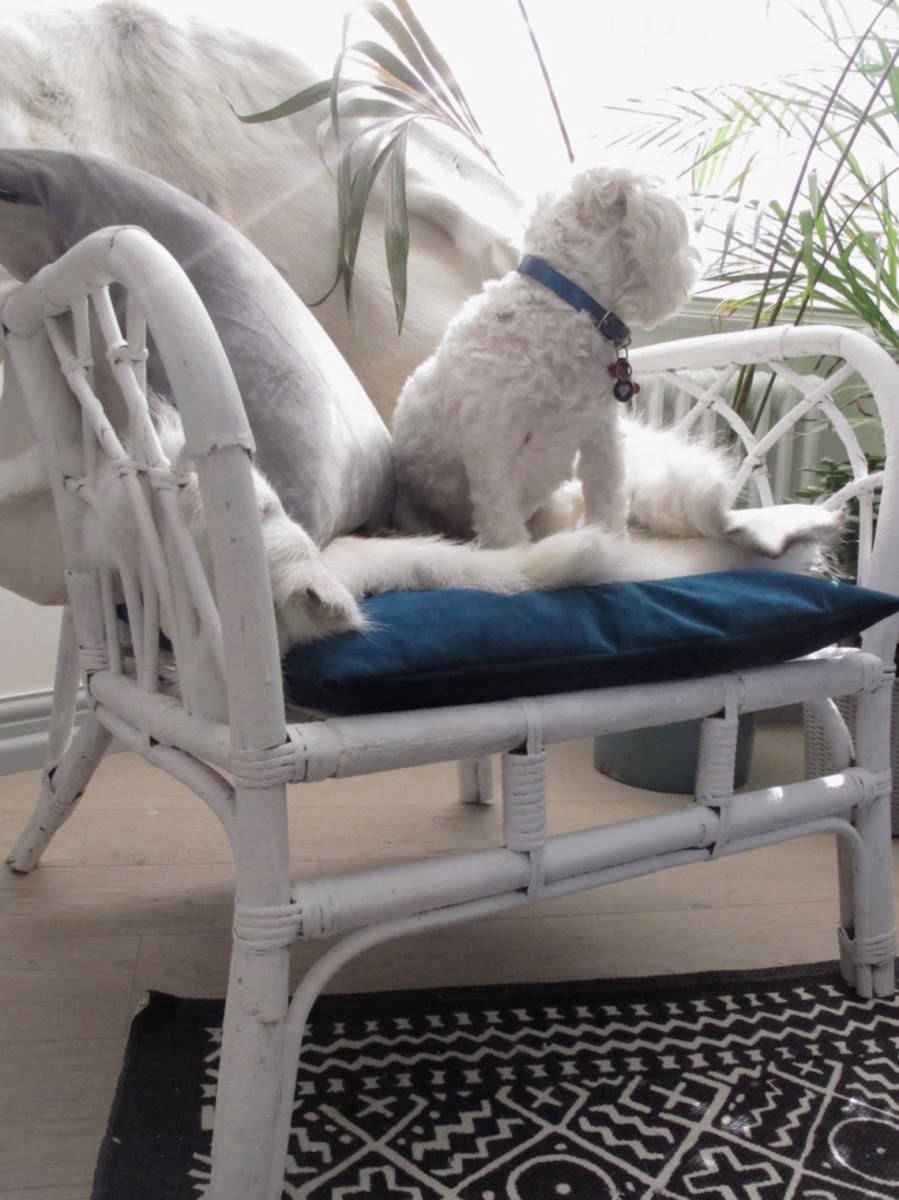 Why I Love Hides?
I've been obsessing over hide rugs for years – ever since I went to Oslo about 10 years ago, and saw reindeer rugs for sale in the airport lounge of all places. I'm a veggie, and at the time I felt uncomfortable buying skins. Since then, I been looking for hides that are the same quality, with a deep pile and great colouring that were ethically sourced (at a reasonable price).
I came up with poor imitations time and time again. That, my dears, was until I saw Karen Knox's from Making Spaces and her blog post on UK-based family run business, Hide Rugs which you can read here. I found what I had spent 10 years looking for. I couldn't decided which ones to go for – they were all so damm good. In the end, I spoke on the phone to their sales team who were brilliant at helping me picking two rugs. They knew every hide by colour and shape.
I ordered two, one rare breed sheepskin in the sale for £50, and one Reindeer skin for £129. For the price, the quality is insane. I also felt comfortable buying hides that are purely a bi-product of the meat industry, none of the animals are bred purely for their skins.  Hide Rugs vouch that all the animals live good lives and have plenty of space to live organically. I wear leather and suede, and vintage furs despite calling myself 'veggie'. At least with these hides, I feel I'm buying ethically as much as one can with animal products.
With the ethics dealt with, I couldn't wait to play around with the hides in my home.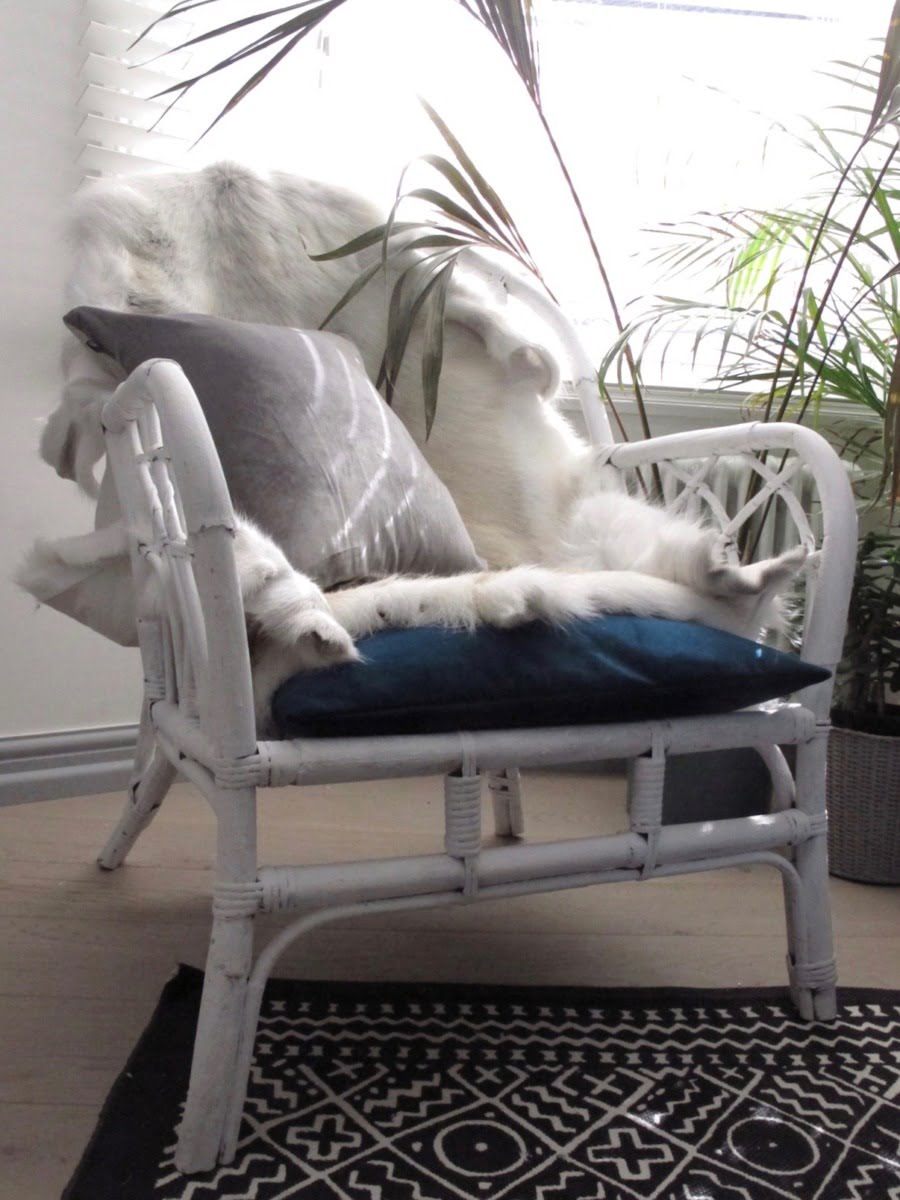 Upgrade A Freebie Find
I found this cane chair in the street. A lick of paint later and I had a new seat for my bay window. I'll admit it wasn't the most comfortable chair even with the squishy cushion my very sewing-bee sister made for me – but what do you expect for a freebie? That is why I chose to layered up the luxe with the Reindeer throw. It's now so cosy to snuggle onto. It's now my dog's favourite place sleep. (I'm so going to do a blog post on all the street tat I find and up-cycle soon!)


Each hide is totally different. I went for one with salt and pepper markings. You can get any shades you like. Hide Rugs specialise in rare breeds so you can get a wide range of colours and textures. This hide doesn't shed either so when you sit on it, you don't get covered in hairs.
Luxe Up Your Sofa
I got this sofa.com settee on eBay for £150, I had velvet covers made for it and upscaled the sofa to look like a new one, worth £2,000. You can see mini makeover over here.   Even though it looked waaay better than when I bought it, it was lacking a certain something….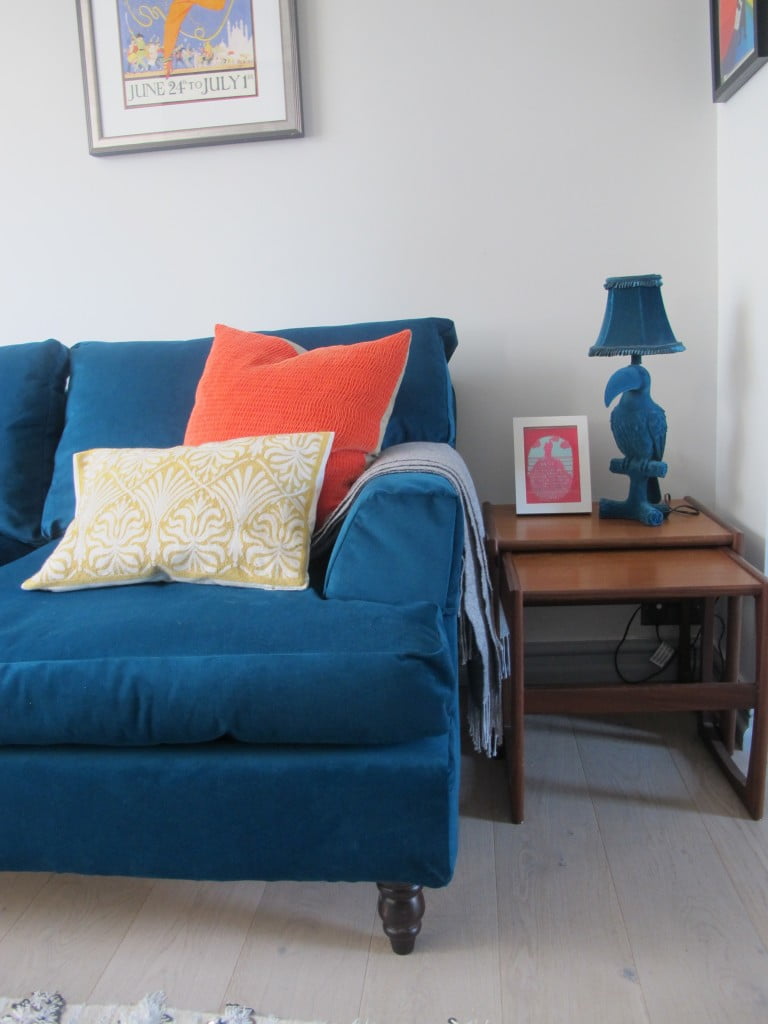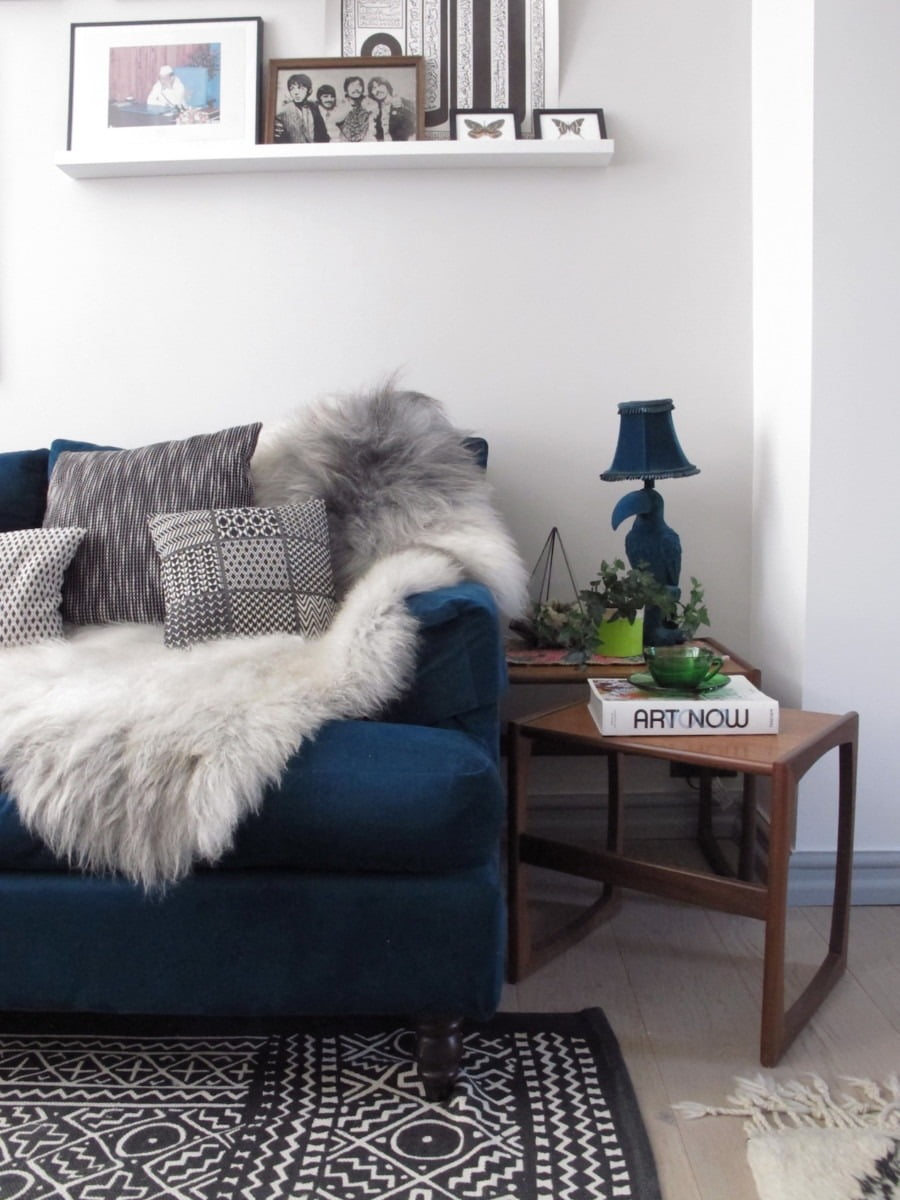 Yep, that's right. My £150 sofa, which was made over to look like £2,000 one, now looks like a £100,000 one! That's how good it looks. The throw hides the fact that my sofa cushions are a little past their best. Oh, and let me tell you how lovely it is to cuddle in to watch telly especially now it's fast approaching Autumn.
There is something about layering with a sheepskin that beats a throw any day. I've managed to nail Scandi-chic//Boho-Ho Modern//Monochrome-chic with one hide. And all for £50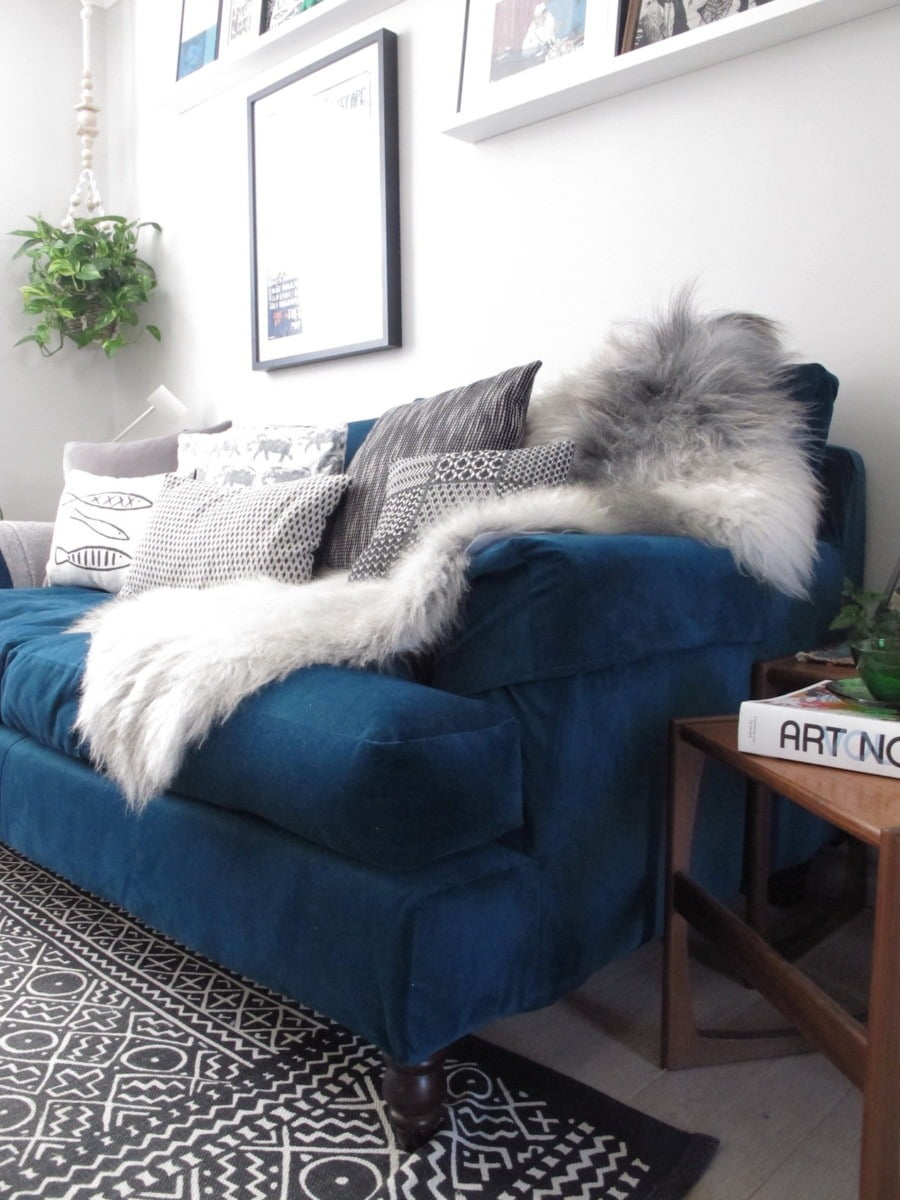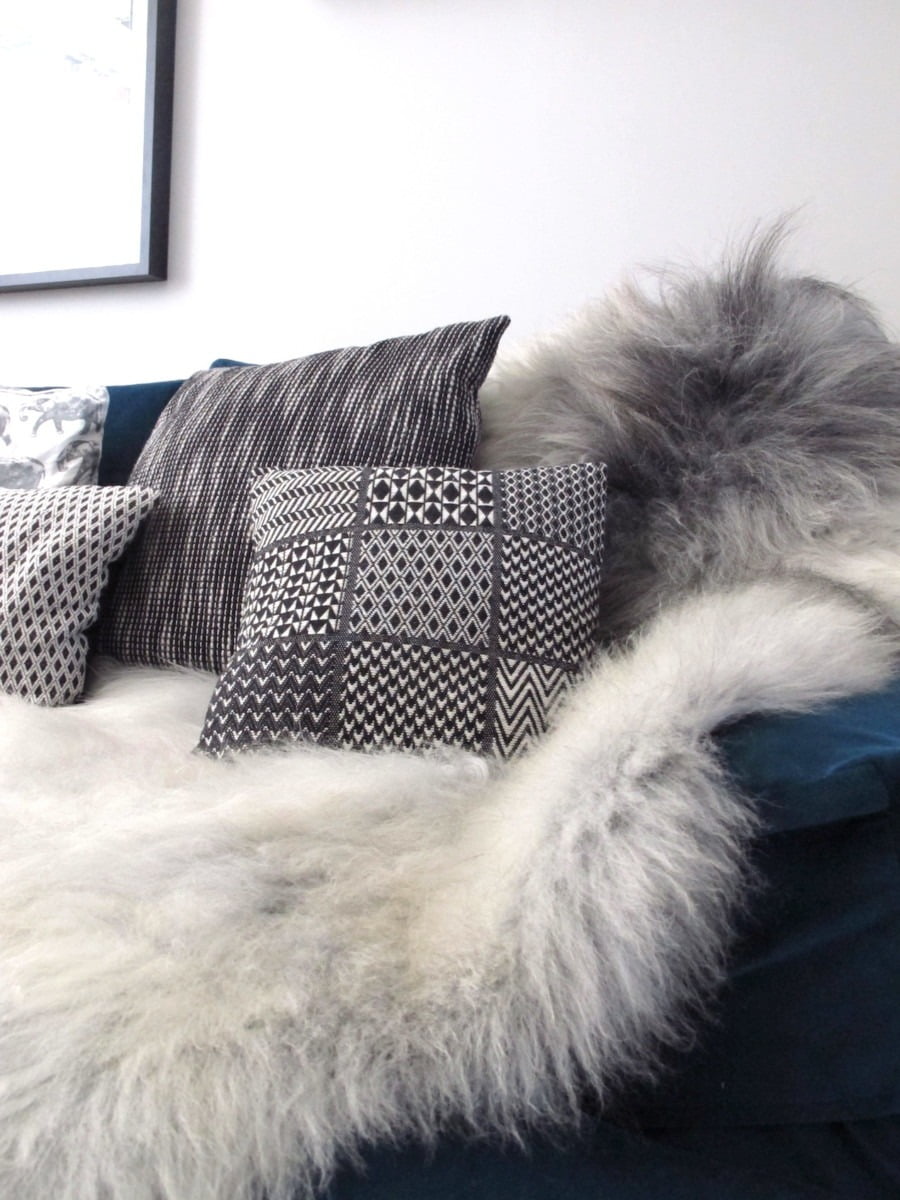 **grins from ear to ear**
Make Guests Comfy
I love hosting friends for diner and I'm a brunch addict. But not as much as I would like to. I think that is because my dining table lacked a certain something? And it turned out that 'certain something' was very fluffy.


Here you go. My metal bistro chairs from Lakeland Furniture now are so soft and comfy to sit on.  As you know, I work from my dining table too – doing all my blogging and producing TV shows, so my dining chairs double up as my desk chair.  I love having a shag pile hide to sit on all day. When I'm typing it doesn't matter how high the heating is, I still get cold. That is why having a sheepskin around the ideal solution. Feeling nosy? You can see my full dining room makeover with Laura Ashely over here.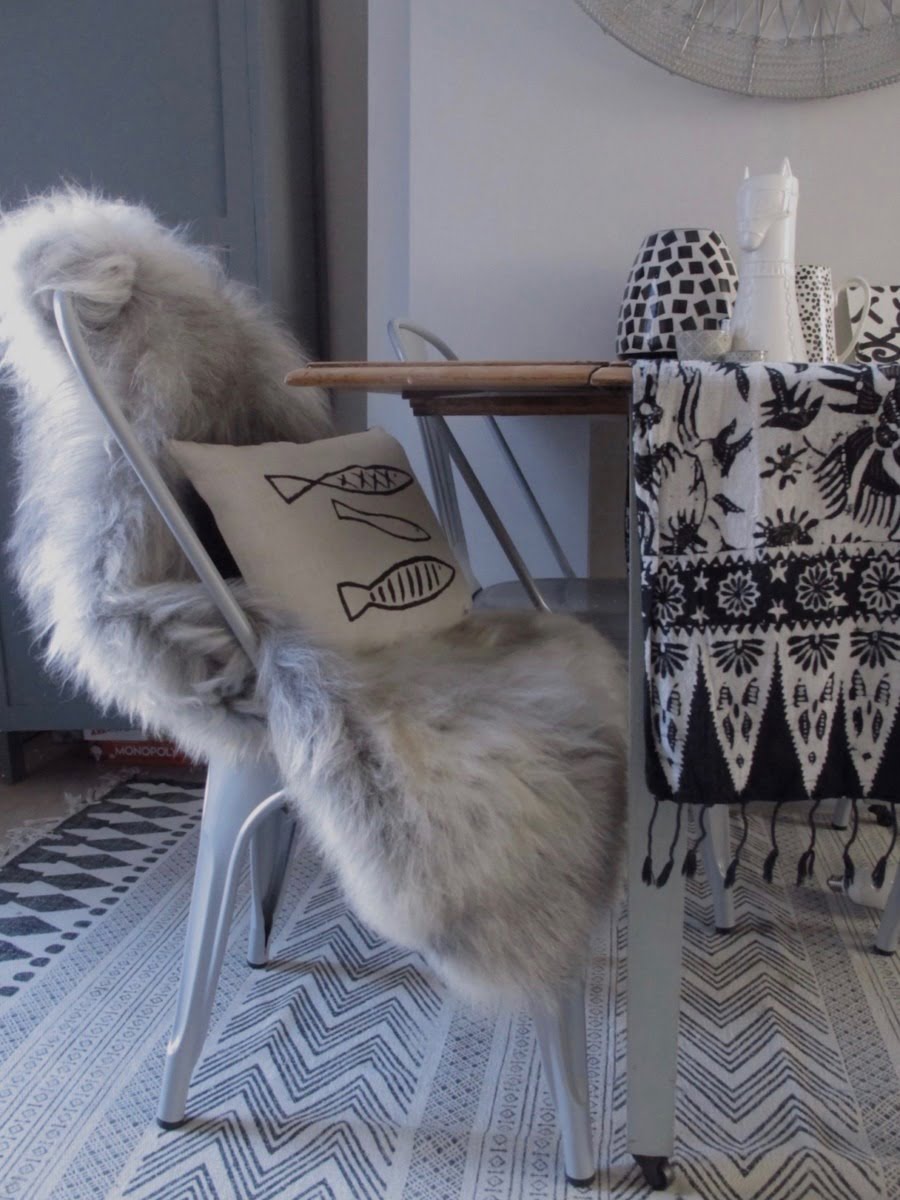 Take It Outside
I will do anything to drag out summer for as long as possible. In September the evenings can be light until about 8pm but the cold and damp will stop me from staying out and enjoying it. This is where a sheepskin comes in handy as a cosy cover up, warm layer and adds a bit of Nordic luxe to my free-cycled outdoor bench.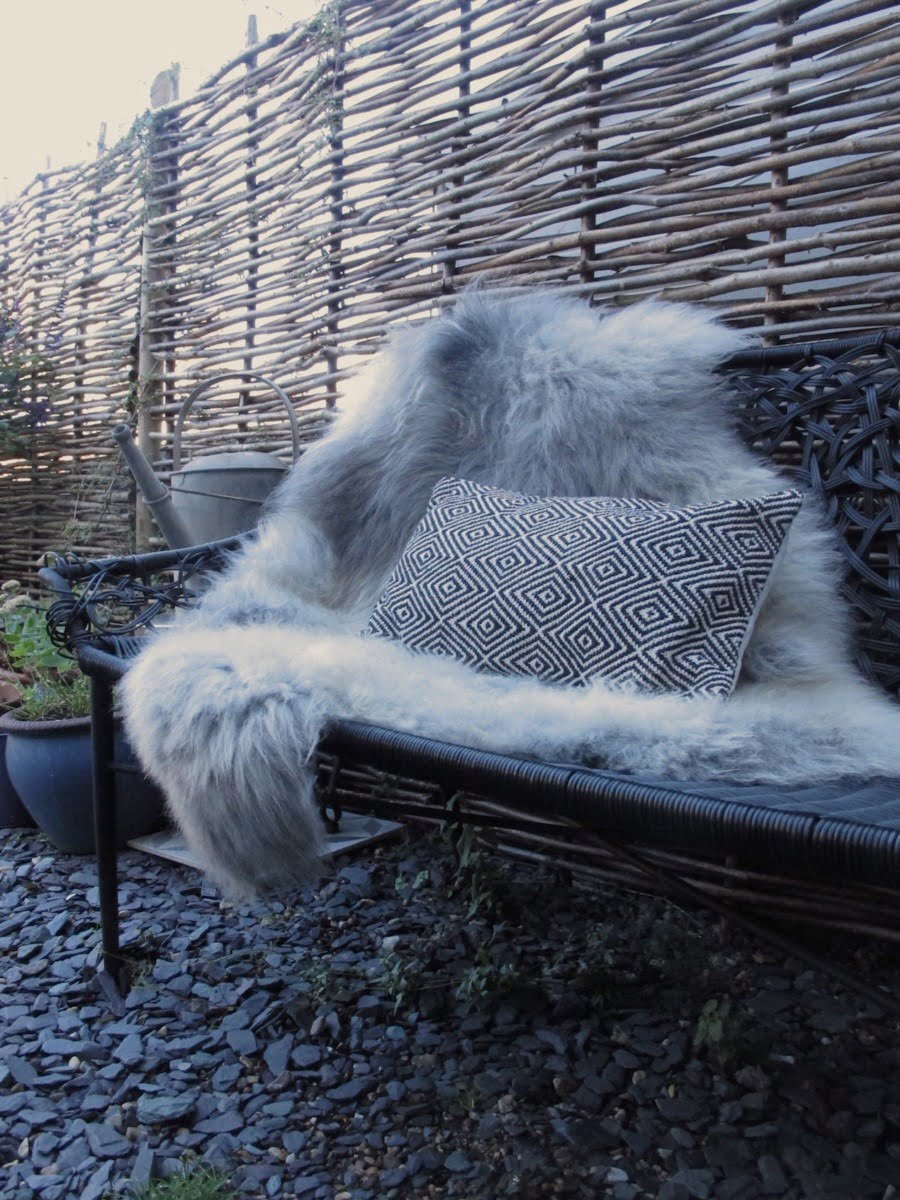 Add Layers To Your Bedroom
I'm actually cringing at the photo below. My bedroom was so bad. Thank gwad for one very large can of Dulux paint and a long bank holiday, and my bedroom makeover was in progress. but it


That's better. Here is my calm and soothing bedroom. This vintage bed bought off GumTree for £120 is my pride and joy. To make it the hero in my room, I need to vamp it up with an amazing sheepskin throw. I love having it draped over the end of my bed, I feel like some heroin from a romantic novel with my hide throws and vintage rug care of my mum.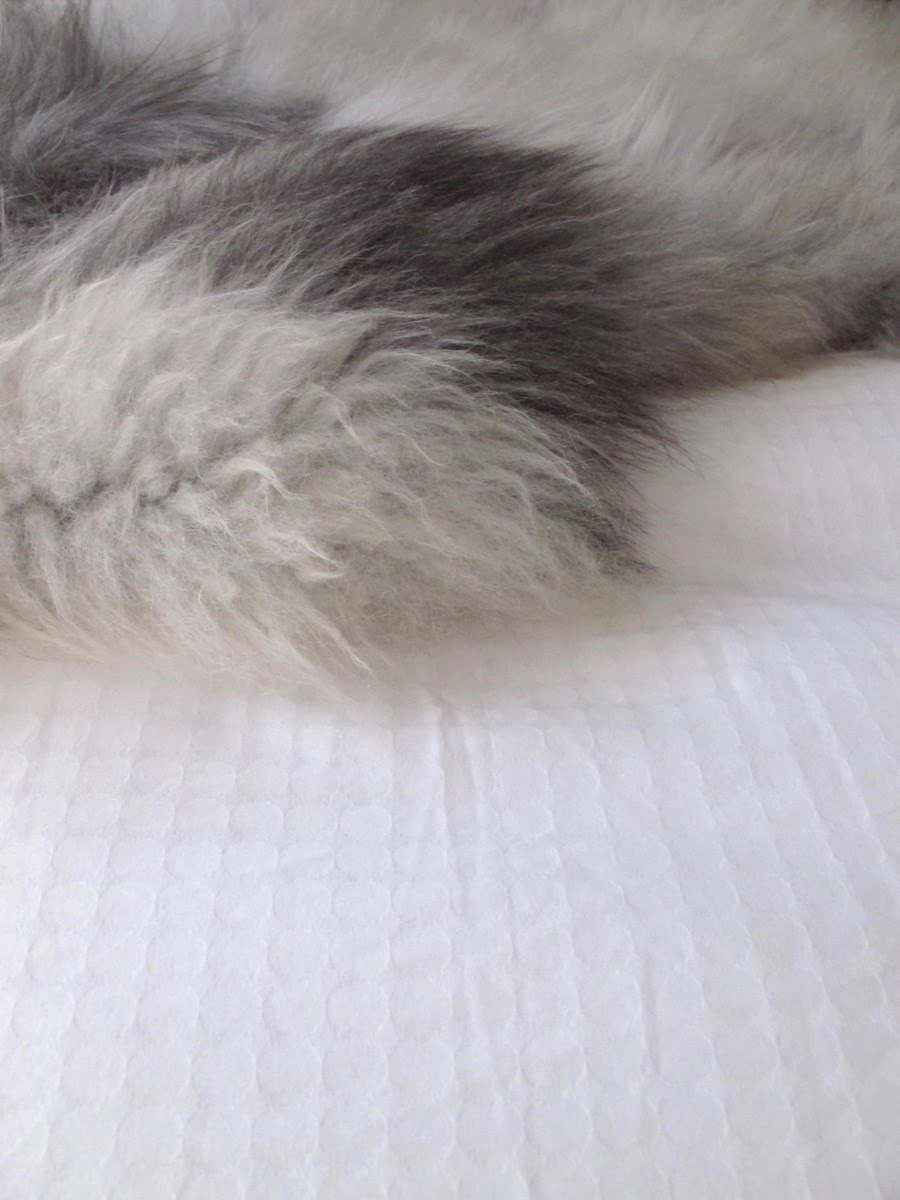 Look how the sheepskin sits so well against crisp white cotton sheets. They are a match made. And unlike the drab throw I had on before which always looked flat and dull, this hide adds soft colour and texture to my bedroom without being too much.
Drama To Floors
Randomly, putting a hide rug on the floor was the last idea I had (this how my brain works sometimes). I have got to point out my beautiful engineered wooden flooring from UK Flooring Direct – the washed oak finish was exactly what I wanted for my room and the colours have set the look and feel of the whole of my ground floor. The natural pattina and colours of the Reindeer hide complements it completely. Look how my feet sink into the fur. It feels so lovely between my toes I  take my shoes of and stomp around in it to get the full effect.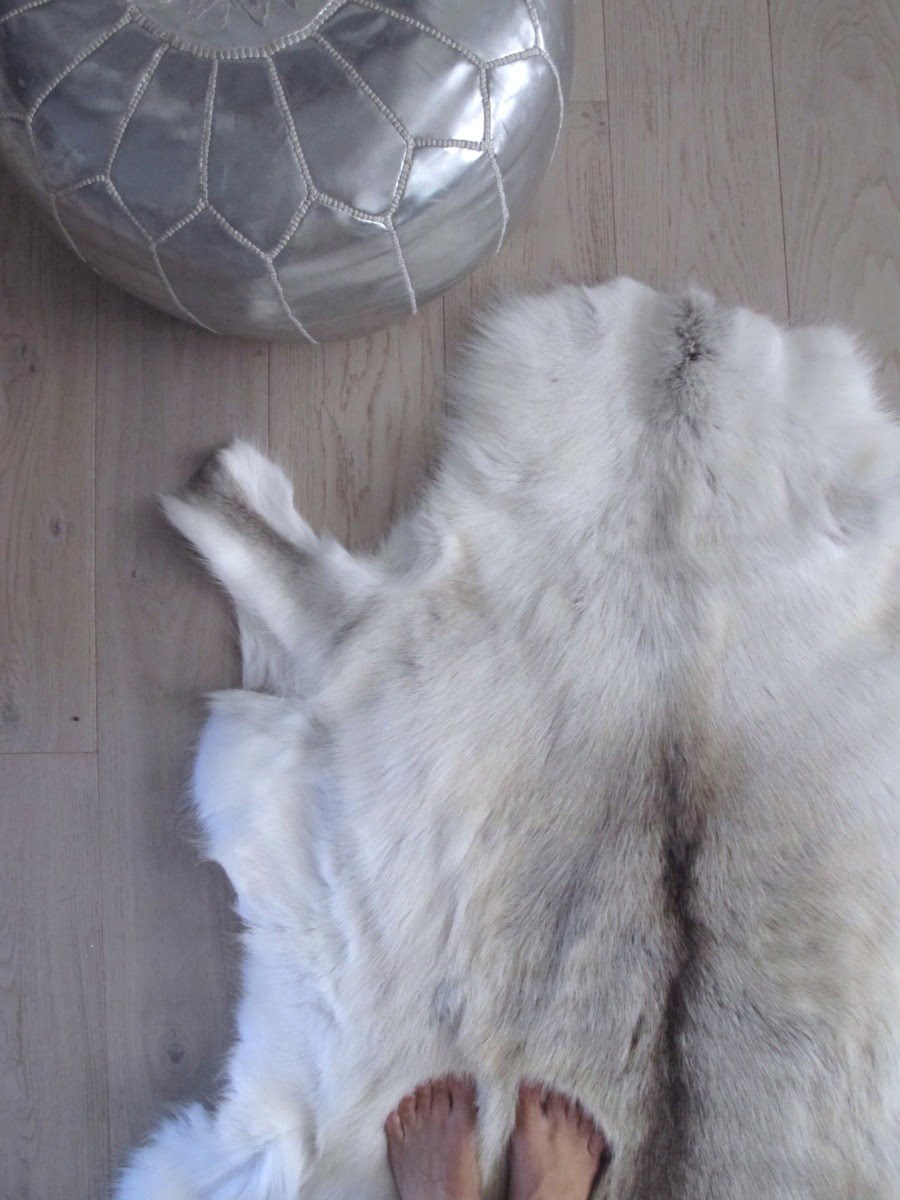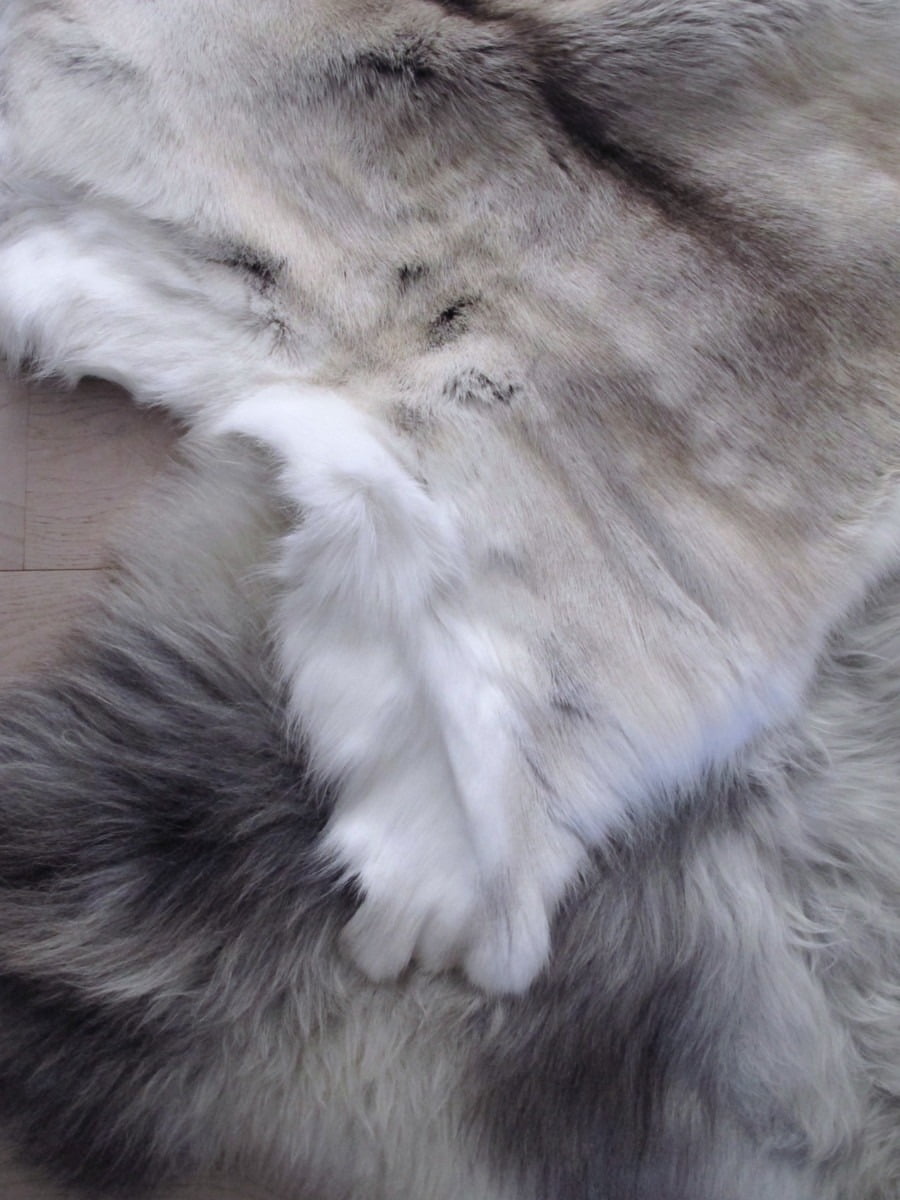 We all know how I love layering rugs from this post here but these hides are ideal if you need have a vast room that you want to make feel warm and cost. I can see these in front of a real fireplace in winter time, can't you?
If you have followed my blog a bit, you will know how much I love to switch things up in my home. Considering how versatile these hides are, and how affordable, and the ethic natural of them – I'm trying very hard to restrain myself to just two (for now).  I think you'll find my love of hide rug love is very contagious. I bet you are tempted too.
•• Disclaimer, these products were sent to me for review by Hide Rugs. As always, these are my opinions, my photos and my thoughts. I only share things I would want in my own home and that I think you will adore too.