Today I want to talk about a subject that is very close to my heart: I want to talk Trash! My local council is big on recycling which is amazing for the environment but not so great for my brand new kitchen makeover. To keep clutter under control, I went on the hunt for the perfect bin. One that would hold recycling, general waste and be easy to keep clean. I shopped around and finally picked the Joseph Joseph Totem 60 bin. It costs £219 which is a hell of a lot of money to spend on a bin. Let's find out if I thought it was worth the dosh.

Trashy Bin Problems
I blame my dad for odd-ball trait of mine. His love of  bin day is legendary in our family. He would excitedly drag out his three bins, all ordered and correct the night before. It appears I have inherited his love of recycling.
Why was I in the market for a new bin, you ask? Well, my old bin wasn't cutting it. It had a pedal that you stepped on to make the lid pop up but the lid would smash onto my wall leaving a mark each time. It was round so it ate into the tiny floor space of my kitchen. The chrome finish always had finger marks on it and although it had two sections for rubbish and recycling, it was always overflowing.
Design gurus Joseph Joseph must have heard my anguished cries and they decided to tackle this kitchen bin problem. I'm sure you have seen Joseph Joseph's range of clever colour-pop kitchen gadgets from stacking bowls to folding chopping boards? I was excited what magic they could bring the common-old bin.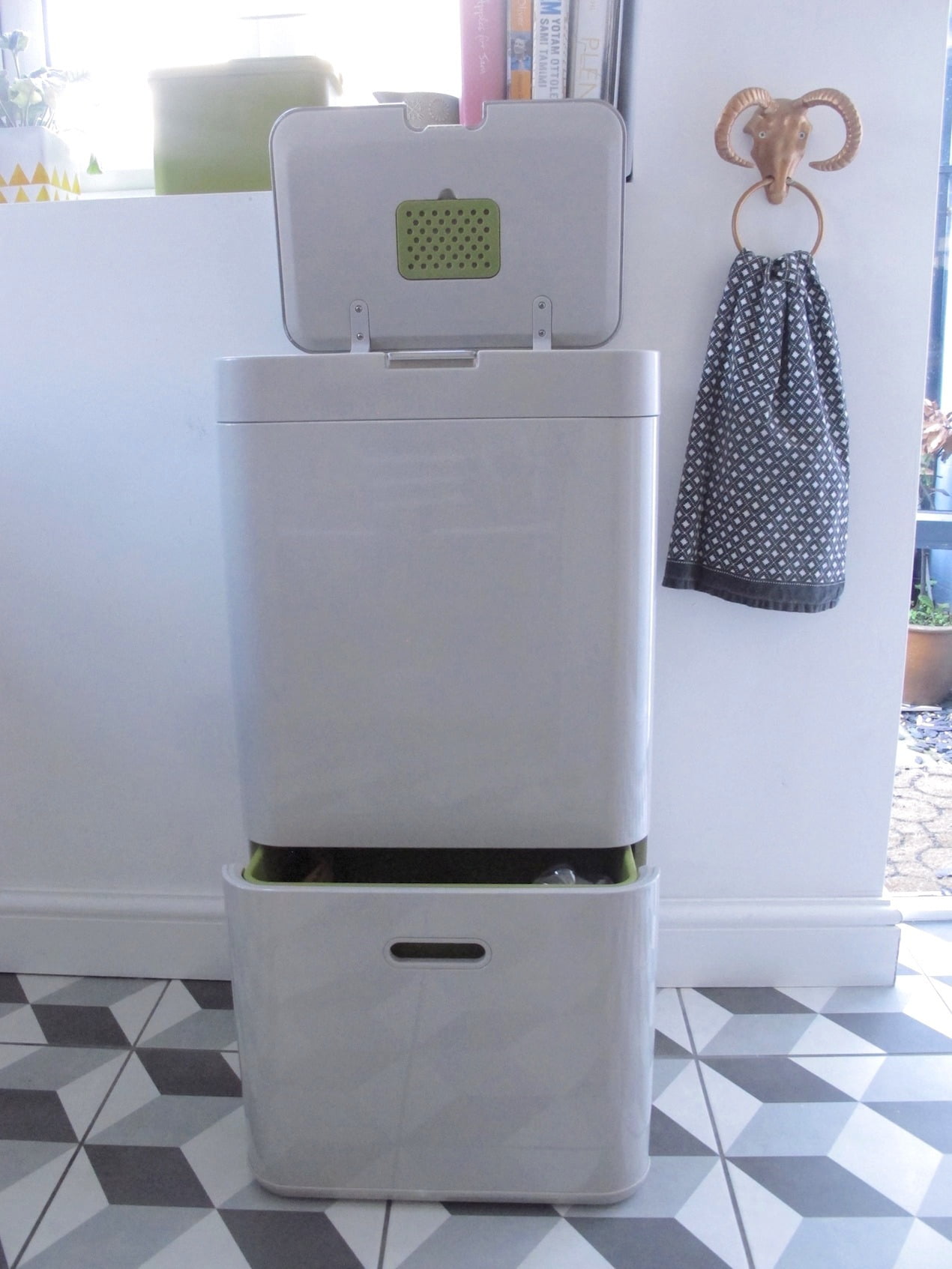 How Does My Bin Look?
I'll be honest when I unpacked it, I wasn't sure. I think I have become so used to round bins that I couldn't get my head around one that looked totally different. It's taken me a while to get used to it but now I love the shape. It's surprisingly hard to find a rectangle bin – they all seem to be round. This is a huge no-no in a small kitchen as it eats up valuable space. Be careful when picking your colour on-line. It comes in classic chrome, stone and a glossy black. On-line the stone shade looks white but it's actually a beige tone just to give you the heads up. It has a slight sheen to it too. Luckily, this colour complemented my BCT kitchen tiles and the sage green of my kitchen unit fronts so I was pleased. They all have the signature lime green lining which I'm not a fan of, but you only see when the bin is open.
The Perfect Re-cycling Bin
At the bottom is a large recycling pull out drawer. It's on wheels so it glides out really easily. I was shocked over how much I could squeeze in. Although this recycling drawer felt much smaller than my old recycling bin, I can fit more in but I will admit I have started to squish my plastic bottles and fold my papers. What is also very clever is you can take out the green lining completely so you can clean it easily (I could never reach down into my old bin with my short arms to give it a really good scrub).
The divider is so you can sort your recycling at source from glass to paper. Tip: Don't do what I did on my first use and tip the recycling into your bin man's truck straight from the green draw! I lost that middle divider on my first go, and the parts are pretty expensive to replace. Doh! You live and learn.

Easy To Sort Rubbish
The top section is where you put your general waste that can not be recycled. The top of the bin is made from 'fingerprint proof' stainless steel with a pop up button. The lid really stays smear free. Obviously it gets marks but it just wipes clean easily – which as a neat freak like me is the bomb. The push button took a bit of time getting used (I kept trying to open it with my foot) but now I love popping the lid. It's soft-close too which is so much nicer than the smash and slam of my old bin lid.
Another plus: The rubbish bags fit around the inner of the bin so they are hidden out of sight. I hate it when you can see the rubbish bag tied around the top of a bin, don't you? Unlike other bin brands, you don't have to use expensive own brand bags, you can use ones from your supermarket.
Again, I'm not sure if it is the rectangle shape but I don't seem to be emptying it nearly as much. I find I can ram loads in here. It says the body holds over 36L of waste which is more than enough for a single household like me. The green filter you can see there, wth the little holes, that helps to keep stinky smells under control.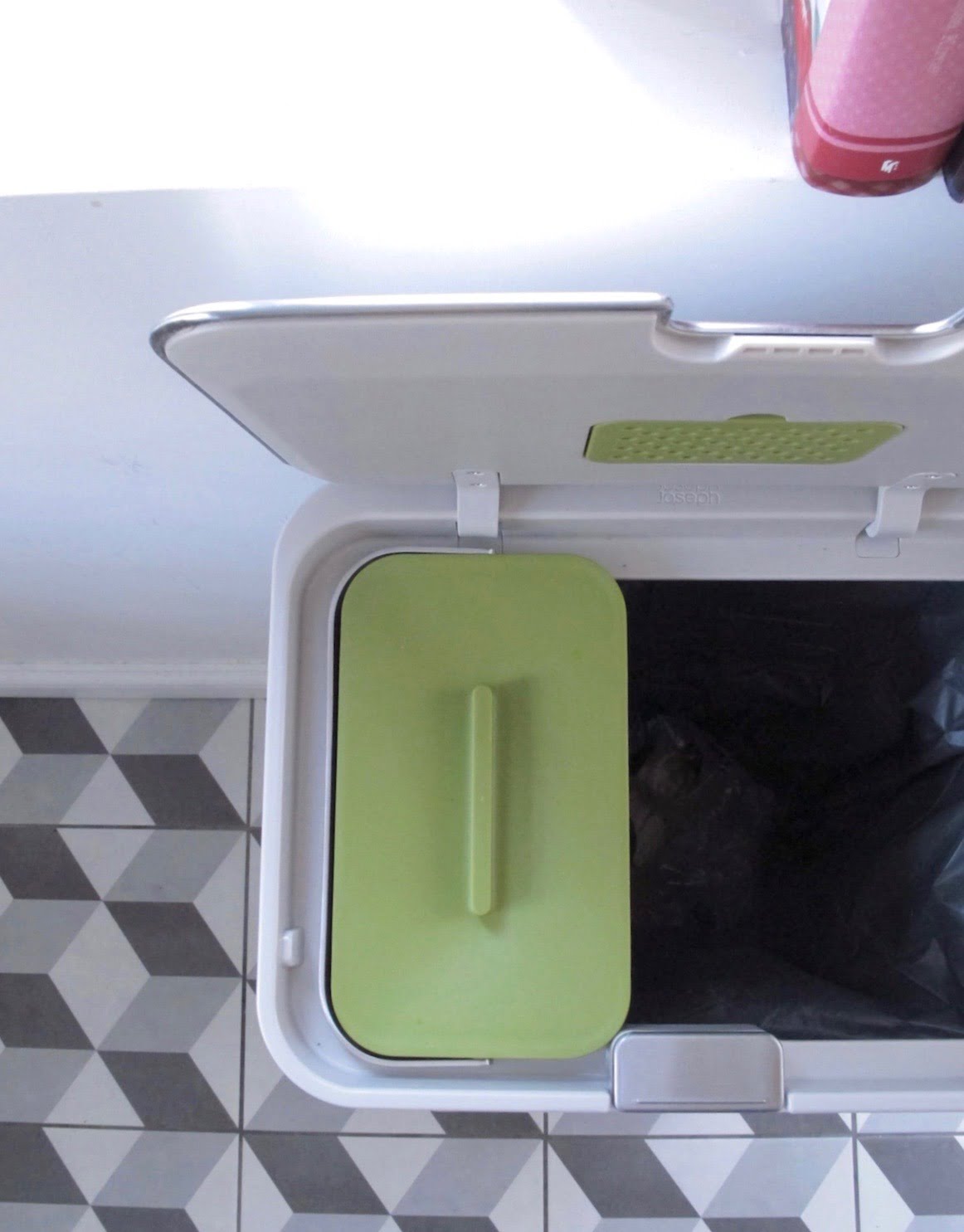 Making Compost Is Easy
I should talk about the little green caddy. This is where this bin gets really interesting. The small box is where you can put all your peelings and food waste. You can either keep it on your kitchen work top or slot it inside the bin out of site. Really handy if you love a bit of eco-gardening and want to save your food to make compost. Or if you need to feet pet rabbits your carrot tops.

Let's count it out
Okay, so £219 is an insane amount to spend on a bin but is it worth it?
The Pros:
It's really easy to keep clean.
It's really roomy yet at the same time very compact – it holds over 60L of rubbish in one bin.
I've started to recycle far much more yet still keep my kitchen tidy at the same time
It's so easy to sort waste.
My garden loves all the compost
Smells are kept under control
It's rather a talking point in my kitchen
The Cons:
Parts are expensive to replace (so don't recycle yours like I did)
Double check the colours in the flesh to make sure it is going to work in your kitchen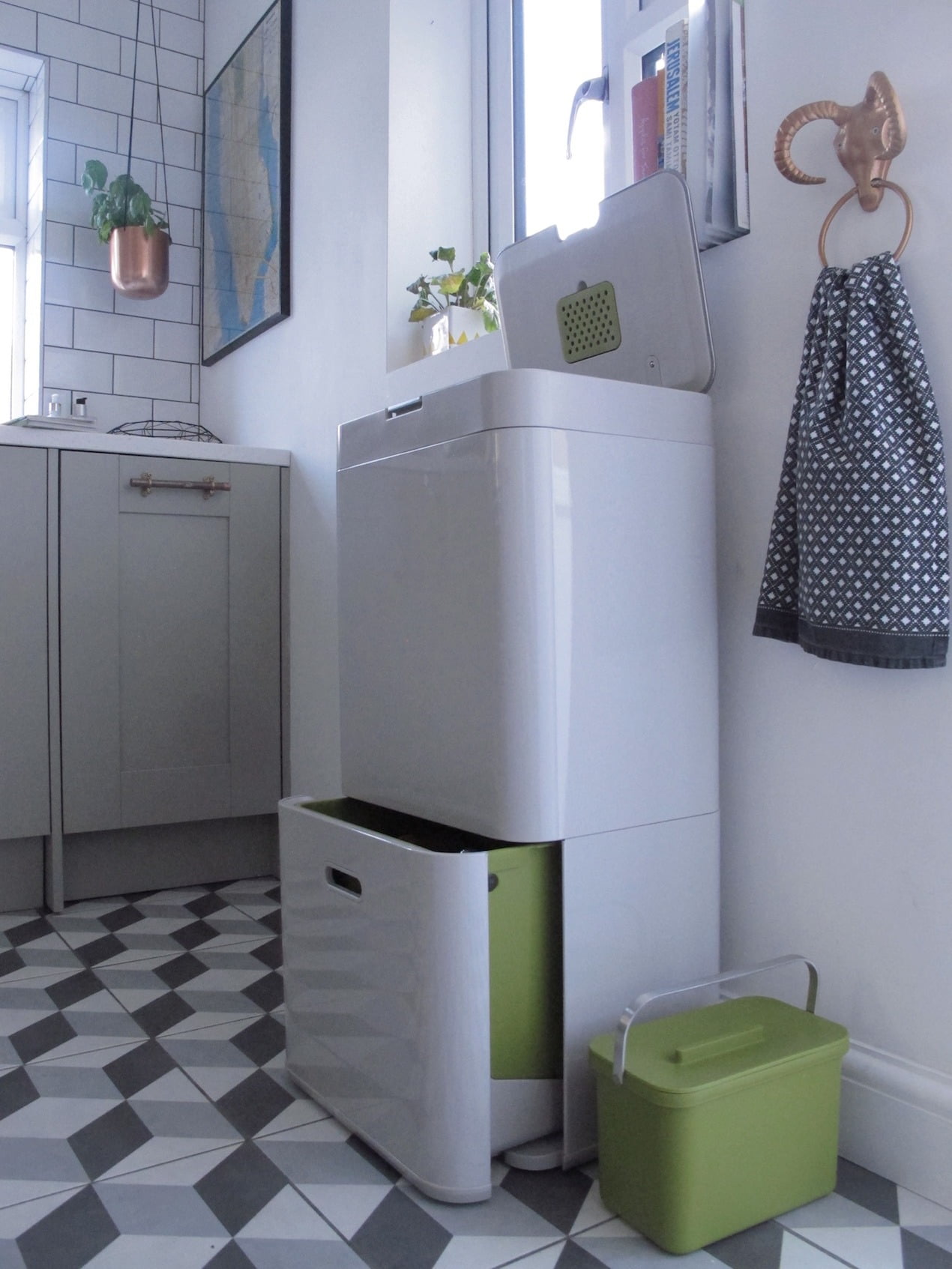 My Final Thoughts
If you are looking for the ultimate bin for your brand new kitchen and you are short on space, then I would highly reccommend the Totem 60L. I'll be honest, it took me a while if using it day in day out to fully appreciate how good it is. In my opinion what was the point of me spending all that money making-over my kitchen into my dream cooking space – and then having rubbish overflowing in a corner ruining the overall look?  So I'm a big fan of this bin.
What do you think?
If you'd like to see more of my home and my dream kitchen, then take a look at my posts My Kitchen Makeover, Shop My Kitchen Makeover, Small Space Ideas For My Tiny Kitchen and Be Kitchen Clever With Copper.

•• Disclaimer, some of the products above were sent to me for review. As always, these are my opinions, my photos and my thoughts.