I've taken a major shine to antique rugs. I'm not the only one either! The trend for decorating with Oriental and Persian rugs has been championed by interior magazines, stylist, designers and homes bloggers.
These traditional rugs have been styled in modern setting which looks new and exciting.
Here's my style tips on how to decorate your home with Oriental and Persian rugs.
How To Decorate With Oriental ANd Persian Rugs
If you have been stopping my blog these past few months you may have noticed my growing obsession with rugs. I've got a huge pink and blue antique silk one in my bedroom, black and white ethnic one in my dining room, and then layers of rugs in my living room including a black 'n' white one from Urban Outfitters.
Basically, we all know I'm a huge fan of a rug. Why? Well, they can be a a cheap and chic way to vamp you a room, and you can swap them around your home when you want to switch it up.  Luckily for my style tastes this is exactly what all the coolest interior designers and bloggers are doing. Warning: This is a picture heavy post – I couldn't help myself….so many rugs, so little time….!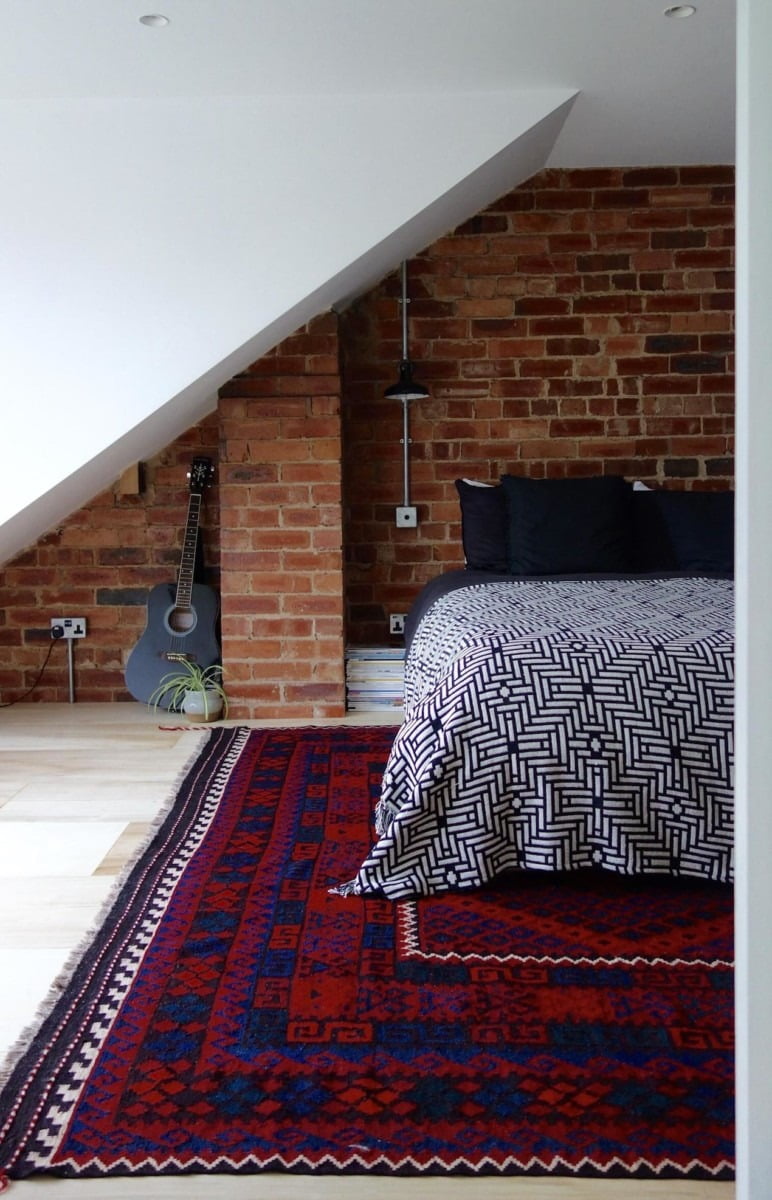 They work in any space.  Traditional, transitional, modern, minimalist- you name it, shove a colourful rug in and you're room is Instagram ready. We all know, decorating a room is about layers – and a beautiful rug is the easiest way to add soft pattern and colour, without being graphic and they add a softness to rooms that may otherwise feel cold and stark.
Follow Interior Designer Karen from Making Spaces who teamed Plywood flooring with this beauty in her loft conversion. See what I'm talking about now?
Another example of how a heavily patterned rug warms up a modern space. This rug breaks up the hard concrete floor and 'zones' (I know I hate that word too…) this home office in an open-plan space.
Another great choice for spicing up your home is filling up your floor space with Turkish Anatolian rugs. Integrating ancient patterns, colours, and styles into your interior design can make your space feel refreshed and bring new life to your room scheme.
Have you got an old rug lurking around in your loft? Then you could try your hand at over-dying it in a vivid shade. Sweet Paul blog tells you how to do it in this step-by-step post – let me know how you got on.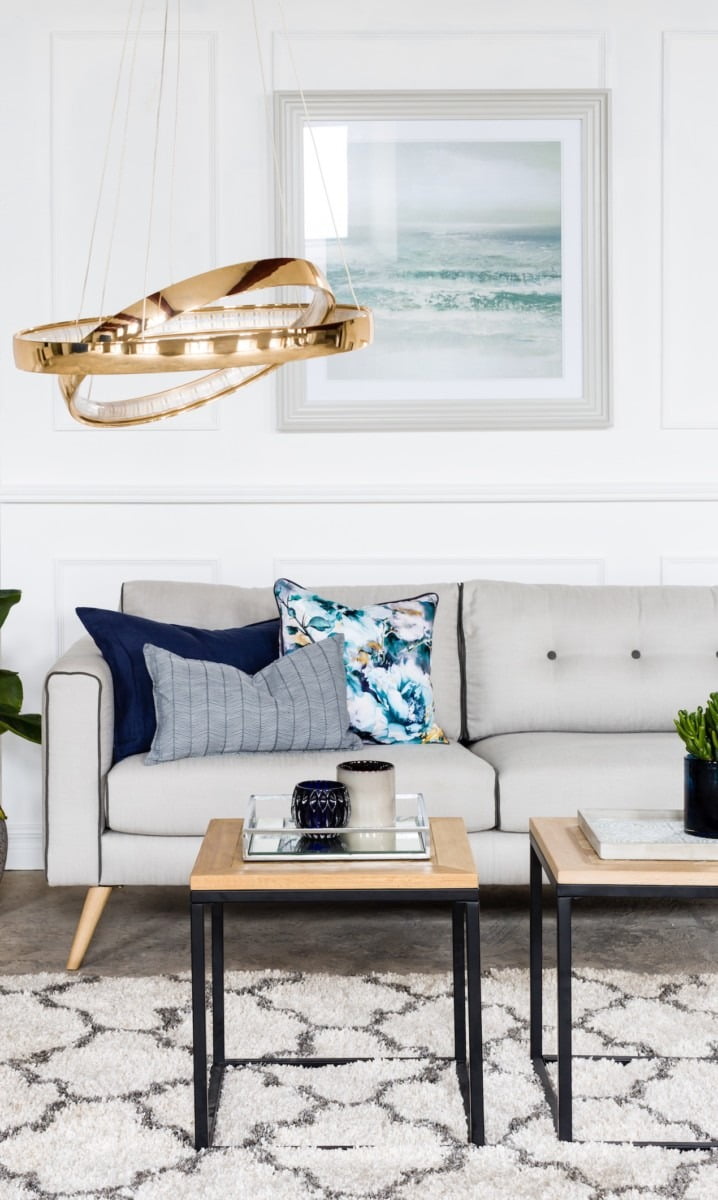 Finding these rugs on-line can be hard. You have to know what to search for: Try keywords like antique Persian rug, antique Oushak, vintage Persian rug, Overdye rugs, vintage Anatolian rugs or Afgan rugs or Beni Ourain (that is the one above) I found an amazing source called the Fine Rug Collection. They have an incredible selection of rugs – and they ship to the UK.
Oriental and Persian rugs look fabulous bathrooms. I have a tiny one which I use as my bathmat and I love it. It's hard wearing and hides everything. In the picture above, I like the way rugs have been used to lead you into the bathroom – great for blending an ensuite into bedroom.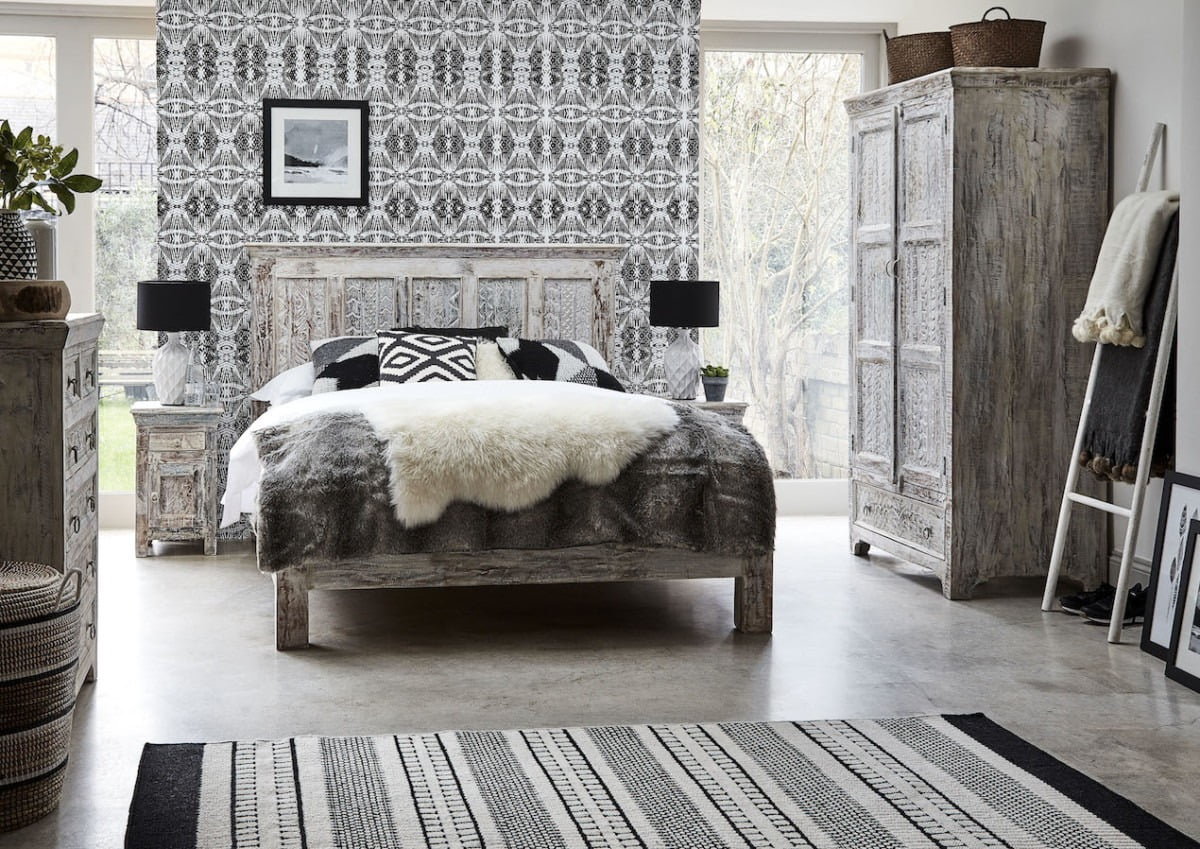 Rugs don't have to be exclusively for floors either. Here an ornate black and white Persian rug has been hung to the wall. It's a simpler way to create a statement wall in your bedroom without having to get your paint brush out. I've got plans to hang a rug on my hallway wall – to add a touch of sparkle to my walls. Watch this space…
Not everyone loves vintage. Sometimes, you want the modern version of this antique look. Luckily, there are 1000s of contemporary rugs that have taken inspiration from these ancient patterns.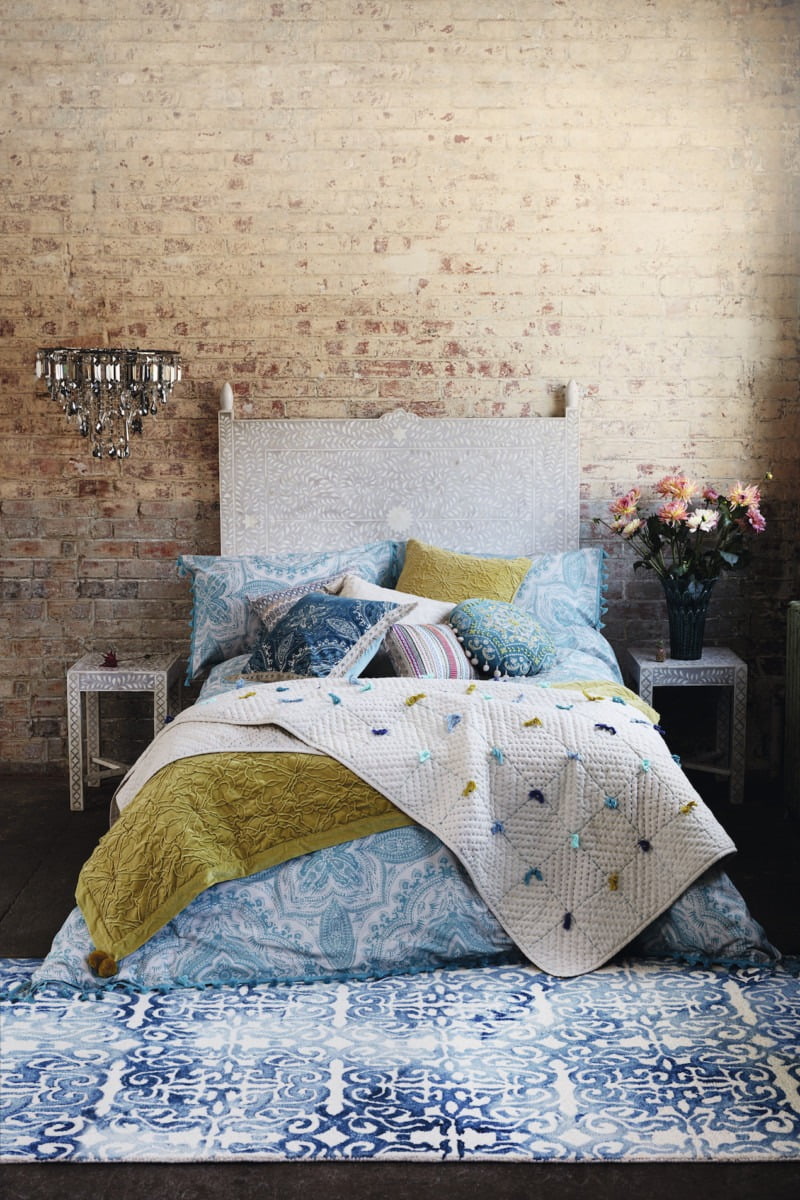 I love the Moroccan blues in this rug when teamed with acid lime throw and cushions. Think of your Persian rug as a key element in your room's colour story – and don't be afraid to go bold.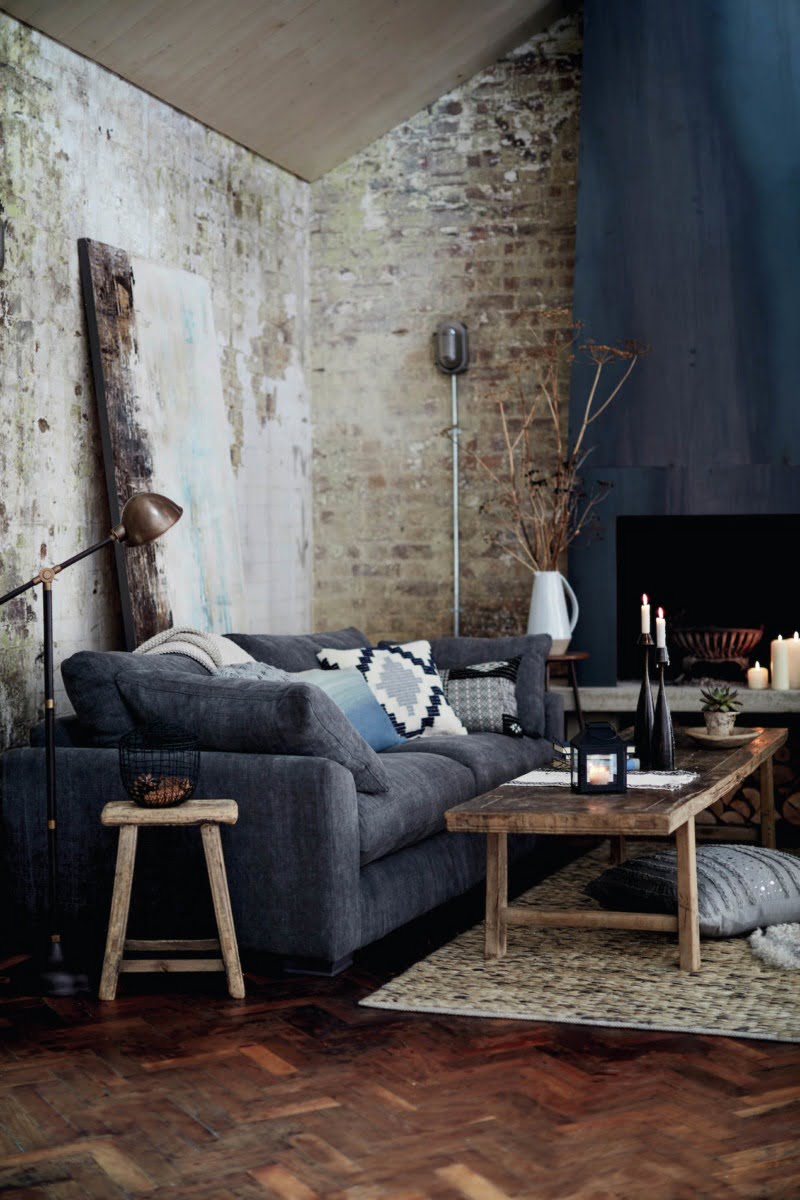 A beautiful Oriental or Persian rug can breath life into an all-neutral room. Compare this living room room with Making Spaces's loft – the only difference? Yep, that's right – the rug!
The neutral rug pulls the look together – teaming the rustic brick walls with the rough wooden furniture and the over-sized print. Chuck a few aztec cushions on that sofa and the space is Pinterest ready.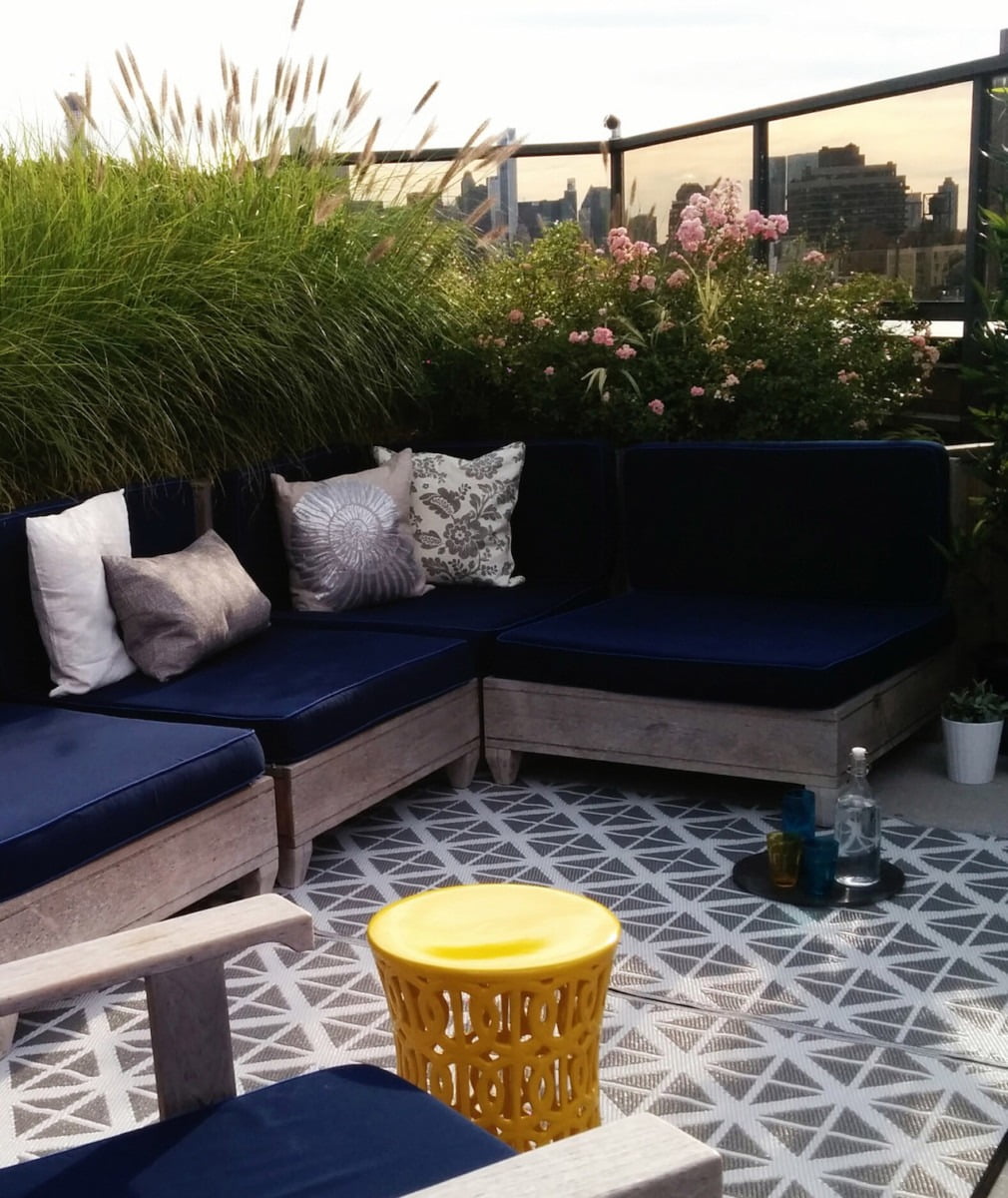 Persian and Oriental rugs have long been part of nomadic culture that is why they look so well suited to outdoor living here. Transform your garden space into a relaxed, extra outdoor room with a few carefully placed rugs.
Do you feel confident to Decorate With Oriental ANd Persian Rugs now? I hope so
Isn't it remarkable that something so rich in colour, texture, pattern and history can blend so seamlessly into almost any home. In fact, they will now bring a knowing modern edge to your space. Personally, I'm in love oriental and Persian rugs as they stand the test of time when it comes to design.
You'll be seeing a lot more on my blog for sure.
Which is your favourite Oriental And Persian Rugs from my pick above? I'd love to know! Share your thoughts in the comment box below.
You May Also Like
8 RUGS FOR EVERY STYLE & SPACE