The hottest trend this Spring for flooring is to take classic patterns and updated for 2019 with modern styling. Today, I'm sharing 4 New Flooring Trends For 2019 and showing you how to add this cool flooring trend into your home. Believe me when I say you'll want at least one (or two, or three…) of these floors in your home this Spring.
Be prepared to fall hard for these floors.

THE 4 HOTTEST TREND IN FLOORING FOR 2019
With my job as an interior stylist, I was asked to style the top secret and exclusive collection with Lifestyle Floors. It was exciting to see how they taken classic floor styles – like herringbone, parquet and planks and gave them a new look with colours, patterns and styling.
From contemporary poured cement flooring to more marble and wooden flooring, I've seen a lot of contemporary homes embrace this new flooring trend and reimagine these traditional looks. The patterns are timeless and classic, and always look chic. I'm going to talk you through the looks and explain how you can create this trend at home. All the flooring starts at an affordable £24.95 a sm too!
Here are my four cool takes on parquet style.
1. PATCHWORK GOTH
Dark interiors goes completely gothic as predicted by leading interiors magazine – Living etc who named matt black as colour of the year for 2019. But if you are a little afraid of going jet black, you could try navy, teal and or even dark grey which are all on point.
Think an industrial themed space with dark walls and dramatic details.
Here this flooring captures this trend perfectly with a patchwork flooring that blends greys and teals in shapely form.
This look is ideal for busy rooms like kitchens. That is why I choose this room and teamed it with black scandi chairs and linen, and raw woods.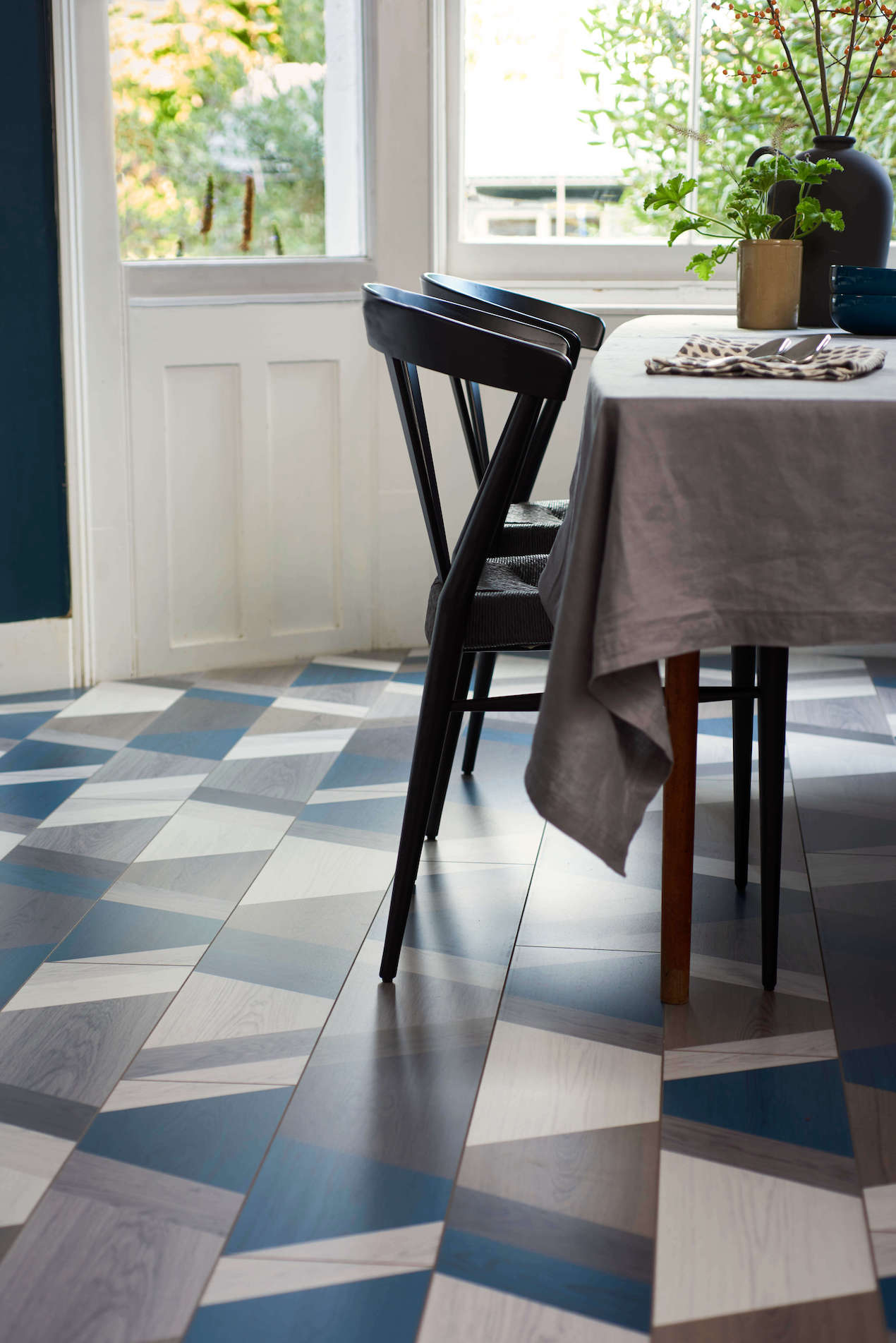 ---
2. THE NEW MODERN
Completely inspired by the glamour of Jonathan Alder – an world famou interior designer known for his love of retro styling mixed with gold, velvets and vintage. When creating this set, I wanted to add a vintage etchings wallpaper inspired by the late 18th century maps.
This wallpaper was just £16.99! See HERE.
Why not try this look at home by mixing eras, styles, colours and designs in a bold and unique way? You won't regret it.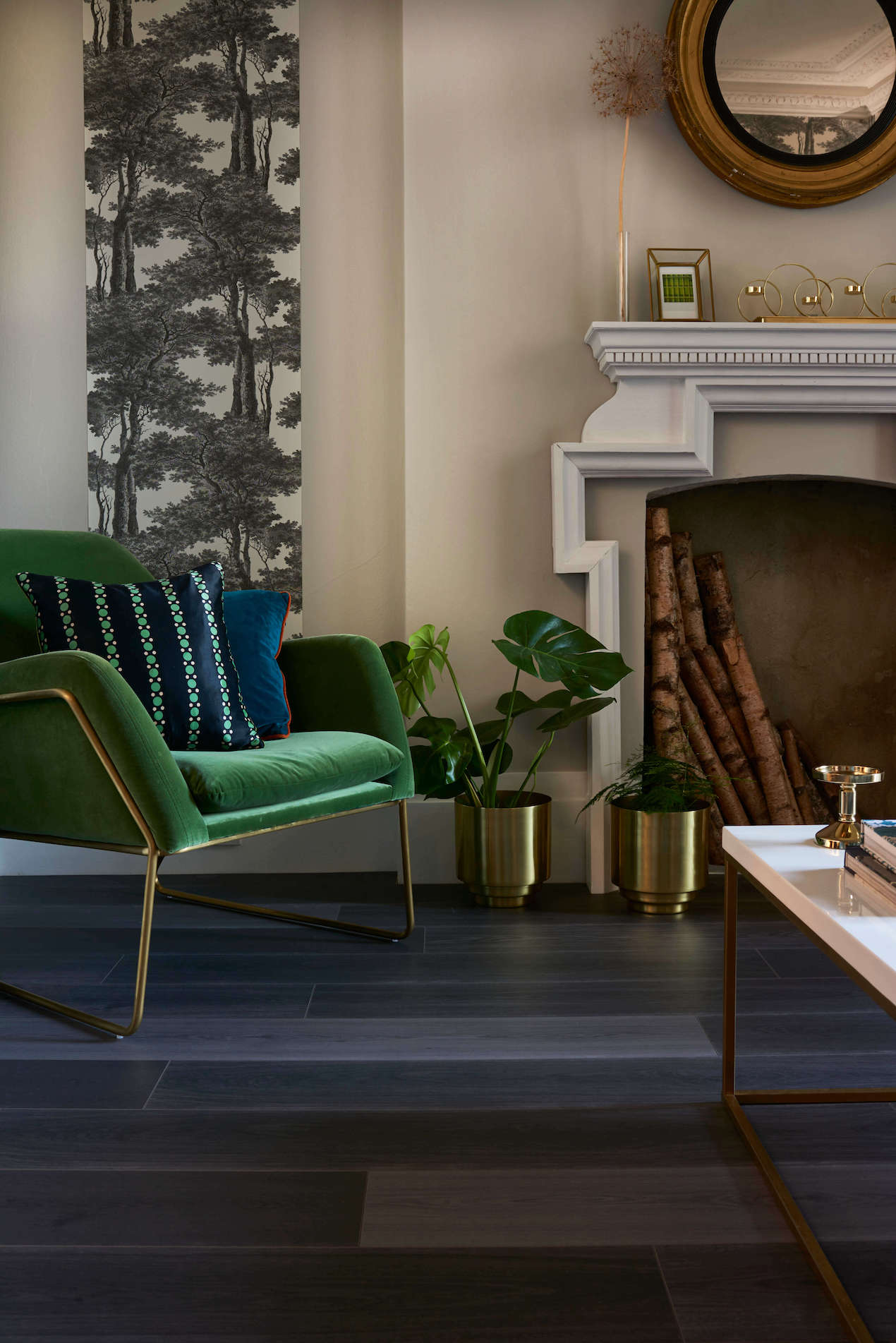 ---
3. MORRIS & CO
Since H&M collaboration with this classic English fabric company, Morris & Co prints has been adored by a new generation. This classic British brand is back and it's going to be influential in our floors as much as in our wardrobes.
This easy-to-lay laminate is an instant way to vamp up your room and give it a new look with a classic twist.

---
4. MIAMI MIX
The best interior trends always come across the Atlantic, and this sugar pink trend inspired by Miami's colour pallet is spot on.
To give it a splash of UK styling, contrast your flooring against distressed walls and traditional architectural details. Mixed with linea furniture, leafy palms.
We love the retro vibes of this flooring which is perfect for a warm, welcoming and inviting home. Ideal for hallways, bathrooms and playrooms.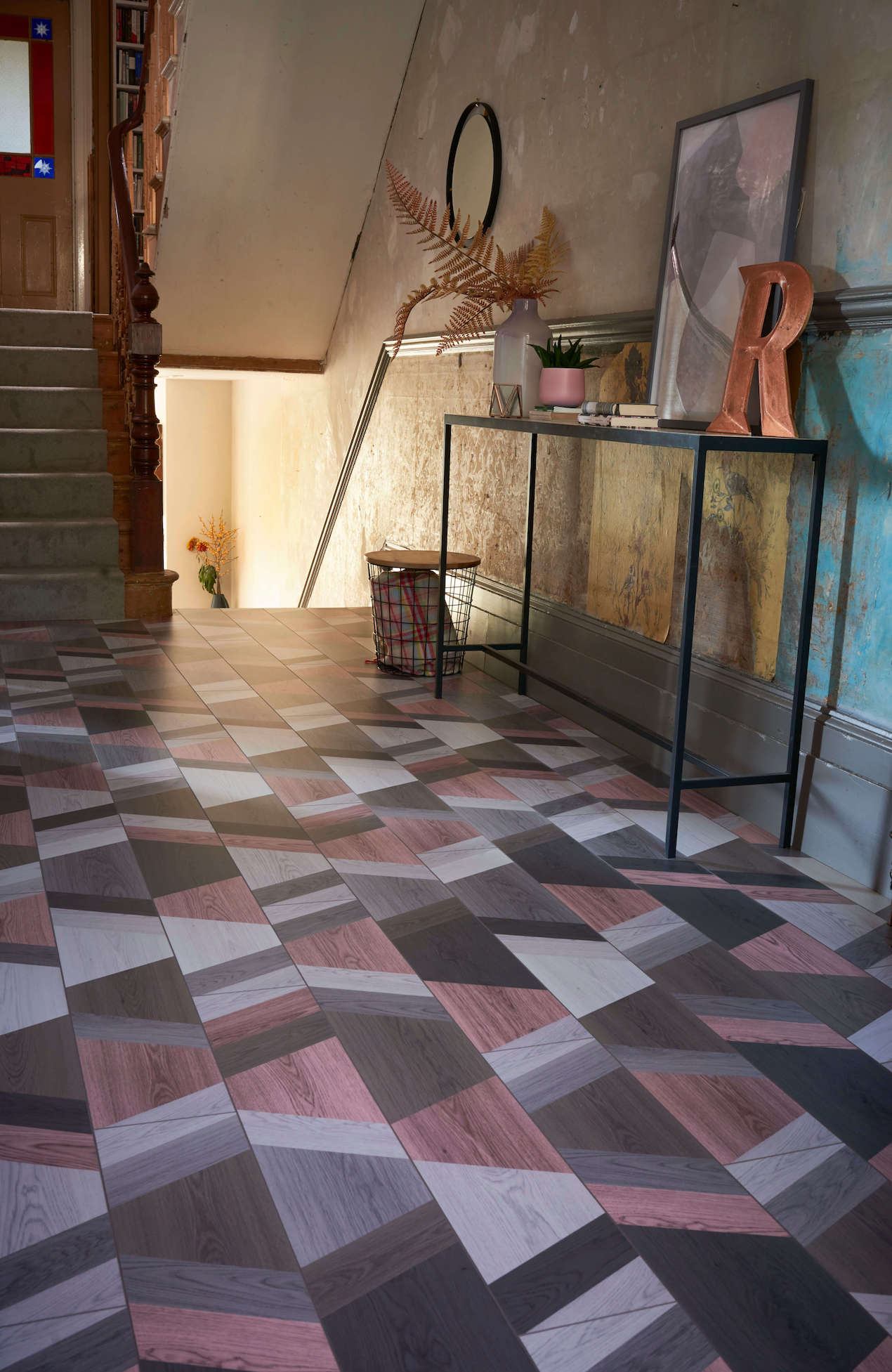 There you go – the four ways to style this traditional flooring with a brand new bright style. There is a flooring style there for everyone. I wonder which one caught your eye? I'd love to know…please share in the comments box below.
Hope you love my styling! Thanks to the Lifestyle Flooring team – and the girls are Crescendo Pr.
Love Trends? Check Out These Posts…
The Big Interior Design Trends For 2019
Essential Buys For Your Kitchen Makeover
One Heating Hack Everyone Needs To Know
PIN THIS!