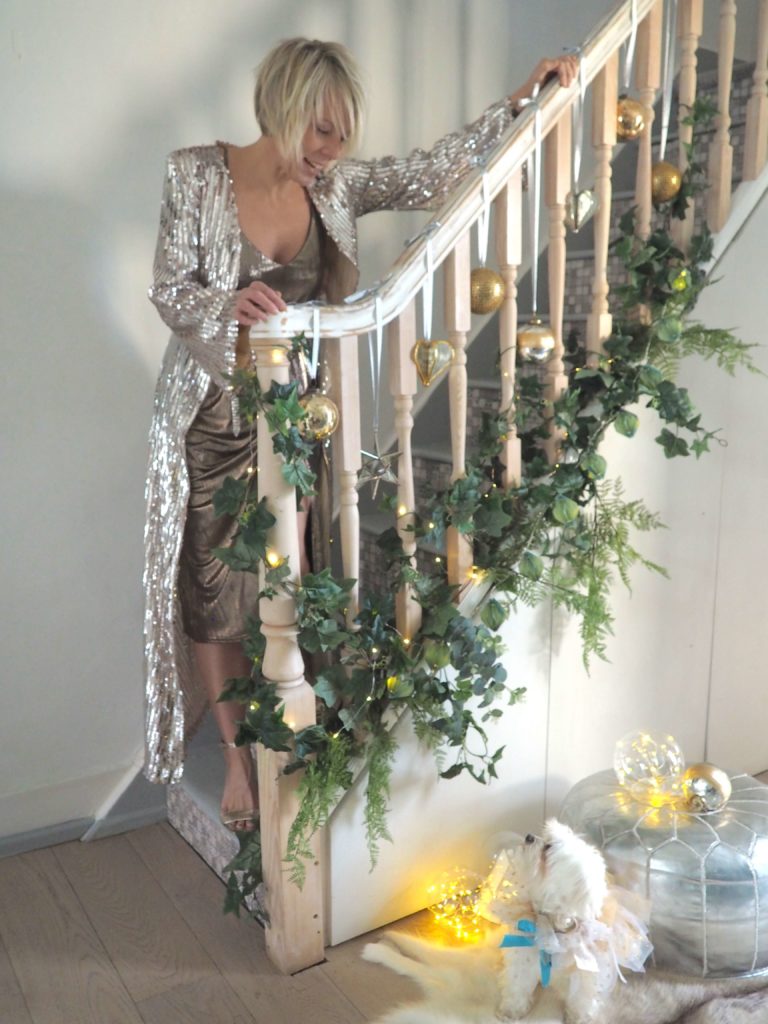 Styling your home for Christmas is so much fun. I love the way it transforms my home into a cosy and sparkling retreat filled with festive glamour. One area which is fabulous to dress is your hallway. In this post, I'm sharing how to give your hallway a festive makeover with French Connection Home. It's so simple to do – and you'll have an entrance way dressed with festive baubles, lights and decorations.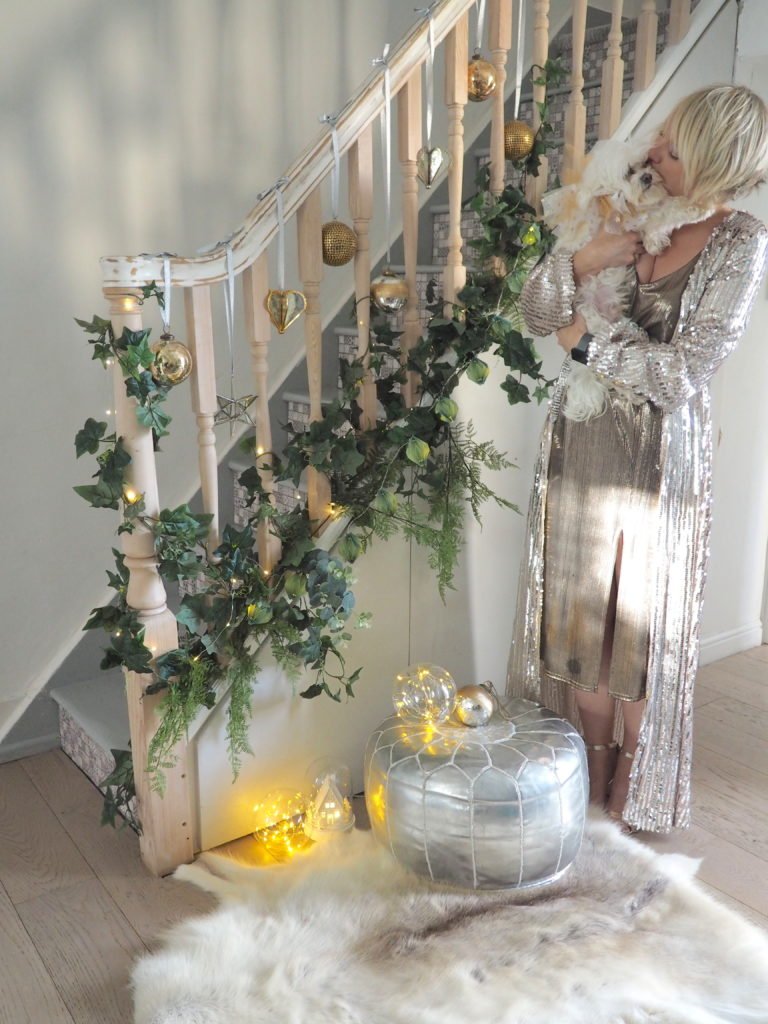 **Contains Gifted Products**
I was asked by French Connection Home to style their key Christmas homeware pieces for the party season ahead.
Their Christmas range – aptly named 'After Party' is filled with delicate decorations, burnished mirrors, heart and star shapes as well as mottled glass. Their decorations sparkle under candle light and will make the finish touch to your Christmas tree. Click HERE to see the full range.
I love decorating my hallway for Christmas. Last year, I went for a completely different look with paper stars – take a look here. After taking a quick tour of their website, I was inspired to add gold, silvers and gilvers to my hallway using their glamorous decorations. In fact, I felt that I had to dress the part in my new sequin jacket and gold dress 🙂
Also in the range are cosy sheepskins, furniture fit for family gatherings (a black metal cocktail trolley of dreams) and chic glasses and serving ware. If you ever wanted to play the role of host – or if your home is the place that all your friends pile back to after a night out, then 'After Party' collection was made for you.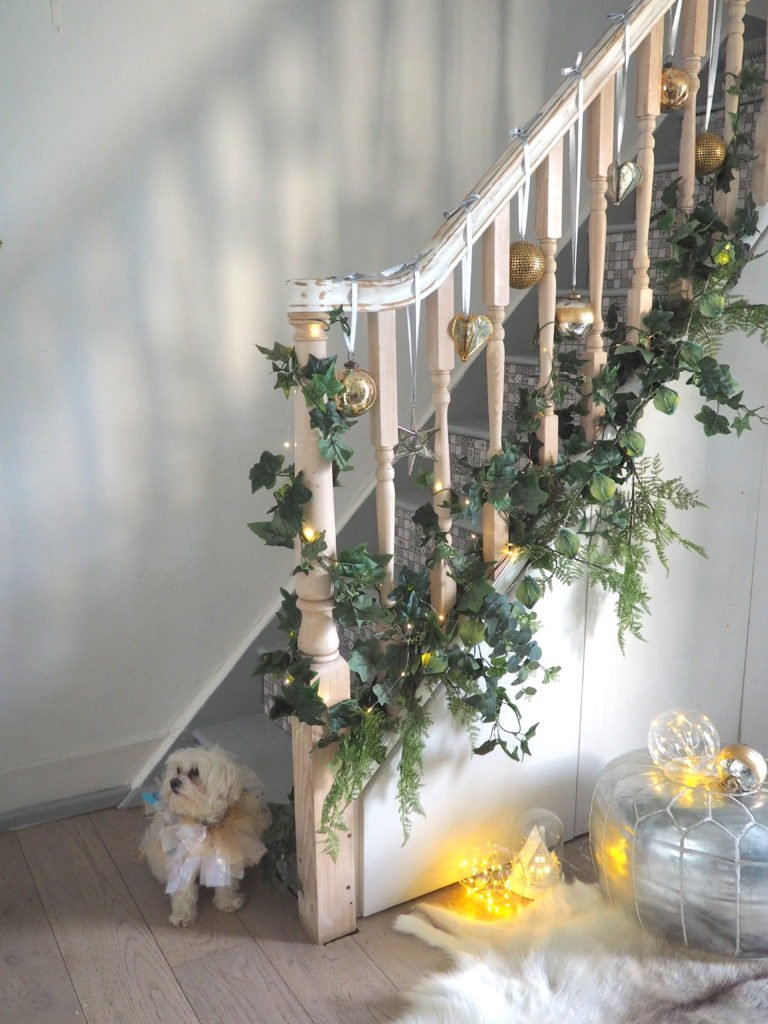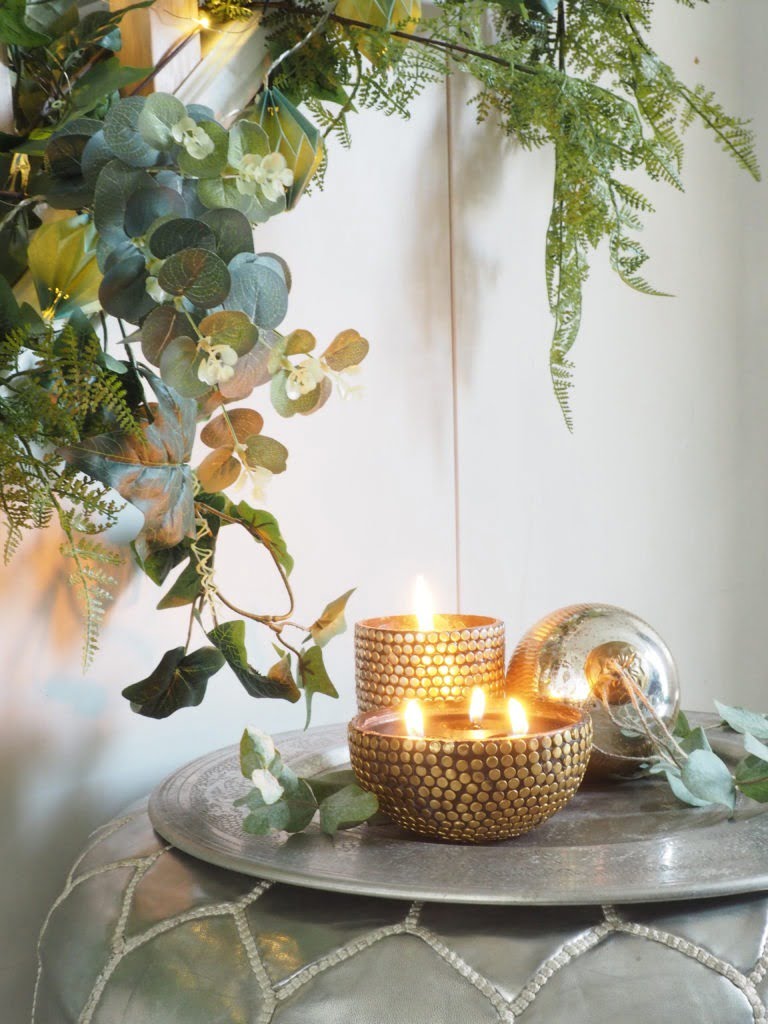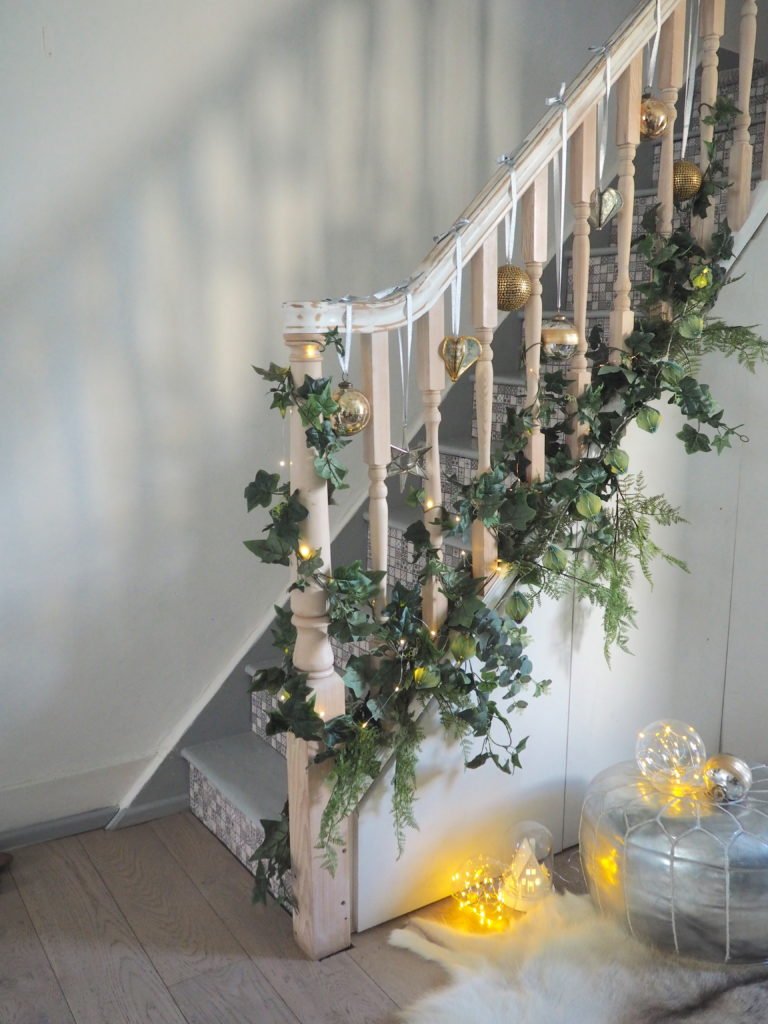 How To Give Your Hallway A Festive Makeover With French Connection Home
The key to creating this Christmas look for your home is not to worry too much about it looking perfect. If it is a little bit messy, then all the better to create a relaxed vibes for when friends come round to party.
Step One – Foliage
To recreate my staircase look you will need armfuls of faux foliage. My ivy and ferns all came from Dunelm, they were around £3 each – and you can buy them here. I used five in total. You could drape any extra ivy across your mirror like me.
Wind your ivy around the main banister – then hold in place by tucking them in on themselves. Then, weaved more up the banisters at the base of your banisters.
When I had done, I popped in faux Asparagus ferns and fresh eucalyptus so that the handmade garland had a beautiful smell. Make sure that some of the branches dangle down for a relaxed look.
Step Two – Lights
For a sparkling look, wind battery powered fairy lights into the foliage for extra glimmer and glow. Hide your battery power packs among the stems and then hold in place either using rubber bands around the spindles or strong tape.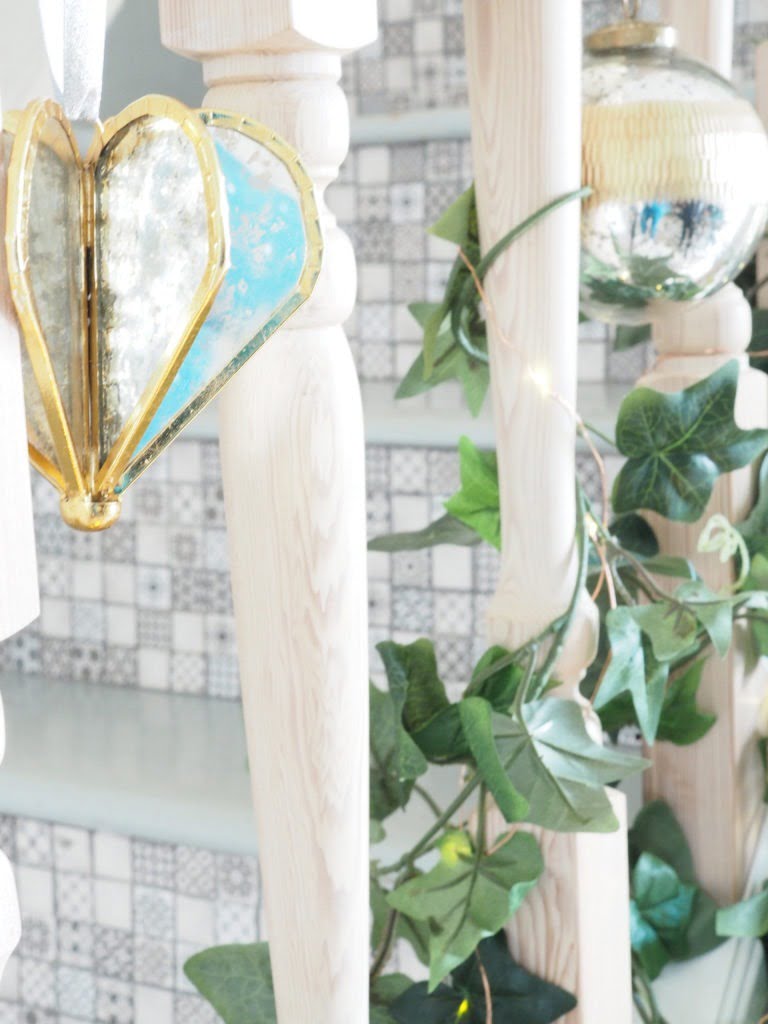 Step Three – Baubles
Finally finish by attaching your very best baubles to the banister. I used silver ribbon and tied them in place in a bow. Use masking tape to secure them in place.
I was gifted two beautiful scented gold and silver studded candles. The eye-catching candle makes the perfect decorative finish to your hallway. I don't have a hallway table sadly but if you do, pop one or two of these black ebony wax candles on your table to give your home a shimmering vanilla-scented aroma. They are very rock and roll for an alternative festive feel for your home.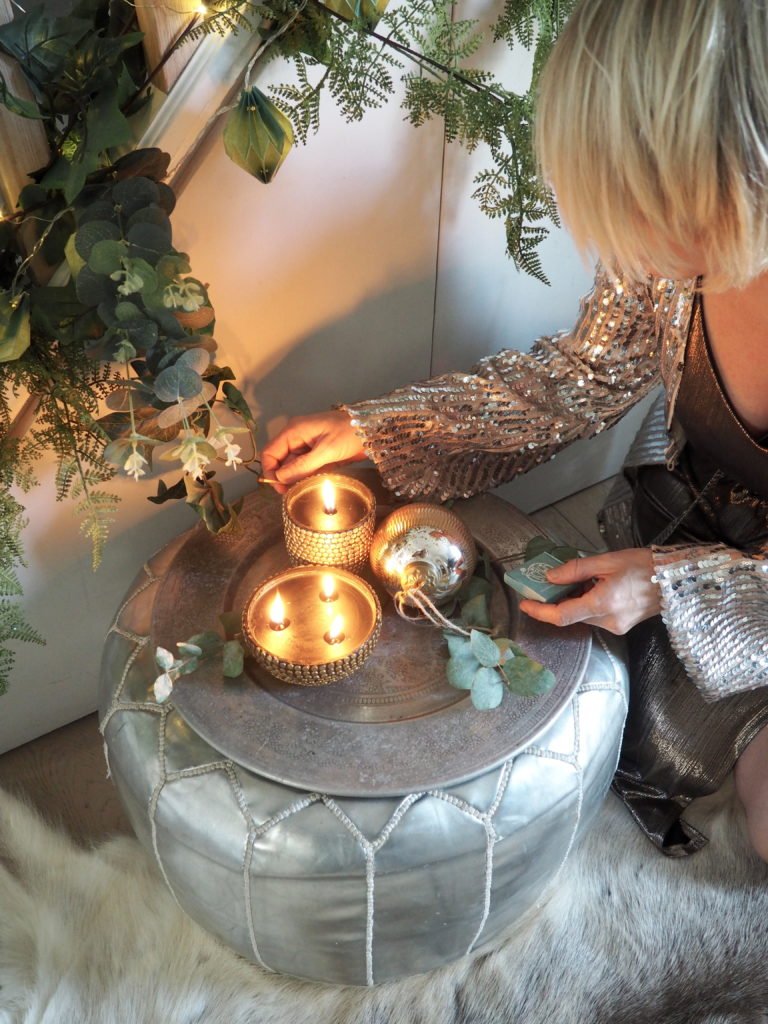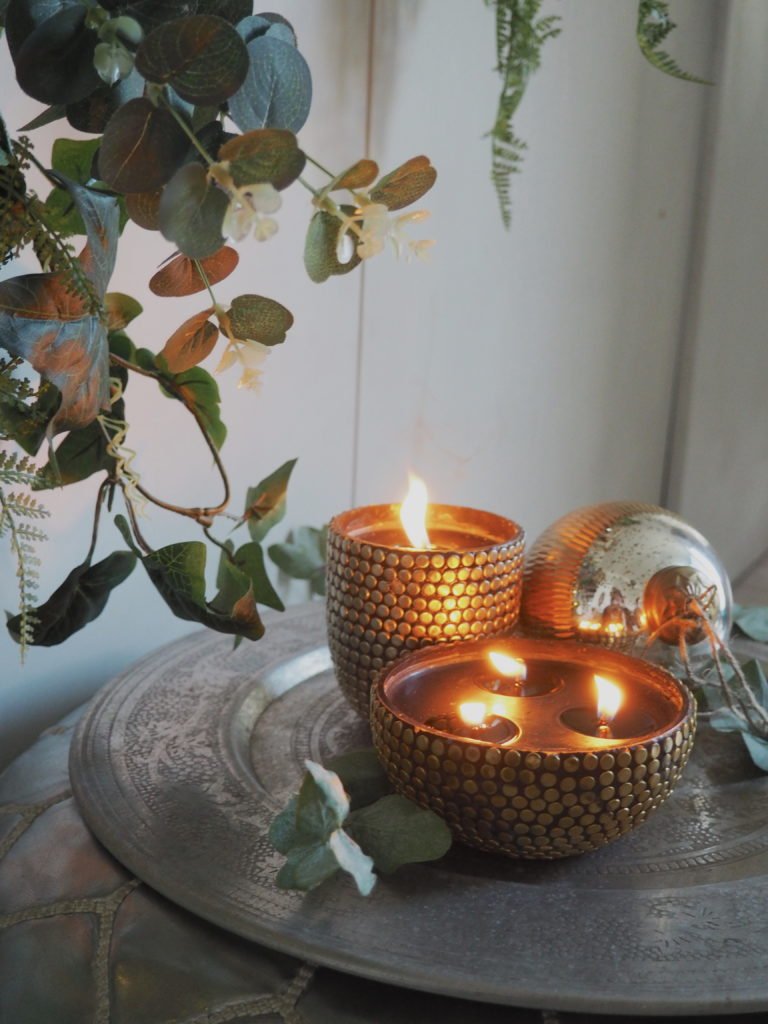 SHOPPING LIST
Gold Studded Candle * Gold Studded Orb Candle * Silver Studded Candle * Gold Helix Heart Decoration * Silver Helix Heart Decoration * Nebula Star Decoration * Celestial Bauble *
To finish off, I styled my room with my sheepskin rug and silver footstool.
If you are looking for extra special baubles for your hallway or living room then take a look at French Connection Home's range.
Have you put your tree up yet? I'll be sharing photos of that soon! Come back and check it out. In the meantime, let me know if you have gone for a real tree or a fake one!
Merry Christmas Maxine
Maxine
You May Also Like
CREATE A BEAUTIFUL FESTIVE PAPER GARLAND
3 STYLISH CHRISTMAS DINING TRENDS
4 WAYS TO STYLE YOUR CHRISTMAS DINING TABLE WITH LIGHTS