Set the tone for your festive parties with this pretty standout paper garland strung up the stairs. It's fun, festive and (most importantly) dead easy to do.
Today, I'm sharing step-by-step instructions on how to create a festive paper garland- just like mine which you can see here! Isn't it cute? Not only does it look fab, it also makes the perfect backdrop for Christmas or New Year Eve for that all important photo opportunity!

Create A Beautiful Festive Paper Garland
When rummaging around in my loft looking for Christmas decorations, I found a few packs of honeycomb decorations left over from my summer shoot with Good Homes which you can see HERE. spotted this idea on a blog in America, I wondered how to put them to use, then I remember how I had seen a few pom pom garlands on my new and improved Pinterest boards. I have one dedicated to creating a colourful Christmas which I know you'll love.
I put the Christmas tunes on (did you know there is a 80s Christmas Radio channel on Tuneln that only plays xmas hits!) With a glass of vino to hand, I started decorating my staircase with paper baubles.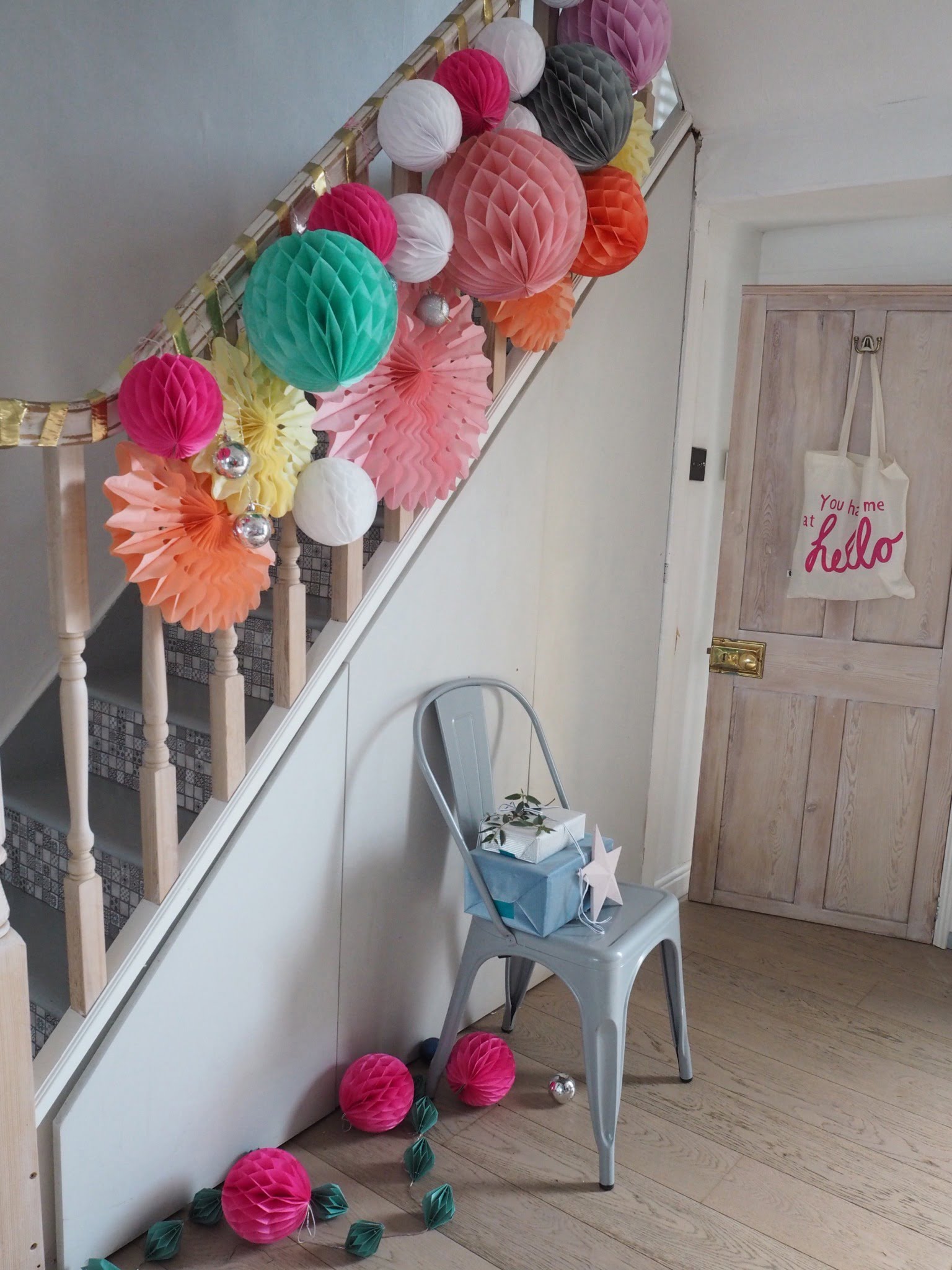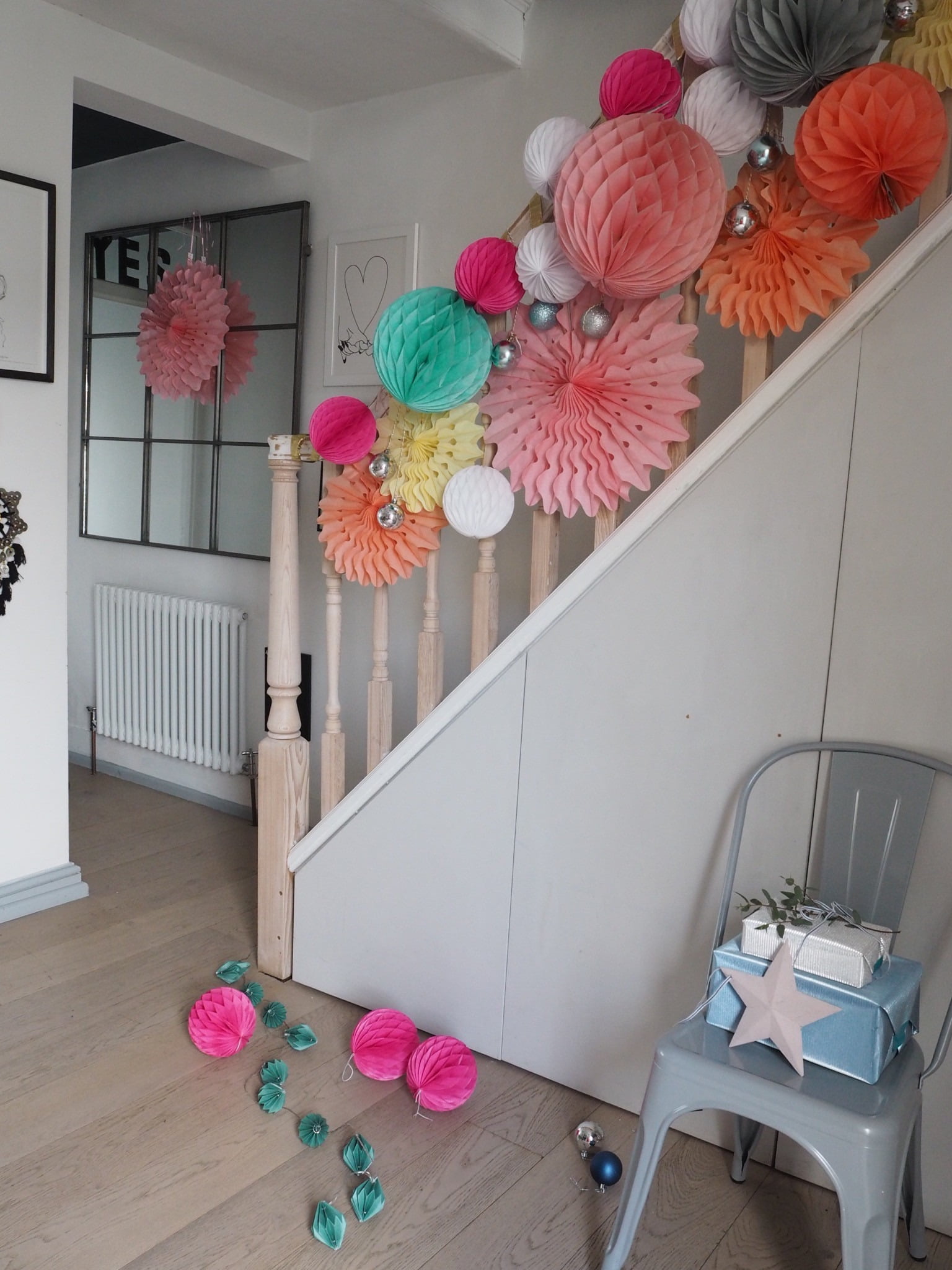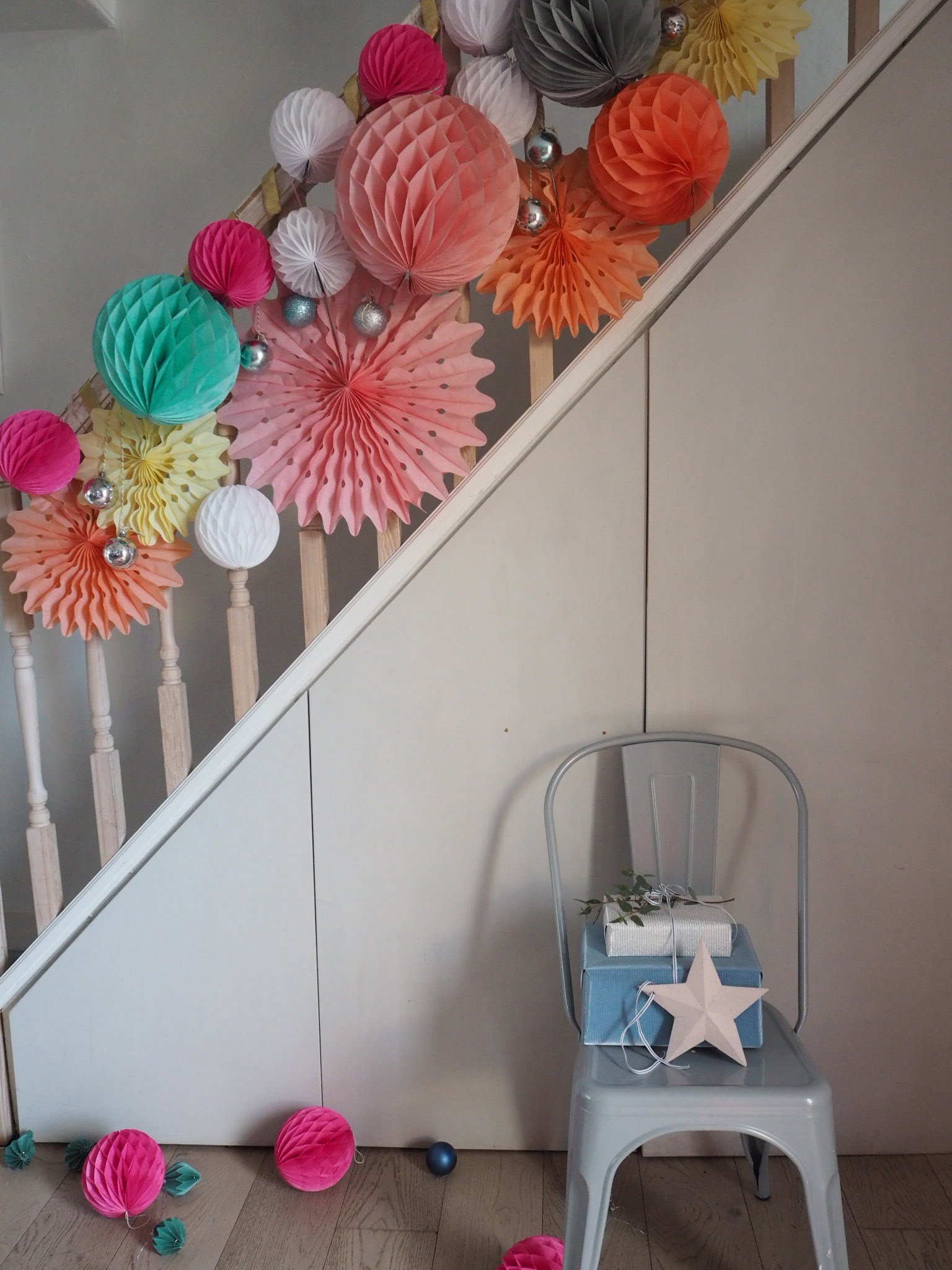 Here's how to do it!
Materials
You'll need 3-D paper shapes – mine are from Talking Tables.
If you want to make paper decorations yourself, you could make old fashions starflakes that would work just as well. This post shows you how to make them – if you are a little more handy with a pair of scissors than me.
Gaffer Tape / sticky tape
Ribbon & twine – the gold ribbon is from Dunelm Mill
Plastic Baubles – mine are from Dunelm Mill
Fairy Lights – mine are from Flying Tiger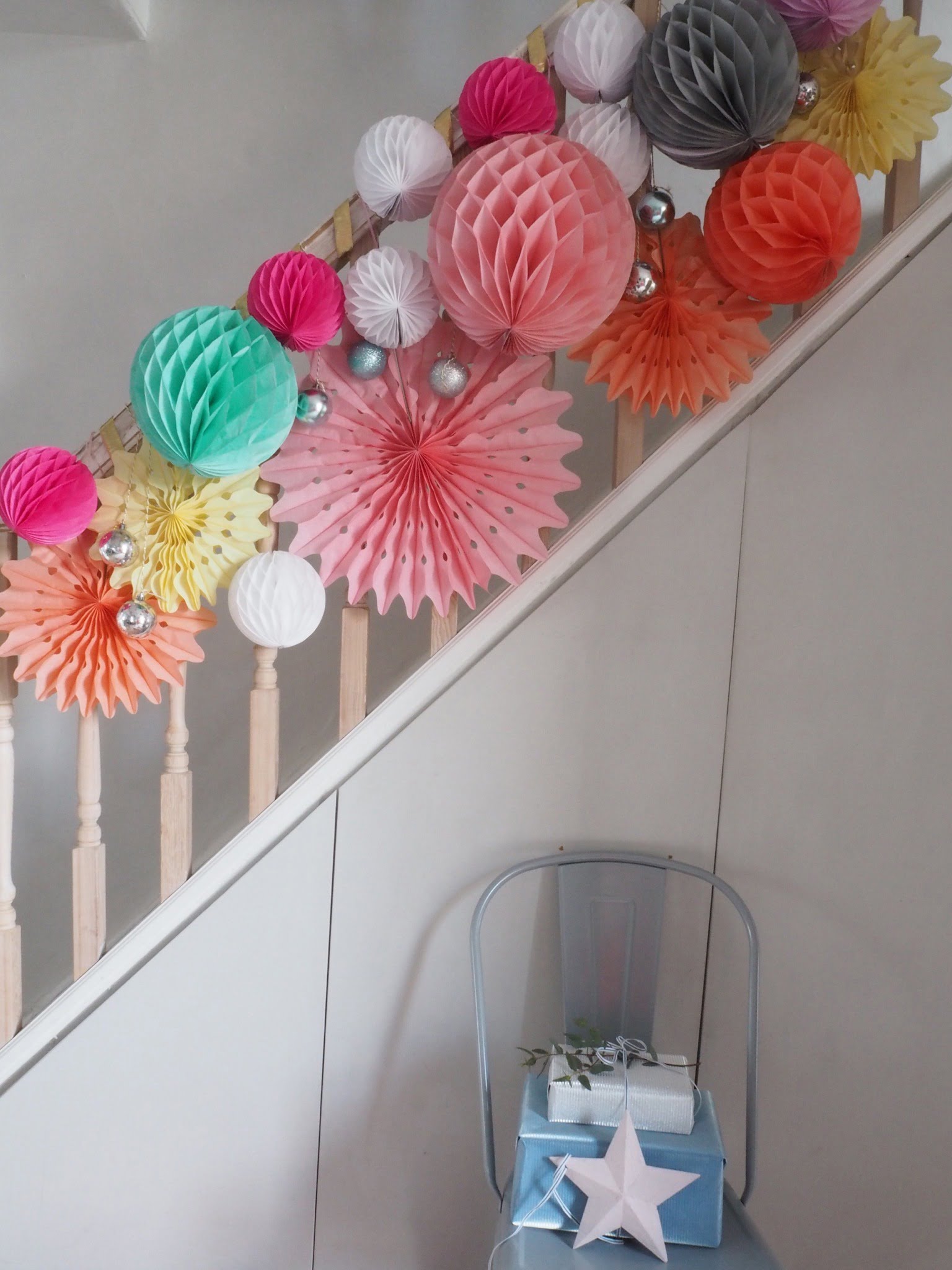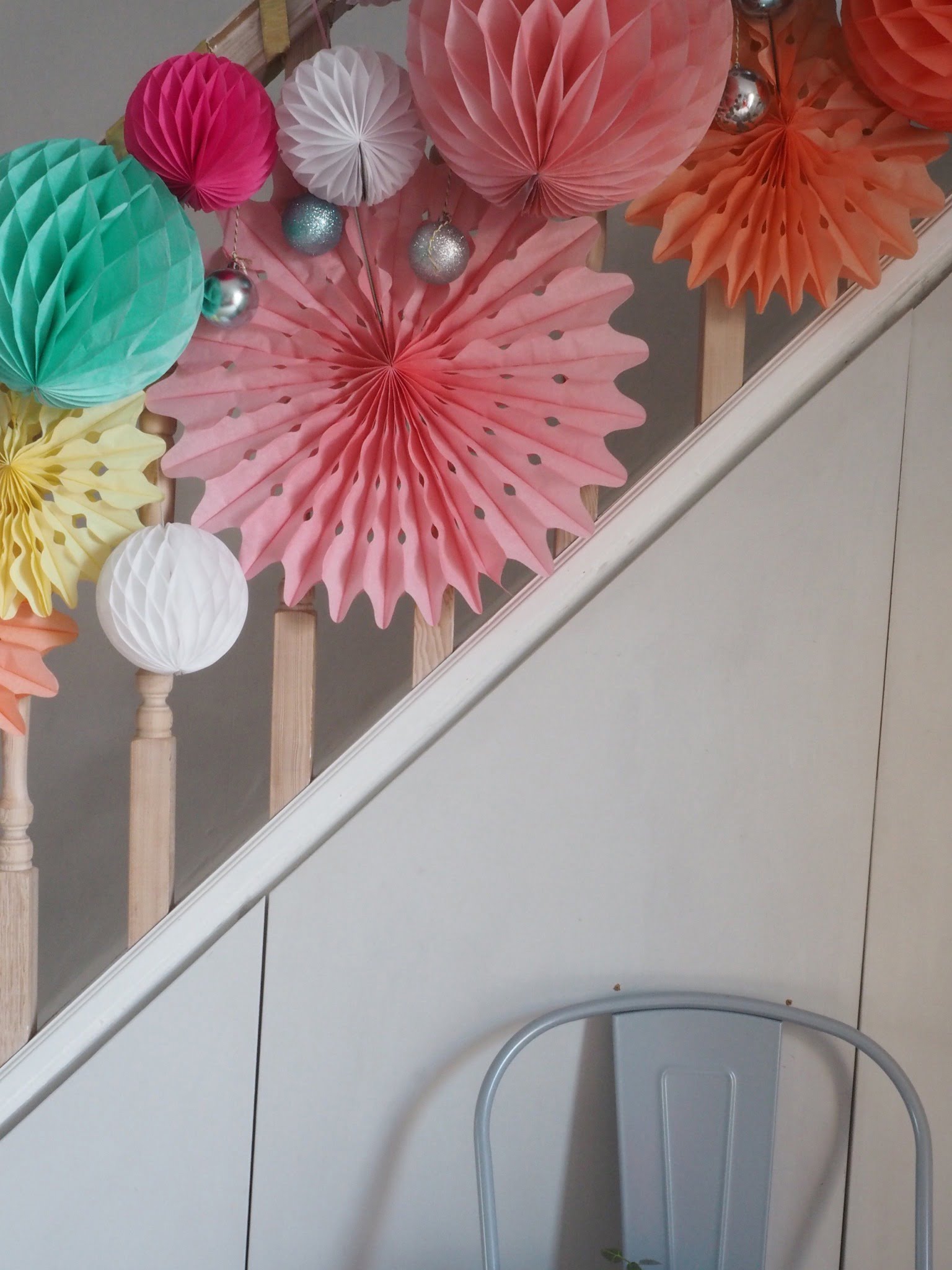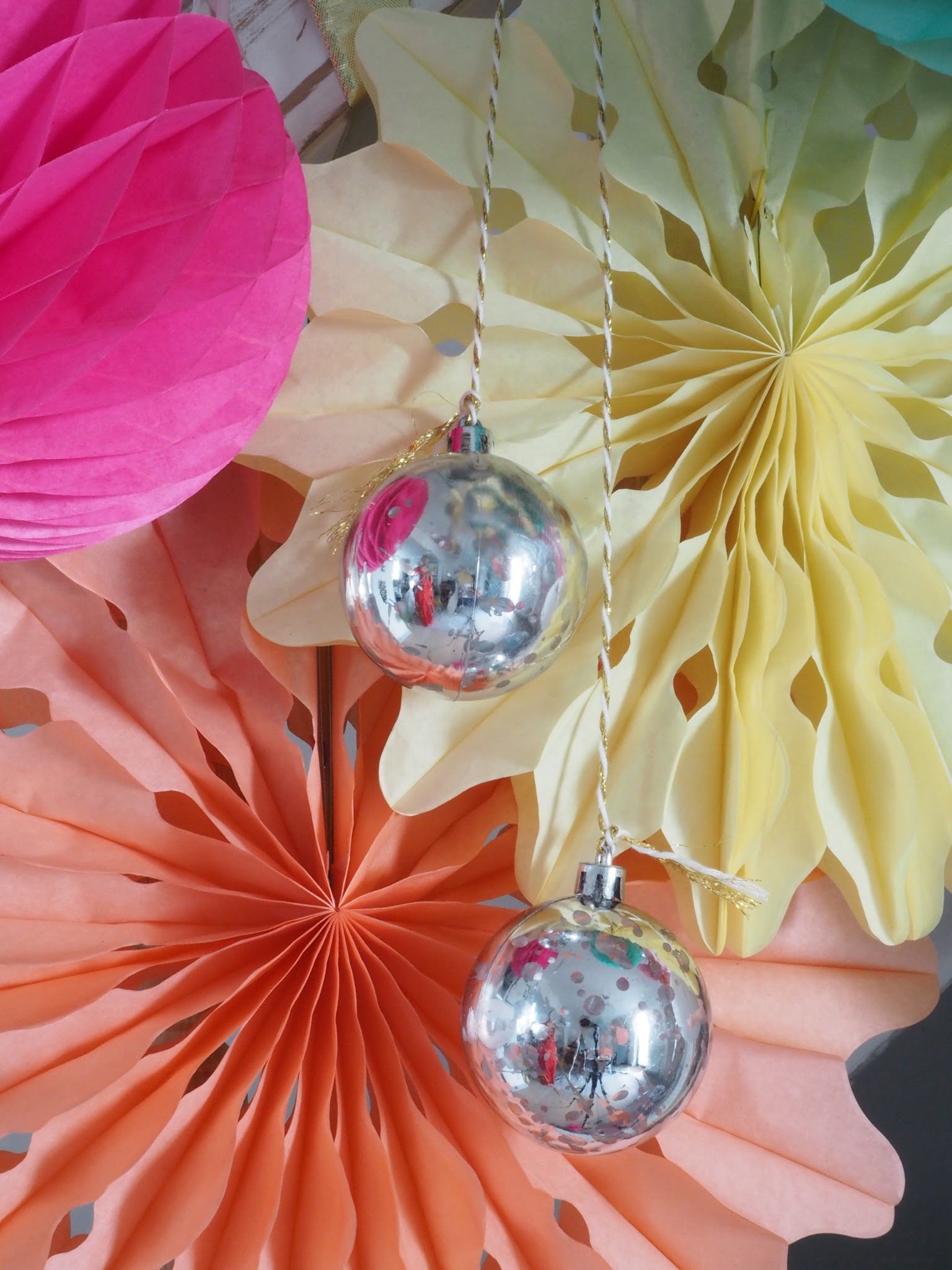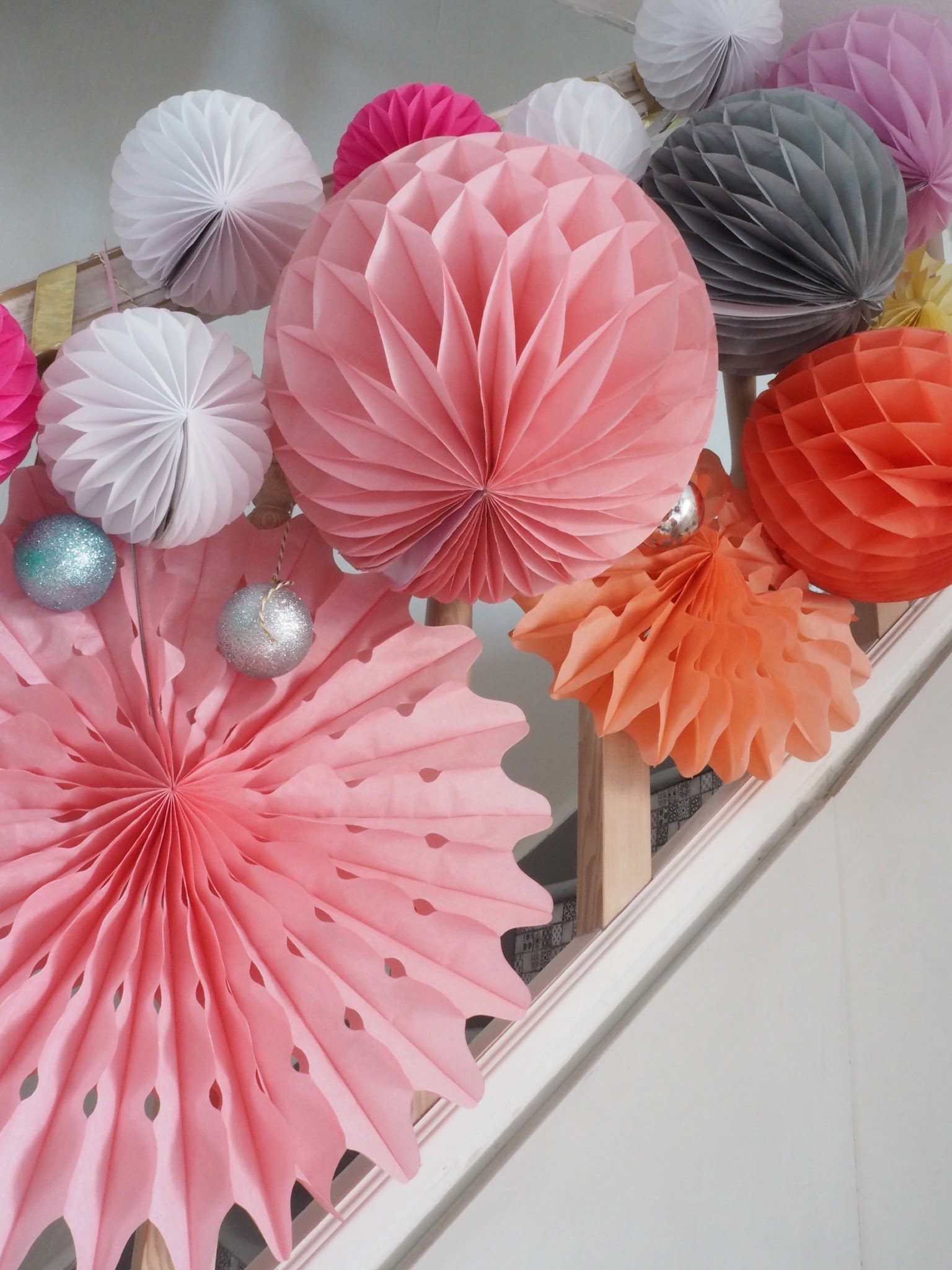 1/ Pick Out Paper Shapes
Pick your colours. I used peach stars, grey baubles and smaller balls in white, hot pink and teal ones. Then I used one pack of snowflakes/star shapes in different sizes in similar tones of yellow and blush. Don't feel you have to stick to this colour scheme.
This would look wonderful in one colour like shades of green or white – or two tone like gold and silver.
TIP: Most importantly, make sure you buy shapes all different sizes a full, varied look. You'll need more small than large ones.
2/ Tie In Place
Take the paper shapes out of their packaging and carefully unfold into 3-D forms. Attach each one to the outside of the banister with fishing line which will disappear against the railing.
It's best to start with the star shapes on first – with the larger one in the middle – and the little ones either side. I held mine in place with gaffer tape so that I could position them at different heights up and down the banisters.
Then put in the larger baubles onto your banisters starting at the top (in my case the grey bauble).  Then fill the gaps with the smaller baubles at the top.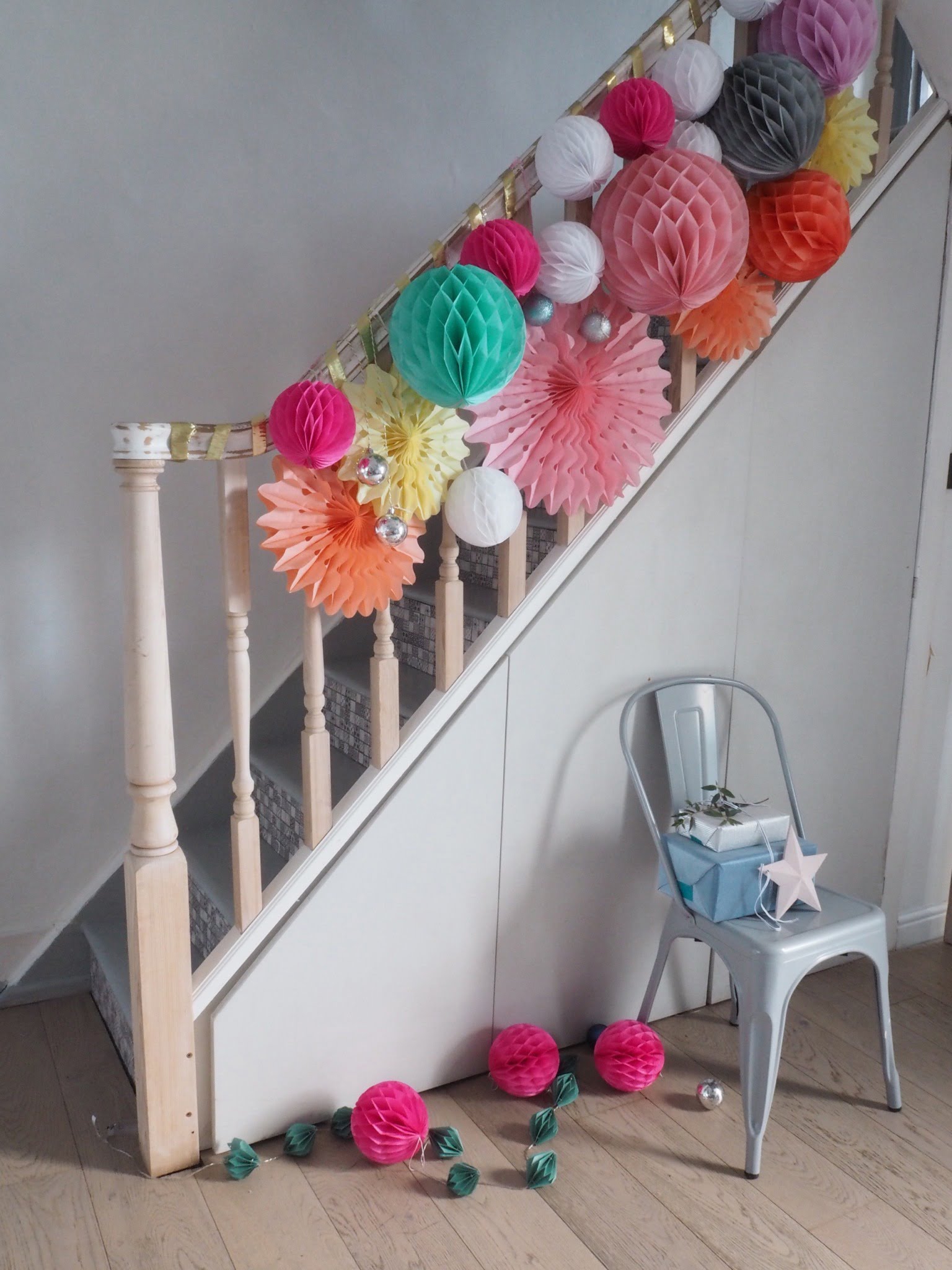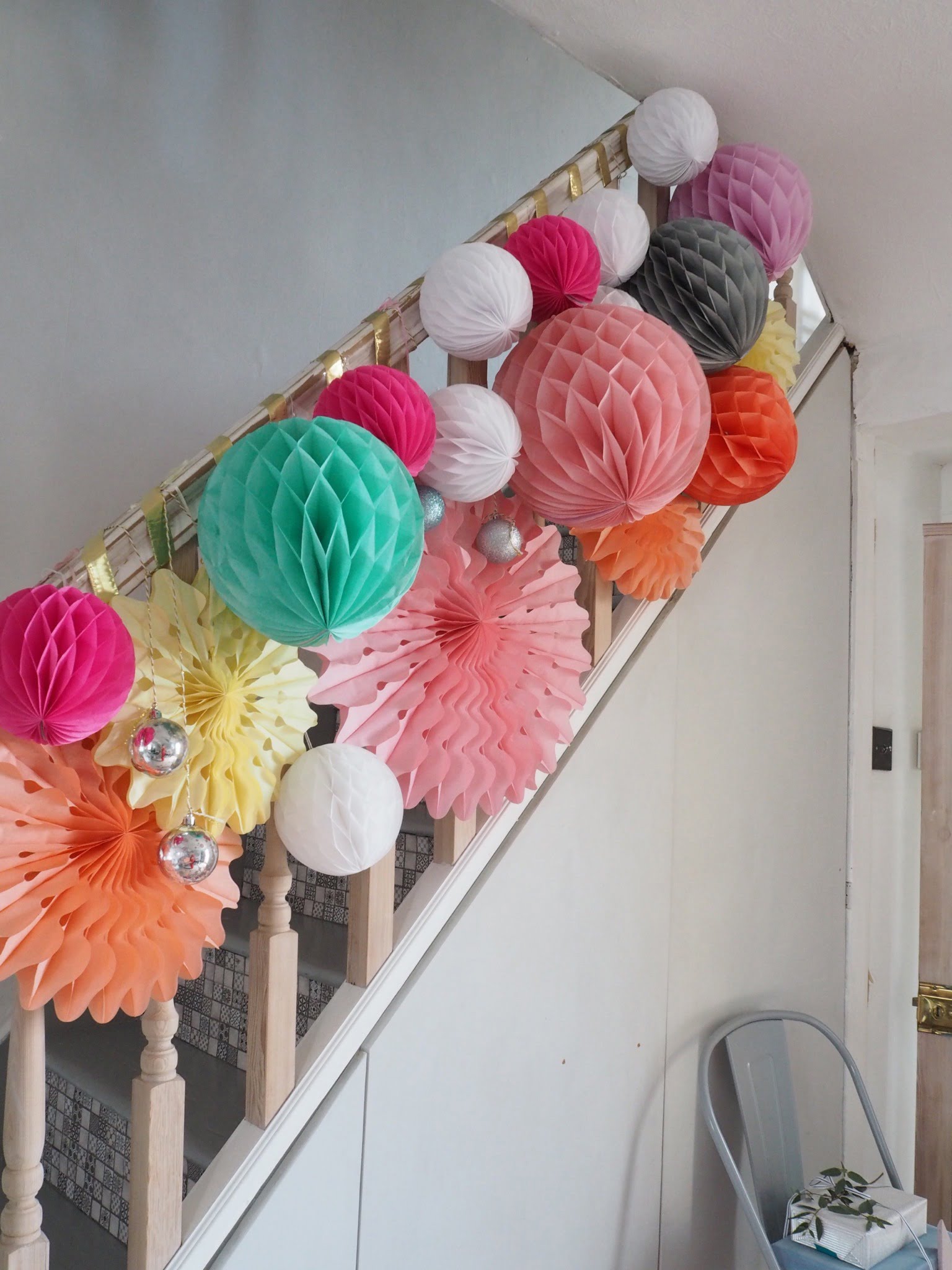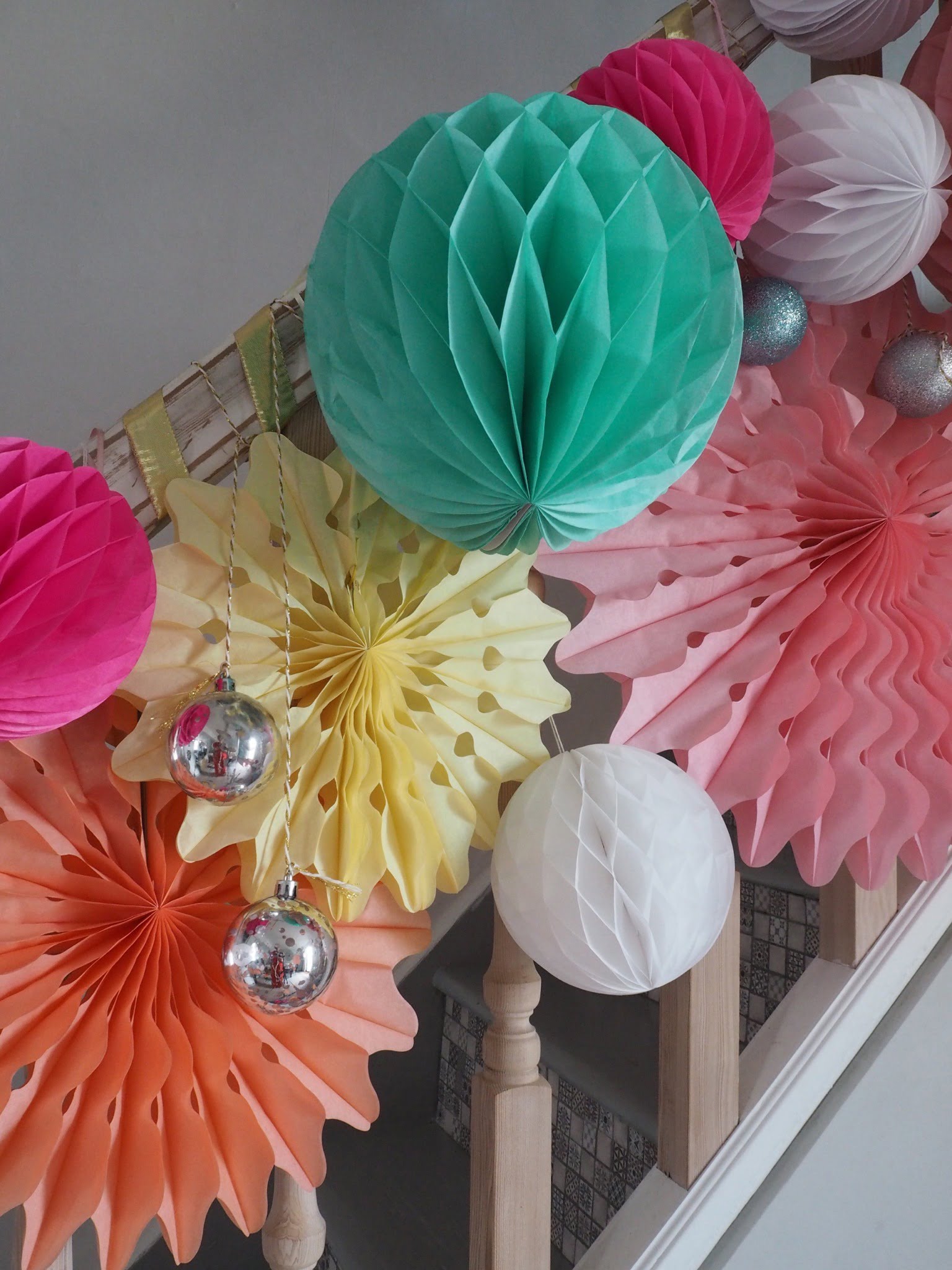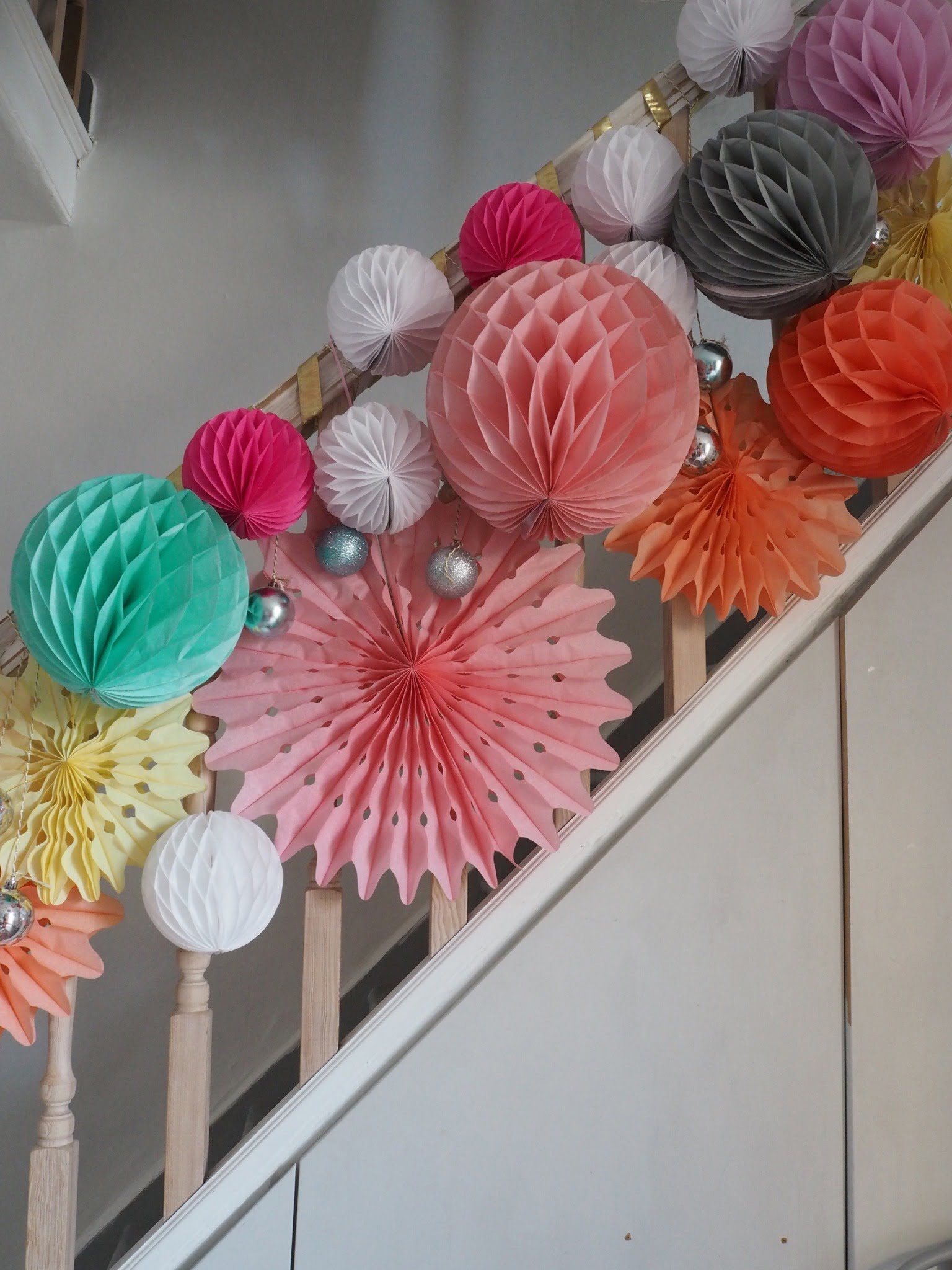 3/ String Up Baubles
To add a bit of festive sparkle, string up baubles tied on with ribbon or twine. Make sure you go for plastic baubles just in case they fall off and smash (eek) String them up along your banister and tuck among your decorations.
I was a little worried my garland was looking a bit summery but adding baubles gave it that Christmas magic I had been looking for. Why not add decorations in the same colours as your paper shapes.
4 / Add Ribbon
To cover over the tape and all the ties from the baubles, I wound gold ribbon up the banister rail. It also added a stripped effect and that splash of gold was really make this look extra glittery.
You could wind up tinsel up the stairs and go for the whole hog.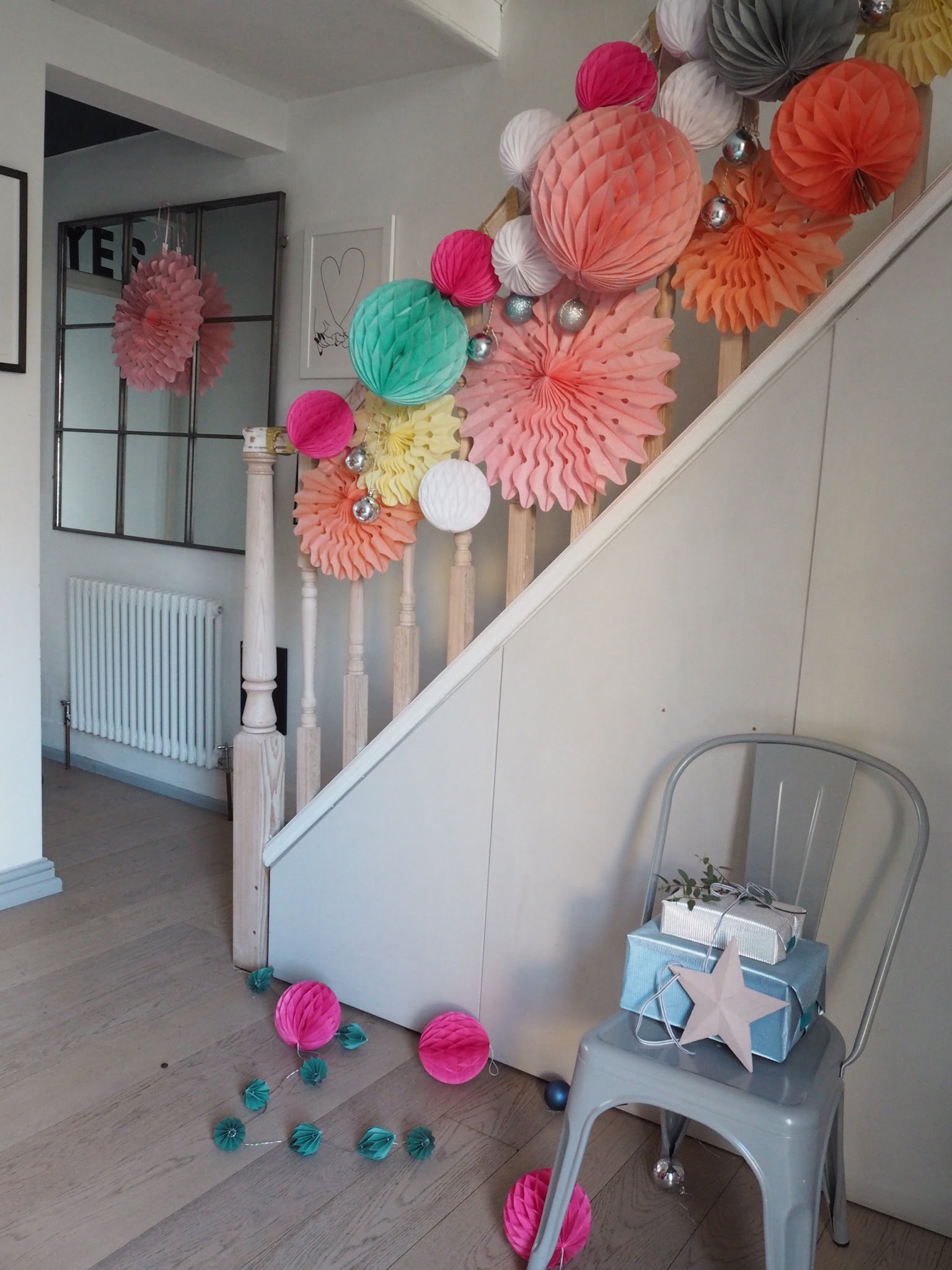 5/ Take Photos
Creating memories is what Christmas is all about, isn't it? This backdrop is photogenic, I couldn't help myself! I put some fairy lights along the floor to add a bit of glimmer. I can't wait to have friends come round and we can take silly photos of each other.
Your kids, husband or grannie will love having a colourful portrait taken in their best Christmas outfit. I had so much fun shooting this outfit for my blog.
I had to bribe the dog with so many treats as he had no idea what I was doing!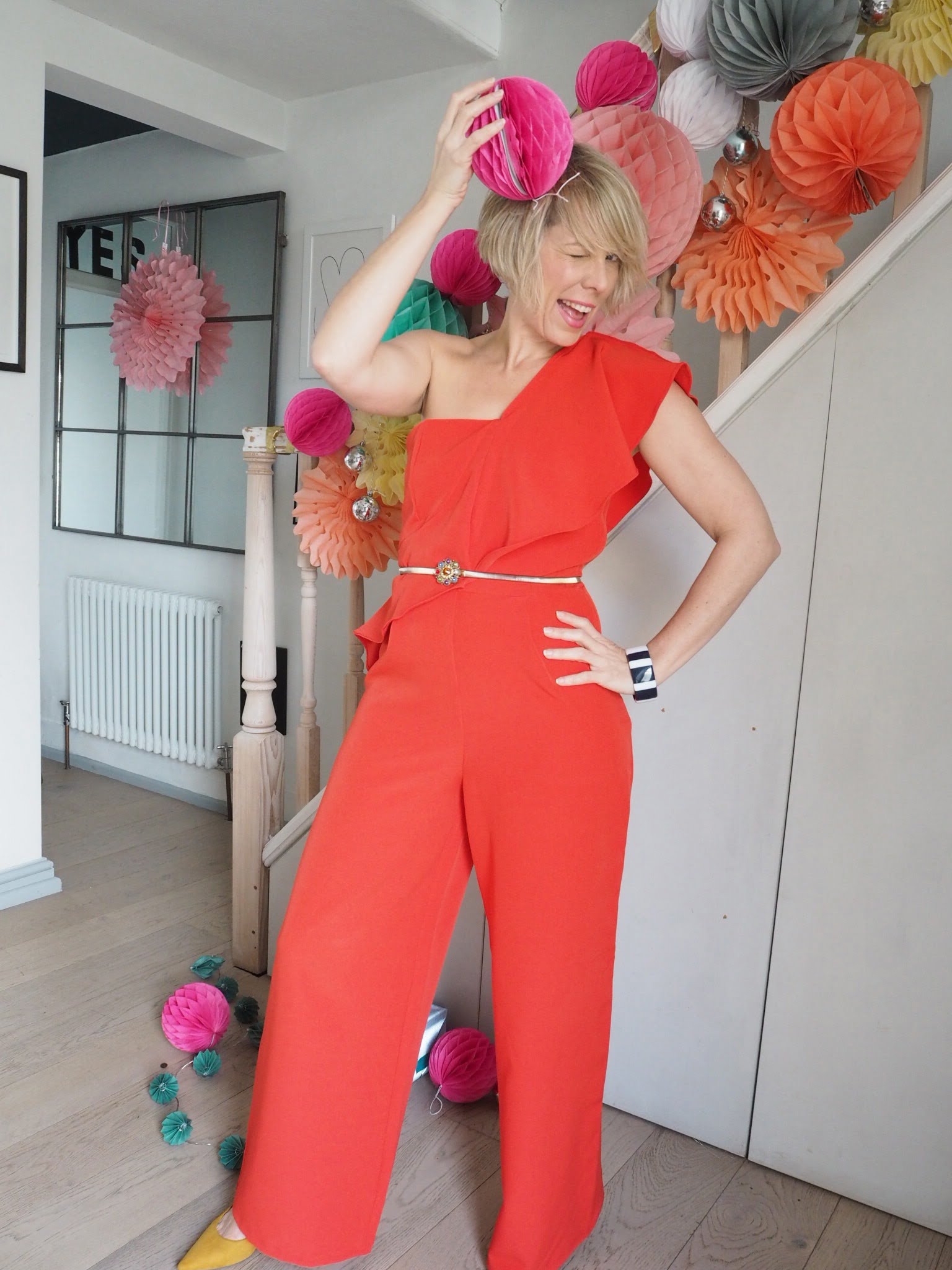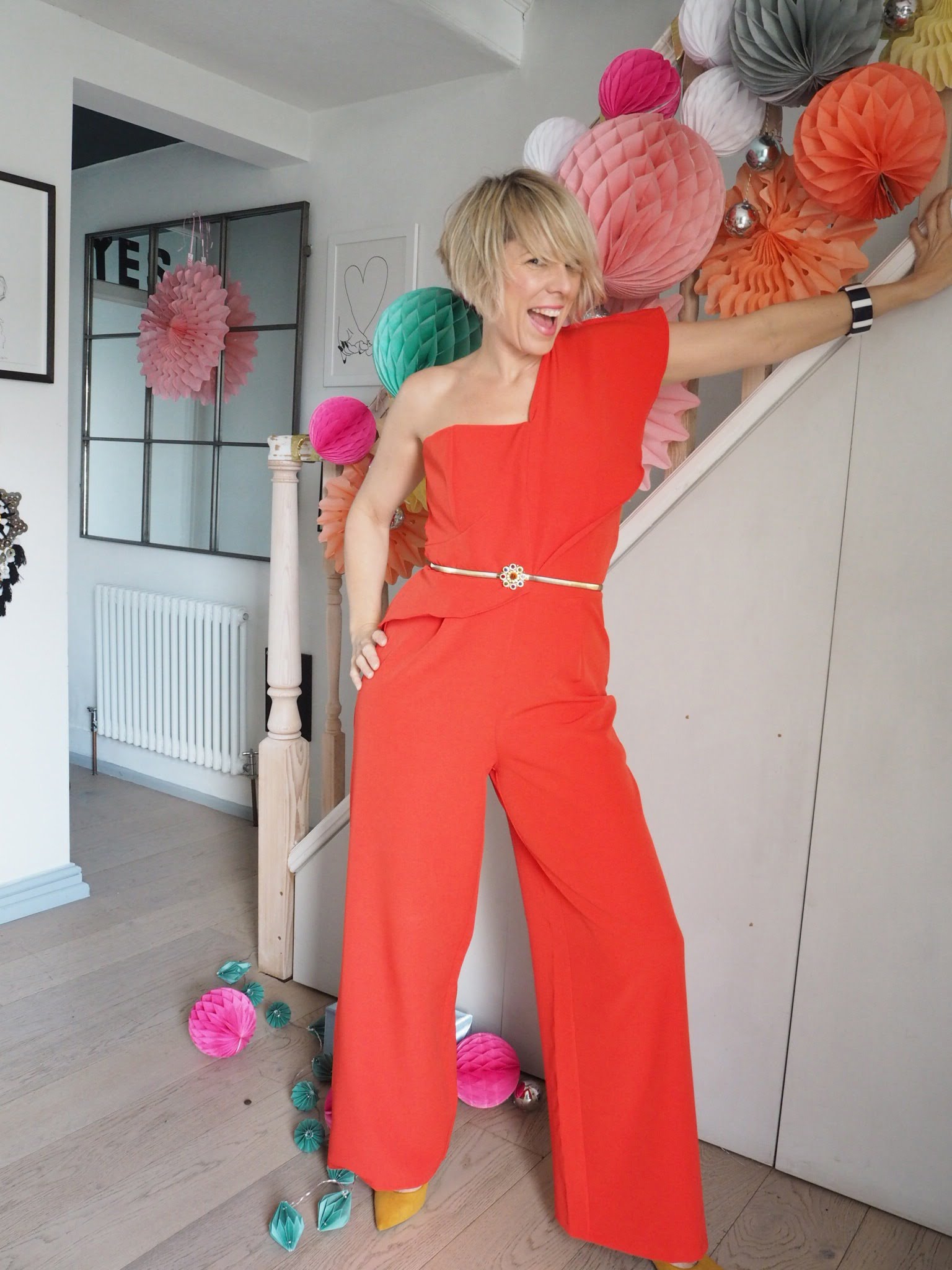 And that's it! How easy was that to do?
I think you'll love this garland as much as me and have great fun putting up in your home. Don't forget to complement your garland with a glass of fizz and a fab outfit. My amazing jumpsuit is V by Very. It was only £50 (now in the sale for £32). I feel ready for the party!
What do you think? I would love to know what colour combinations you would go for in your own home.
Merry Christmas
Love Maxine
You May Also Like
PIN THIS