I've wanted to post this for months! I gave my sister a brilliant kitchen makeover which was featured in the March issue of Good Homes magazine. In the post, I'm going to give you a full room tour as well as a detailed shopping list. Take a peek at this modern kitchen makeover packed full of clever ideas.
Despite having little spare cash, my sister desperately wanted to give her tired-looking kitchen a glamorous new look. The idea was to refresh the space to create a sociable kitchen her family can enjoy for years to come. It was my job to help her come up with a scheme that would suit this fun-loving family.
BEFORE
Erika inherited this kitchen when she bought her house over six years ago. It had never been to her taste and it was starting to fall apart! The heat from the oven had made the MDF plastic coating on the units peel away. The flooring looked constantly dirty. And their 'office-style' venetian blinds gave her regular nightmares. It was time for a makeover – and that's when I stepped in to help.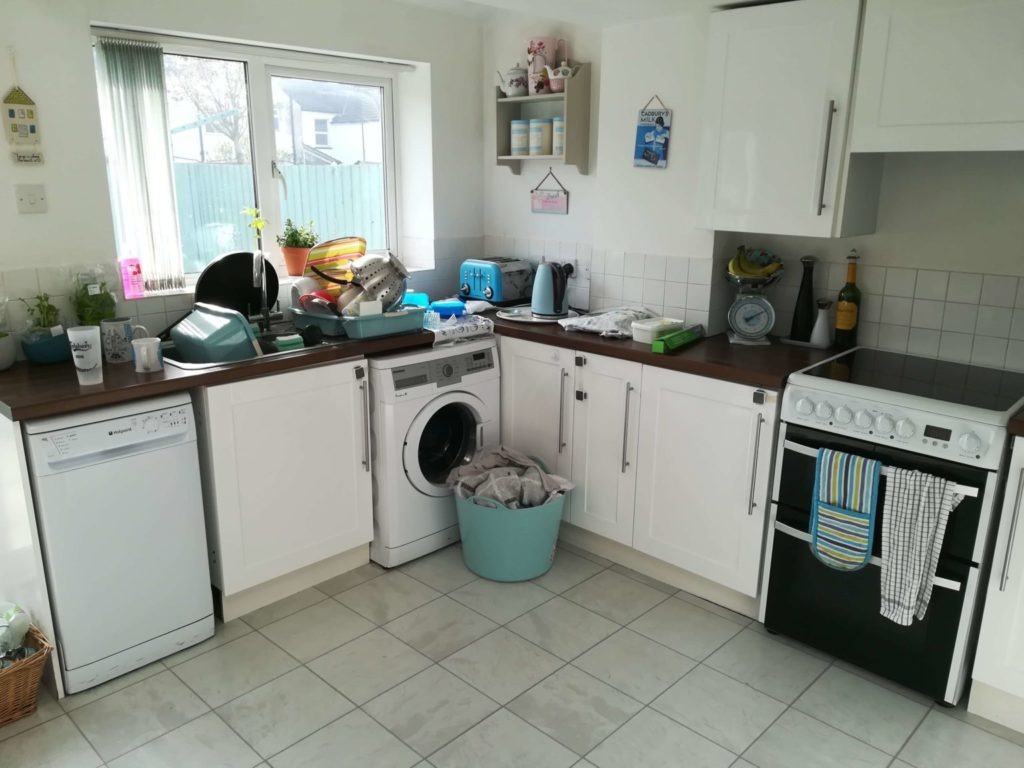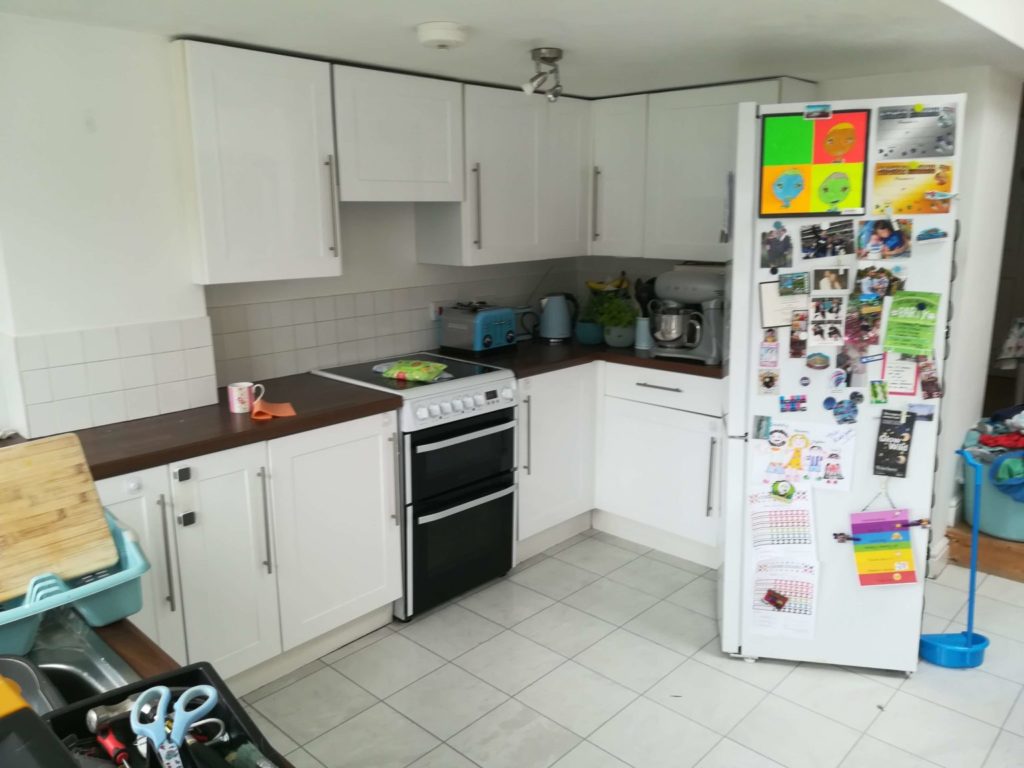 KITCHEN MAKEOVER BRIEF:
As we working with a tight budget, I needed to keep as much as I could from the existing kitchen but make enough changes that looked like a totally different room.
My plan was to keep the kitchen units but invest in replacement kitchen cabinet doors. As well as updating the wall tiles, fit new flooring, installing laminate worktops and colourful blinds. I wanted to add a bold feature wall colour, and bring that colour through the kitchen. Then, finally I wanted to add gold accents and lots of plants to transform the room to look like new!
Ready to see the results of the makeover?
AFTER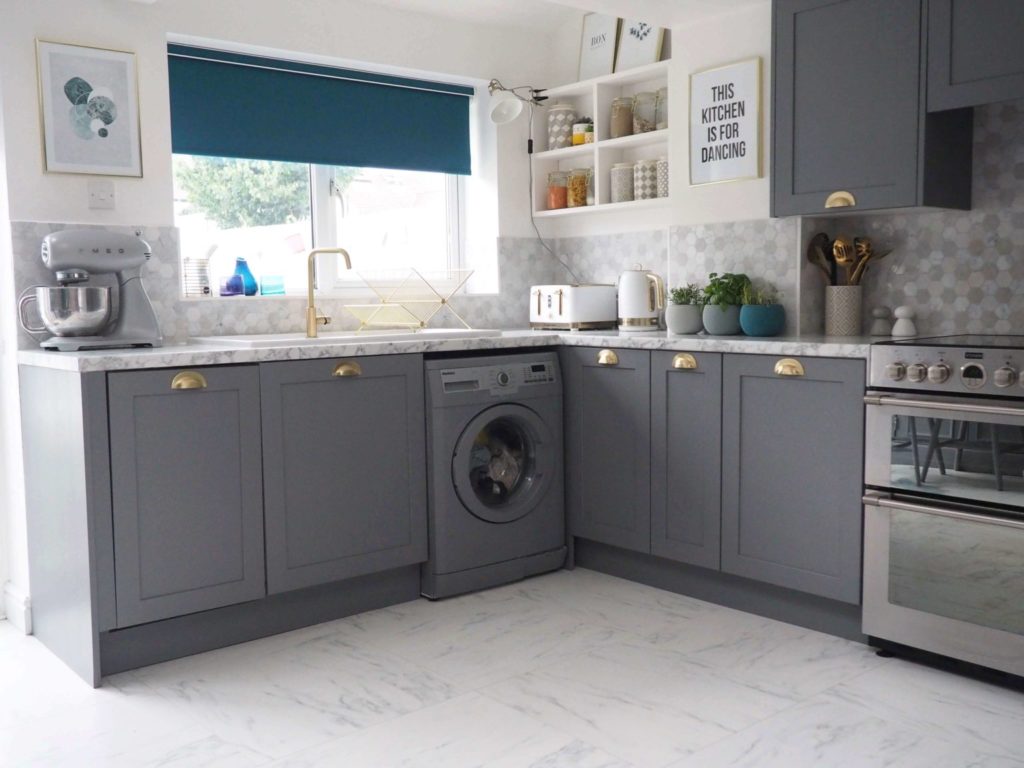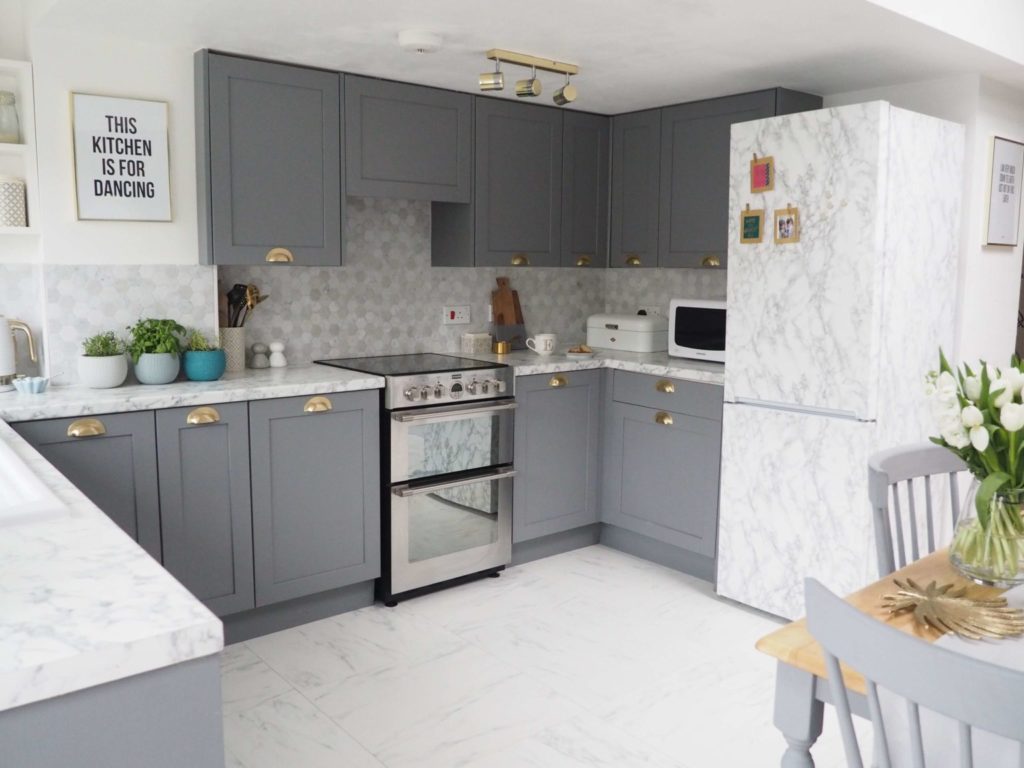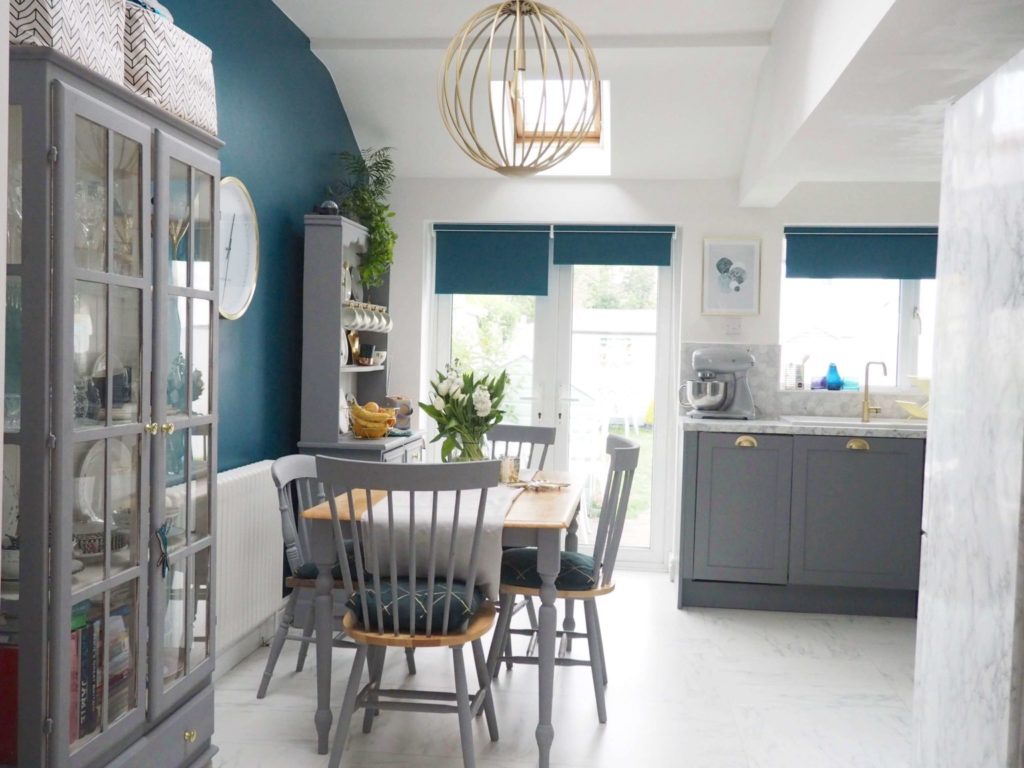 'I had bespoke shelving unit made for the wall which make a pretty display are. Storage jars filled with every day essentials free up valuable cupboard space. And they add a glimmer of gold to the room and match the handles and light fittings.'
WORKING WITH THE EXISTING LAYOUT
Sadly, my sister's budget wouldn't stretch to a whole new install so we had to go with the existing layout which (in all honestly) was working fine for my sister and her family. It made sense to allocate a good proportion of Erika's budget to good quality fixtures and fittings – like the tap, sink, tiling and blinds.
To save money, I shopped around for designer look-a-likes finding this faux marble worktop and floor, and affordable statement lighting. And of course the kitchen door replacement which was going to make the biggest change to the look of the room.
STYLE TIP: We used this handy online tool to pick the flooring which you might like to give a try for your room.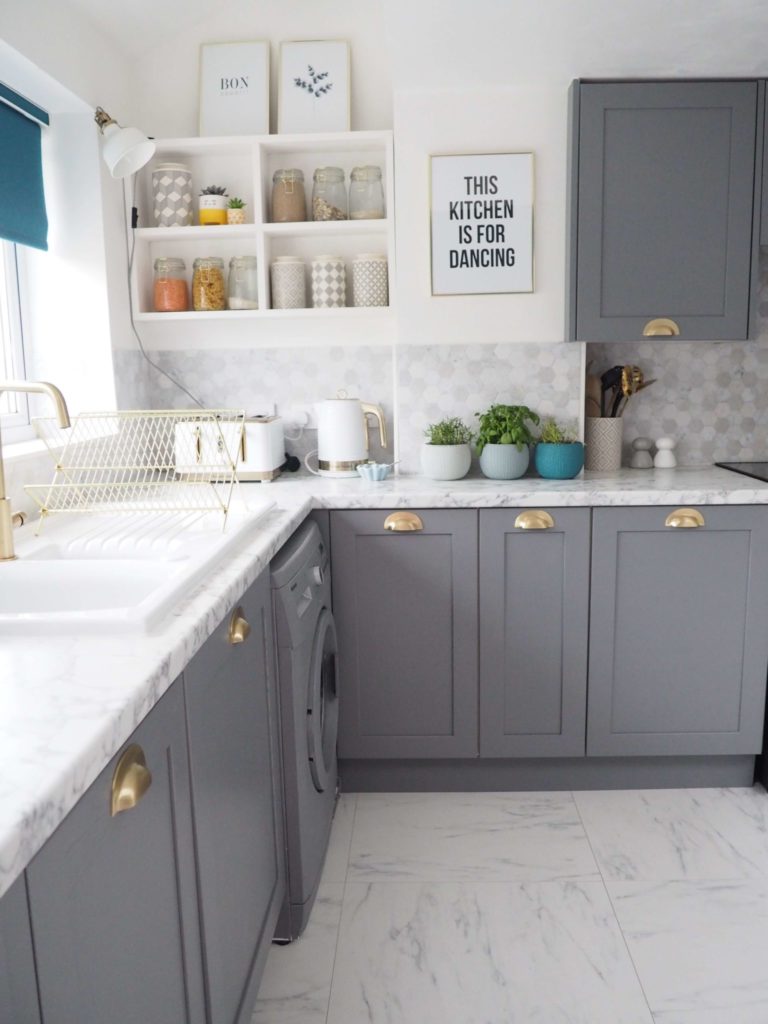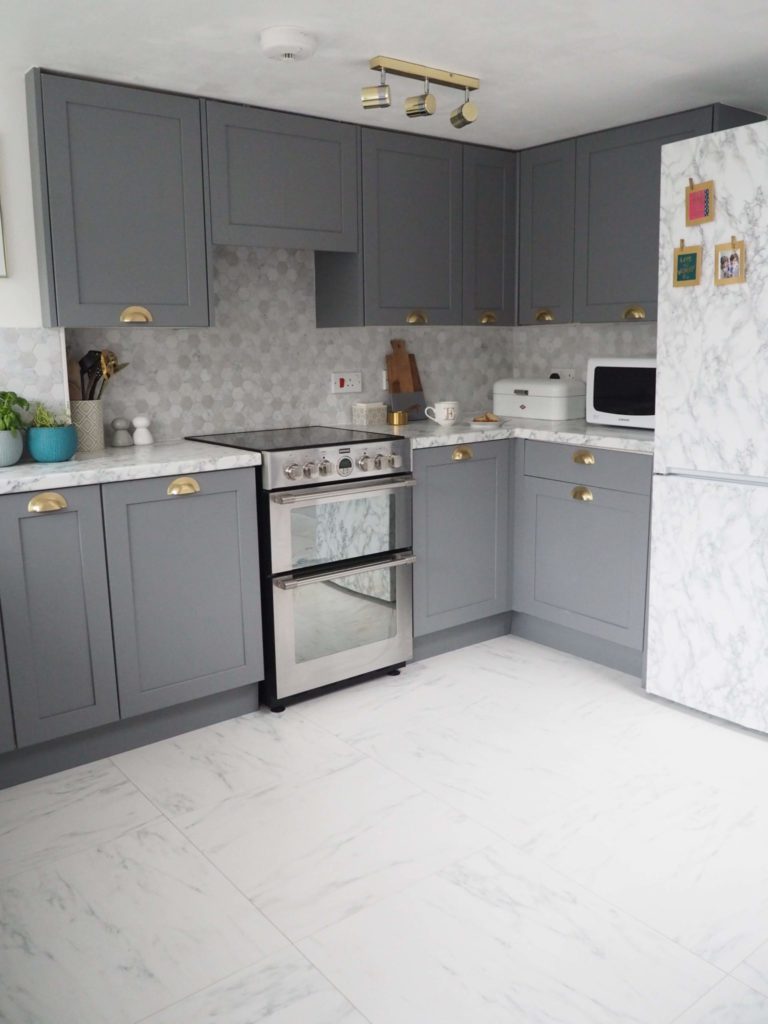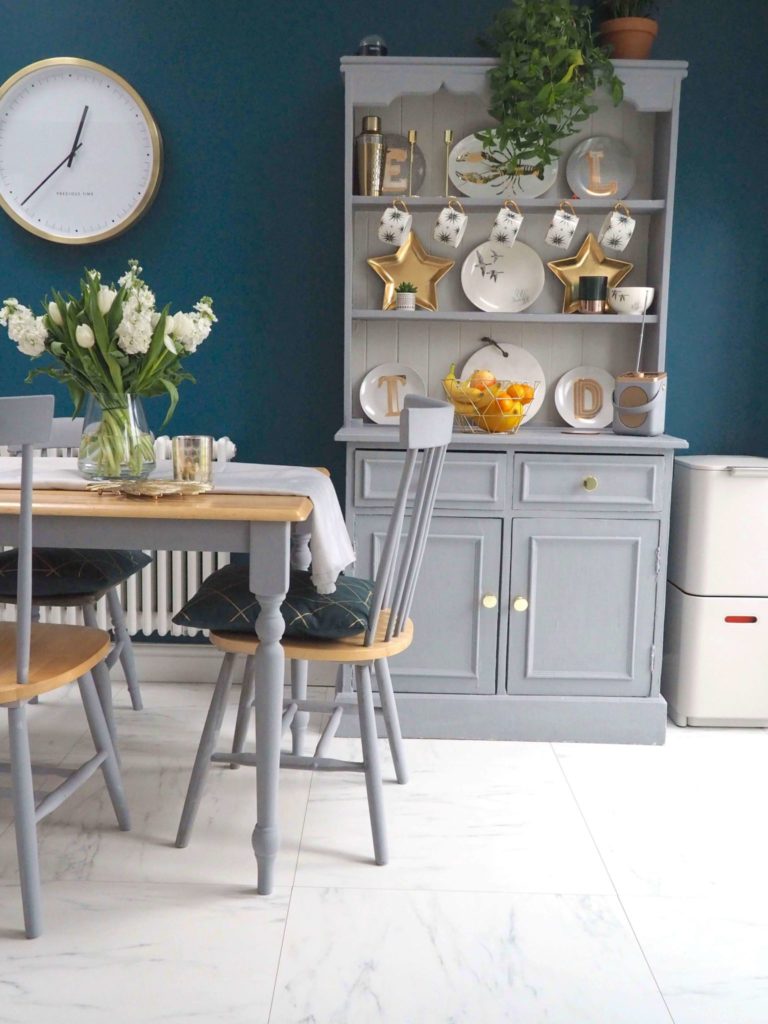 'I love the bold teal wall colour especially against the gold accessories and plants. It's the first thing everyone comments on in the room and it has modernised this kitchen space. A white column radiator was fitted. Vintage furniture was painted in chalk paint to match the replacement kitchen doors.'
STARTING THE KITCHEN MAKEOVER
Before work started, Erika had a declutter of her kitchen getting rid of loads unwanted belongings to free-up much needed cupboard space. She seemed to have cupboards full of Tupperware which I'm sure you can relate to!!
Anything unwanted but was still in good condition was sold on Gumtree, and the money was put into a 'kitchen fund'.
The old flooring was ripped up and new flooring installed. Then the worktops fitted. Erika then painted the whole room white and teal. The new replacement door fronts and kick stands were fitted in a day. The wall tiling was done and the shelving put up. Finally the teal blinds were fitted finishing off the look of the room.
'As the fridge and washing machine work fine, it made more sense to up-cycle both of them, then buy new. They look so much better and it saved money too. Erika did invest in a new integrated dishwasher with a replacement kitchen door front so that it blended seamlessly into the room.
THE MUST-HAVE KITCHEN FEATURES
On my sister's wish list was hand-painted grey wooden door fronts which would give this space a designer look. I looked out for ones that were made of painted wood as they are more durable and heat resistant for this hard working kitchen.
The light marble floor was key to brightening the room (the original cream flooring always looked dirty and dingy). And then we could add more marble accents with T&G Woodware accessories, the hex wall tiles from Verona and the Worktop Express faux worktop.
Last was adding a bit of sparkle with gold. I found the handles from an independent Puska Home and they are just spot on for this room. I then found modern lighting that gave the space an edge. Erika & I had great fun shopping for accessories for the room. We even spray painted some magnets for the fridge with gold paint.
Last to go on the wall was the disco artwork which is perfect for a spot of Friday night dancing in here.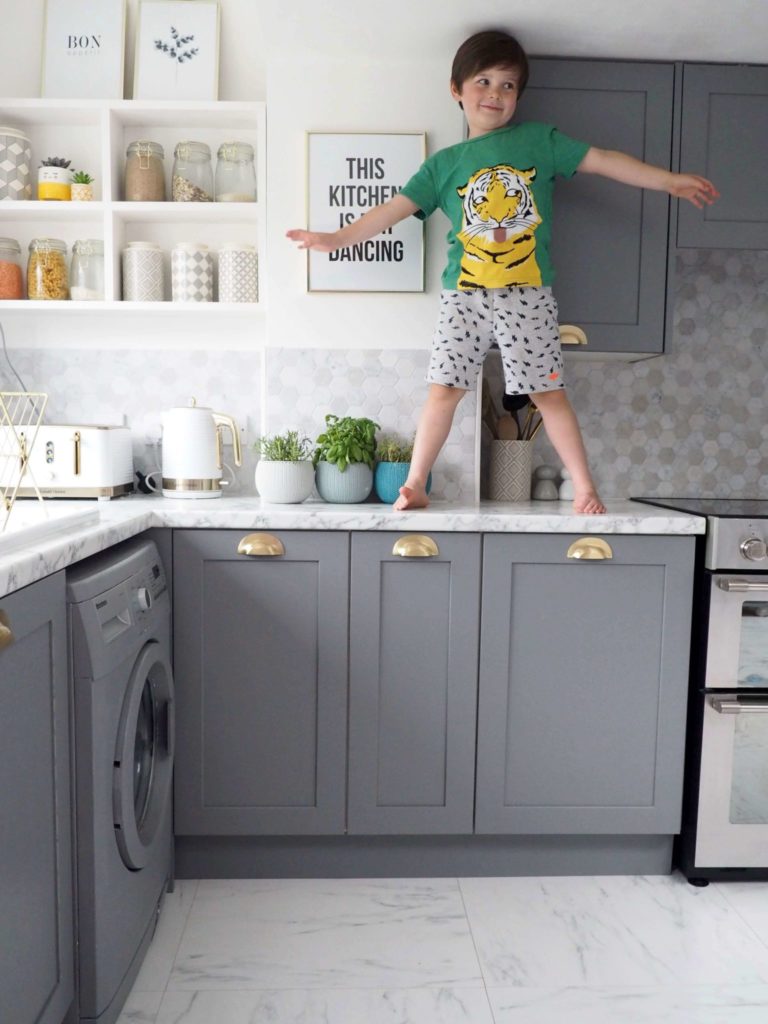 SHOPPING LIST
Marble Carrara laminate Quick Step.
Culcutta marble laminate worktop Worktop Express
Milano Windsor triple column cast iron radiator Best Heating
Fog stone Hexagon mixed marble finish tiles Verona Group
Acton one and half bowl sink in white ceramic Abode
Althia single lever tap in brushed brass Abode
Cordova Peacock black out blind Hillary's
Walls painted in 'Deep Teal' Emulsion Valspar
Iconic Astoria pendant Iconic Lights
Nina 3-way spotlight bar Iconic Lights
Stoves 60cm electric cooker with ceramic hob AO.com
Artwork & Gold Frames Desenio
Modern Brass Gold Drawer Cup handles Pushka Home
Grandy bread bin Wesco
Table runner fabric Dunelm
Totem 40 L bin Joseph Joseph
Halo salt and pepper mills T&G Woodware
Cooks board T&G Woodware
City storage jars, butter dish & utensil jar all T&G Woodware
Inspire brass kettle and toaster both Russell Hobbs
Kilner jars Amara
DC Fix Marble film B&Q
I asked my sister to tell me how she felt about her new kitchen and how these simple changes have impacted her home life: 'I cannot tell you how much my new kitchen makes me smile on a daily basis! We spend so much time in here now as a family. When the boys come home from school, we turn up the radio and we have a proper kitchen disco.'
Well, that is one happy sister. If you would like help with your own makeover project, you can hire me. Please send me an email via my contact form!
WHAT DO YOU THINK OF THIS KITCHEN MAKEOVER?
I hope you have loved this quick tour of my sister's kitchen makeover. If you want to see the feature in the magazine you click here. I'm going to be posting a how-to of her fridge up-cycling project soon. So come back here soon to see that 🙂
Have a lovely week
Maxine
YOU MAY ALSO LIKE