Take your bed from boring to beautiful with my bedroom! Learn how to dress a bed like a pro with 5 expert tips from interior stylist Maxine Brady.
In collaboration with scooms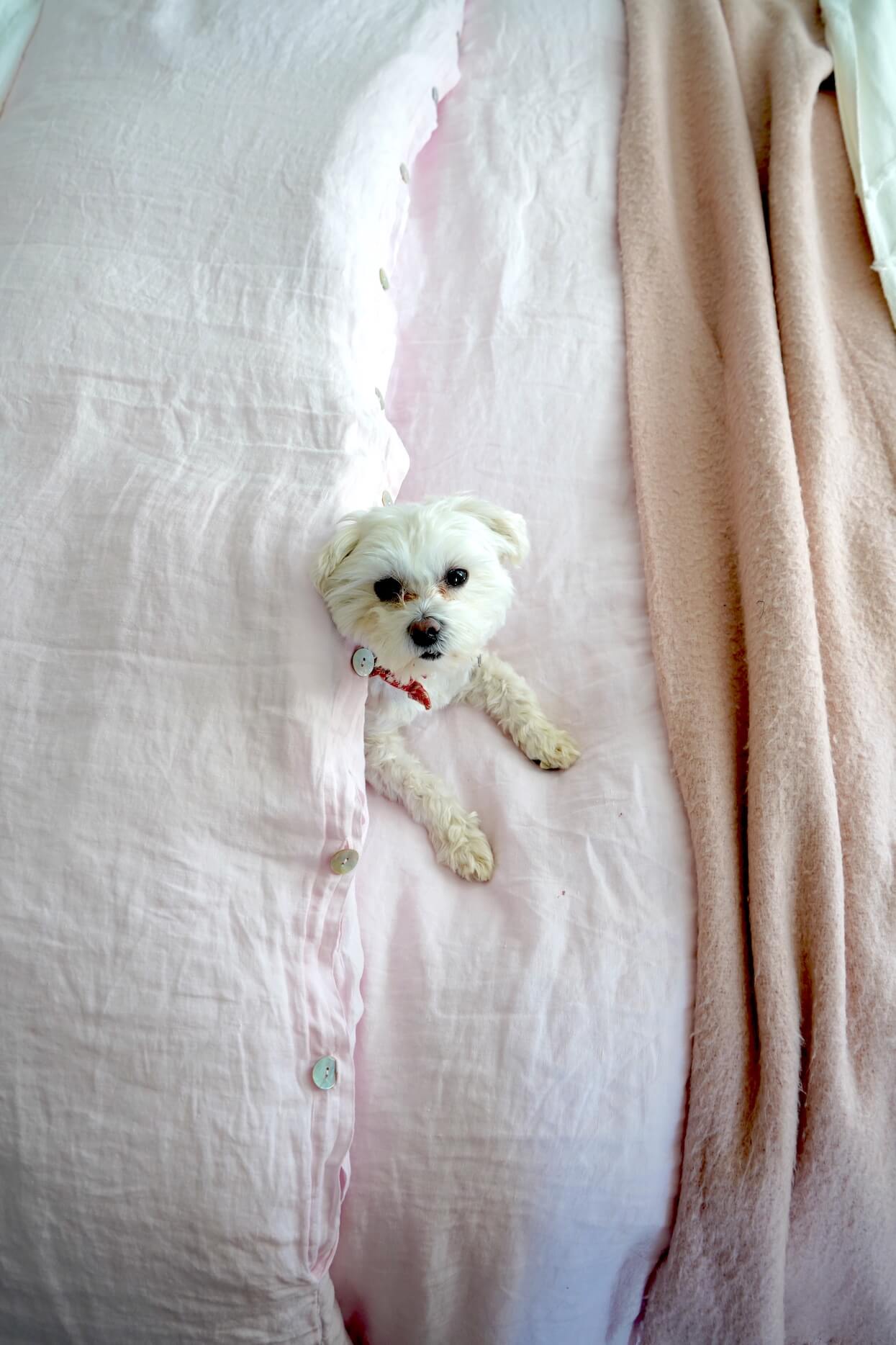 5 WAYS TO DRESS A BED LIKE A PRO
It's actually VERY EASY to turn your bed from a crumpled mess into a Instagram-ready bedroom – it takes literally just 5 mins in the morning. I promise you! And there is nothing better than walking into your bedroom last thing at night and climb into a bed ready for some serious RnR. I mean just ask my dog, Teddy who has got a little TOO comfy in my bed!! ✨? ?
Only this week, I was asked by The Independent for their IndyBest guider's guide section to share my advice on how to dress a bed like a pro. And I thought I could share my how-to styling tips in a blog post for you.
I've partnered up with natural bedding experts scooms to share my professional styling tips to dress your bed to look super stylish and Instagrammable too.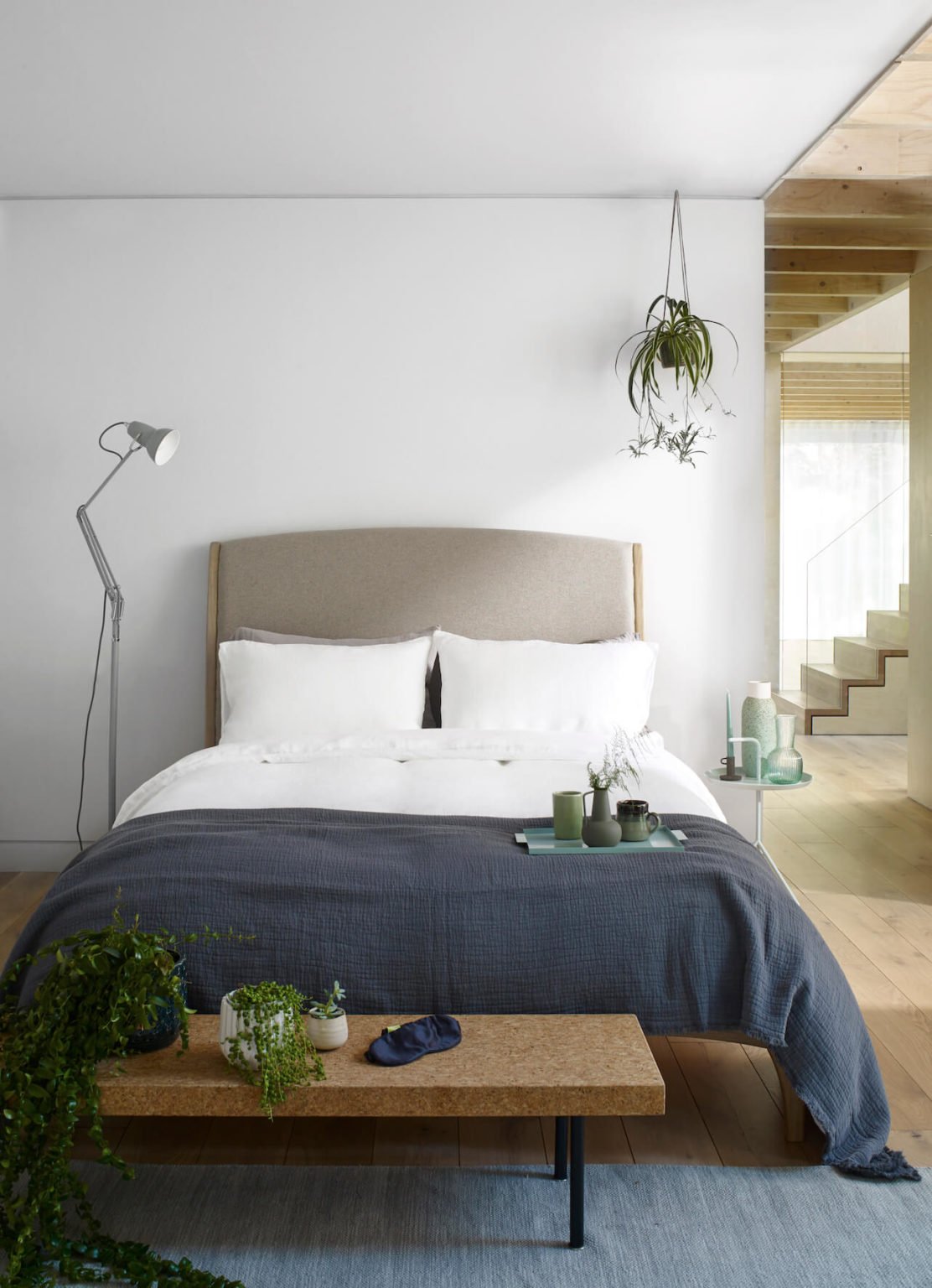 About Scooms
Have you heard scooms? If not, they are well worth adding to your interior stylist address book. They're experts in bedding and linens with one simple idea – to make the process of buying bedding super easy for you. How? By offering just four hand-picked items which will meet all your bed dressing needs.
What's more, their products are all NoMite accredited, OEKO-Tex 100 credited and Downafresh certified, ensuring no harsh chemicals, toxins or single-use plastics are used anywhere in the manufacture or delivery. All the down used is fully traceable and sustainably sourced as a by-product of the food industry. That way you can sleep peacefully knowing your bedding is environmentally sound.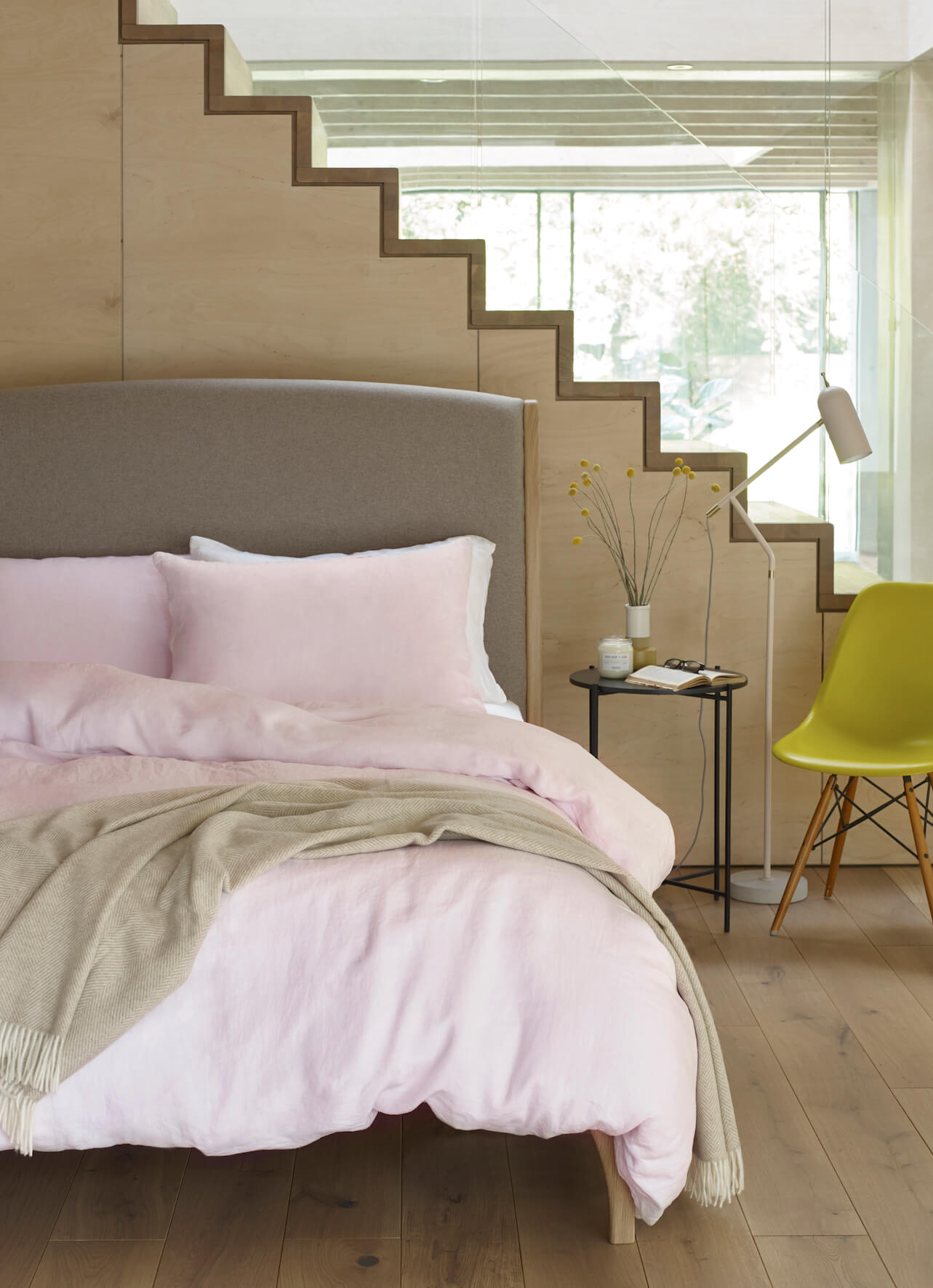 1. INVEST IN A MATTRESS TOPPER
Always choose a decent mattress topper to create a super soft bed that will be a joy to crawl into at night and a challenge to get out off in the morning! They come with either feather or polyester fillings or you could try a wool ones (which are hypo allergenic and vegan too). They are the perfect base to dress a bed.
Remember a topper will never compensate for a poor quality mattress or one that is saggy and old! It's always worth spending money on a mattress when you consider how much time you sleep in it.
I've got a new mattress arriving soon, and I can't wait to give you the full review on here soon – check back on the blog by hitting the subscribe button 🙂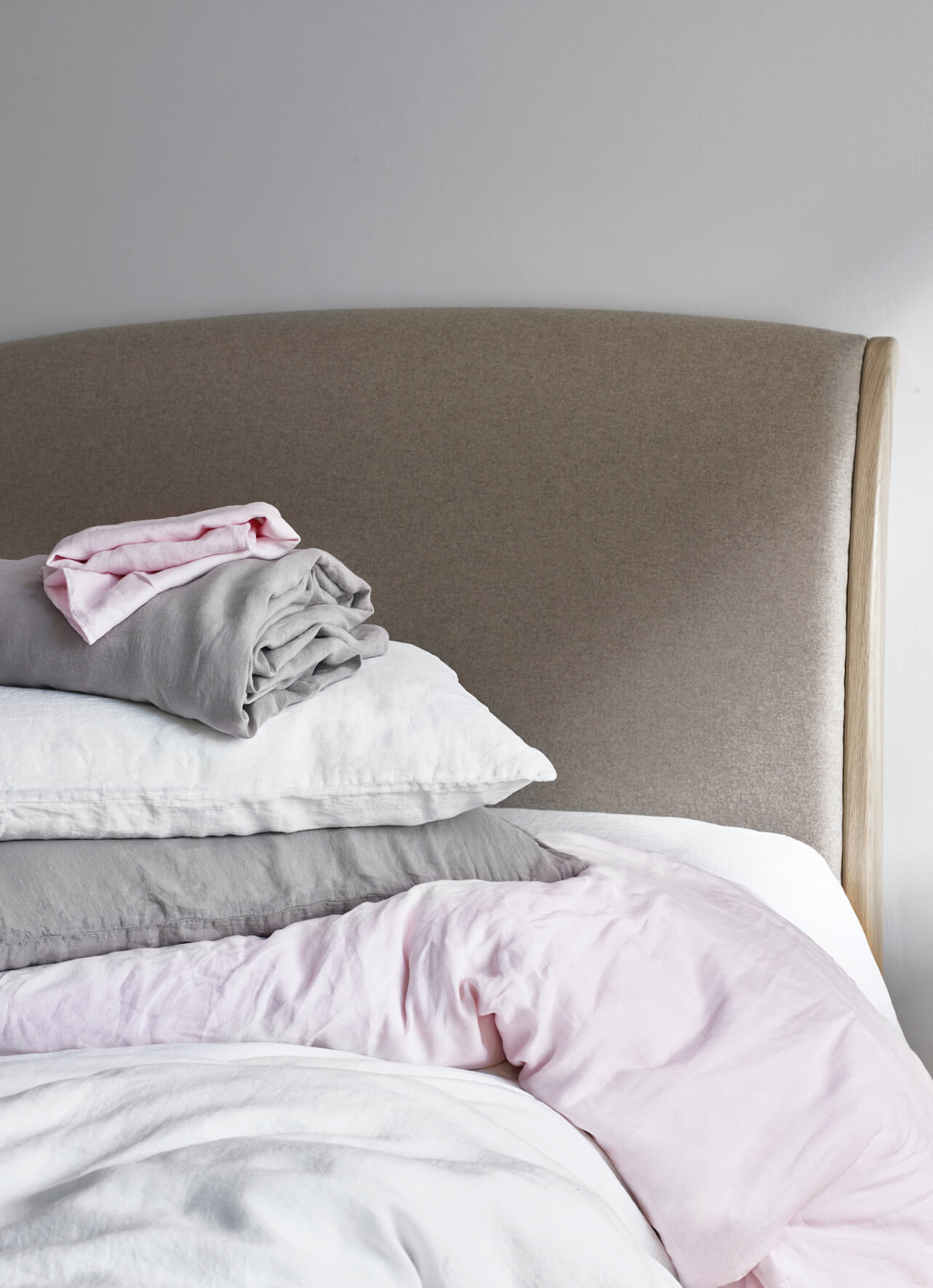 2. SHAKE YOUR DUVET
Every morning, give your duvet a really good shake from top to bottom to fill it with air and to make extra fluffy. Feathers tend to flattern and need air to circulate – that's why it's good practice to shake your duvet!
And the 'fluffniess' of your duvet is a good sign of its insulating ability. Not only will you'll sleep so much better under a comfy duvet but the better quality you choose the better your bed will look when styling it.
Look out for ones made from good quality materials with double stitched seam and pockets fills. On my bed, I have the scooms All-Season Hungarian goose down duvet which is actually two duvets in one – comprising of a Summer 4.5 tog and heavier Autumn 9tog duvet that are fixed together with snap fasteners to create the perfect, warm and toasty 13.5tog duvet (simply split apart in the warmer seasons and use individually).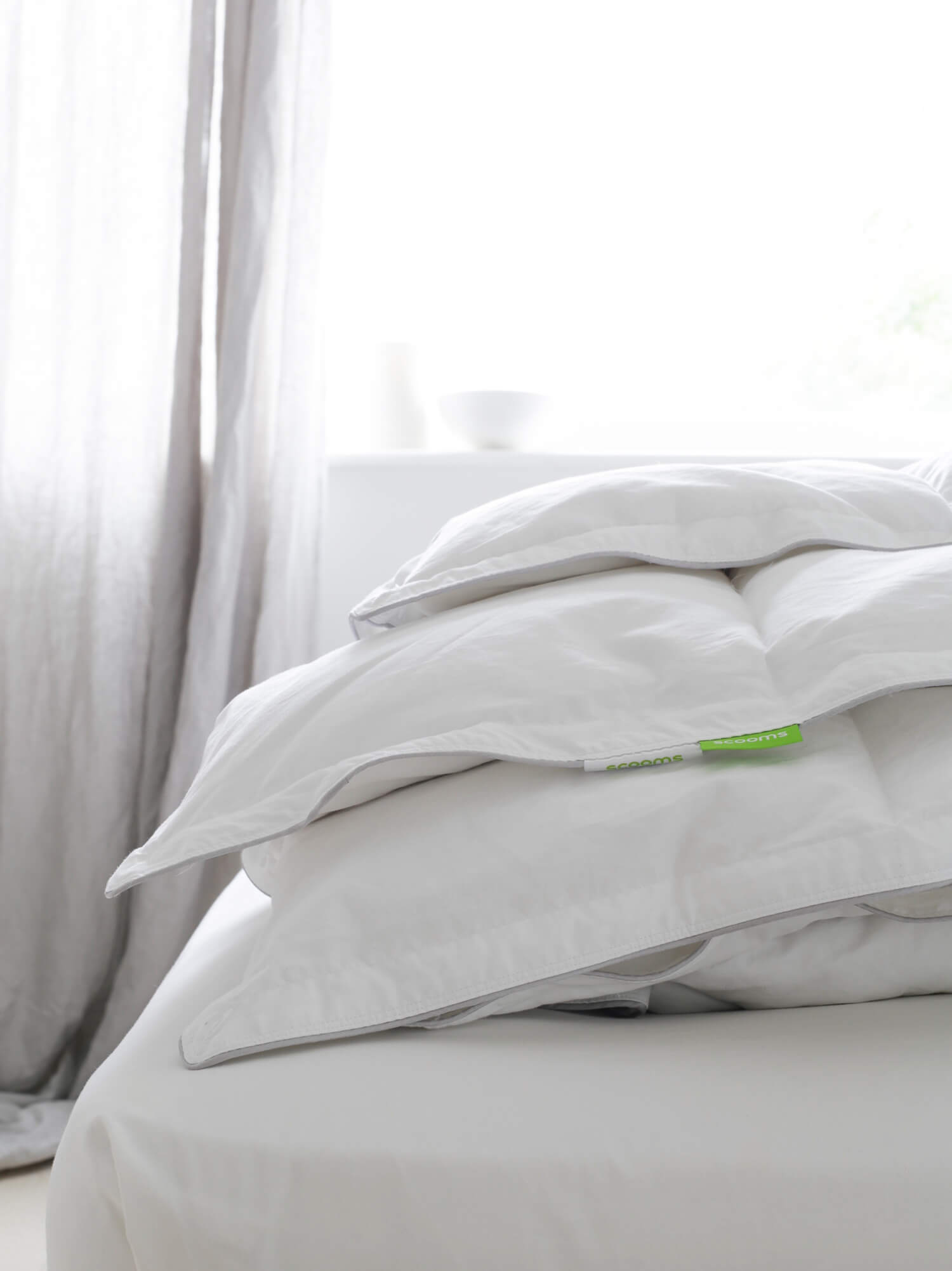 Scooms duvets are filled with a special mix of 90% Hungarian goose down and 10% selected small Hungarian goose feather (to add a little weight) which I find makes their duvet super comfortable as well as the most fluffy thing you have ever seen.
And I can confirm my scooms duvet is one of the softest ones I have ever slept under. It's like snuggling under a cloud as the feathers make it feel so light and soft, while feeling cosy to touch. It's a yes from me!
Not only that, it looks fab when style up as it is nice and bouncy looking rather than flat and limp like some non-feather duvets. Their bedding make an appearance on my instagram over here or if you want to snoop around my bedroom click here.
Now we have nailed the basics – let's move onto the linens, throws & cushions! >>>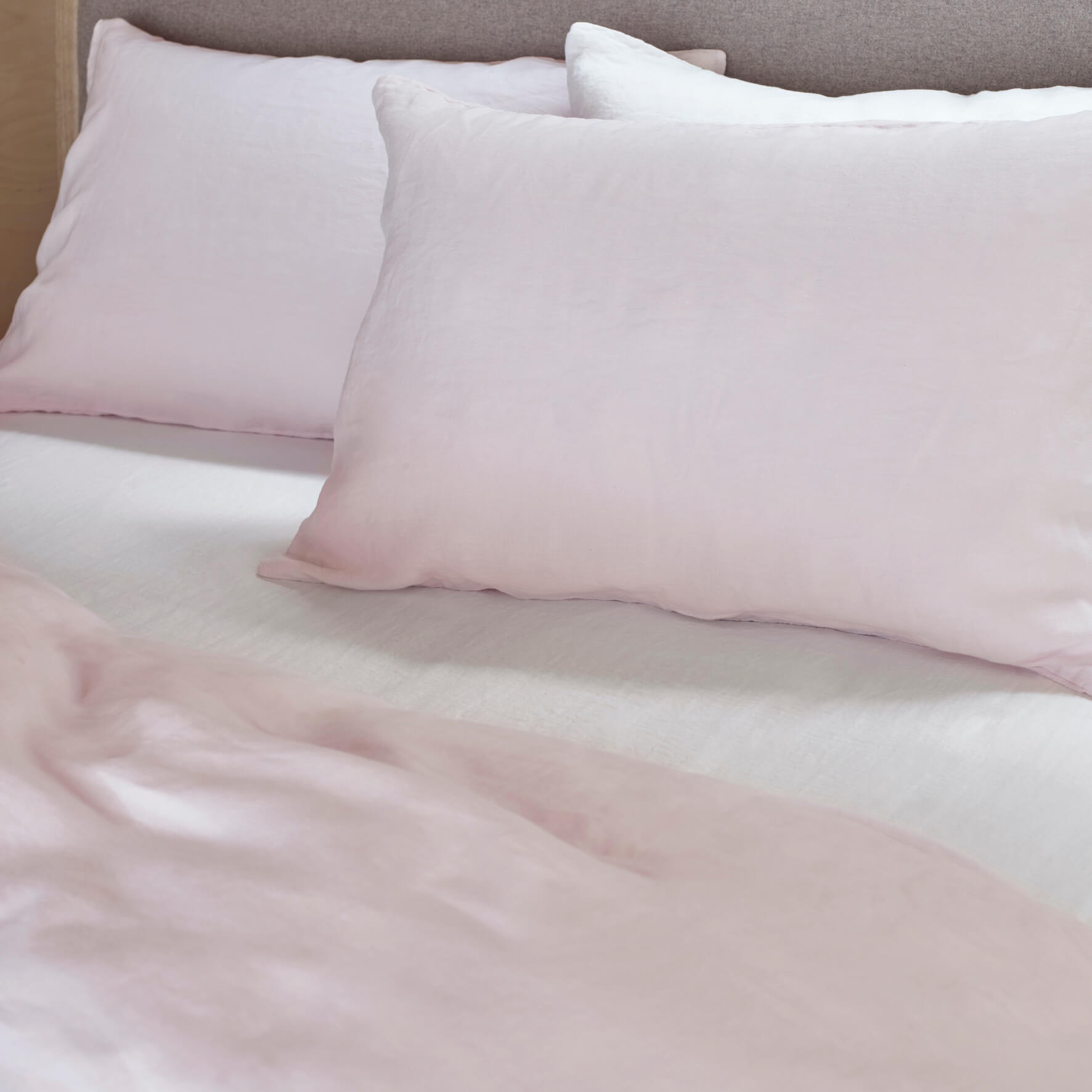 3. CHOOSE COLOURFUL BEDDING
Cheat a new look for your bed every morning by layering up your bedlinen! I used to only have white sheets on my bed as I wanted that hotel look (which I still love) but more recently I've been playful by investing in a few coloured and patterned sets.
By choosing linens in the different colour pallets, you can mix and match the duvet covers and pillow cases sets for a vibrant look each time you dress your bed in the mornings. It's an easy bed making hack which all interior stylists know!
Find yourself getting too hot at night? Then look for sheets made from natural materials as they will allow your skin to breath keeping you cooler at night (unlike polyester or satin sheets) and they super snuggly as well.
If you want to do your research before you buy, you can read about all the different types of bed sheets with this handy guide on scooms website which will help you pick the right linens for your bedroom.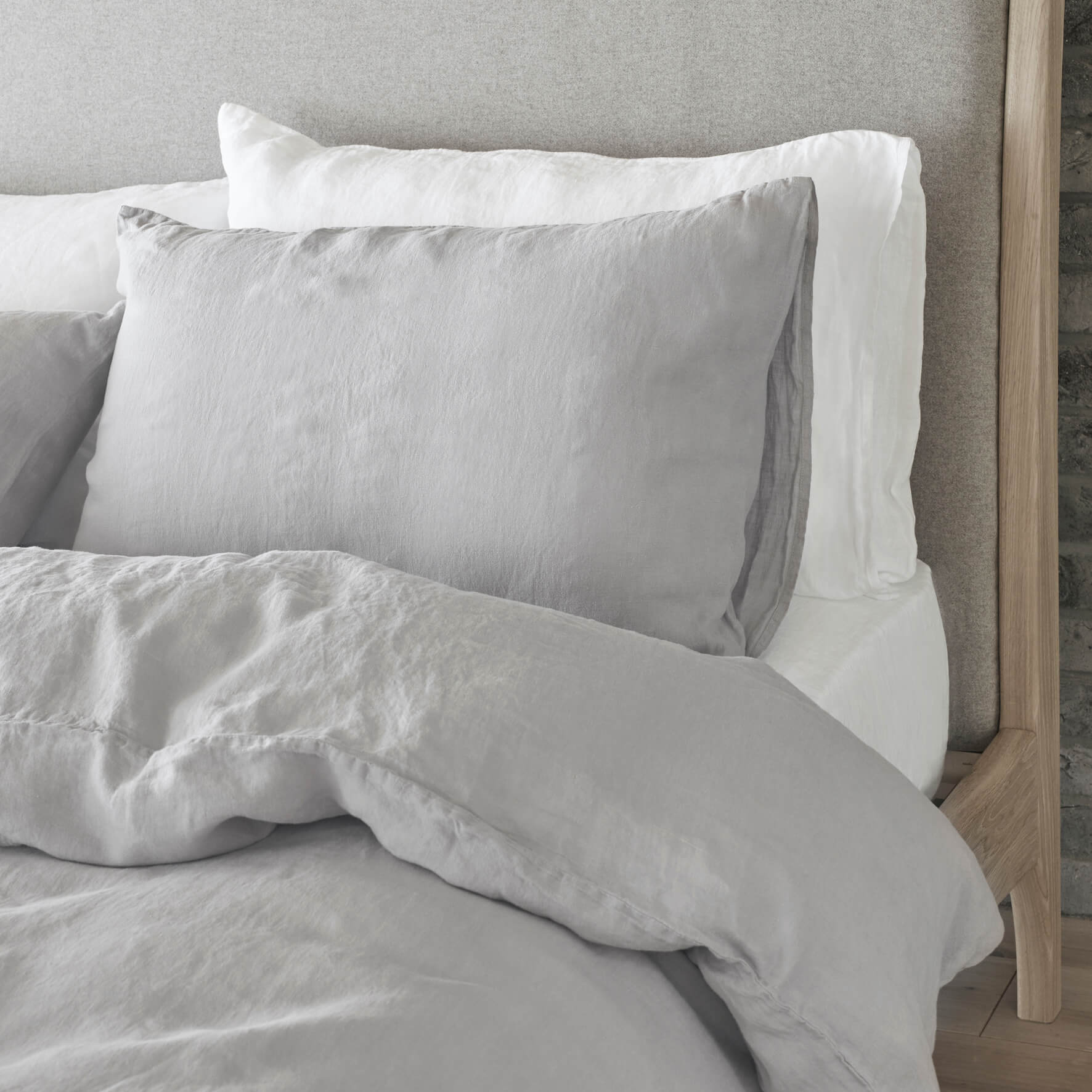 4. USE DIFFERENT PILLOWS
When it comes to pillows – I love a good selection of sizes to boost up the comfort factor! My rule of thumb is: two Oxford pillows, two housewife pillows and a bolster cushion. Why so many cushions? It's all about how you use your bed to relax in.
If you enjoy a good book to help you drop off before bed, then Oxford pillows are ideal. They give good support for you when are sitting up in bed reading reading. For snoozing, you can't beat a housewife pillow for supporting your neck. A bolster cushion is handy if you sleep on your side, you're pregnant, need extra support or have back issues. You can even pop one under your knees if you sleep on your back, for ultimate relaxation.
How do you style all these pillows? Start by putting Oxford pillows by your headboard. Give them a 'karate chop' for a cool shape – watch this short video if you want to see my styling in action. Next, place you housewife in front and then finally layer up with bolster at the front. I dress a bed with Oxford pillowcase to be in fun prints to break up the look of my bedroom styling.
https://www.instagram.com/tv/BvvxZBLHKnS/
5. CUSHIONS, THROWS & BEDSPREADS
Throws are a great styling accessories for beds. They are also a great way of complementing your patterned bed linens by adding an injection of colour. If you love a neutral look then choose a knitted coloured throw to add texture to your bed styling.
If you love a formal look – fold your throw neatly and tuck over the end of your bed. Or you could casually drape a throw over the corner of your bed for a relaxed look. Pinch your throw in the middle to get the perfect triangle shape).
A bedspread is usually made of a heavier fabric and could fit over the entire of your bed if needed. I love ones that are in white with elegant stitching – or even quilted one for a home-spun effect. Bedspreads are great if you are styling in a hurry as you can chuck them over your bed! It's the easiest way to vamp up your bed when you are short on time in the mornings.
And finally, we can't talk about how to dress a bed without talking about scatter cushions. They are the best way to reflect personality to your bedroom.
For a glam look go out for ones with a metallic foil finish, fringing or trimmings. I love a slogan cushion for a bit of cheeky humour. IMHO Oliver Bonas does them best (I have their HAPPY cushion in blue which makes me smile every day). The romantics among us will love to dress their beds with silk cushions decorated with beading or embroidery. Let your creative side flow with various cushions in different sizes and shapes and fabrics. Can you tell I'm a fan?!?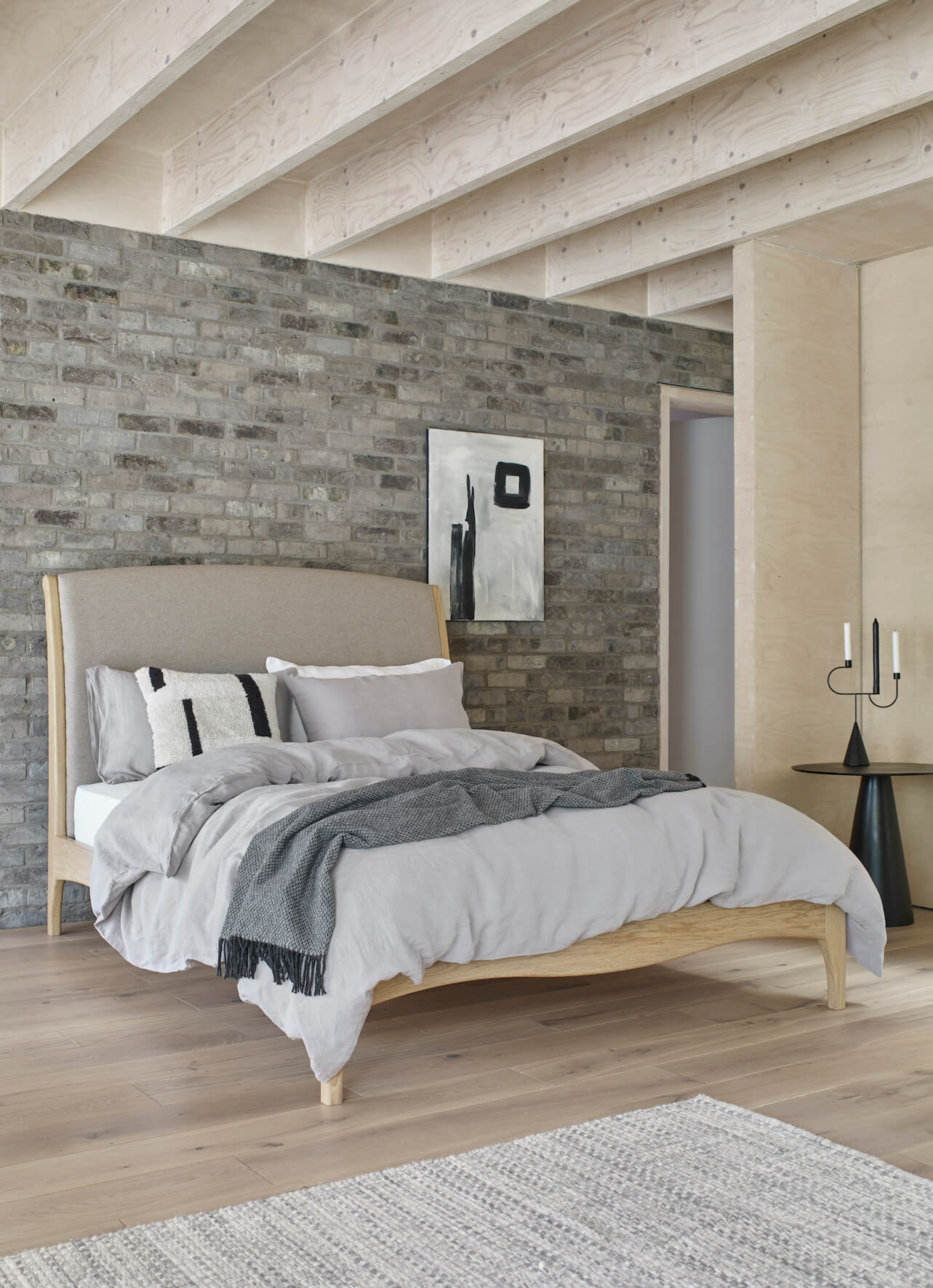 5 Ways To Dress A Bed Like A Pro
If you have enjoyed this post, don't forget to HIT the subscribe button so you don't miss a future post. And come back soon as I'm starting a bedroom makeover and will be sharing my mattress review too. Loads of lovely styling and home decor inspiration for you. Leave a comment below to say HI!
Love Maxine
LOVE THIS POST? CLICK BELOW FOR HOME IDEAS