Today, I've teamed up with Quick-Step to help you pick the perfect flooring for your next decorating project using their handy on-line tool called RoomViewer. I'm using my sister's kitchen makeover as the perfect example of how brilliant this design tool is for home renovators. And how it can save you time and money.
Sponsored Content
Planning on updating your floors? Wouldn't it be great if you could try out a number of floors in your own room before buy! Well, now you can. Thanks to the Quick-Step's handy RoomViewer online tool. You can virtually preview your room with lots of different floors – making sure you pick the right one for your room.
Watch my little IGTV video below which explains it all in detail (and gives you a room tour of my sister's kitchen)
Great flooring transforms a home
We all know that flooring makes a huge impact in our homes. It can transform a space from dark and gloomy to bright and light. It can alter the space making it feel bigger too.
We have all been in rooms where the flooring is too dark so it makes the space feel crowded. Too light so it shows every single mark. Waaay too busy and your flooring can give you a headache. Get the colour wrong and it could clash with other elements in a room like the soft furnishings. Getting it wrong could make a costly mistake. Ekk!
But how do you try before you buy? Well, Quick-Step have this handy on-line tool called RoomViewer where you can upload a real photo of your room to their website. The clever online app will let you try lots of different flooring options from their huge selection of laminates, vinyls and woods.
READ: 4 HOT NEW FLOORING TRENDS THAT ARE HERE TO STAY
My sister's kitchen floor
Today, I'm showing you my sister's kitchen which I gave a makeover for the June issue of Good Homes magazine. We really struggled to pick the flooring for this room. Should we go dark granite or light wood or even a herringbone effect?
BEFORE
The flooring was hard to keep clean as it was so grubby. The tiles were too small in size so they looked busy. There were chips and cracks in the flooring and it had water damage where the washing machine once leaked,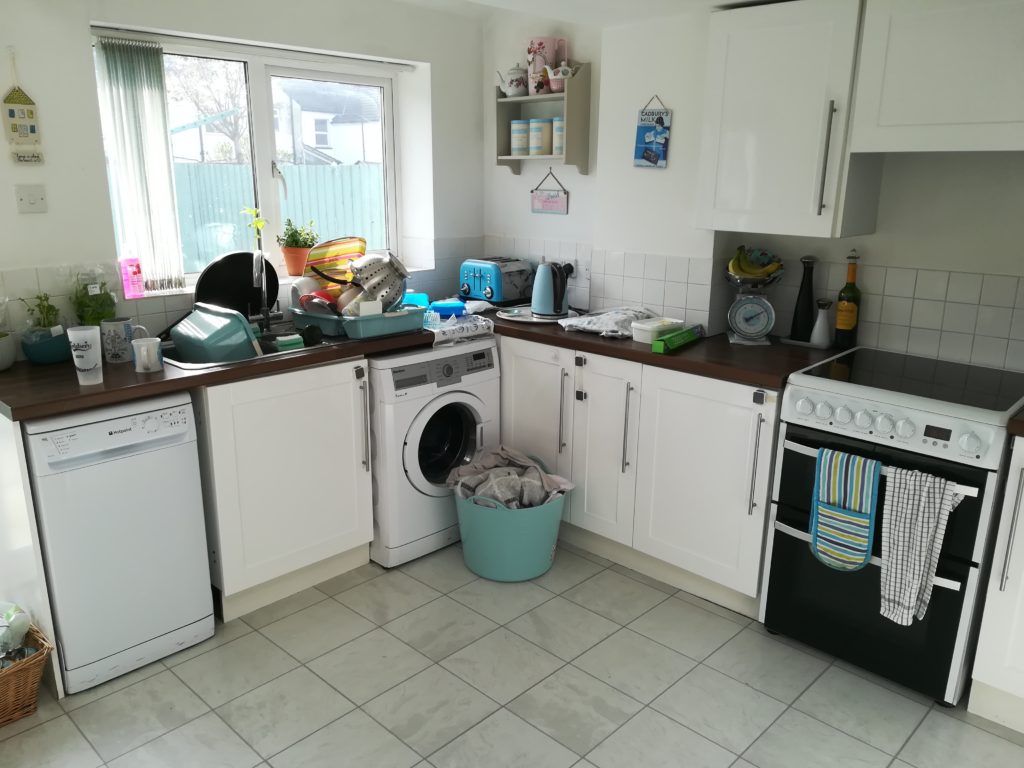 AFTER
The kitchen units were replaced with larger marble effect flooring tiles. The white tone of the tiles looked fresh and modern in the scheme. But with 100s of floors to pick, how did we know what flooring was going to work best? Read on >>>
How does RooomViewer work?
So what we decided to do was to give Quick-Step's RoomViewer a whirl. We took a photo of her kitchen, uploaded it to the app via my laptop, and then tried out lots of different flooring choices.
There are 123 floors to chose from – including laminates, vinyl and wood. We took our time making sure we picked the ones we thought would meet the needs of this busy family kitchen space.
Which one do you like most?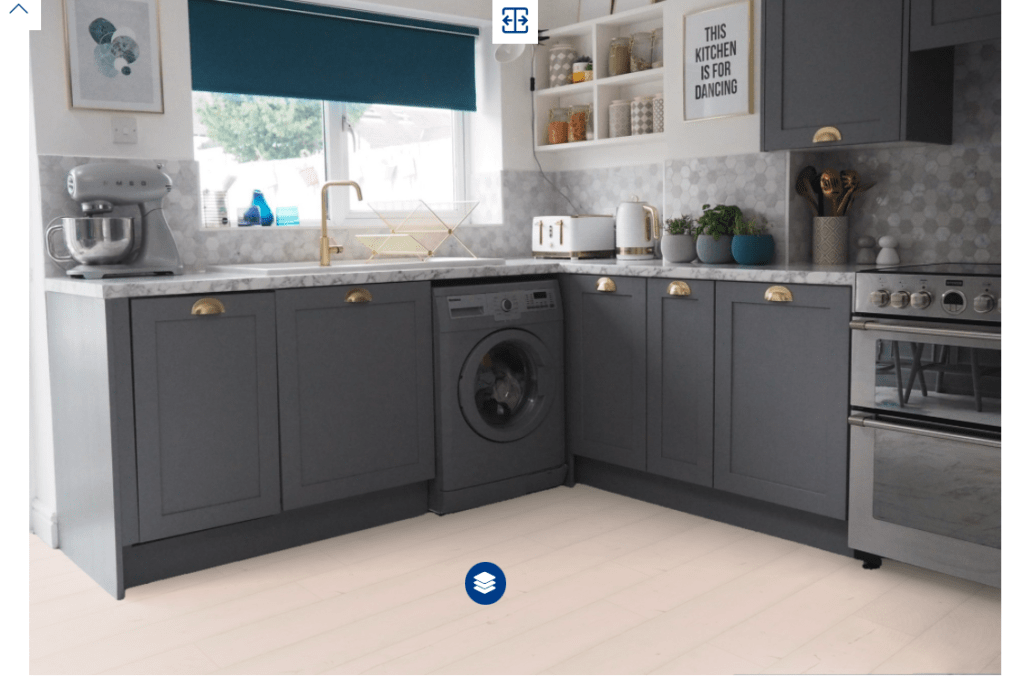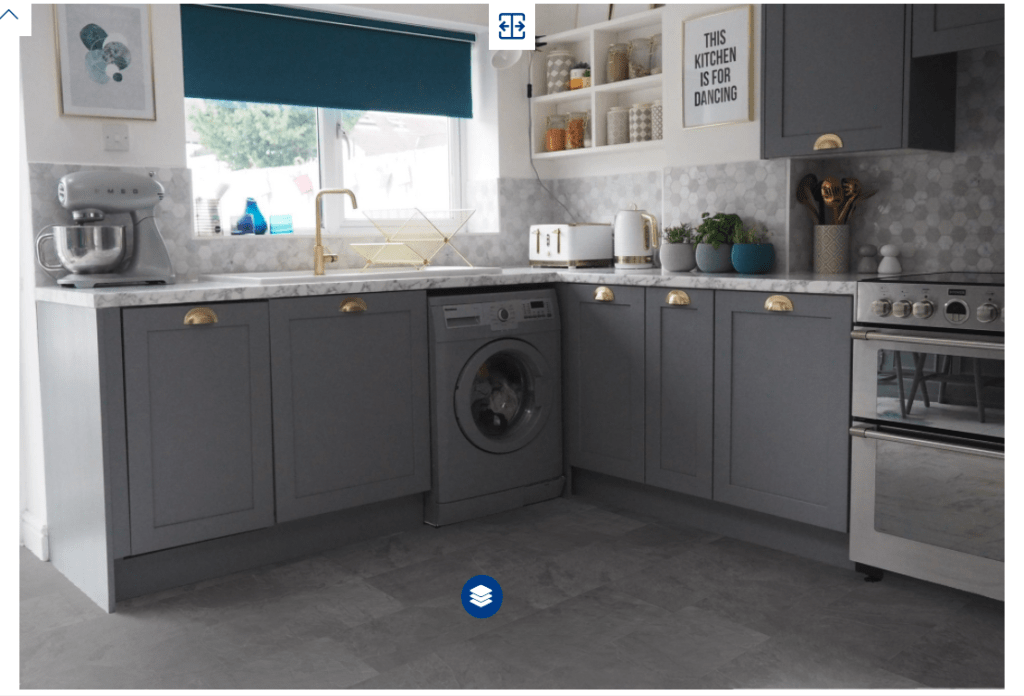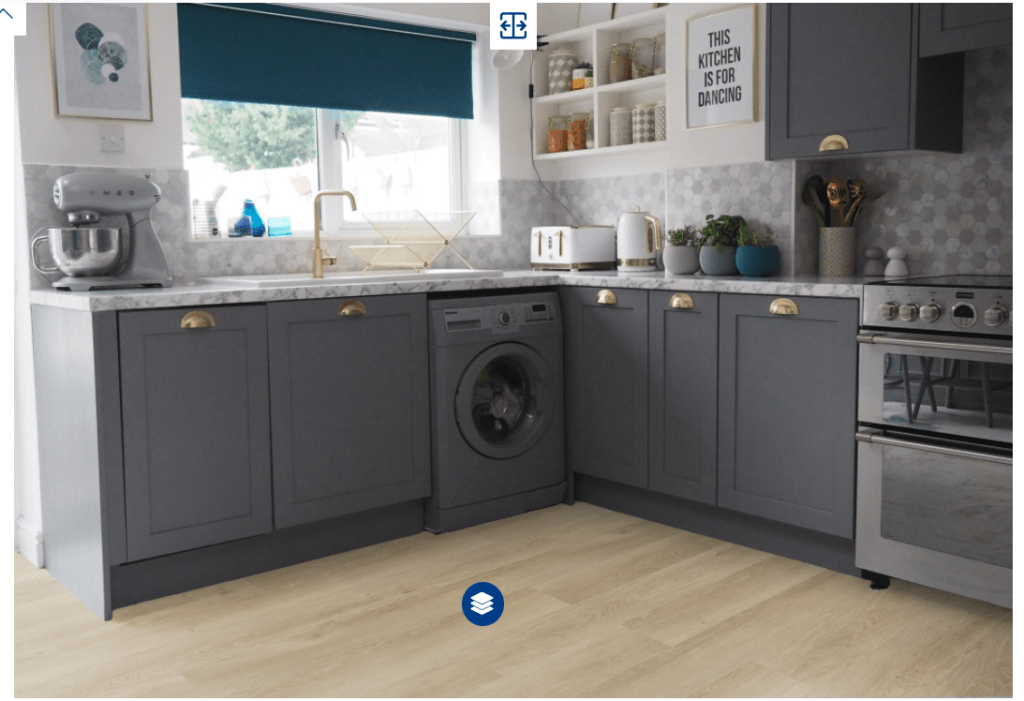 And if you are torn between two floors – there is a handy slider in the RoomViewer tool which allows you to compare your flooring choices.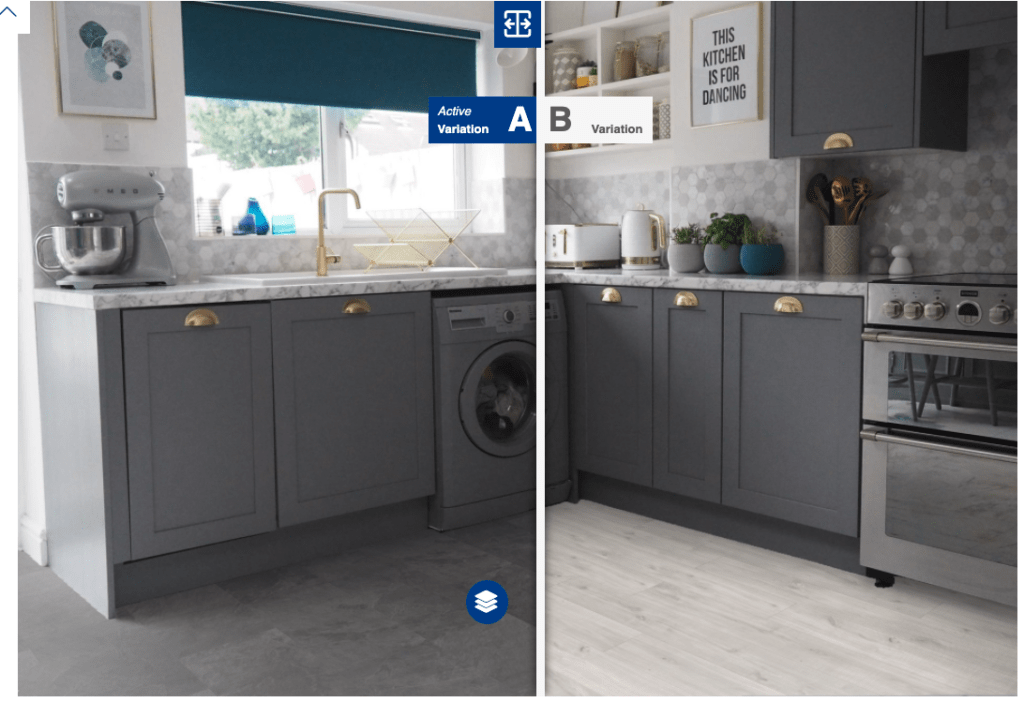 You can rotate the flooring by 45, 90 or 135 degrees to make sure you get the direction right in your virtual room. And there is a zoom so you can look in detail at your potential flooring in situ to see if you like the pattern.
Once you have picked your flooring, you can click onto it under 'floor details' tab and it will tell you the specifics of your flooring to make sure it's perfect for your room.
Once you are done, you can save the flooring ideas under 'favourites' so that you can go back and see what you think at a later date. Or you can print it out if you want a second opinion from family and friends on your new flooring choice.
READ: 5 WAYS YOUR HOME IMPROVEMENTS CAN BE MORE ECO-FRIENDLY
And don't worry – if you don't have a picture of your room to upload, they have lots of rooms – from bedrooms, to living rooms to bathrooms – on the RoomViewer tool which you can use to get an idea of what the flooring will look like.
Order your flooring samples
After using the app, my sister and I ordered an edited selection of flooring samples including a dark granite effect and light wood. Quick-Step offer a free sample service which you need to take advantage of.
We wanted to see which one we liked most. And hands down, the faux marble effect laminate won! It was an easy choice to go for Marble Carrara in white. I think it it hadn't been for the app, we may have overlooked this flooring thinking it was too light!
READ: CHOOSING THE PERFECT INTERIOR COLOUR PALETTE
Why did we go for the Marble Cara Laminate?
It was hands down the best flooring for my sister's kitchen for many of reasons.
1. The Marble Cara picked out the marble patterns in the tiles and workshop, bring the look of the kitchen together.
2. We loved that it came as large scale tiles. When we played around with RoomViewer – smaller tiles looked far too messy. Big tiles made this kitchen feel lighter and brighter.
3. This type of flooring is super hardwearing – making it ideal for this buys family kitchen. My sister LOVES to cook and bake so the flooring has to take a lot of wear and tear. And it comes with a 25 year guarantee for peace of mind.
4. We loved how it looked stylish and natural but was also practical – as it's also 100% resistant to surface moisture, making them ideal for my sister's kitchen. And it makes cleaning the floor even easier too!
5. It works with underfloor heating – which is essential with a large space like this to keep it cosy during the cooler months.
6. And as this flooring is part of Quick-Step's Uniclic Multifit click system which making them fast and easy to install. If you are handy at DIY – you could give it a go fitting them yourself – saving you money on paying for fitters.
And of course – as this flooring is perfect for kitchen discos – which is how we roll in my family!
READ: TOP 10 DO'S AND DON'TS TO KITCHEN PLANNING
What do you think of this handy RoomViewer tool – are you inspired to pick the perfect flooring now?
What do you think of this idea bu Quick-Step? Are you tempted to give the RoomViewer a try. It's kinda makes sense when you know it's will save you money and time.
Let me know if you have found this post helpful in the comments box below.
And don't forget to share this post with your interior loving friends or anyone planning a flooring makeover! They will love you for it.
And pop back to my blog soon where I will be share more before & afters of my sister's kitchen. Oh – and if you want me to design a room in your home, I have a new interior design studio where you can hire me for your space.
PIN TO PINTEREST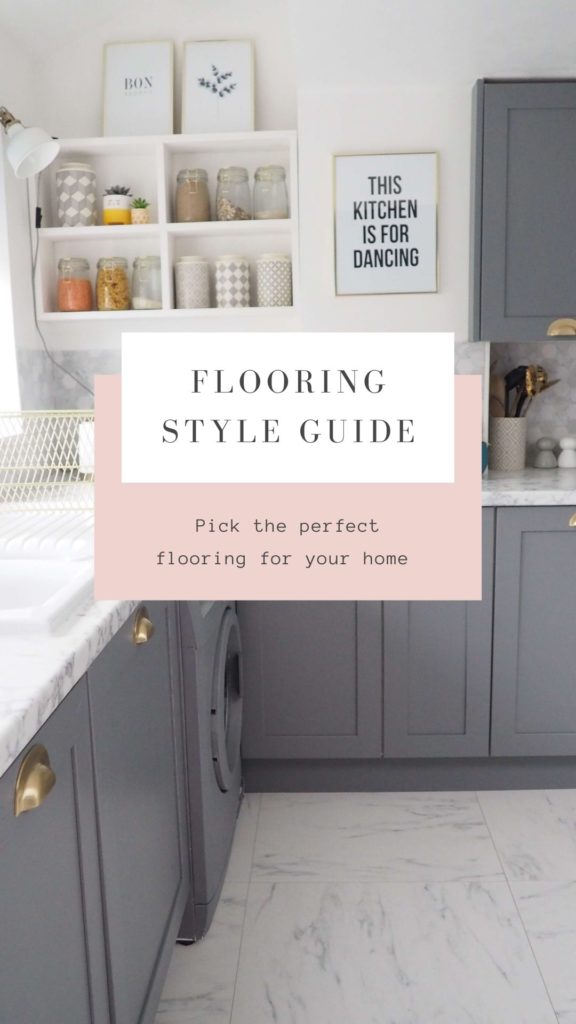 This is a sponsored post. All thoughts & opinions are my own.