If you love entertaining then there is no better place to do it than in your garden, outdoor space or balcony. Here are my 4 easy-to-follow styling ideas so you can transform your outdoor area ready for endless summer garden parties. Summer is officially here!
Today, I'm collaborating with French Connection to style their beautiful homewares which I know you are going to love.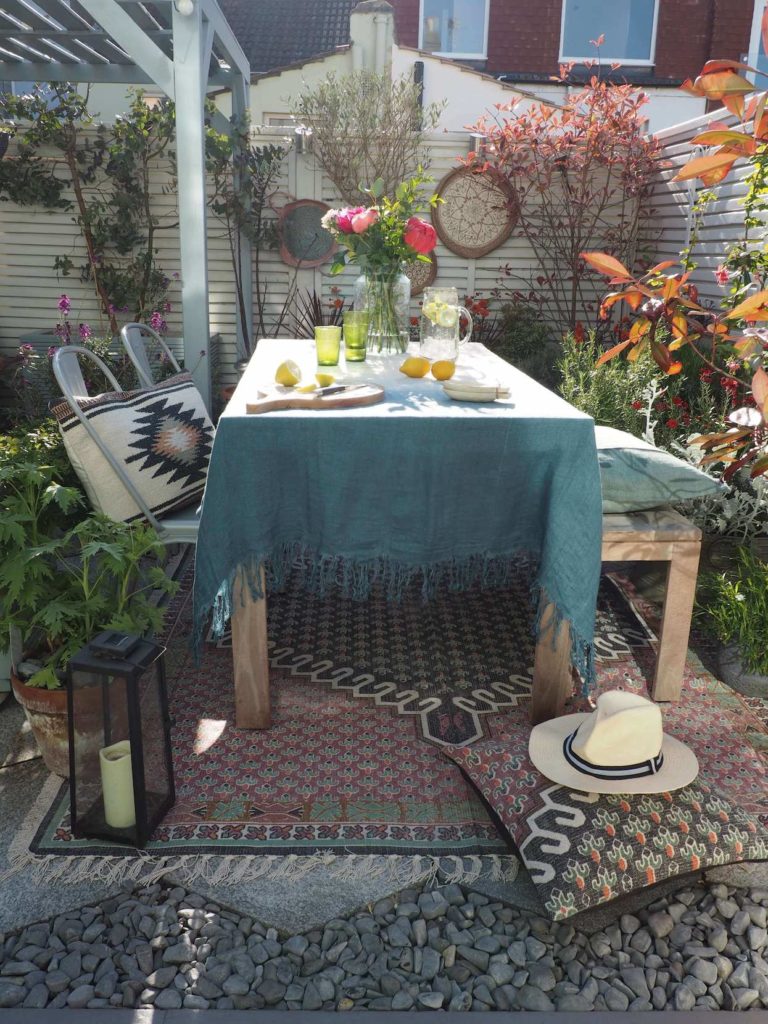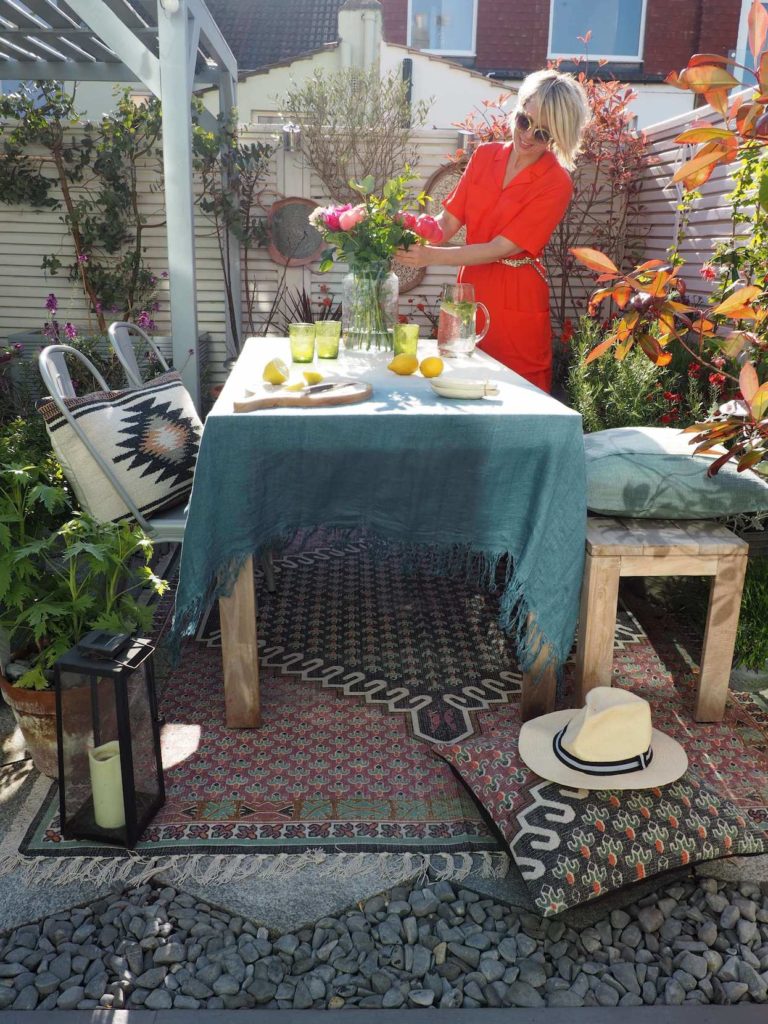 When summer starts, and my garden bursts into life, I love setting my table outside ready for a long lazy meal in the garden. My urban patio garden has had a few transformations over the past 4 years but finally this Summer, it has become the space that I love to relax, read and (most importantly) entertain in most.
READ: HOW TO PREPARE FOR A GARDEN MAKEOVER
Today, I'm sharing 4 tips to be the perfect host if you love a family BBQ, a children's picnic or for garden drinks with friends.
This post will help you think deeply about your outdoor space and plan how you can make it more enticing or amusing. Do you want an outdoor kitchen as an extension of your dining area for the whole family or guest? Or a simple table set up for entertaining with your nearest and dearest? Or a space to have an outdoor party?
And it doesn't matter the size of your outdoor entertaining space – from a patio (like mine), a grassy garden or a tiny balcony – you can transform your outdoor space to make it a welcome addition to your home with these key styling tricks.
Let me show you how…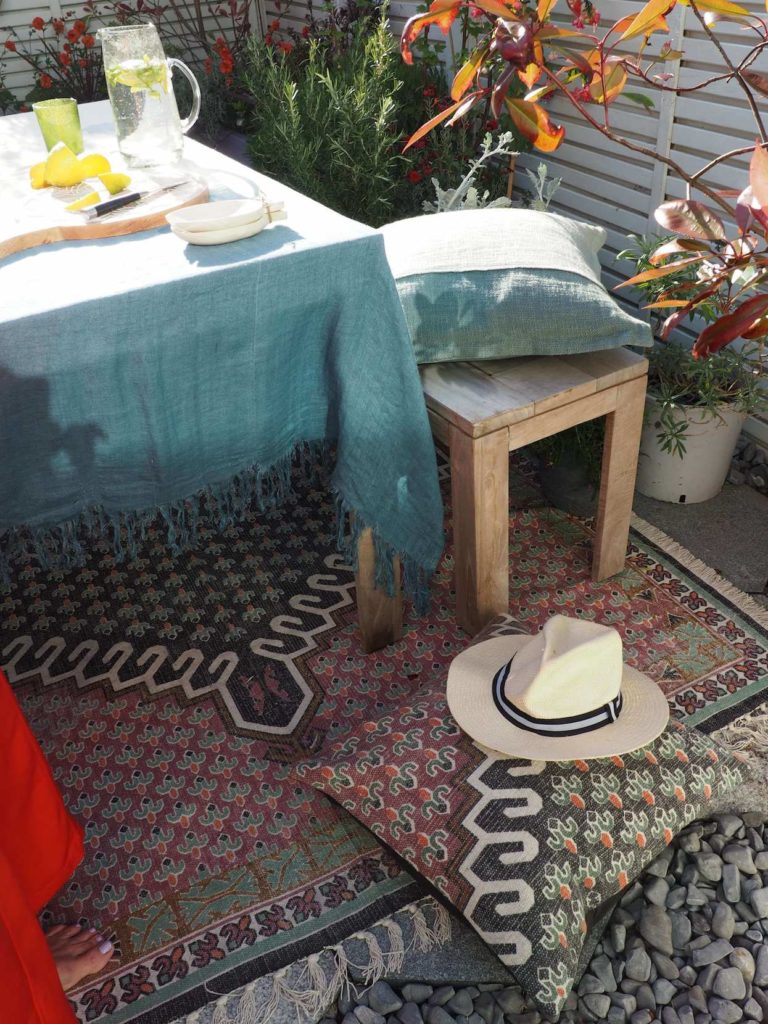 1. Add textiles
If you want to create a jaw dropping set up outside, then you'll want to use rugs. There nothing more cool in an outdoor space a few rugs scattered around either under your dining table or under a big shady tree? It not only makes your garden space feel luxe and cosy but it instantly elevates outdoor meal times.
If you don't have a dining table or outside chairs to host guests, then a rug is amazing alternative to a picnic blanket. Why? Well they are much larger, and will fill your space amply so there is plenty of room to kick back and relax with a drink.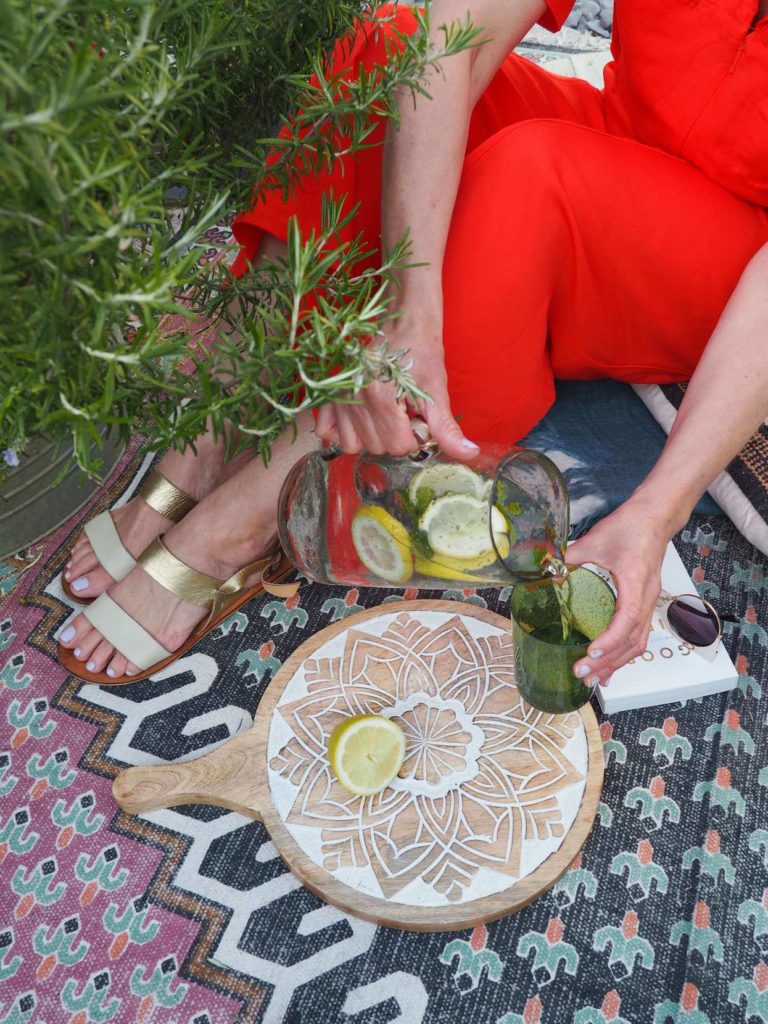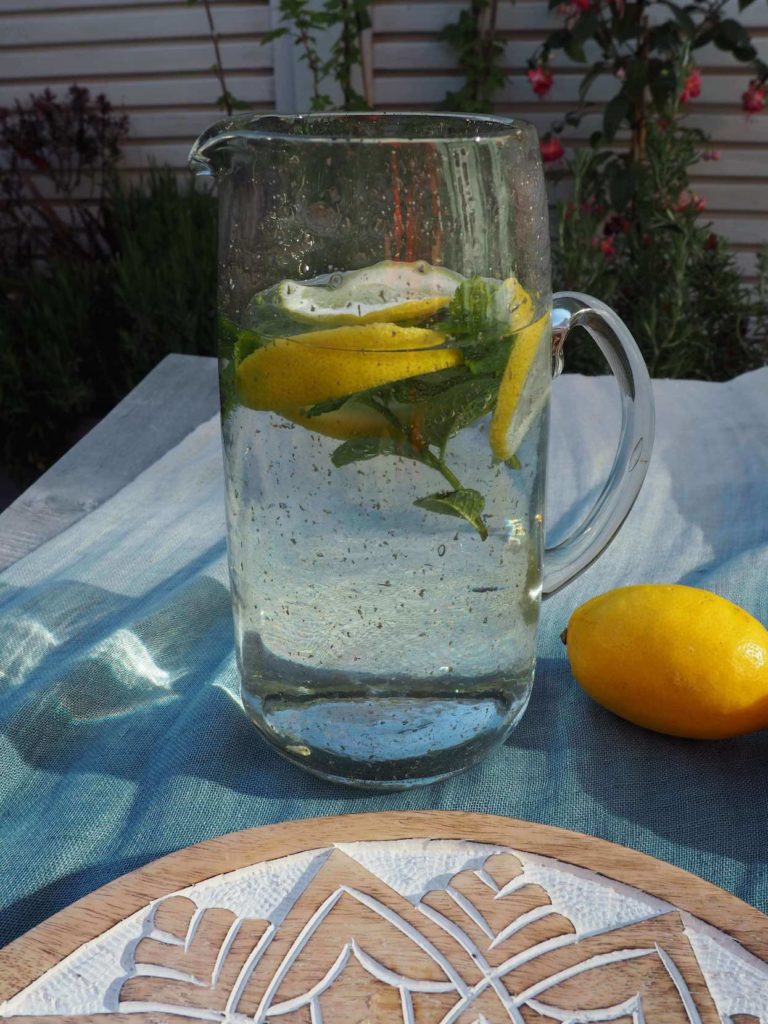 This Poppy Rug from French Connection is ideal as it comes in various sizes and different colours. And it gives off magical Moroccan vibes will are perfect to party on. Finish off with a few large cushions scattered around which you can elegantly lounge on to help you kick back and relax after mealtimes.
Dress your table top with a beautiful cloth (on windy days – make sure to weight it with little clips). Just because you are eating outside, doesn't mean you have to use paper napkins. I love digging out my fabric serviettes to place at each table setting. Mine are inexpensive linens ones (that actually look better each time they are washed). They make a simple meal – even just salad and bread – feel luxurious and stylish. Try it, you will agree with me!
To soften the look of my white painted fences, I hung up beautiful woven wall baskets to them (I used a staple gun) to add a pretty patter to my 'walls'. This was such a simple idea but has had a great impact (it made a bit of a stir on my instagram account). I love the colour and texture they have added to my outdoor entertaining space too.
READ: GARDEN DESIGN ADVICE – PLANNING TIPS FOR YOUR OUTDOOR SPACE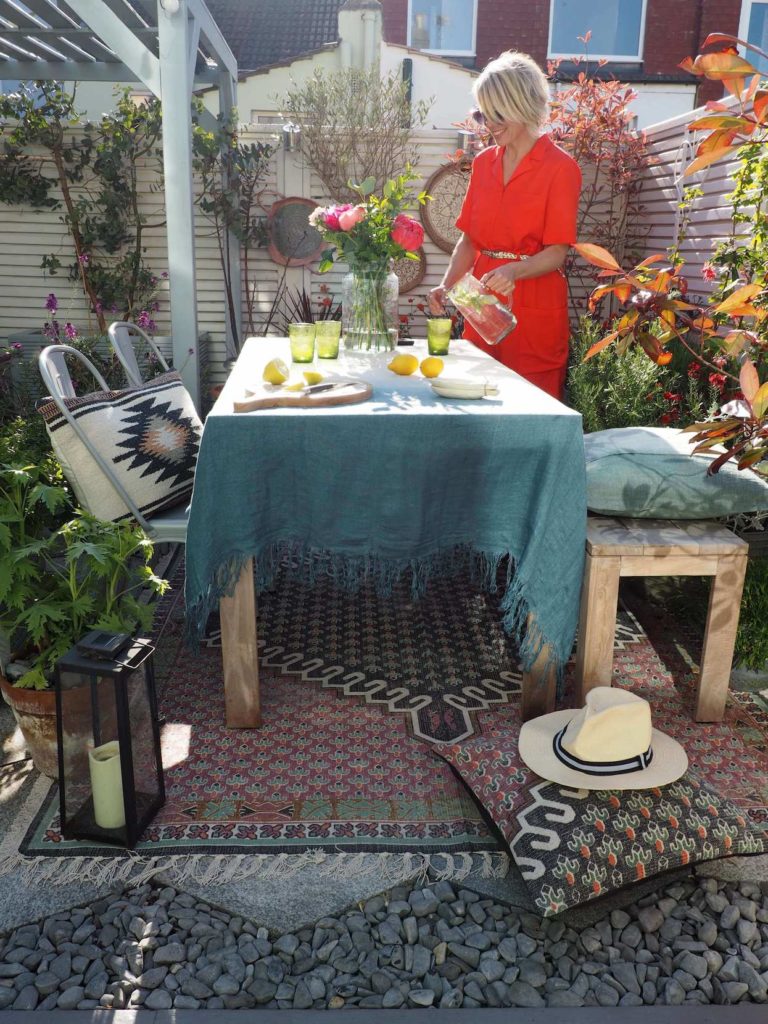 2. Make furniture comfortable and functional
I'm a huge fan of having in comfy outdoor furniture so that you can sit out in your garden for longer. Plastic furniture can make you sweaty when the sun comes out (and it tends to snap and break easily over time).
I've had this outdoor table & bench set from Out There Interiors for four years now. As it is wood, I can give it a little touch up with paint when I fancy a change. Plus benches are great for squeezing as many people around for meal times in the sunshine.
If you don't have budget to stretch to outdoor furniture then grab whatever you can find indoors and bring it outside. A little side table, your dining chairs, your kitchen table – they will all work outside perfectly! I've got a potting bench which acts as console table to house drinks and extra dishes on when I turn my garden into an outdoor entertaining space. And it keeps my table top clutter free too.
Finally, layer up with lots of cushions and throws. I have a basket of them that I keep near my back door so they are handy for summer days. I find a throw is so handy to snuggle under when it gets a bit chilly. Your guests will love this idea too – and most likely won't want to leave!
READ: A BUYER'S GUIDE TO GOZNEY OUTDOOR OVENS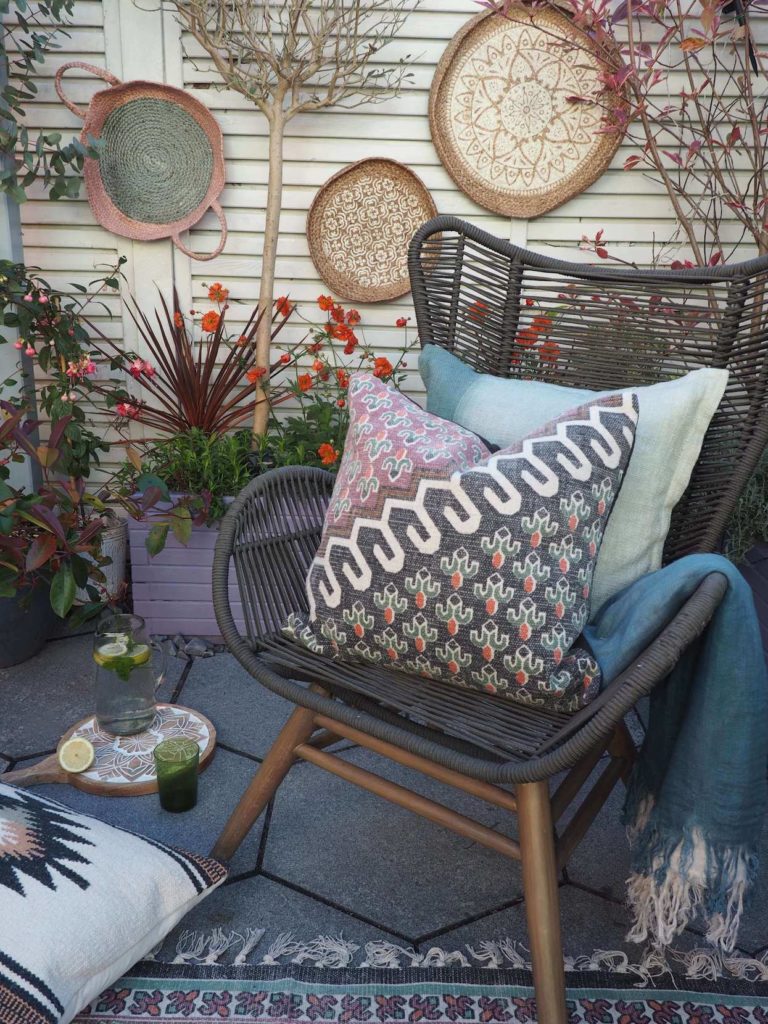 SHOP MY LOOK
Extra large Poppy rug in pink, Tidal ombre cushion, Sapphire dip dye throw, Luxe recycled clear glass pitcher, woven wall baskets, ornate carved bread board, wooden salad serving spoons, Navaho cushion– all French Connection. Table and bench, Out There Interiors. Black Storm solar Lanterns, Lights 4 Fun.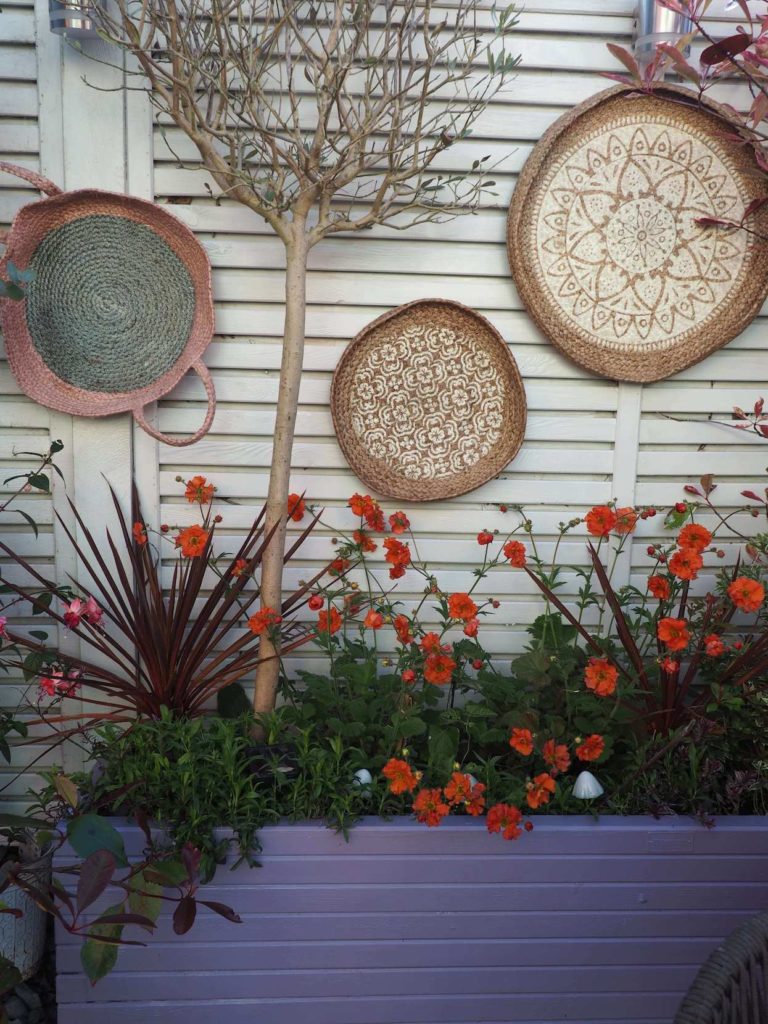 3. Look for stylish yet practical accessories
If like me you live in a smaller home, and space is a premium – then you may not have room to store plastic outdoor plates and cups (which get used for a short time of year, let's face it).
Instead, invested in lovely dishes, glasses and platters that are made from sturdy materials like recycled glass, carved wood, solid ceramics and chunky china that can be used indoors and out.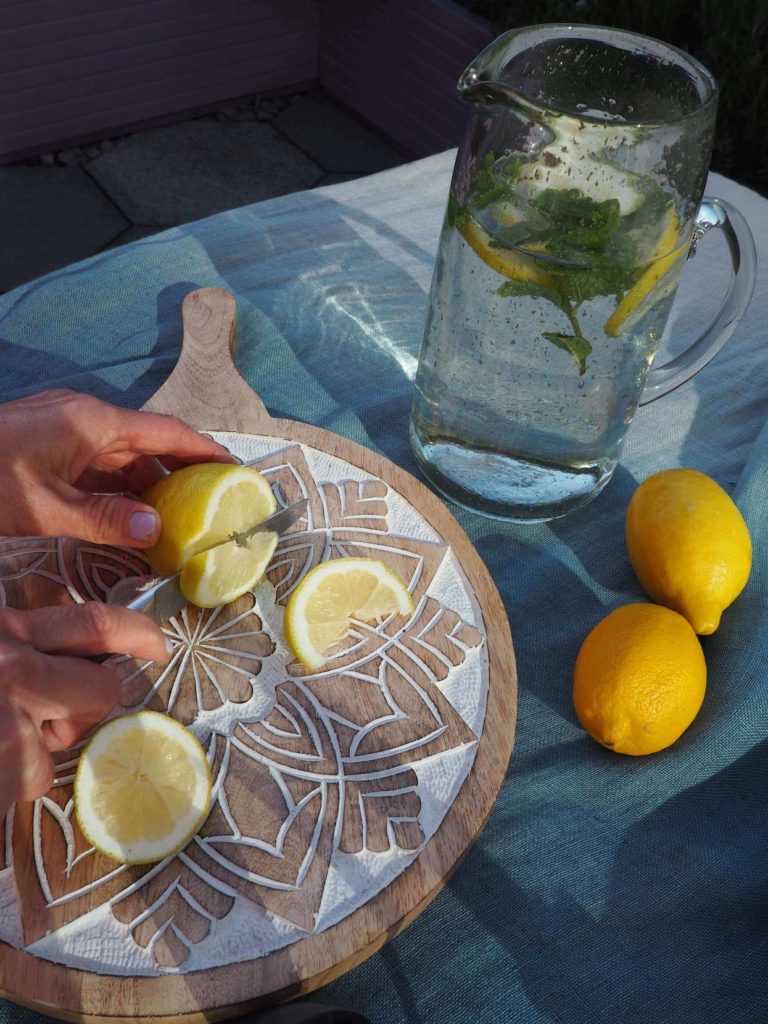 Things you need for your table top
Good chunky jug filled with chilled water with a spring of mint, slices of lemon and lots of ice
Wooden serving platers for bread and dips
Serving spoons and a decent knife for dishes
Lots of dishes in various sizes for sauces, dressings and dips (I have some that stack so they can be neatly stored when not in use).
Vase of flowers – garden cut blooms on your table top and some candles will finish the look fo your table
Ice bucket – keep drinks cool – and save your legs going back and forth to the freezer too!
READ: HOW TO CREATE AN OUTDOOR GARDEN ROOM – 8 TIPS & TRICKS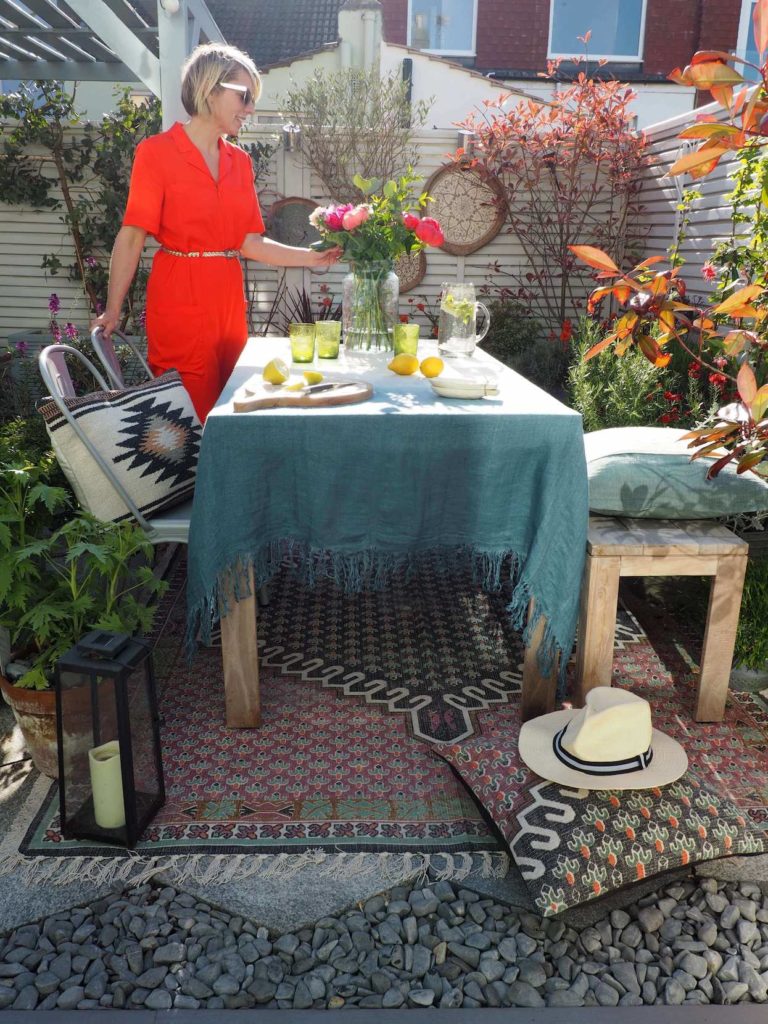 4. Add ambiance
The very act of eating outside on a warm summer night in your outdoor entertaining space so enjoyable. What you need to finish of the look is to use your styling skills to create an 'ambiance' that will make your garden party memorable. What is this exactly? It is a mood, and feeling or an overall impression your garden space gives to guests. Think of twinkling lights, beautiful styling, all the little thoughtful touches that you and your guests will love.
You'll want to start with lighting, which in outdoor areas, can be achieved easily with some white string lights and a few candles to give off a magical light. Twinkling solar powered fairy lights that come on automatically are the best! I have lots tucked into my trees and bushes, and they always looks so sparkly when the come on. If I want things a bit brighter, I have festooned lights strung up across my table top that are plugged into a mains switch, I can switch on for a brighter glow.
At best, a few scented candles (citronella keeps the buys at bay) and some incense dotted around will create an unforgettable aroma.
Other ideas are to pop fresh mint into your drinks, keeping a huge stack of ice to hand to keep cocktails cool. Have a good think about your playlist before the night starts – as well what food you are going to serve. Sounds so good right?
READ: OUTDOOR FURNITURE FOR SMALL GARDENS
HAVE YOUR BEST SUMMER EVER!
What have you thought about these ideas? I would love to know! I hope you love a summer party as much as me – love to hear your ideas in the comments box below. And don't forget to share this post with an interior loving friend 🙂
Have a great week,