If you're thinking of updating your flooring at home, then you have visit The Floor Room. This brand new flagships store is an interior stylist's dream! Imagine a store filled to the brim with flooring, cosy carpets and patterned rugs. Plus a vending machine that gives out flooring samples and sweets!
Let me give you the guided tour…
In collaboration with Carpetright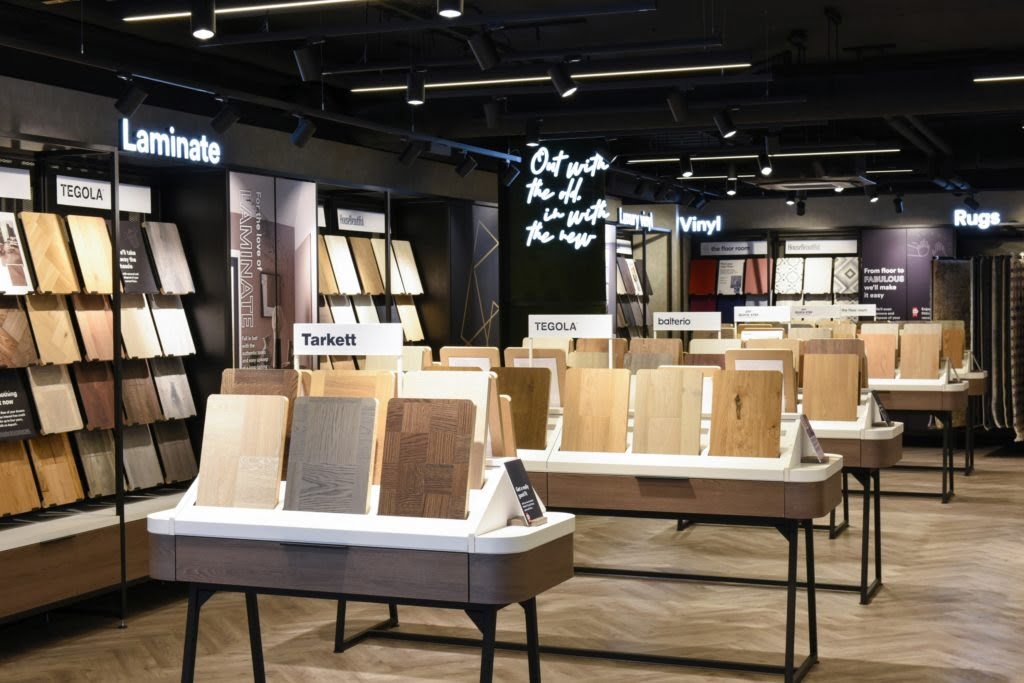 From URL to IRL! Visiting The Floor ROom
Created to 'unbroing your flooring', The Floor Room is a new brand from flooring experts Carpetright. The Floor Room offers design enthusiasts (like you and me) a modern and inspirational way to shop. I was invited to explore the store in detail, and see their huge range of flooring collections firsthand at their flagship showroom in London.
Based in the heart of London's design district on Tottenham Court Road, The Floor Room provides an inspirational space that makes the process of buying flooring both stress-free and immersive as possible.
I was given a shop tour by Charlotte, one of The Floor Room's design experts, who walked me through their huge range of wooden, laminate, vinyl flooring and carpets. She chatted through all the services The Floor Room offers including carpets that can be dyed any colour, to a whipping service to make your own rug. as well as advice on how to make your flooring part of your room design.
Oh, and there are 1000s of samples that you can take away there and then.
With life slowly returning back to normal, isn't great to actually pop into a real shop in real life and actually see what you are purchasing in situ? It feels like an utter treat!
READ: MOVE OR HOME IMPROVE? WHAT TO DO IN 2021!
Why Is The Floor Room Different?
Traditional flooring shops can be a struggle to navigate. Remember the cumbersome carpet sample books that were a struggle to flick through? As well as tiny samples that are too small to compare and contrast. Most flooring shops can feel overly cluttered, with banners hanging down from the ceiling, and often have harsh lighting which can make it tricky to see the real colour of flooring. And samples can take weeks to turn up in the post! All over not a great shopping experience IMHO!
The Floor Room has taken all this into account when designing their store with a simple layout that will leave you feeling inspired. On large stands around the store, there are over-sized flooring samples that you can carry around with you as you shop. Each sample is on hard wood backing, so you can see how thick the flooring actually is due to the clever design. This is so helpful if you are stuck deciding between vinyl, laminate or wood.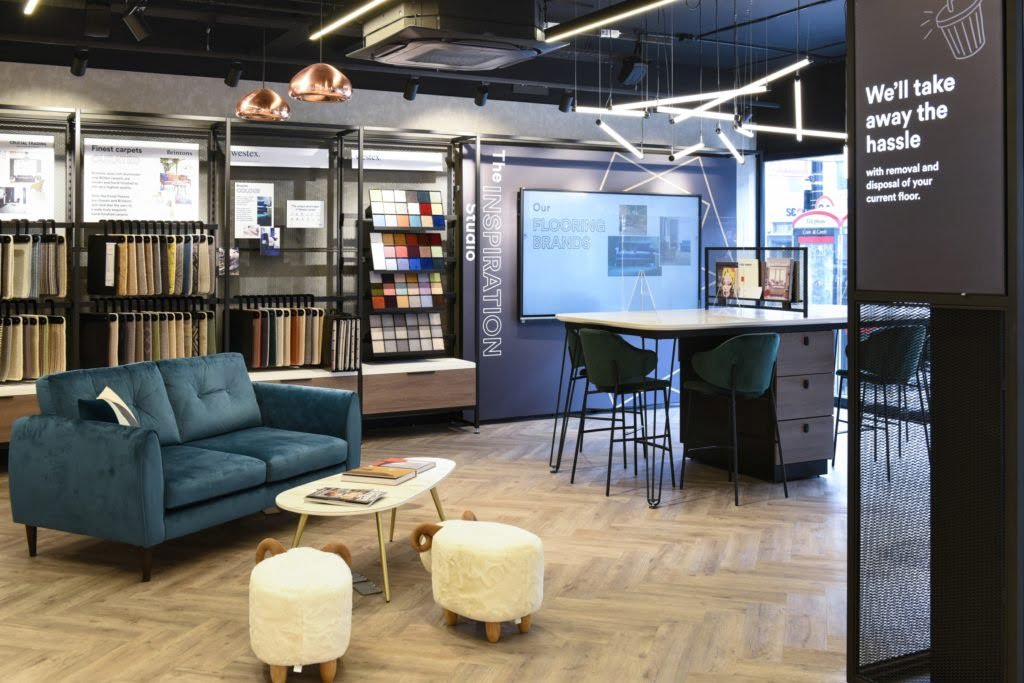 The Floor Room is a one-stop-shop that answers all your flooring wishes.
Under each display stand, are drawers filled with flooring samples that you help yourself too! There's a comfy seating area, where you can put your feet up while flicking through interior design books for ideas. Huge windows mean there is lots of natural daylight so you can see the true colours of flooring. And, not forgetting the finishing touches, they have a selection of stair rods & carpet trims in a range of colours. Oh, and they have fake grass too – if you want to vamp up your outdoor space!
Do you love interior trends? Well, to help you capture a trend, they've curated a collection of flooring that is on hot on trend (this month it was blue). As they are all gathered in one place, it makes it easier for you to be a little braver with your flooring choices.
Getting Design Inspiration For Your FloorS
One of the hardest problems with picking a floor, is visualising what it might look like. That is where The Floor Room have gone all high tech on us. At each stand, there is a QR code which you can scan with your smart phone and it will instantly bring up lots of inspirational room sets helping you create a virtual shortlist.
There are central pillars decorated with fab room sets, and the team have lots of design books to hand if you need ideas for your home. And throughout the store there are digital displays, hand held devices and integrated technology all designed to ensure minimal waste.
Downstairs, The Floor Room team have created spaces using their flooring in situ. There is a little dedicated consultation areas dining room set up with a black and white floor, a cosy living space with brightly coloured sofas and the customer toilets have been designed using patterned vinyls. Even at the bottom of the staircase there is a cool leopard print carpet which I LOVED.
One of the cool elements (that I have never seen before) is their vending machine of flooring samples aka The Swatch Selector. Insert a token, and pick a number and a flooring sample will pop out and a sweet treat. The concept behind the vending machine is to get you to look at a different flooring that you may not have considered before! Guess what I got? The leopard print carpet (I think it is meant to be!) It is a fun twist on the traditional takeaway sample.
READ: ADD COOL VIBES TO YOUR WALLS WITH THESE 10 NEON SIGNS
Discover A Virtual Design Service At THE FLOOR ROOM
You can't get to London? No problem! The Floor Room offers virtual design appointments and a nationwide fit and measure service (avoiding costly mistakes). They stock an exclusive range of premium flooring brands like Crucial Trading, Quick Step, Karndean, Tarkett, Tegola, Baherio, Kharrs, House Beautiful and Country Homes….to name just a few. As well as a huge range of carpets – with the option to turn them into rugs if you want.
From dedicated consultation areas, to oversized product samples, each and every element of The Floor Room has been thought through. They have created a boutique destination for interior design lovers.
I've been raving about The Floor Room to my followers on instagram as well as friend's and my interior design clients. Going to a one-stop shop takes the stress out of picking flooring, and turns it into a pleasurable shopping experience. I highly recommend you drop in next time you are in store.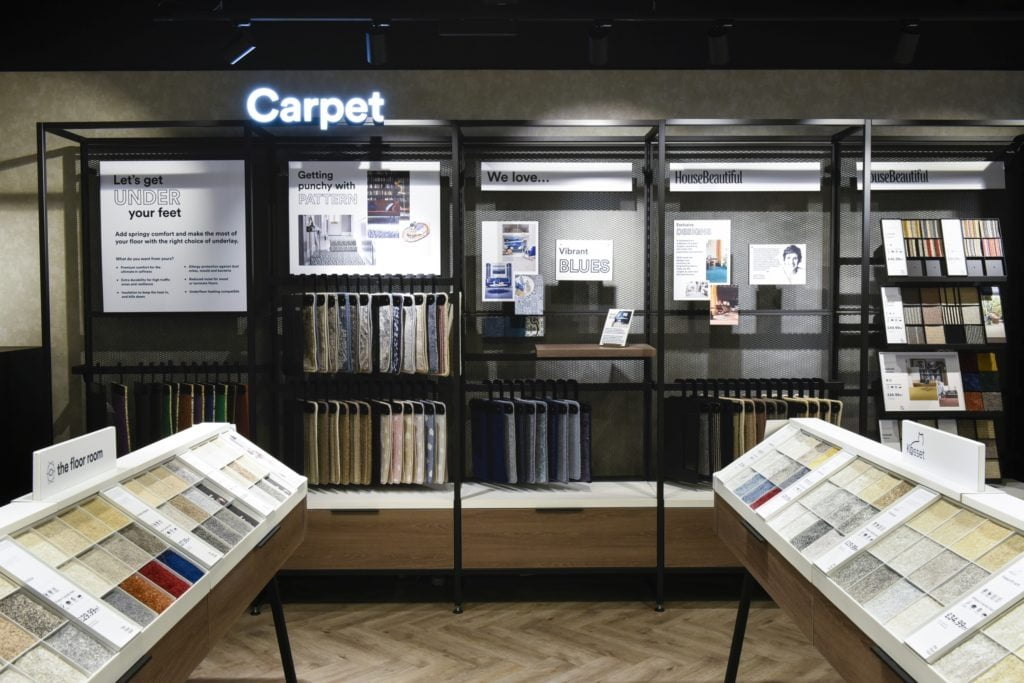 Pop Into Store
Visit the flagship store The Floor Room, 218-219 Tottenham Court Road W1T 7PT or visit The Floor Room here. If you're planning to make a trip to see the new store, please let me know below. I love hearing your thoughts. =