Nothing brings people together like a great cup of tea! With summer upon us (and restrictions easing) now is the time to catch up with friends and family over the perfect brew. In this post, I'm sharing my styling tips for creating the perfect summer tea party as well as the feel-good benefits of drinking herbal tea.
In collaboration with Ahmad Tea
Have you tried Drinking herbal teas?
When the sun is out, I love nothing more than enjoying a cup of tea in my garden. Taking time out to relax in nature over a good cup of tea with loved ones is good for the spirit. It's when you can catch up, make memories and enjoy great company – all with a brew in hand.
But do you long for more from your favourite cuppa? Do you wish for tea that helps you feel good and ready to face whatever the day has in store? If the answer is yes, then why not try a delicious cup of a herbal tea!
Over the past year, demand for wellness teas has risen, as long-term anxiety coupled with a desire to stay healthy means that we are all looking for easy ways to improve our wellbeing. That is why I'm collaborating with Ahmad Tea to show you how style the perfect summer garden tea party as part of your self-care routine.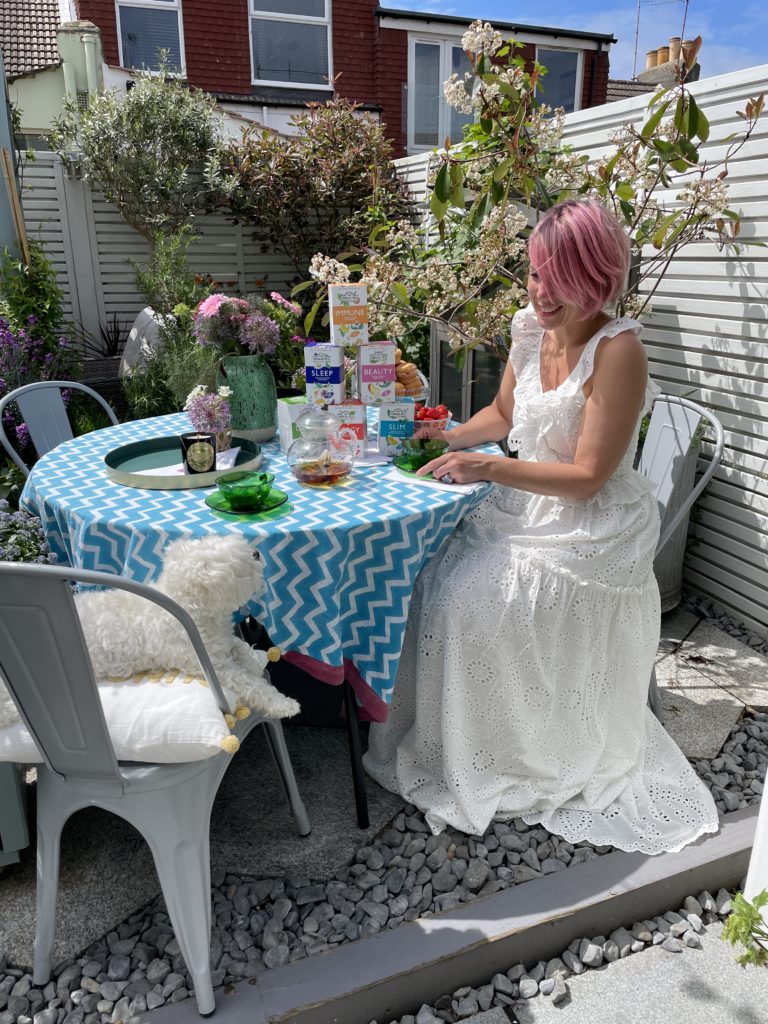 How To Style A SUMMER TEA PARTY
Life over the past year has been pretty crazy, right? All our stress levels have been tested and most of us are feeling a little more anxious than normal. That is why it is so important to mix in a little self-care into our every day routine – and one simple way is by drinking a cup of herbal tea. Why? Well herbal tea could help to boost your immune system, give you a vitamin hit, improve your skin and sleep patterns.
Taking time out by savouring a herbal cuppa can help you press pause when life is feeling a little too much. The best way to enjoy a herbal tea IMHO is to sit outside either in your garden, outdoor space, a park or even move your chair close to an open window – all with a beautiful tray with a pot of steaming herbal tea. Invite friends or family over to share the experience and host a pretty summer tea party.
I've styled out my garden ready for Summer – with my favourite being in the world (my dog Teddy!) so I can show you how easy and fun it is to host your very own tea party.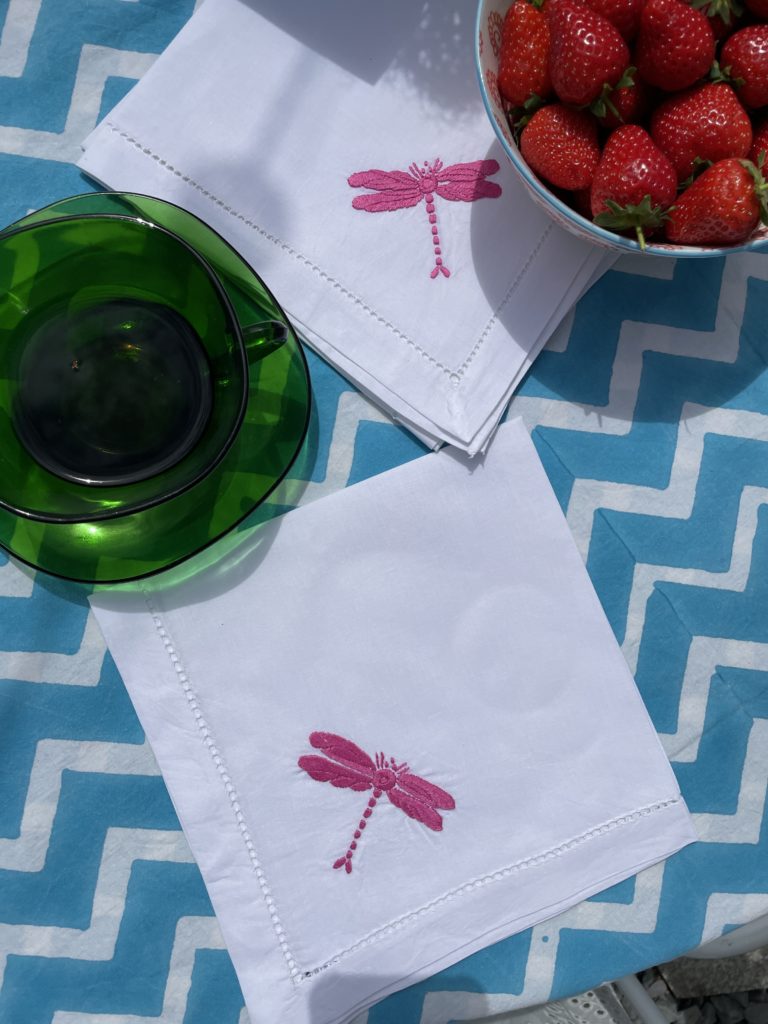 1 Dress your table with pretty linens
Fresh linens always turn a cup of tea into a tea party! I've used these fab table cloths from The Summer House. These block printed cloths with a teal zig zag pattern adds instant summer colour to tea time (helpful when the British weather only brings us grey clouds!).
Try this trick at home by covering over your garden table with a large table cloth to elevate the look. Have a stash of cloth napkins close to hand to create a fancy feel for your summer tea party. Look for ones that will complement your table cloth!
And if you don't have a garden table, a picnic blanket on your lawn or in the park will still give your summer tea time party vibes! Get creative with your space to bring your styling ideas to life.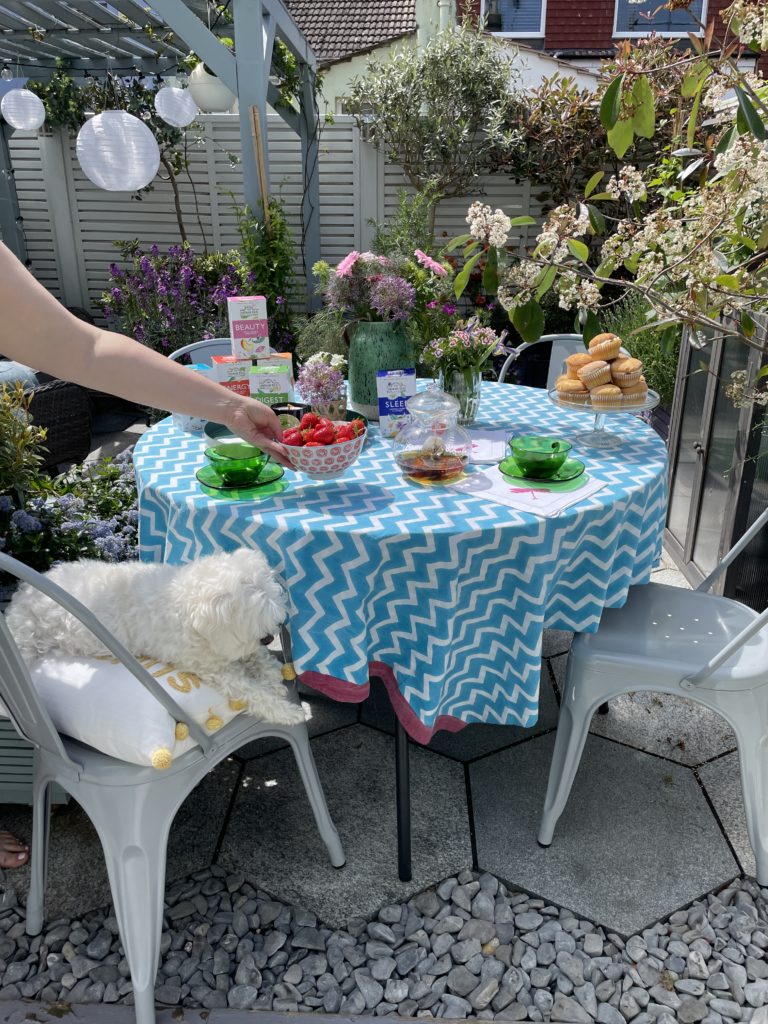 2 Dig out your best tea cups
Tea always tastes better in a cup and saucer. These French green cups of mine are a charity shop find from over 20 years ago. They hold the perfect amount of tea and I love how they feel in my hand. Plus they add a splash of colour to my table top. It doesn't matter if you prefer a big mug of tea or a dainty cup, drinking tea in a stylish cup will make an occasion of tea time.
So dig out your best china and enjoy a herbal tea in them, you'll feel so much better for doing so.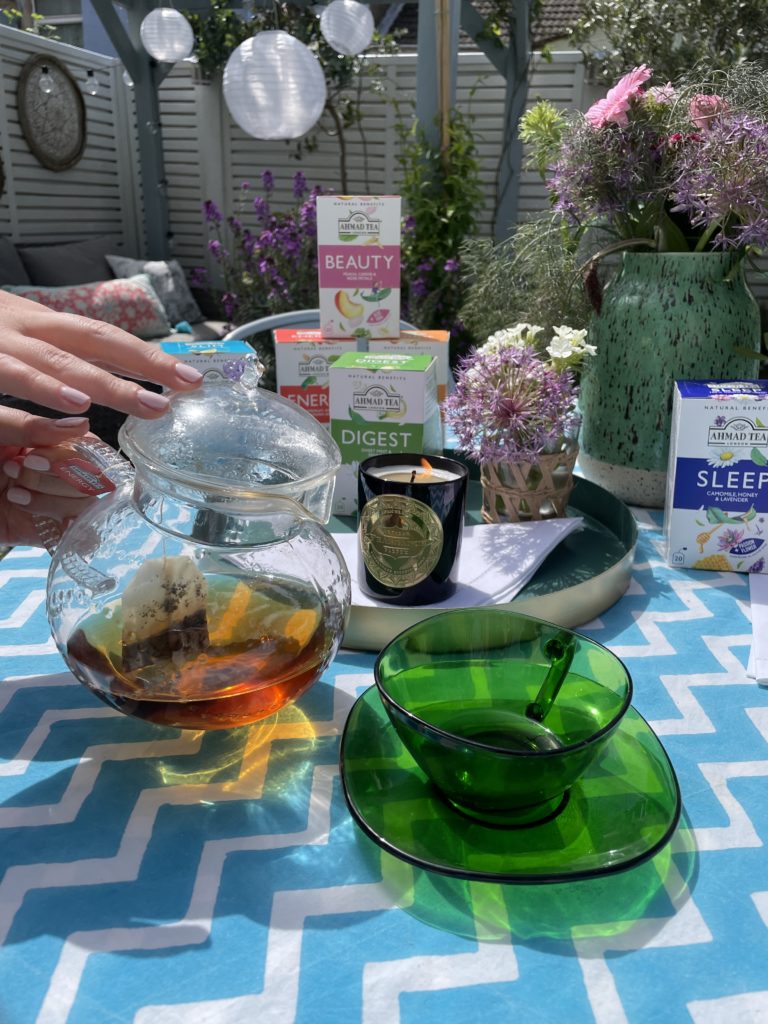 3 Brew in a tea pot
Did you know that the humble teapot originated in China over 5000 years ago? Today, they come in lots of styles and sizes. Use a large teapot for a gathering of family and friends so you can all enjoy from the same pot. And use a smaller teapot for more private moments when you're curled up with a book in the garden, or hanging out with your best friend.
A tea pot is a great way to add personality to your summer table. I love a glass one as you can see the herbal tea infusing so I can pour at the exact moment it looks ready to drink. But you can get them in so many different shapes and sizes to reflect your personality and home style.
One thing we all know is that tea tastes so much better when brewed in a proper tea pot!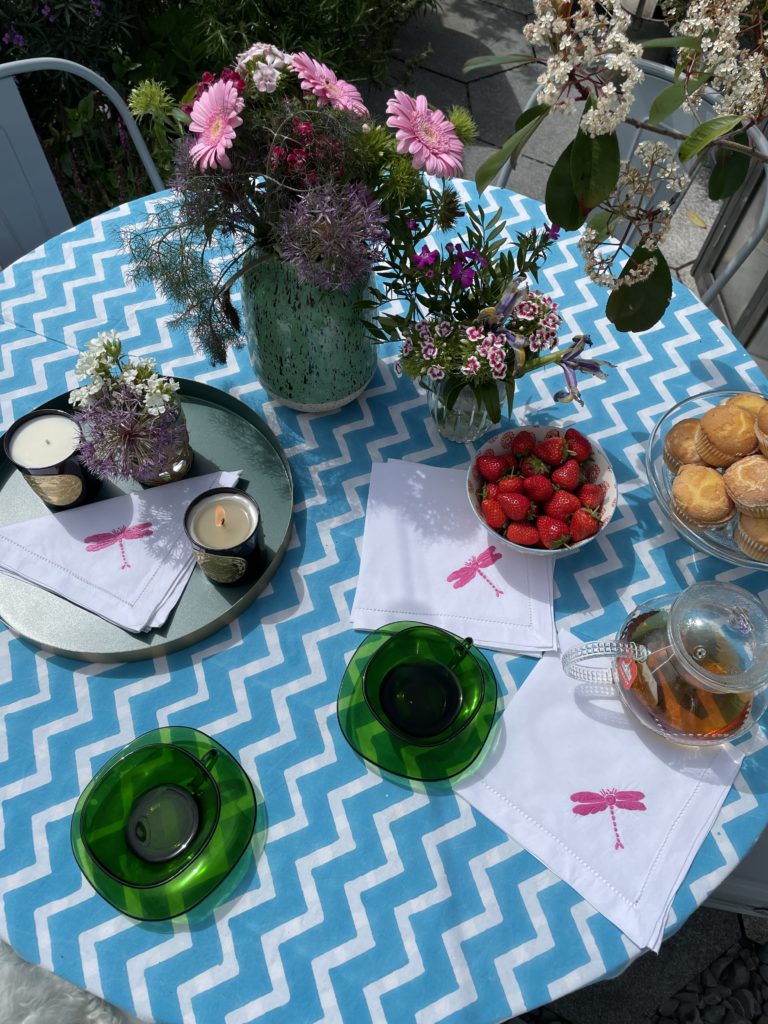 4 Finish with with pretty details
Candles, flowers, a tray! All these little details will make your guests feel extra special. Dress your table with a vase of garden cut flowers. Light a scented candle like citronella (and keep the buys at bay). A tray is super handy when carrying your cups and tea pot outside. An outdoor speaker playing your favourite tunes is a great idea for creating the right atmosphere. And don't for get your tea bags! I like to keep a little stash in a bowl, so guests can pick and choose what they want to drink next.
Feel free to dress for the occasion! Why not? It is a summer tea party after all 😉
ENJOY NEXT: GARDEN DESIGN ADVICE – PLANNING TIPS FOR YOUR OUTDOOR SPACE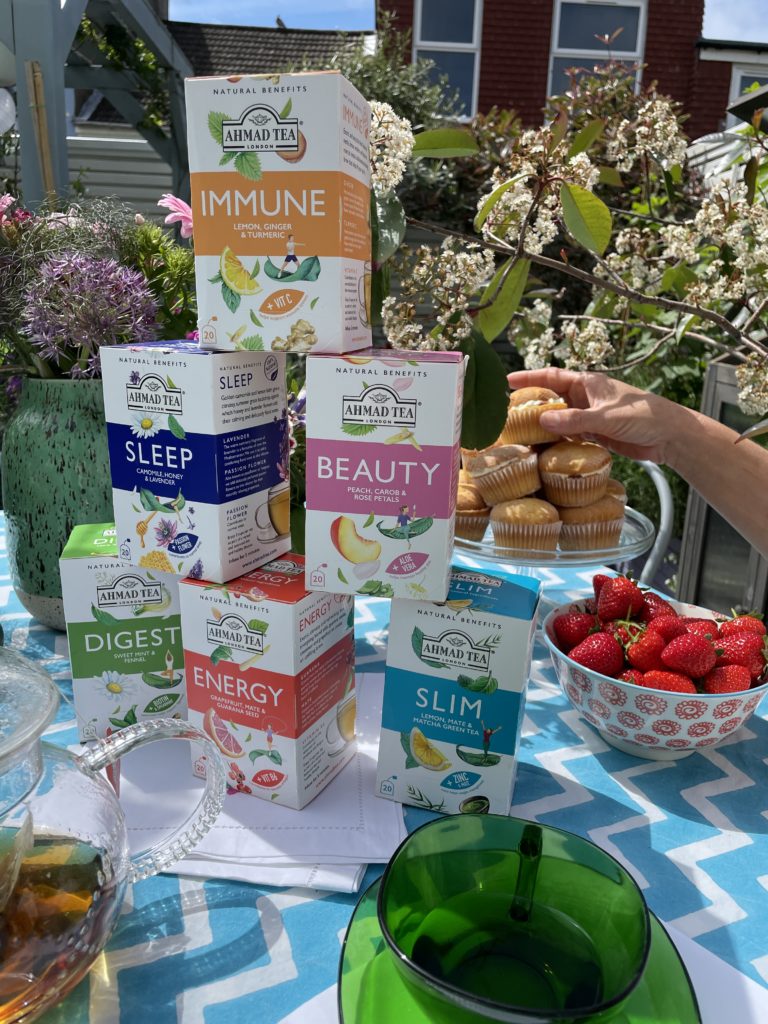 Which herbal tea is your brew of choice?
Choosing which herbal tea to drink is about how you want to feel as well as what you would like to taste. Ahmad Tea all-natural range of herbal tea infusions has been created to support and nourish you from morning to night. The award-winning collection includes 6 delicious blends that use the highest quality natural fruit and herbal ingredients, with added fortifying vitamins and botanicals to help you handle life's daily challenges.
Ahmad Tea Natural Benefits are available in 6 yummy varieties:

Immune (Lemon, Ginger & Turmeric + Vitamin C) Great if you are feeling a little under the weather

Energy (Grapefruit, Mate & Guarana + Vitamin B6) I love this one for a boost in the mornings

Beauty (Peach, Carob & Rose Petals + Aloe Vera) tastes soooo good!

Slim (Lemon, Mate & Matcha Green Tea + Zinc & Great Taste 1-star Award winner) Swap snacks for a cuppa!

Digest (Sweet Mint & Fennel + Biotin & Great Taste 2-star award winner) Enjoy after diner.
You can read all about the health benefits of Ahmad Teas here.
READ NEXT: GORGEOUS GARDEN PAINT IDEAS FOR SUMMER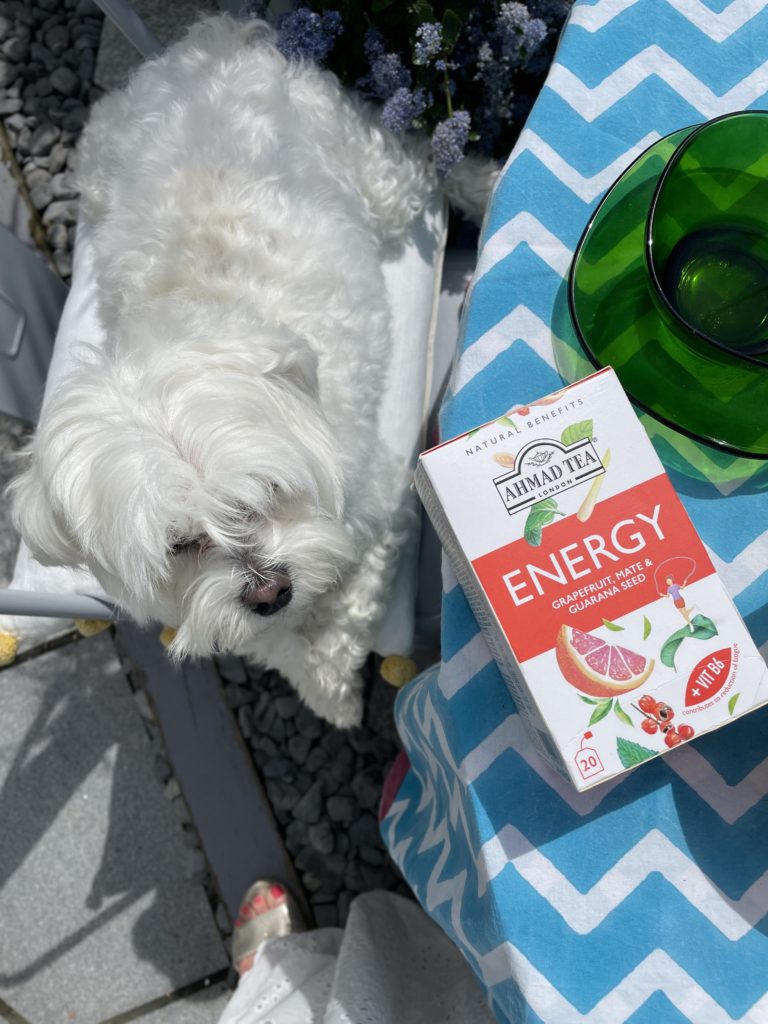 A little more about Ahmad Tea
This year marks the 35 year milestone of Ahmad Tea. This family-owned UK tea company is a global leader in speciality teas and it is loved by millions around the world!
Every cup counts: To ensure the highest quality, every single Ahmad Tea blend undergoes a long, intricate journey from crop to cup. From hand plucking the best leaves and buds from the world's finest tea gardens to tasting the tea at every stage in its journey, the tea is nurtured to ensure every sip is worth it.
The art of a great cup: The perfect cup of tea isn't created without a lot of hard work. Ahmad Tea has some of the world's best tea tasters on their team who sample up to 500 cups each day to ensure the blends are of the highest quality and the taste is consistent. That sounds like the best job ever to me!
Inspiring kindness: With every cup of Ahmad Tea, the brand strives to make the world a better place. As a proud member of the Ethical Tea Partnership, they're passionate about bringing communities together to help those in need. They do this by donating a percentage of profits to charity. From helping people in Niger access clean water to building and furnishing a fully equipped hospital in Sri Lanka, they're inspiring kindness where needed. So each time you sip a cup, you are helping someone live their best life.
From special celebrations to everyday moments, as a brand Ahmad Tea is committed to inspiring tea drinkers through their passion and commitment to quality: Ahmad Tea Natural Benefits blends are available to buy now from the Ahmad Tea online shop: . RRP £3 per pack of 20.
Follow Ahmad Tea on Instagram  @AhmadteaUK and on Facebook @AhmadTeaUK
Let me know your fave herbal tea in the comment box below! And thank you for your support on this post about summer tea party styling ideas. Have a wonderful week.
Love Maxine x
PIN THESE IMAGES