Discover how to decorate your Christmas living room without breaking the bank with my easy styling tips & affordable buys.
Christmas can be an expensive time of year. Decorating your home to look festive can really hit your wallet. Trees, baubles, decorations – it all adds up! Mindful of this, I styled my Christmas living room in simple colours inspired by nature. Keen to save the pennies. I styled my own living room that don't cost the earth yet it still looks look amazing.
Come discover how to decorate your Christmas living room – all for under £100!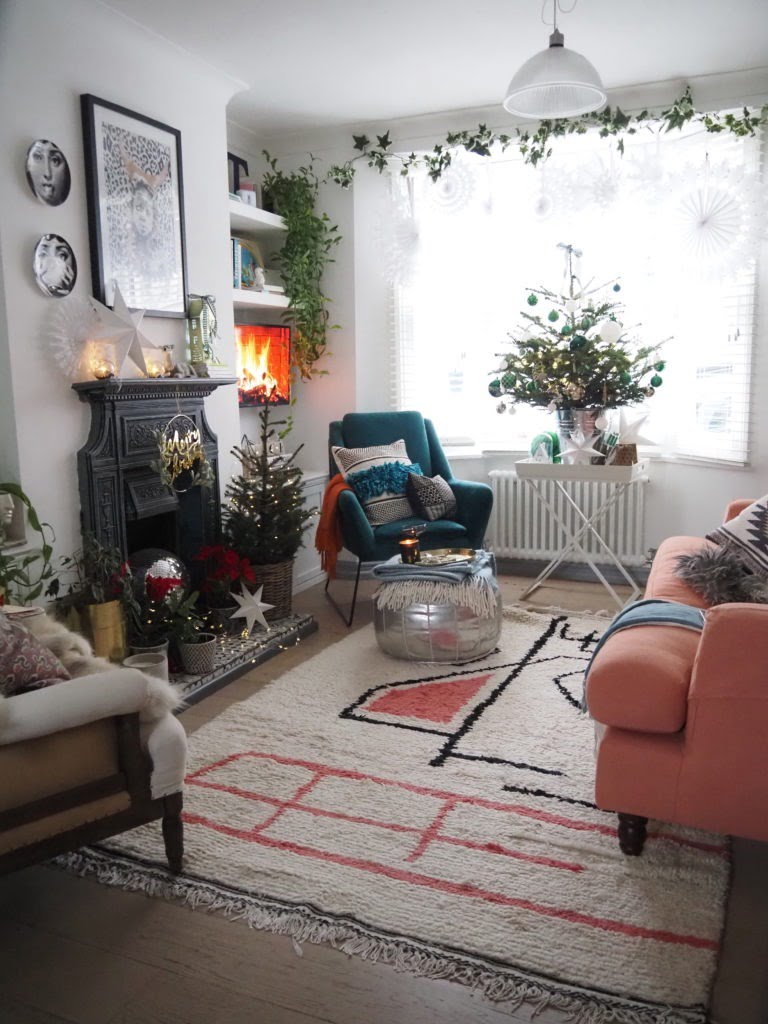 HOW TO DECORATE YOUR Christmas LIVING ROOM On a budget
Decorating your Christmas living room is about styling your space with thoughtful (but cheap) touches.
This year, I decorated my Christmas living room with a simple green and white theme.  As I don't have a huge amount of spare cash this time of year, I was keen to decorate my living room on a tight budget. All my styling ideas that I'm going to share below are super stylish (of course) but also are very inexpensive. Meaning you can spend less on your home, and more on celebrating Christmas!
I have photos to share from around the house – as well as my expert styling tips.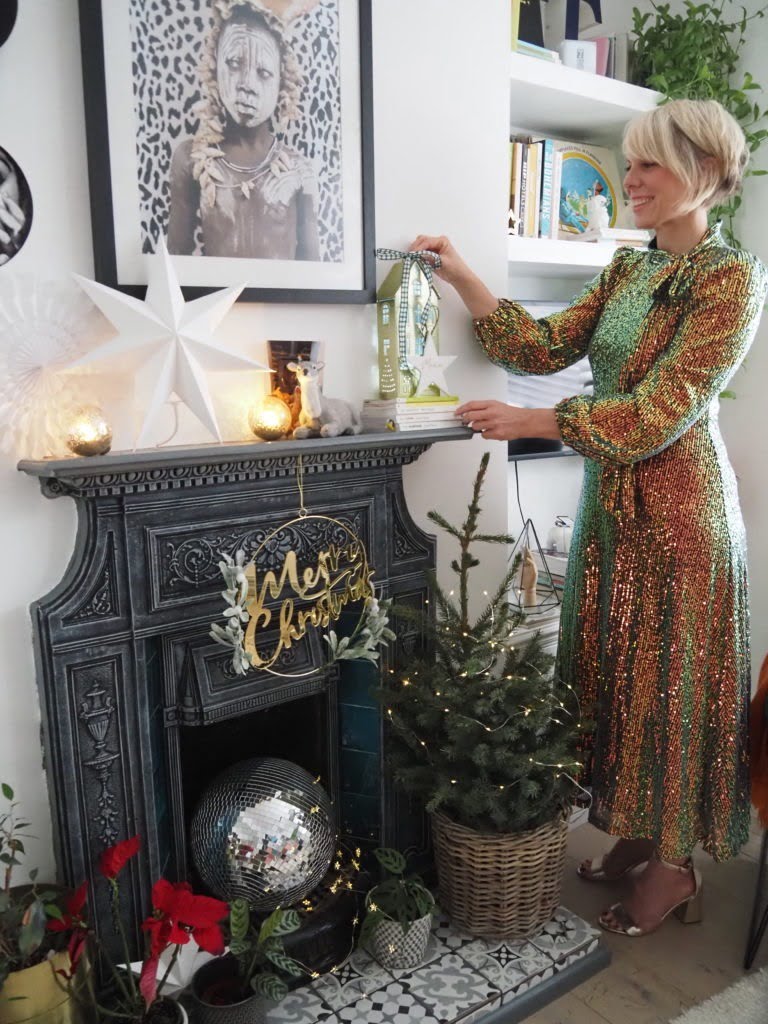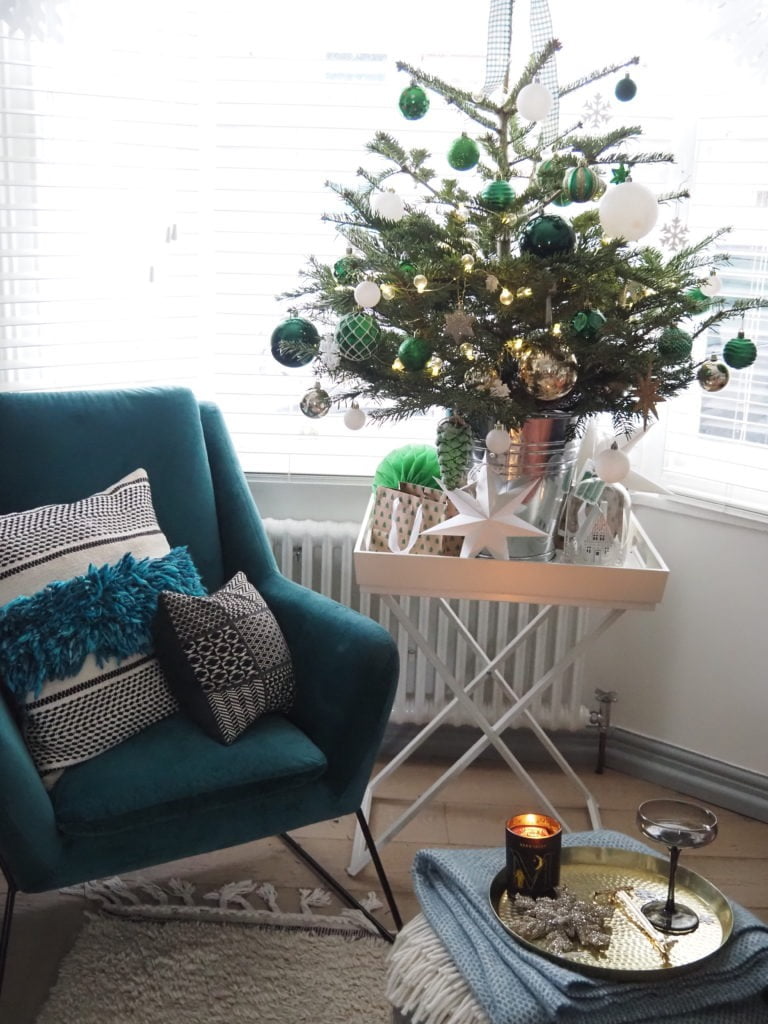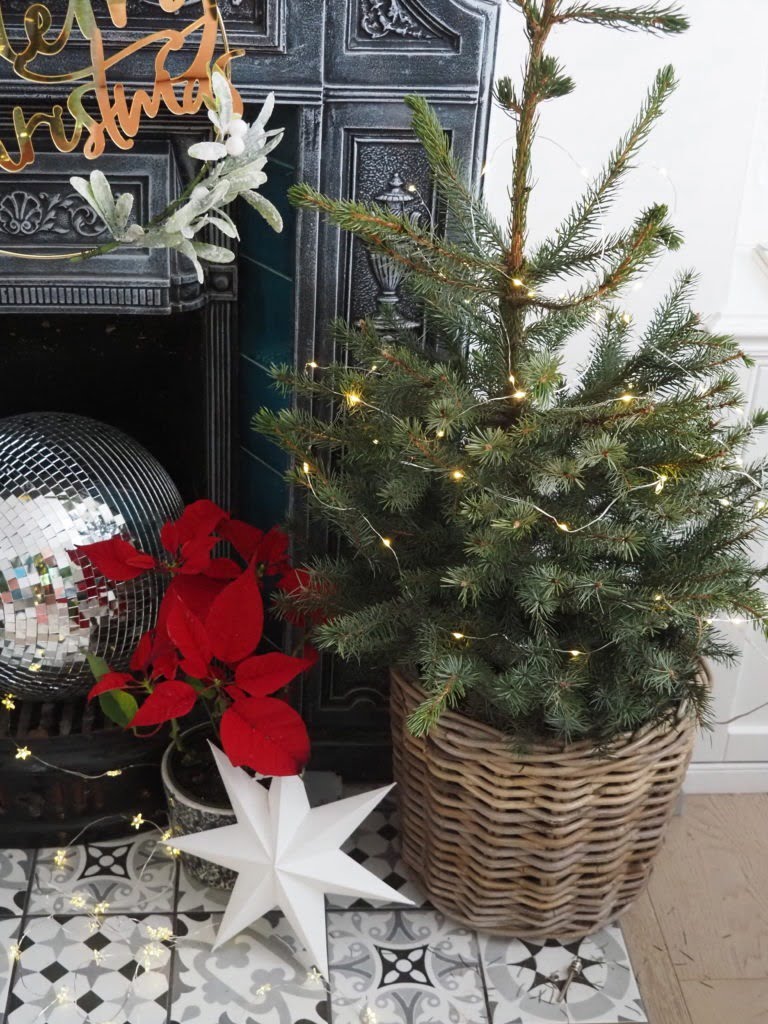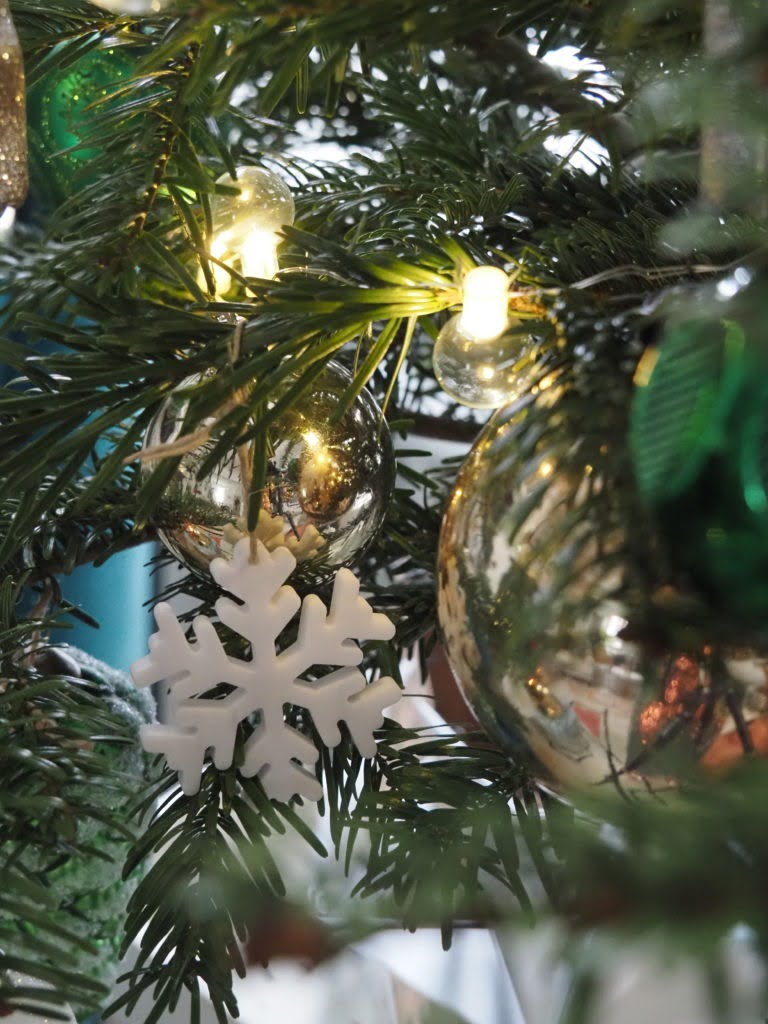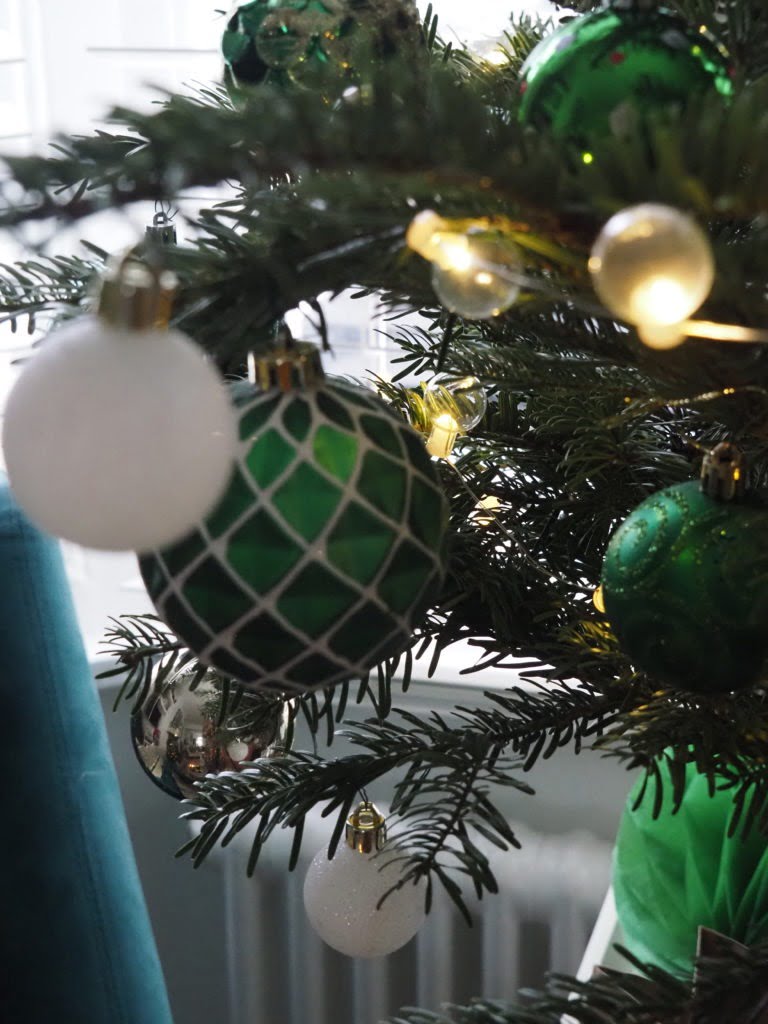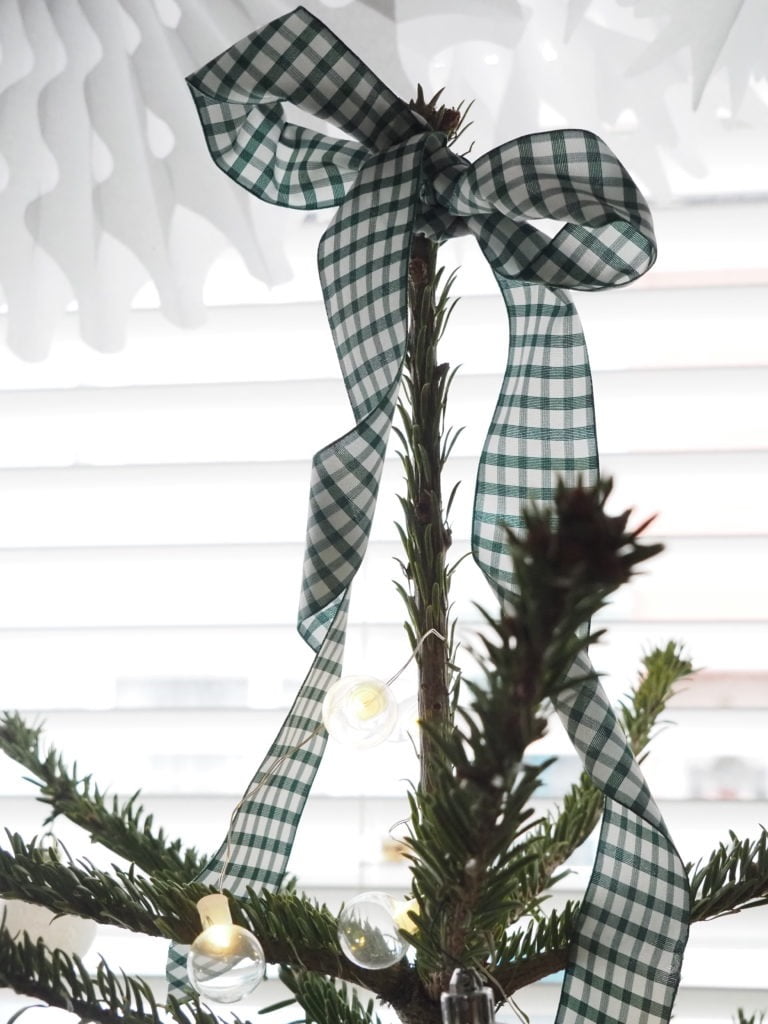 1. Foliage is Free
Adding faux greenery sprinkles Christmas magic into your home, and celebrates the natural outdoors too. There are lots of ways you can do this for literally nothing! On your next country walk, forage for leaves, branches or ferns to decorate your mantle, shelves and windows.
Or you can cheat the natural look – by using fake ivy to frame your windows. Mine are from Dunelm and were £20 for a branch. Dot lots of fake foliage around your living room for a festive feel.
You don't need a big expensive real tree to create a big impression. Mini trees are great to add Christmas touches to your home without spending too much money. And they are ideal for smaller homes (like flats or house shares) or if you have limited space in your living area. I picked up the two trees from my local super market. The larger one was £20 and the smaller £10. You could even use them to decorate the exterior of your house.
Place your tree inside a metal bucket – this galvanised one is from B&Q and cost £5. The position a table in your window so that your neighbours can see you tree from your window as they pass by. Or on your fireplace hearth, so you can enjoy it as you sit on your sofa.
Just because it is a small tree, you can still decorate it. I choose handmade ceramic snowflake decorations, green textured baubles and gold stars, finished with a gingham bow at the top. The ribbon was left over from Christmas presents last year – again saving me £££.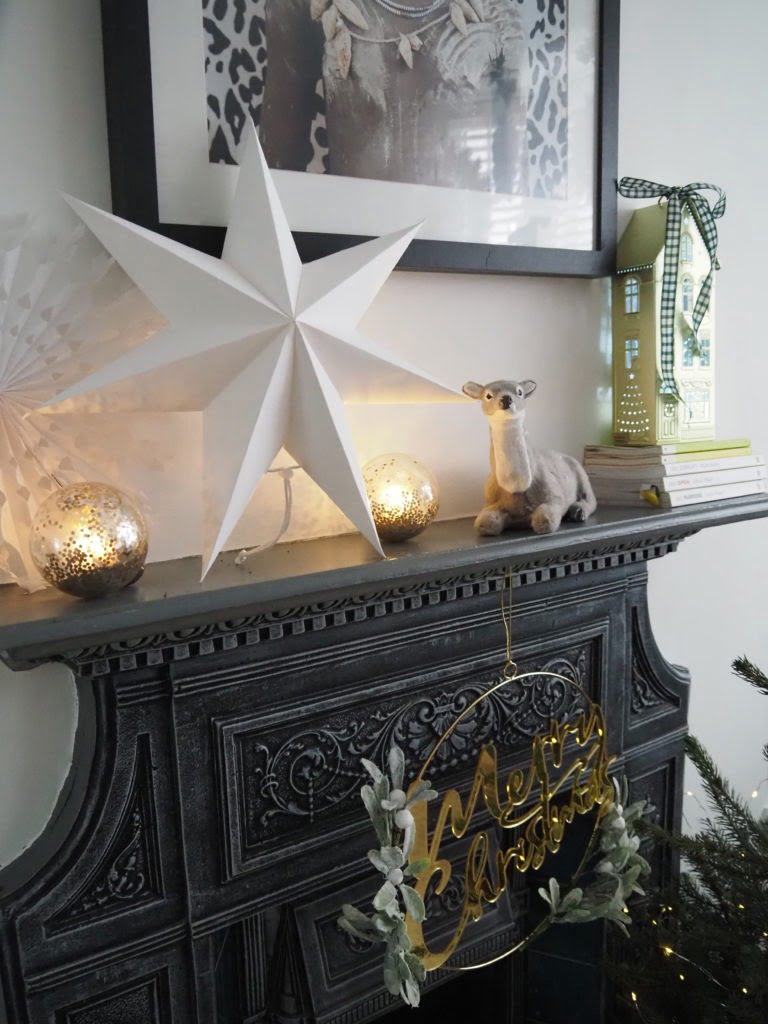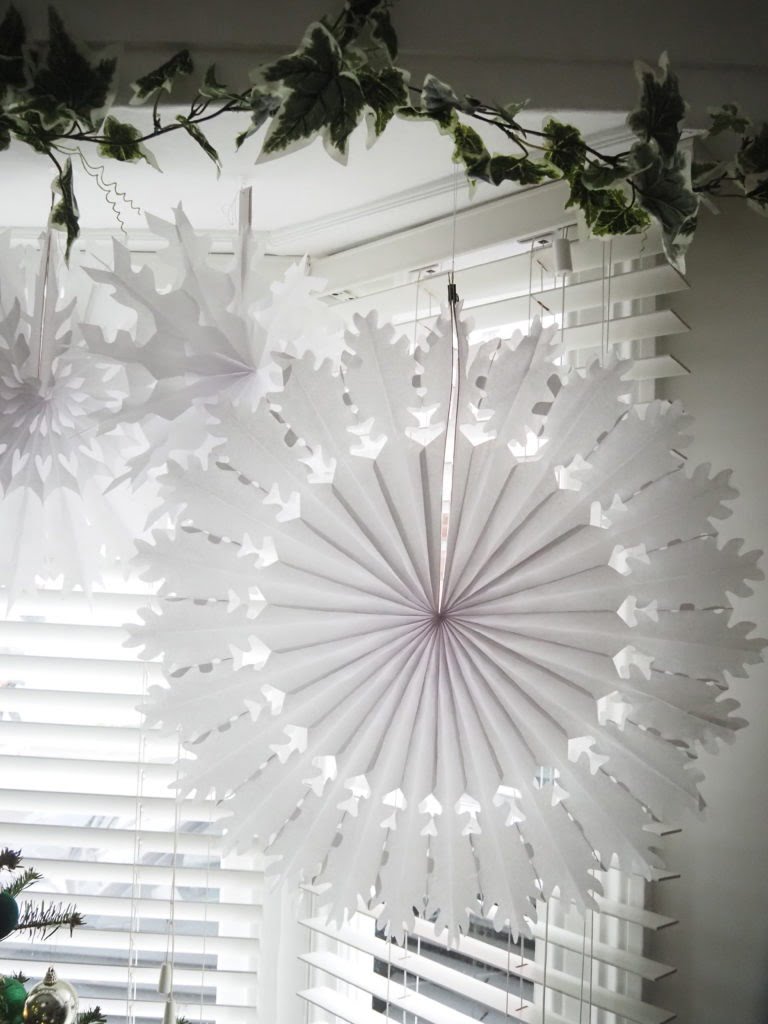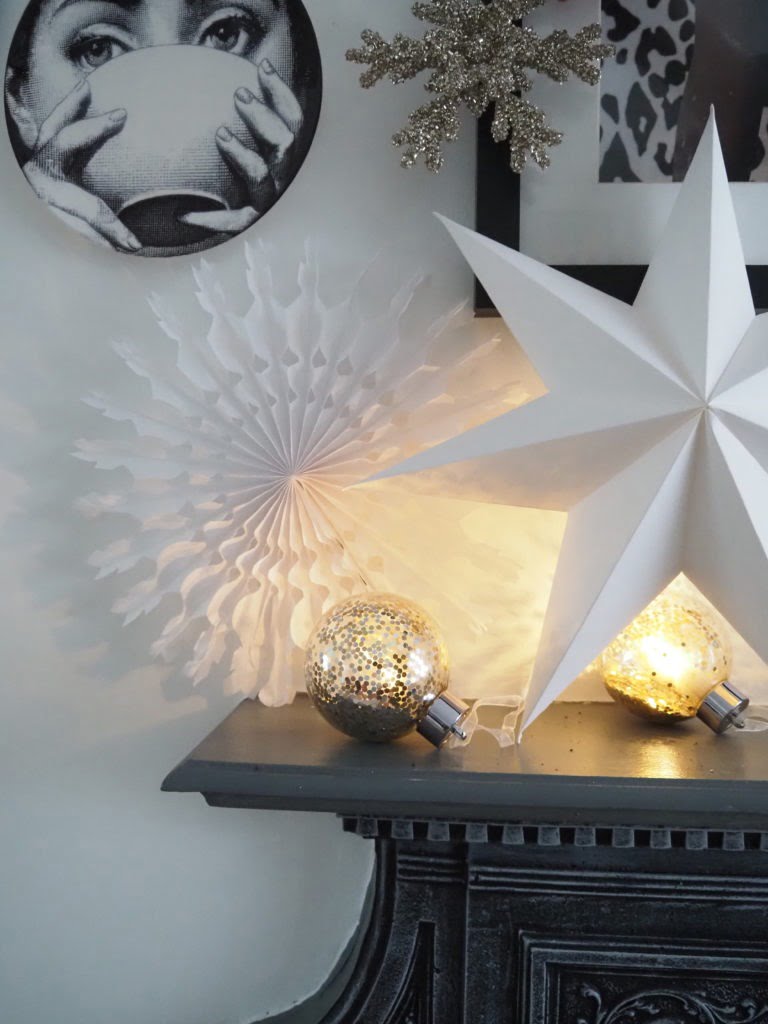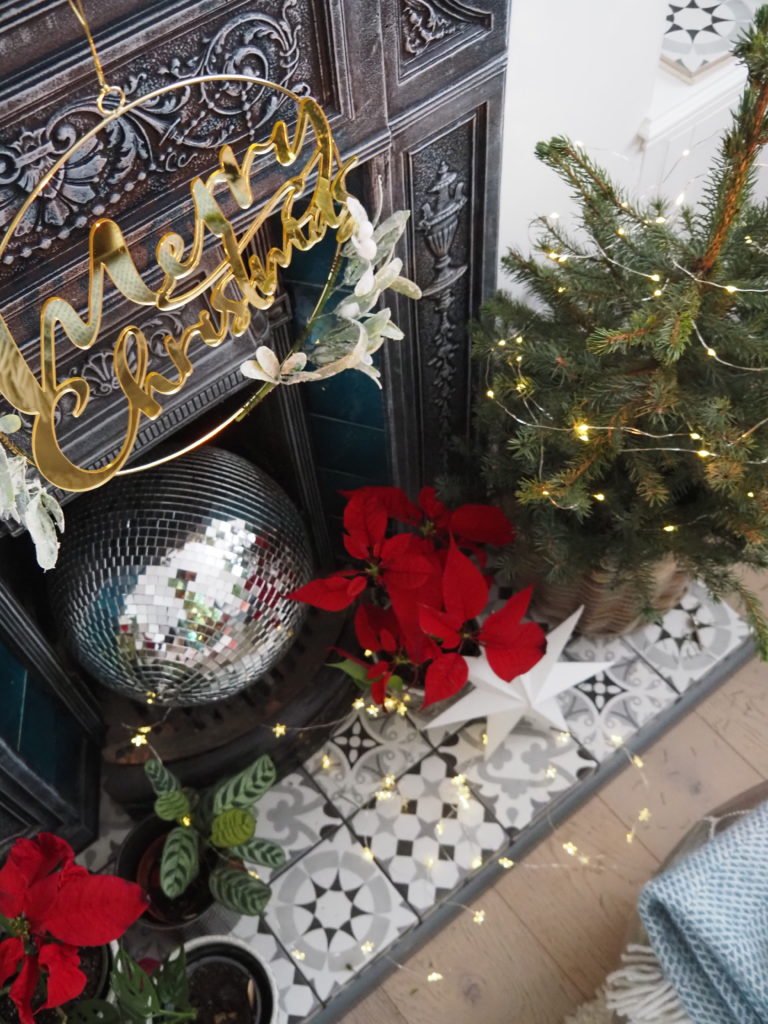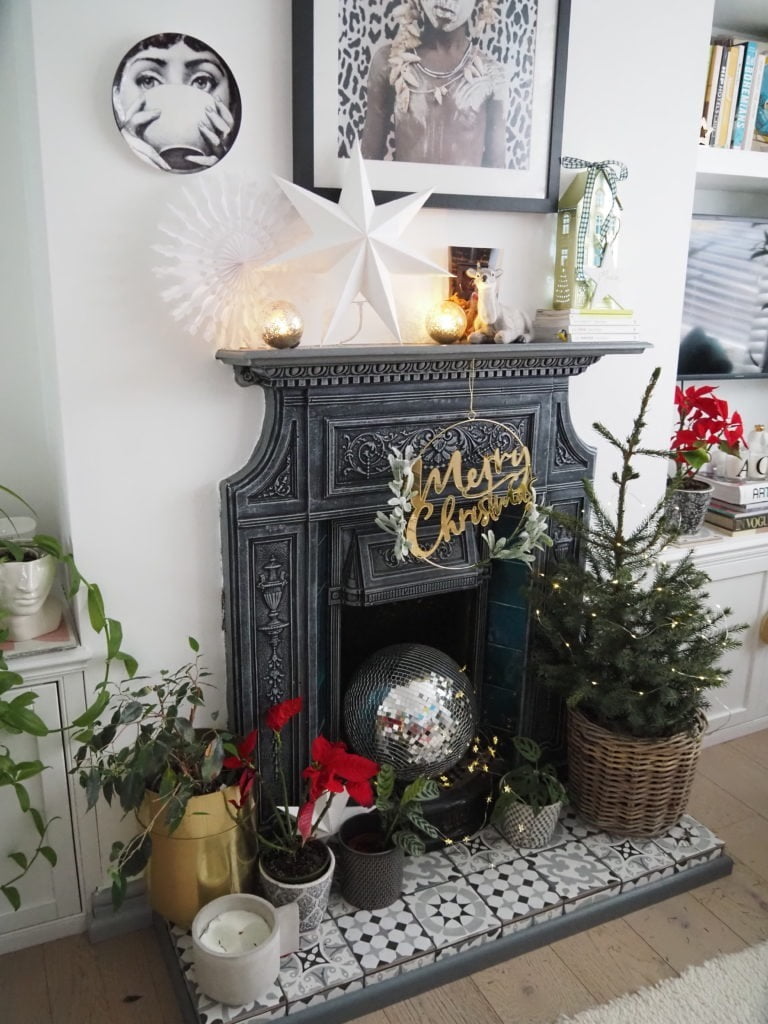 2. Hang cheap Paper Decorations
If you are looking to decorate your home on a budget, then look no further than paper stars and snowflakes. Start by hanging snowflakes at your window using command hooks (they have special fairy light ones) and fishing wire. My neighbours haven't stopped commenting on how pretty they look!
Fill gaps on your shelves, mantlepiece and hearth with folding paper star decorations. I choose white ones for a crisp white look but you can choose any colours that match your home decor.
These paper decorations fold up so they can be easily stored out the way when Christmas is over.
Meri Meri and Talking Tables both have los of inexpensive paper decorations. Mine were from Amazon and cost about £3 for 6.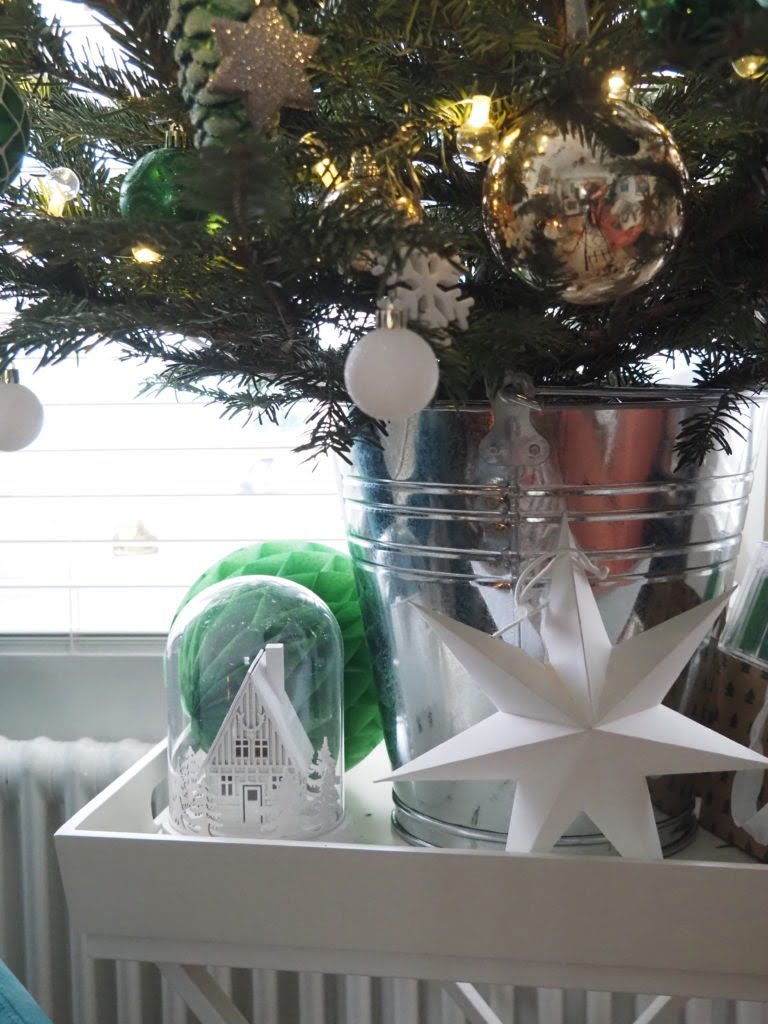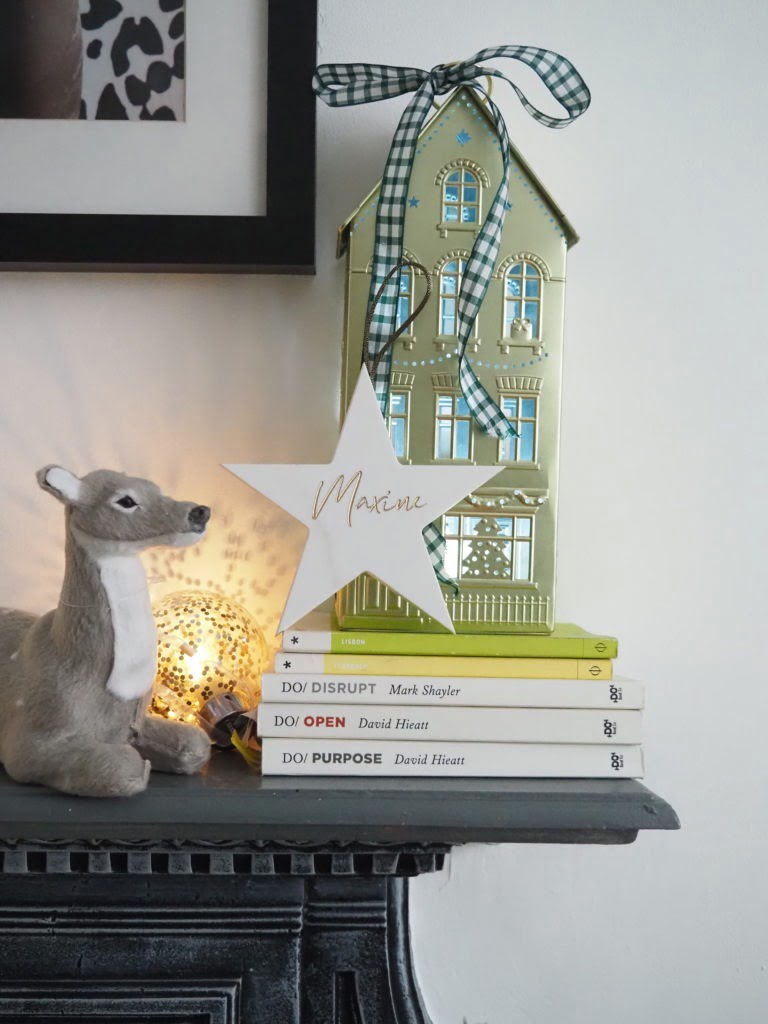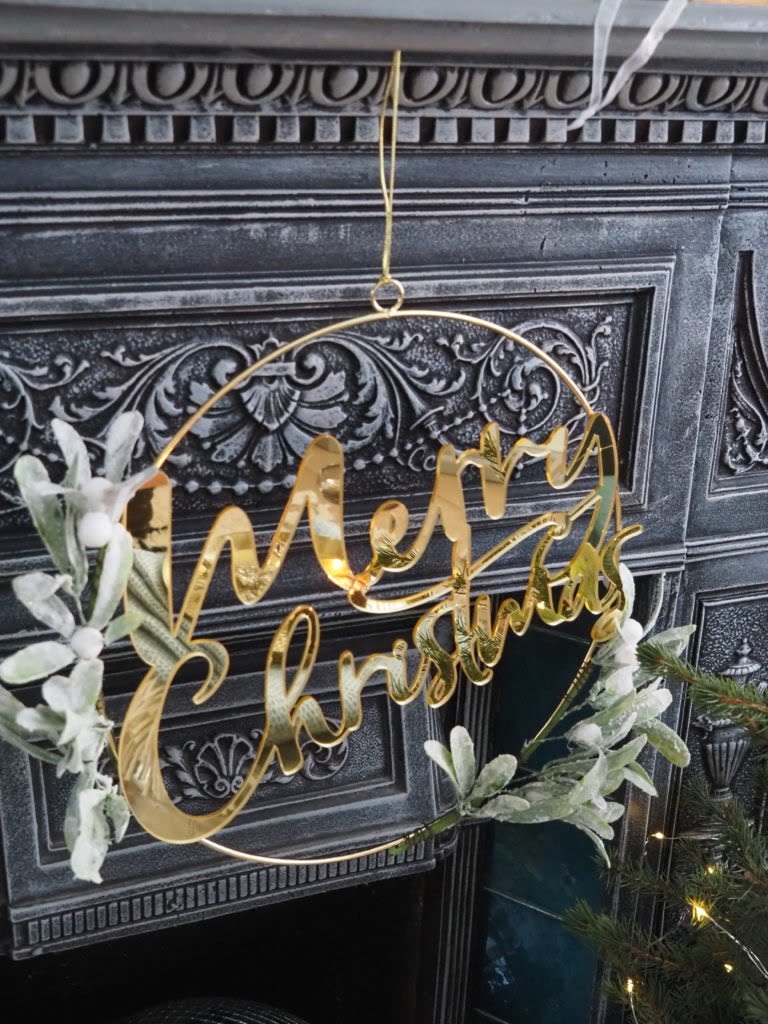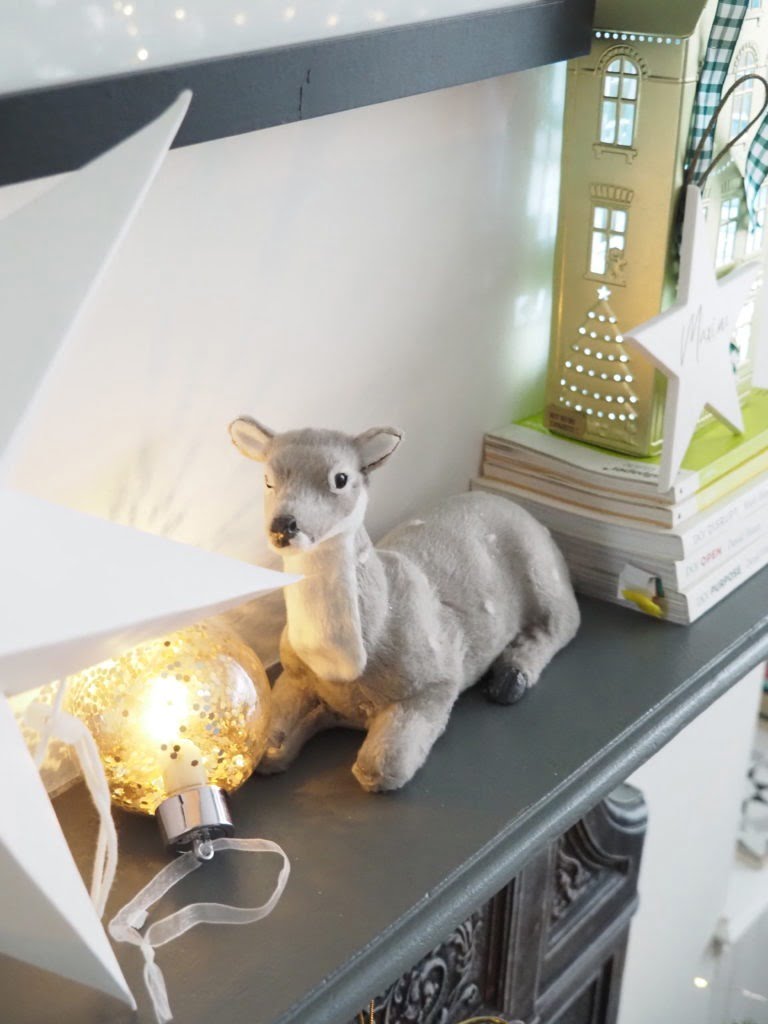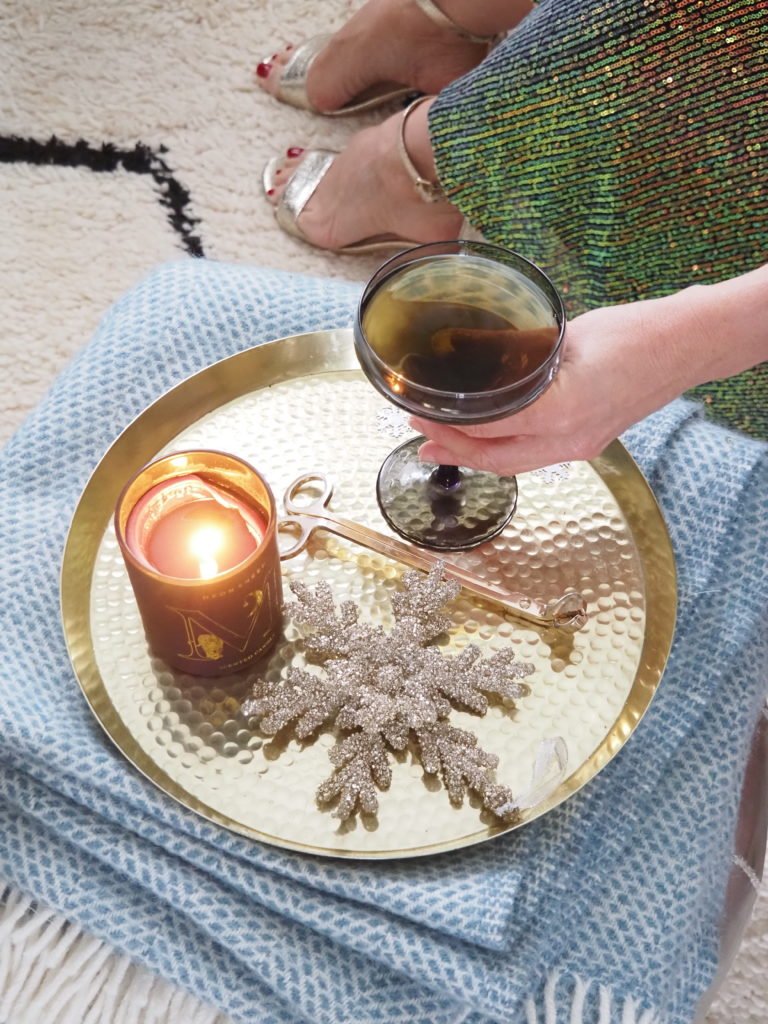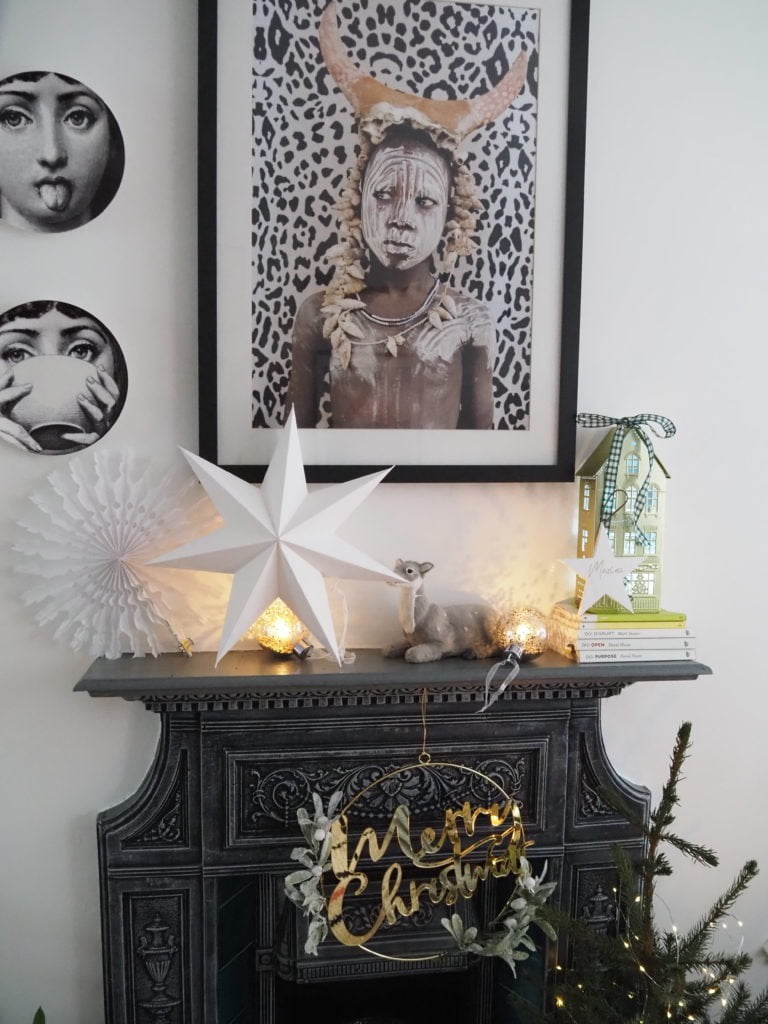 3. Look out for cute little details from the supermarket
Every year, I have to have my Christmas village houses on display.  These village houses are my own twist on a tradition look. Although my light up house looks like it came from an expensive ship, it is actually a shortbread tin from Marks & Spencer which cost £5. The other little house (under my tree) was from George at Asda was £12.
Shop around for these Scandi style touches – without costing a fortune!
And I love to pop tree decorations around my Christmas living room – from light up baubles on my fireplace, or a gold snowflake on a tray of drinks, to ornaments around the base of my tree.
You can pick up bulk packs of baubles online for next to nothing.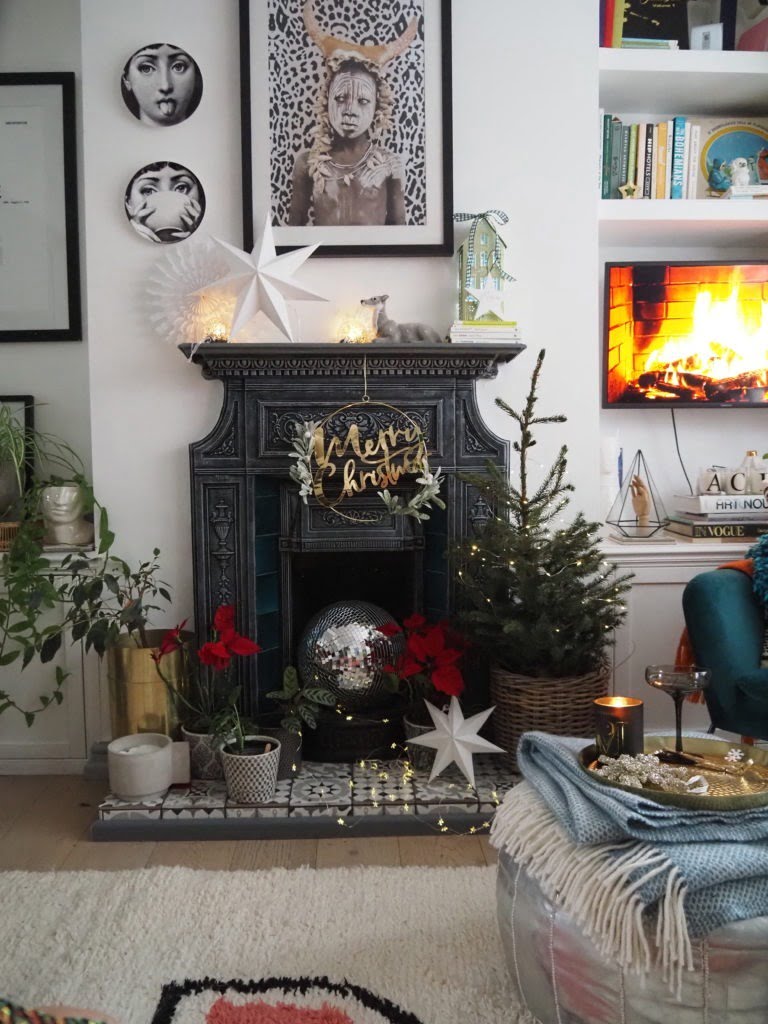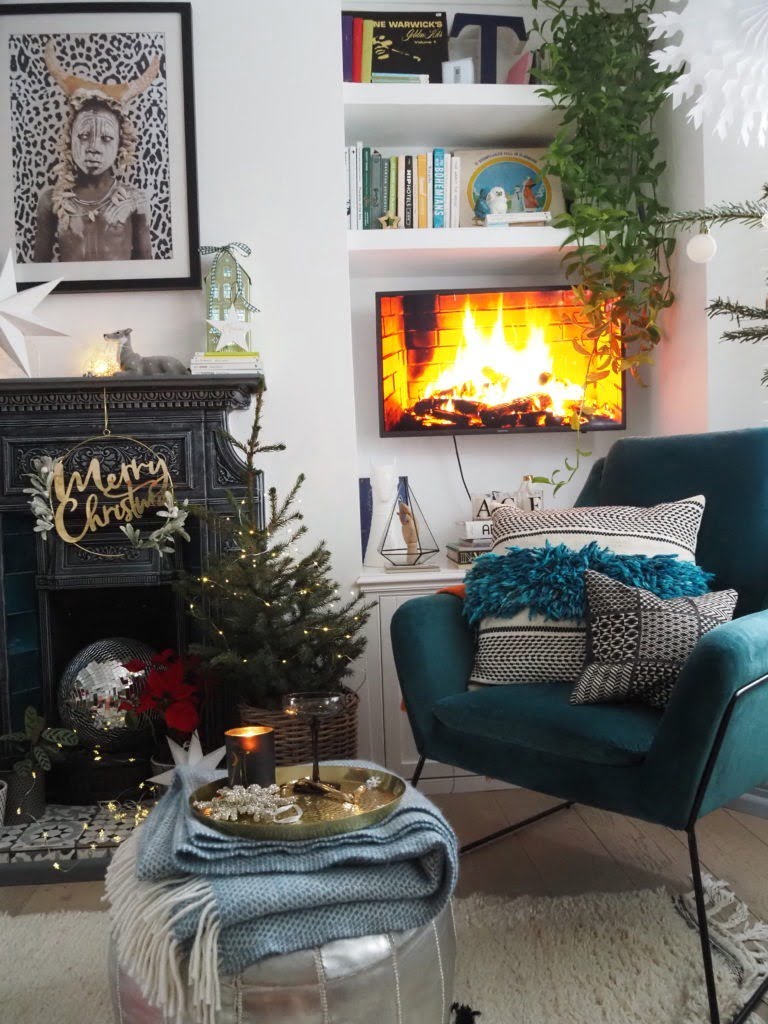 4. set your tv to fire mode
And here is where I have spent most of December watching Christmas movies. How could you not? My little mini Christmas tree in my hearth is so fluffy and full of mini twinkle lights. And my dressed fireplace adds an extra cosiness that I just could not resist. The one thing that is missing, is having a real fire.
Sadly my fireplace doesn't work but I cheated the look by setting my TV to 'fire mode'. Have a search on Youtube or Netflix for LOADS of fire options that play for 15 hours!
You can choose a fire scene that crackles, flickers and burns. It looks so much like a real fire, you'll find you'll end up turning your heating down. It sets the perfect scene for your Christmas living room – and looks fab in photos too.
A fake fireplace setting costs nothing compared to a real fire. And is better for the environmentally too!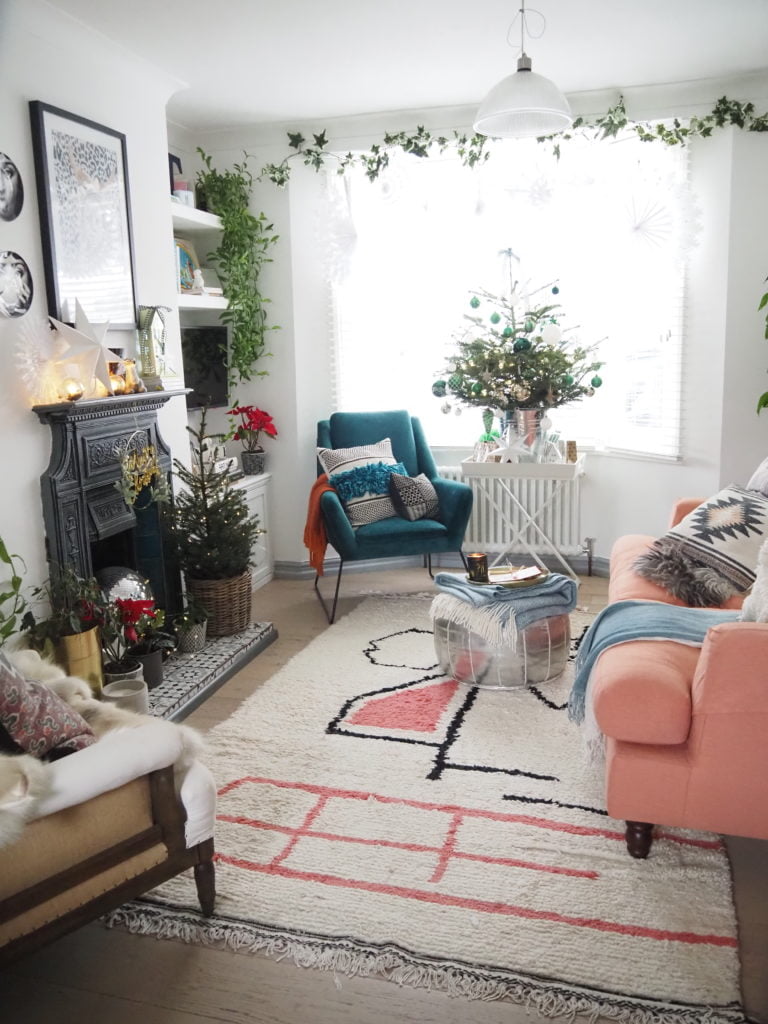 DECORATE YOUR Christmas LIVING ROOM on a budget
When I can keep the Christmas decor simple, it makes it so much easier to put up and take down every year. I don't feel overwhelmed or get anxious about it anymore and I am able to enjoy it. And as all my decorations were inexpensive, I don't feel worried about my bank balance either.
This year I am going to be little sad that it will all be over soon. I hope these tips show that decorating your home on a shoe string can still look styling and exceptional.
Merry Christmas friends!
Related
5 TIPS ON HOW TO DECORATE YOUR WINDOWS & DOORS THIS CHRISTMAS
MAKE YOUR DINING ROOM SPARKLE THIS CHRISTMAS