These are the three hottest kitchen tile trends you'll be seeing in 2022
Are you thinking of giving your hard-working kitchen a makeover? When designing a kitchen revamp, it can be a struggle to know where to start. Today, I'm going to share my top 3 kitchen trends for 2022 — as well as share my expert styling ideas on how to create the look.
3 HOT KITCHEN TILE TRENDS FOR 2022
Going through the huge collection of tiles by CTD Tiles, I've picked out three kitchen tile trends that I know you will love.
All you have to decide is which look you are going to choose!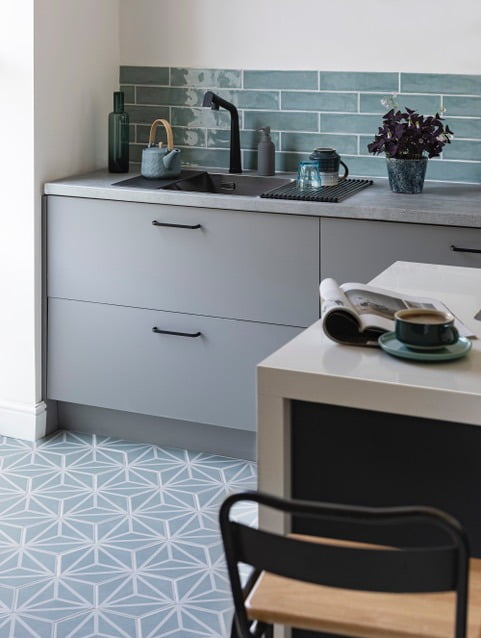 Varadero Mint Green Hexagon Floor Tiles & Poitiers Mint Gloss Tiles
MODERN MINIMALISM
Rejection of unnecessary detail in favour of functionality is the key trend of 2022. Think clutter free surfaces, flush fronted units, cool and calm colour schemes, and lots of smart storage. This trend works particularly well in small kitchens where space has to work much harder! If you love a pared back look, then this is the trend for you.
When it comes to your tiling, you'll want to go tonal. Choose a single colour pallet and match your wall tiles to your floor tiles. You can still have fun with this look by putting down a geometric patterned floor tile down which will add visual interest to your kitchen.
STYLE TIP: Choose units in the same colour as you counter surfaces for a seamless look and keep clutter at bay with integrated appliances.
READ: A FRESH LOOK AT KITCHEN WORKTOPS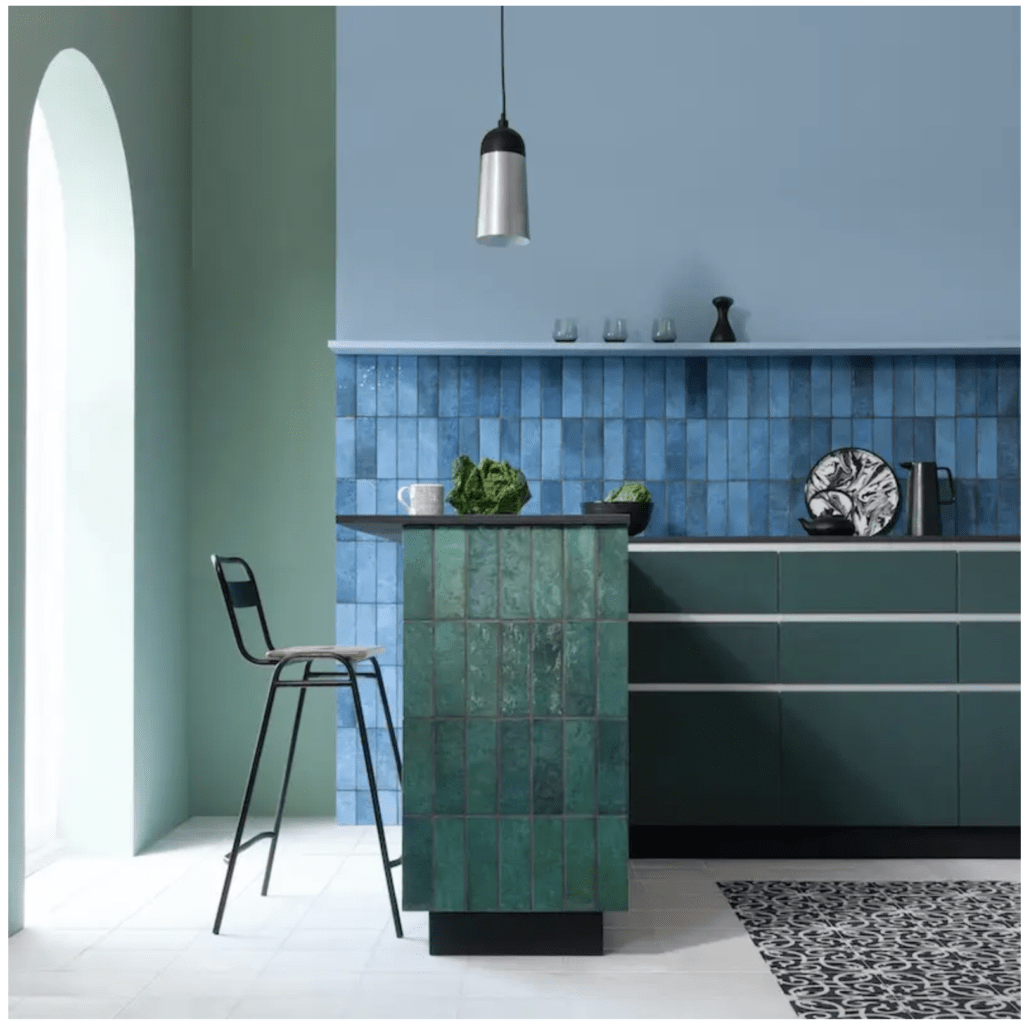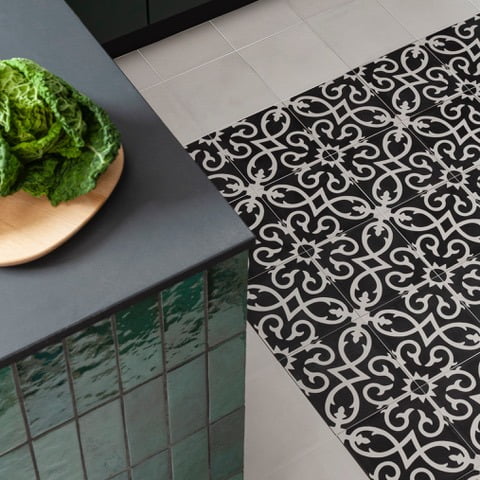 Contrasti Tappetto Ottanio Tiles, Dyroy Green Tiles & Dyroy Blue Tiles
POPS OF COLOUR
Since the pandemic, many of us have spent more time on our kitchens than every before and there's a natural inclination to make this space feel more personal. One way to do this is with colour!
There is a trend for people having a lot more fun with their kitchen design with bold, contrasting colour palettes that create a unique space. You'll see a variety of finishes being used, including matte and high gloss surfaces contrasted against each other.
One way for your kitchen to reflect your personality is by decorating your kitchen with colourful tiles. Choose tiles from the same end of the colour spectrum like these green and blue tiles that have a light reflective glazed finish.
If you went for coloured base units, you could continue this look by tiling the end of your kitchen island. Then on the walls, create subtle contrast with blue tiles.
STYLE TIP: Colour match your wall paint colour to your tiles to bring the look together. Fill your kitchen with these sea green shades to create a statement space.
READ: 5 COOL DESIGN TIPS FOR SMALL KITCHENS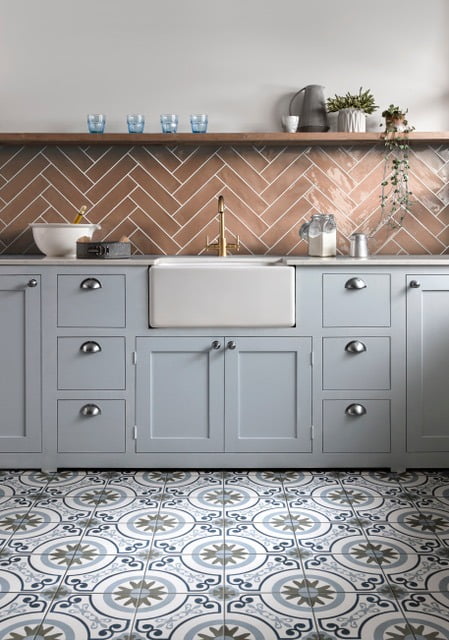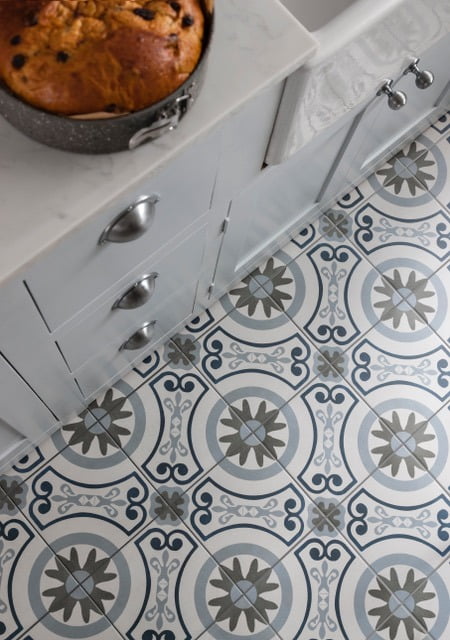 Havana White Garden Matt Tile & Poitiers Moonlight Grey Tiles
COTTAGE CORE
Our appreciation for a simpler way of life is captured in the next trend which celebrates cottage styling in the kitchen. A more rustic styling to your home creates a cosy, lived-in feel that makes you want to stay in more, gathering in the heart of the home which is the kitchen!
What's great about this trend is how it manages to mix patterns to create a welcoming look. Look to tile your floors with beautiful prints like this one above. Not only does this create a timeless look, but the colours in the tiles also pick out the muted tones of the blue kitchen cabinets.
STYLE TIP: On your walls go for a herringbone tile effect in copper tones which you can pick out with your accessories and furnishings.
READ: DON'T MISS THIS AMAZING KITCHEN MAKEOVER – WITH BEFORE & AFTERS
What do you think of these 3 HOT KITCHEN Tile TRENDS FOR 2022 AND HOW TO STYLE THEM
Choosing one of these three tile trends will update your kitchen turning it into a bright, modern space for the year ahead. I'd love to hear which look you love the most below!
For more shopping ideas for these trends, have a look at my blog post on CTD Tile blog.