Need advice on choosing the right window shutters? You've come to the right place! Check out my expert guide which has everything you need to know. Window shutters can be DIY fitted making them a budget friendly option.
If you're looking to upgrade your home, then have you thought about investing in window shutters? Not only do they look sleek and cool but they work in bedrooms, living rooms and kitchens making them super versatile. They come in a wide range of colours and keep the cold out in winter but also allow you to control light levels in summer. And they allow you lots of privacy too.
In collaboration with California Shutters, here's 7 expert tips & tricks to help you choose the right shutters for your home.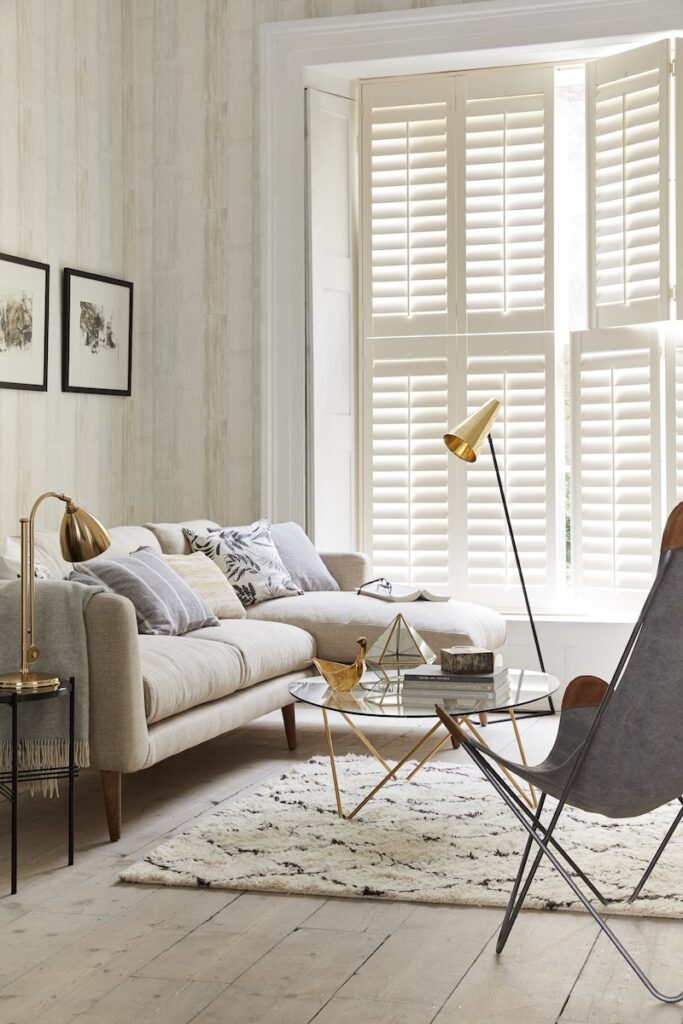 1. WHERE Best TO FIT PLANTATION SHUTTERS
They can of course go in any room but if you're doing up your home on a budget, then I suggest installing them at the front of your house on all floors to create great kerb appeal. Not only will you give visitors a great first impression but when you choose to sell your home, you'll attract sellers.
Shutters help you control the light, keep your room cool in summer and warm in winter, and add privacy, security and sound proofing. They are brilliant for home offices where daylight needs to be filtered for computer work. In rooms that need privacy like bathrooms and bedrooms.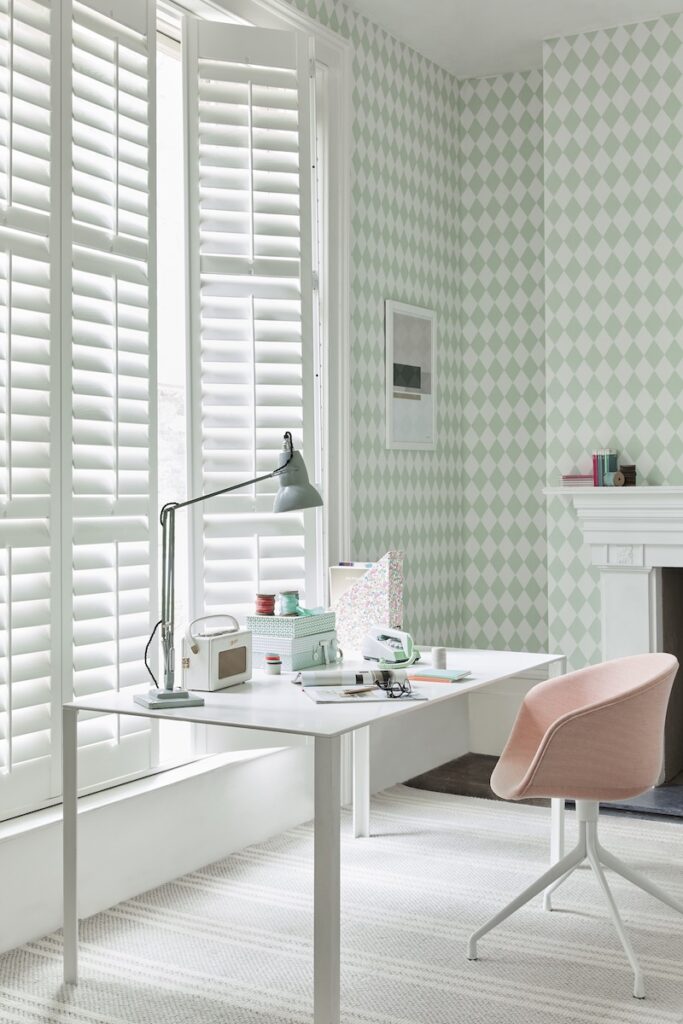 2. How To SAVE ON THE COST OF SHUTTERS
If you are doing up your home on a budget – but you don't want to scrimp on style, then have you considered DIY shutters. California Shutters have a wide range of DIY shutters for decorators looking to make savings. You simply measure up your windows and then they make them for you, and using their easy-to-follow instructions you can DIY install them yourself.
If you're DIY-fitting your shutters, only buy from a company that provides an online shutter measuring guide, online fitting guides and good customer service support should you run into difficulties like California Shutters.
This service offers huge savings on the cost of having shutters measured and fitted by a professional. And if you get stuck, then you can always ask a carpenter or handy man to install them for you.
If you are unsure about your budget, California Shutters have an instant quote calculator on their website, so you can find out the cost of your new shutters based on your window measurements. This handy tool will make it easy for you to decide if to go DIY or have them installed by a pro.
READ: HOW TO RESTORE YOUR SASH WINDOWS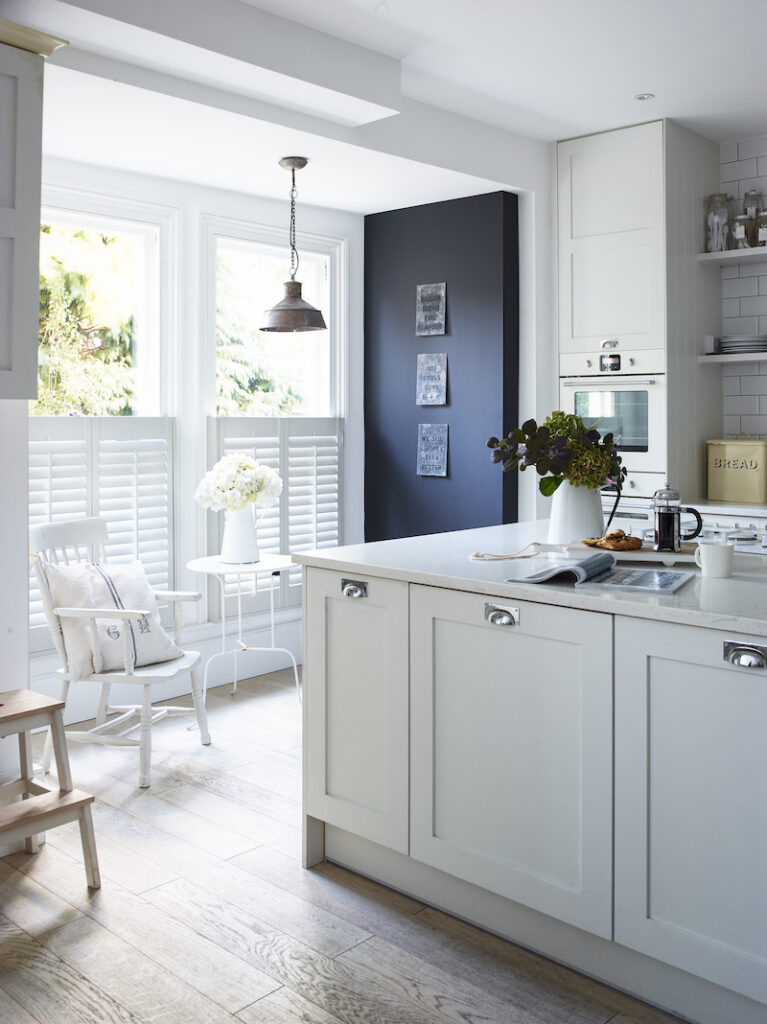 3. The types of window shutters Explained
To keep it simple, there are 4 main shutter styles:
FULL HEIGHT SHUTTERS
These cover your whole window from top to bottom, and open as one unit. They will often have a divider rail (also known as a mid rail) so you can operate the slats above and below independently.
TIER ON TIER SHUTTERS
This is where the shutters on the top and bottom half of your windows are separate, so you can open and close them independently
CAFE STYLE SHUTTERS
These cover just the bottom half of your window. As they only cover the lower portion of your windows, maximising daylight entering the room while still giving some privacy. They are ideal for small bay windows as they allow more light in that standard curtains.
FULLY SOLID RAISED
The most traditional style of shutter, these provide complete window coverage – making them idea for bedrooms as they block out the light.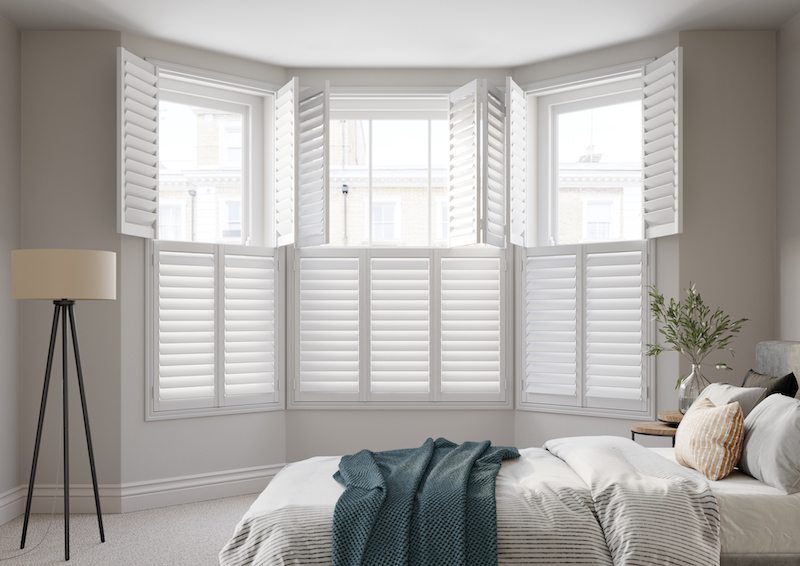 4. The size Of slats WIll Impact Your Shutter Choice
The most common type of shutter comes with slats.
If you have large windows, French doors or a contemporary look to your home then can I suggest you choose wide louvres (measuring from 89mm up to 114mm) for a cool, sleek look. For traditional-style homes or smaller windows, then I would advice you choose narrow slats (around 64mm) which will allow more daylight into your home.
Remember, the wider the slats, the deeper your shutter frame needs to be, so that might have an impact on your decision.
Choosing what type of shutter slat size to pick for will be down to the style of your interior, how much light the room gets, how much privacy you need, your budget as well as the function of the room.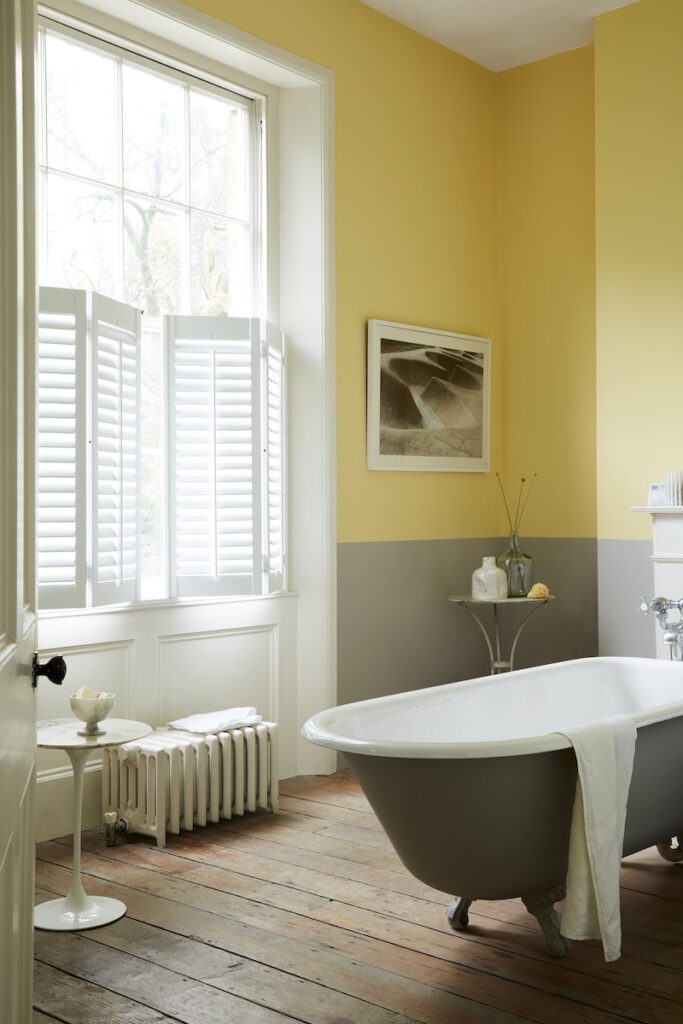 5. PICKING THe right Shutter frame for your window
Your shutter will be fixed to your windows using a frame. The frame is also handy for disguising uneven walls and windows that aren't level (common in older properties).
Shutter frames come in two styles:
Inside Mount – where the frame sits inside the window recess allowing you full use of your window sill
Outside Mount – where the frame is mounted to the wall area, ideal if your windows aren't recessed.

Either way, your chosen shutter panels will be neatly mounted inside the shutter frames for a lovely professional finish.
READ: BIFOLD AND SLIDING DOORS: 9 GORGEOUS DESIGN IDEAS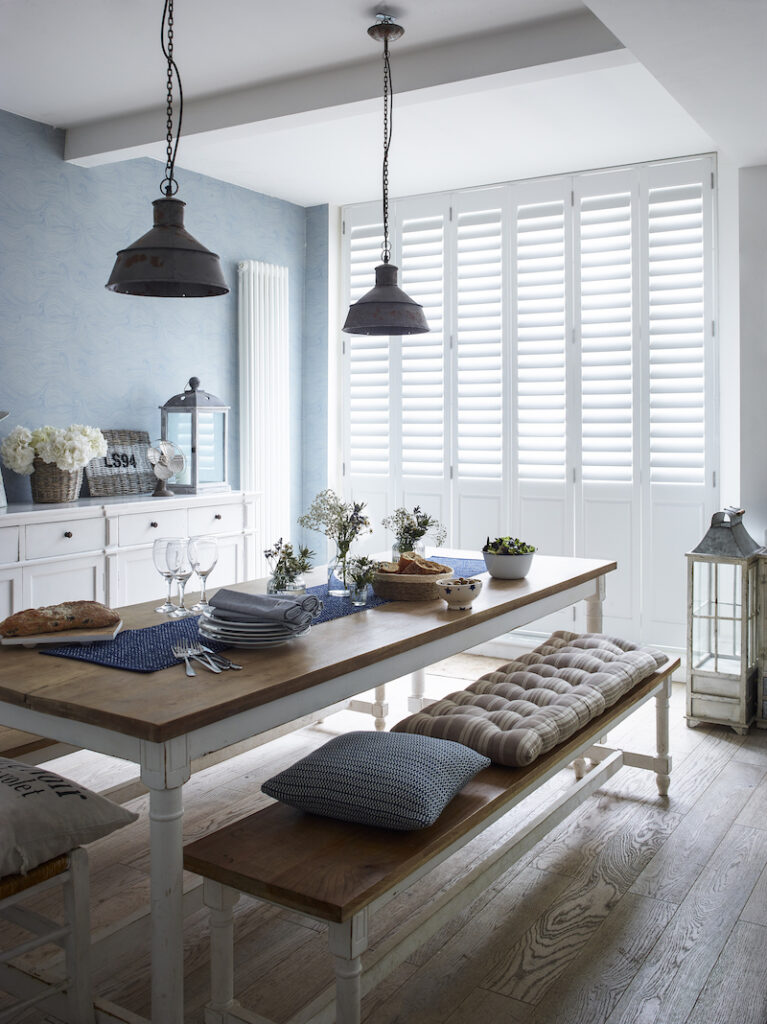 6. What Shutter MaterialS To Choose
California Shutters have a range of finishes including:
Smooth Hardwood – These are perfect if you are looking to upscale your home, or add value to your property as they are elegant and long lasting. Made from sustainably sourced quality Paulownia timber, this material is suitable for almost any size or type of window. With a smooth texture, you're guaranteed a lovely painted finish too. They're eco-friendly as the wood used is fast-growing and sustainable.
Faux Wood – Manufactured from polyvinyl (PVC) making them especially suitable for steamy rooms. They are expertly constructed at California Shutters' own production facility right here in the UK and are typically dispatched in only a couple of weeks! You'll be surprised how lovely this material looks (and feels) and it's waterproof making it ideal for kitchens and bathrooms.
Affordable Hybrawood – These great-value, Hybrid shutters come in 13 neutral shades and all design styles. Constructed from Paulownia Hardwood frames and panels with Polyvinyl slats.
Waterproof PVC – These simple vinyl shutters are great for bathrooms and wetrooms. They come in a choice of four neutral shades with stainless steel hinges.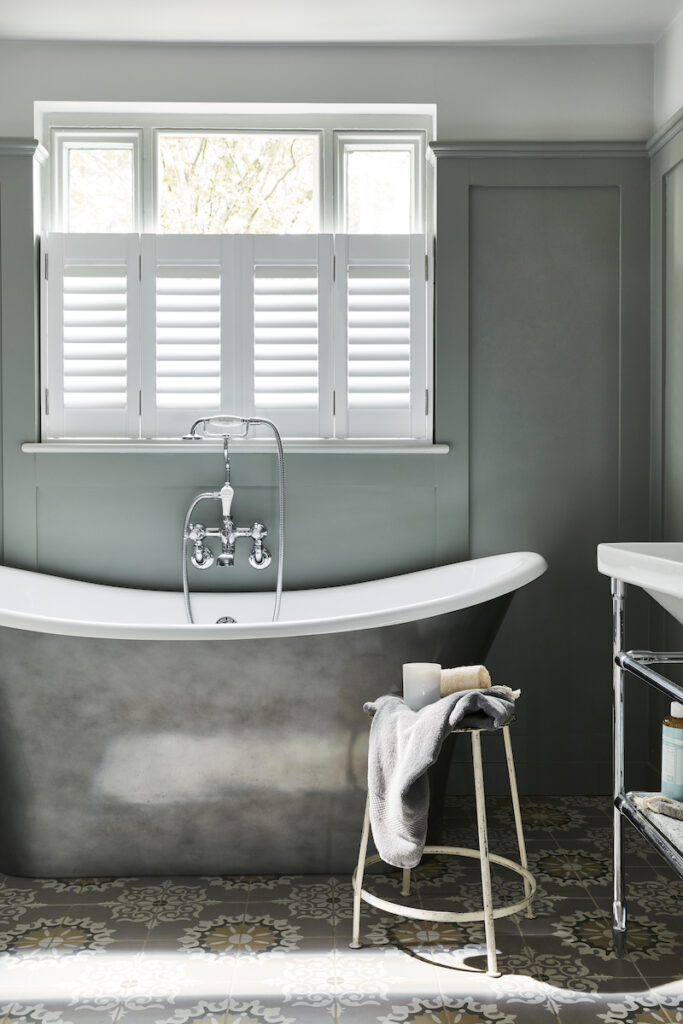 7. LEt's chat Tilt RodS
Tilt rods are the mechanism used to open and close slatted shutter panels. And there are four options to choose from!
Central Tilt Rods are simple and stylish. The traditional wooden rods attach to the front of the slats in the centre of each panel.
Offset Tilt rods are similar but positioned off to the hinged side of each panel.
Clearview Tilt Rods are a great choice for contemporary interiors. A thin metal bar connects the slats at the back of the panels. It is discreetly positioned off to one side to keep it out of view.
Hidden Tilt Rod which is a mechanism that is built into the side of the panel so no rod can be seen.
Consider if you want a cleaner, simpler look or a more traditional styling when choosing your tilt rod. And have a think about what is going to be in front of your windows which might impact the access to your tilt rod.
READ: WHAT'S NEW IN INTERIORS THIS AUTUMN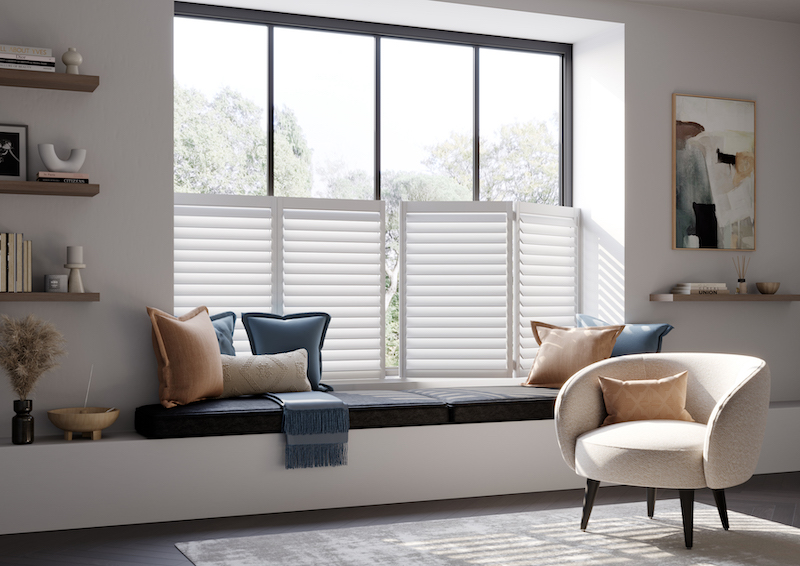 8. MAke Sure YouR SHUTTERS FLATTER YOUR WINDOWS Shape
Plantation shutter panels should complement the shape of your windows. Shutters are more flexible than other window coverings because they can be made-to-measure so they can be fitted to any shaped window (even circular or arched spaces).
Shutters work especially well with unusual shaped windows – as they can be folded back to reveal the window frame – while while blinds and curtains will hide part of the window.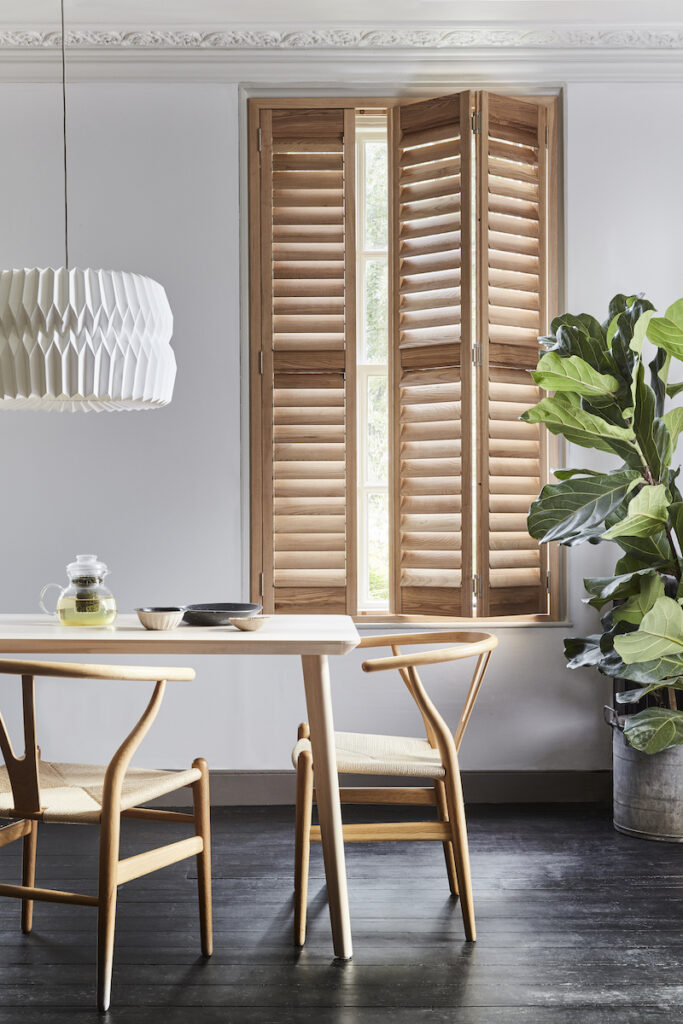 9. Consider COLOURFUL SHUTTERS
Don't feel that shutters have to be white. In fact, California Shutters have a huge range of colours. Colour shutters are a great way to add bold colour to your home – and make a strong style statement.
Faux Wood – comes in 2 paint colours called Snow White or Silk White
Pure Hardwood – offered in 12 neutral and versatile paint colours from Vivid White to Moss Green and Black Grey. Plus 11 wood stains including Natural and Walnut. And there are 4 limewash colours like White Grained and Bark.
Affordable Hybrawood – choose from 12 neutral colours.
Waterproof PVC – choice of 3 paint colours called Vivid White, Traffic White and Cream.
Colourful plantation shutters are a fabulous alternative to a feature wall in a room, and they create a focal point in your space. You can match them to your room's colour scheme – or create a contrast with a different tone.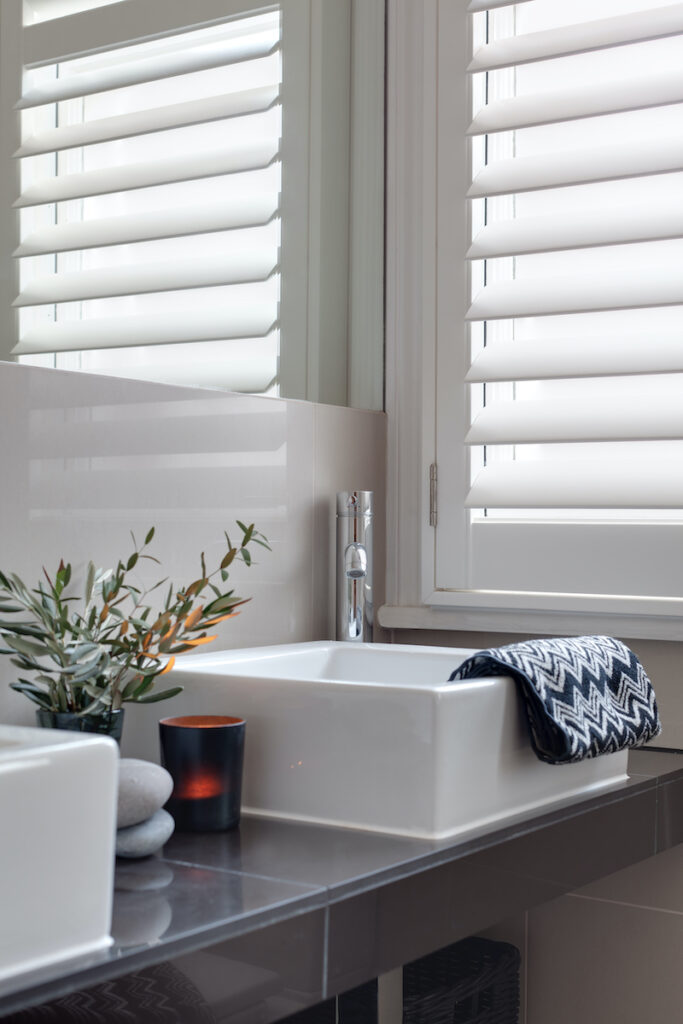 9 Expert Tips For Choosing The Right Window Shutters
I hope you have found these 9 expert tips helpful and will make choosing window shutters for your home an easy choice. Don't forget to check out California Shutters for your windows.
Love to know your thoughts – please let me know in the comments below.