Discover Brighton's best brunch spots.
Brighton and Hove's food scene is up there with some of the best in the country! From experimental spots championing small plates and local suppliers, to pubs serving bottomless brunches, here is my pick of the best places to visit.
I share more home decor ideas & advice on my instagram (35K followers) so make sure to follow me!
Insider's guide To The Best Brunch Spots In Brighton
I've lived in Brighton for twenty years. As a local, one of my fave things to do is go and have brunch with my mates at the weekend. Today, I want to share with you my favourite places to book if you're planning a trip to the Sussex seaside.
I've picked places that have beautiful interiors, great food and cool vibes. Make sure you save this post.
One of my top tips to visit if you have never been to Brighton before. Tucked away in deepest Hove, this spot is set in a Regency building with a little garden out the back. The place has a pastel colour scheme which attracts the instagram crowd for their photo-friendly back drops. It's like a Wes Anderson film set. Such good food – from pancakes, to eggs and Croque Monsieur. Yum. And as it is 2 mins from the beach, you can go for a seaside walk afterwards.
LOCAL TIP: If you can book your table ahead the day before. Lots of place have on-line booking services on their websites, or through instagram. They might not always answer the phone!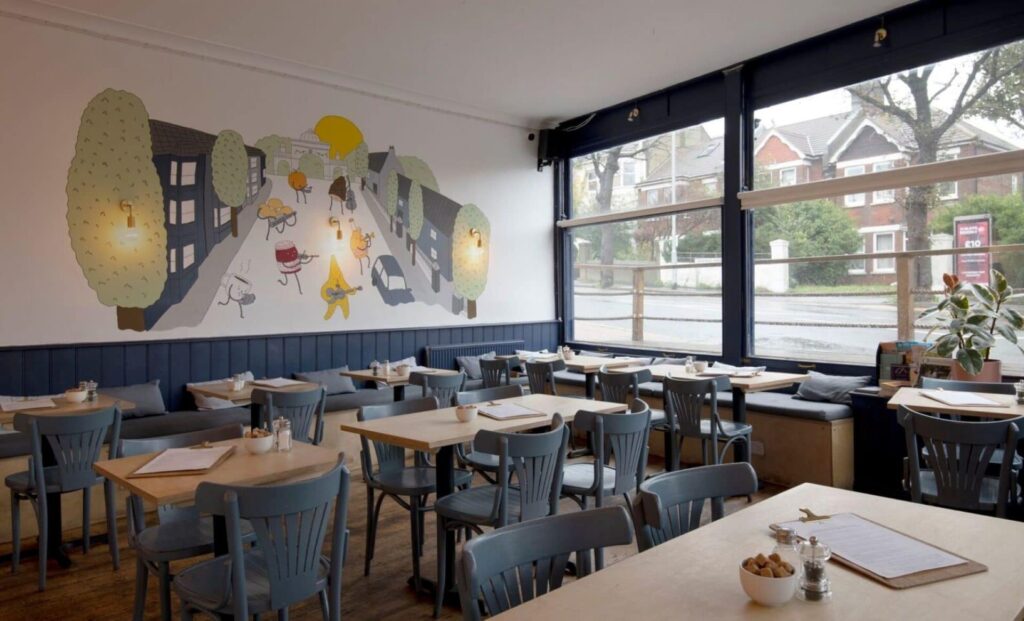 This Queen's Park cafe has secured itself a serious reputation for brunch, attracting visitors from all over Brighton and Hove. Tucked up by a large dog-friendly park, it's the perfect place to explore North Brighton. It's worth the climb the hills of Hanover for the Starfish and Coffee for the coffee alone.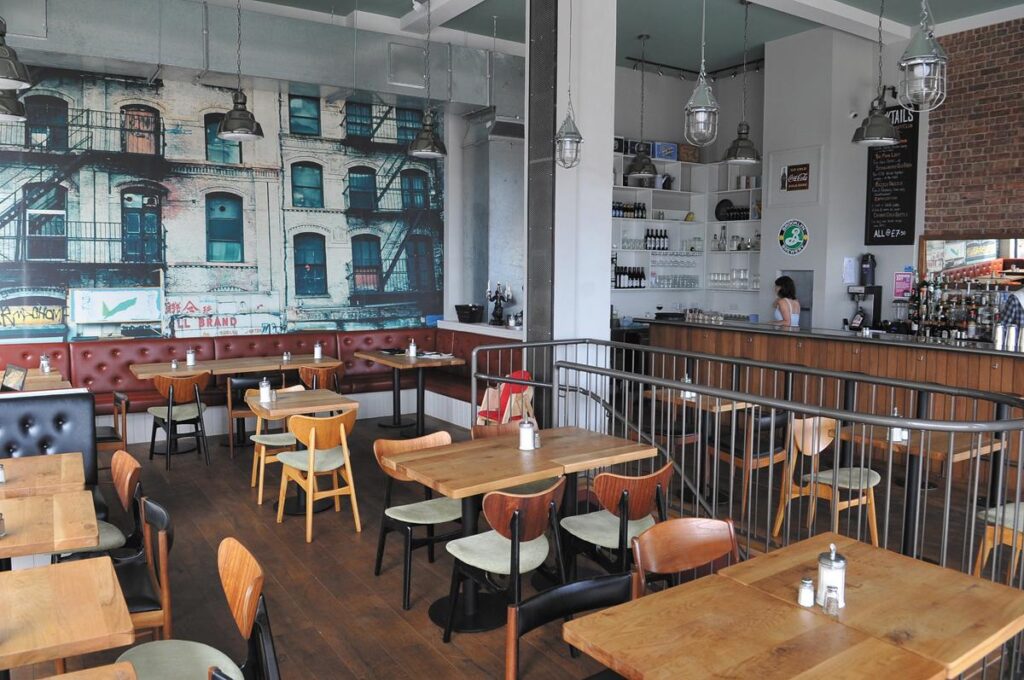 This American inspired indie coffee house and eatery mix LA style with NY edge is my go to stop for brunch. They Mexican eggs are to die for – and they made a great bloody Mary! The place overlooks the sea so it is perfect for a lazy Sunday and stroll. Only downside is it doesn't take bookings – and it gets busy. And it's not wheelchair friendly
LOCAL TIP: Always ring ahead to check opening times. In Brighton, some places do not open before 9:30am at the weekends.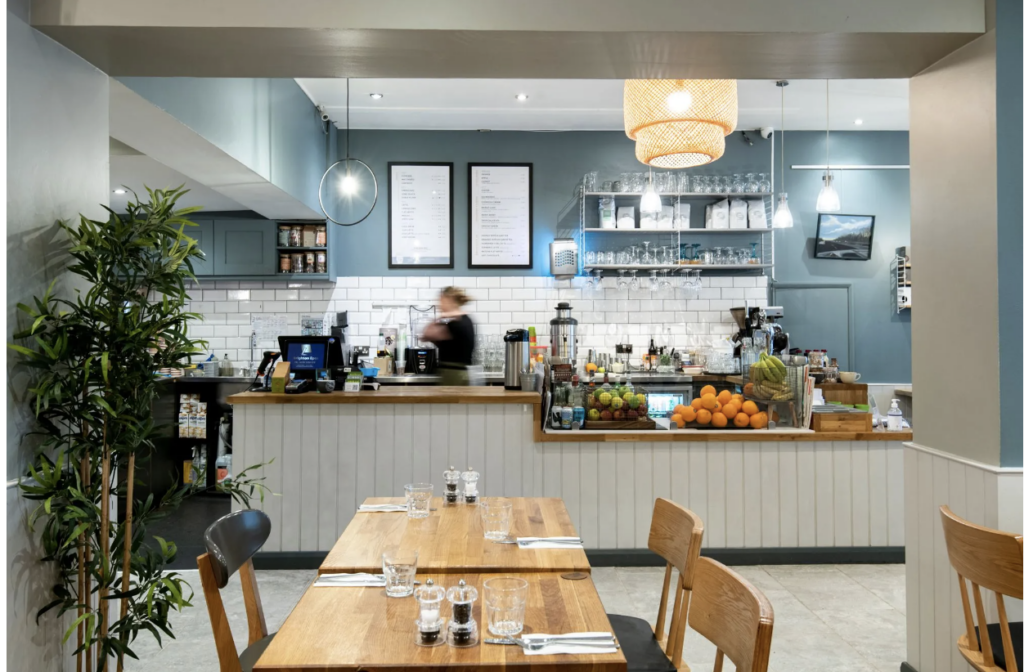 Situated in the North Laine, Moksha Caffe is a family-friendly quality cafe that boasts a money-back guarantee on their homemade hash browns. That's a bold statement!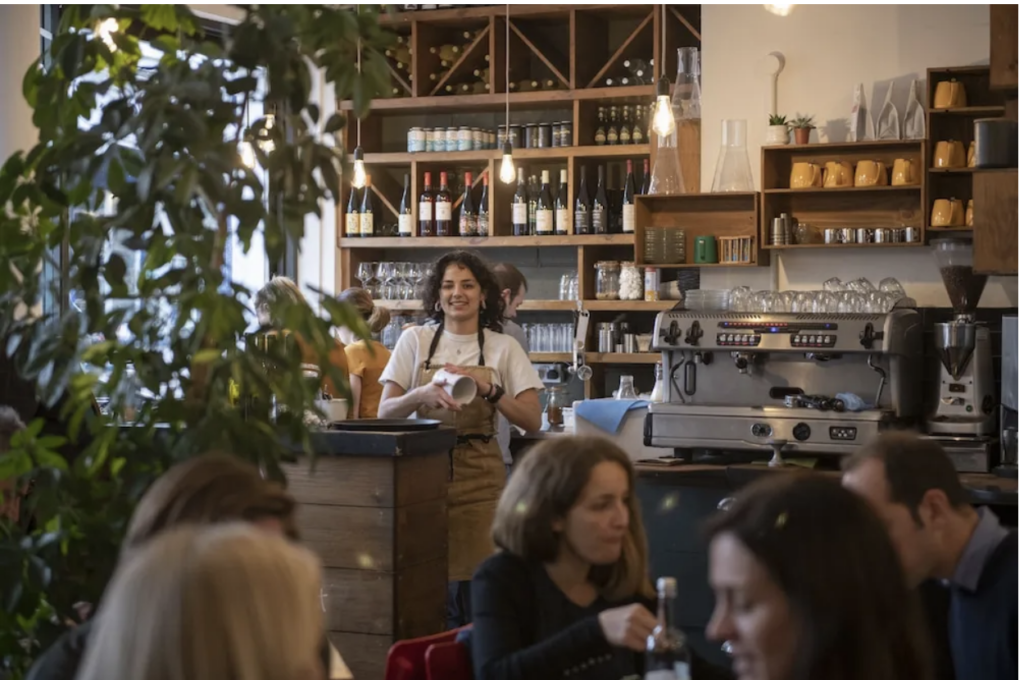 Being a few minutes walk away from Brighton train station, this place make a good stop when you arrive to visit for the day. Fill yourself up with food, and then head off to explore Brighton's antique markets and vintage clothing shops.
LOCAL TIP: Take a travel cup with you so you can take a coffee with you after brunch to go around shopping, and do your bit to cut down on plastic in Brighton.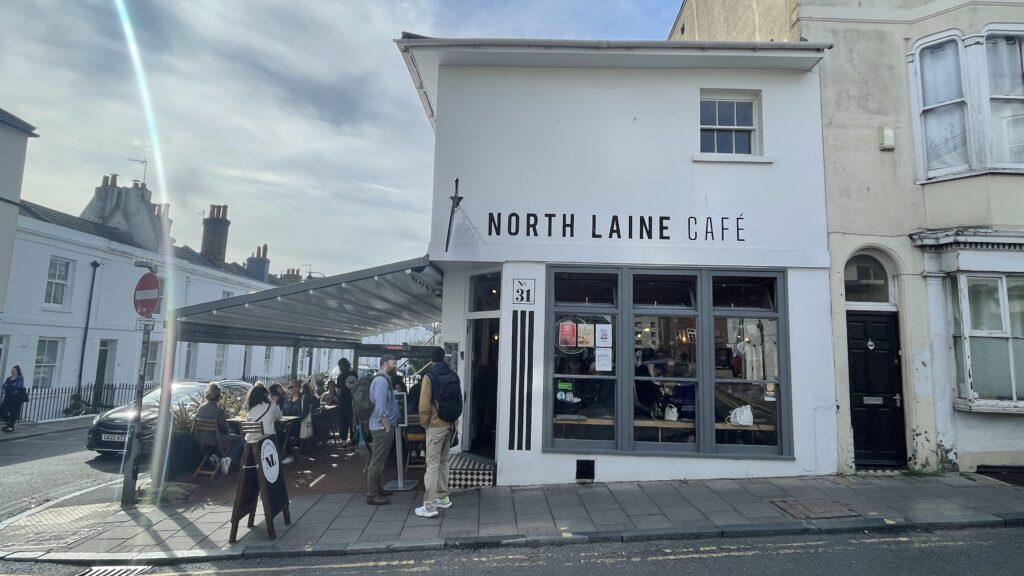 This is a cafe run by my friend Dom. He has transformed this rather rundown cafe into a the heart of the local community (and you should see the Christmas tree he puts out in December!) He loves to use locally sourced ingredients wherever possible and work closely with some of Sussex's finest food producers. Lots of vegan and vegetarian brunch options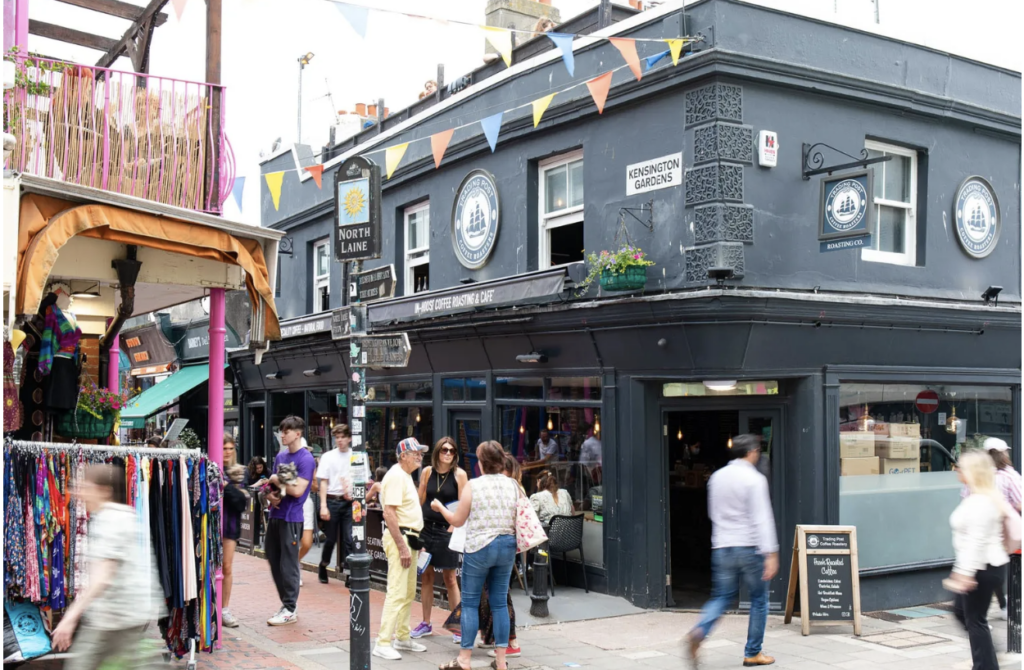 Trading Post Coffee opened in Brighton in 2017 and since then has become one of the city's go-to coffee stops. The small local chain has shops in the Lanes, North Laine and also outside of Brighton in Chichester and Lewes. Their signature coffee is hand roasted by their second-generation Italian roaster. Each cafe combines rustic charm with a thoroughly modern menu that satisfies the thriving cafe culture's demand for quality. It's also in the heart of the shopping district!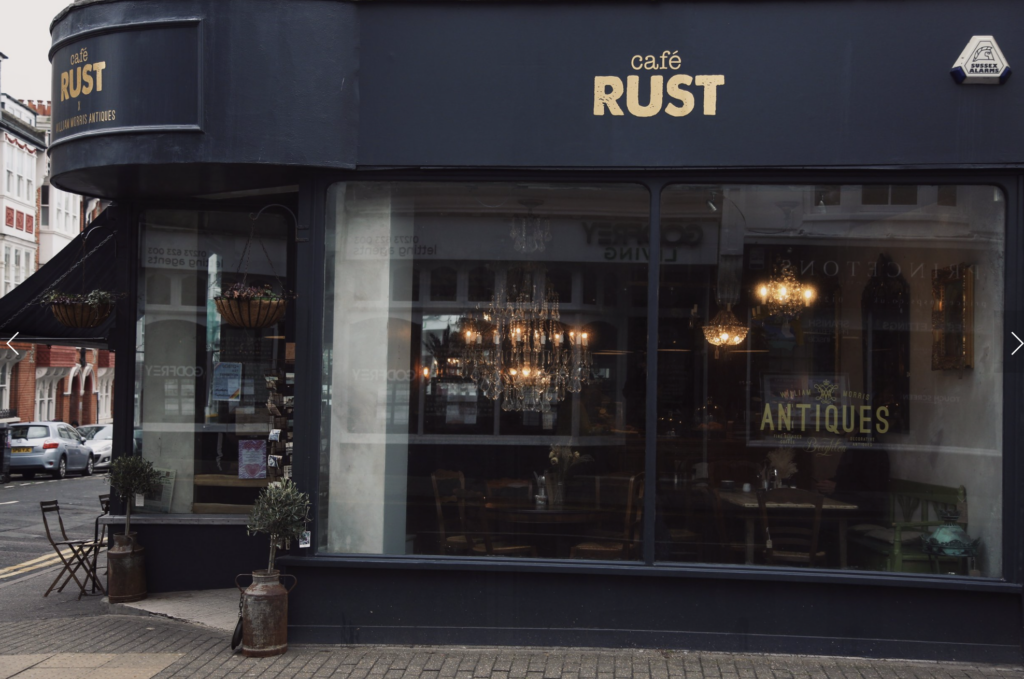 The cafes' stylish rustic interior allows you to waste entire mornings (and afternoons) in a beautiful, relaxed setting. Set in the hip area of Kemp Town, it's a hidden away spot that only locals know about. The food is such good quality – and in the Summer you can enjoy your food in their pavement tables. Oh, and they sell antiques in store too so you can shop while you eat.
READ: STREET STYLE ROCKING SUMMER STRIPES IN BRIGHTON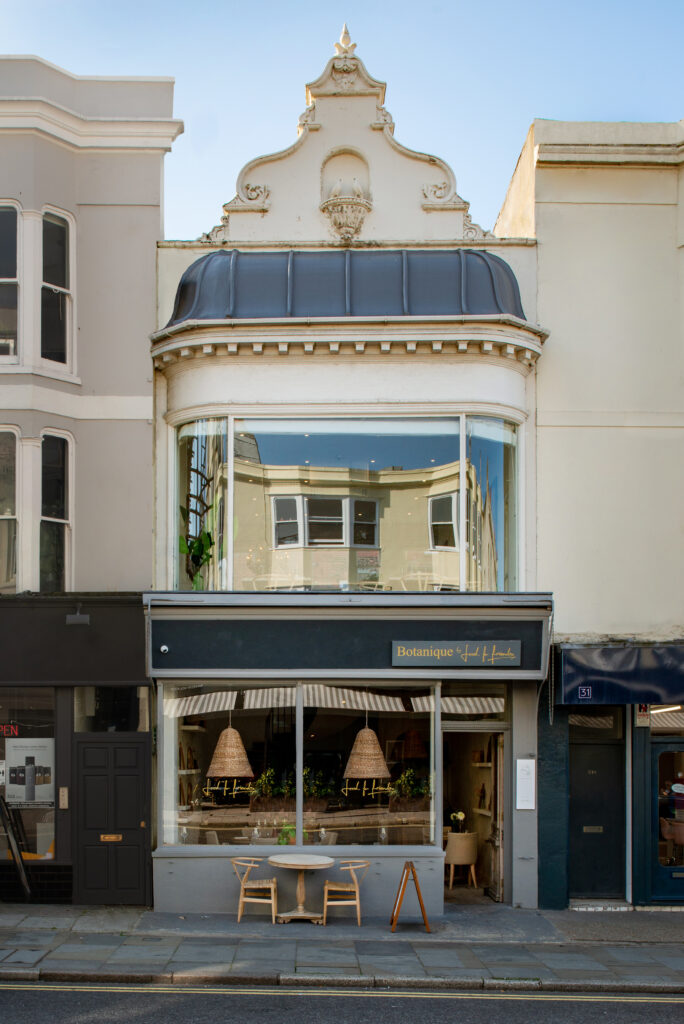 Vegan? Then you are going to love this spot. Their weekend brunch menu is just lush. Set in deepest Hove, the interior of Bontanique is laid back luxe with a rustic feel. Their menu is dictated by the harvests of the Pale Green Dot glasshouses (just outside of Brighton). Their no-dig, organic farming practices respect the biodiversity of their environment, and produce vegetables with incredible flavour. Worth checking out – just so you can name drop this to impress your friends.
LOCAL TIP: Menus can change so it's worth checking the veggie & vegan options. Nearly every coffee shop in brighton offers a variety of non-dairy milks too.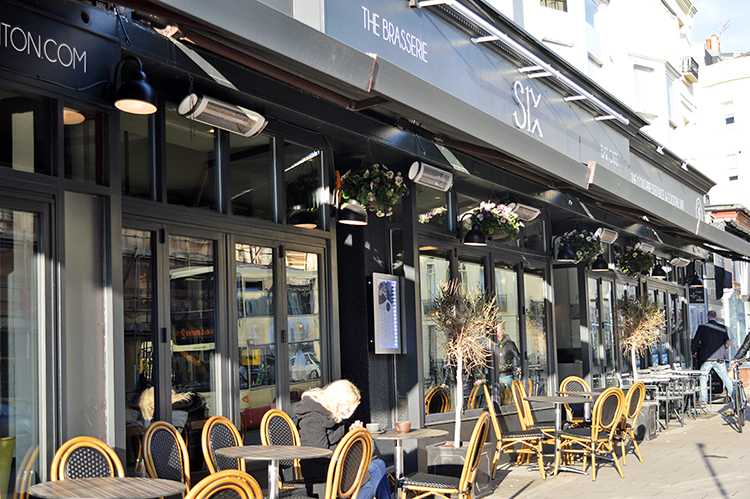 SIX prides itself on it's farm-to-table inspiration with sustainable, artisanal, and organic food whenever possible. You'll love that the menu is sourced from small and family farms. They do a banging bottomless brunch with lots of outdoor seating and a cosy interior. But make sure you book as it gets busy.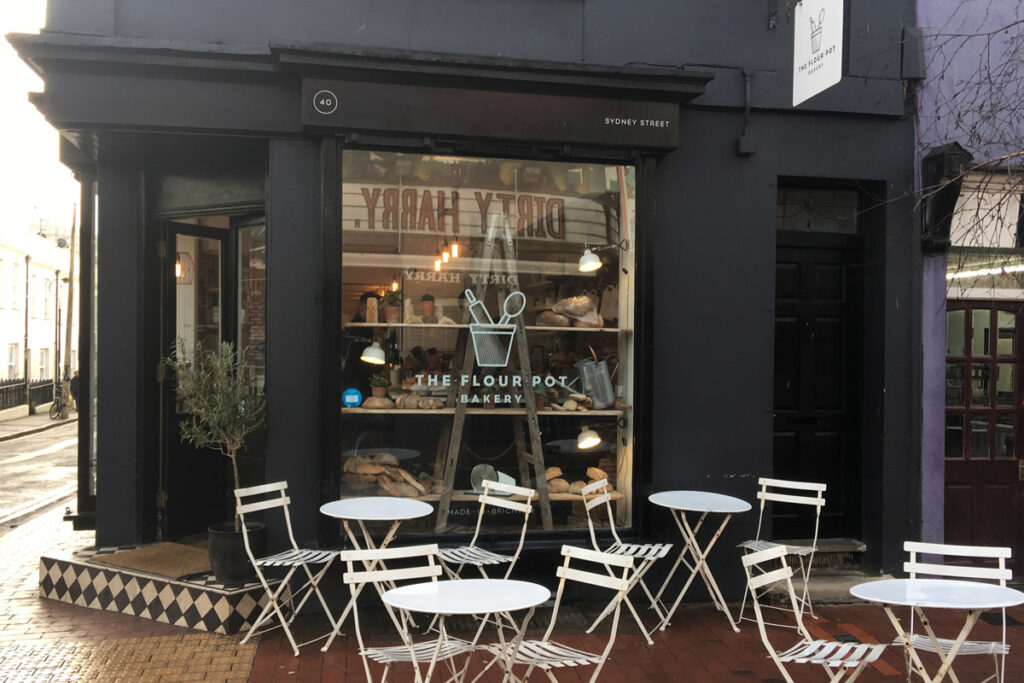 You can't come to Brighton and not try a coffee at The Flour Pot. One of Brighton's first independent coffee shops, there are now 11 spread across town. Baking all their pastries, cakes and breads in house, the food is fresh and the coffee is so so so good! My fave one is on Sydney street as there are little tables outside where you can watch the world go by. Expect more sandwiches, cakes and toasted goods but worth a stop for sure.
READ: VISIT ARTIST RESIDENCE, BRIGHTON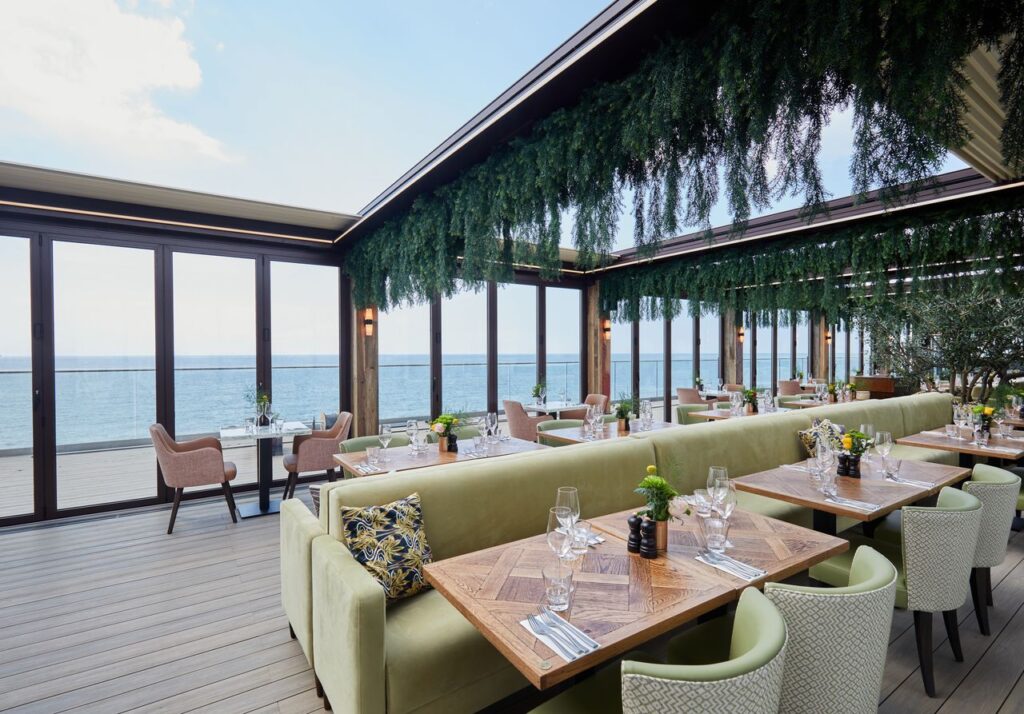 This new (ish) place smack bang on Hove seafront is a delight for interior lovers. They have a brunch area upstairs area which has a glass roof and serves kicking cocktails. Only thing is the food portions are small. And brunch stops at 12 (no one who lives in Brighton is up and out before 1pm). But if you want somewhere fancy to take your girlfriends or your mum, and wear a cute outfit and enjoy a sumptuous atmosphere with a cocktail – then this is the sweet spot.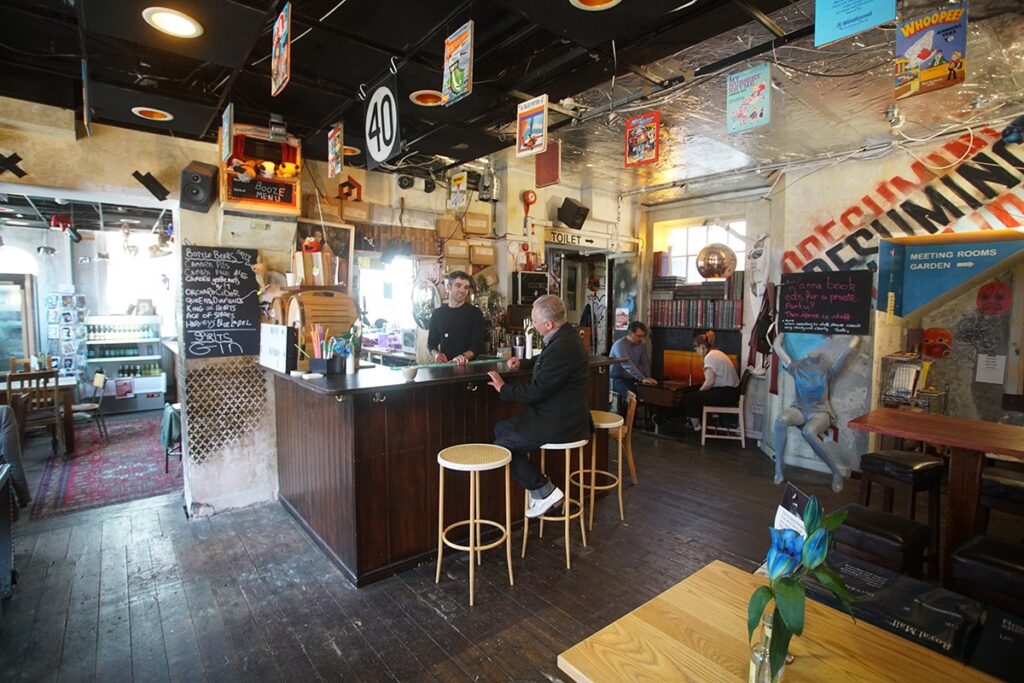 Live like a proper local by adding this hidden spot to your must-visit places in Brighton. The interior is WILD! Lookout for robots hanging from the ceiling, traffic cones, tables made from arcade games. It's a classic Brighton hangout – you'll meet all walks of life in here. They serve full english breakfasts as well as healthy options like bircher museli. This is a cool spot that will blow your mind – wear your best trainers and come with an open mind. Oh, and make sure you stop at the Open Market next door after.
My Insider's guide To The Best Brunch Spots In Brighton
Have I missed any? If so, let me know below. I've tried to go for as many local business as possible that I rate! To be fair there are 100s of amazing places to eat. If you want me to write a blog post on bars & restaurants, let me know!