The festive season is around the corner, and what better way to embrace the holiday spirit than by dressing your home with beautiful, stylish Christmas decorating ideas? Whether you prefer traditional, rustic, or contemporary styles, there are various ways you can create a warm and welcoming atmosphere in your home.
Follow me on Instagram (35K) here for more styling ideas and home decor inspiration.
5 Christmas Decorating Ideas to Spruce up Your Home Right now
As an interior stylist, I decorate about 20 Christmas trees a year for magazines and brand shoots. And it's my job to know how to bring seasonal touches into your home to make it feel stylish and new this festive season. I'm your pro in the know!
In this blog post, I'll explore five stylish Christmas decorating ideas that will transform your space into a winter wonderland. let's get into it!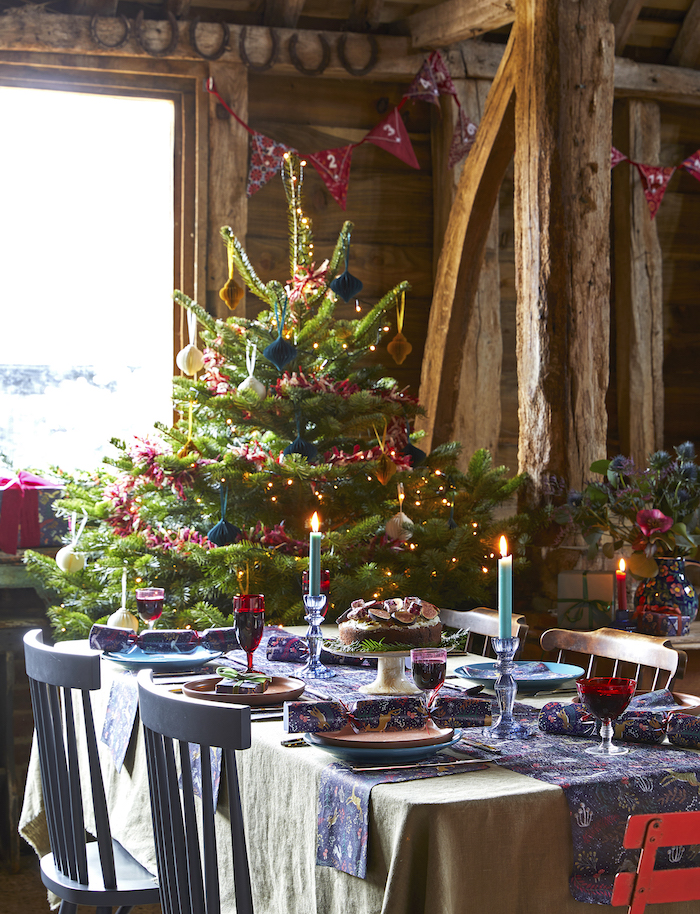 1. Classic & Elegant
Embrace the timeless beauty of a classic and elegant Christmas decor theme in your home. Start by adorning your Christmas tree with traditional ornaments in gold, silver, or red. Then hang delicate glass baubles, stylish ribbon bows, and sparkling lights for a magical effect.
Incorporate accents like ornate candleholders, silver trays, and lush velvet throws to complete the look throughout your home.
Opt for a classic wreath on your front door and add traditional, scented candles to infuse your home with holiday fragrance to complete the look.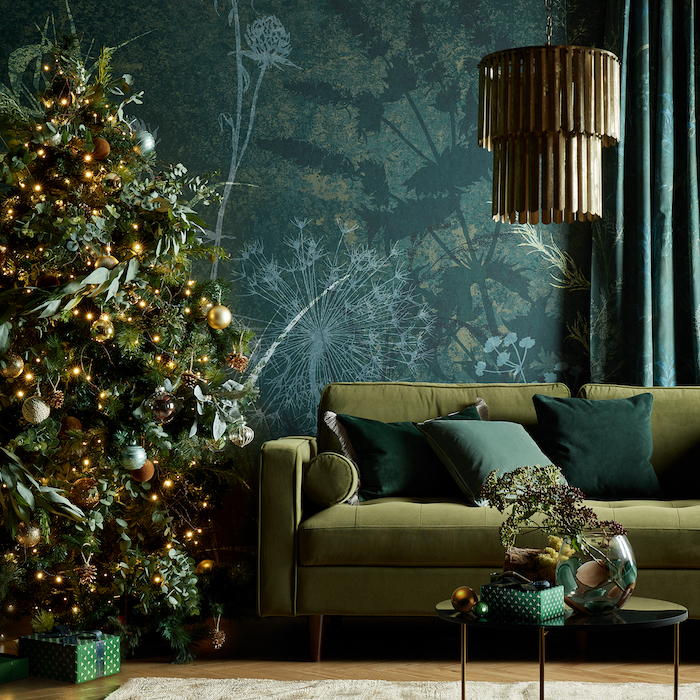 2. Rustic Charm
Create a cosy and inviting atmosphere in your home with a rustic Christmas decor theme inspired by nature. Use natural materials such as pinecones, twigs, and burlap to craft unique ornaments and wreaths.
Choose earthy colours like browns, greens, and golds for your decorations.
Enhance the rustic feel by incorporating wooden accents, such as a handmade wooden nativity scene or a vintage sled as a center piece under your tree.
In your living room, make it feel warm and cost with warm woolen blankets, and arrange clusters of candles on a wooden tray on your coffee table for a touch of warmth to your home this December.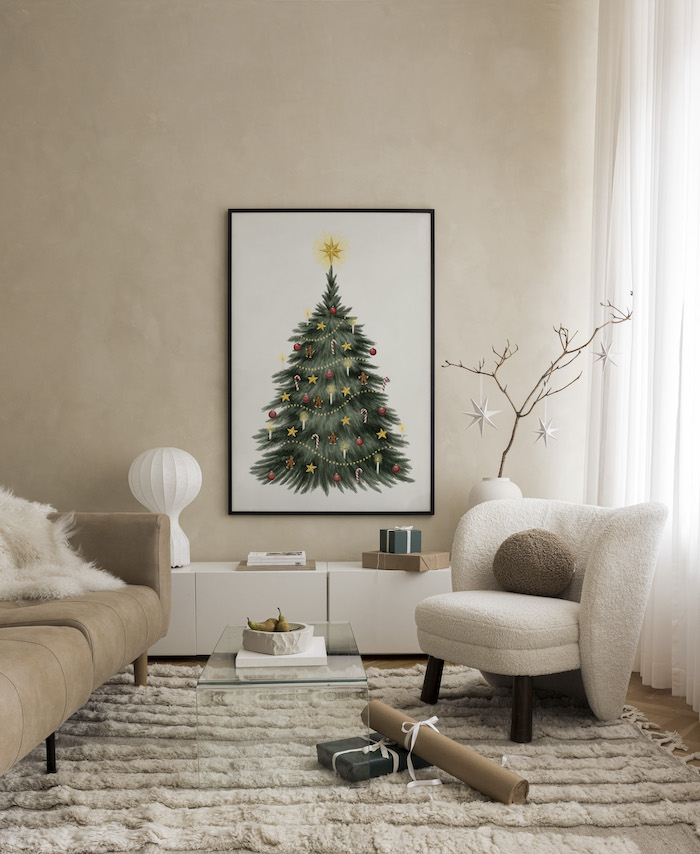 3. Scandinavian Minimalism
If you prefer a clean and minimalist aesthetic, the Scandinavian Christmas decor style is perfect for you. Keep your colour palette simple with white, grey, and hints of soft pastels.
Add Nordic touches like white fairy lights, sprigs of eucalyptus, and paper snowflakes to add subtle charm to your home. Opt for sleek, modern ornaments and minimalist Christmas trees. Add cosy touches with sheepskin rugs, textured cushions, and simple candles in glass holders.
Remember, less is more in this decorating style.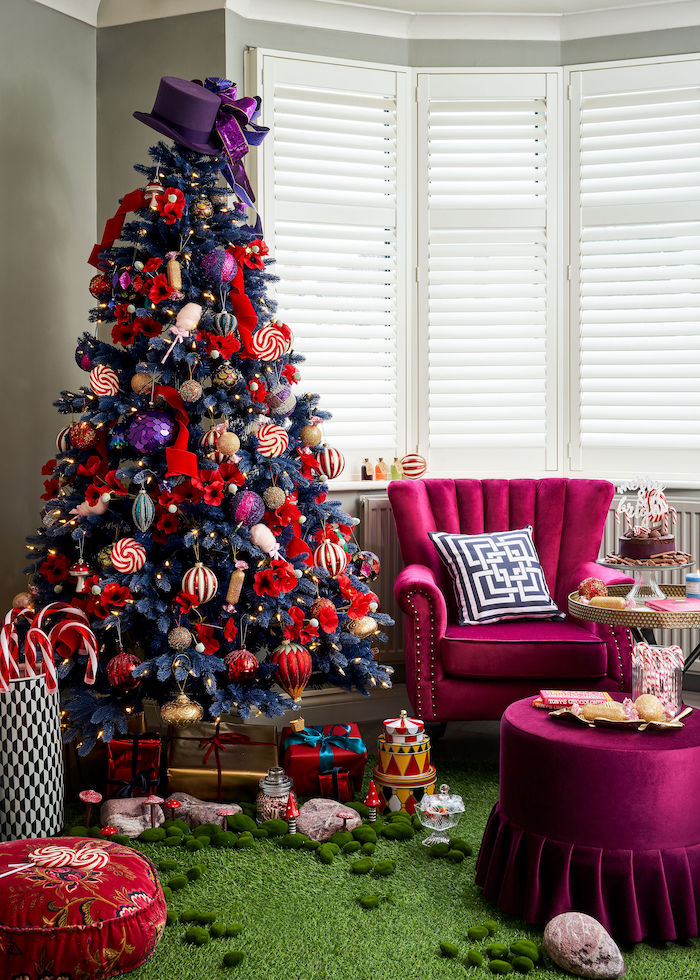 4. Whimsical Wonderland
Bring out your inner child with a whimsical Christmas decor theme. Opt for bright, vibrant tones like pink, turquoise, and lime green.
Hang child-like Christmas ornaments on your tree, and sprinkle fake snow and glitter around your home.
Incorporate playful elements such as oversized candy canes, twinkling fairy lights, and novelty figurines. Don't forget to include cheerful, whimsical stockings and quirky holiday signs.
Let your imagination run wild and embrace the joyful spirit of the season.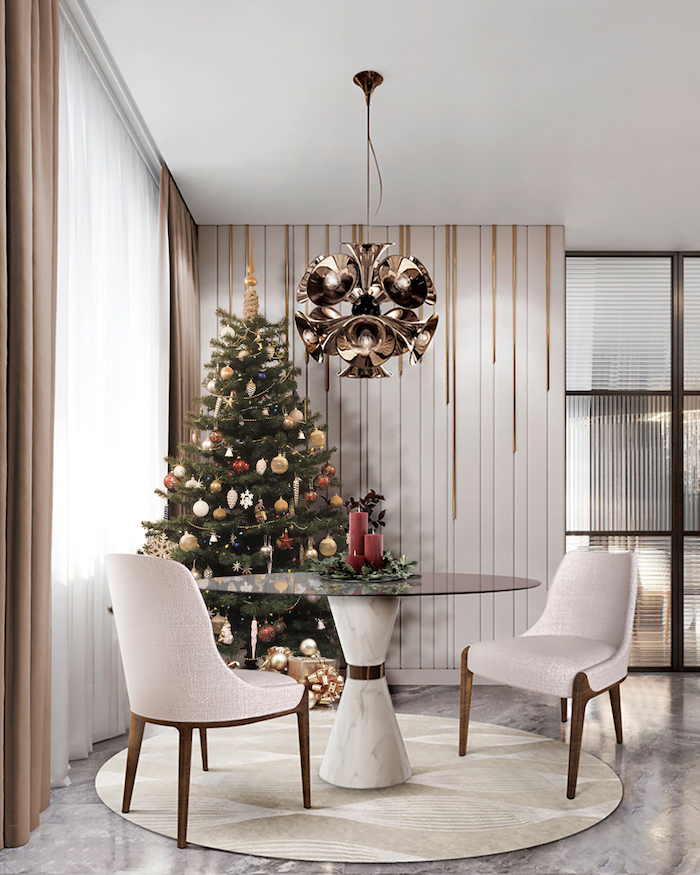 5. Modern Glam
For those who enjoy a touch of glamour, a modern Christmas decor theme is the way to go. Embrace metallics like gold, silver, and rose gold for an opulent look. Incorporate sequined ornaments and shimmery ribbon on your tree.
Lookout for sleek, mirrored surfaces and crystal accents that you can style into your home for a glamorous feel. Layer up faux fur rugs and plush velvet cushions on your sofa for added luxury when relaxing at home.
Candle holders with geometric shapes and shiny baubles will add a contemporary touch to the overall ambiance.
6 Christmas Decorating Ideas to Spruce up Your Home Right now
No matter which Christmas decorating ideas resonates with you, there are countless ways to infuse your home with festive cheer and style. From classic elegance to modern glamour, these six Christmas styles provide inspiration for creating a truly magical space this holiday season.
So, gather your ornaments, trim your tree, and let the joy of Christmas fill your home with warmth, love, and beautiful decorations.
Love Maxine
You May Also Like
DECORATE YOUR CHRISTMAS TREE WITH MY 24 EXPERT TIPS
5 TIPS ON HOW TO DECORATE YOUR WINDOWS & DOORS THIS CHRISTMAS
HOW TO DECORATE YOUR CHRISTMAS LIVING ROOM FOR £100