** Sponsored Content **
News Flash! British paint brand Sanderson has launched a brand new range of 50 paint colours in time for Autumn 2018.
I was asked to preview their paint trends last week and I was smitten. With 50 paints shades to choose from, you now have the perfect excuse to refresh your decor this Autumn.
To make things nice and simple for you, Sanderson have cleverly grouped the paint shades into five colour stories. Their style team have decorated inspirational room sets in each colourway to inspire you to pick up a paint brush.
In this post, I'm going to share these paint trends with you. If you want to look at the whole range click HERE.
Who are Sanderson?
In 1900 Arthur Sanderson introduced a small collection of paints to compliment his wallpaper and fabric collections. More than a century later, Sanderson have 154 colours in a selection of finishes that can be used through your home. Sanderson tint all of their paints in-house and make everything to order in the UK.
I've used Sanderson paints both in my home and on magazine style shoots for years. I can personally vouch for their quality finish, deep pigmented colours and long lasting style. I'm a huge fan!
To celebrate the 50 new paint colours in their collection, Sanderson have pulled together five inspirational colour stories to reflect a mood or season.
Which one will you love the most?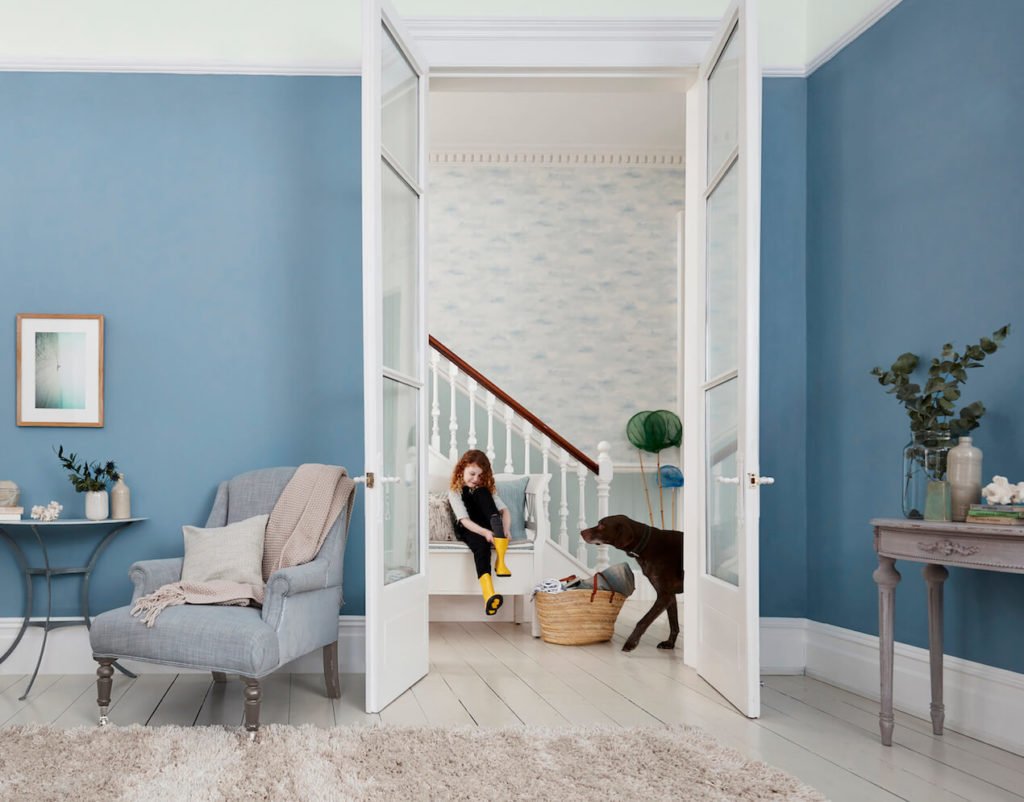 Main wall in Menai Blue. Above picture rail in Silver Frost. Woodwork in Snowy Owl.
Winter Coastal
There is nothing like wrapping up warm and taking a stroll along the beach to blow away the winter blues. Most of my weekends are spent strolling along Brighton seafront with my dog Teddy taking in the seascapes.
Sanderson first colour trend aims to capture the colours of the British coastline – with sky blues, powder whites, sandy tones – all hand-picked to bring you a tranquil pallet for a welcoming look.
Style Tip: Active emulsion is ideal for a busy family home – as it is hard-waring and washable – and it has a classic matt finish.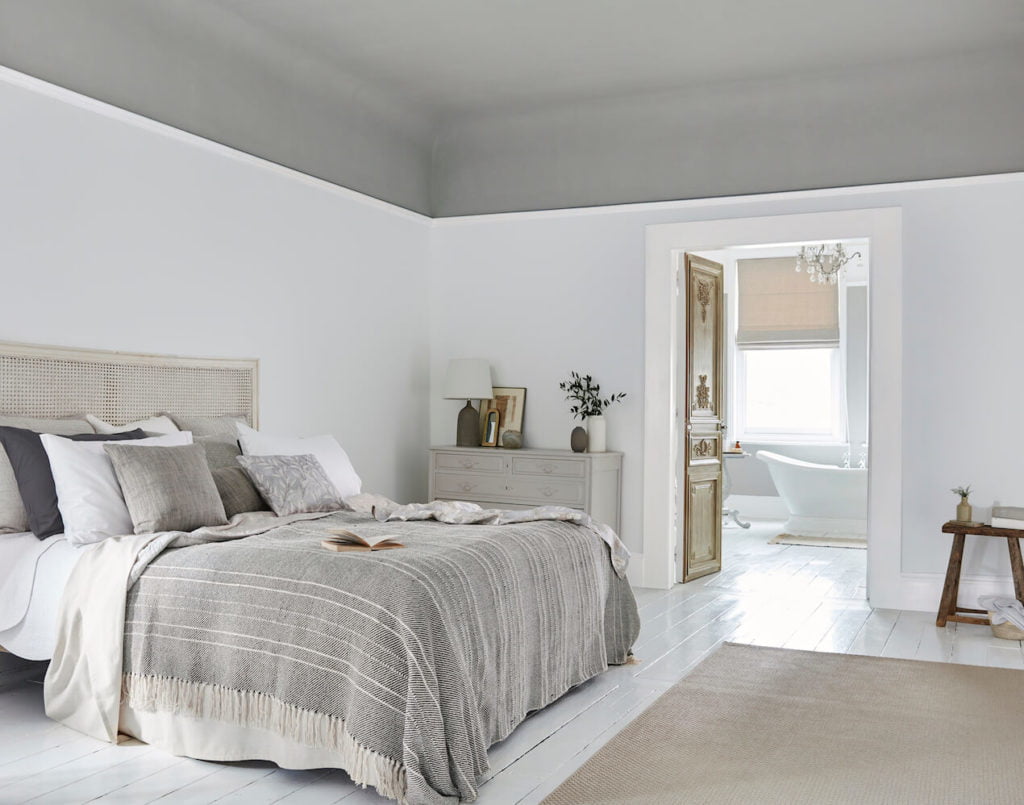 Walls in Mercury Light. Ceiling in Gull grey.
2 / Calm Moments
This look is all about relaxing with a soothing pallet of timeless neutrals so you can create your own sanctuary at home. The palest shades of grey and white are designed to blend seamlessly together.
For me, this is sophisticate look that will last for a very long time. To paint your whole home white I think you have to be solid in your home style. To revolt against the fashion for dark walls shows an innate confidence and that you know yourself inside and out.
Style Tip: Paint your ceiling in a slightly darker grey to your walls to make tall rooms feel more intimate.
Chair in Woodland Yellow.
3/ Woodland Walk
Does this time of year make you feel drawn to warm colours? Then this colour story is the one for your and your home. Inspired by the turning colours of the leaves, dappled sunlight and woodland walks – the paint shades are rich, cosy and very inviting.
Think yellows, rusty red and sage greens. I particularly love the way the Sanderson design team have mixed in patterns and prints to pull the scheme together for a country cottage feel.
Style Tip: Paint furniture in bold shades – like the mustard yellow and teal chairs seen below – for that rustic style your dining table will love.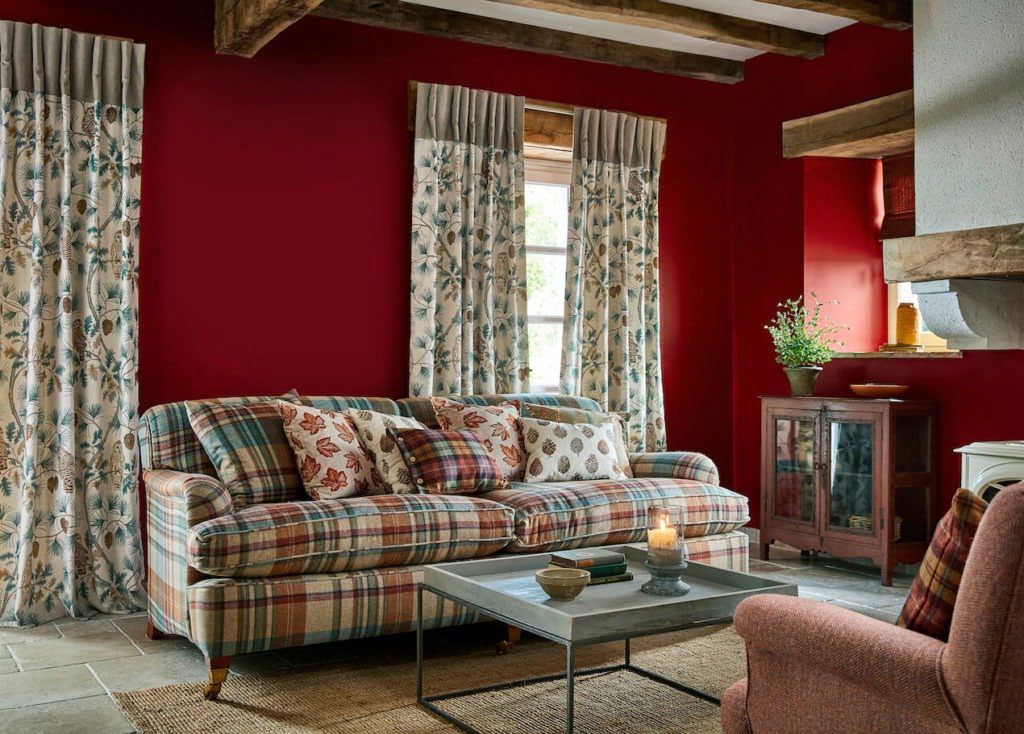 Walls in Amanpuri Read
4/ Autumn Riches
When Autumn finally arrives, our homes turn into a retreat from the cold weather. This colour story was made for cosy country living. As the temperatures drop, bring up the heat in your home with apple red walls.
This reminds me very much of the room sets I used to create when working on the style team at House Beautiful magazine. We used to create sets just like this – filled with a heady mix of wools, tartans, warm woods and, of course, a real log fire to keep you toasty at night.
Concrete coffee table adds a contemporary look to this colour story. Can't you imagine snuggling in on that sofa.
Style Tip: Don't think red walls are just for cottages. This tone will look striking in a minimal apartment if use on all the walls AND the ceiling! Be brave!
Kitchen doors in Devon Green. Walls in White Willow.
5/ Glorious Greens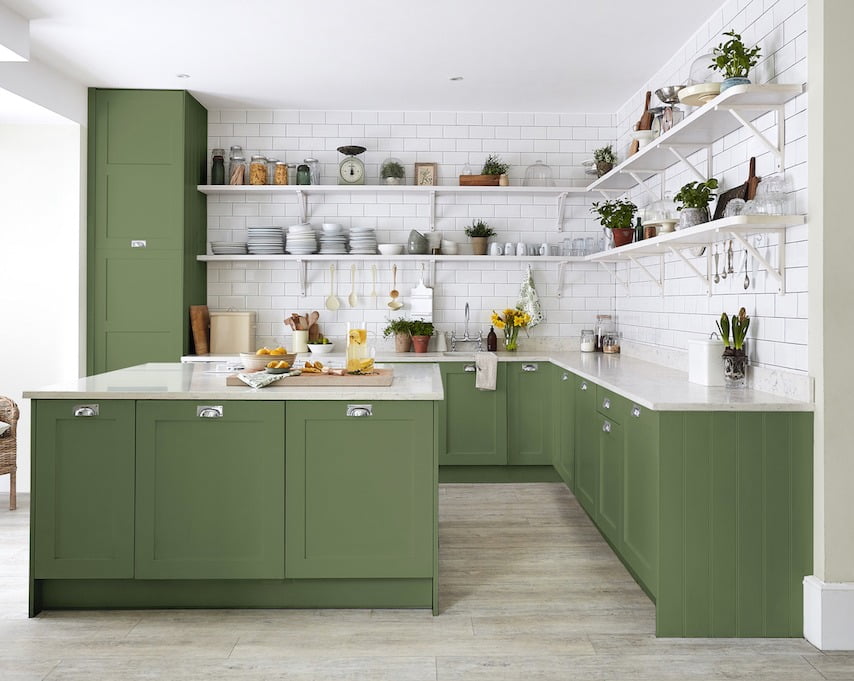 Sanderson say that in the past year they have seen an increase in popularity in greens – and they are quickly becoming their most popular paint choice. That is why they have dedicated a whole colour story to this fashionable paint shade.
Green symbolises new beginnings that is why it is a fab choice for a home office or a hallway. Or in this case, kitchen cupboards.
Style Tip: Incorporate layers of green using plants to breath life into your decorating scheme.
Have you decided which of these paint trends you love the most?
Interior stylists know that paint has this magical power to transform a space. The colour stories above have been selected to help you decide what colours and mood you want to recreate in your own home.
You could start small with a small up-cycling project, or go for it with a feature wall – don't forget to use #mysanderson on Instagram to share your ideas!
I'd love to know which colour story suits you most in the comments below. Maybe you are drawn to one – or maybe a few of them?
Paint starts at £43 for 2.5 litres of Sanderson Active Emulsion.
You May Also Like
3 Rules For Picking The Perfect Paint Brush
7 Autumn Flooring Trends Your Home Needs Right Now
5 Instagram Loft Bedrooms We're Crushing On Right Now
** Sponsored content. All thoughts and opinions are my own.