** Sponsored Post **
I'm excited to share with you a new range of ethical homewares that I know you (and your home) will love. This Autumn, Traidcraft are launching 'Create' – an exciting new collection for your home, made in partnership with inspirational artisans from around the world. Every single item is fair trade – how cool is that?
In this post, I'm picking out my edited shopping highlights and sharing the story of the artisans behind each and every item.
You'll going to love all the homewares I've selected – as not only are they ethically sound, they are stylish too. I've packed this post with my pro tips so you can style your very own fair trade home.


Who Are Traidcraft?
Traidcraft are the original fair trade pioneers in the UK. They support organic farming, sustainability and transparency, having a positive impact on the lives of growers and artisans from around the world.
Founded in 1979, they were one of the first companies to sell fair trade tea, coffee and sugar to the UK. In 1992, they co-founded the Fairtrade Foundation and soon after launched an online shop – expanding their range of homewares to include bedding and soft textiles, candles and holders, kitchen and dining, fashion and accessories.
Take a look at their fair trade homeware HERE

Style Your Very Own Fair Trade Home
My first introduction to Traidcraft was from their shop in the middle of Brighton. It was a mix of vintage finds, cards, small gifts and candles. It was the perfect place to shop for something a bit different for my home, or for little gifts for friends and family. I'm excited to see how much they have grown since then, and how many more artisans they help and support.
Here's is my list with my tips on how to style your own fair trade home with one (or two things) that catch your eye from my edited selection…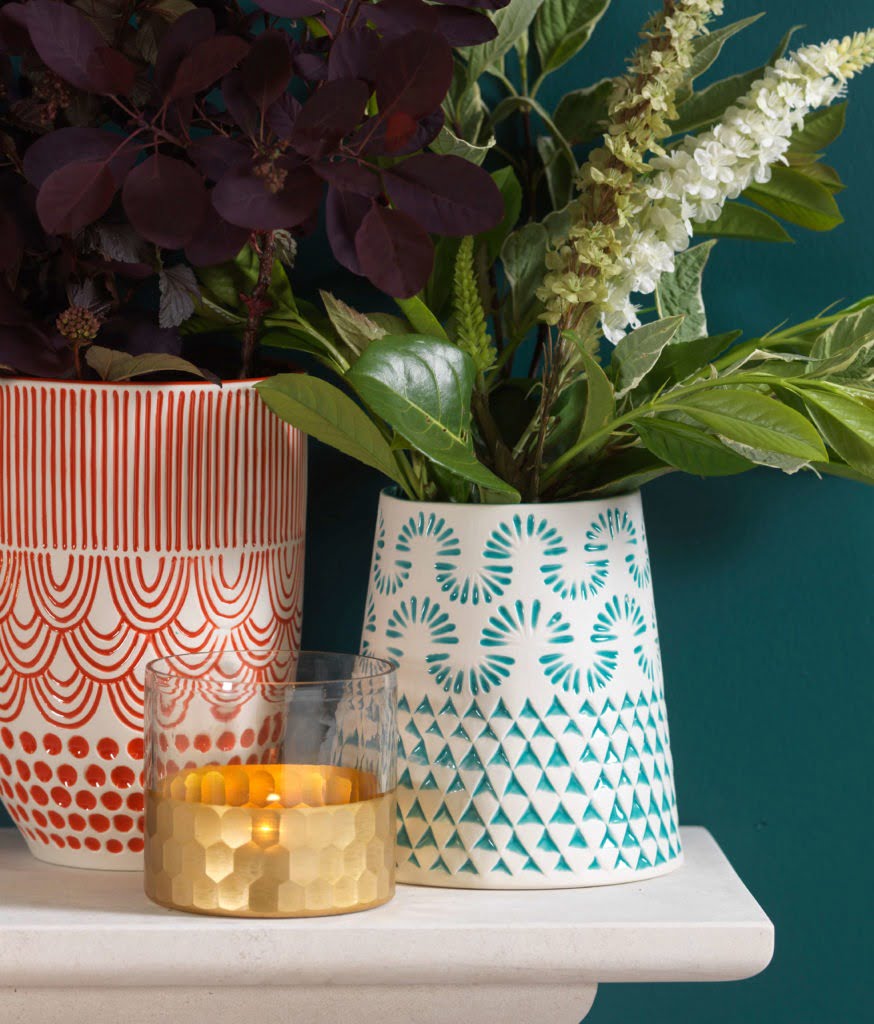 Carnival Vase, £30 and Talay Green Etched Vase, £22
The patterns on these bright orange and sea-green vases catch the eye. They will look fab filled with flowers or branches or grouped together on a shelf or mantlepiece adding colour to your room scheme.
Made by…
Sang Arun are small and unique family business in Lampang, Northwest Thailand. This area is well-known for its history of hand crafted ceramics. I've been to this area on my travels and they really do make the best china designs.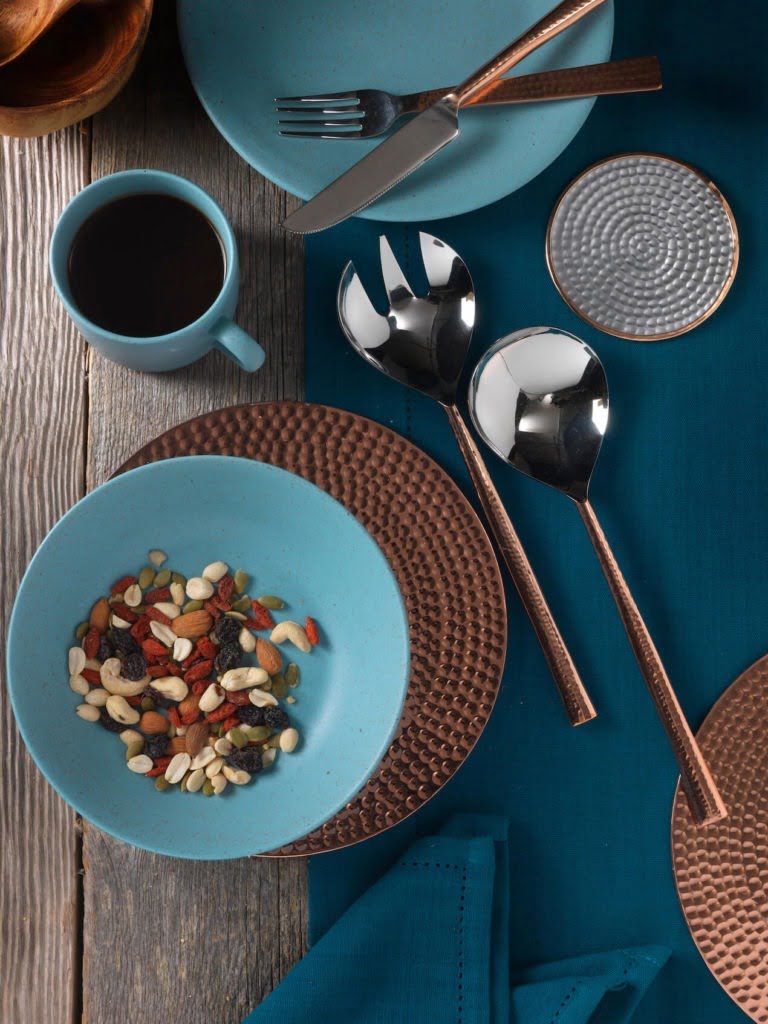 Copper Handles Serving Spoons, £25
Will we ever get board of copper? I doubt it very much. These handcrafted kitchen utensils are made from the shiniest stainless steel with plated copper handles.
I think you'll love the hand-hammered detail which gives them a rustic, tactile finish. These salad spoons (and the matching copper chargers) look fab on your table top under candlelight. Perfect for a glamourous meal time with friends.
Made by…
Noah's Ark has been supporting and empowering talented artisans in India since the year 2000. They work with paper crafters, wood carvers, metal workers and painters.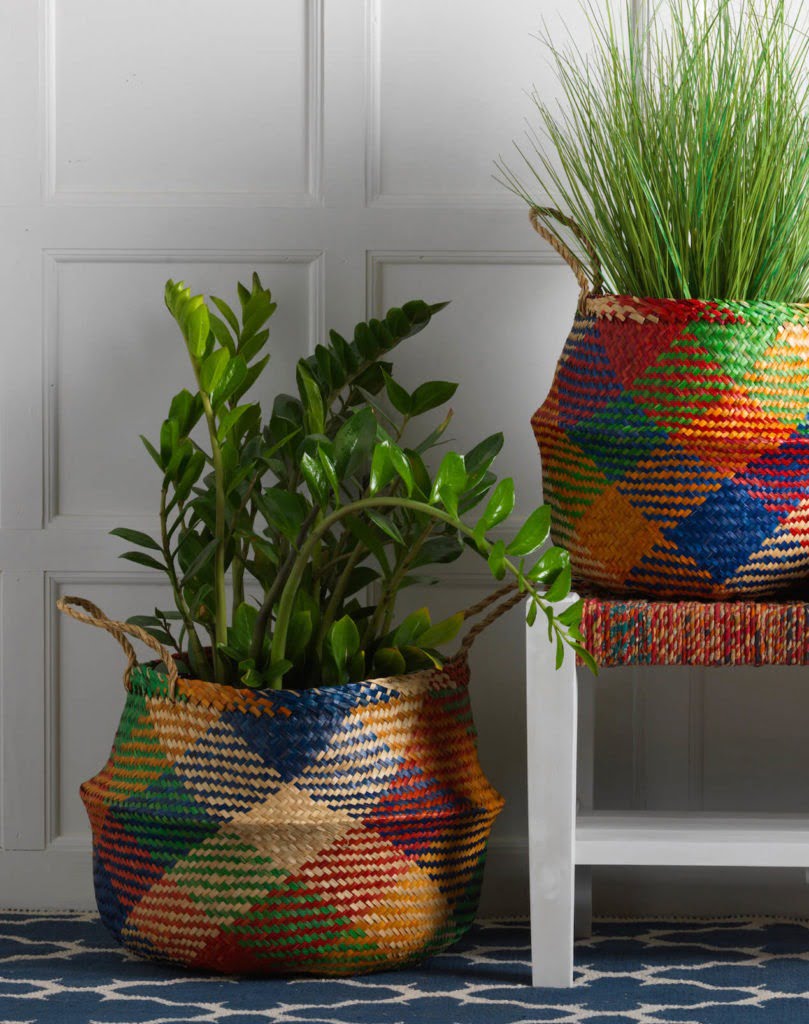 Woven Rice Basket, from £18 each
Every house should have at least one basket! They are the most multipurpose storage item in your home. These colourful ones are made from woven seagrass and can be used for laundry, toy storage, plants or for food shopping.
And it collapses flat for the rare moments you don't need it.
I have lots of these baskets dotted around my home filled with either laundry or plants. I love moving them around, making it easy to switch up the look of each room.
Made by…
These baskets are used to carry rice from field to the market. These ones have been hand-woven by artisans in Vietnam from sea grass. The fibre is sustainably harvested, then is flattened by hand, before being dyed and woven by hand-weavers in a community centre and in their homes.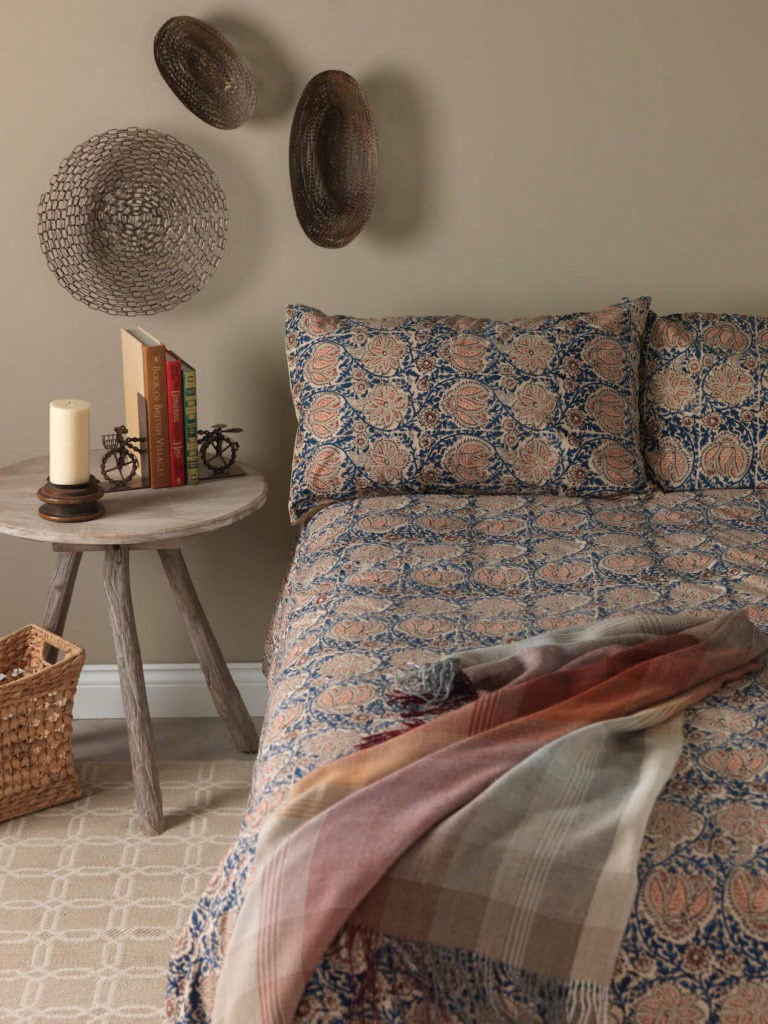 Indian Garden Duvet Cover, £79
I dare you to zoom in to see the layers of detail in this handmade duvet cover. Expert block printers in India print each layer in shades of rust red and indigo blue by hand onto luxurious 100% cotton. The duvet covers are finished with eco-friendly coconut shell buttons. It's like an original piece of art.
The rusty colours are perfect for giving your bedroom a warm, cosy look as we head into Autumn.
Each cover is unique with its own tonal variations due to the block printing process and the weather the day the sheets are dried under the Rajasthan sun.
Made by…
Did you know the traditional process of hand block printing on textiles has been practiced in Rajasthan for around 500 years? Set up in 1979 in Rajasthan, India – Aravali aim is to make sure that inherited craft techniques aren't forgotten.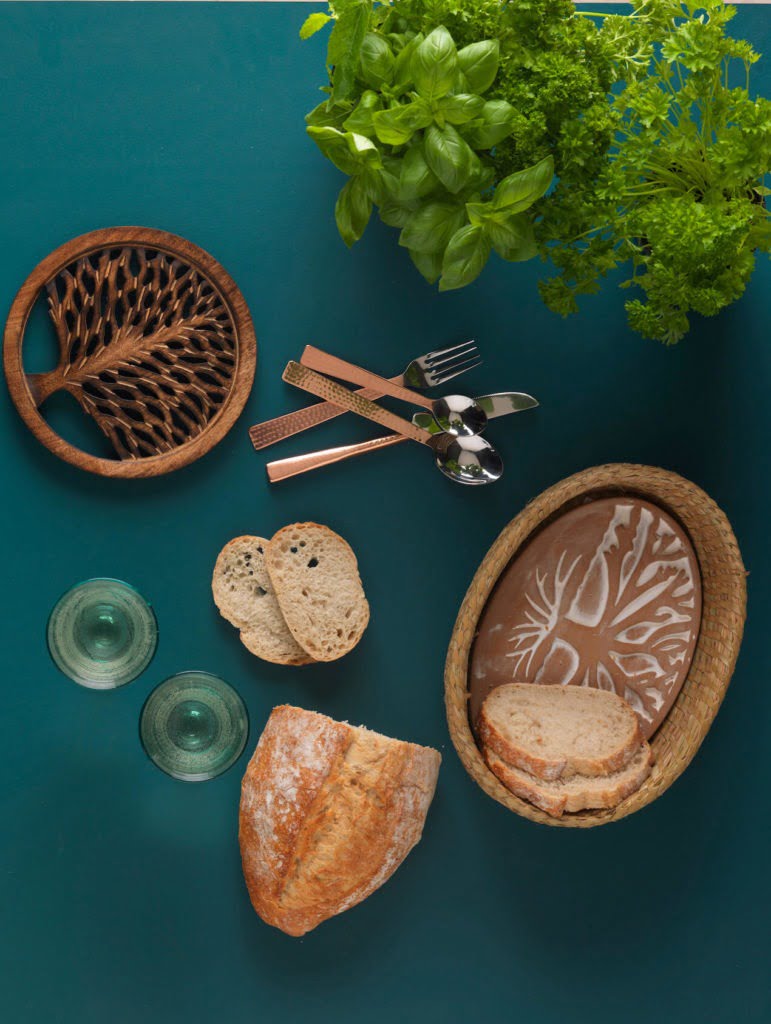 Tree Of Life Bread Warmer, £15
This terracotta plate is naturally insulating and has the ability to conduct heat slowly. Pop the disc in the oven for a few moments to heat up, then return it to the bastet. Rest your freshly baked bread, scones, muffins… on top and it'll keep them toasty warm.
The basket itself has been hand woven from locally sourced and sustainably grown hogla grass, found by river banks in Bangladesh.
Being a hippy at heart, I love the 'Tree Of Life' embossed logo. These would make the perfect addition to outdoor dining. I've got these in my online shopping basket (yay!)
Made by…
Hundreds of families in Bangladesh rely on jute for a steady income. That is why Jute Works (set up in 1973) aim to provide women weavers with the training and skills needed to make locally-grown jute products in the safety and comfort of their own homes.
What do you think? Have you enjoyed my fair trade shopping round up?
I love that the emphasis that Traidcraft puts on handcrafted goods, that are made to last and to be treasured for a lifetime.
I hope you feel inspired to check out their website when looking for new items for your home. Or for a lovely gift for someone special.
Have a great week.
Maxine
You May Also Like
Shopping For Modern Lighting with Vita Copenhagen
Shopping Guide To Brighton – Visit Art Shop Unlimited
10 Tips To Buying Vintage Clothing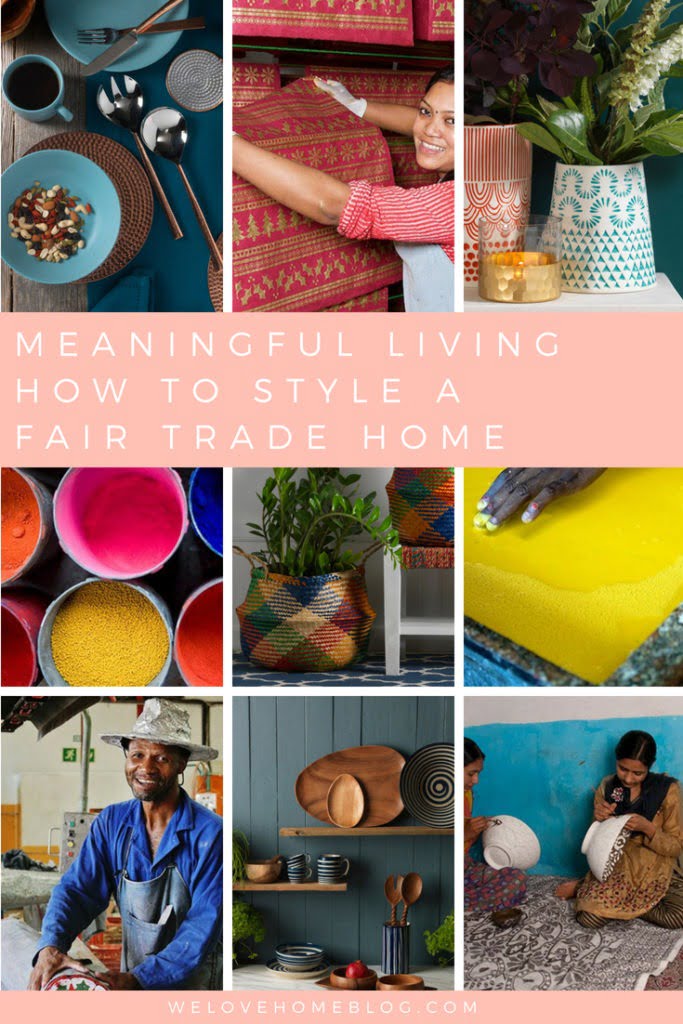 ** This is a sponsored post. All images are credited. Thoughts and words all my own.