If you're thinking of buying a corner sofa but are unsure which style, size or fabric to choose then keep on reading!
In collaboration with sofa experts – Darlings Of Chelsea – I've put together my top buyer's guide to corner sofas. It's filled with advice, inspiration and tips to help you buy the perfect corner sofa for your home.
**Sponsored Post with Darlings of Chelsea**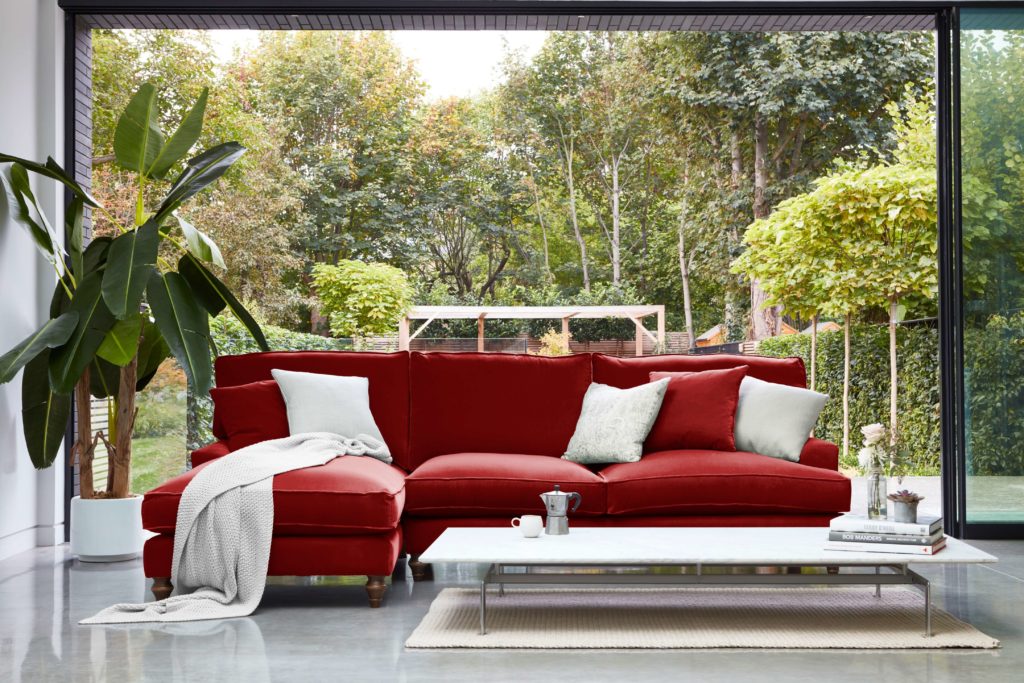 TOP 5 TIPS TO BUYING A CORNER SOFA
1. MEASURE YOUR SPACE
Corner sofas are a brilliant invention for busy homes. Why? Because they allow you to stretch out, they can zone an open plan space and they can squeeze on lots of people (and pets) comfortably.
Your first step when buying a corner sofa will be to measure how much space you have available in the room that you'd like your corner sofa to go.
Start by measuring the length of the area – including along both walls especially if placing your sofa in the corner of your room. Remember to leave room for side tables or standing lamps either side. Then measure the depth of the space taking into account any rugs or tables that will sit in front of the sofa. Then, finally the height of the space, paying attention to any radiators or shelving.
If you're looking for lots of corner sofas options for your home, then check out Sofa Club who have a huge range of corner sofas.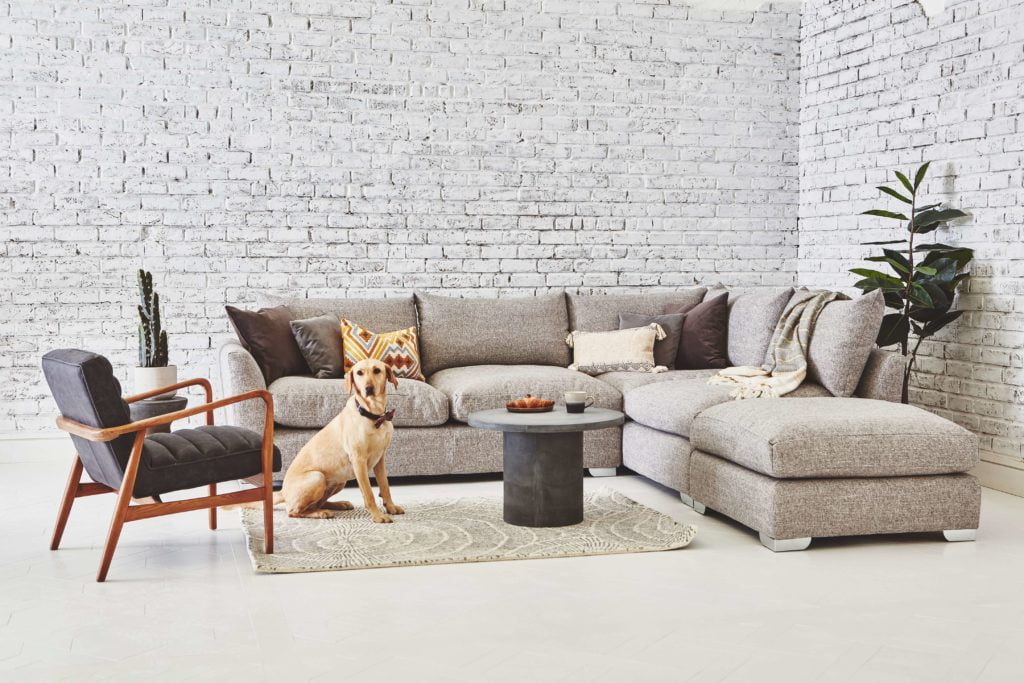 TIP: Mark out the dimensions of your new sofa on the floor using masking tape to see if it fits. I did that in my spare bedroom which you can see HERE.
Worried about getting your new corner sofa into your home? Then Darlings Of Chelsea offer a dummy delivery using a display model!
Once you know the size of your room, you can start shopping for your sofa.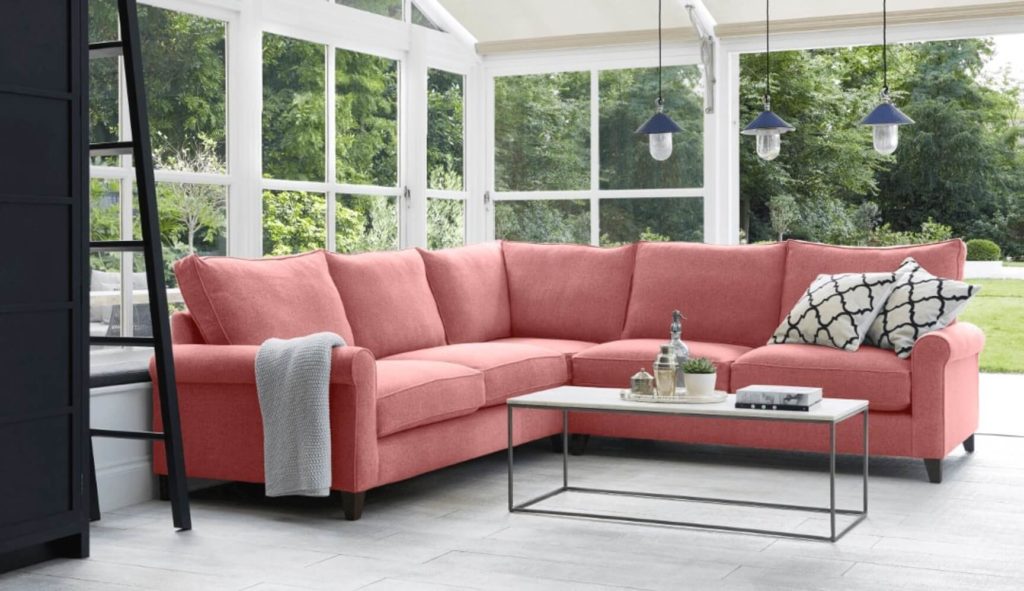 2. PICK YOUR STYLE
There are lots of different corner sofa styles to suit every home. Let's run through the designs:
Chaise Corner Sofa
If you want a compact corner sofa, then a chaise style one could be just what you're looking for. This design provides all the comforts of a corner sofa without the large footprint. Some chaise sofas contain storage compartments beneath too which is – handy storage for throw, blankets, TV remotes, toys and magazines.
Available in left hand and right hand designs, chaises sofas are so comfy when wanting veg out in front of a box set. Due to their compact designs, chaise work beautifully when styled with a footstool or accent armchair in a larger space, but look equally as stylish standing on its own as well.
Get the look: Clara Chaise Sofa
Angled Corner Sofa
If you have an awkward corner to fill, an irregular shaped room or are looking for something extra-special, then you'll want an angled sofa
An angled corner sofa offers a flexible seating which is ideal for family homes when lots of you will want to chill out in front of the TV. The idea is to design a sofa that fits perfectly into your living space. If you have a larger living space that needs to be filled or would like to get the most seating out of your smaller room then consider an angled corner sofa.
Shop the look: Emily Large Angled Corner Sofa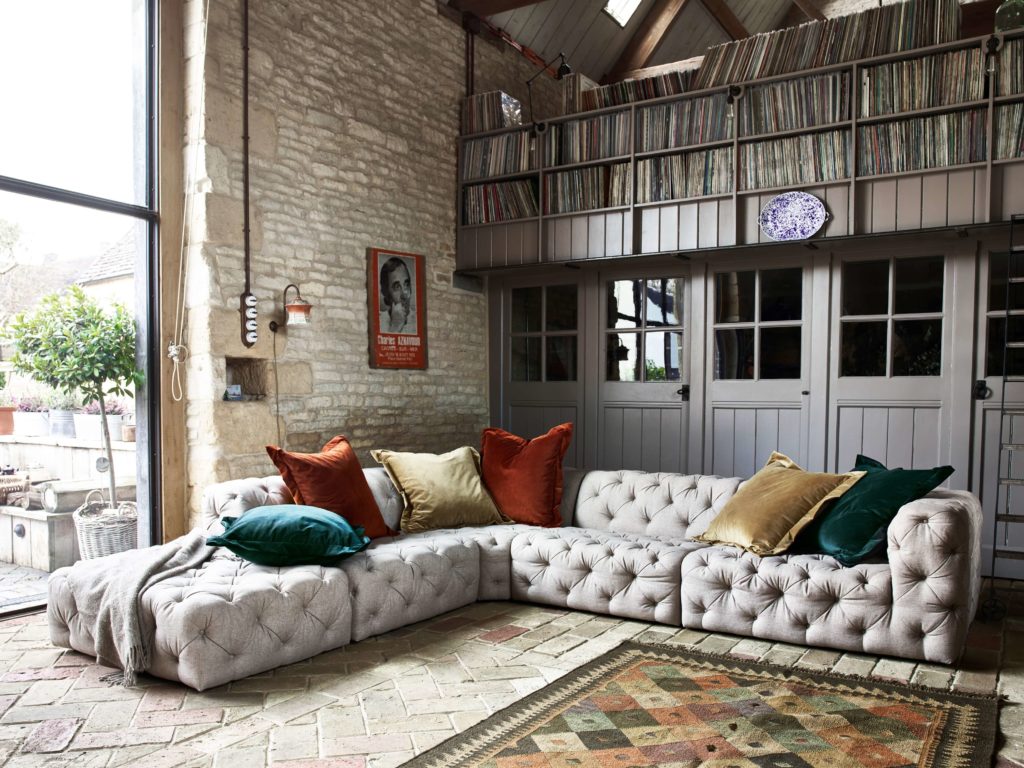 Recliner Sofa
Do you have a telly addict (or two) in your life or someone who loves gaming for hours on end? If the answer is yes, then a recliner sofa needs to be on the top of your shopping list. At the touch of a button, you can kick back and instantly relax with seats that recline backwards.
Darlings of Chelsea have designed all their recliners so that the headrest won't touch the wall when reclined. This means you can have your sofa pushed right against the wall and not worry about touching the wall or ruining your paintwork.
My parent's have one like this, and it is the most comfy place to take a quick afternoon snooze.
Shop the look: Lola
Modular Sofa
Want to design your seating from scratch? Then consider a bespoke modular corner sofa. Darlings Of Chelsea help you create whatever shaped corner sofa that you want. Modular corner sofas offer a great flexibility and make sure you maximise every inch of your living space .
Shop the look: Domus Mondrain Corner Sofa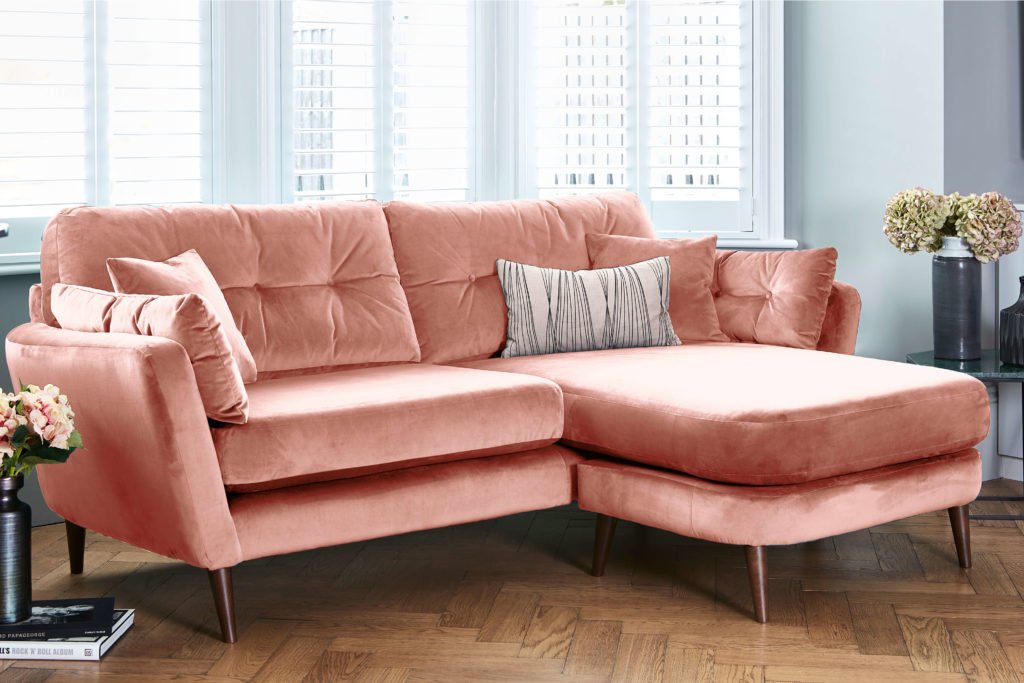 U-Shaped Sofa
Made to fill the largest rooms, a U-shaped corner sofa is great for large families, lots of pets and for generally lounging around.
The best part about these a U-shaped sofa is that they have two corners, making it everyone's favourite place to sit. And there will be arguments on who sits where.
At Darlings of Chelsea their U-shaped sofas are customisable which means you can add a sofa bed, chaise, or an electric recliner to really stretch out on.

Get the look: Alice U-Shaped Sofa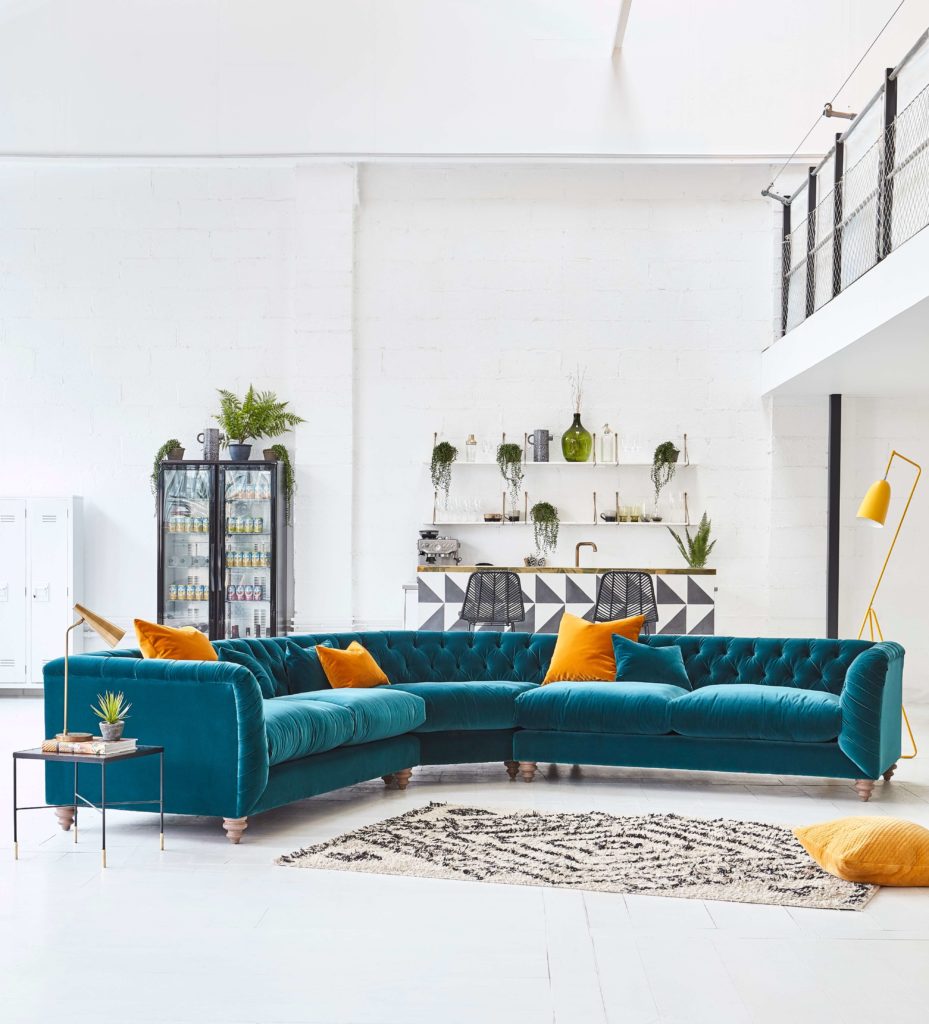 Chesterfield Sofa
If you love the classic design of a buttoned back sofa but are looking for something with more space to stretch out, then corner Chesterfield sofa might be spot on for you.
A Chesterfield corner sofa will give your space a timeless look with button back detailing, scrolling arms and legs that lift the furniture off the floor. And as they can be made in any size, they can be used to add strong design to smaller homes too.
Get the look: Barnes Sofa
If you want to look at all corner sofa styles at Darlings of Chelsea click HERE.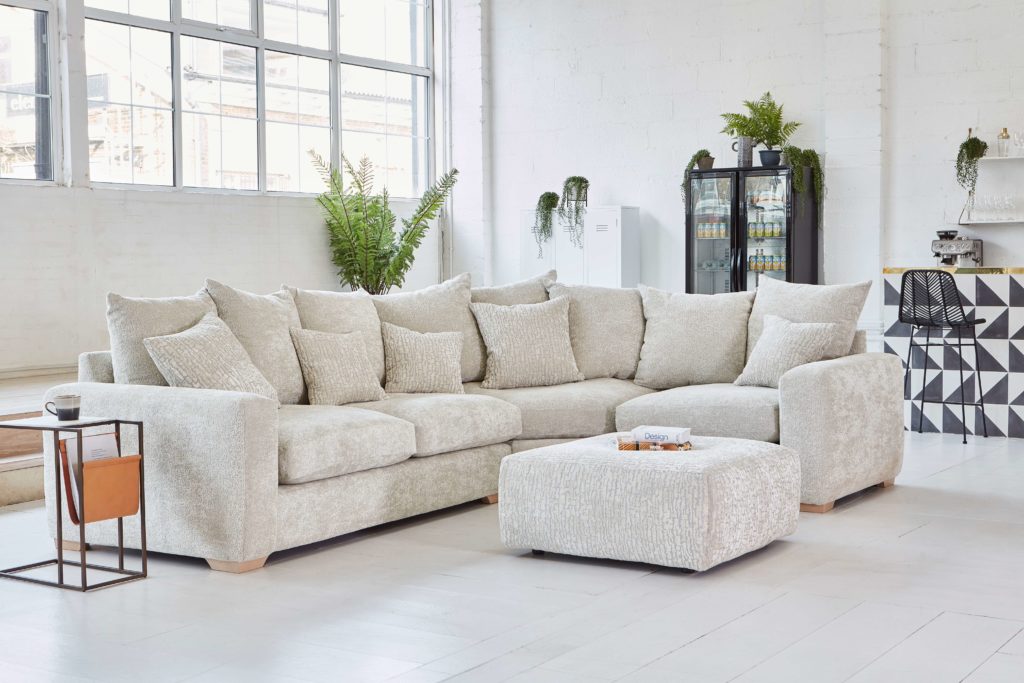 3. HAVE FUN WITH FABRICS
Now you have decided on the size and style of your corner sofa, it's time to find a beautiful fabric that will finish your design off perfectly.
From pure linen, soft wools, to sumptuous velvet and warm leathers, the fabric you choose for your corner sofa will have a huge impact to the feel of your space and the look of your room. As a key piece of furniture that will constantly have family and friends sat in, laid across and curled up on, your corner sofa will be crying out for a fabric that will wear well over time.
Look out for family friendly fabrics that are both stain resistant and offer extra durability, so your corner settee will look as good as new for years to come. Darling's of Chelsea offer a 5 year stain protections service at £50 per seat which, if you have saved up hard for your sofa, maybe a worthy extra investment to keep your sofa looking good for longer.
Tip: You can order 6 free fabric swatches with Darling Of Chelsea. Click HERE to order yours.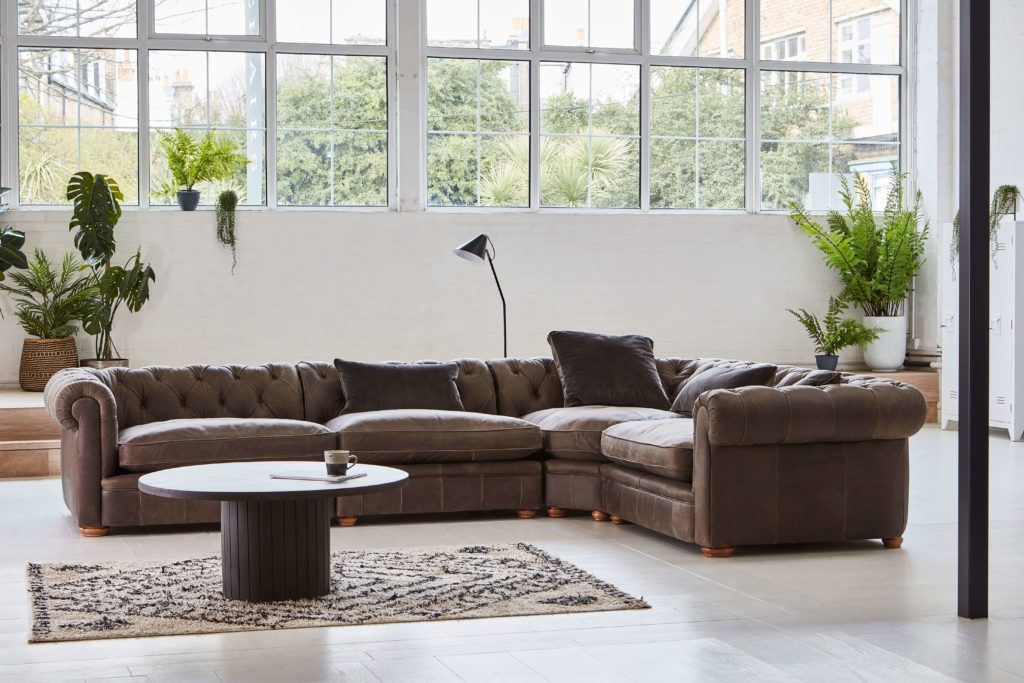 4. WHERE TO POSITION YOUR SOFA?
There's no rule to say a corner sofa needs to live in the corner! It can easily be featured in the middle of a room, in between two rooms or across a room.
Corner sofas can work great in the middle of your room or to one side. Although this depends a lot on the size and shape of your room, and works best if you have an open plan space, helping to divide a room into functional areas.
Whether it's sitting snug in a corner or making a statement in the middle of a room, corner sofas work brilliantly for large families and homes that often play host to a lot of guests, but work equally well for those individuals who love stretching out. Hands up if that is you!
Now it's time to think about the rest of the room.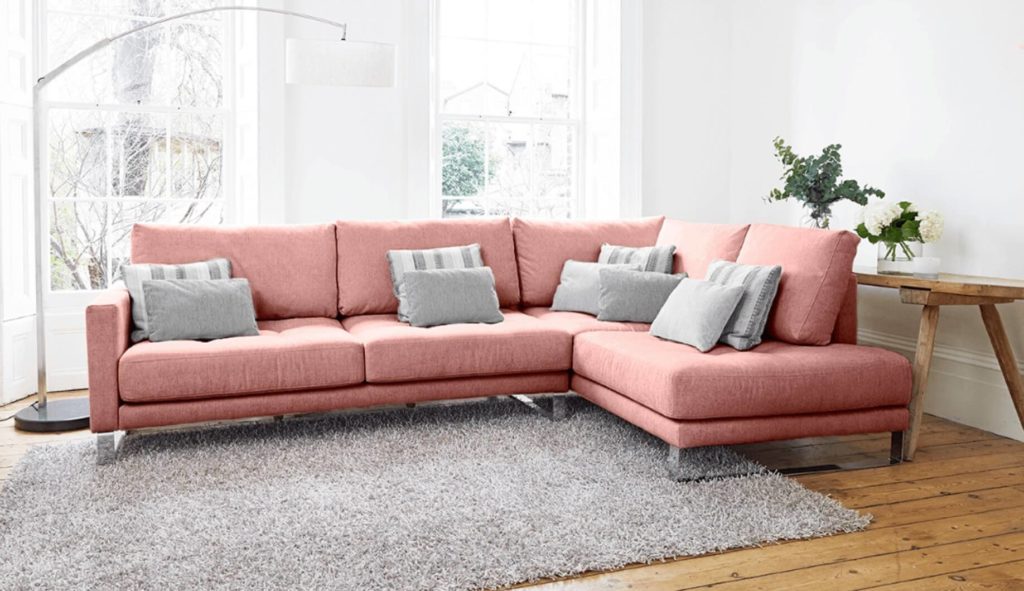 5. ADD ACCESSORIES
The final stage is the fun part! Styling your corner sofa.
If you've gone for a neutral coloured sofa, then why not introduce a texture with a fur throw and cushions with lots of embroidered details. Alternatively, if you've gone for a bolder hue for your corner sofa (my own sofa is teal) then pick out that colour in your rug, art and accessories to add depth to your decorating scheme.
Your aim is to make sure all your accessoires work together to make a space feel complete. Darlings have a fab collection of rugs, cushions, ottomans and footstools which you can see HERE.
TOP 5 TIPS FOR BUYING A CORNER SOFA
I hope this post has taken the mystery out of buying the perfect corner sofa for your home. If you follow these 5 simple buying corner tips, then you'll be putting your feet up on your new sofa in no time
Happy shopping and styling!

You May Also Like
The Perfect Velvet Sofa For You
3 Ways To Style Your Sofa This Summer
The New Neutrals Trend For 2019