In August, I spent a weekend in Vienna with my girlfriends to celebrate a very special birthday. Before I went, I had no idea of what to expect of Vienna but the city really surprised me. In this post I wanted to share my ideas for a weekend in Vienna. I've included places to visit, where to eat and drink, and some instagram spots. As well as an idea of how much things cost.
City Guides: A Weekend In Vienna
Firstly, let me explain about my trip. There were four of us girls travelling out together. We planned our trip to celebrate my friend's 40th birthday and we were looking to celebrate. On our list was museums, walking, eating – and a spot of dancing.
Unlike planning other city breaks, Vienna was a difficult city to get under the skin of. We struggled in advance to find many blogs or websites to guide us, and we relied heavily on the Vienna Tourist board instagram page for ideas.
We used a trusty guide book and our aim was to ask people that we met for hints and tips.
Tip: Use the German spelling of Vienna – Wien – to find more instagram and blogs dedicated to the city and then use google translate.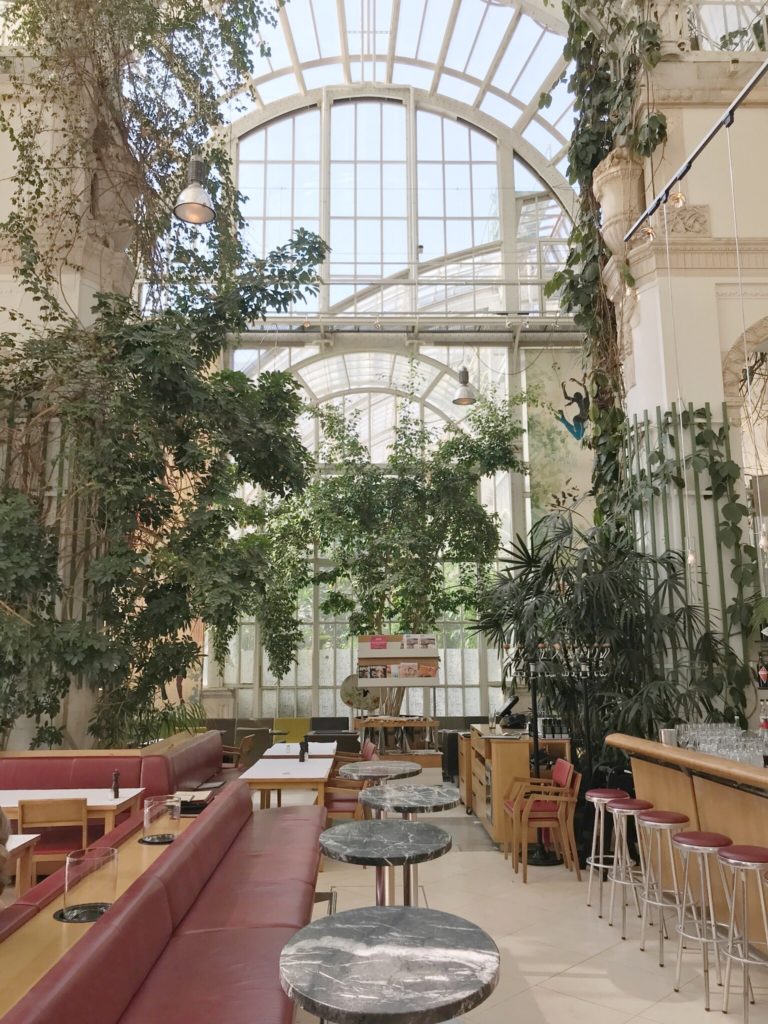 What Is A Weekend In Vienna Like?
Vienna is a walking city. It was easy to wander the streets and look up at all the grand buildings. In our 4 days together, we walked about 80,000 steps. Make sure you pack good trainers and comfy shoes.
The city centre itself has a feel of Paris, Lisbon, Barcelona and Berlin all blended together. There is a mix of modern and traditional architecture with wide walkways and very old buildings. The city was great to explore in the hot sunshine but not so fab in the drizzle and rain. Hold that in mind when picking when you go for your weekend in Vienna.
ACCOMODATION
We stayed in a huge Airbnb in the heart of the city centre by the Town Hall. It was a great location of wandering into town. And there was a film and food festival taking place in the grounds of the Town Hall which had a great buzz about it in the evenings.
The only issue with staying in the city centre is the area was very touristy (of course). Restaurants were pricey and with limited food options (two of us were vegetarian and one was vegan). My advice? Stay in a local neighbourhood – then grab a tram to the centre during the day. That way in the evenings, you can will have more chance of discovering a local bar or places to eat that have a more authentic feel.
THINGS TO DO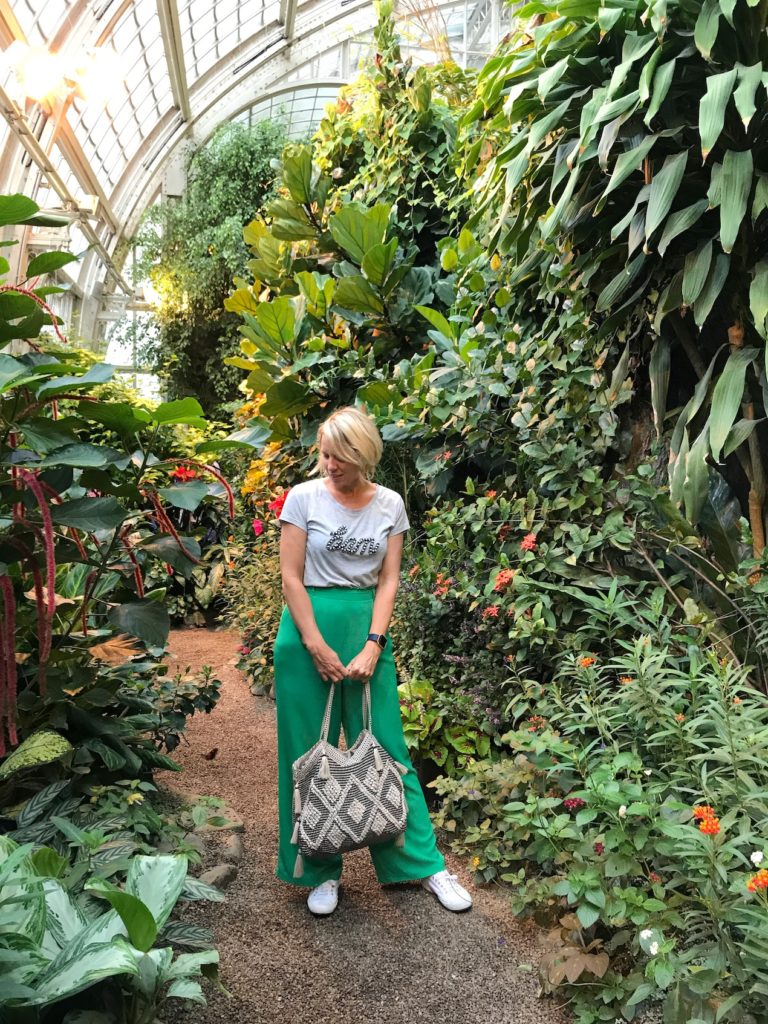 Palm House & Butterfly House
Both buildings are made up of steel arches that have been painted a soft shade green. Set in a beautiful park right by the Mozart statue, the Palm House is a cafe which is perfect spot to sit with a grapefruit beer and watch the world go by. If the weather turns, head into the Butterfly House where for 7 Euros you can watch the insets flutter past.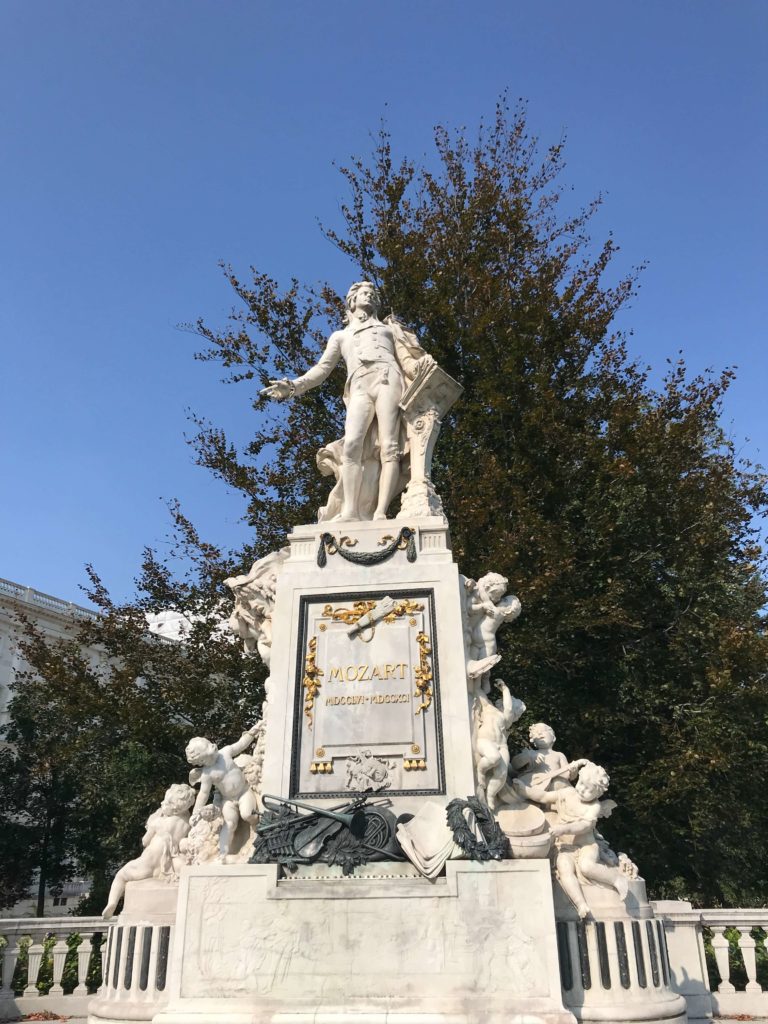 Make sure you stop at the Mozart statue to see the music note made of flowers the grass.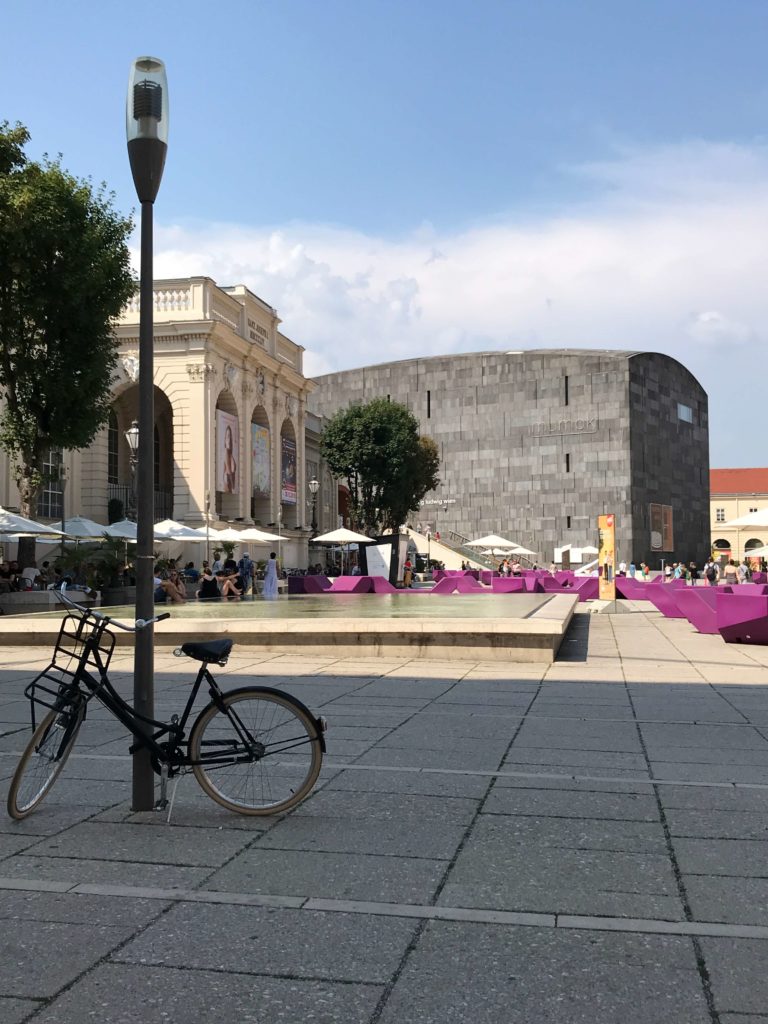 The Museum Quarter
We choose to go to the Leopold Museum as there was an exhibition by Austrian artist Egon Shiele which we were keen to visit. The museum itself was small with a dedicated section to the world-famous painter Klint. Not too big, the gallery gave a very good insight into modern paintings and the history of Vienna Secession movement.
The Museum Quarter itself is made up of a plaza with cafes dotted around. There was live music playing went we went so we were able to relax in the sun on the large day beds. Make sure you pop around the back of the Leopard (up the steps) to see the walkway of modern art. There are colourful tiled steps by the artist Space Invader – as well as a hidden garden.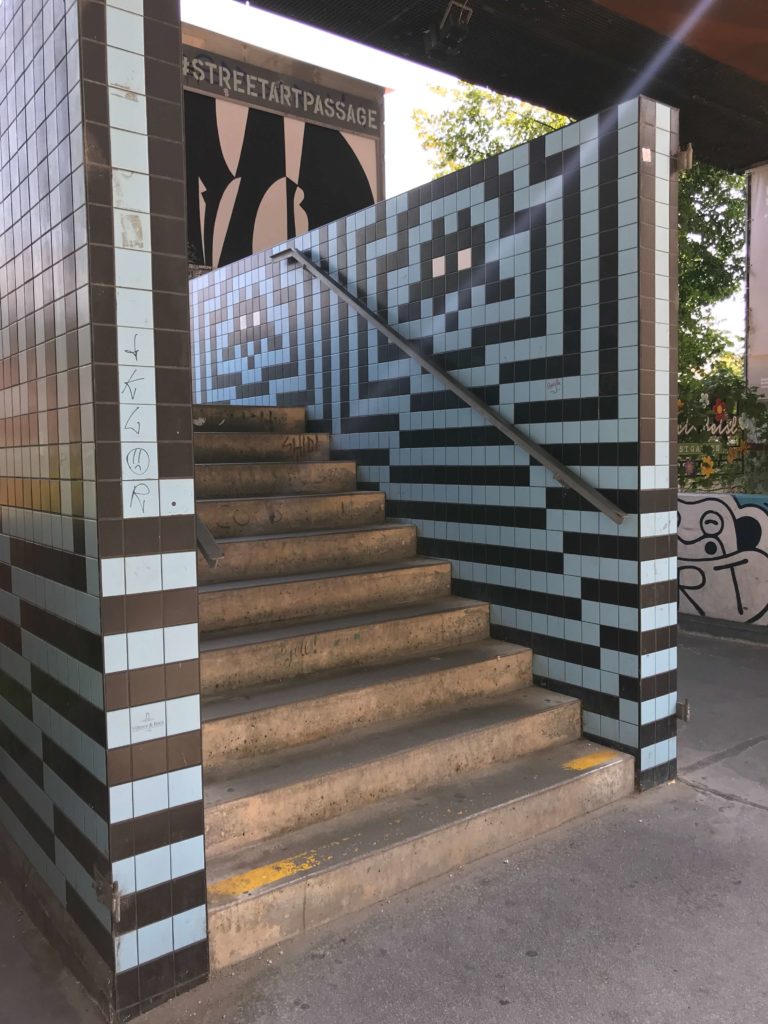 Just a tram ride away was the Belvedere Museum is closer to a traditional museum with lots of 11th paintings, touring exhibitions and it is also home to Klint's 'The Kiss' painting. On a rainy August day, the place was not too busy so I would highly recommend them.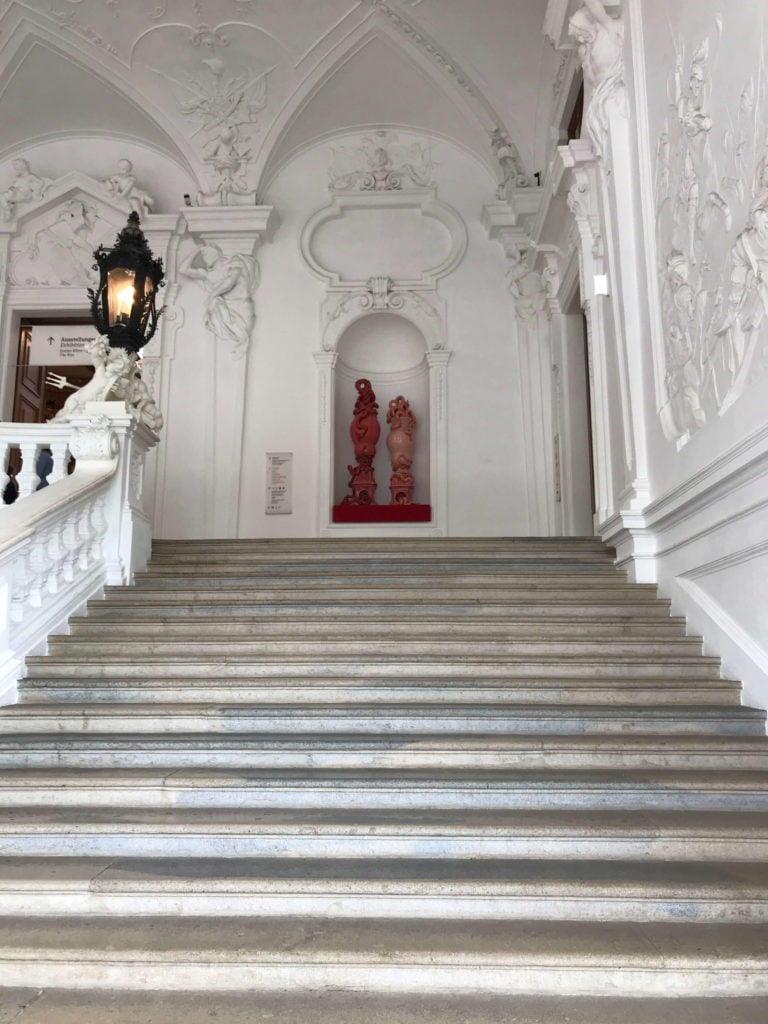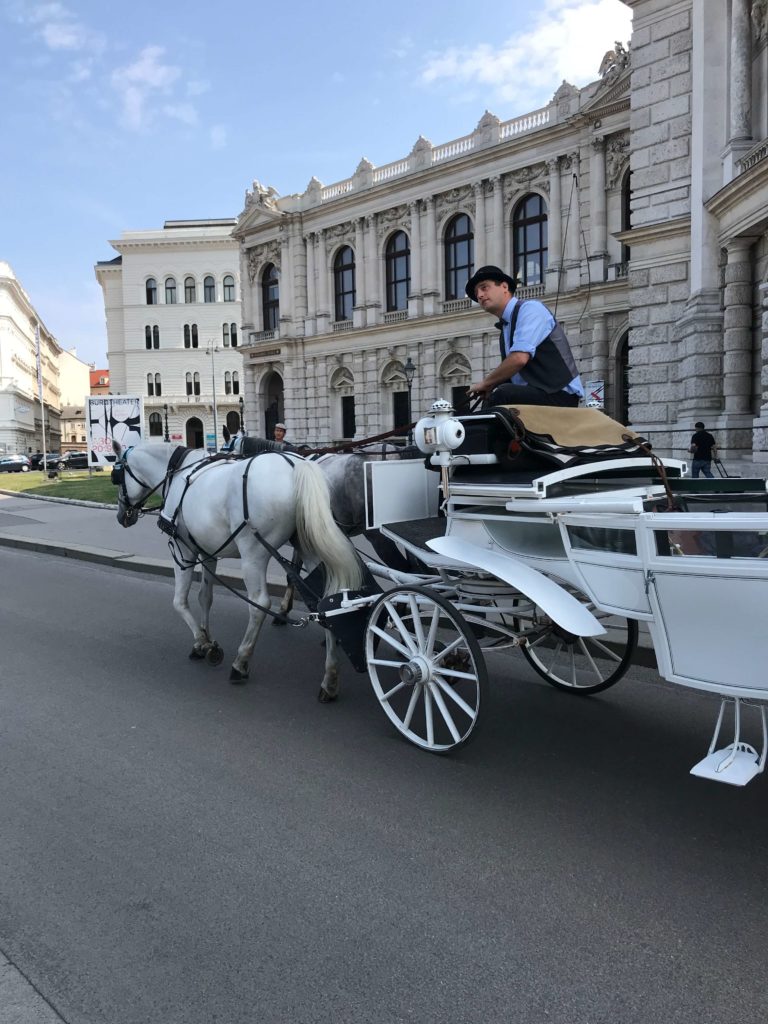 Horse & Cart Ride
Vienna is filled with horse and carts trotting around the city. We didn't actually get one (although I really wish we had to save our feet). Look out for the carriage riders who wear bowler hats who text and drive.
If you are not a fan of horses, there are vintage-style motor cars that will take you around the city. Both are great ways to see lots if you only have a weekend in Vienna.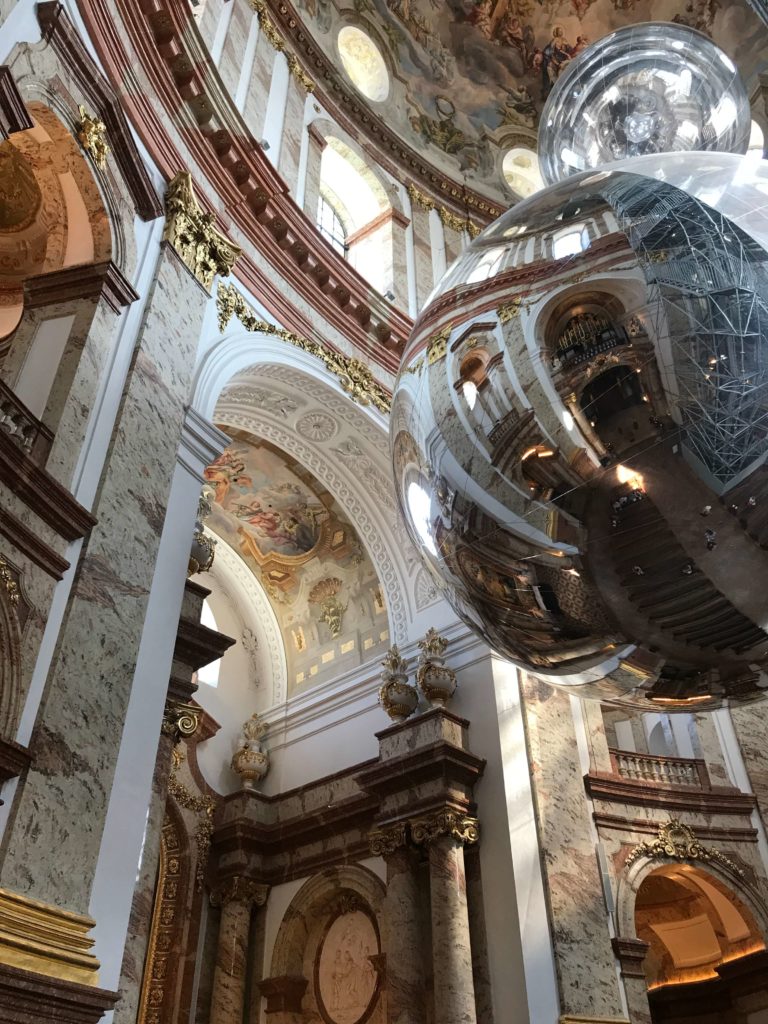 Stephansdom Cathedral
One evening, after diner, we wondered into the central Stephansdom Cathedral which is a gothic delight. Statues drip down the walls and in the candlelight it feels more dramatic. During the day, you'll post the distinctive chequered roof top from every direction.
Karlskirche Church
Personally, I preferred this church. At the time we visited it had modern art installation suspended from the ceiling which reflected all the painted murals. You can hop in the elevator all the way to the roof to see the paintings up close and you get the best view of the city. Not great if you are not a fan of heights as you go up about 5 floors.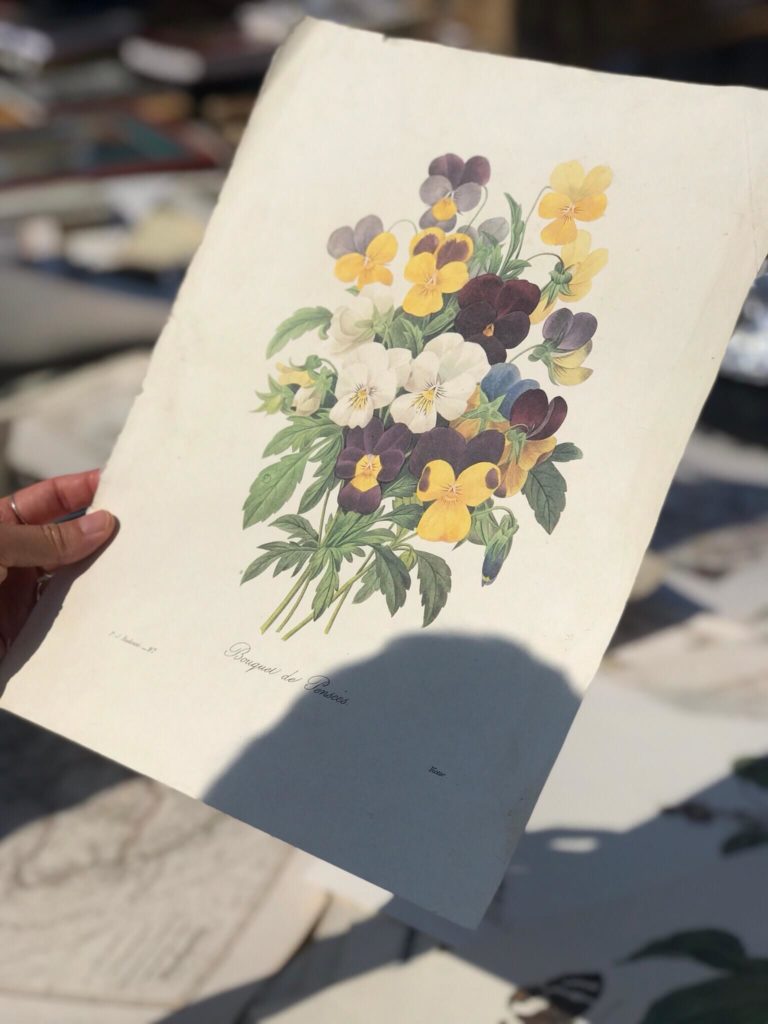 Saturday Flea Market
On Saturdays there is a flea market at Naschmarkt filled with the weird and wonderful. Don't expect a bargain as all the vintage clothes, lighting, furniture and homewares are very pricey. You will get lots of photos opportunities though.
The oddest thing we saw was a theatre coffin filled with paper mache severed heads.
Stall holders pack up shop around 12 so you'll need to get there early to make the most of it but luckily the market is a cool spot for a boozy brunch.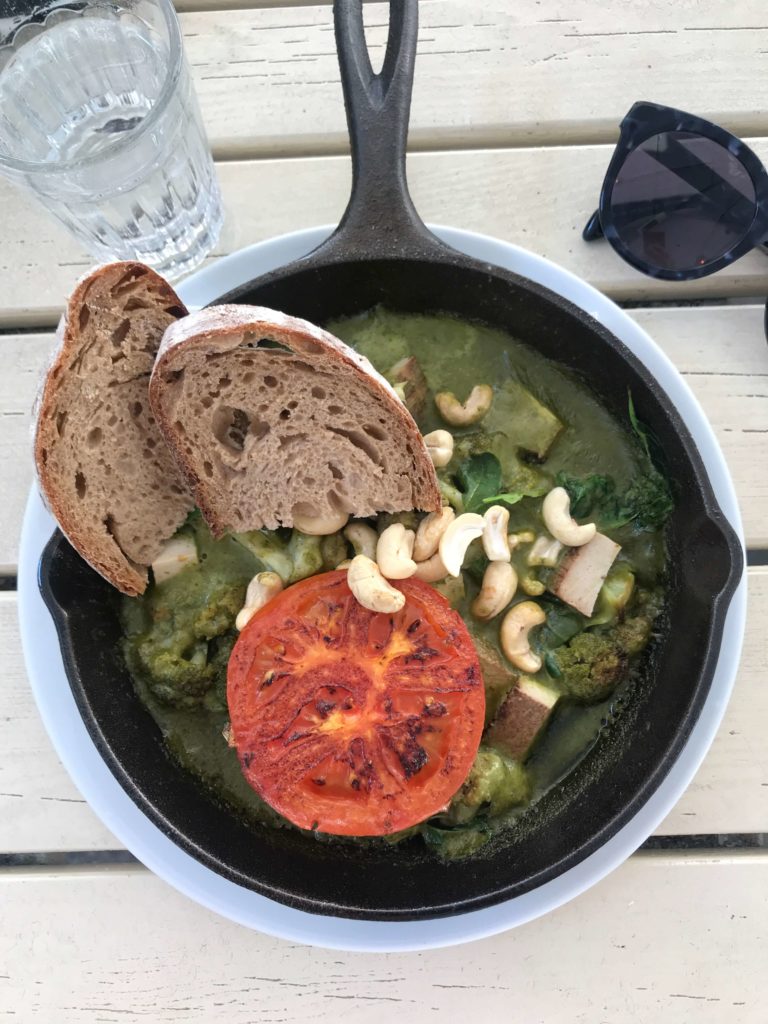 WHERE TO EAT
Food in Vienna can very meaty and very deep fried but we did find some great healthy (and not so healthy) options.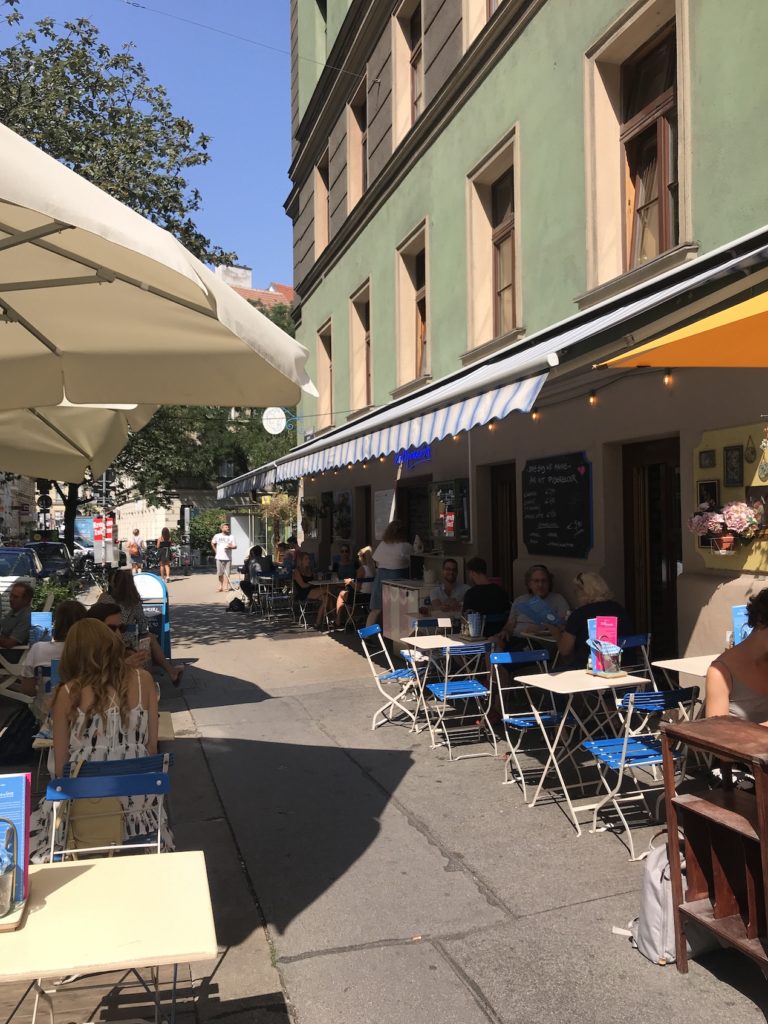 Vollpension Cafe
Nobody bakes better cakes than grandma, right? At Vollpension, 'grandmas' and 'grandpas' bake the most delicious cakes and tortes . Every bite tastes like childhood… Each homemade cakes is a one-off – a mini work of art.
All of our sweet treats are baked fresh daily and are based on tried-and-trusted family recipes. Made from freshest, purest ingredients.
Up a side street just beside the market Vollpension is in the perfect spot with cosy sofas inside and lots of swinging seats outside on the pavement.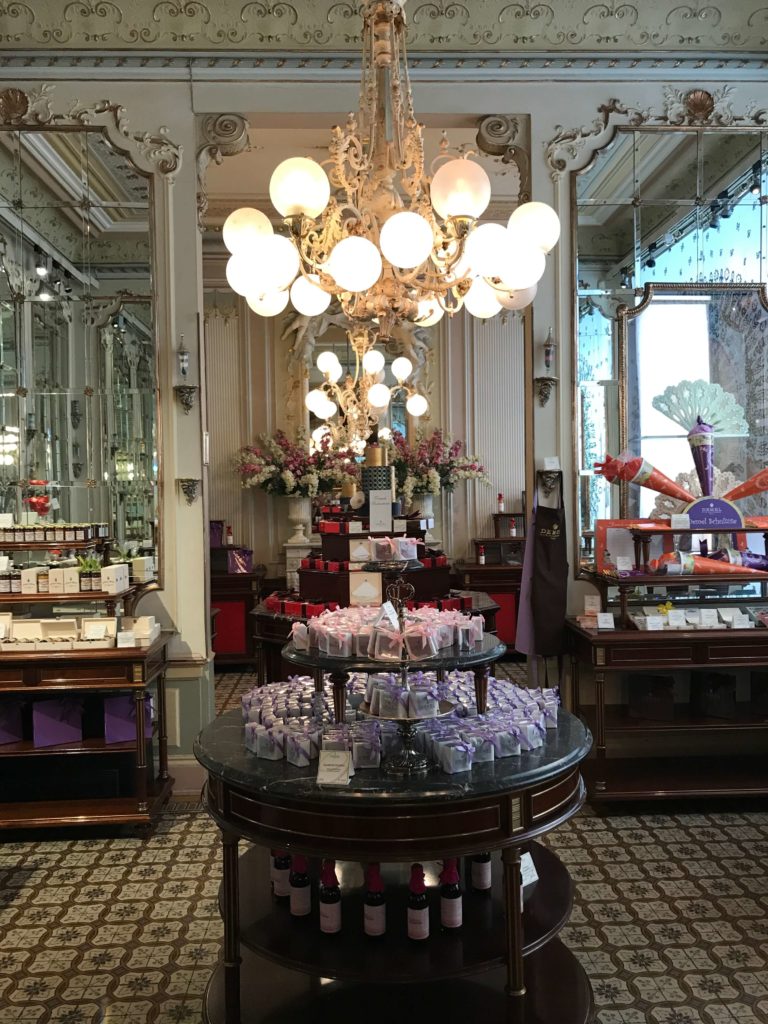 Demel
Yes, more cake! Demel is a Vienna institution. The service is dreadfully slow but the selection of cakes make it worth it. I had a whipped cream topped iced coffee while my friend had a lemon cake that was so good she had several dreams about it. They also have an ice cream stand too.
Phil Bar & Bookshop
Walking distance from the Museums, Phil is a student hang out with home made cakes, herbal teas and lots of comfy sofas. Part-cafe, part-book shop this spot had the most eclectic spotify playlist I've heard in a long time.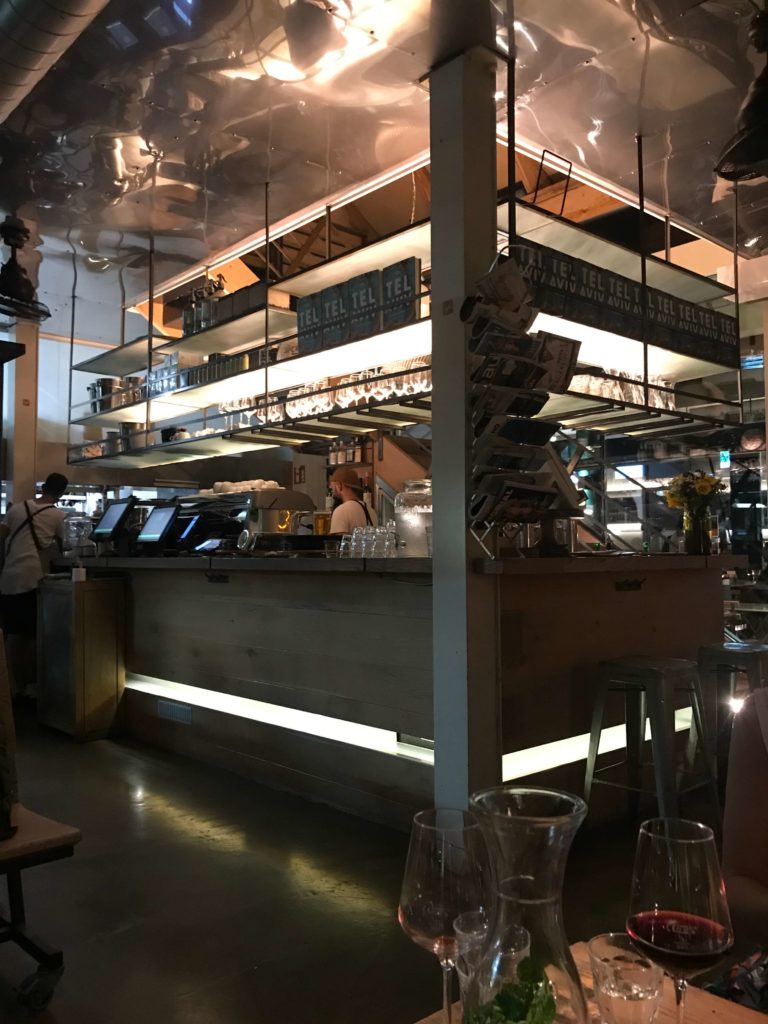 Neni in Naschmarkt
Neni is an amazing family run Israeli food in the middle of the market. Great drinks, really good atmosphere and the bar staff are hot. The restraint even has its' own cookbook out. This is where we celebrated my friend's 40th birthday with a meal. It's worth the
There is also a beach bar too. See here for all their venues.
Erich
Eating brunch in Erich was an experience. I had the vegan superfood breakfast which was a pea stew with asparagus, broccoli, tomatoes and herbs served with rye bread. To drink I had a ginger and apple smoothie, and vegan coffee.
Their sister cafe Ulrich is open late in the evenings.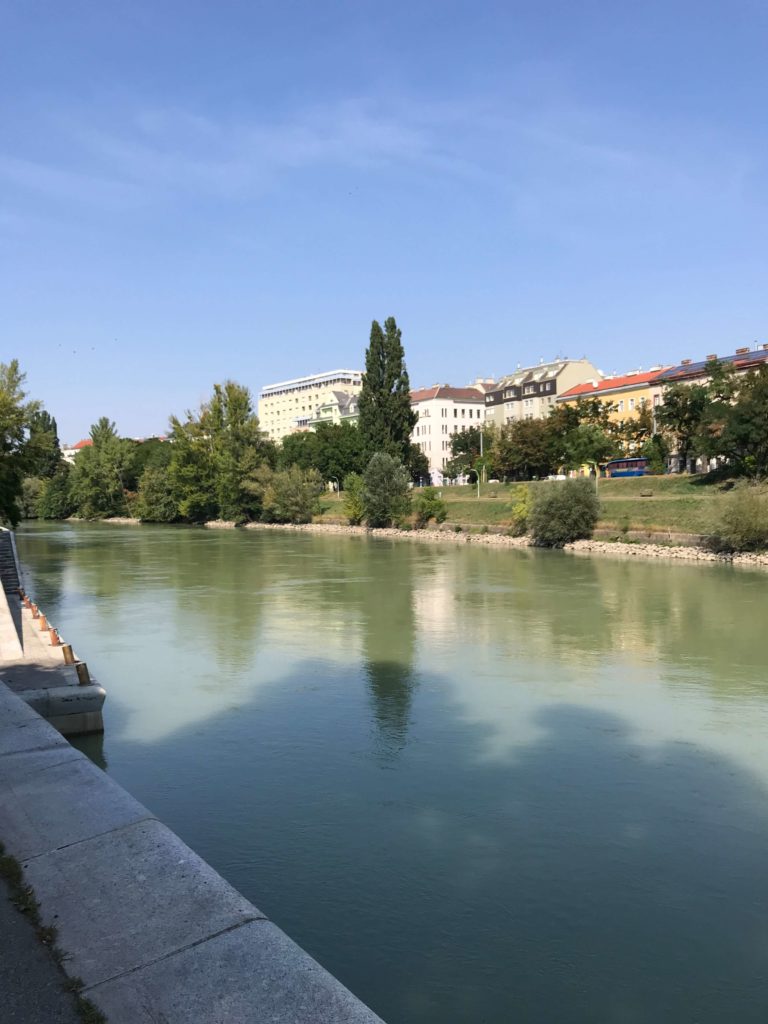 DRINKS
Vienna is not known for its nightlife but we did find a few spots that I would recommend.
First Floor Cocktail bar
Hidden away in a rather chivvy area, First Floor was a real gem find. It has the feel of a faded cocktail bar from the 1940s with a curved roof. Ignore the grotty stairs leading up to the bar! Once inside, get a seat in the window and ask for a Coriander Mojito – sounds odd but it was lush.
Down By The Canal
In the Summer months, head to the Danube for a cold wheat beer in deckchairs by the river. We bought take out from Veggiezz (a cool vegan chain fast food joint) to eat while down there. Each little bar either has an ice cream stall or a poke bowl stand if you need a snack. Opposite on the other side of the river is a plethora of ever changing street art that makes a urban backdrop for a pint or two.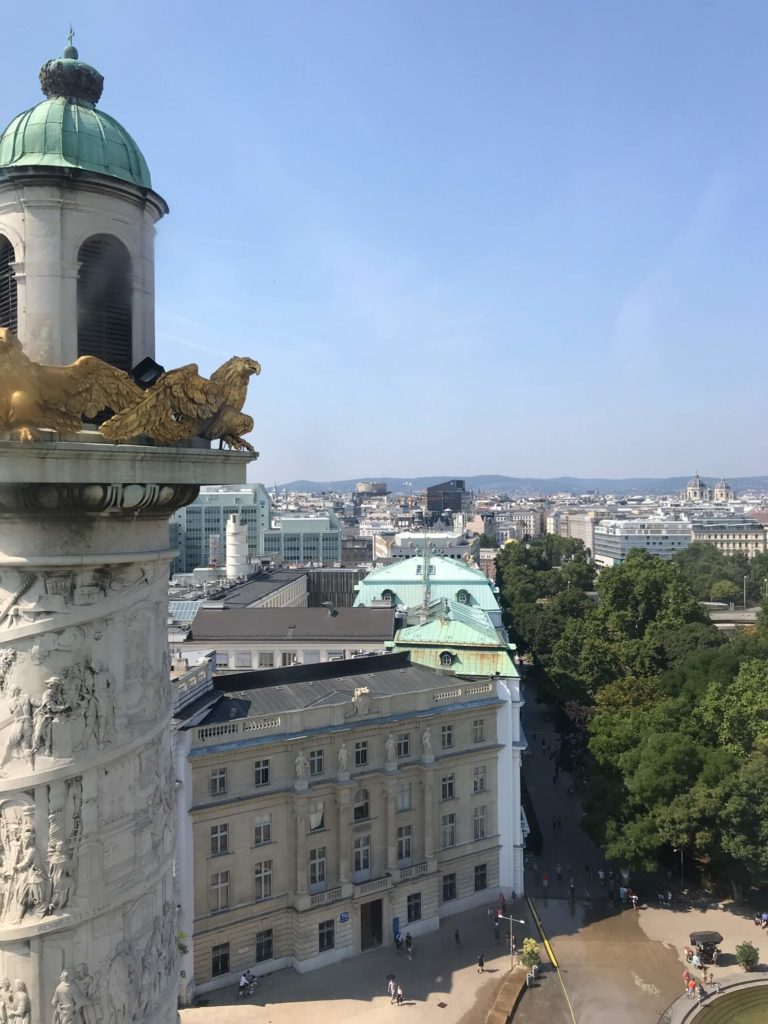 HOW MUCH DO THINGS COST?
Vienna is not cheap but at the same time it wasn't as pricey as other city like Copenhagen. Local wine not only tastes great it is also reasonable at around 5 Euros a glass. Street food is typically around 10 Euros for a simple meal. Coffee and cake will set you back about 15 Euros. Restaurant meals with wine was around 45 Euros and brunch was 25 Euros.
Museums are worth the 8 Euro ticket price. And getting around the city is around 5 Euros if you buy tickets through their app. Taxi to the airport is around 40 Euros if booked in advance.
I spent 300 Euros in a weekend so give you a rough idea.
City Guides: A Weekend In Vienna
My overall Opinion is Vienna is a wonder city to explore on foot, perfect for history and museum buffs. If you love tea and cake then this is the place for you (if you don't mind the calories) but if you are vegetarian or vegan you'll need to hunt hard for food.
YOU MAY ALSO LIKE
10 REASON YOUR NEXT TRIP SHOULD BE COPENHAGEN
BRIGHTON'S BEST KEPT SECRET – THE HARBOUR HOTEL SPA
7 STYLISH CORNWALL HOLIDAY HOMES FOR YOU