Last month, my living room made it into the pages of HomeStyle magazine in their October issue. As part of my day job as an interior stylist, I get to style makeovers for leading UK interior magazines. When the editor of HomeStyle, Lorraine, contacted me to ask if I would like to be in her magazine – how could I say no!
I've shared an extract below from the magazine feature, just in case you haven't managed to get your paws on a copy of HomeStyle this month.
'My Living Room Is Constantly Evolving'
It's a lovely feature all about my changing interior style (I'm forever tweaking my home) as well as lots before and after photos of my living room.
I've been getting loads of messages from family and friends when they spotted me in the magazine. Afterall, I do stand out in my spotty M&S jumpsuit! One friend messaged me to say she found in a pile of magazines in her doctor's surgery! Love to know your thoughts at the bottom in the comments box.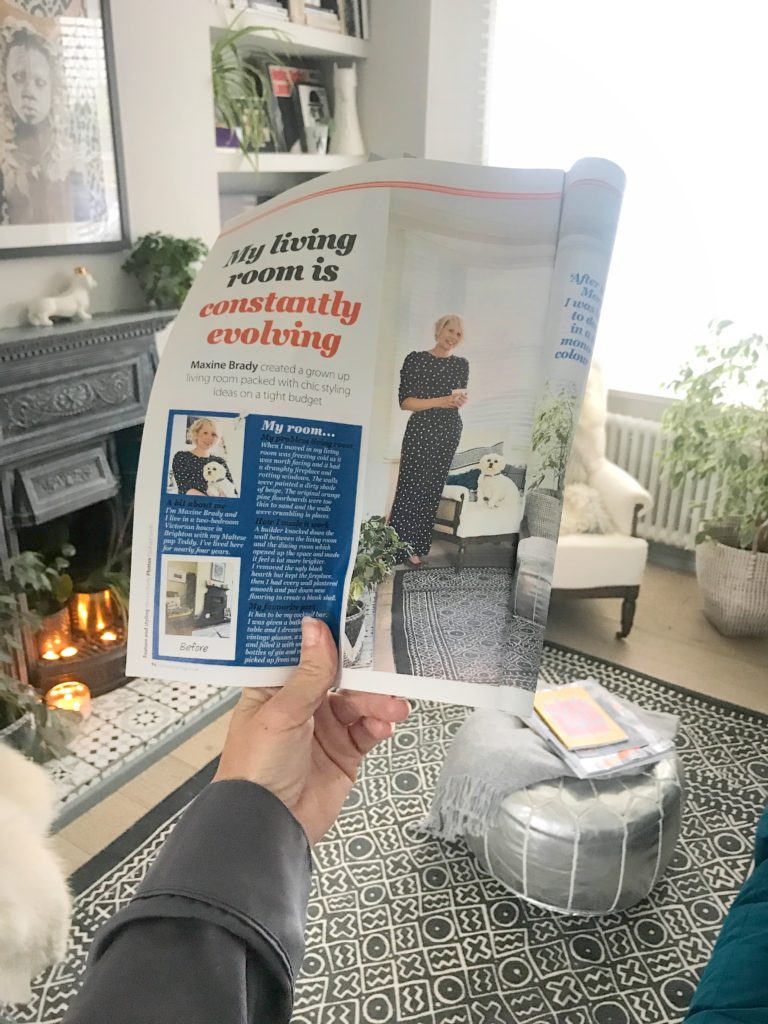 My Living Room – Before
When I moved into my home, my living room was freezing cold as it was north facing, had a draughty fireplace and rotting windows. The walls were painted a dirty shade of beige. The original orange pine floorboards were too thin to sand and the walls were crumbling in places. It was a mess!
If you want to read my Before & After post click HERE.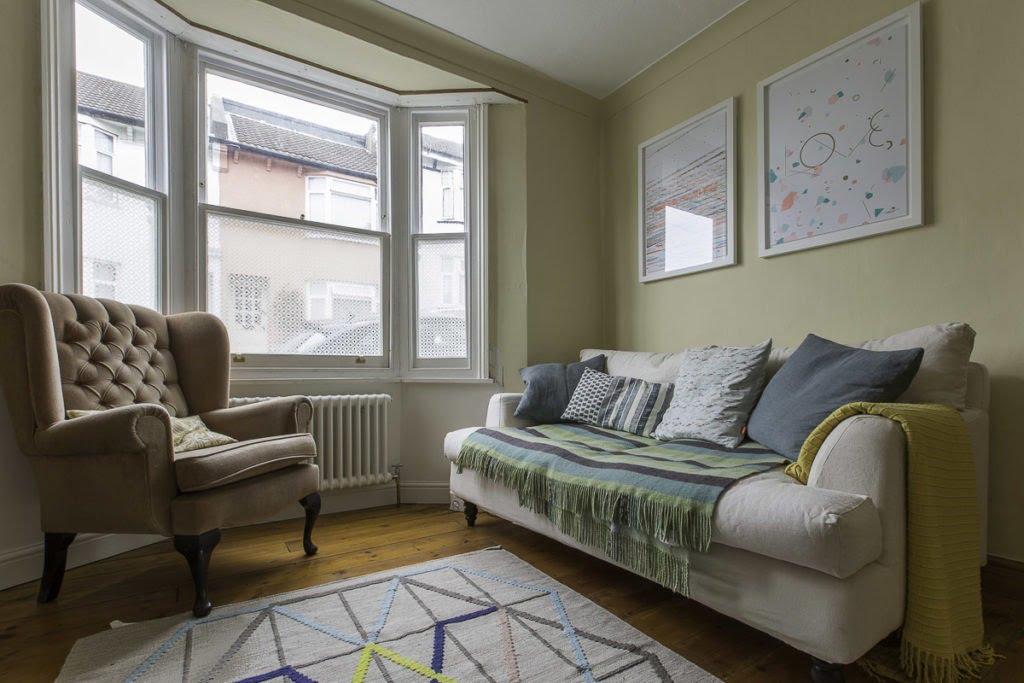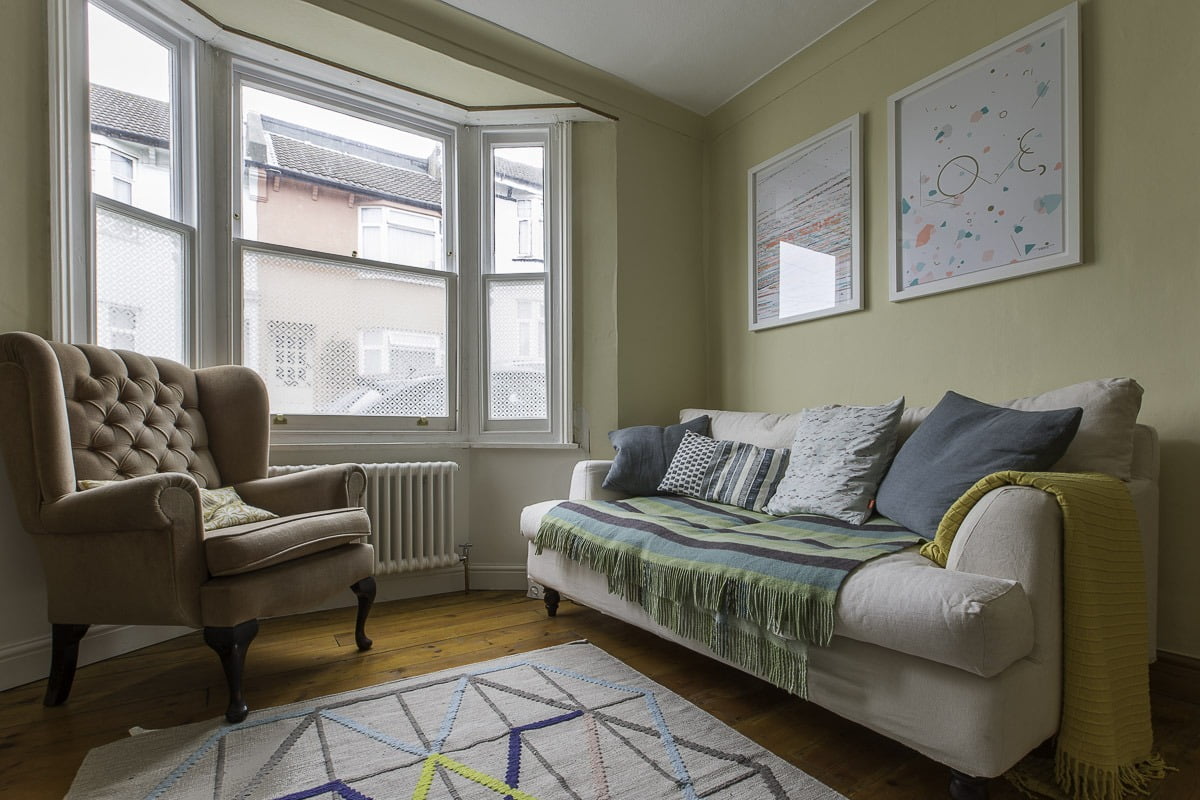 The Renovation Process
When I moved into my home nearly four years ago, everything room in my house needed doing so my living room slipped down my list of priorities. After nearly two months of building works, I tackle my living room. My builder knocked out the wall between the living room and the dining room filling the rooms with light. The old sash windows were repaired and the walls plastered fresh.
My builder knocked down the wall between the living room and the dining room which opened up the space and made it feel brighter all day long. I smashed out the ugly black hearth but kept the fireplace. I had every wall plastered smooth and put down new flooring to create a blank shell.
After a trip to Morocco, I was inspired to decorate the space in a simple monochrome pallet adding colour with art, furnishings and accessories.
The black tiled hearth was smashed out and a new one was built out of mix and match tiles. I then lightly dusted the black fireplace with white paint to pick out the intricate detail in the ironwork.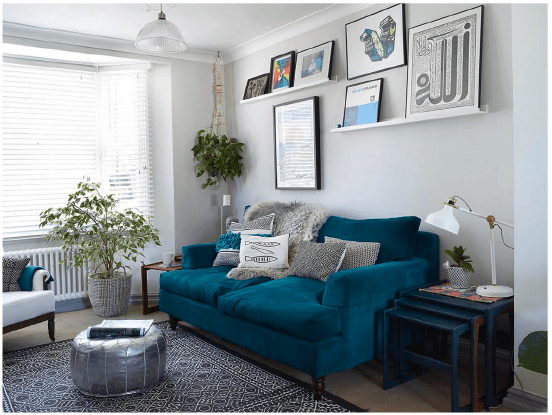 My Ideas For My Living Room
Once the builder's left, I held a painting party, inviting all my friends round – tempting them with music and food – to help me paint the walls from raw plaster to soft grey.
Sadly, my original Victorian floor boards were too thin to sand so instead I put down engineered oak planks. New skirting were fitted on top and painted a battleship grey to frame the room.
I found my (almost) brand new sofa.com settee on eBay for just £150. I had new covers made in teal velvet to pick out the colour of my fireplace tiles. You can read about how I turned a £100 sofa into one worth £2,00 in this post HERE.
I hunted around on Gumtree to find two sets of G-plan nest of coffee tables for £just 15 and painted them in a Farrow & Ball blue to match the tiles in the hearth.
I had chunky shelving made bespoke for my books and records, and then two picture ledges put up to display my growing collection of art. I love framing band posters, old photos and records.
My Favourite Part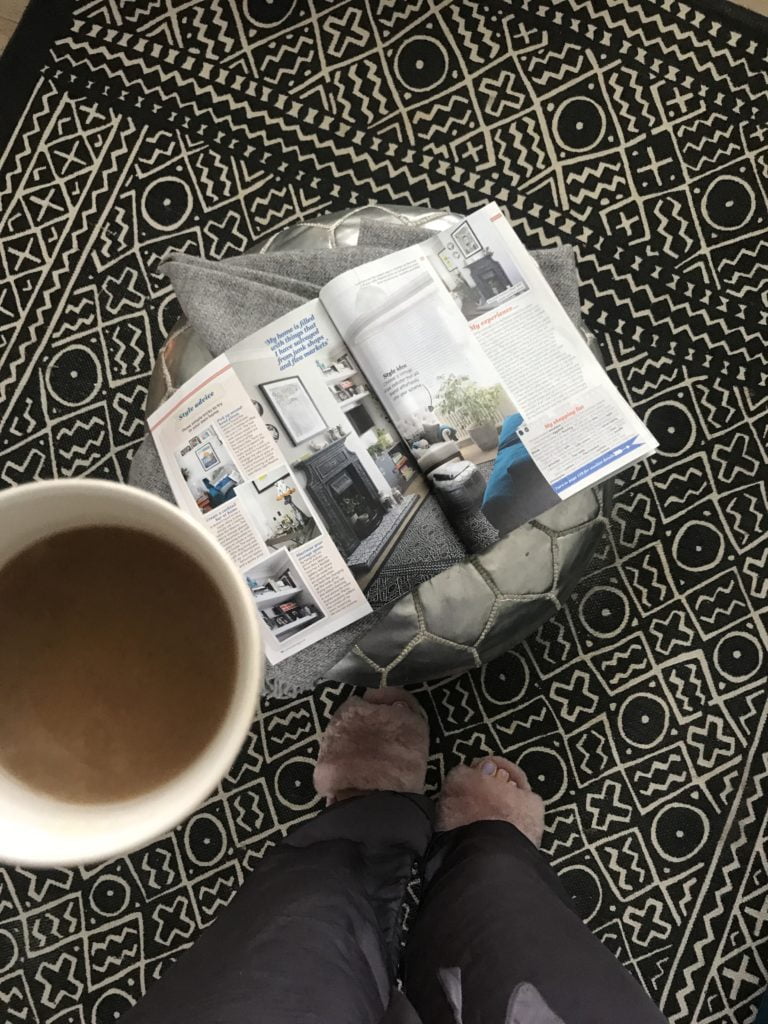 It has to be my cocktail bar. I was given a butler's tray table and I dressed it with vintage glasses, a shaker and filled it with unusual bottles of gin and vodka picked up from my travels. I wrote a post on how you can create your own cocktail trolley yourself in this post HERE (it is so easy you will kick yourself that you didn't do it sooner!)
What's Next?
I've made so many changes made to my living room over the past four years, I have lost count. I've had three different rugs, and two arm chairs and 100s of plants. My living room looks different every week as I swop things around when I clean the room. It's always evolving and changing which keeps me on my happy and makes sure I never get tired of this room.
Thanks HomesStyle magazine for featuring me!
I've got a few more exciting plans in the pipeline for my living room for the coming year – so keep popping back to see.
Have a great day.
Love Maxine
Maxine