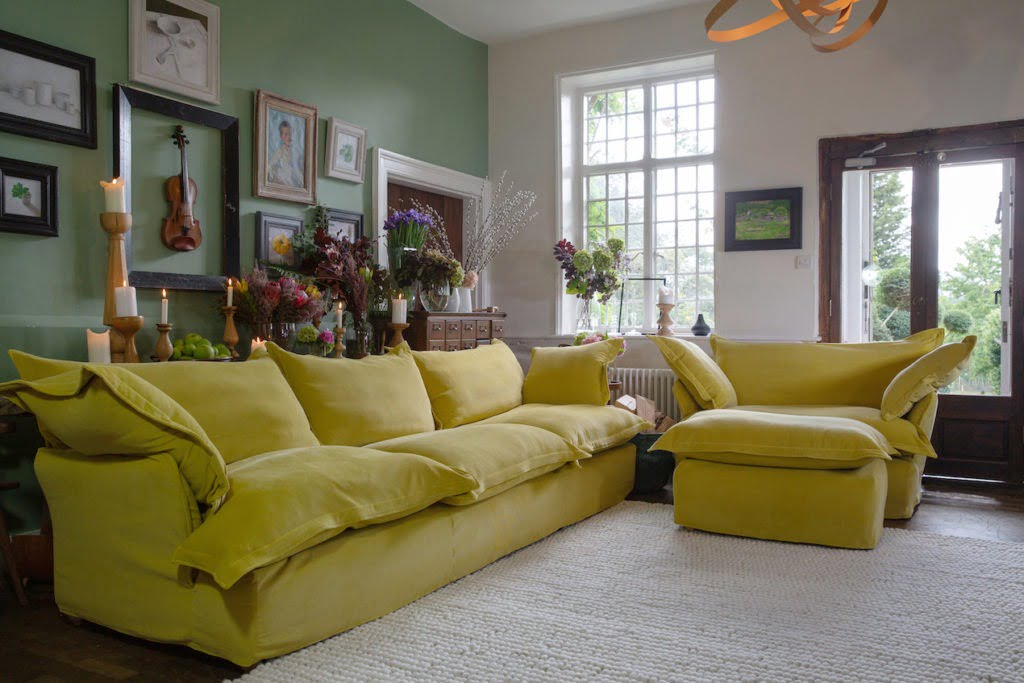 Are you looking to make more ethical choices for your home? It's been on the top of my to-do list for the past year (at least). Instead of impulse purchasing things for my house, I've been more considered about every interior purchase – swapping fast furnishings and accessories, for investment pieces that will stand the test of time. And that is why today, my focus is on all natural sofas.
Making small changes when choosing what we buy for our homes does makes a big difference to the environment. From choosing to renovate our homes sustainably, to decorating with eco-friendly paints, or investing in natural home furnishings – we all know that every little bit helps.
One big home purchases is a sofa! I would love to invest in a suite that is going to last a lifetime, isn't harming the environment and is made from sustainable materials.
With all this in mind, I want to introduce Maker&Son – a family run business that make you an all natural sofa and armchair – which are possibly the most comfy furnishings in the world.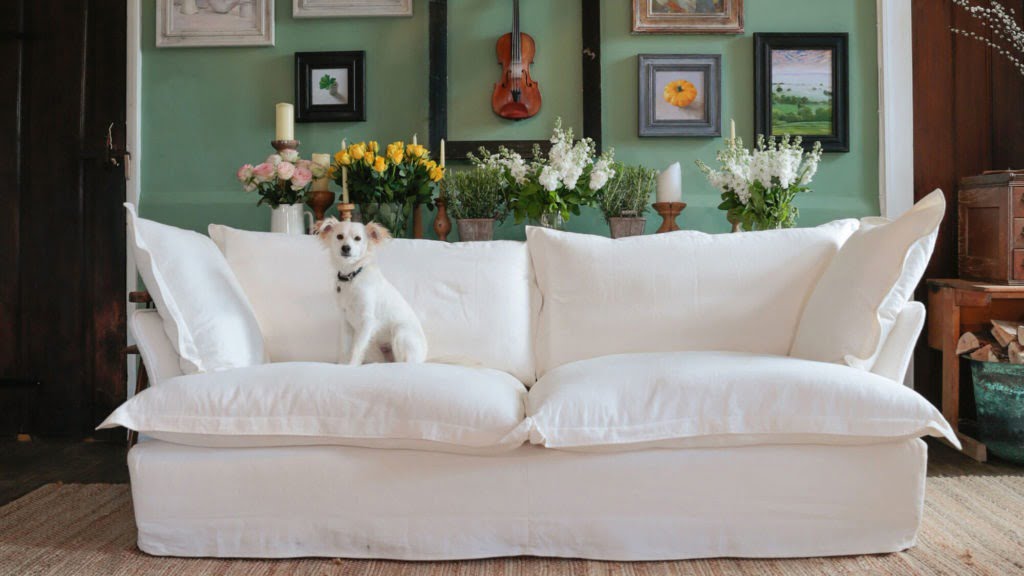 All Natural Sofas To Snuggle Into
Nestled deep in West Sussex, Maker&Son make beautiful sofas, armchairs, love seats, chaise-lounges and foot stools – produce 100% natural furniture.
Having already established a loyal fanbase including celebrities such as Ellie Goulding, Maker&Son make furniture designed to last a lifetime whilst making a positive impact on the earth.
Maker&Son was founded by third generation furniture maker Felix Conran (grandson to ever-so-famous Terence Conran founder of the Conran Shop) and his father Alex Willcock.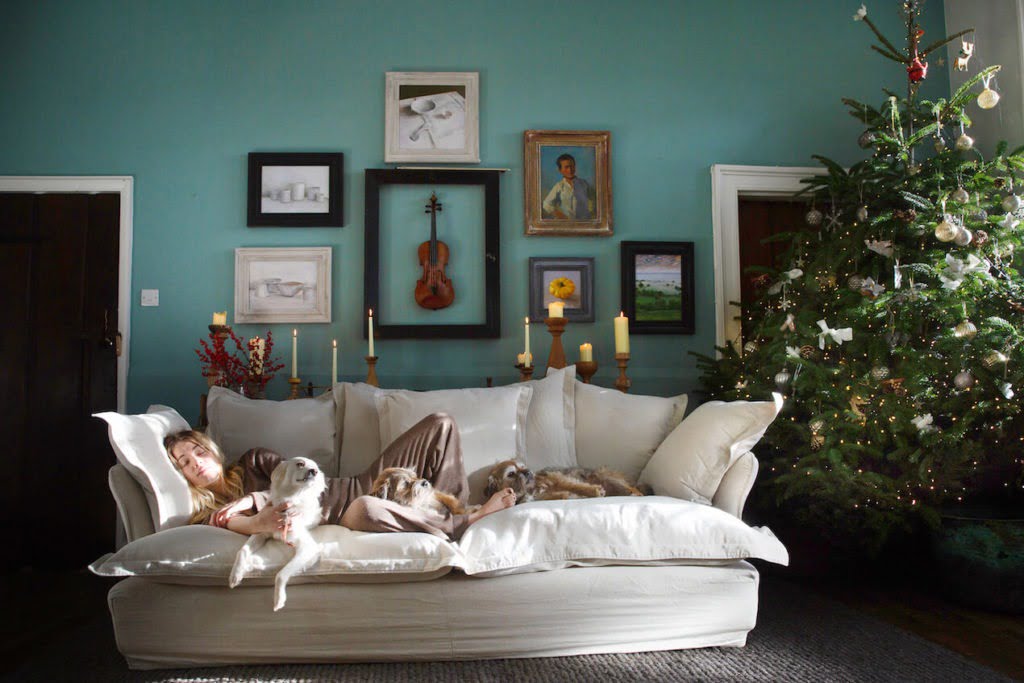 "We started Maker&Son with a simple dream – to create beautiful things from natural materials that make a positive difference to people's lives and that will last forever.

Felix Conran
Each piece is handmade to a very high level of specification including: sustainably sourced hardwood frame (guaranteed for 30 years), a handmade sprung base, wool and cotton padding, natural latex, ethically sourced feathers, jute webbing and stainless steel zips. All of this stitched together by hand with cotton thread and buttons. No Velcro, no plastics, nothing but natural materials.
I loved this little video here where Phil (their furniture guy who has been making natural sofas for 25 years explains the ethos of the company).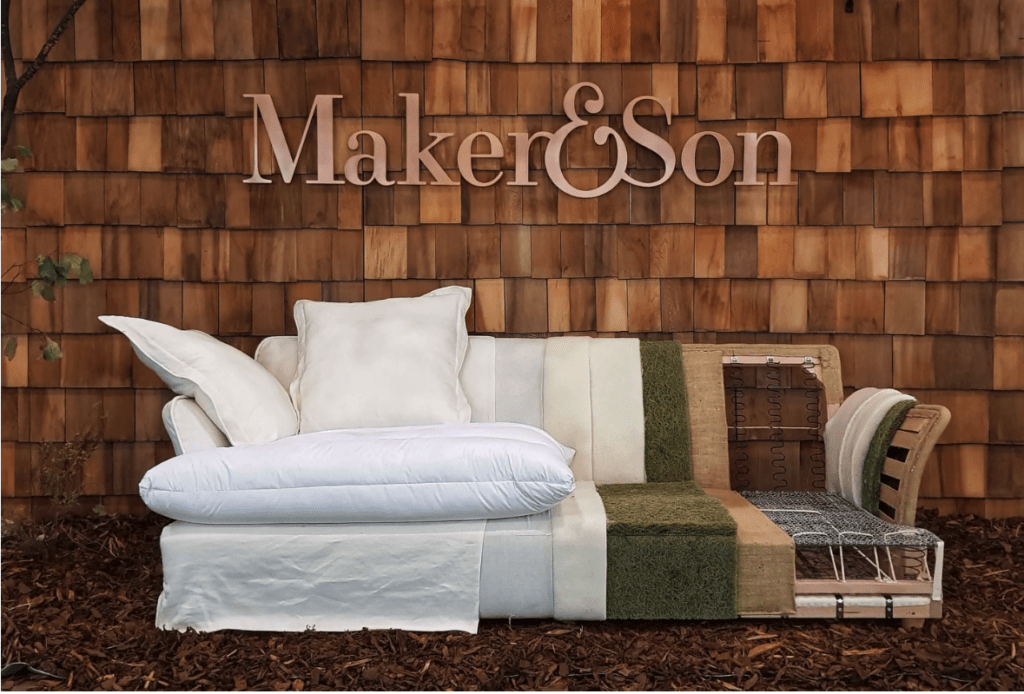 Discover Eco-Friendly Natural Sofa Designs
Maker&Son aim to design the most comfy furniture in the world! They make sofas and armchairs that are made with an afternoon snooze in mind 🙂 But behind their squishy cushions and luxurious fabrics, there is a more serious intention to what they make as each and every piece is 100 natural.
How? Read on…
* They promise to never use plastics, polyurethane foams, velcro or staples in their furniture. All these materials are bad for the environment. Instead they choose sustainable materials that are guaranteed to last longer. Even the feathers and down they use in their cushions are all sourced ethically.
* The hardwood frames are made from sustainably sourced English Beech and are guaranteed for 30 years. Beech is more hard wearing than the softwoods and plywoods that are often used in furniture manufacturing.
* Each base is fully sprung – which gives you the same comfort levels of a well-made mattress. Cleverly, they have made sure the springs are taper downwards in towards the back of the chair or sofa, so that when you sit down – you naturally sink back and down. Ooooh – so cosy!
* The unique cushion construction designs means that the seat and back cushions have two 'duvets' inside filled with a mixture of feathers and down. Between these sits a natural latex core which means the cushions keep their shape = less plumping. They are unbelievably comfortable too!
* And finally, each and every piece is handmade to order which ensures the furniture will last a lifetime (and maybe become an heirloom to pass on too).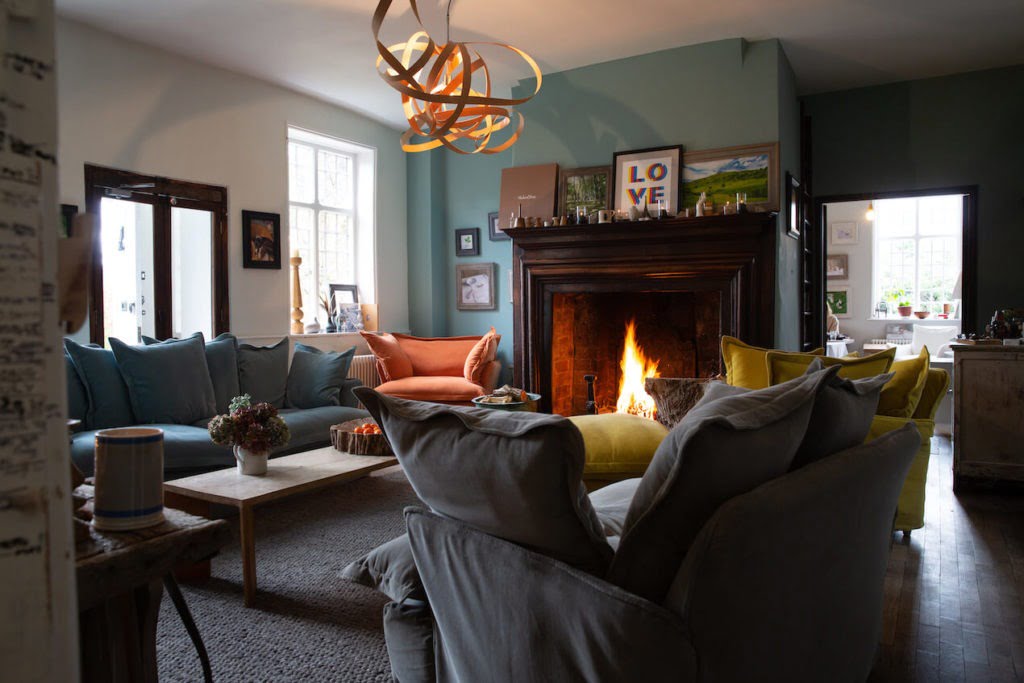 Beautiful And Practical Natural Sofas
If you live in a busy home (like me) then you'll be thrilled to discover that the entire furniture range comes with removable loose covers including the bases. Covers made in linen, cotton and corduroy fabrics are all machine washable, while the velvet covers can be easily dry-cleaned.
The covers are simple to take off and wash (it takes 20 minutes to change all the covers on a Song Sofa!). Washable covers means you'll be able to keep your furniture looking beautiful for longer – great idea if you have children or lots of messy pets.
And if you're like me and like to switch up the look of your room, you can by buying a second set of covers – so you can update the colour or material without replacing your furniture entirely.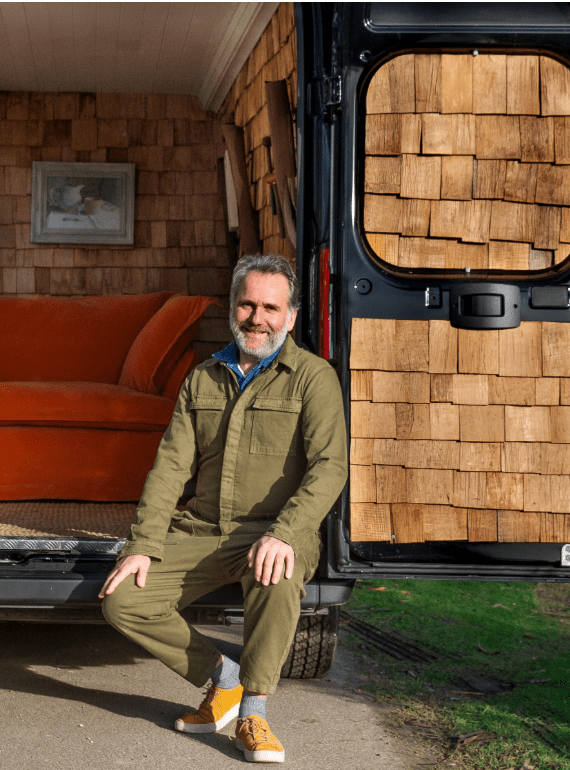 Bringing Maker&Son to Your Door
Want to try out a Maker&Son for yourself? Well they don't have a traditional showroom as such…instead they have a mobile showroom. Their expert will drive to your home – at a time that suits you – bringing a chair for you to snuggle into and all their fabric samples as well, so you can try out it for yourself in the flesh at home. The expert will help you down to every detail.
If you'd like to book your home visit, simply visit their website and click on the 'Book a visit' button.
Today, I've shared a small selection of the sofas and chairs. If you want to get to know their range in more detail – and check out the amazing home of Felix & Alex, then click HERE.
Let me know what you think about the ethos of this all-natural company in the comments box below. And if you want to see more focus on ethical, eco-friendly interiors – let me know and I'll make sure I'll add it to my to-do list for 2020.
You May Also Like
11 CHIC ROOMS THAT WILL MAKE YOU WANT TO PAINT YOUR WALLS DARK / AD
AUTUMN STYLE UPDATES – 5 DECOR SWAPS FOR YOU TRY AT HOME / AD
5 STEPS TO PICKING THE PERFECT TILES FOR YOUR HOME / AD