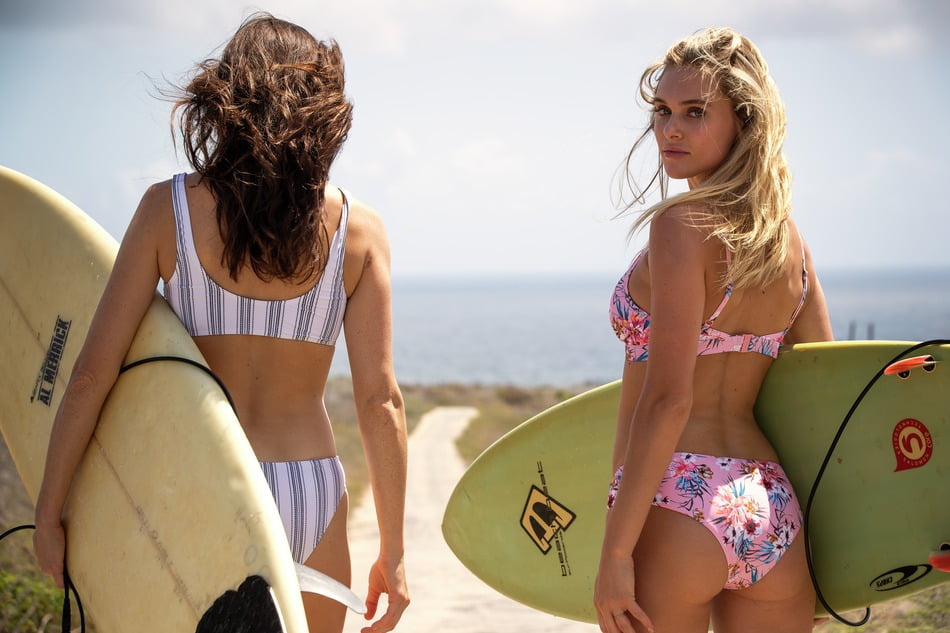 Planning a winter sun holiday? Then you must be on the hunt for chic and stylish bikinis! It's so hard right now to find any good bikini designs in the winter. Don't stress! I've done the hard work for you by picking the best bikinis from cool surf brand Protest. There are loads of styles to choose from – and one to suit everybody shape – to help you look fab on the beach.
If you're one of those lucky people jetting off on holiday for some winter sun, you're probably already very aware of how difficult it is to buy beach clothing out of season. You need those winter sun bikinis! The high street seems to think we only want to purchase holiday outfits during the summer months when, in reality, we travel at all times of the year.
The answer? The internet, of course!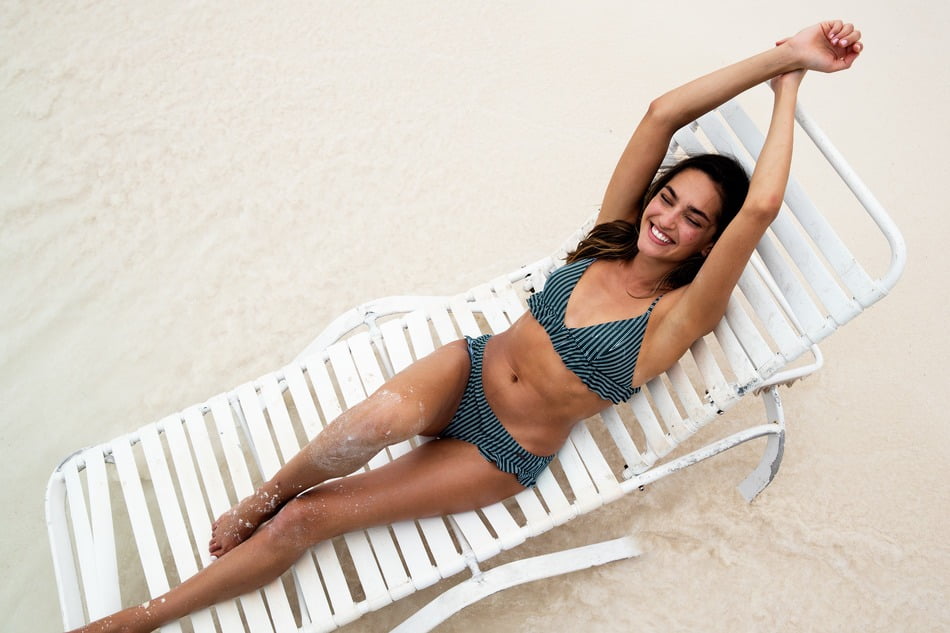 About Protest Swim & Surf Clothing and Bikinis
While hunting around online, I stumbled across a Dutch brand called Protest. They've been making fashionable and functional swim and surf clothing since 1996 – and they have literally 100s of bikini options designed to suit every shape of body – and at great prices too (lots are in the sale right now).
Because Protest supports an active lifestyle, they've created bikinis that you can swim, surf, run and play beach volleyball in – while all the same time looking chic, sexy and rather lovely. You'll love the shapes and all the pretty design details.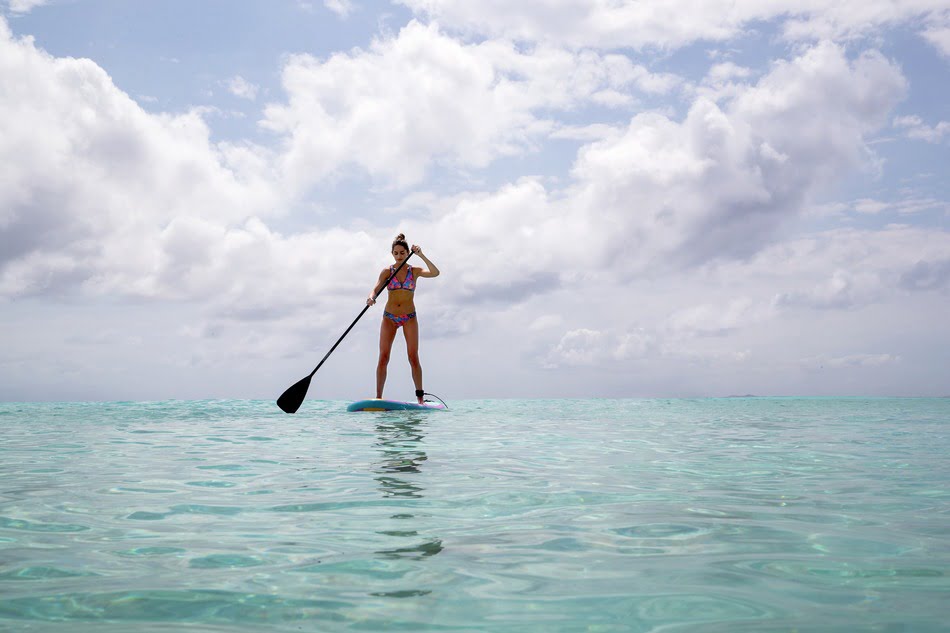 This year, all Protest's swimwear will be PFC-free (PFC stands for per-and poly-fluorinated chemicals). PFC chemicals are human-made chemicals that do not occur naturally in our environment, making them non-biodegradable. PFC is primarily used to make garments water-repellent. Fortunately, they found a suitable replacement for PFC to no longer use it for our bikinis. So you can look good and do your bit for the environment too.
I spent ages drooling over their new 2020 beach collection, there really is something for everyone.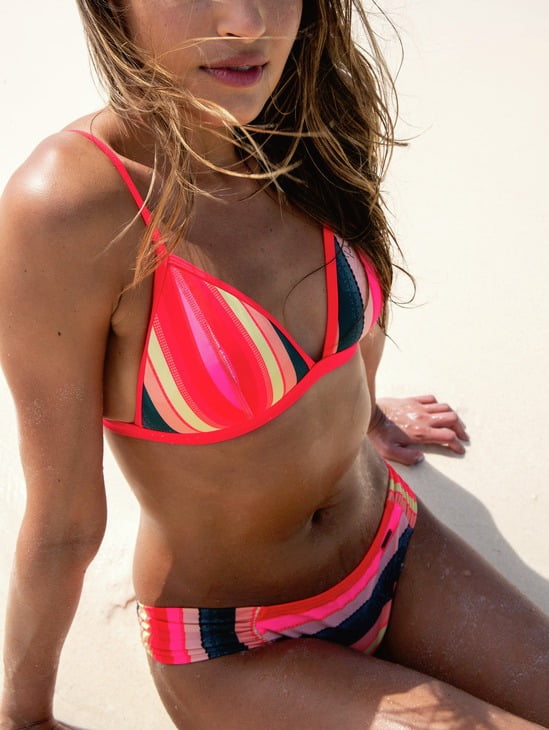 What four bikinis should every woman have in her holiday capsule wardrobe?
My friends always laugh at how many bikinis I pack for my holiday…but as I sunbathe, swim, surf and snooze in them all day long – it's nice to have a few options. When going away for winter sun, I like to have various styles to switch them, so I don't get the same tan lines all over. At the start of my holiday, I will wear a more supported bikini until I'm brave enough to bare my skin in a more skimpy one!
Saying all this, I've become a little bit of bikini expert. Below I'm sharing my pick of the 4 bikinis that you'll want to take away with you when seeking out that winter sun.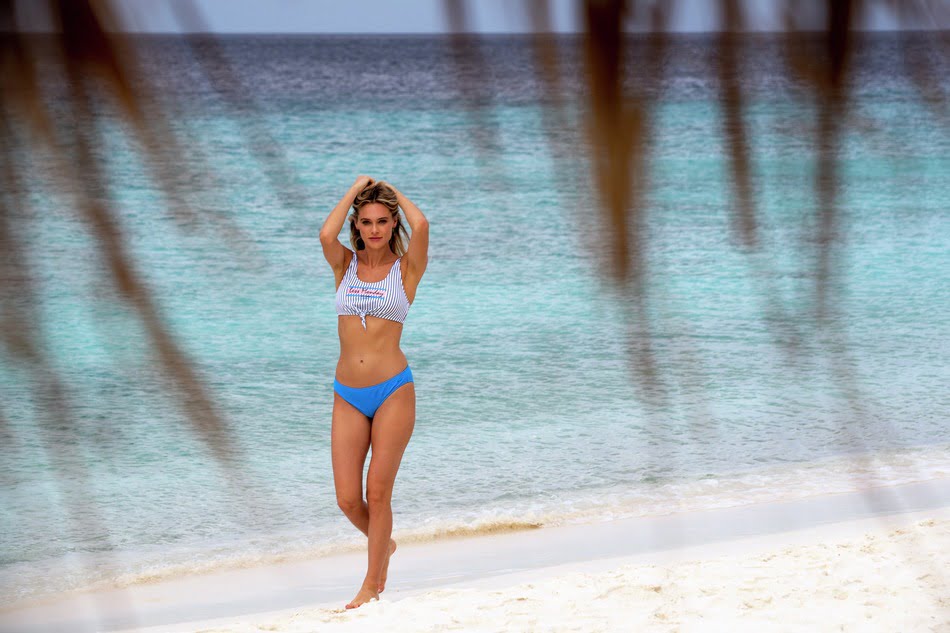 1. The Little Black Bikini
Just like the little black dress, black bikinis are a winter sun staple. It looks chic when you wear it from poolside to beach bar. And black is a great shade to wear when your skin is fair too as it complements all skin tones. Just fling on a kimono and a pair of sparkly sandals and you are set for a sunset beach party. Look for black bikinis with detailing – like lace, tie-sides, embroidery or cut-outs to keep it interesting.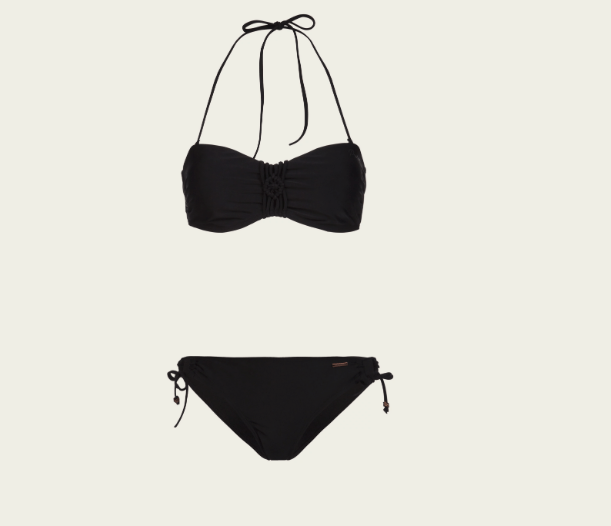 MY CHOICE: The Soledo 19-2 bandeau bikini comes in a solid colour with gorgeous knotted detailing at the chest. Handily, the straps are removable so that you can wear the bikini top as a bandeau to avoid straplines. There is silicone tape on the bikini inside to help keep it in place – great for swimming. There are removable foam cups at the chest, and the bikini has a regular fit so will fit most figures. The pretty ties on the bottoms are a nice detail too.
Price £34.99 for the set
2.The Push Up Bikini
If you're looking for a little more support, then your go-to will be a push-up bikini to give you great shape and support. This type of bikini is more structured and will come with more padding. These are great if you want to give you figure a boost too. This type of bikini is perfect for posing poolside with a pair of wedge heels and a cocktail in your hand. Team with huge sunnies and you are off.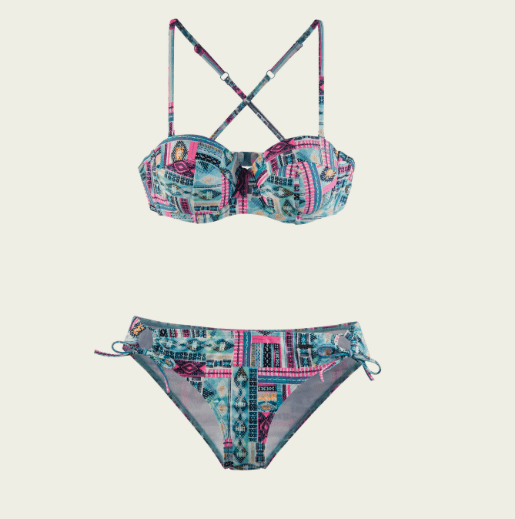 MY CHOICE: I've picked out the Protest Hitachi Push up bikini in Bora Bora because I love this fun, retro 80s style print. I've not seen anything like it on the high-street. Normally, this bikini design can have a 1950s feel, so I like that this one is more alternative. This would be amazing for a festival abroad with a pair of cut-off jean shorts.
This underwire bikini has removable cups with push-up support (available in B to D) with adjustable shoulder straps, making it super comfy to wear while giving you all the support you need. The straps have multiple loop fastening giving your three different wearable styles.
Price £44.99 for the set (but is currently in the sale at £17.99)
3.The Tankini Bikini
If you are a little anxious of showing all on a beach – or if you are going to a country where a skimpy bikini may feel a little inappropriate, then have you considered tankinis? Not only do they cover up your tummy when you most need it but because they are great for covering over sun-sensitive skin.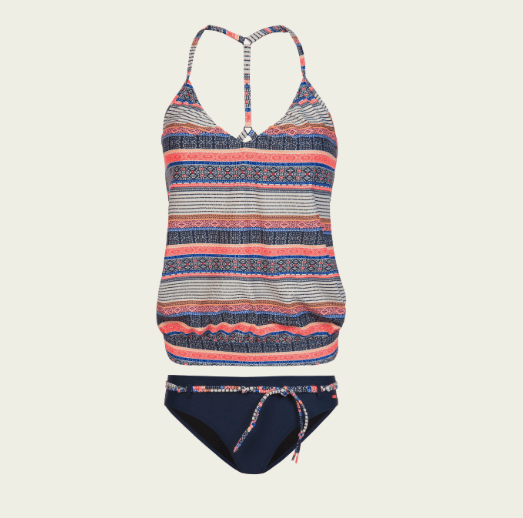 MY CHOICE: Want more 'surf vibes' when it comes to your swimming outfit? Then take a look at the Upton Tankini in Seashell. I like this bikini because it looks more like a top and bikini bottoms (that is because there is a secret invisible bra construction on the inside on the top to hold you in place when swimming or running along the beach). There are foam cups for extra support, and they can be removed so that your tankini can dry quicker. To see all Tankinis click here.
The top of this one looks more like a vest top – and it would be perfect for surfing as you won't get a rash from the board. All-round cute, right? Bet it this one has made you rethink tankinis!
Price £59.99 for the set (but is currently in the sale at £41.99)
4. The Triangle Bikini
You can't go on holiday without packing a little triangle bikini! I wear mine as a bra when away under beach tops or little slip summer dresses with slim straps. Ideal if you have a smaller chest and the fit is great when you want an all-over tan. They are the most fashion-forward of all the bikinis – but maybe not the most practical – so remember don't play beach volleyball in them 🙂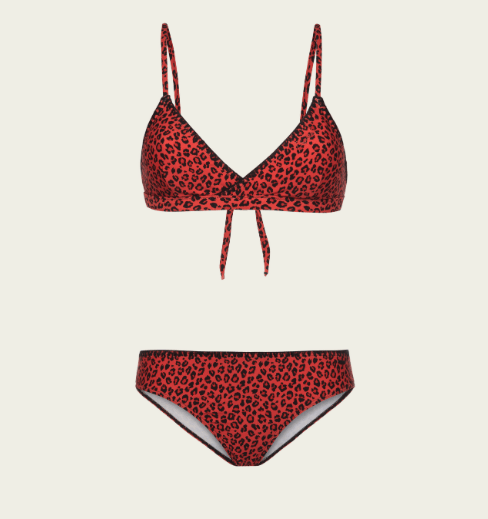 Want to add some GRRRR! into your holiday suitcase – then you can't go wrong with an animal print which ash been a huge trend for 2020. Let me introduce you to the Impressive Leopard Print triangle bikini in Red. You'll love the blanket stitching detailing along the edges of the bikini. The shoulder straps are adjustable, and the bikini closes with a tie at the back for a cute look. This bikini makes me wish for sunny days to return quicker!
Price £44.99 for the set (but is currently in the sale at £31.99)
Shopping For Winter Sun Bikinis with Protest
What do you think of my mega round-up of winter bikinis from Protest? There really is a design for everyone there – from leopard prints to velvet to a sexy little black number! I want you to feel great and comfy while hitting the beach.
Writing this post has made me want to go on holiday so bad – I'm going to google flights now to escape this cold.
Have a wonderful day.
You May Also Like
INTERIOR STYLIST'S GUIDE TO BALI
3 ETHICAL FASHION LOOKS YOU'LL LOVE THIS SUMMER
5 INSPIRING THINGS FOR YOU & YOUR HOME THIS FEBRUARY
Latest Posts