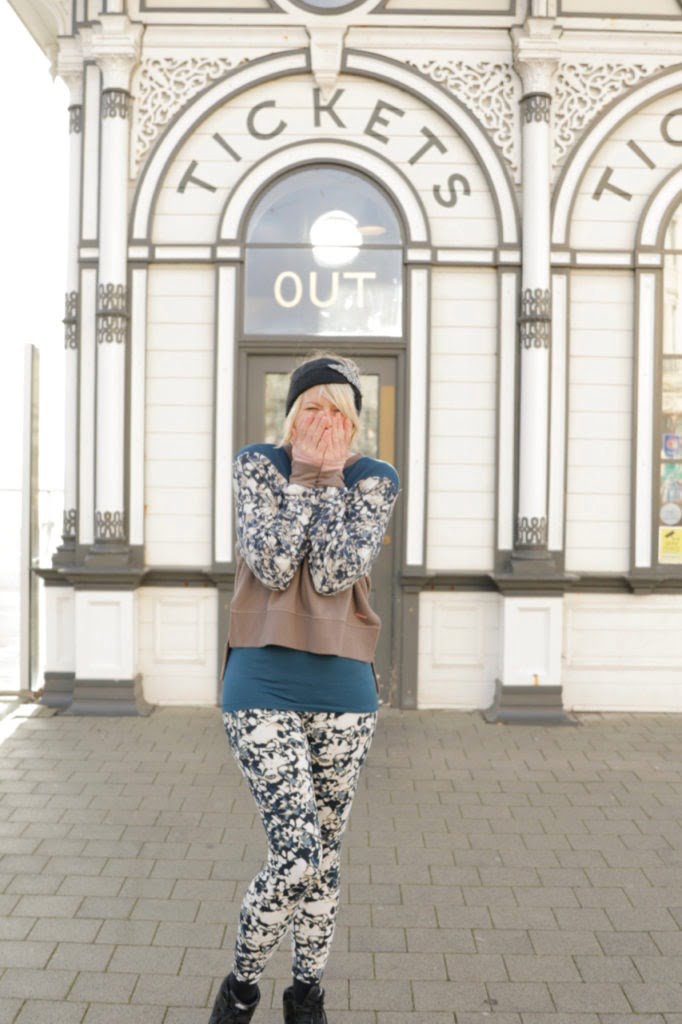 One thing that might encourage you to get up when the alarm goes for a 7am gym session? Putting on lovely looking activeware! I've collaborate with Sweaty Betty in this post to share my pick of their sports ware. It's gym gear to keep you motivated (even on early winter mornings).
* I was gifted clothing by Sweaty Betty for my honest review *
If you have been following my blog or Instagram since the end of last Summer, you'd know that I've been exercising more in a bid to improve my confidence and mental health. I joined a gym, took up boxing classes, upped my yoga and I now have PT to help me get into shape. And I know lots of you have been joining in – with lots of you sharing with me your new fitness regimes – with the aim to get fit and happy!
One thing that is overlooked is what a positive impact great looking active gear can have on your overall performance. There is nothing more awful than leggings that constantly fall down – or (even worse) are see-through when you bend over. Or a sports bra that lets your boobs jiggling around. I've had to hold my chest in place with my hands when jumping up and down in a particularly bouncy Body Attack class. Urgh! I wouldn't wish that on anyone. Or tops that ride up to reveal your mid-drift. No-one needs to see that. Worrying about flashing the flesh during your class will distract you from the exercise at hand 🙂
These days, I spend a huge majority of my time in activewear. Because my gym is in the centre of town, I often book in a meeting with a photographer or friends after a workout. I want to look chic in my gym gear when dashing around.
I'm a huge fan of Sweaty Betty – they are one of the best active brands out there for fit, form and style. The ethos of the brand is to get anyone and every working out. They make smart and responsive sports clothing that actually flatters your shape – and hides your lumps and bumps. Their range of active clothing will give you the confidence to work out more and work out harder too.
With the help of Sweaty Betty, I set out to find some 3 amazing gym gear looks that will motivate you so that you will want to hit the gym every damn day.
Working Out With Sweaty Betty – Gym Gear To Keep You Motivated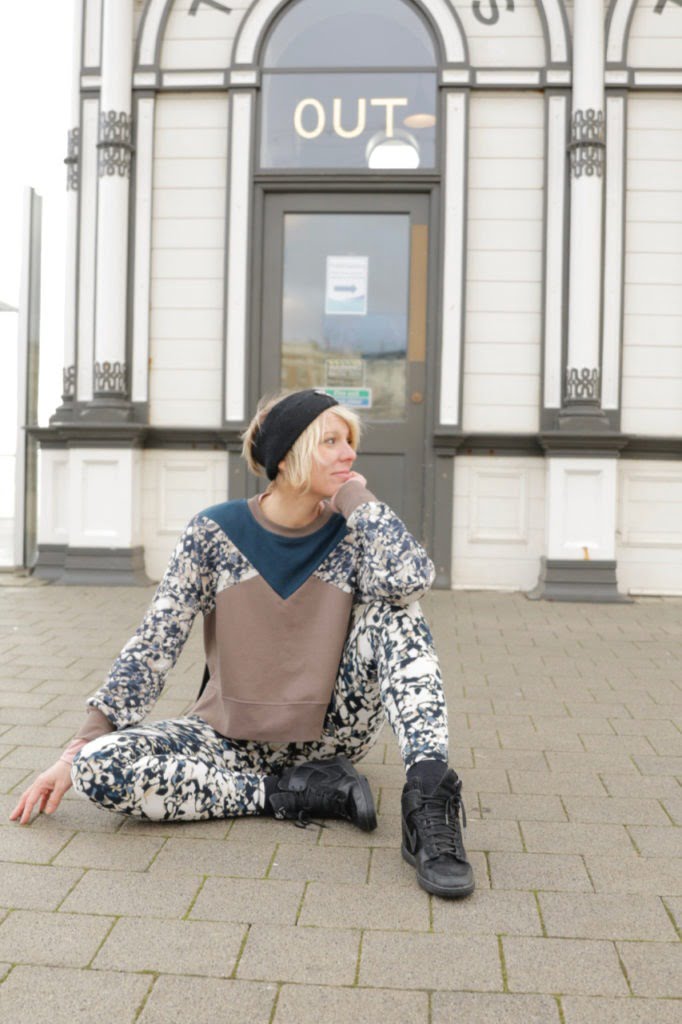 The Camo Co-Ord
Yep, there's nothing that will inspire you to break a sweat quite like a killer pair of leggings! Sweaty Betty are famous for making 'power leggings' – they are engineered in bum-sculpting fabrics (yes really) which flatters your figure whatever your size. They suck you in and lift you up.
The leggings I'm wearing in the photo above – have a high waist and a hidden adjustable drawcord which means you'll never stress about them falling down.
Oh, and did I mention they have a side pocket and a back zip pocket for your phone and your gym pass.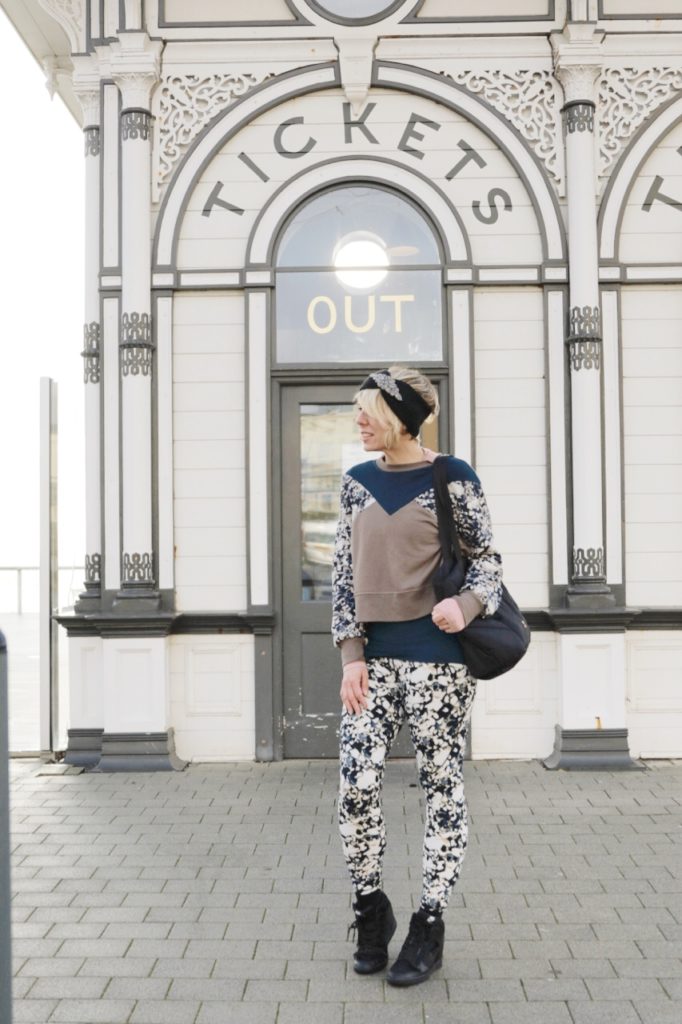 I tend to wear these Cement patch print 7/8 power leggings (£75) with co-ordinating Balham sweat (£85) – this is the outfit I wear when I've got a busy day running around town and I want to look smart and sporty.
Oh- and I don't think the quilted everyday bag has left my arm since the day I got it. It fits my gym gear AND laptop in perfectly. It even has a mesh pocket for my water bottle. It looks smart enough for meetings and the locker room. It gets a high five from me.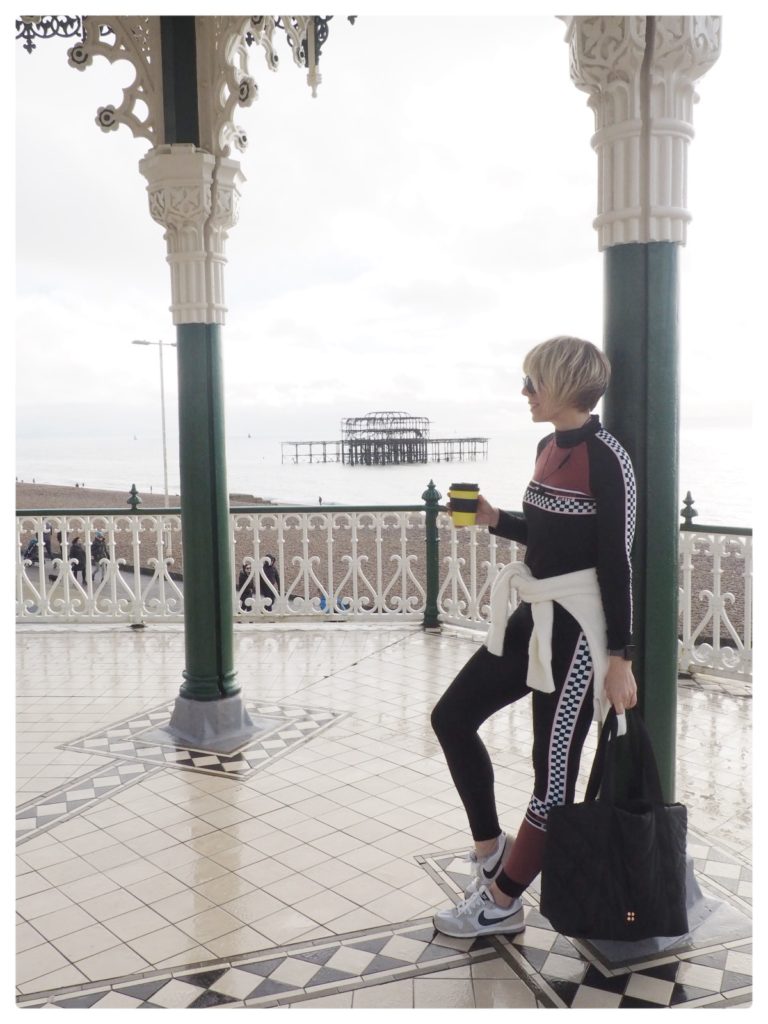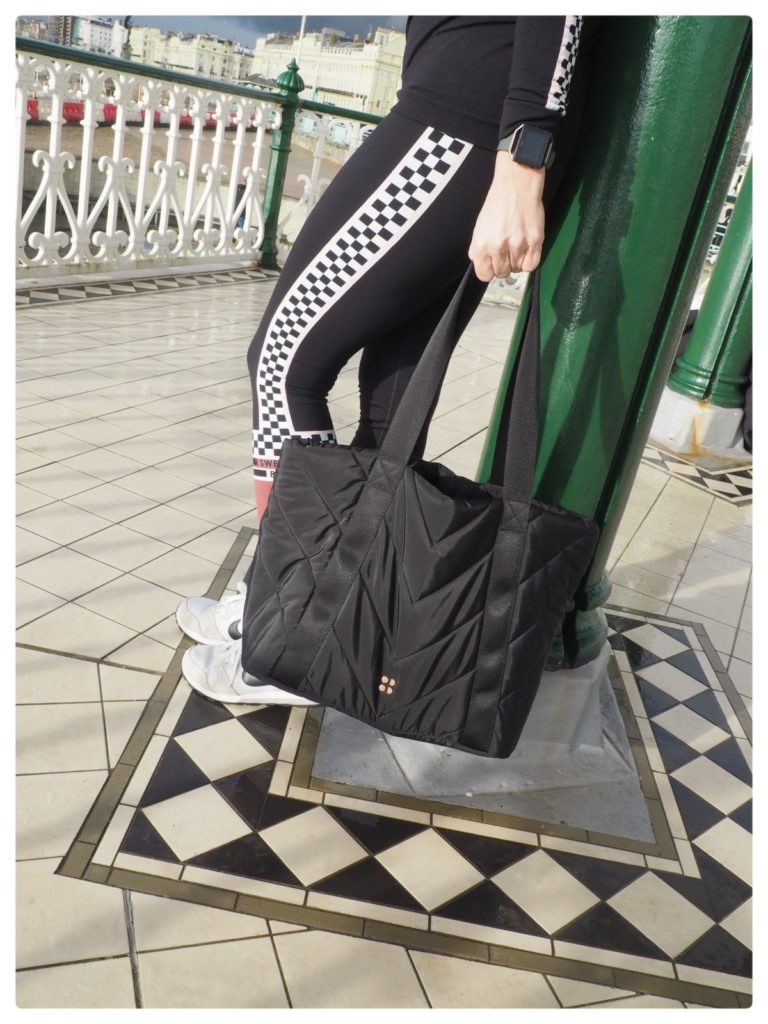 Betty Ski Base Layer
I don't ski but I feel that is no reason why I couldn't enjoy the warmth and comfort of this Sweaty Betty base layer set. I've taken to wearing it on long, cold wet winter dog walks – with a big jumper on top. Or along the seafront on a warmer day on my own. Or if I want to save money on my heating bills, I'll chuck this on under a jumper when working at home all day. I've even taken to wearing the polo neck top with a mini skirt. It's a must-have to British winters, trust me!
Made in sweat-wicking and quick drying fabric for ultimate comfort, this base layer will take you from the ski slopes to Brighton seafront. It's super stretchy for all activities – I've worn the bottoms to a yoga class and kept the roll neck top close to hand for the relaxation at the end when it can get a bit chilly.
I love the race-driver chequered board print down the legs and arms. It's a great layer if you want to stay cosy all winter long. Base layers are £65 each.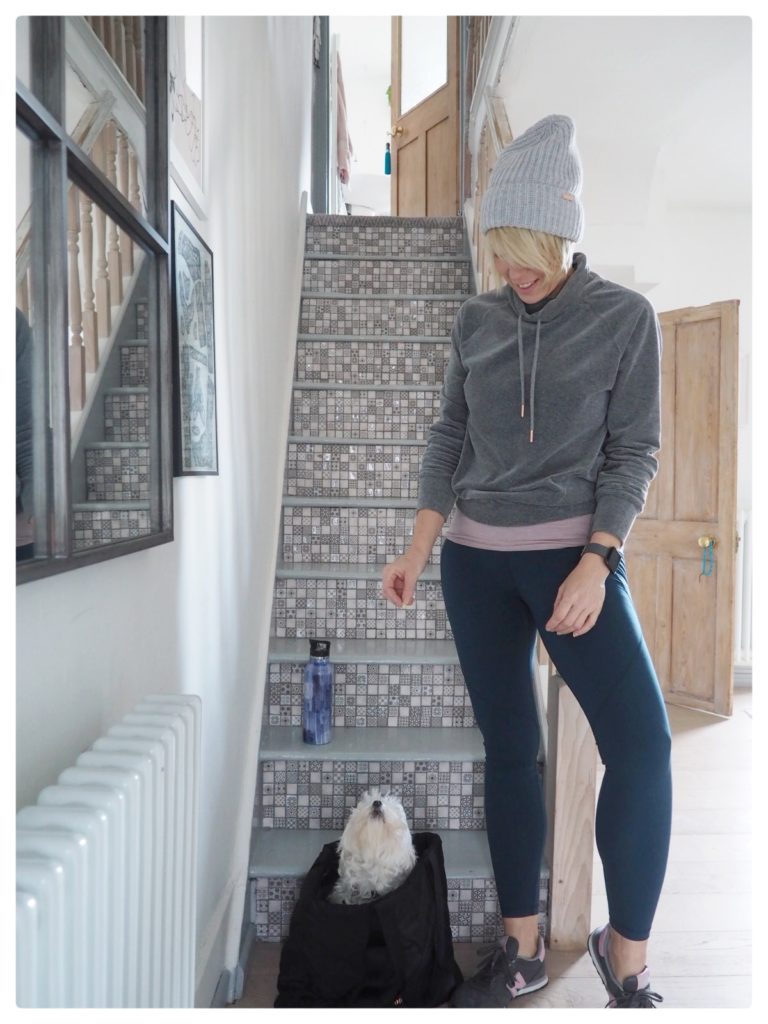 The Power Legging
Sweaty Betty's power leggings are things of legends for gym lovers. I'm in love with my Beatle Blue ones (£75). Have I mentioned that they are designed to SCULPT YOUR BUM. Yep! And they never go see-through when you are doing your downward dog. They're very well fitted too so I'm held in place when jumping around at the gym.
These are the perfect pair of leggings to buy if you are just starting out as you can wear them for most classes (spin, yoga, training…) and they will feel comfy too.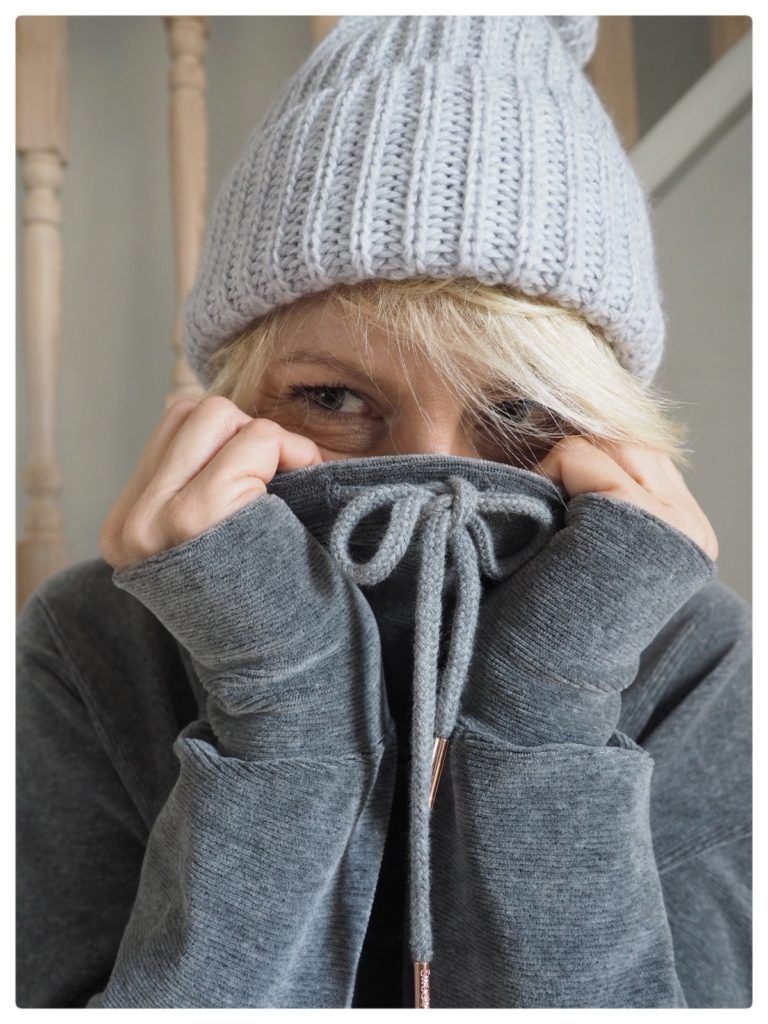 I layered up my active look with the Seamless Vest in Liberated Pink (£35) and the soft-to-the-touch and the Teddy Cowl Neck Sweat Shirt in Charcoal Marl (£85) Meet the most versatile piece in your fitness wardrobe. And the Brixton Beanie (£40) keeps my ears warm when on blustry walks along Brighton seafront or up on the South Downs.
I love this look – I wear it all day long and I still feel great from the moment I leave my house and head to the gym.
All these Sweaty Betty leggings, vests and sweaters have been put through their paces by me over the past few months. They all have washed really well (especially the vests). They still look like new despite the amount I have sweated in them!
Working out with Sweaty Betty – Gym Gear To Keep You Motivated
As you can tell I'm passionate about how I look on the way to the gym as much as when I'm at the gym. And there is nothing wrong in admitting that. The better I feel, the higher chance there is of me heading out to the gym.
When looking my sweaty worst, it is great to know that I look half-decent on the outside. It has encouraged me to go to classes more, and take my workout seriously (as I look the part).
Do you feel these same? Maybe it is time to consider investing in yourself and your workout wardrobe. If you sign up to their newsletter you can get 15% off your first order. Just saying…
You May Also Like
5 FITNESS TIPS TO BECOME A HAPPIER AND HEALTHIER YOU IN 2020
STARTING A FITNESS JOURNEY THAT WORKS FOR YOU
3 SIMPLE FITNESS TIPS TO HELP YOU HAVE AN AMAZING WORKOUT