My home has been my passion project for the past five years—and was the inspiration point for starting my (award-winning) lifestyle blog and my interior design studio. When I bought my house, it was a total wreck—but I knew as an interior stylist how to make it look beautiful on my tiny budget. I decided to launch my blog to show that you don't need to have lots of money to have a beautiful home. And to chart my home's progress. I wanted to showcase my ideas for anyone else looking to do up a smaller home.
Before
This house had been empty for seven years when I moved in and was a total wreck. The garden was so overgrown you couldn't open the back door. The '90s bathroom was leaking into the kitchen. The kitchen was so damp snails used to appear on the floor in the mornings. All the rooms needed attention—from windows, to doors to carpet to the roof— there wasn't a bit of this house I haven't worked my DIY magic on. Oh—and the layout needed reconfiguring so it worked smarter.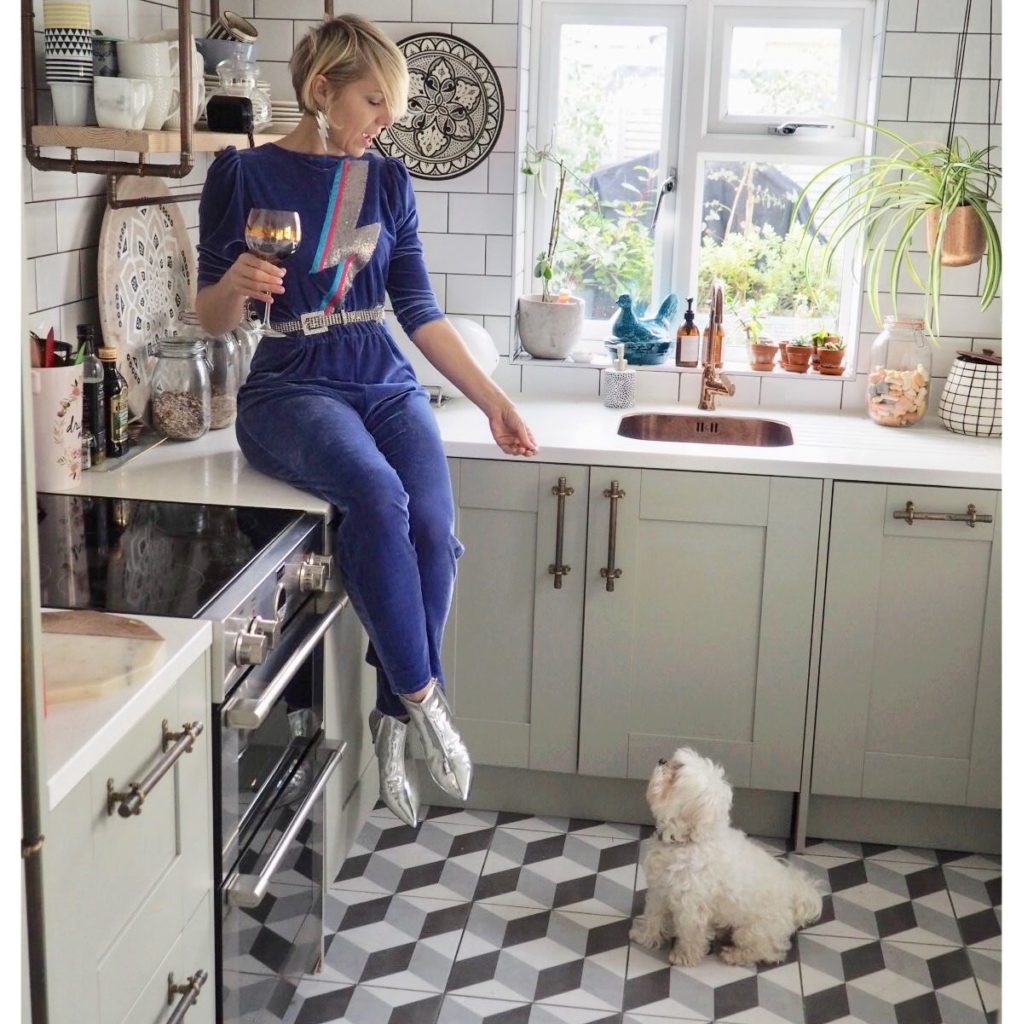 After
As soon as I open the door to my home, I feel completely at ease. I adore the space I've created and it feels so relaxing here. I'm so proud of how much I have achieved in the past five years and—the best bit—it is never finished. I keep making small adjustments and tweaks and swapping things around so my home feels like new all the time. My home has encouraged me to set up my own interior design studio where I can help others achieve a home style that is truly them no matter what their budget.
Click to my living room before & after.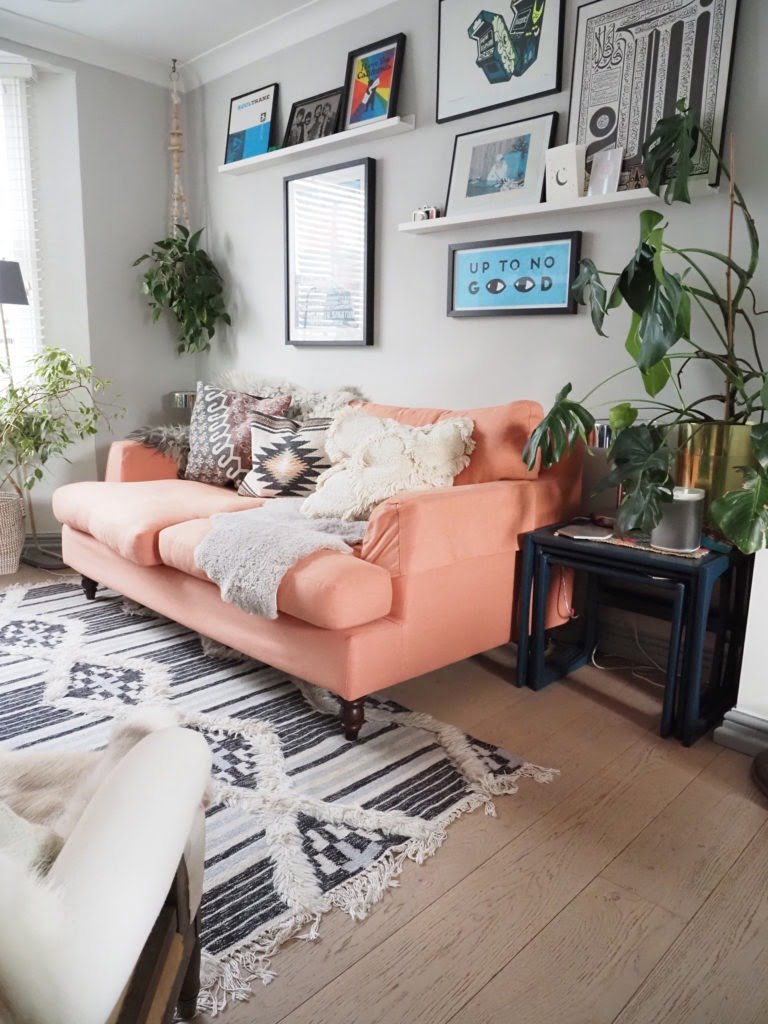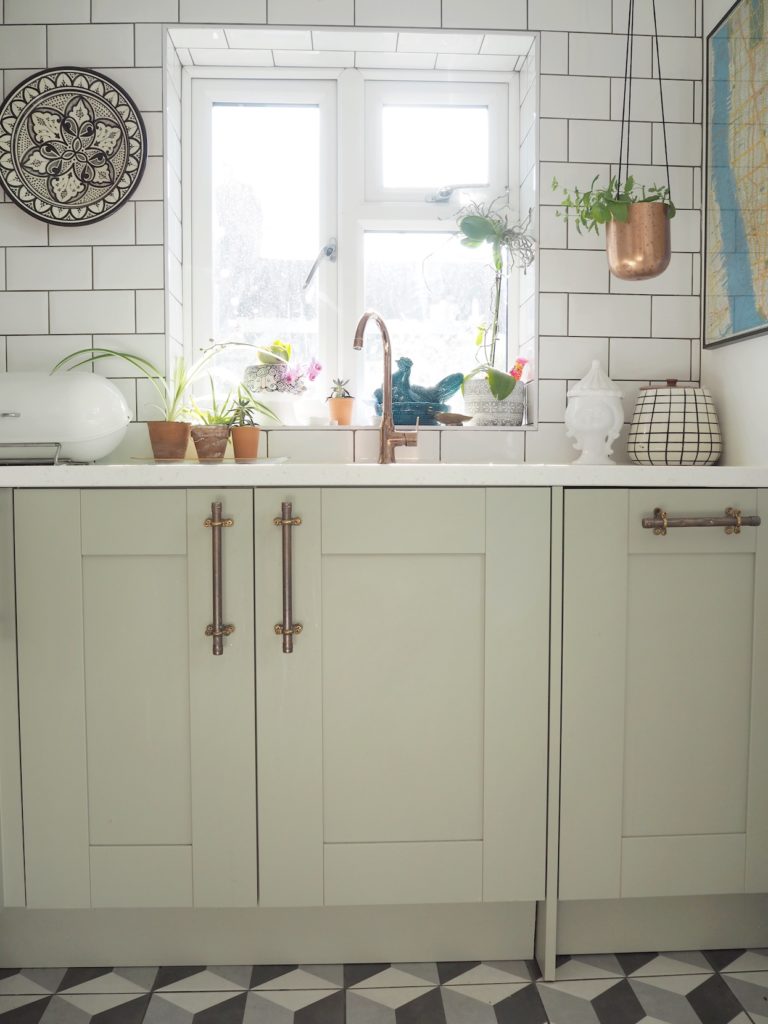 Proudest DIY: The DIY copper handles in the kitchen. They always get lots of comments on how fab they are. That and the wallpaper in the spare bedroom. I've written a DIY blog post on them.
Most loved Element
My garden (which was my latest makeover) is my pride and joy. In the summer, it doubles the foot print of my ground floor—turning into an extra outdoor dining area, living room, and cook's garden. I've never had a proper garden before and I'm learning something new all the time.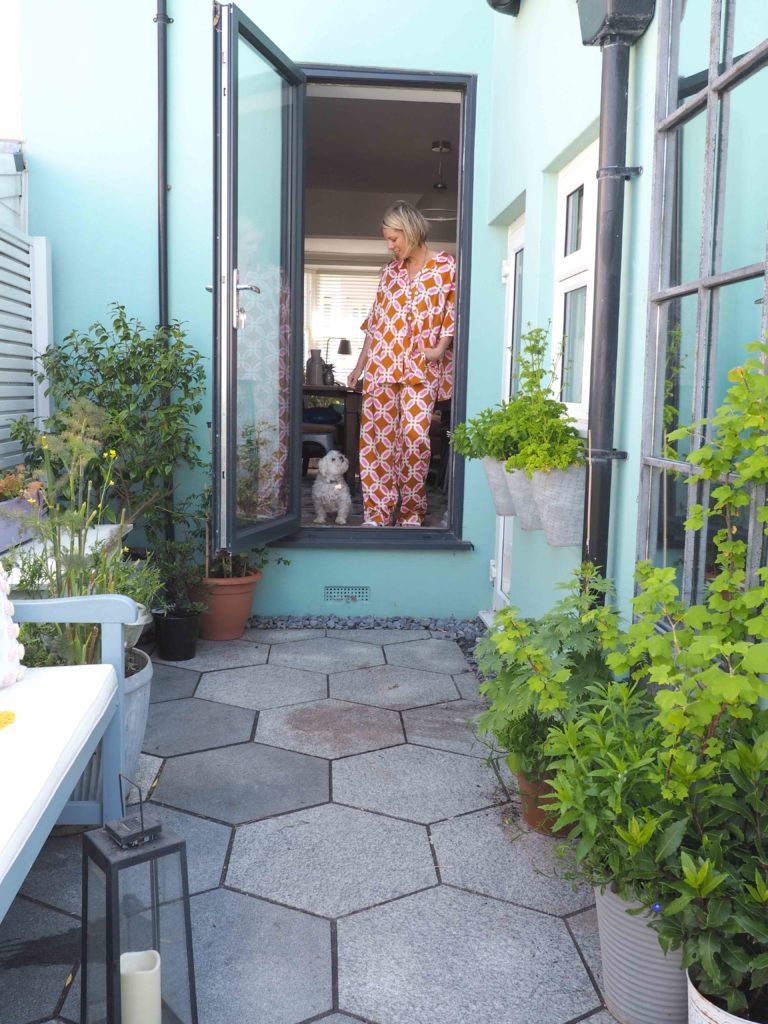 Biggest Challenge
Being forced to do all the building work at once—and finding the money to pay for it! Originally, I was going to start with the kitchen—but then my bathroom leaked down taking the kitchen ceiling with it. This meant I had to do the bathroom and kitchen reno at the same time—and I thought why not take the wall down between the living room as well? I had builders in the house for two months and lived with brick dust with a puppy. Not fun but totally worth it.
See what my kitchen looked like before!
Biggest Indulgence
Has to be my roll top bath. It had always been my dream to have one. In order to fit the shower above, I had to have the bathroom ceiling raised by 40cm —which resulted in a lot of soot and dust AND cost me an extra £1000. But totally worth it for my dream bathroom.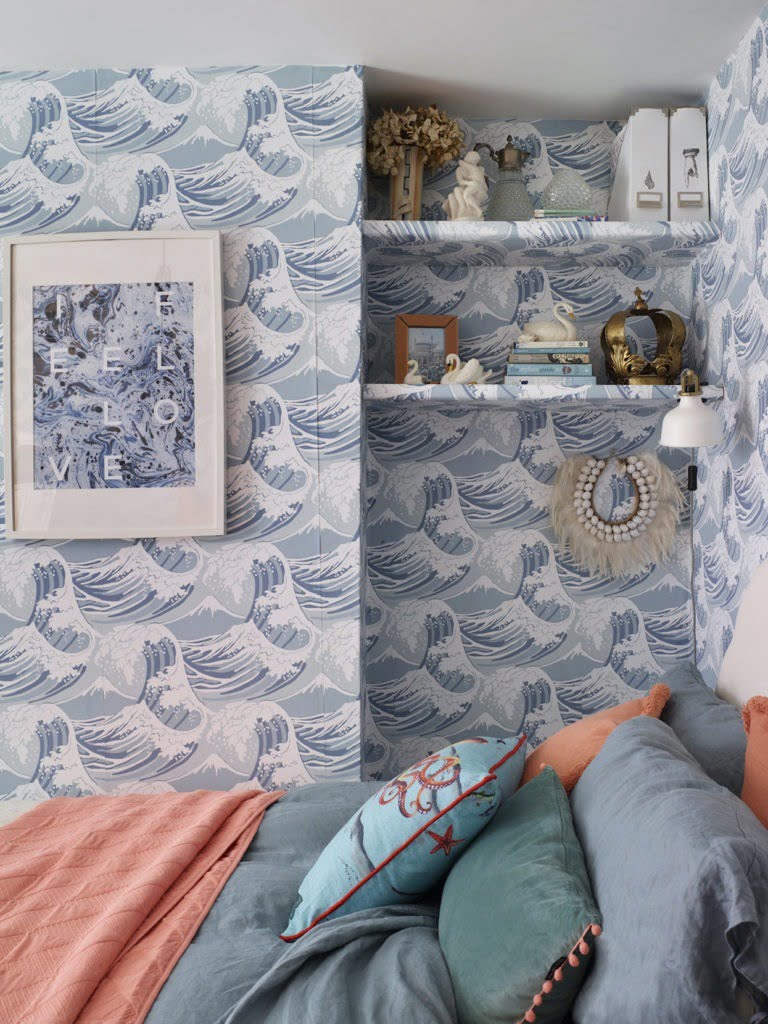 Best Advice
Take your time. I lived in the house for about five months before I started the building work. I spent that trying to work out how I lived in the house. It so tempting to rip everything out when you move in but taking time gives you the space to decide what bits you want to change first and what elements can wait. It will save you money on a building project. And your desire to have your dream space will get you through the gritty building works.
What's your best home STYLING secret?
My sofa was an £150 eBay find that I have pimped up twice now. I had new covers made in a soft peach and new cushions, too, so it is like a brand new sofa. It's more environmentally-friendly as well too.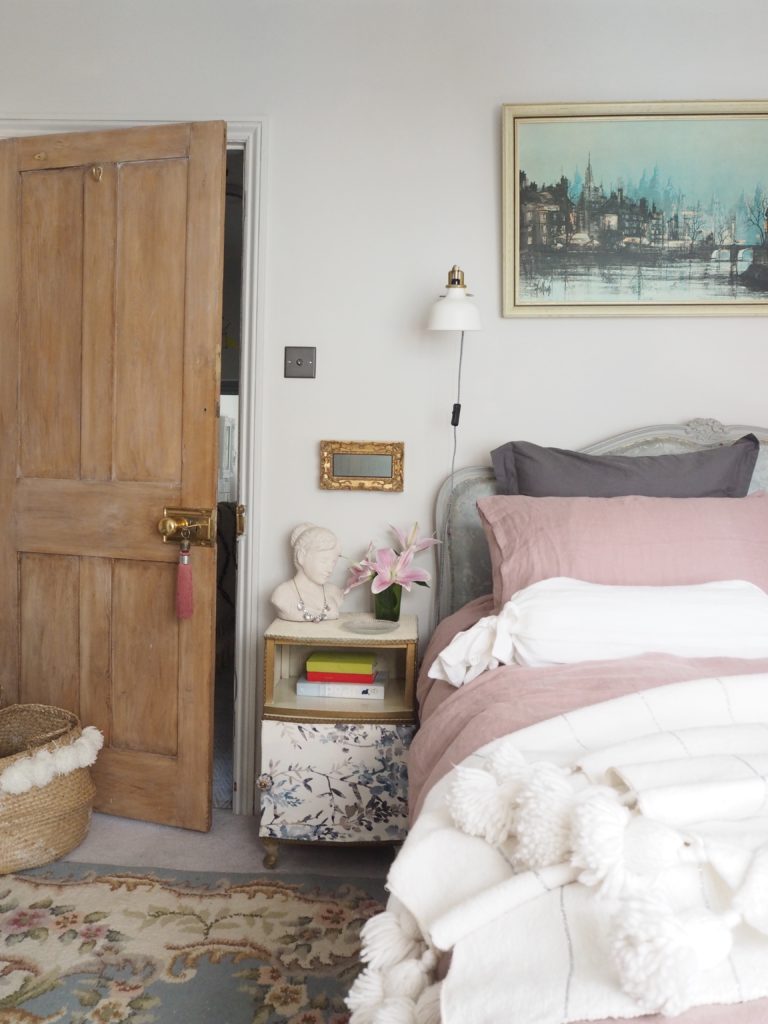 Resources
PAINT & COLORS
Living Room & Dining Room & Hallway — Dimpse by Farrow & Ball. Skirting, Urban Grey by Little Greene Paint Company
Main Bedroom — Ammonite by Farrow & Ball
Bathroom & Kitchen — Loft white by Little Greene Paint Company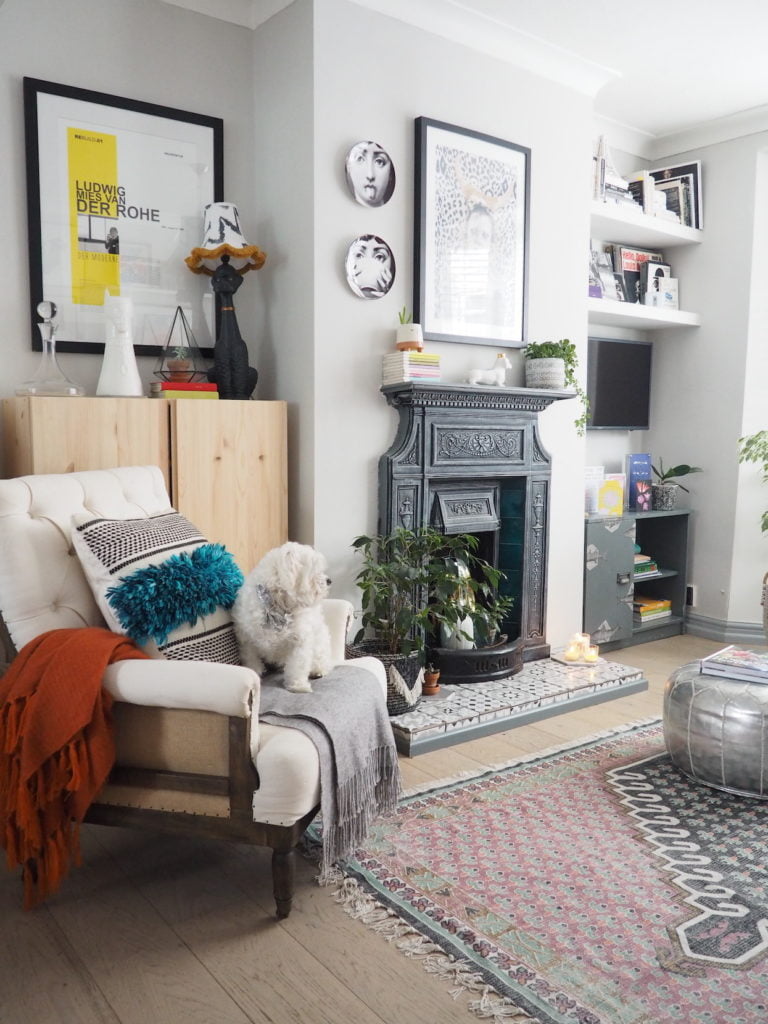 LIVING ROOM
Wall colour — Dimpse Modern Emulsion, Farrow & Ball
Skirting painted in — Urbane Grey intelligent eggshell, Little Greene Paint Company
Flooring — Galleria engineered European Oak, UK Flooring Direct
Blinds — Hillarys Blinds
Hearth tiles — For similar try BCT St Pancras Feature Tile, Victoria Plumbing
Lighting — For similar try Indoor Paris Pendant shade, Garden Trading
Mode Radiator — Vogue UK
Rug — Urban Outfitters
Sofa — Sofa.com
Sofa fabric — Altela velvet teal fabric [130380], Clarke & Clarke. Sofa covers, Eeze covers
Edmond linen armchair — Pib Home
Rar Eames style rocking chair — Lakeland Furniture
Tray table — Cox and Cox
Silver pouf — Bohemia Design
Plant basket — HomeSense
Cushions — Habitat, Homesense, Marks & Spencer, Dunelm Mill
Silver Pineapples — Laura Ashley
Hide throws — Hide.co.uk
White table lamps —IKEA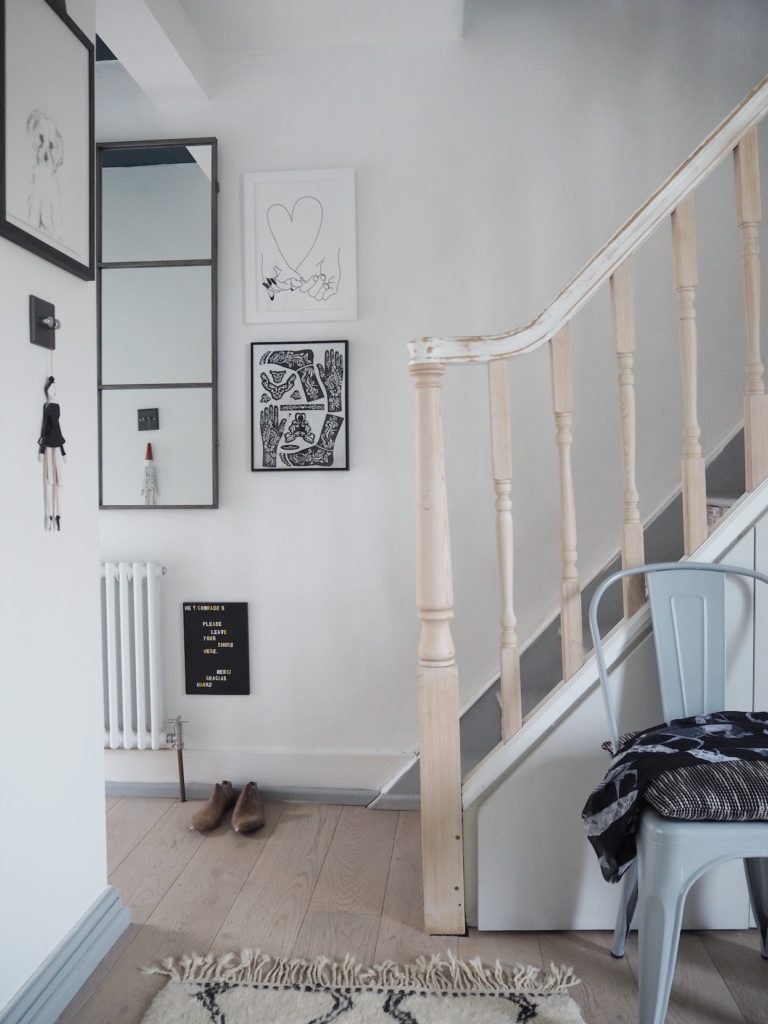 DINING ROOM
Table and cupboard — Vintage
Tolix Chairs — Cult Furniture
Rug — Modern Rugs.co.uk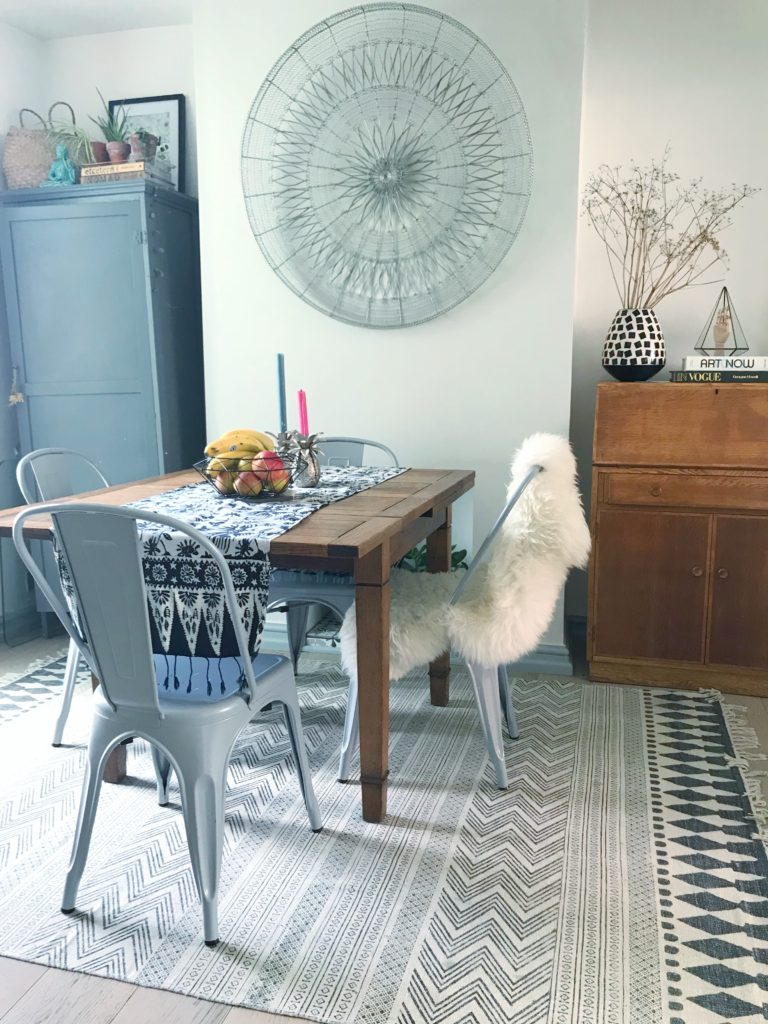 GUEST BEDROOM
Great Waves Wallpaper — Cole & Son
Devonia Plain in French Grey Carpet — Axminster
Carmina light fitting — Umage
Bespoke ottoman bed — Happy Beds
White wooden slatted blind — Hillarys
Earthy brown twisted satin sheen electrical cable — Dowsing & Reynolds
Puderviva quilt cover and two pillow cases — Ranard
Clip-on wall light fitting — All IKEA
Abs Geo quilt, £45, and Abs Geo cushion — Both Marks & Spencer
Slaked lime Intelligent eggshell — Little Greene Paint Company. (skirting and wardrobe)
Mode Horizontal column radiator 550 x 507 — Vogue UK
Geometric ceiling rose — Amazon
Kingston French Mirror — Exclusive Mirrors
Copper cupboard handles — Grace & Glory
Copper table light for similar try Copper Z table lamp — Trouva
Vintage chest of drawers — Department in Hove
Vintage wardrobe — British Heart Foundation
Ghost chair — Cult Furniture
KITCHEN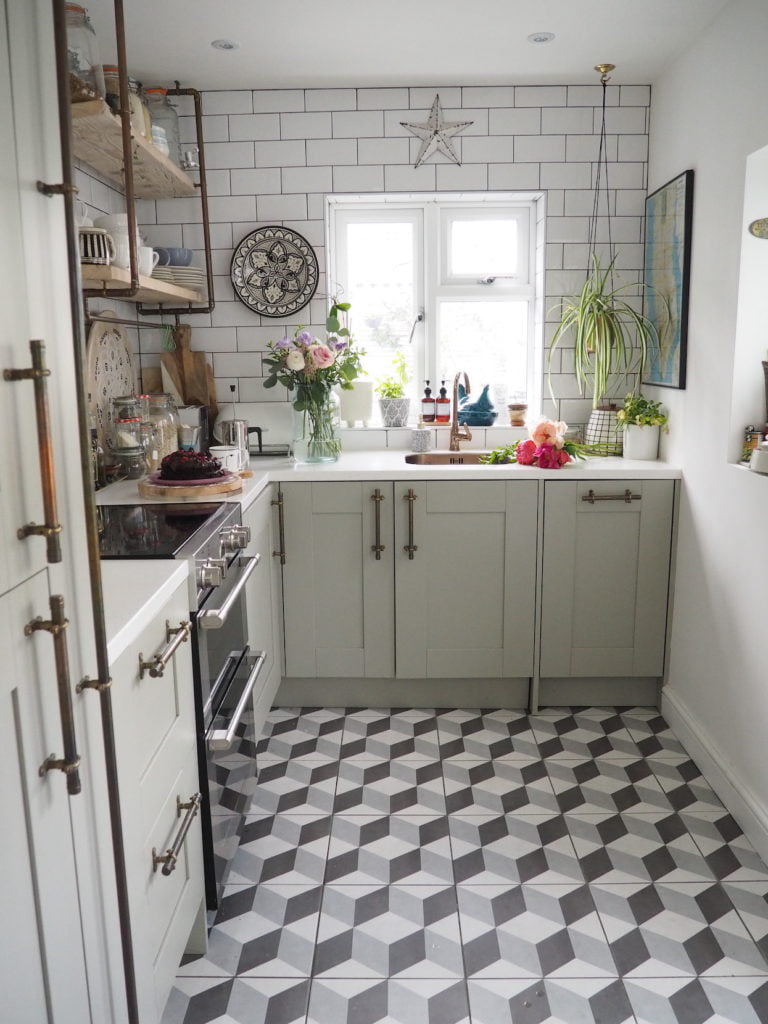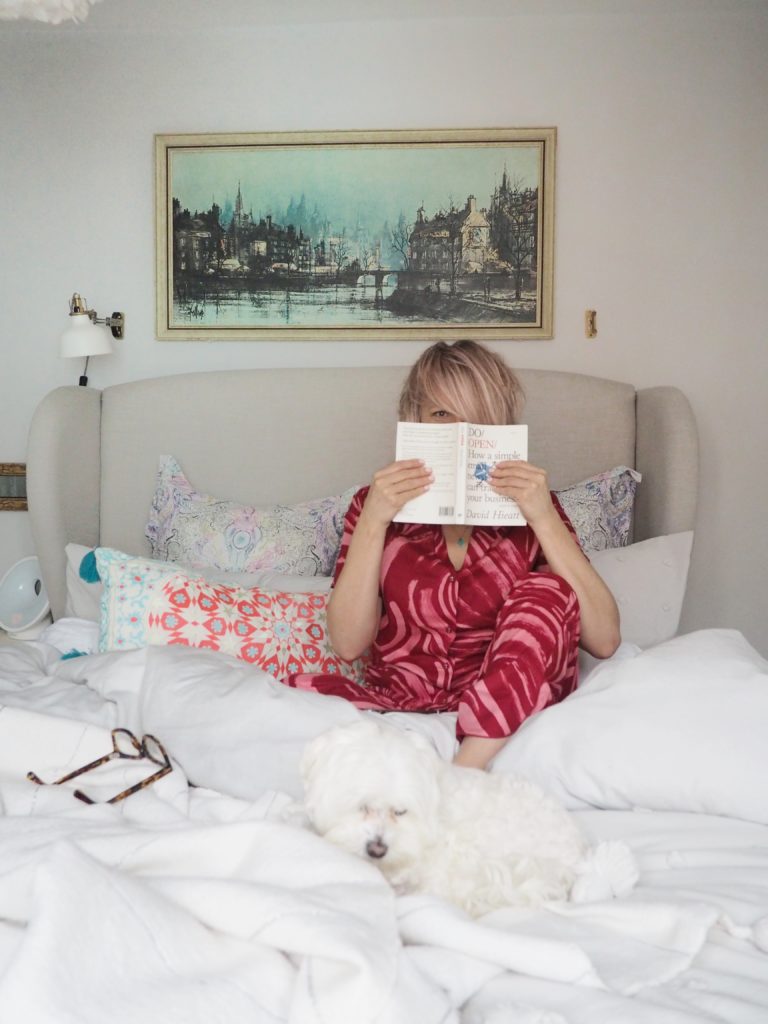 MAIN BEDROOM
Walls painted in Modern Emulsion Blackened and Middleton Pink — £46. 50 for 2.5 litres, both Farrow and Ball
Devonia Plain in French Grey Carpet — Axminster
Blinds — Hillarys
Milano Windsor traditional white 4 radiator — Best Heating
Ranarp wall light and grey sheepskin throw — Both IKEA
Continental pillow cases — Zara
Ghost chair — Cult Furniture
Eos light fitting — Umage
Bust of lady — Vermont Dove Grey Pencil Pleat Curtains, Dunelm
Elisia Champagne Silver beaded mirror — Decorative Mirrors online
Bed, Wardrobe — Both Gumtree
Bedside cabinet — Shelter Charity Shop
Paris Art British Heart — Foundation Charity Shop
Cushion with lady on — eBay.
Flamingo print, rug, art gift, gold wall clock, ottoman — All gifts from my Mum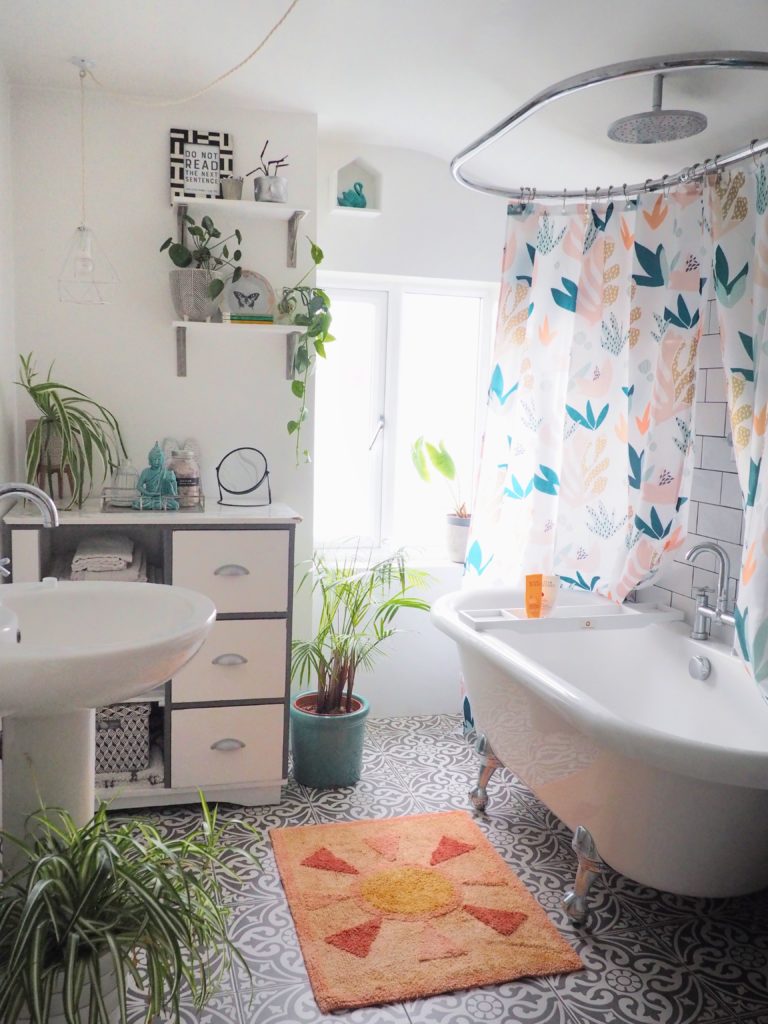 BATHROOM
Bath and feet, sink, toilet, taps, bath taps, shower, radiator — Bathroom Takeaway
Wall Tiles — British Ceramic Tile
Cabinet — vintage
Walls — Little Greene Paint Company 'Loft White' Paint
Underfloor heating — Warm Up