Not sleeping so well in 2021? Maybe your mattress is to blame! The good news is if you're thinking of replacing yours, I've found the best mattress that will help you sleep soundly through 2021.
Collaboration with Woolroom
Given we spend almost 16 years of life in bed (imagine that!) buying a mattress is not a time for compromise IMHO. It's important that you do your research and make sure that you really are choosing the best mattress for you. That's where I step in to help you today!
I was kindly gifted a Woolroom Lincoln 5750 mattress and I want to share my honest review and why I proclaimed it is the best mattress of 2021.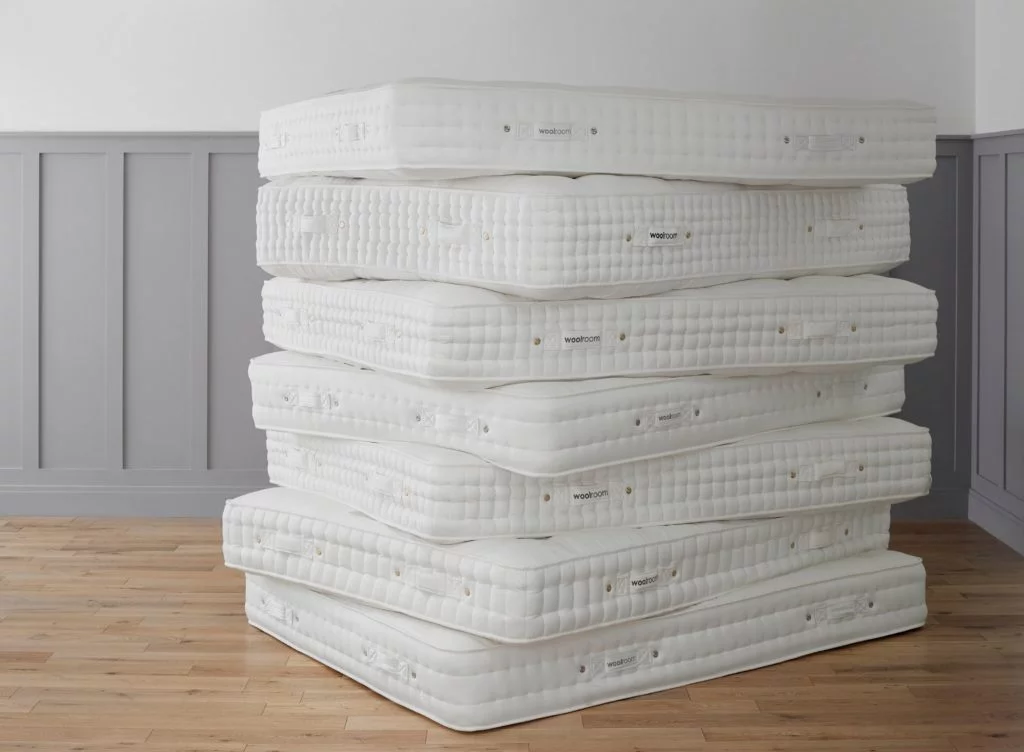 Get to know WoolROom Mattresses
When asking around for advice on what mattress to buy for my new Button & Sprung bed another journalist friend suggested Woolroom. She said it was such a good mattress she couldn't rate it highly enough. I had to find out more about this wool mattress brand!
Founded in 2008 in Bradford, Woolroom are specialists in wool bedding and mattresses. They launched the very first range of completely chemical free mattresses in 2015, harnessing the natural flame retardant properties of wool – clever hey? They designed, developed and make all their mattresses by hand here in the UK.
As a nation, we are obsessed with sleep; something that has become more prominent throughout the pandemic. Woolroom want to help you create your own individual clean sleeping environment by choosing the right mattress and allowing people to truly appreciate the many benefits of wool. You can read their story here.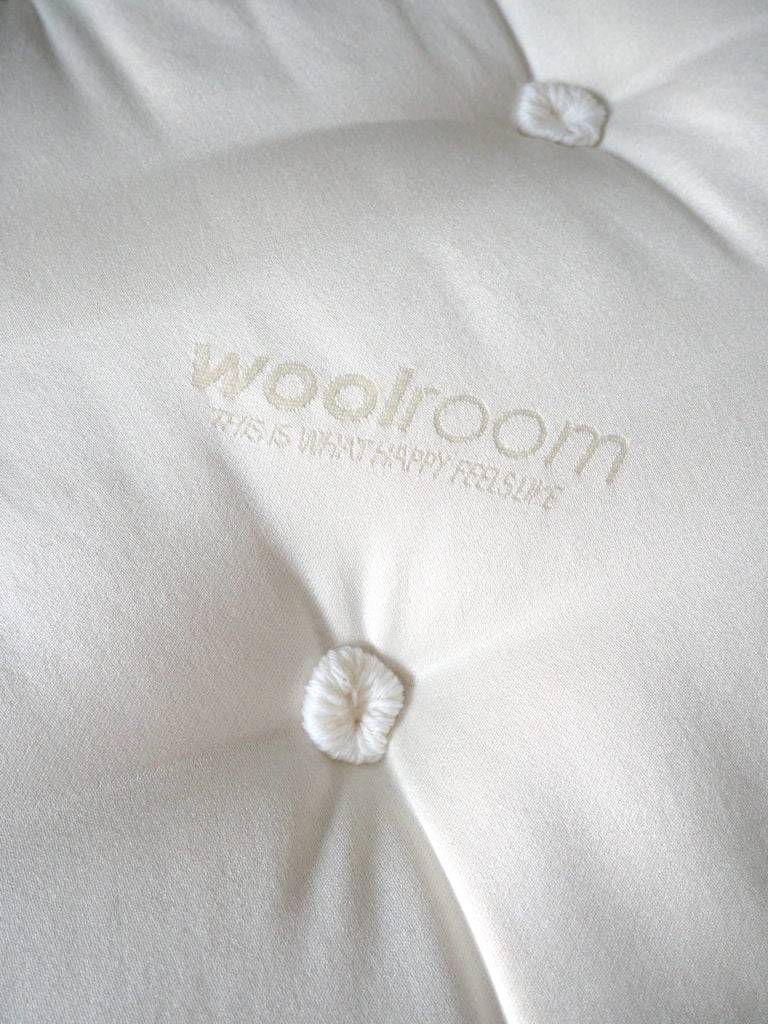 Why The Lincoln 5750 is the best Mattress of 2121
When Woolroom offered me a King sized Lincoln 5750 mattress from their new range for my up-and-coming bedroom makeover – I was thrilled!
This year, Woolroom launched a new mattress collection consisting of six new models across its deluxe and luxury range – hand-crafted using the finest natural fillings, zero chemicals and completely glue-free for easy recyclability after use. Each model is available in ten different sizes – from single all the way up to emperor.
But what is it like? That's what you want to know!
My first impressions was how soft the Lincoln mattress is to touch. That is because it is covered in a Merino wool blend outer cover which is super cosy. And it is completely chemical-free for the healthiest night's sleep. The cute hand-tufted with wool pom-pom tufts across the surface reduce the movement of fillings during the life of the mattress.
You get your money's worth with the Lincoln 5750 mattress! It's a good weight and you can actually feel the quality in the stitched edges, handles and fabric it is made in. Woolroom make mattresses that are built to last which is fabulous if, like me, you're trying to buy better reducing the impact on our environment. It comes with a 10 year guarantee which I can tell you straight off, you'll never need, as this mattress is so well made.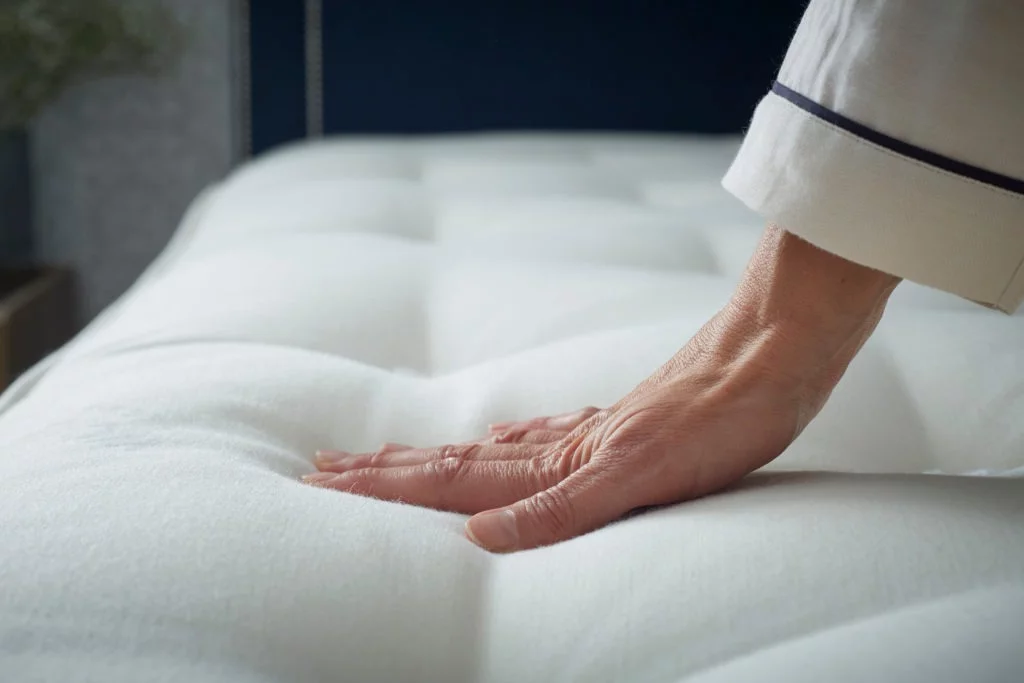 GET SNUGGLY WITH WOOLROOM NATURAL BEDDING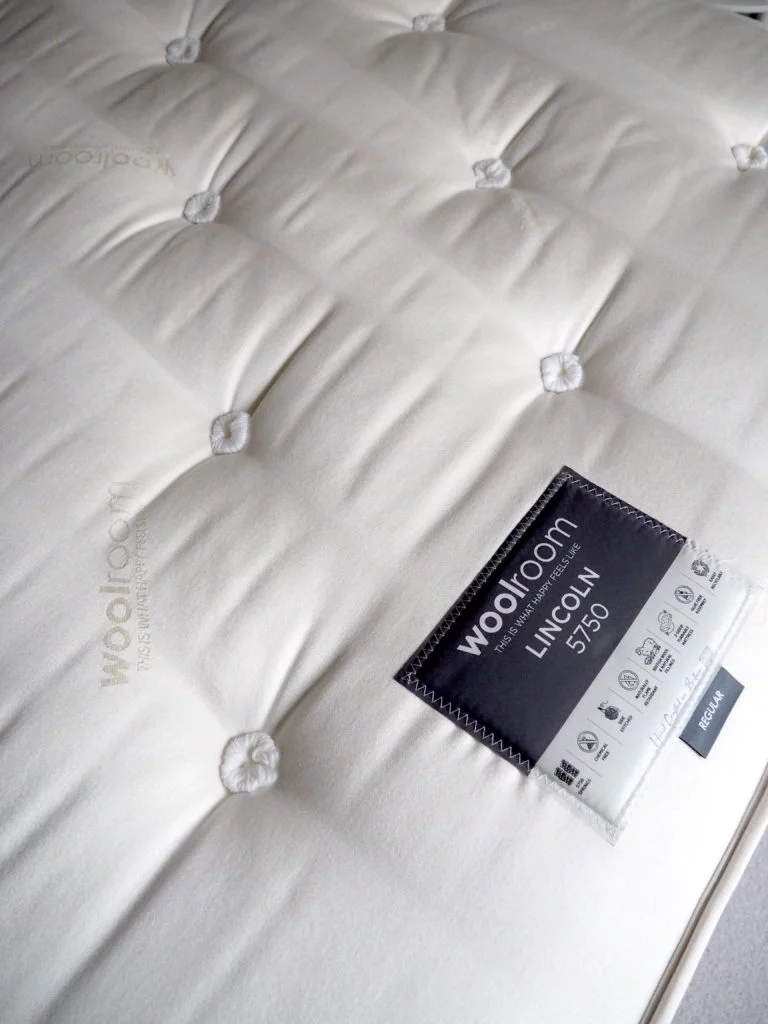 THE DETAILS
Key features: Maximum sleeping support due to combination of quad and micro pocket springs. All-natural and chemical free. Extra edge to edge support for greater sleeping area. The mattress is fully recyclable at end of life due to no glue being used on pocket springs. And being a naturally dry environment dust mites will not inhabit wool bedding making it ideal for allergy sufferers.
Sizes available: Available in 10 sizes including…
Single W90 x L190 cm, Single XL W90 X L200 cm, Small Double W120 x 190 cm, Euro single W120 x L200 cm, Double W135cm L 190cm, Euro Double W140 x 200cm, King W150 x L190 cm, Euro King W160 x L200 cm, Superking W180 x L200 cm, Emperor W200 x L200 cm – Suitable for bedsteads and other bases.
Material: Pocket springs, micro pocket springs, British wool, wool blend outer cover with fillings made from Hemp, flax, cotton and British wools. Naturally fire retardant through the Merino wool blend covering and the hand-selected surface wool layer meeting strict UK regulations for flammability.
Tension: You can choose your tension (soft, regular and firm) making it suitable for all weights. The regular tension will be suitable for the majority of sleepers. With a spring count around 5750 based on a King Size mattress.
Comfort levels: It'll suit all sleeping styles. The natural fillings and spring system will work with your body regardless of sleeping position.
Care: This model is double sided and needs to be turned once per week for the first 12 weeks and then once per season thereafter. It's a single sided mattress so it doesn't need flipping.
Delivery: Get your new mattress delivered to UK mainland postcodes within 7-10 working days. For a small fee, Woolroom can remove (and recycle) your old mattress for you. Taking the hassle out of swapping your beds around.
Price: £1199.25 for a small double
6 STYLISH BEDROOM STORAGE SOLUTIONS
MAXIMISE SPACE IN YOUR BEDROOM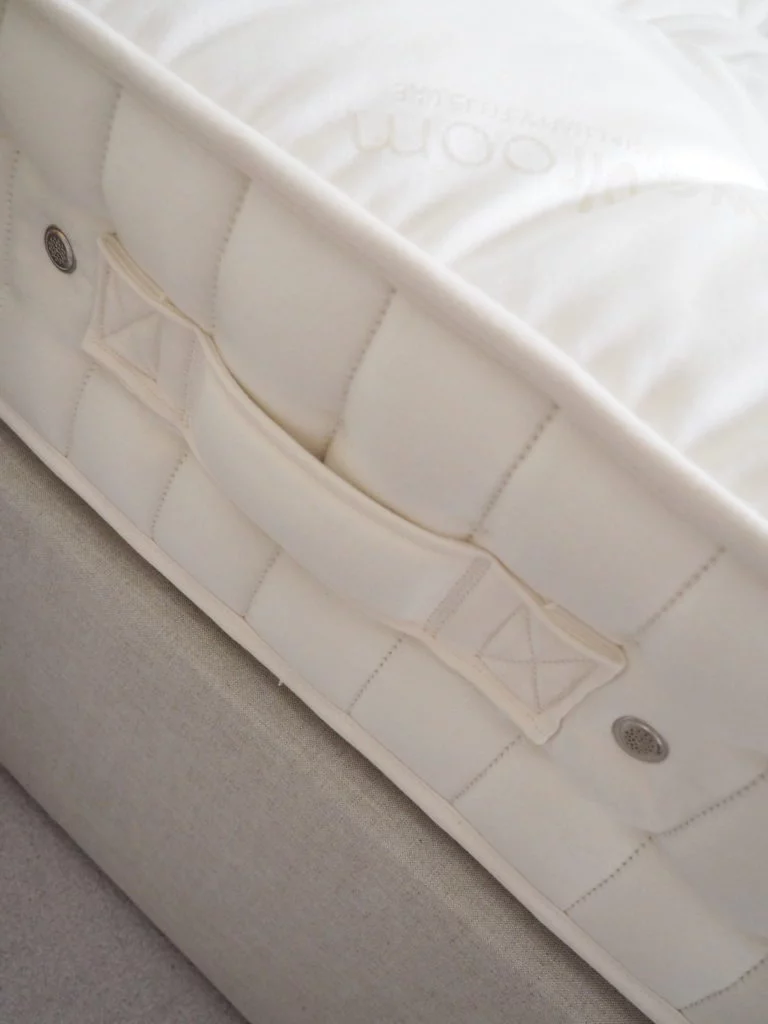 One month in…
After years of sleeping on a memory foam mattress, it makes a refreshing change to sleep on springs again. My old mattress was leaving me with aches and pains in the morning. And was starting to sag in the middle. It was lump and bumpy in places and was felt like at the end of its' life (despite being less that 4 years old). Change was due!
My new Lincoln 5750 Woolroom mattress was delivered to my door by their very polite delivery team straight into my main bedroom. Then, for an extra fee, they took away my old mattress to be recycled. That made the whole mattress swapping experience completely stress free! All the packaging was all taken away too which saved me a trip to the recycling point. All round 5 stars of the delivery and install service.
With my job as an interior stylist, I can do heavily lifting and be on my feet all day. My back can get pretty sore after a long shoot and it used to take me a while to find a comfortable position to drift off to sleep. Not any more! The Lincoln 5750 has the right balance of support for my back while all the while feels super snuggly and comfortable. I teamed the mattress with my wool mattress topper for extra comfort and protection.
The combination of the tension of the mattress with the natural fillings (great for my asthma) gives me the most comfy night sleep I've had in a long time. I've never slept so soundly! I find myself sneaking off to bed early to read my book or to listen to the radio. My bedroom has become a little haven where I enjoy long lie ins and cosy nights in. I LOVE IT!
Another reason the Lincoln 5750 the best mattress of 2021 is the 100-night sleep trial that Woolroom offer. So if you aren't satisfied (ermmm….I doubt that but hey!) they'll take it back and refund you in full. You get the 100 Night Sleep Trial when you purchase a Deluxe Wool Mattress Protector or any Topper with your mattress.
The best mattress of 2021
If you are looking for a great value all-round mattress, that will give you a wonderful night's sleep then you won't regret Woolroom Lincoln 5750. It really is the best mattress of 2021.
READ NEXT
Take A Home Tour With Maxine Brady
5 reasons why fitted wardrobes are hot right now!
MY HOME IN THE METRO NEWSPAPER
You'll love my collaboration with Coat paints
Dress Your Bed Like A Pro – 5 Styling Tips