Billed as the world's most sustainable air purifier, the Briiv Air Filter harnesses the power of plants to clean the air in your home.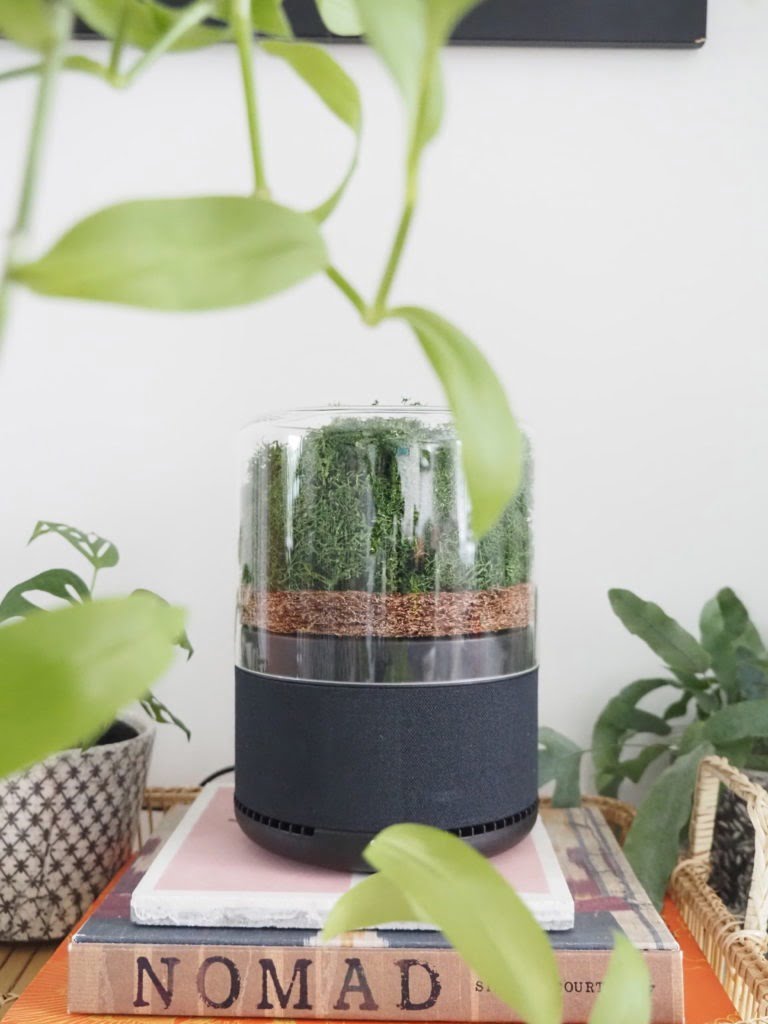 As we spend more time indoors, the quality of the air we breath at home has become an important to us all. That's why air purifiers have become an increasingly popular interior purchase. Sadly, most air filters are cumbersome, ugly-looking and produce unnecessary plastic waste.
But there is a better way! Briiv Air Filter is an innovative, natural product air filter designed to clean the air you breathe. This environmentally-friendly air filter harnesses the power of plants to bring you healthy, pure air at home. HURRAH!
*Sponsored post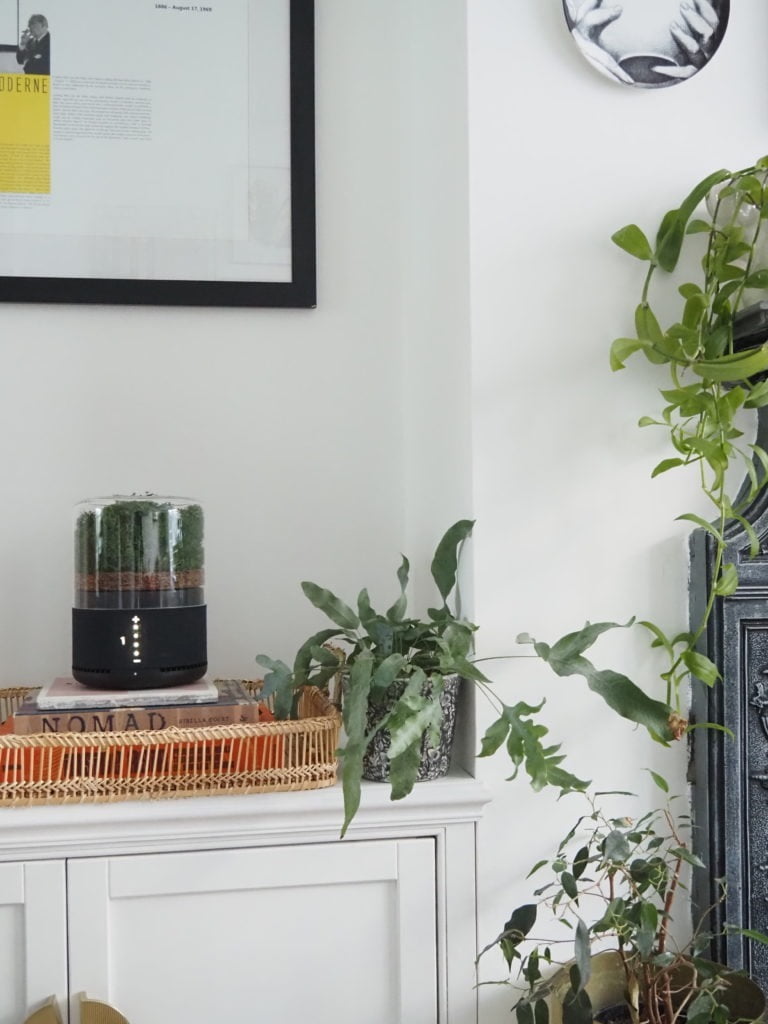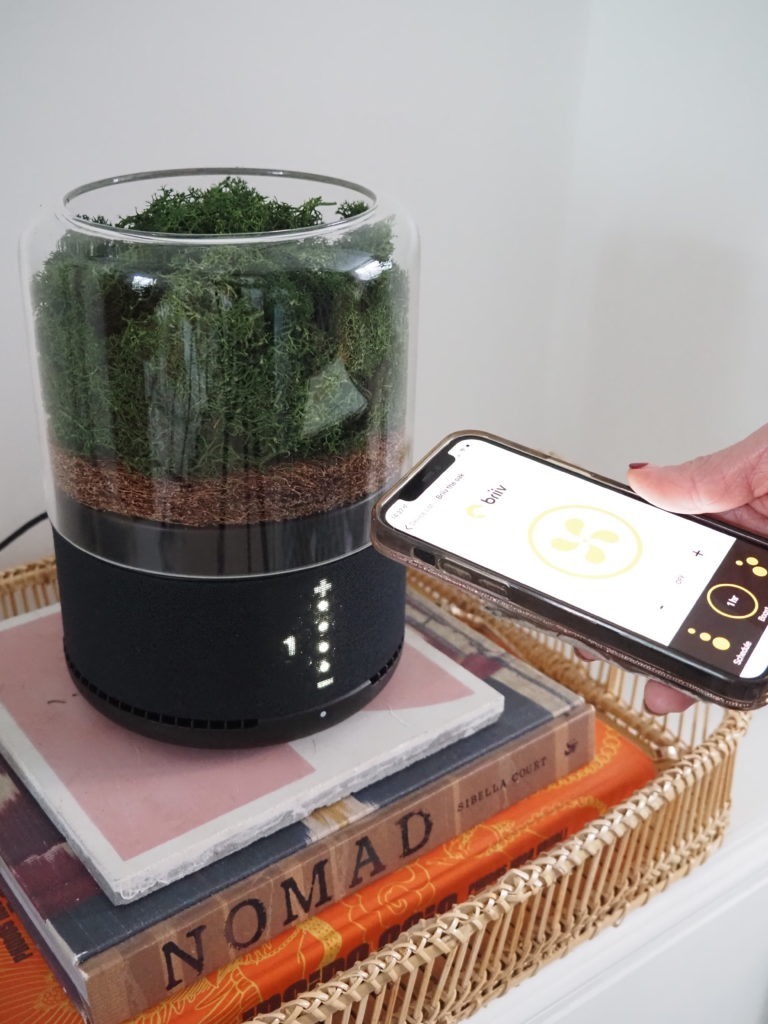 Why care about air?
Did you know seven million people die prematurely from air pollution every year? SEVEN MILLION! That's more than the population of Denmark every year.
Air pollutants don't just come from traffic and factories. Tiny particles and harmful gases are released into your home every time you cook, light candles, use cleaning products and even play with your pets. Getting rid of fine particles, harmful gases, pollen allergens and bacteria/mould spores is really important to create a healthy home.
And research shows that good air quality can lead to better sleep, higher energy levels and improved cognitive function. Reducing toxins, pollution and fine dust in the air we breathe is proven to improve our quality of life and overall health too.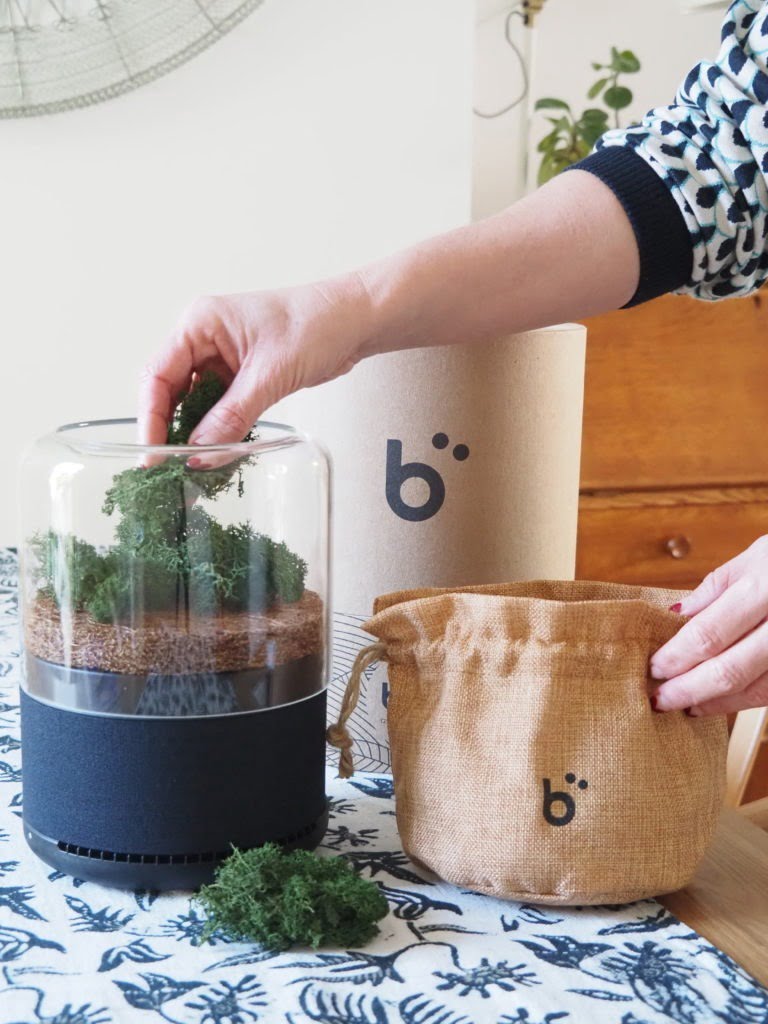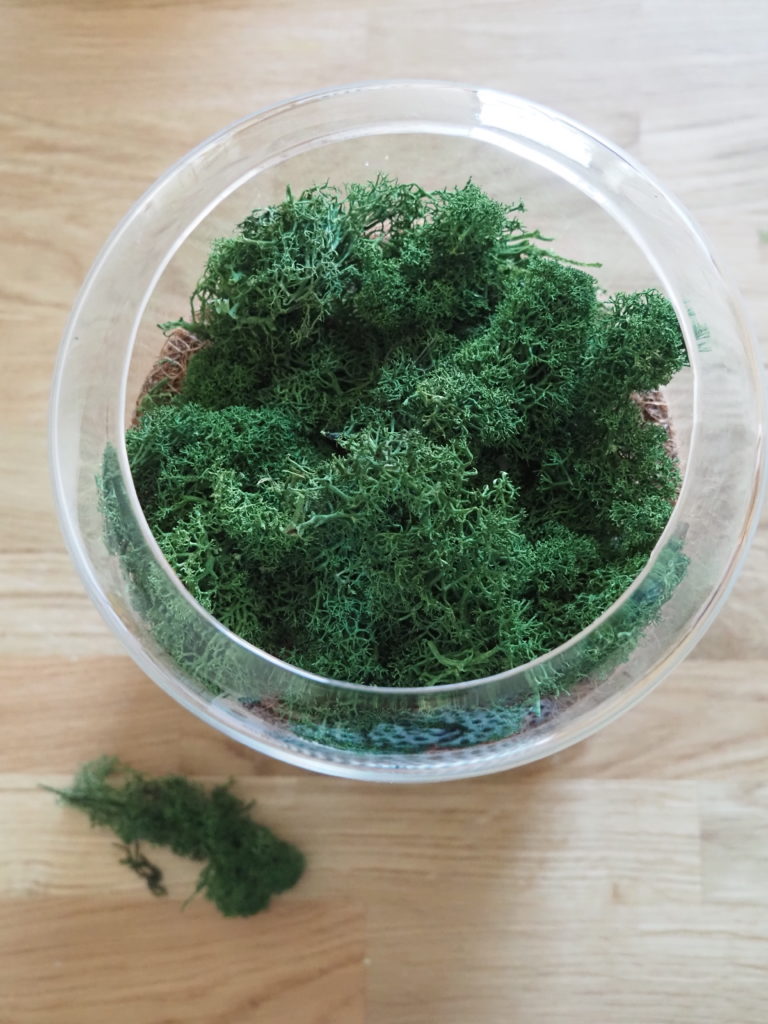 Why is briiv different?
The BIG problem with most air filters is they use plastic HEPA filters. In 2019, 15,000,000 air filters were purchased and the average filter needs to be replaced every 6-8 months. These plastic filters cannot be recycled. Every six months, that adds up to 6,000 tonnes of plastic waste. That's the equivalent of 500 London buses….which will take a millennia to decompose!
That's where Briiv steps in. TThat's where Briiv steps in. Their air filter uses natural micro-structures of moss, coconut, carbon and a newly engineered combination silk matrix to filter air in our homes. The filter is 96% plastic free which means that most of the product is completely recyclable or biodegradable! Thanks to it's natural filtration system, the filter can be composted when it's time to replace it.
Instead of opting for oil-based plastics, Briiv uses a new bio-plastic derived from elephant grass, which is grown where agricultural crops can't be. This crop captures carbon in the process and fully biodegrades.
Briiv is made from less plastics than any other air purifier on the market. It's a great green living option, not just for your home but also for the entire planet.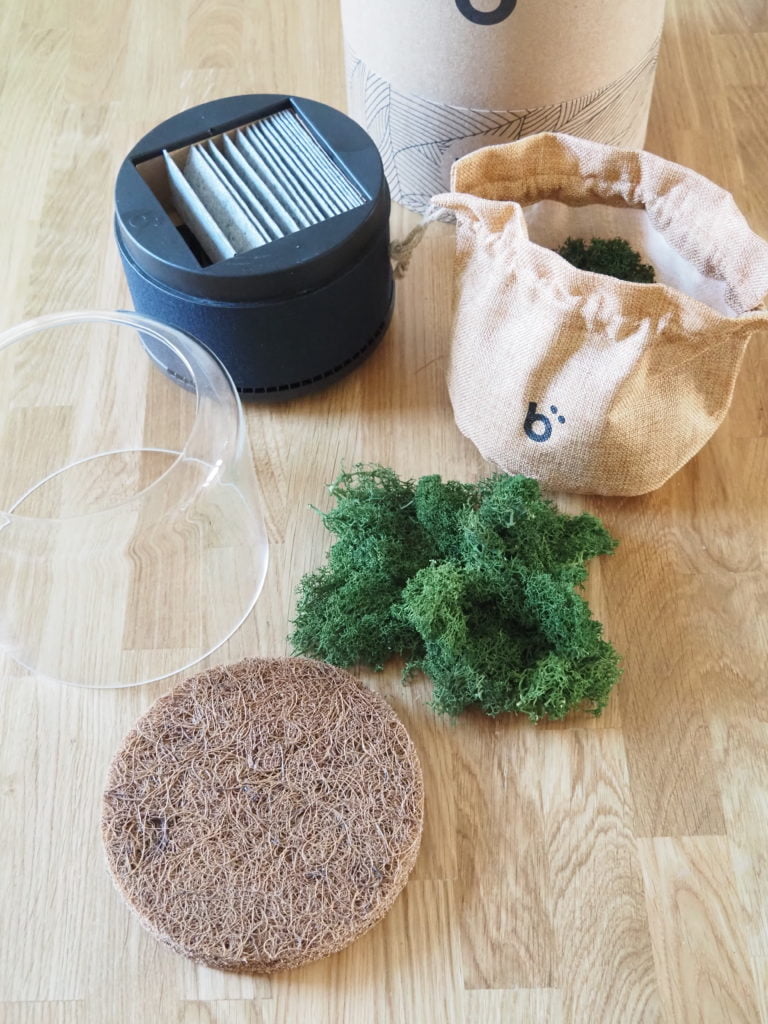 How does the briiv air filter work?
Briiv uses a unique three-stage filtration system that is entirely natural. The Briiv air filter uses dried moss and coconut fibres to filter large particles, then a newly engineered bespoke filter which combines both the elements of carbon and nanofibers. The carbon is activated charcoal which pulls odours from the air, so Briiv not only cleans the air, it smells better too.
The Nanofibers (Briiv's secret weapon) are developed originally for the medical industry. These cutting edge filters remove the finest harmful particles from the air and are 100% biodegradable. Unlike HEPA filters that are produced from micro fibres, Briiv's Nano fibres far more efficient. The moss and coconut filters last up to 12 months, and the silk matrix filter lasts up to 3 months.
You have to watch this video that shows the Briiv filtering cigarett smoke. It will blow you mind!
When it's time to replace your filter, their smart app will tell you. Download the Briiv app onto your smart phone, then you can track your filter usage and it will alert you when the filter needs replacing.
Replacing the Briiv air filter itself is easy-peasy – lift off the glass section and then take out the filters, and they will biodegrade naturally.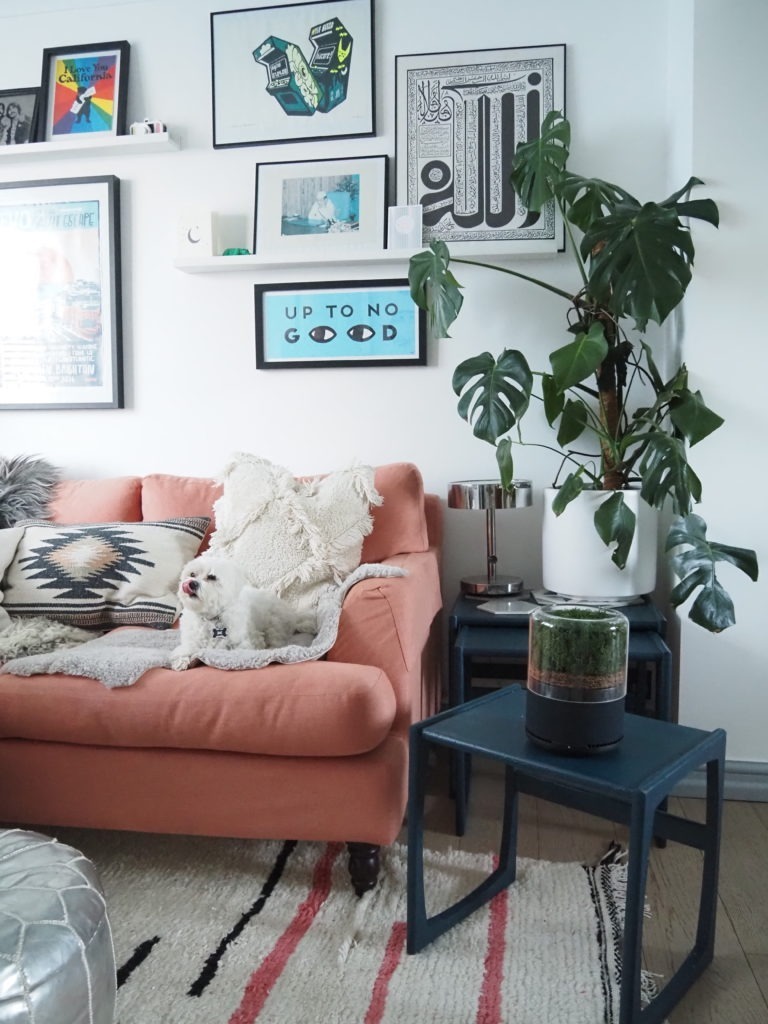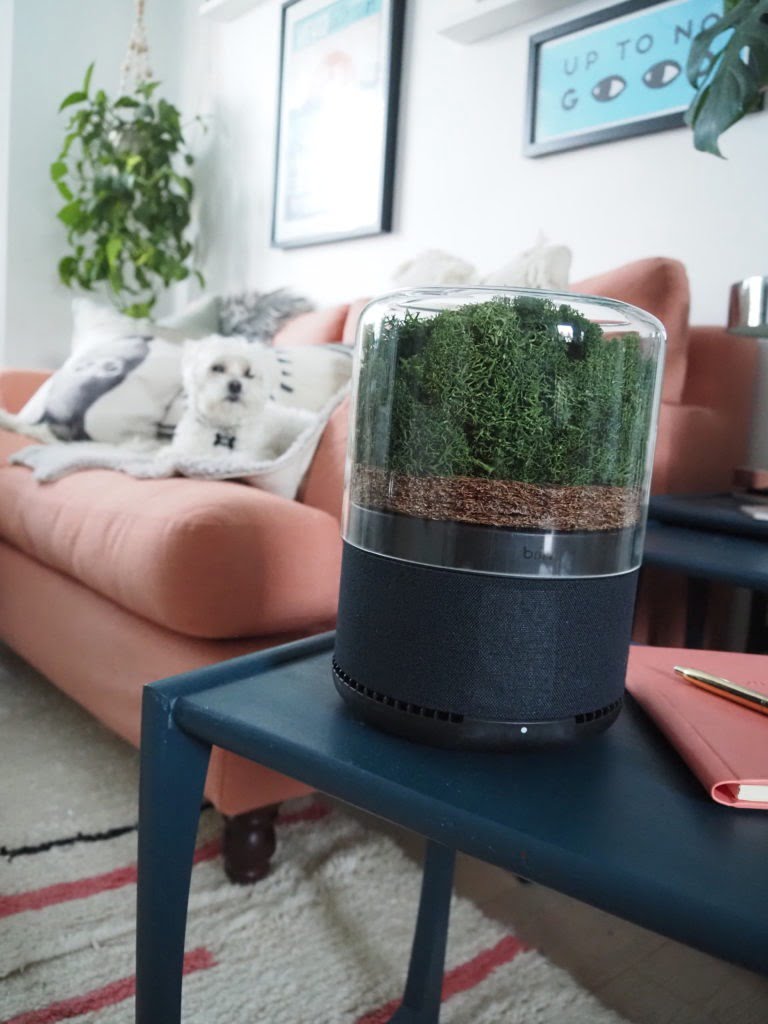 Harnessing the Power of PLANTS
Briiv have taken nature and given it a boost. How? Well, the Briiv air filter is as powerful as 3,043 medium size houseplants. So you can enjoy the benefits of having plants in your home without the hassle. Fab news if you are not the most green fingered person. And the cute moss topping adds a splash of natural colour to your home too.
What a great way to add greenery (that does good) to your home office, living room or bedroom!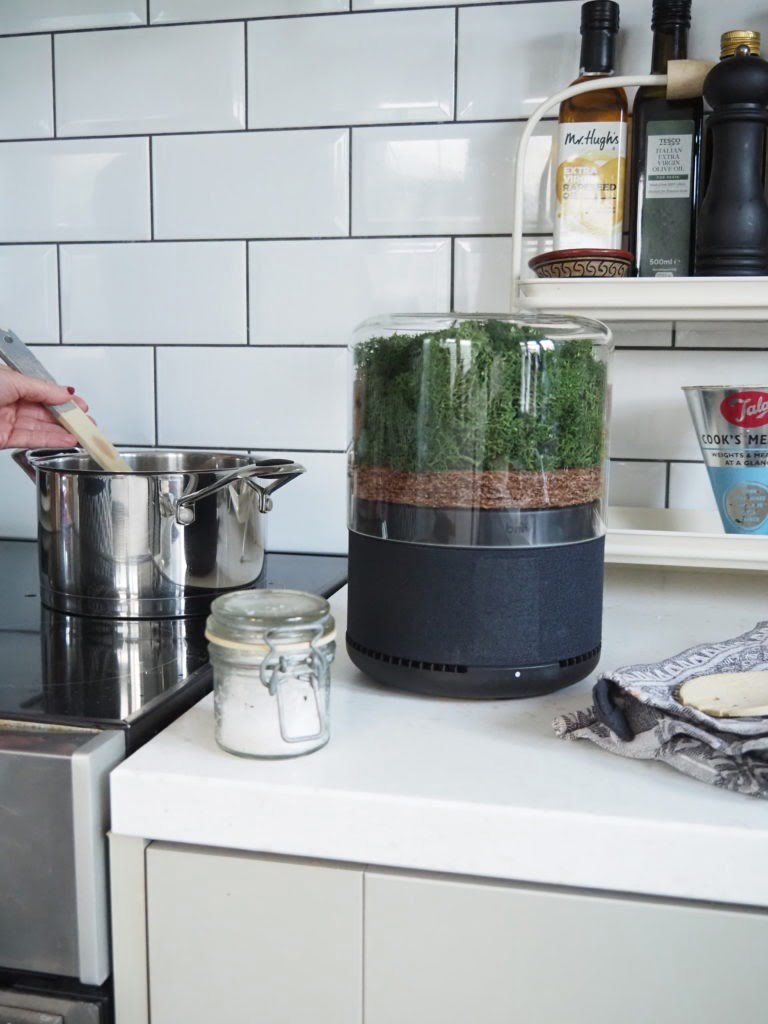 WHAT SIZE ROOM WILL IT CLEAN?
Briiv air filter will clean a 6 meter x 6 meter room in about an hour. That's the size of a pretty large living room or a studio. You can set the Briiv on a timer so that it can turn on or off when you are out and about. Or press the boost button for an extra surge of filtration if your room needs is, say after cooking or dusting your home.
There is also optional integration available for Alexa and Google Assistant if you'd like to make Briiv part of your smart home. The app makes it easy to turn the Briiv air filter on or off when you are in or out the house, saving you electricity. And you can control the Brivv when you are in other areas of your home too just via your phone or smart hub.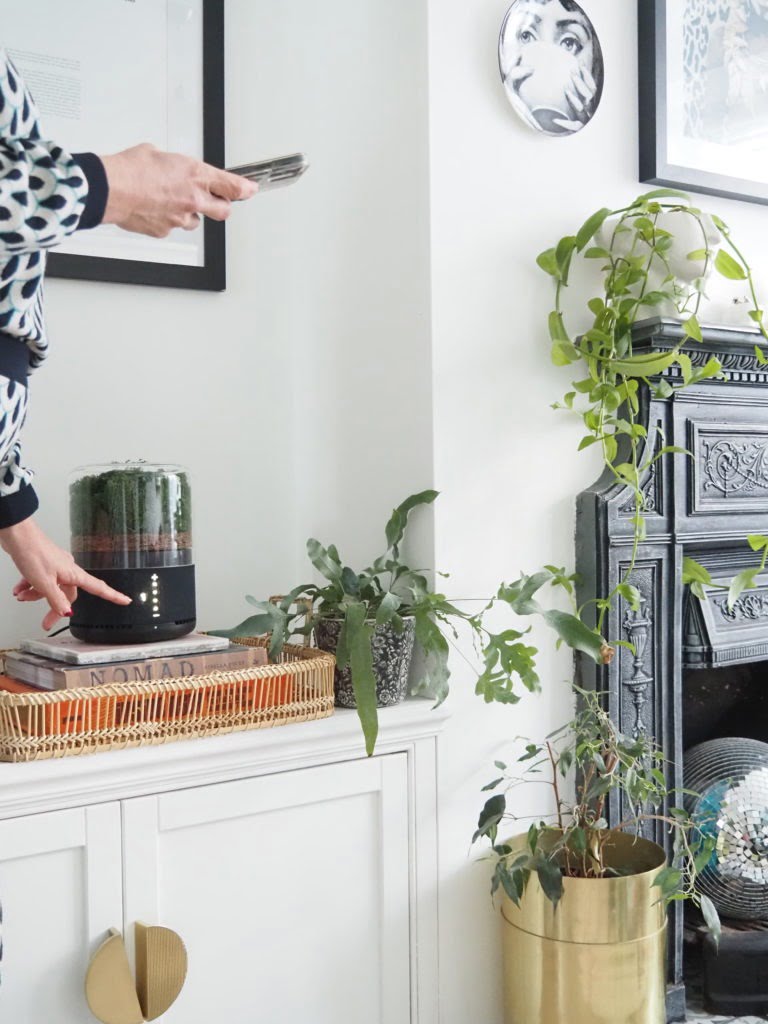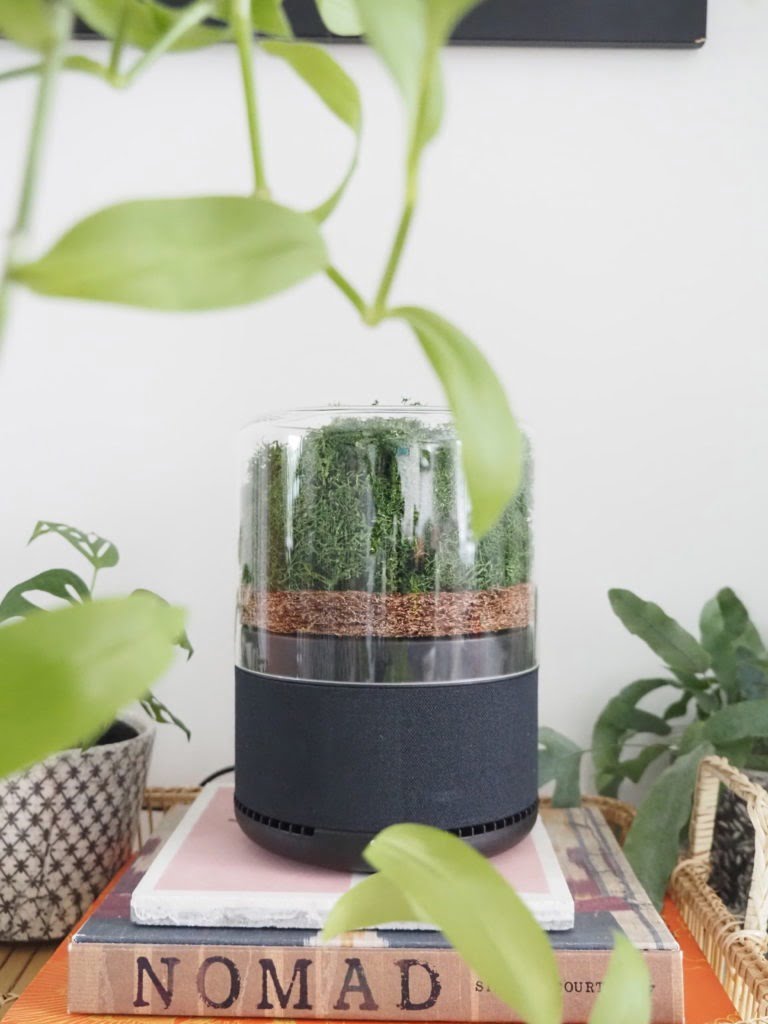 Fall in love with Briiv's Award winning design
The best bit for me as a stylist is that Briiv air filter doesn't look anything like a traditional air purifier. And that is a good thing! It looks cool and aesthetically pleasing is a win-win for interior design lovers. It will certainly be a talking point in your home for it's looks alone.
And industry experts agree – with Briiv air filter winning a prestigious Red Dot Product Design Award in 2021.
It's very minimalist and stylish. And I know you'll love the blend of natural materials incorporated in its sleek design. It would look chic at home or in an office environment – complementing your decor and giving your peace of mind with every breath you take.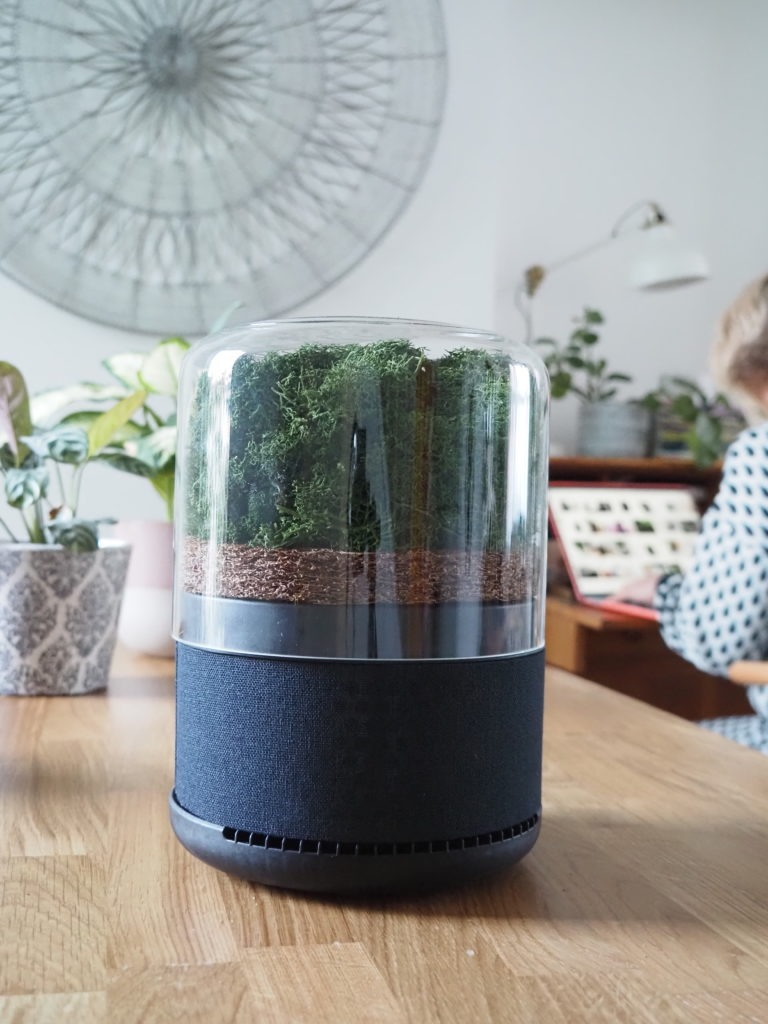 Time to get a healthier home with briiv!
Now you know why a Briiv air filter is so beneficial for you and your home.
Not only does it removes toxic pollutants from space – it will help you live, work and breathe healthier, happier and safer lives. All without damaging the planet. And it looks cool too. Got to love that for you and your home.
If you want to learn more, check out the Briiv Air Filter website.
Discover More
9 REASONS WHY YOUR BEDROOM NEEDS A COVERLESS DUVET
ART DIRECTION & INTERIOR STYLING FOR FABLE & PLUM
QUICK BEDROOM MAKEOVER WITH DULUX SIMPLY REFRESH PAINTS
For more info on the Briiv check out these posts
CLEAN YOUR HOME THE SUSTAINABLE WAY