In this post, I want to show you how to light up your garden with these outdoor lighting tips for Autumn so you can make the most of your outdoor space all year round.
At this time of year, the weather is changing and it's getting ever closer to the most wonderful time of the year – Autumn! Even though your garden still might be full of blooms you might not be spending so much time out there due to the cooler temperatures. One way to make the most of garden, is with outdoor lighting.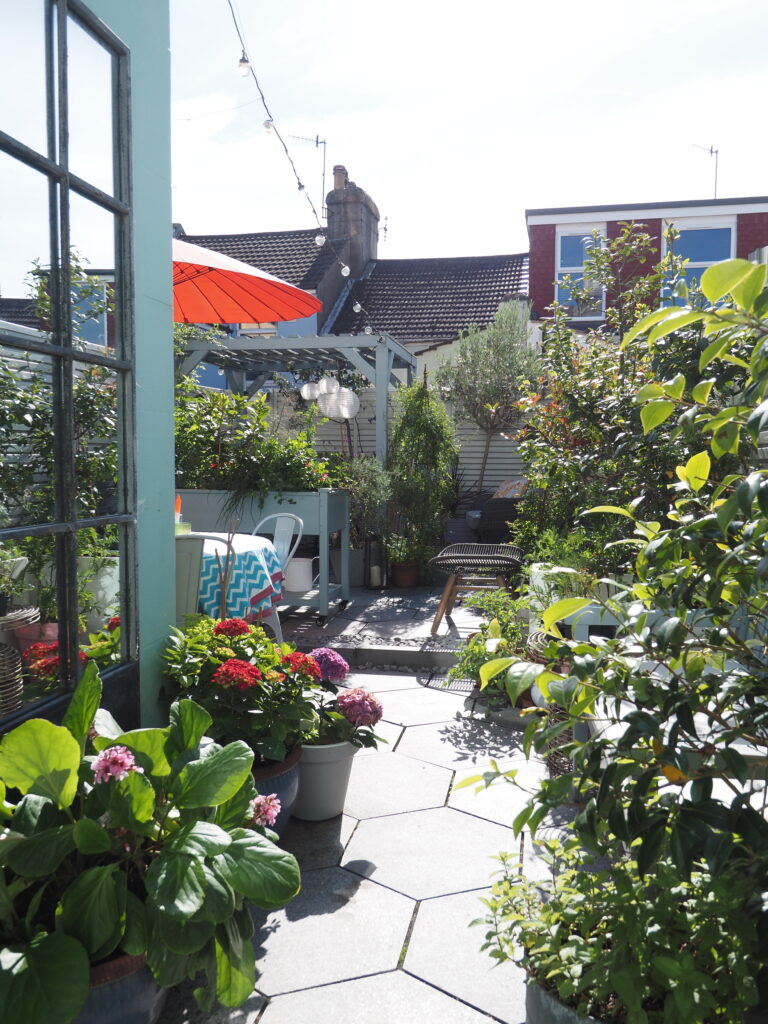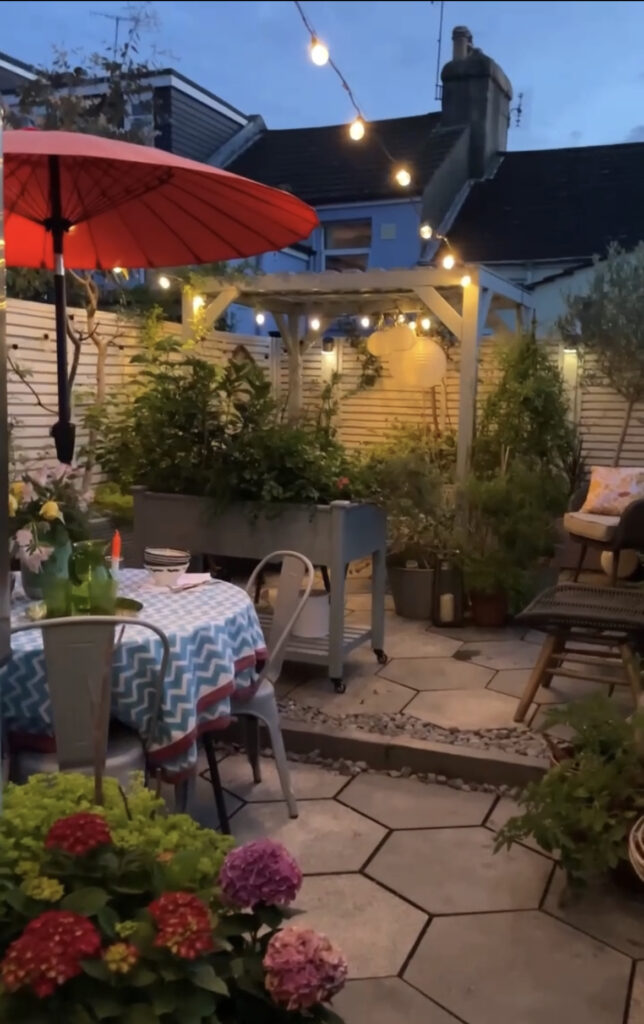 How To Light Up Your Garden This Autumn
With my own garden, I spend all summer making it look picture perfect. When Autumn arrives, I'm not quite ready to let go of my garden space. That's where garden lighting steps in….it can illuminate your space, allowing you to use it throughout the colder months.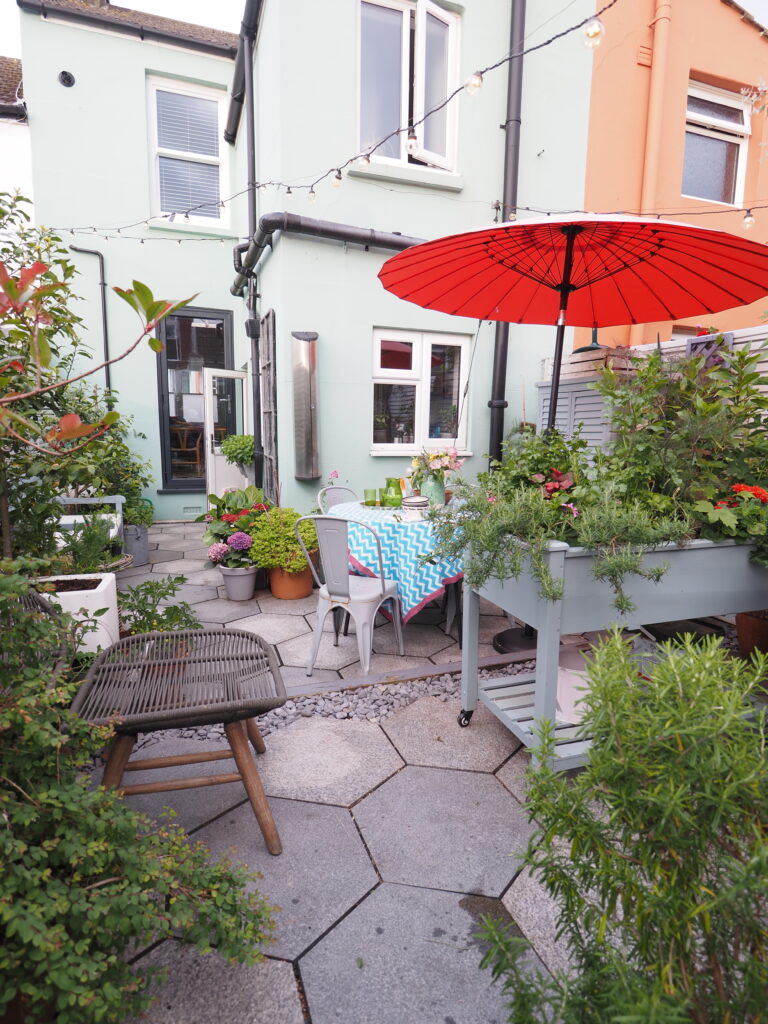 1 Festoon Lights
Strings of festoon lights are easily the most versatile types of lighting for your garden, and they can be used all year round. However, they really come into their own throughout Autumn and Winter where they can light up your garden in an instant. In Autumn, opt for gold-toned string lights which will compliment the changing colour of your foliage from green to rust.
When it came to my own garden, I had warm white festoon lights that had strung across my garden, attached to my pagoda with clips. Using wire to support the lights so they don't swing about in high winds. I choose the ones that use a mains plug in as they have a more powerful glow. But if you don't have an out outdoor plug, you can op for solar ones like these.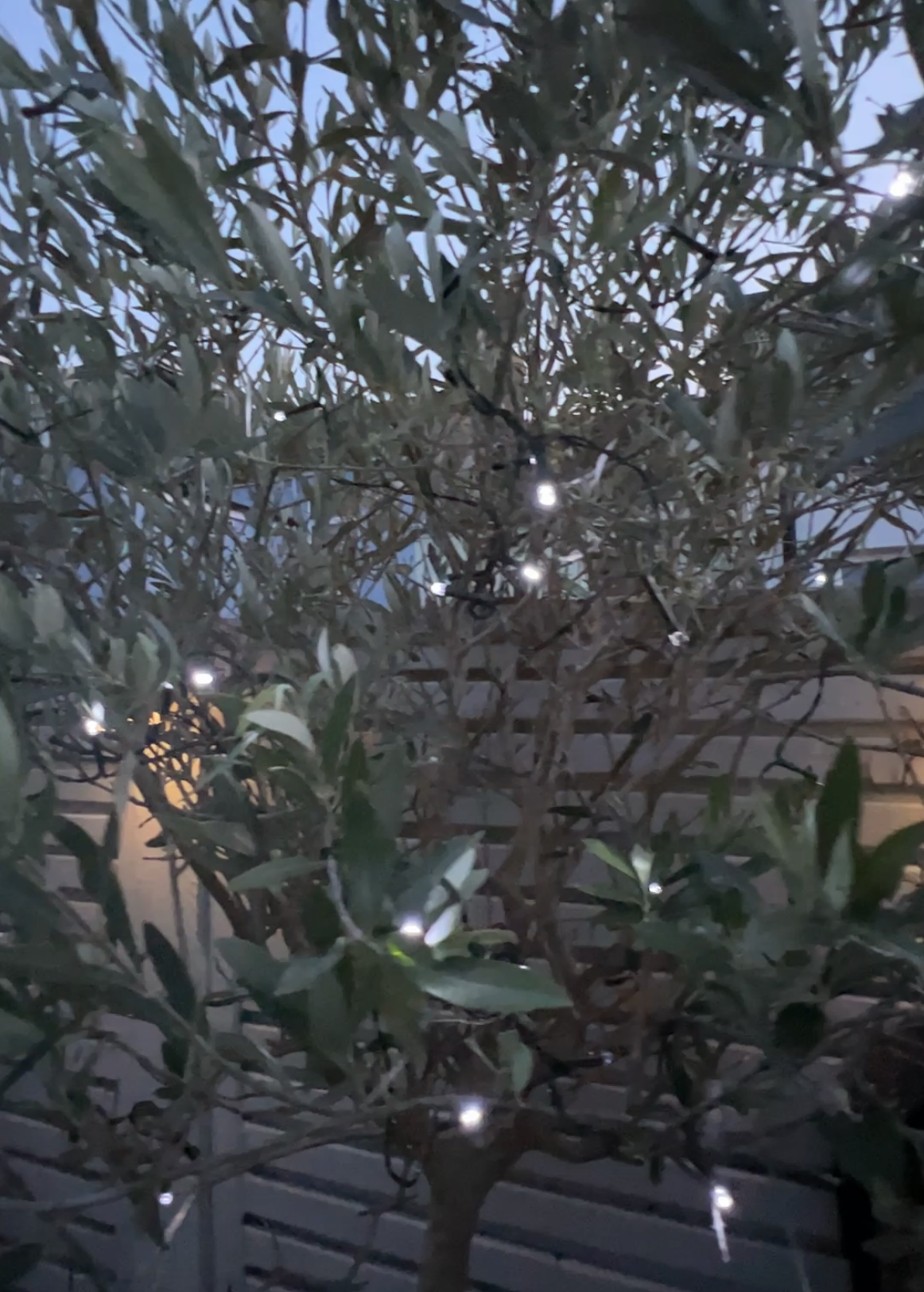 You might find this festoon buyer's guide helpful here to light up your garden.
Around Christmas time, you can opt for twinkly festive lights in a multitude of colours which you can wrapping into your trees or planting for a romantic effect. 
If you want to see my garden lighting ideas in video format – check out my instagram post where I made a clever reel which shows all my tips in action in my garden.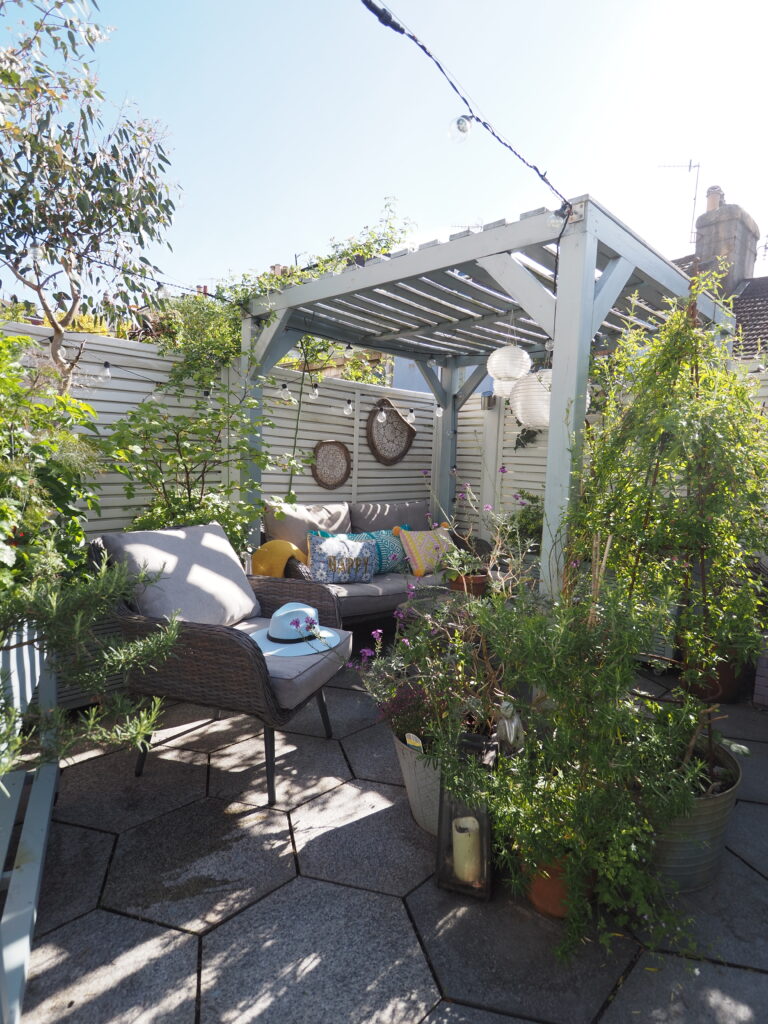 2 Hanging Lanterns
Lanterns are a timeless way to add atmosphere to your garden. They add a creative touch to your garden as well as being highly functional. They're more durable than candles and are relatively inexpensive too.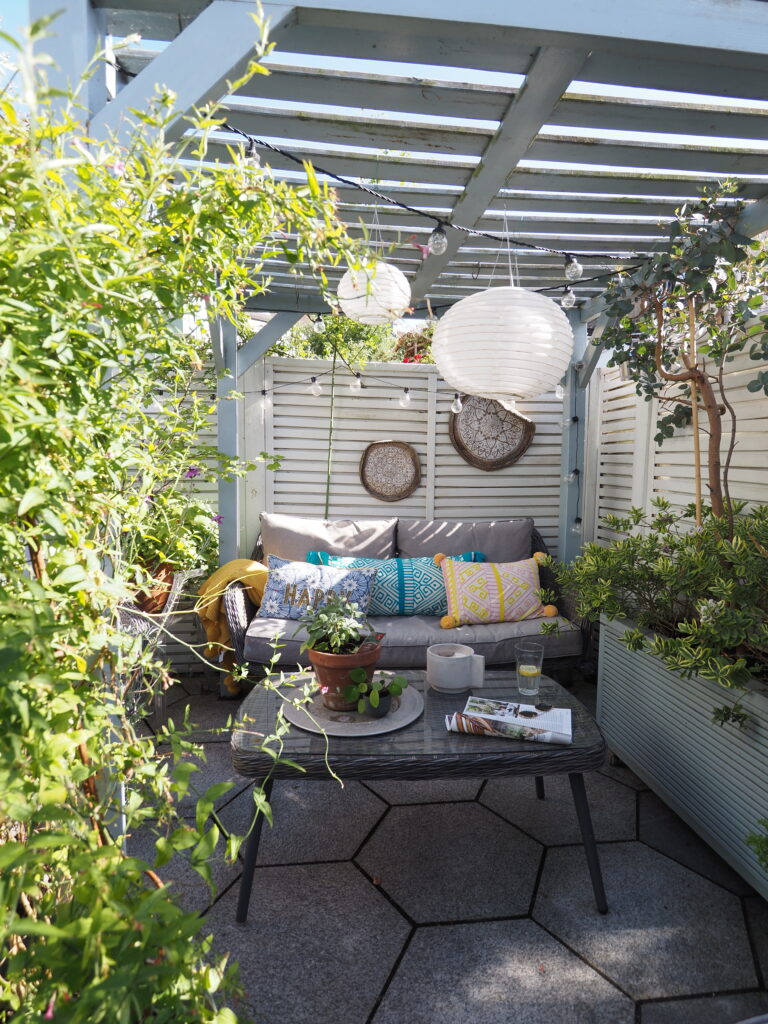 You can copy my idea of hanging them above your seating area to create a golden glow at night time. They also look pretty attached to walls, onto the top fence posts and to light up pathways and steps for safety purposes. 
For a splash of colour in the dead of winter, choose lanterns in pretty colours to add cheer and to light up your garden.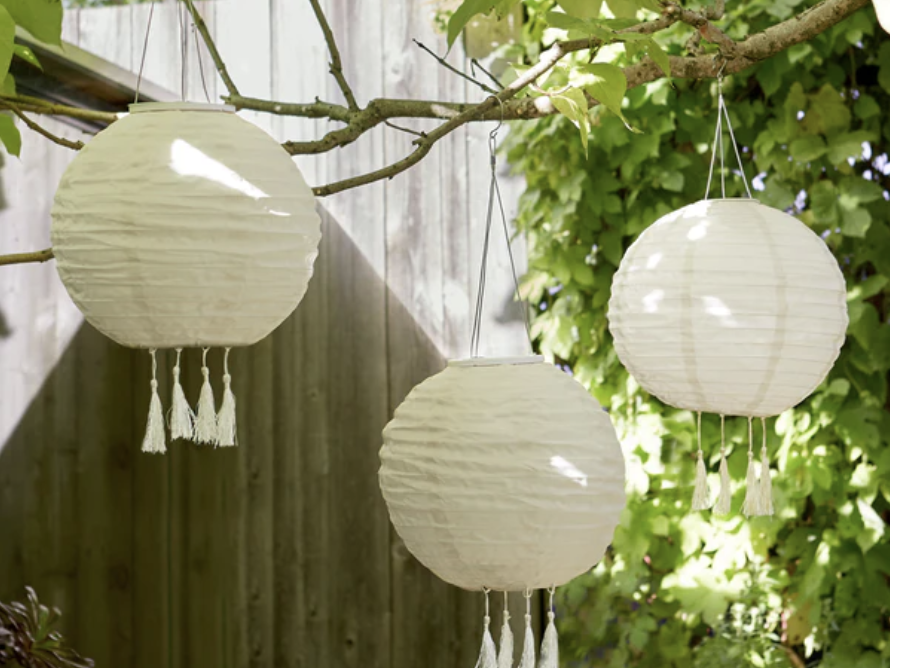 3 Solar Wall lights
These have to be my favourite lights. Powered by sunlight, spot lights will light up your garden even on the early dark nights. They are also a great way to highlight specific planting or trees that you want to draw attention to. And, considering they are solar powered, they manage to produce a bright light which helps you to enjoy your garden even in the darkest of nights.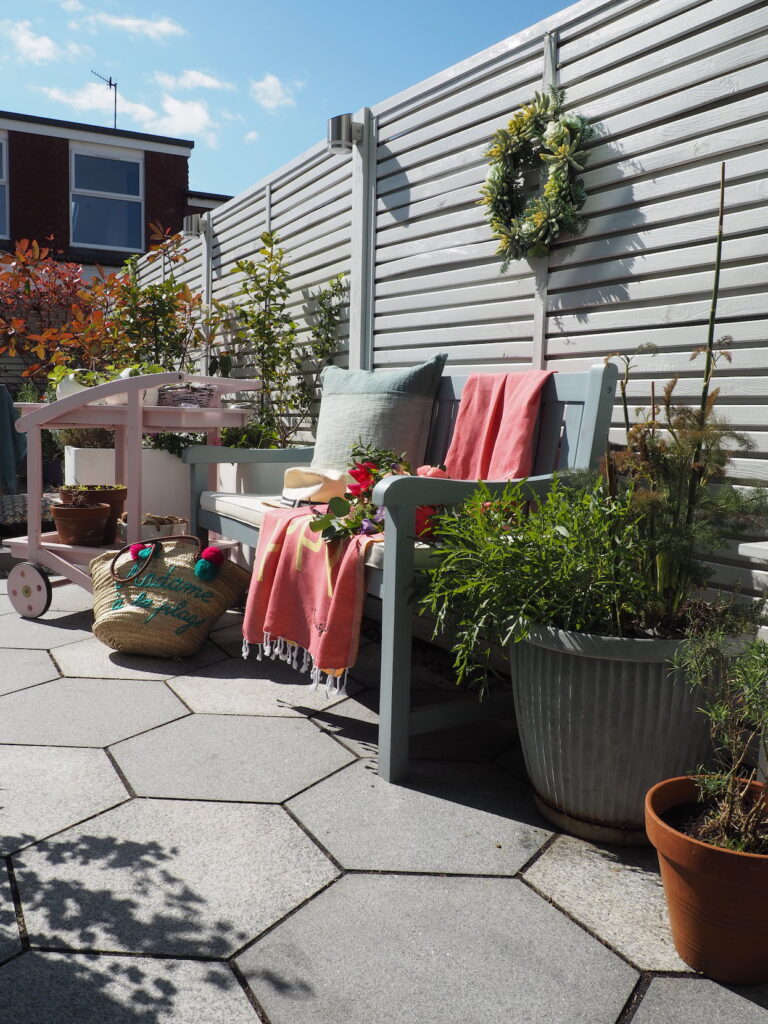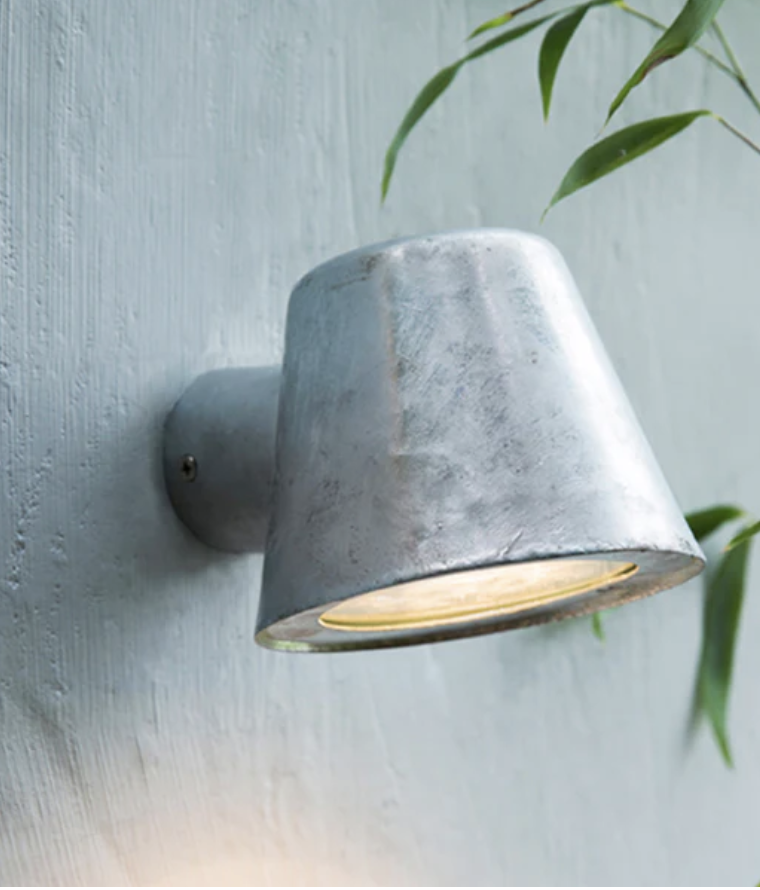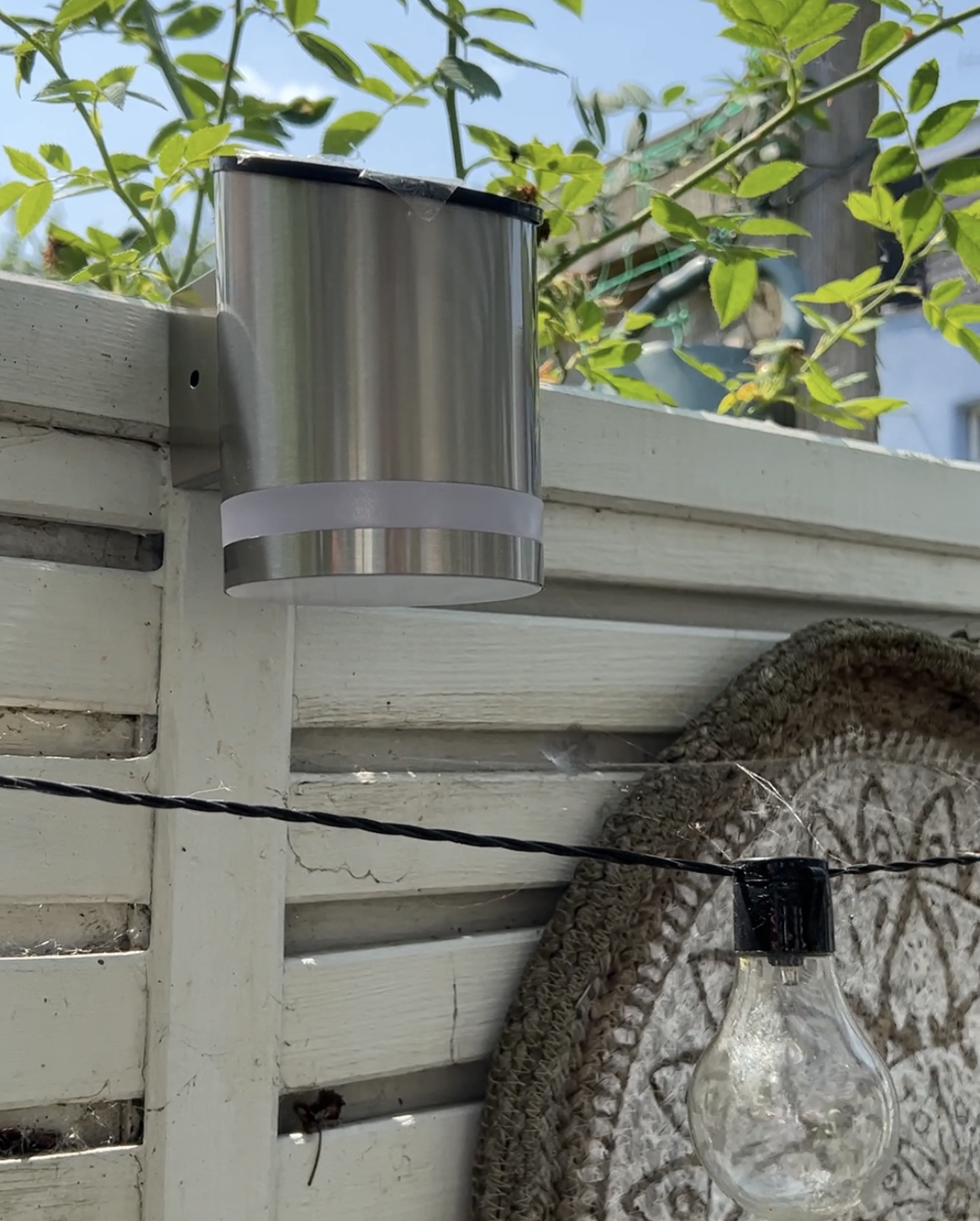 To finish this cosy environment, you can add a heater or snuggle up with a multitude of blankets! With these solar lights on, you have an outdoor garden room that you can use through winter.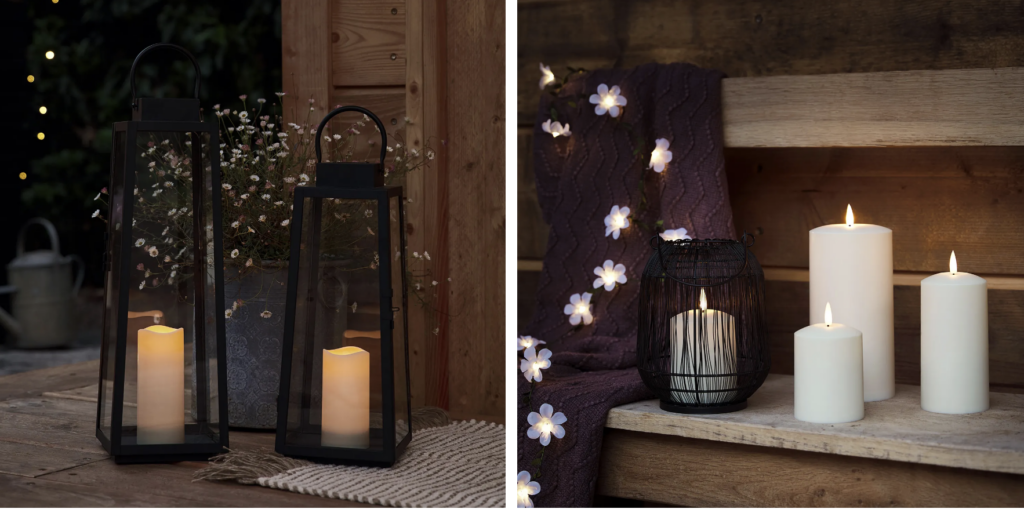 4 Battery Powered Lanterns
If you want to entertain outside, then have you considered using little lanterns dotted around your garden. They look great down the centre of your table if you want to host a party outside. Or around your fire pit when having cosy night outside. Or you can use them to light up pathways leading down your garden.
There are lots of different type of lanterns – some are solar powered, others run on batteries. Some can have decorative shades that cast patterns when turned on. Or choose a type of lantern that suits your garden style from modern, to vintage to boho.
What do you think of these ideas to light up your garden this Autumn? I hope you feel inspired to get out in your outdoor space and enjoy your garden all the way through to winter.