Creating a warm home is easy with these four clever cosy bedroom styling tips. Not only will you have a beautiful bedroom for winter but these tips will also help you save money on your heating bills.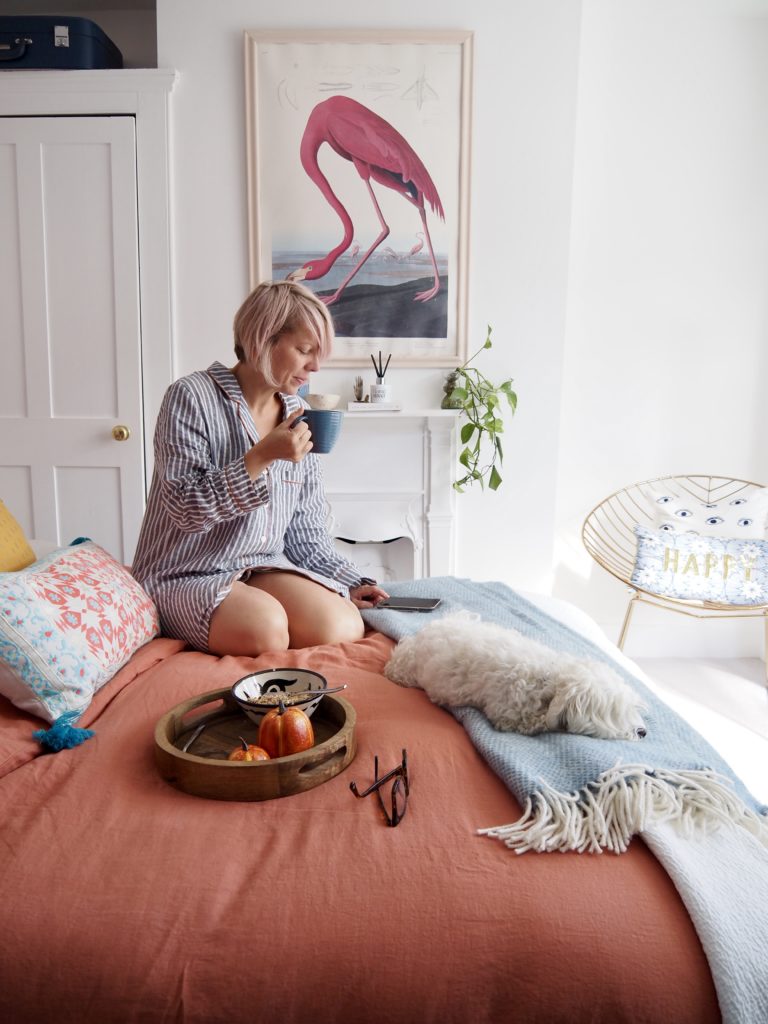 Save Money On Your Heating Bills With These 4 Cosy Bedroom Styling Tips
Follow these four styling ideas to create a warm and comforting bedroom, preparing your room for the colder weather ahead!
1 Pop Your electric blanket on an hour before bed
An electric blanket is my favourite winter purchase this year.
My bedroom is actually quite large and it takes ages to heat up in winter in the evenings. There is nothing worse than slipping into a cold bed at night. What I do is turn on my electric blanket for an hour before sleep. Not only does my electric blanket cost less to run that turning up the heating in my bedroom but it keeps me toasty at night too. An electric blanket is also so lovely when you are feeling run down, full of flue or have cold related aches & pains. Mine was £30 from Argos. I wish I had bought one years ago now.
CLEVER TRICK: Control your electric blanket with a smart plug. A smart plug can be controlled by your smart phone via an app. I've got my electric blanket plugged into my smart plug. Using the app on my phone, I turn my electric blanket about on half an hour before bed (usually while I'm downstairs on the sofa). And you can also set a timer for your smart plug, so that your electric blanket with turn on and off at preset times. This is handy if you have your blanket on before bed, as you can set it to come off while you are asleep. It means you can drift off knowing that you're both warm and safe.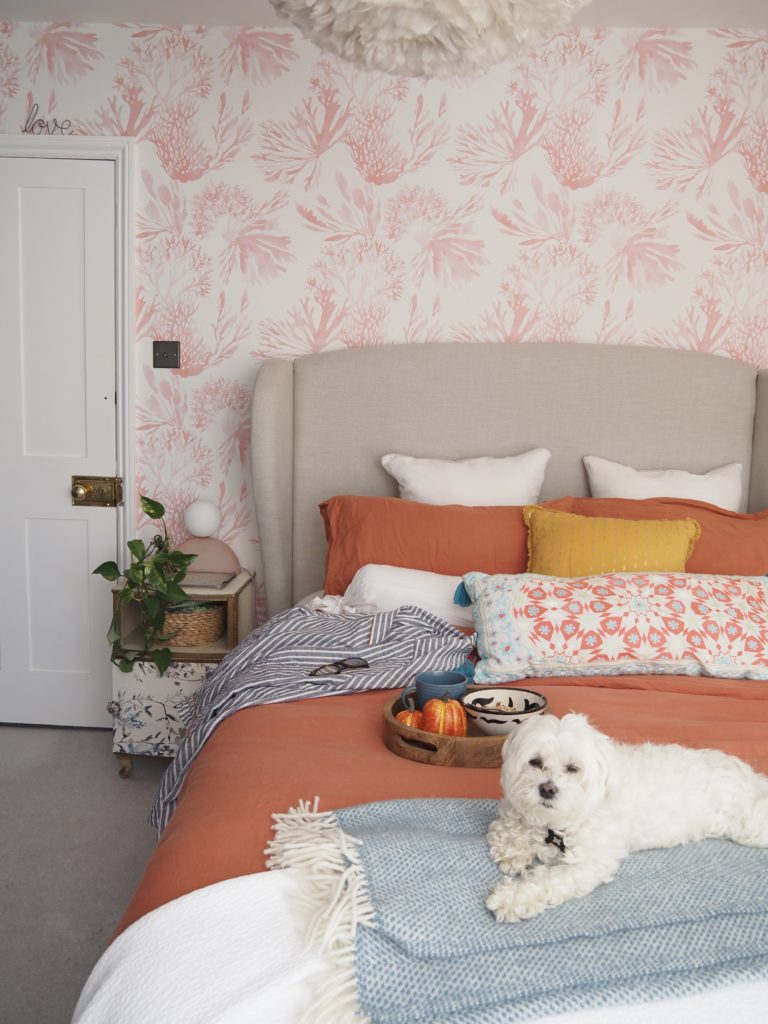 2 Swap out your summer duvet for a warmer, fluffy one
You can not beat a fluffy duvet for keeping your warm all night long. I've got a fabulous duvet that is actually two lightweight duvets that clip together to make one heavier one in the winter. Swapping your duvet cover will make you sleep deeper and for longer. Plus a fluffy one looks lush when styled with fresh linen sheets.
It's worth investing in a good duvet as it will last you for years.
As a magazine stylist, on photo shoots we double up the duvet to make them look extra fluffy. And use bubble wrap to fill the corners of cushions so they look picture perfect!! And don't forget to pile up your pillows. I love lots of squishy ones for reading in bed. You'llwant your bedroom to be cosy and inviting during the colder months.
READ: NEW PROJECT! A COLOURFUL BEDROOM & BATHROOM MAKEOVER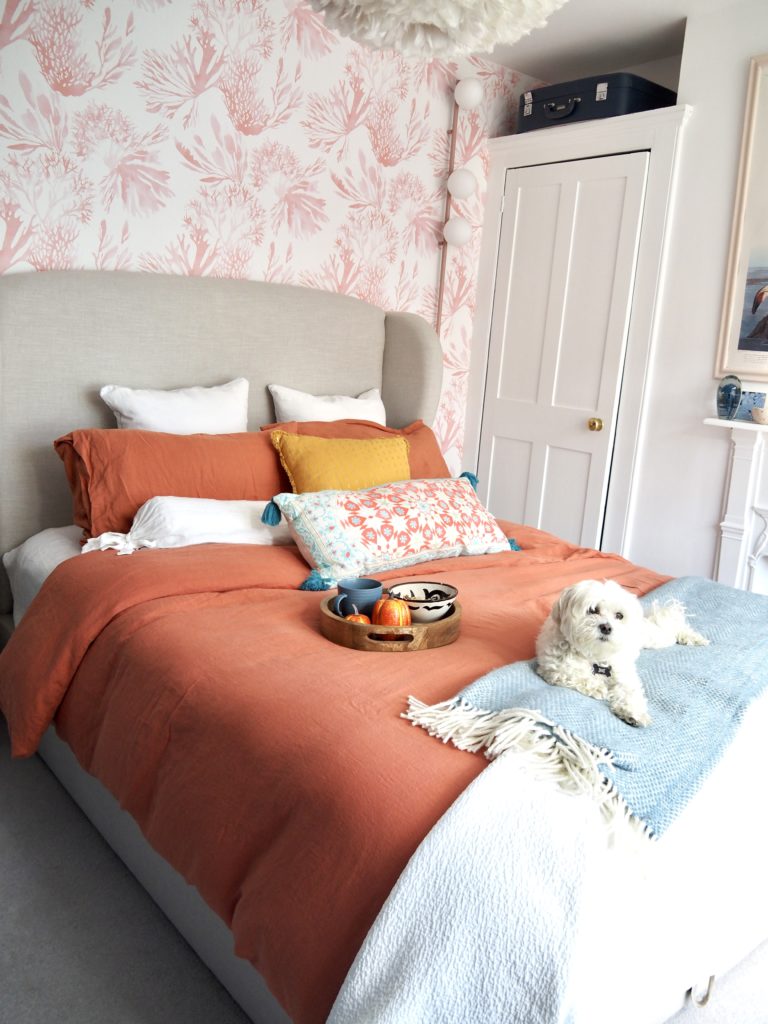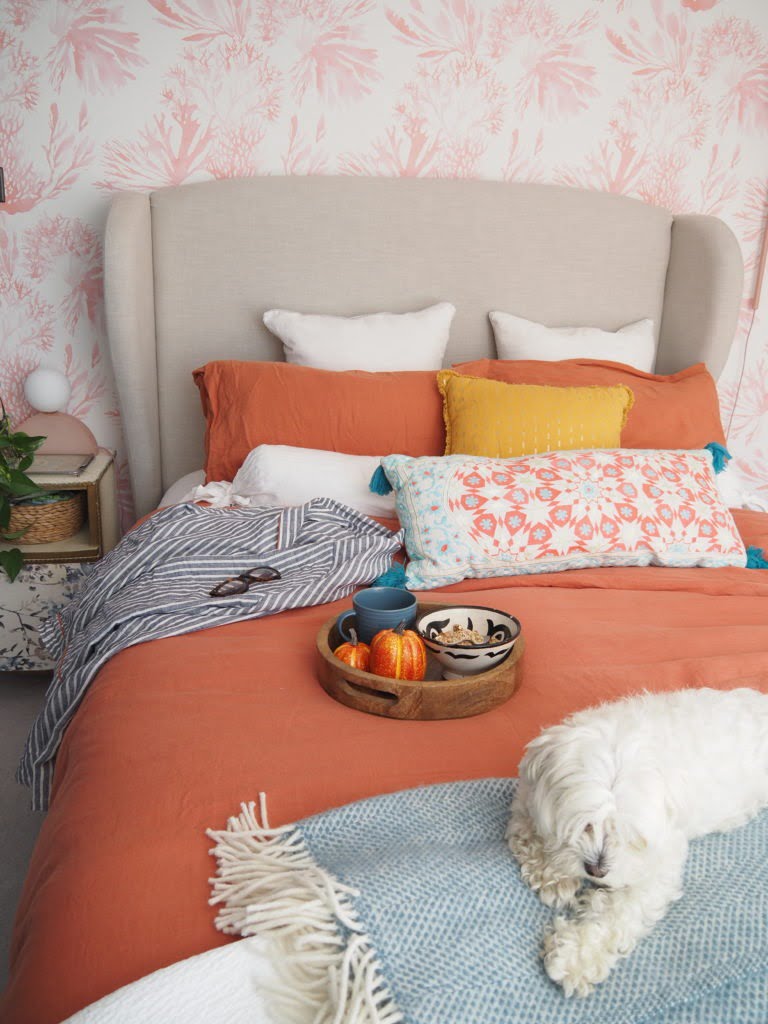 3 Choose thicker bed linens in rich colours for a snuggly feel
You can't beat good quality bed sheets made of linen for that relaxed, crumpled look for dreamy bedroom styling. This burnt amber set that is on my bed is 100% linen and it is so soft to touch.
The set is from Piglet who stock lots of eco-friendly stone washed sheets. They have bedlinen sets in many shades making it easier to switch up the look of your bedroom for the changing seasons. I choose this burnt orange shade that works a treat in my bedroom for the winter months.
As a prei-menopausal women, I love the way linen's natural fibres regulate your body temperature as you sleep with its breathability & high moisture absorbency. It's great for the night sweats! And as linen is weighted which aids a wonderful deep sleep (high on my tick list as someone who is often wide awake at 3am).
READ: QUICK BEDROOM MAKEOVER WITH DULUX SIMPLY REFRESH PAINTS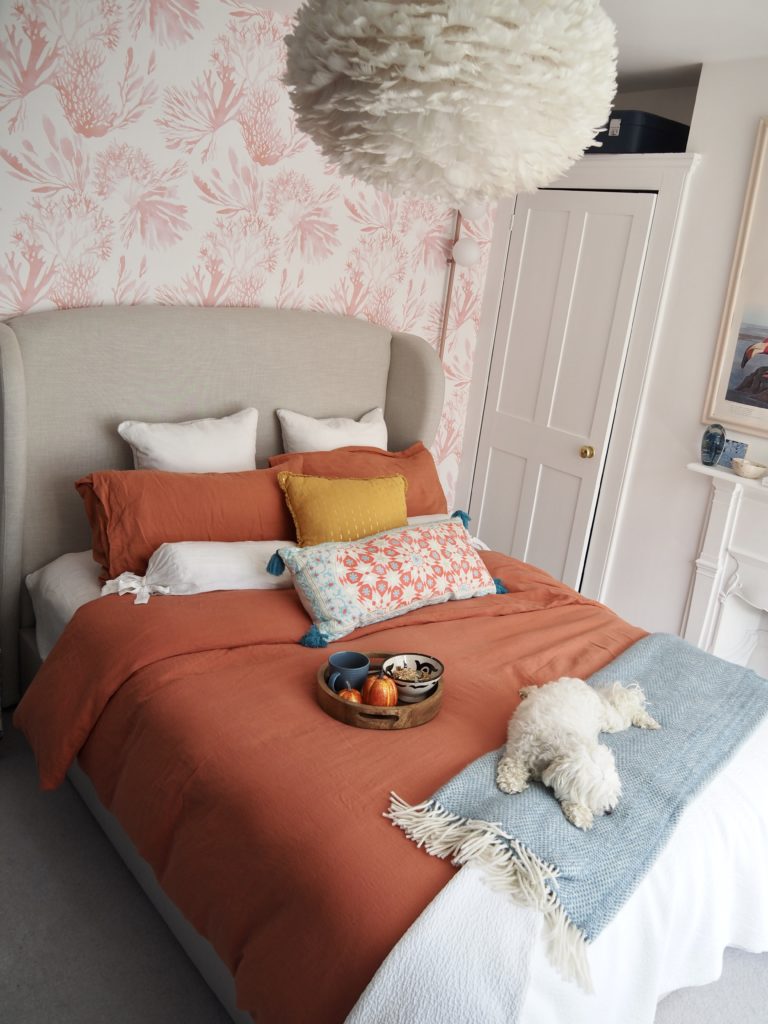 4 Layer up with blankets and throws so you're never cold at night
Once you've dressed your bed with cosy linens and a thicker duvet, finish off your bedroom styling woolly throws and a good book. With the weather getting colder, it's a good idea to keep blankets close to hand. I style mine on my chair – or I layer up at the end of my end. I love mixing baby blues with oranges.
The blue woollen throw is from Soak & Sleep and it's probably the cosiest throw I own! Layer up with linen sheets, throws and blankets that you can have over you at night for a dreamy night's sleep.
Hope these tips have encouraged you to switch up your bedroom for the colder months. I'll be sharing more bed styling tips soon on my blog – so stay tuned. Can't wait to snuggle up in here later!
Love Maxine
This post contains gifted product