Tips & tricks on how to plan a small bathroom DIY makeover by interior stylist Maxine Brady. Take a look at this case study and follow the ideas to make your DIY bathroom renovation a success.
Is this my toughest bathroom makeover yet? My best friend, Nicola, has been living with this awful bathroom for SIX years. Yep, you read that right – six years with half-tiled walls, no flooring, a faulty bath and wonky shower head. Look at the dangling spotlights – ekk!
I adore my best friend, and I wanted this hardworking mum-of-two to have the beautiful bathroom she deserves.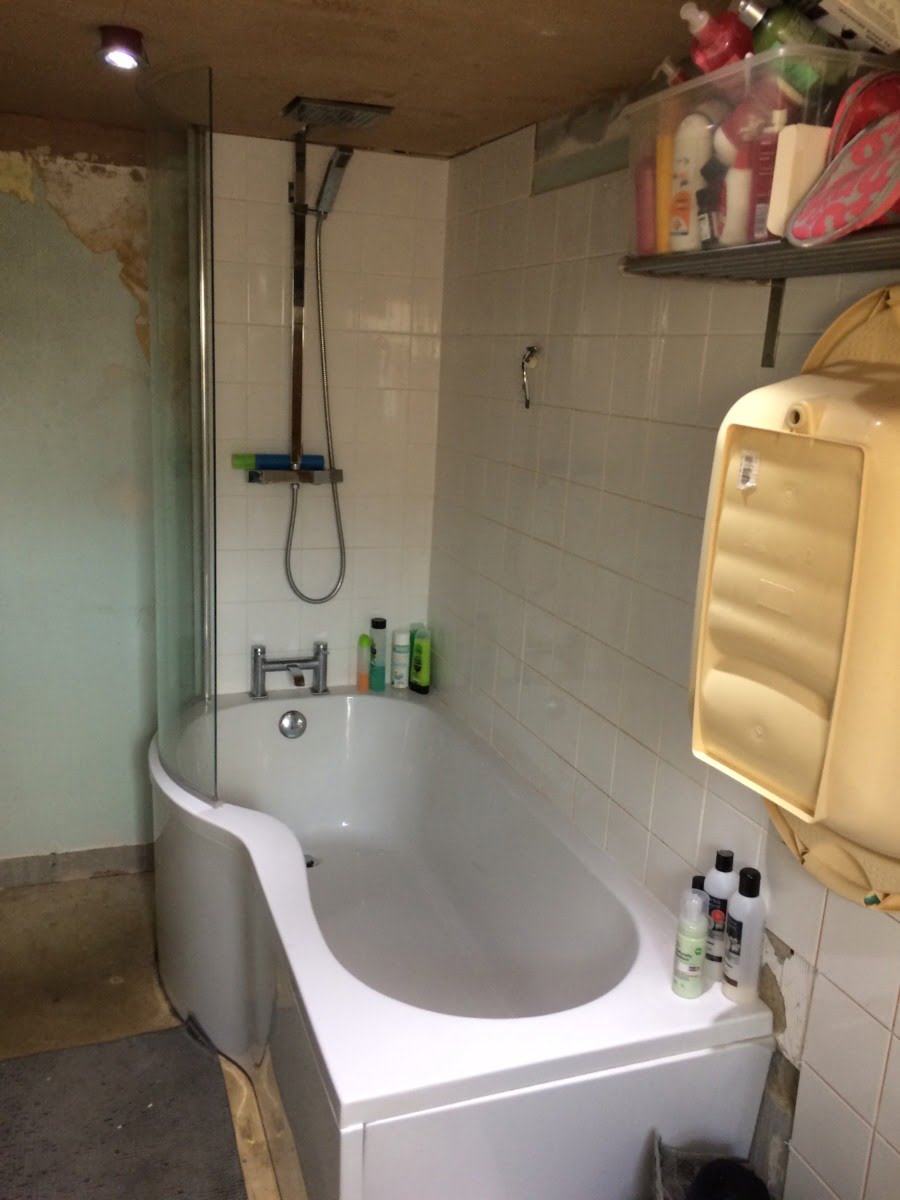 Saying all that this bathroom makeover has to be one of my biggest challenges yet. I've donned my styling gloves and set to work, giving her the best bathroom makeover in possible the smallest-space-ever with Bathroom Takeaway and Tons of Tiles very generous help. If you're looking for tiles for your bathroom then make sure you check out Mosaic Tile Outlet who have a huge collection.
Let me walk you through the planning stages and my ideas for the space.

Before
The project was started by Nicola and her husband, Baz six years ago. Then half-way through doing it, she had her second child, Bea and Baz were working all the hours god sends to make extra money, and she is the first to admit – the bathroom slipped further and further down their list of things to do.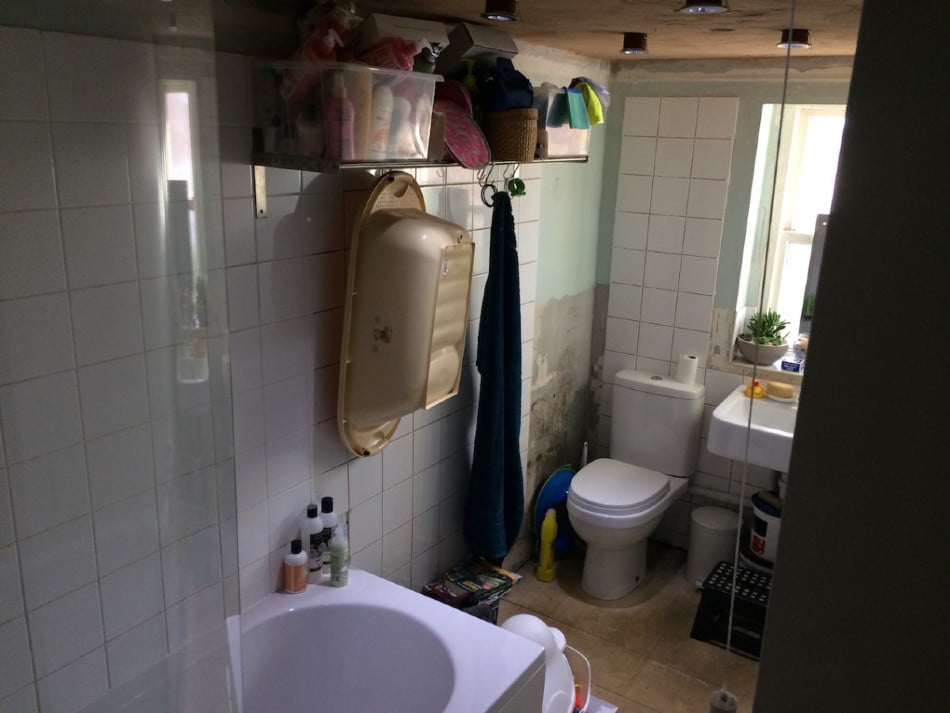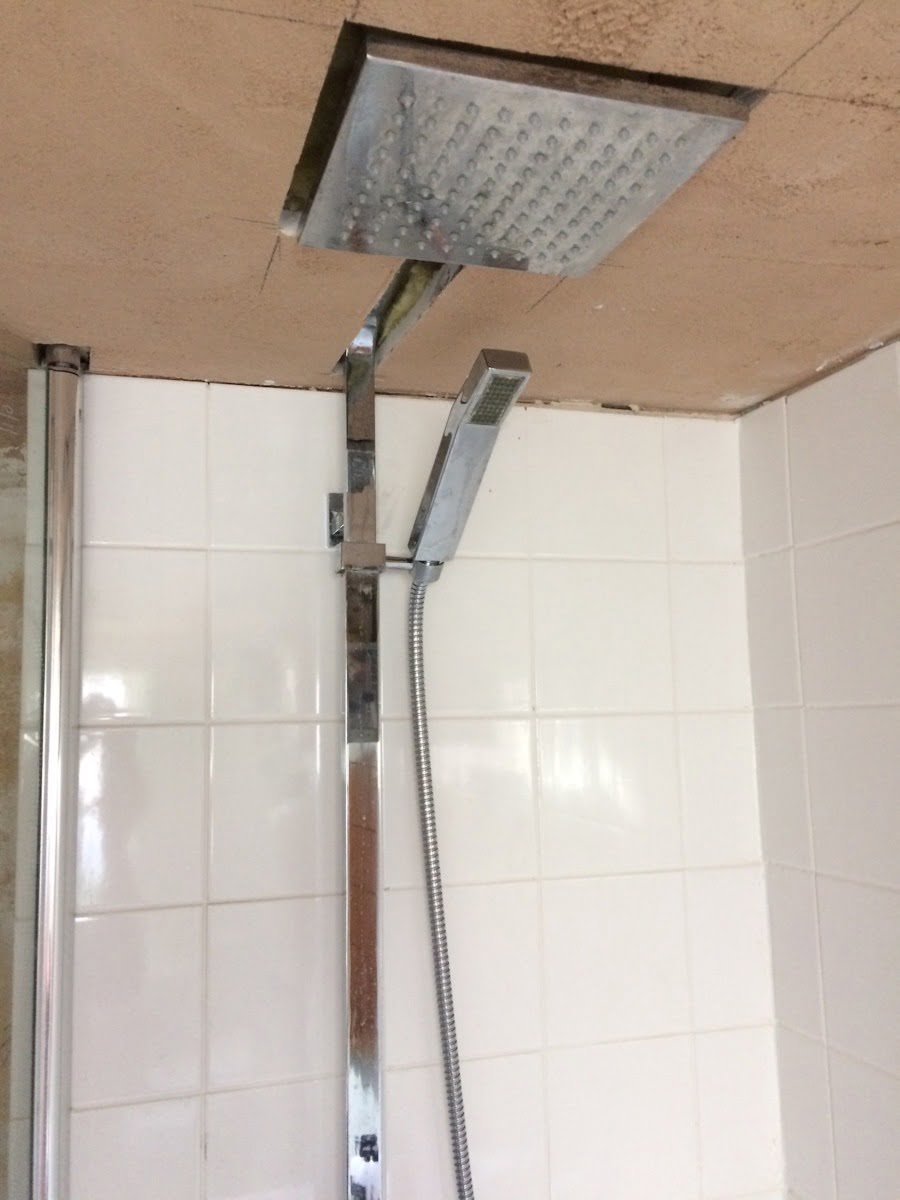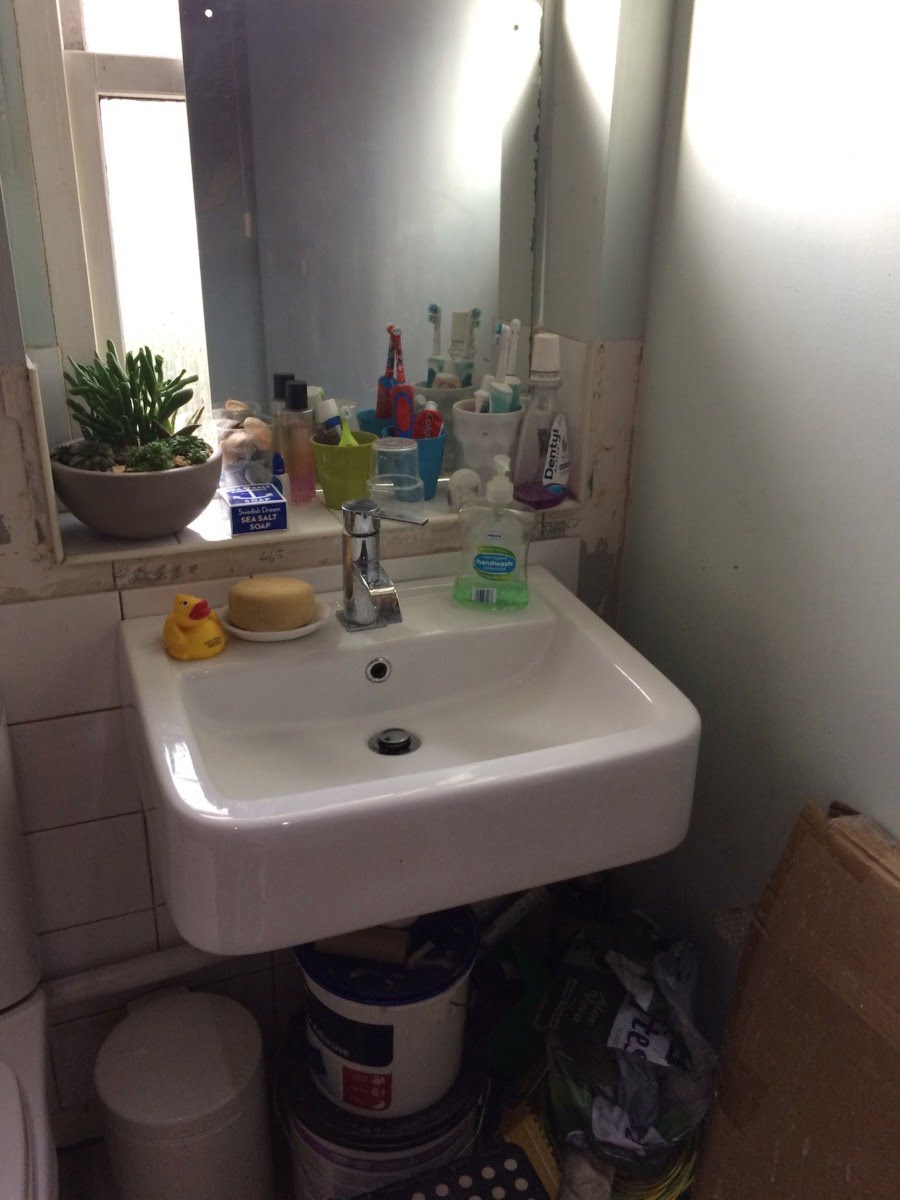 Big ideas for a small bathroom
Nicola has great expectations for her new look bathroom. This current room has all its storage on show. Not a good idea in a cramped space. Clutter was taking over. Not the cleaning products among shampoo bottles.
> She wanted a fancy shower above the bath (for Nicola) and a deep bath (for husband and kids).
> She always wanted it to have lots of personality and character. The temptation for a small bathroom is to go for white – YAWN!
> Although we need to keep this room feeling light and bright. Mirrors to apply makeover.
> Oh, and it has to be a nice space for the kids too. And I have to fit all of these ideas into a room that measures 3.3m by 1.7m.
> It also had to be done speedily, on a budget and finished to a really high standard.
How do you start a project like this?
Pinterest, of course. Nicola is a pinning-addict. We've been gathering dream bathroom ideas which you can see here.
Next was the suite. To keep things simple, she picked everything from the same place – Bathroom Takeaway.
Nic and I went through the site over a coffee and picked out waterfall taps, the Energise P-shaped bath, the power shower, and a handy new sink with built storage drawers. A sexy new towel radiator in powder grey. With such a tiny bathroom, we had to be so clever with space.

We picked a P-bath as it was the biggest bath we could fit in this skinny room – and then installing a shower above that fit (this time) with the low ceiling. A sink with drawers which will double the storage in the bathroom.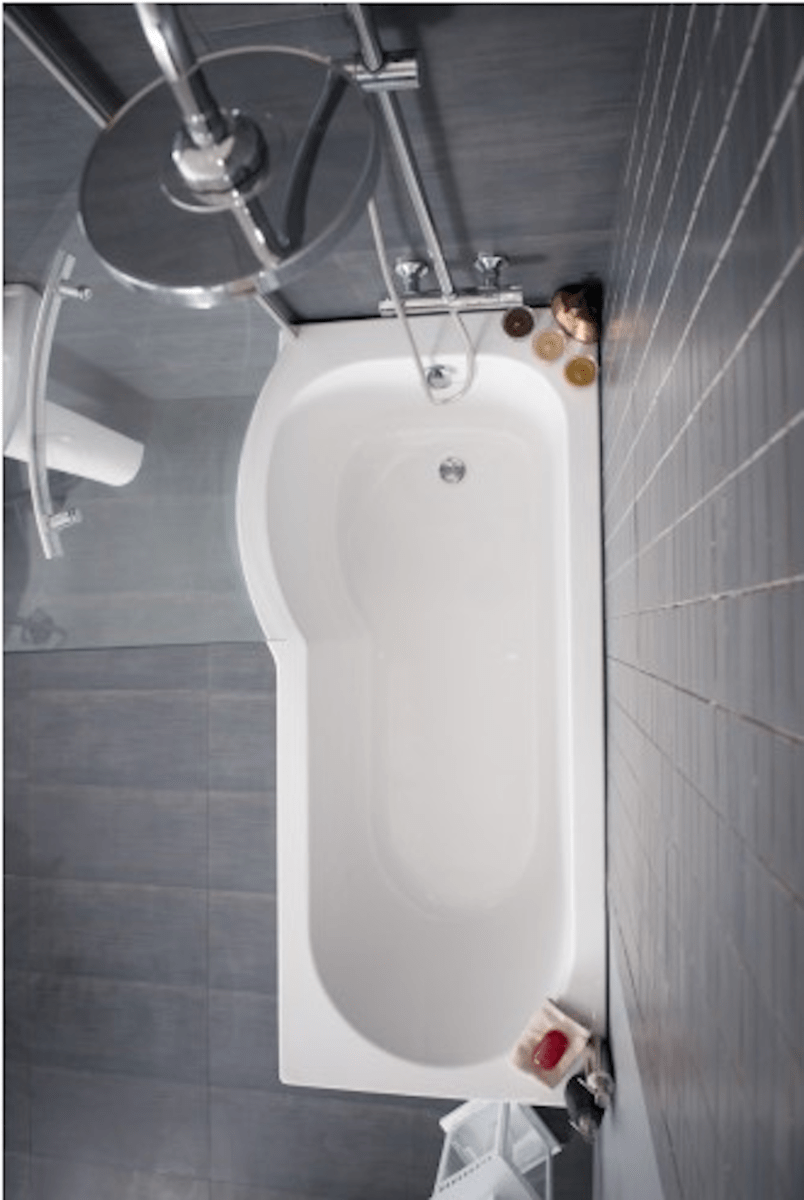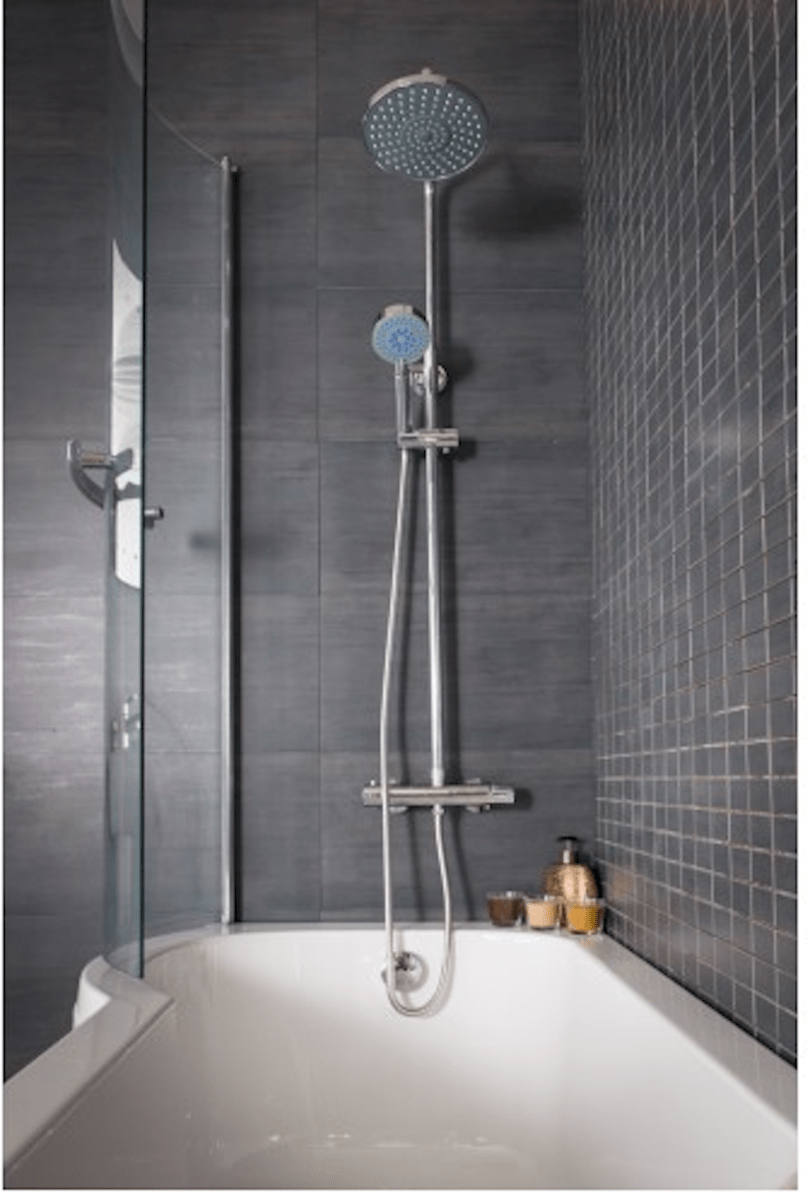 Designer looks on a budget
Now, where we got clever is adding designer touches to possibly-the-smallest-bathroom-makeover-I-have-ever-done. We went for the fancy waterfall mixer taps because they look freaking amazing – I want these now in my bathroom.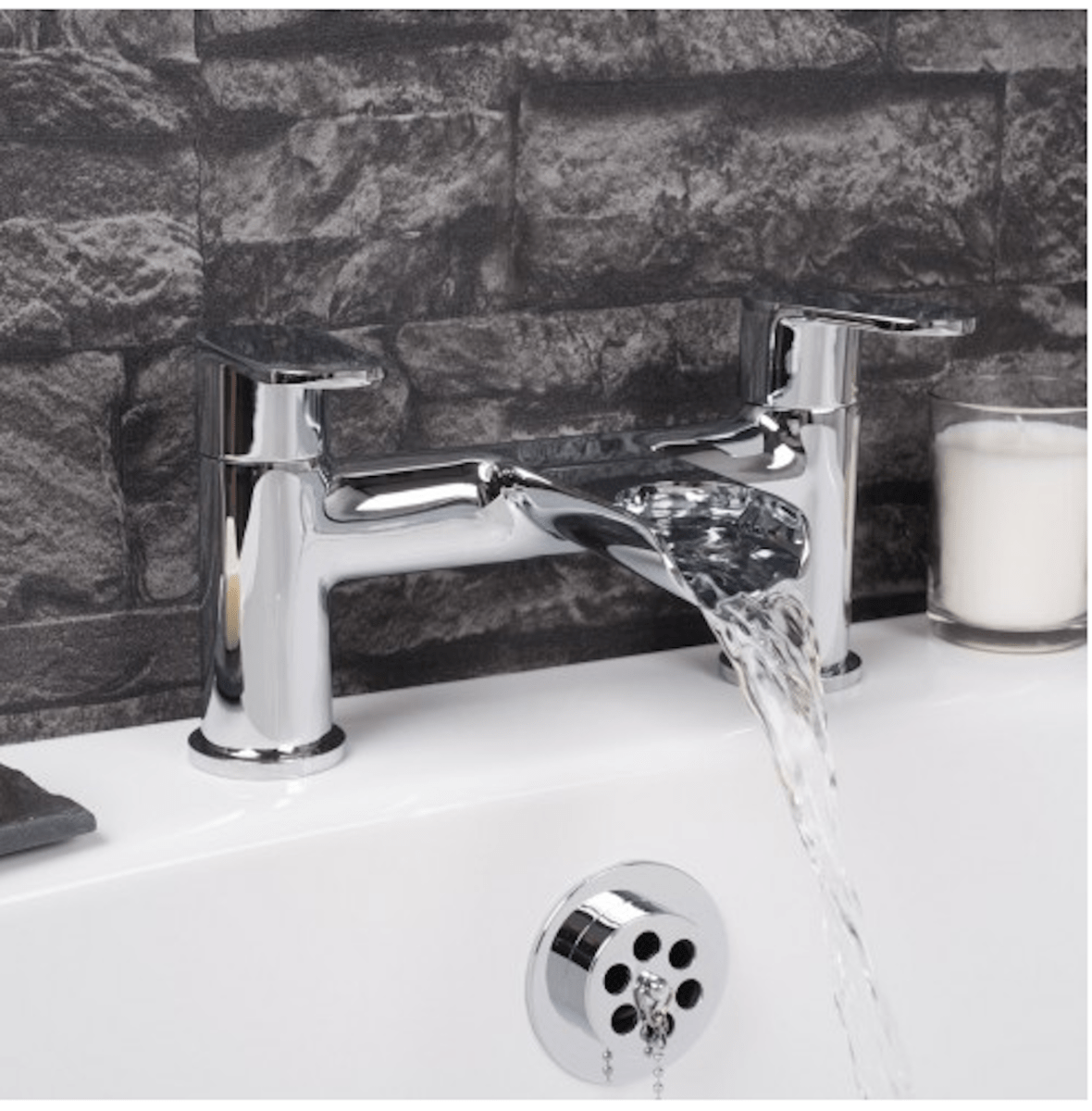 Adding character was tricky, but I have a few ideas – starting with the flooring. My friend picked the same flooring as I have in my kitchen – well, she is my sister-from-another-mother when it comes to taste.  So she has gone for these striking grey 'Illusion' tiles from Tons of Tiles.

They cost £3 each, but as we have such a small floor to tile, it's not cost megabucks. Wall tiles will stay white classic square (cheap for starters) but with grey grouting to hid the mould which will inevitably build up.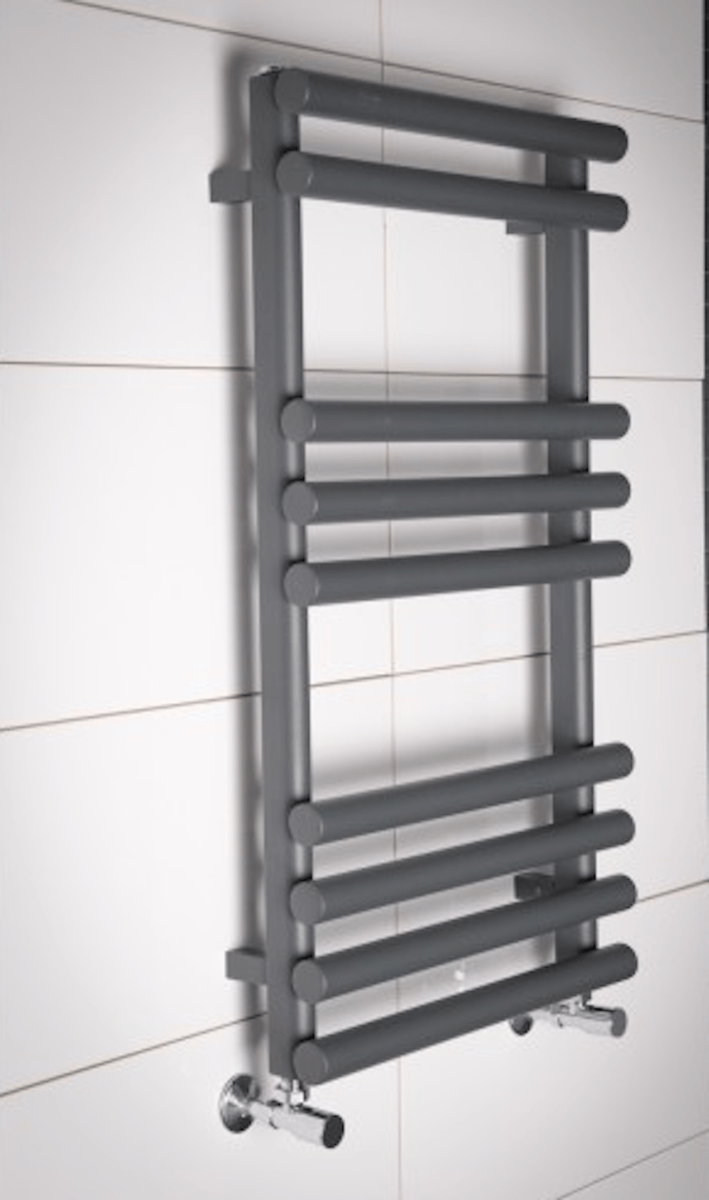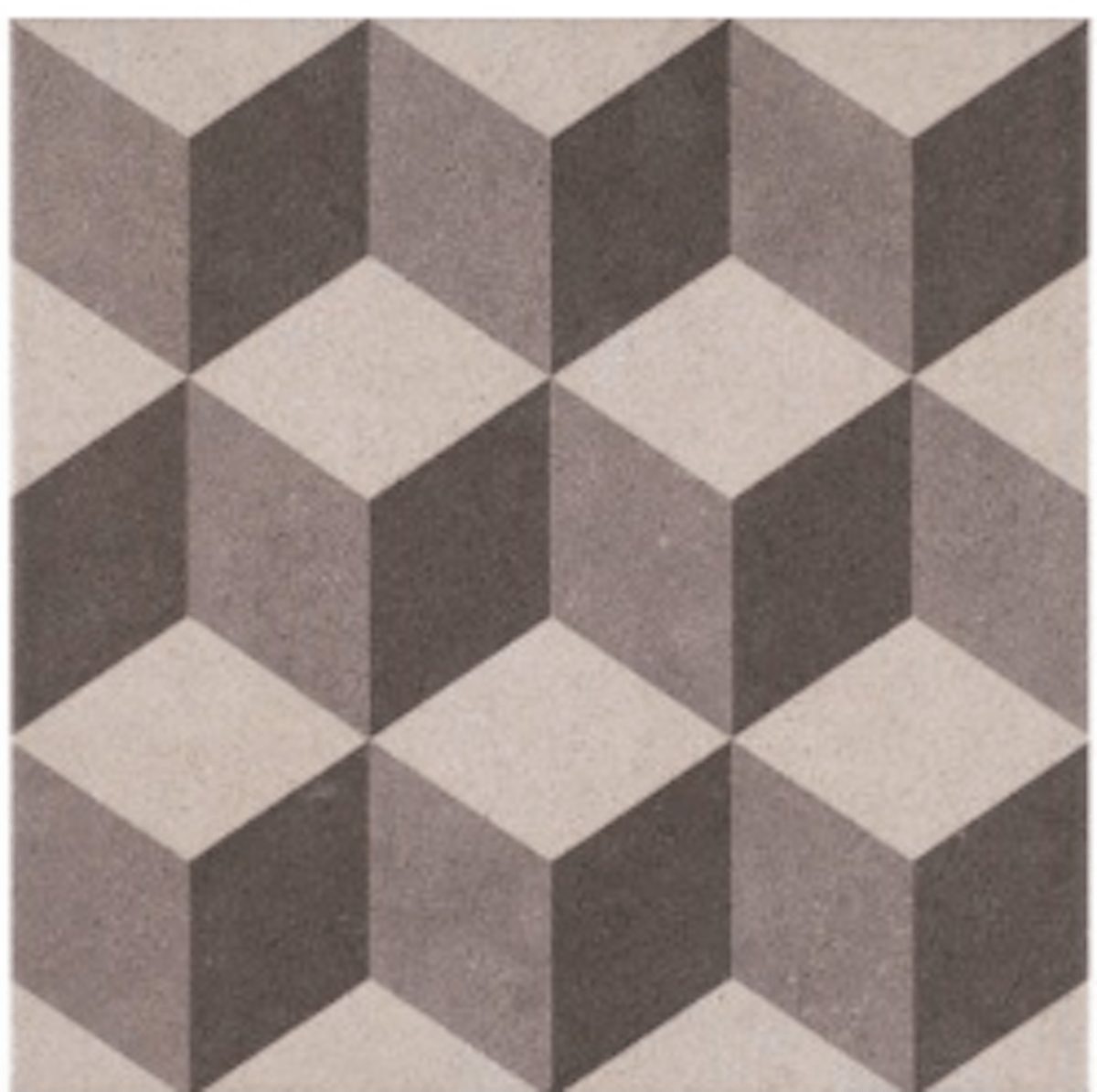 The only thing we are keeping in the bathroom is the metal shelving with the rail. It really makes this space work hard. But I have told my friend she has to have a declutter—end of.  No more half-empty bottles of bubble bath or bath bombs she is never going to use. Cleaning products are now going to go in the sink drawer.
The shelf is going to be filled with pretty baskets to store beauty products. Nice towels that my friend has had stashed away for her new bathroom, to be folded and on the shelf above. We have a large mirror to double the space of the room and brighten it up.  Amazing floor tiles to make it sparkle. It's going to look epic.

The shopping order has gone in for the bathroom – so we are ready to roll. And I got this lovely text last night from Nicola:
'Have I told you how excited I am?? I can't wait to have a bath without sitting on the kids toys or staring at clutter. Going in that room right now makes me feel stressed it's so blurgh! You can't imagine how a proper bathroom will change our home.'
Her handy hubby has booked in to do the makeover over six days.  Work has already started on plastering the walls and getting them painted ready for tiling. The bathroom shopping list has been ordered from Bathroom Takeaway. There are boxes of tiles in the living room waiting to be put down…we are paused and ready for the biggest makeover this small bathroom could dream of.
I'd love to know what you think of the designs so far? Any tips to help us while we still have time left, please pop them at the bottom.  I'm not sure who is more excited, my best friend or me. 
Want to see the end result – click here.

You May Also Like
IS YOUR BATHROOM MISSING ONE OF THESE TOP 5 BUYS?