Today, I want to share with you my top 5 bathroom buys that will add pattern, style, and organisation to your bathing space. Now is the best time to give your bathroom a whole new look with these key products.
Bathrooms need to be organised to keep clutter at bay, and stylish to make them a space that we want to spend time in. But sadly, our bathrooms can be one of the most overlooked rooms in our home. Which is a shame as it is the most vital space in our homes, where we get ready for a busy day at work or relax in the tub after a long day.
The good news is it doesn't take much to turn a cluttered and messy bathroom into a cool space that we want to hang out it. It's all about investing in clever storage solutions, pretty accessories and lots of styling elements to transform this room. That's why today, I'm sharing my top 5 bathrooms buys that will breath life into your room.
Take a look below!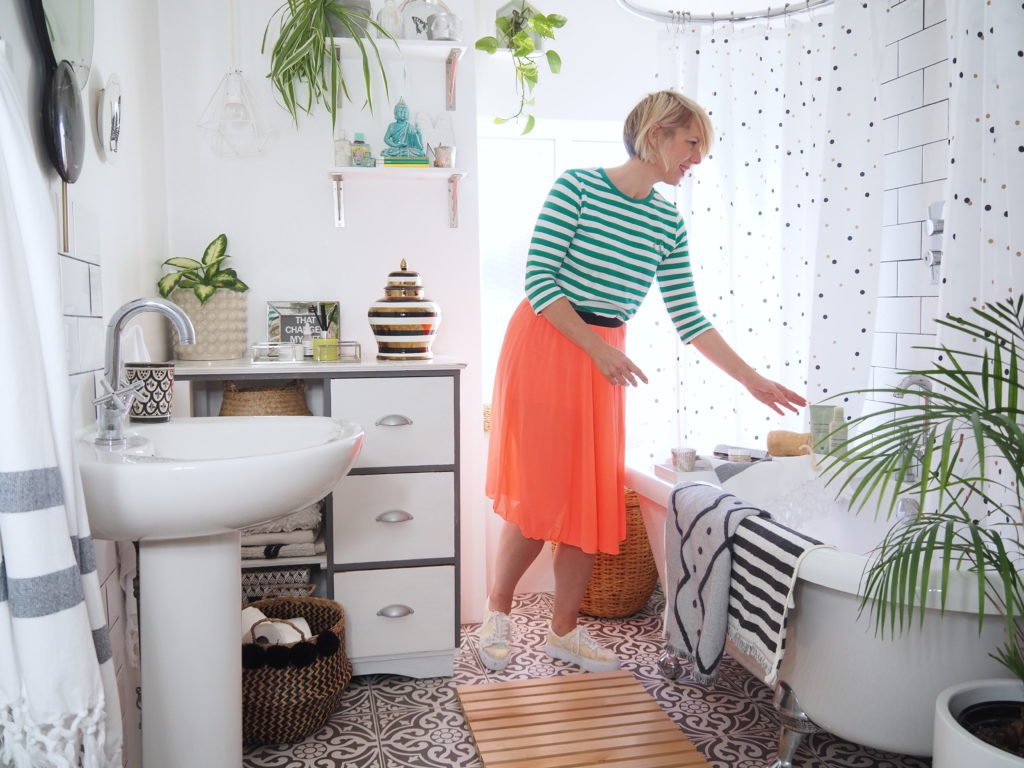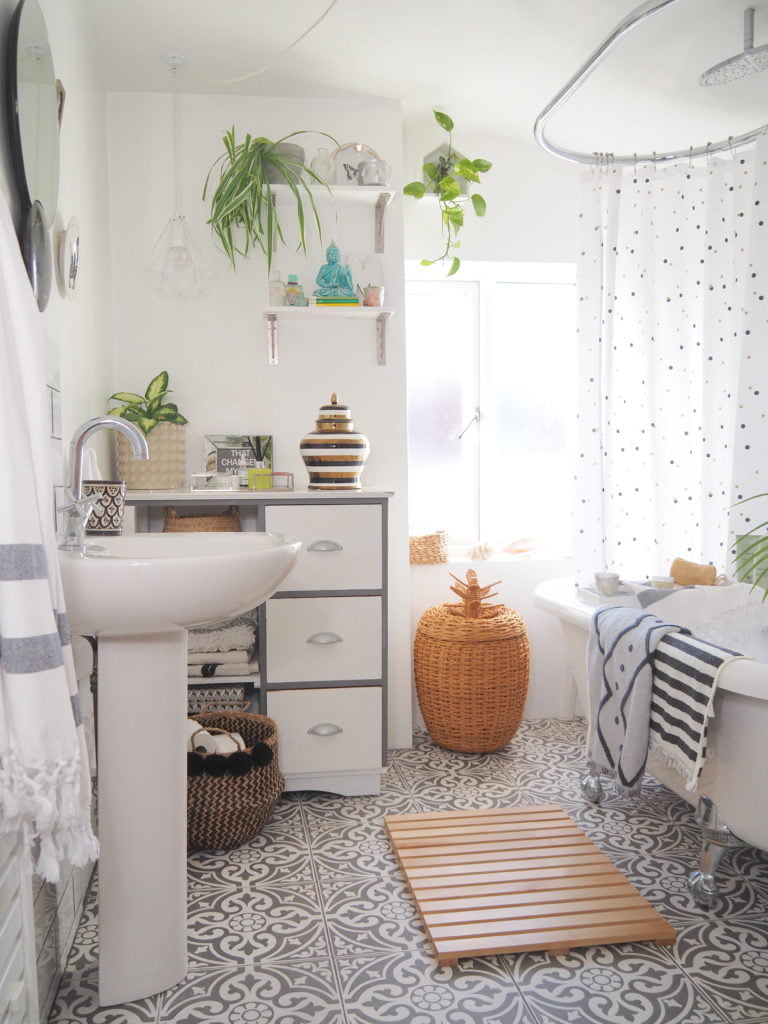 MY TOP 5 MUST-HAVE BATHROOMS BUYS
1. towels
If you want to add a pop of panache to your bathroom, then the easiest way is with patterned towels. They will revamp your space without having to decorate! Add into your bathroom a variety of towels in a mix of patterns and styles.
I choose the Malia striped terry towel, Naouri Chiselled bath towel and Antalya organic cotton towel with fringing detail to add visual interest to my space.
They are super fluffy to create that cosy bathing experience! These ones remind me of the Hamman towels that you get at a spa in Morocco.
Towels look great on display on a shelving unit or hanging up on hooks. And if you want to add interest to a plain bathroom, choose towels in bright shades for a splash of colour.
READ: HOW THE TERRAZZO TREND WILL TRANSFORM YOUR BATHROOM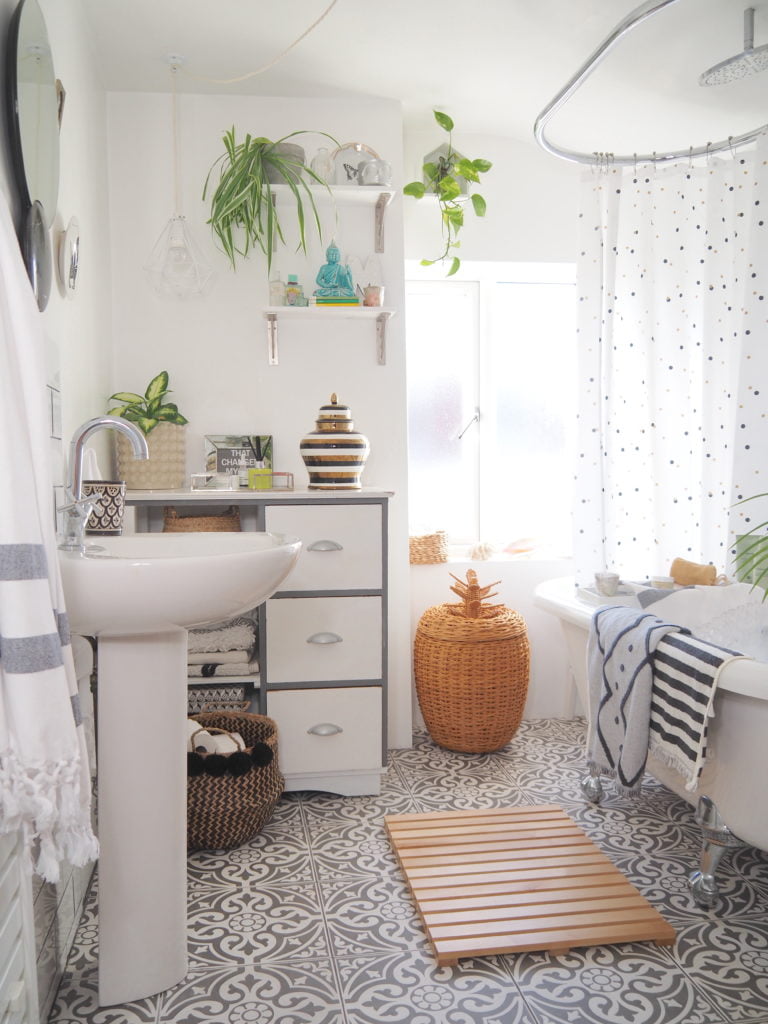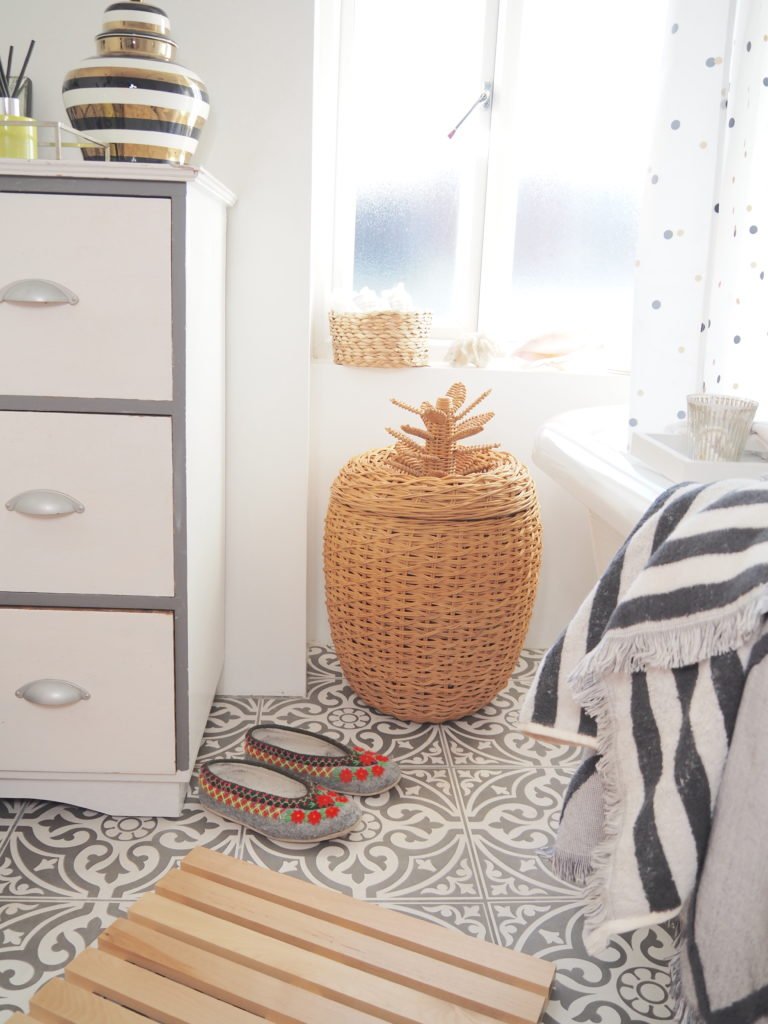 2. Bathroom Storage Solutions
Clutter can easily build up in a bathroom. But rather than having bottles and jars ruining the look of your room, invest in stylish storage!
Stash face cloths inside a ceramic jar. I love this glamorous black and gold striped one. No one will tell this is where you store your essentials as it looks so good.
Open shelves are so handy in bathrooms. You can use to pop a plant on, as well as attractive beauty bottles and even art.
I love a bath rack as additional storage in a bathroom. Fill yours with beauty products (and a glass of wine) for when you run a bubble bath. And when not in use, it makes for a nice display space across your bath.
If you don't have built in cupboards in your bathroom, make room for a chest of drawers or sideboard. In mine, I house cleaning products, seasonal beauty products like sun lotion, and my face mask & tooth paste in the drawer – then the shelves are handy for my folded towels. Maximise your space!
Practical things, like toilet rolls or beautiful products can be neatly tucked out the way in baskets. I used this funky Zig Zag seagrass basket with pompoms details for loo rolls, that way I'm never left short!
Dirty clothes can be stashed away inside a fun wicker pineapple laundry basket (which is my favourite new addition to my home)
Little pots or jars are handy for storing smaller bathroom bits like ear buds, flossing sticks or nail scissors. I found some pretty mirrored glass ones that I store on my shelves, as well as ceramic ones picked up from holiday which holds my tooth brush.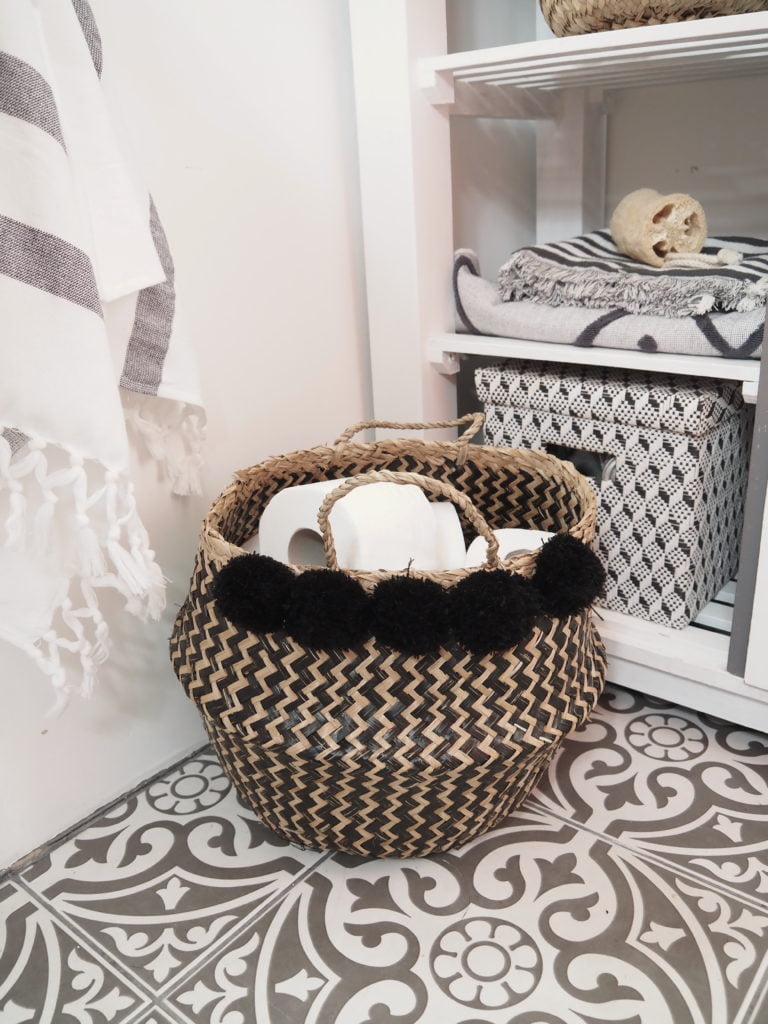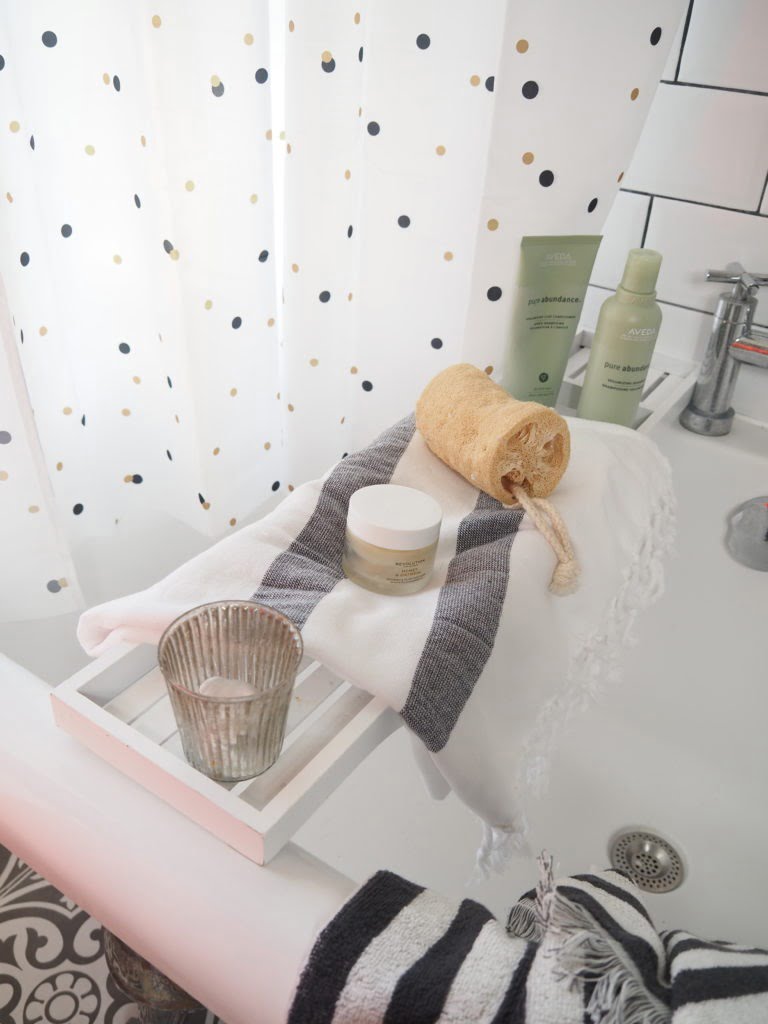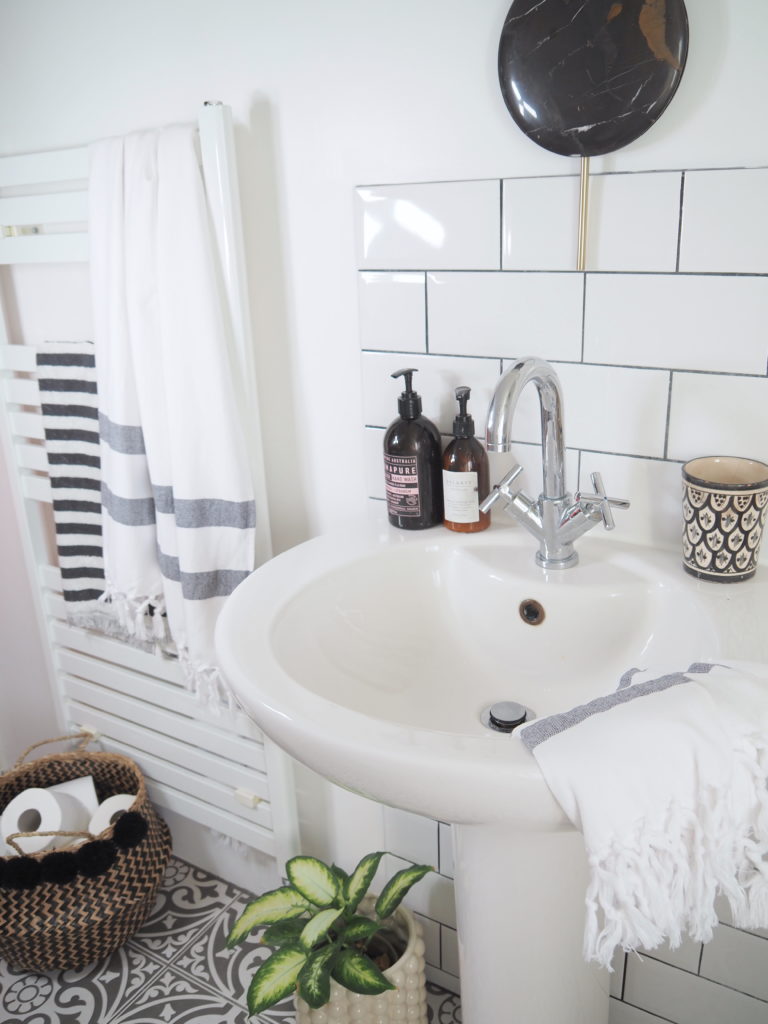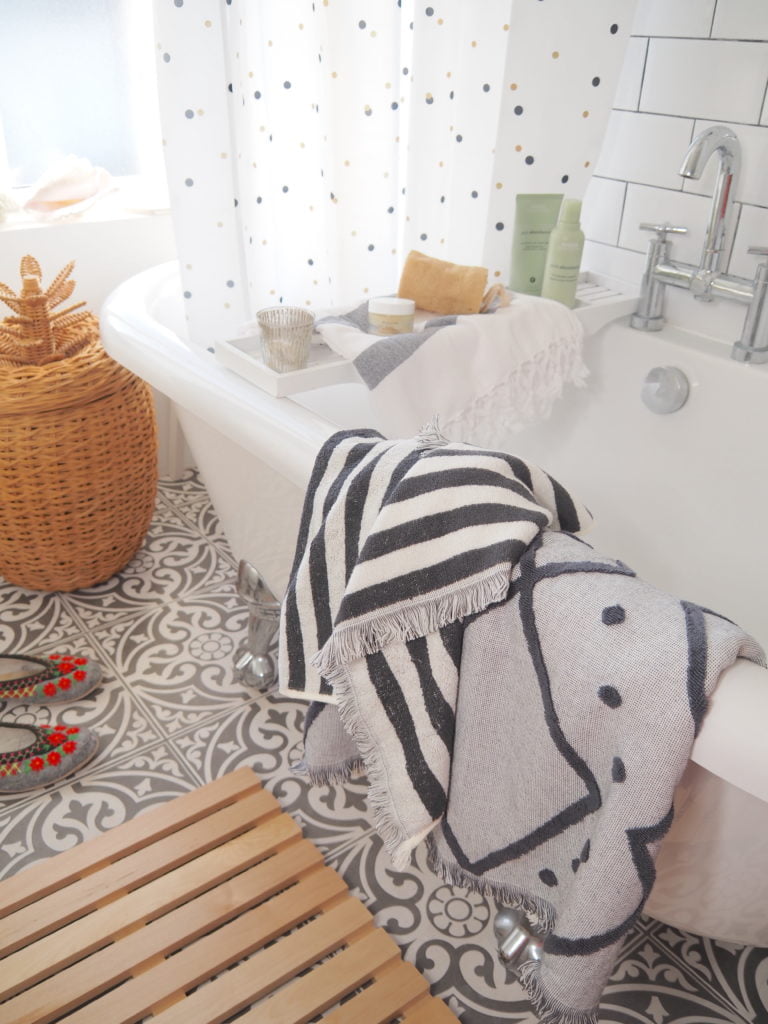 3. Wooden duckboard
In busy family bathrooms, a wooden duckboard needs to be top of your wish list. Not only will it give your bathroom Scandi vibes, but wood is also known for its hygienic properties which makes is a smart choice.
This smooth wooden duckboard is a perfect alternative to the classic bathmat. Your bathroom will start to feel like a luxury spa in no time.
And with a duckboard, you don't have the issue of a soggy bath mat when there are a few people taking showers in the morning.
READ: 6 DESIGN TIPS THAT WILL INSPIRE YOU TO USE PATTERNED TILES IN YOUR BATHROOM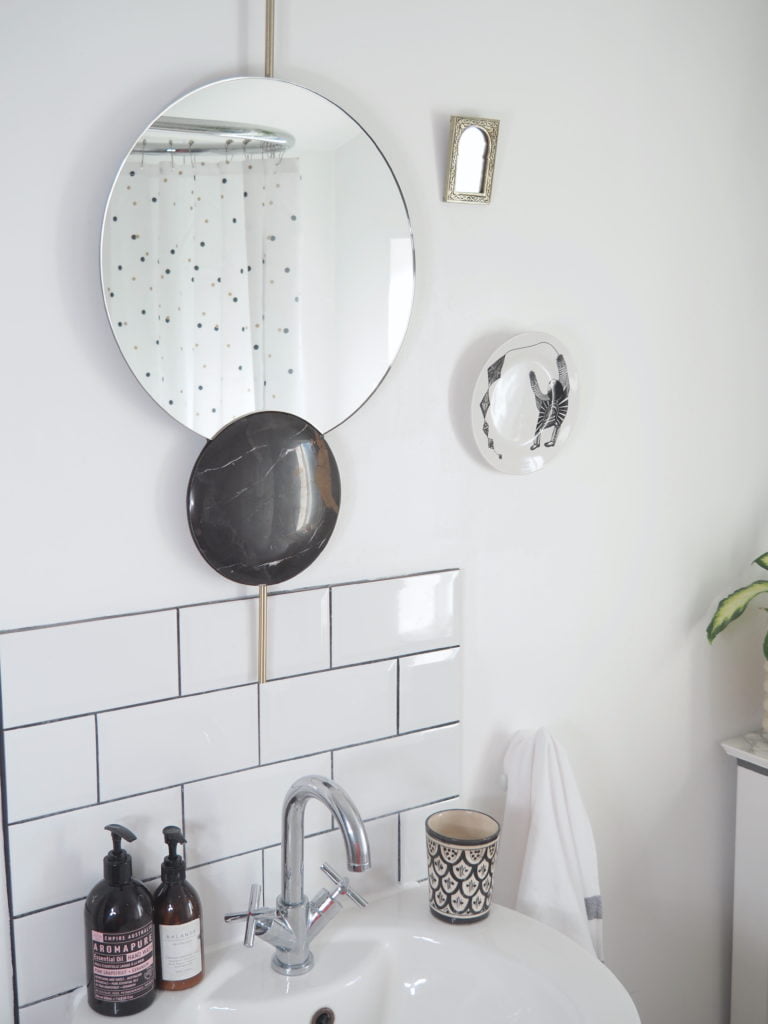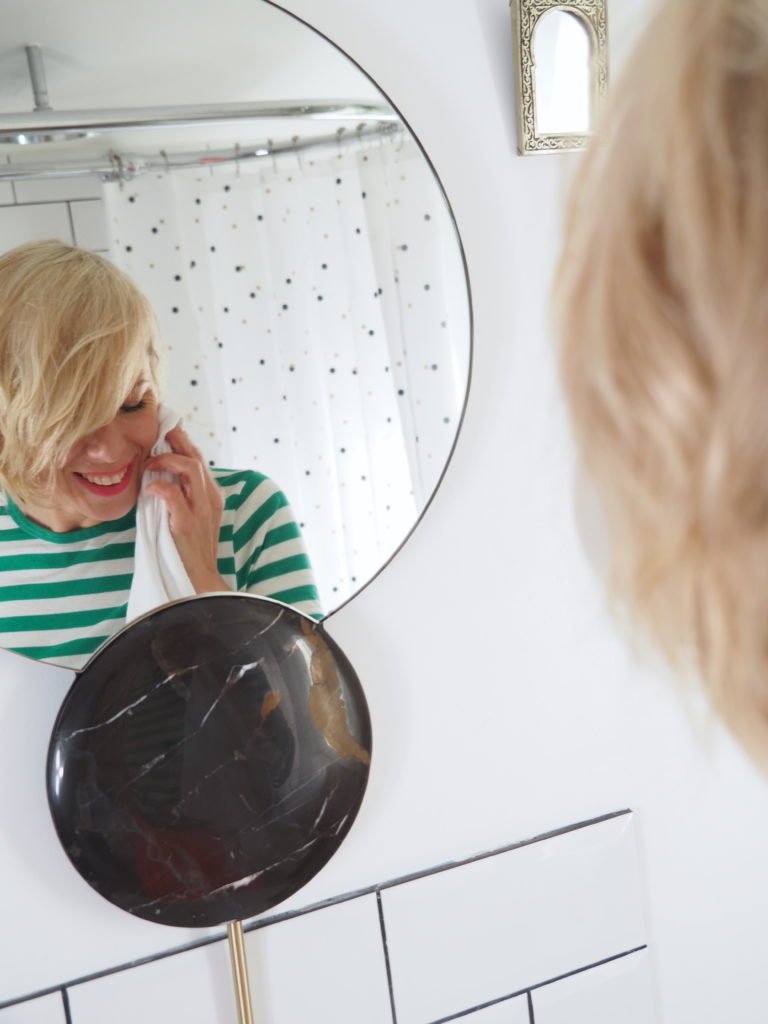 4. Large wall Mirror
Every bathroom needs a mirror for you to use for your morning beauty routine.
A mirror can make a small bathroom appear bigger as it reflects light around your room. There are so many good mirror options for smaller bathrooms like ones with shelves or storage behind, or ones with a decorative frame.
It was love at first sight when I spotted the Opanax mirror which can be hung in different positions. Part practical everyday item, part decorative object, this cool mirror features a jet-black marble panel and a circular mirrored section, it's a fab contemporary piece to update your bathroom no matter which what you hang it.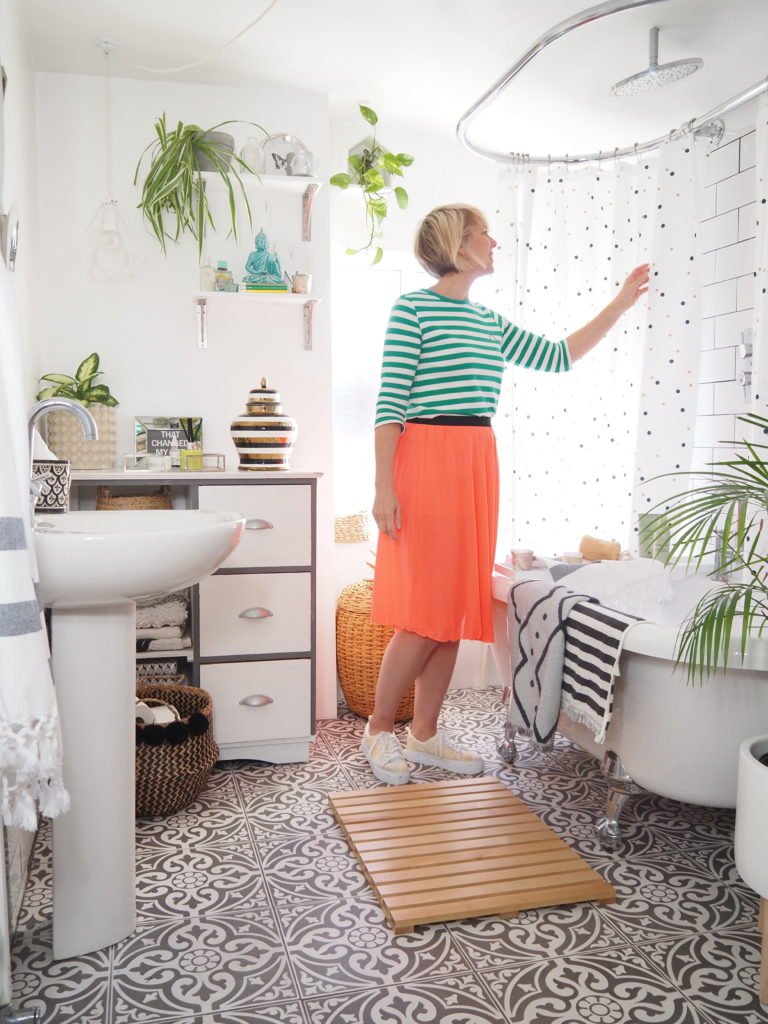 5. Shower curtain
One clever trick to add pattern easily into your bathroom is with a shower curtain decorated with a design or motif. Bathrooms can have a hard, sterile appearance as they are often tiled. A shower curtain adds fabric softness to your suite, bringing warmth to your space.
I went for the Perfect Day shower curtain to complement the monochrome colours in my room. With so much tiling and hard surfaces, bathrooms can look a little sterile! But hanging dotty curtains is a clever way to add texture and pattern to your bathroom, softening the overall look and feel of your room. Steal this idea!
READ: 7 WAYS TO STYLE YOUR BATHROOM WITH TROPICAL PRINTS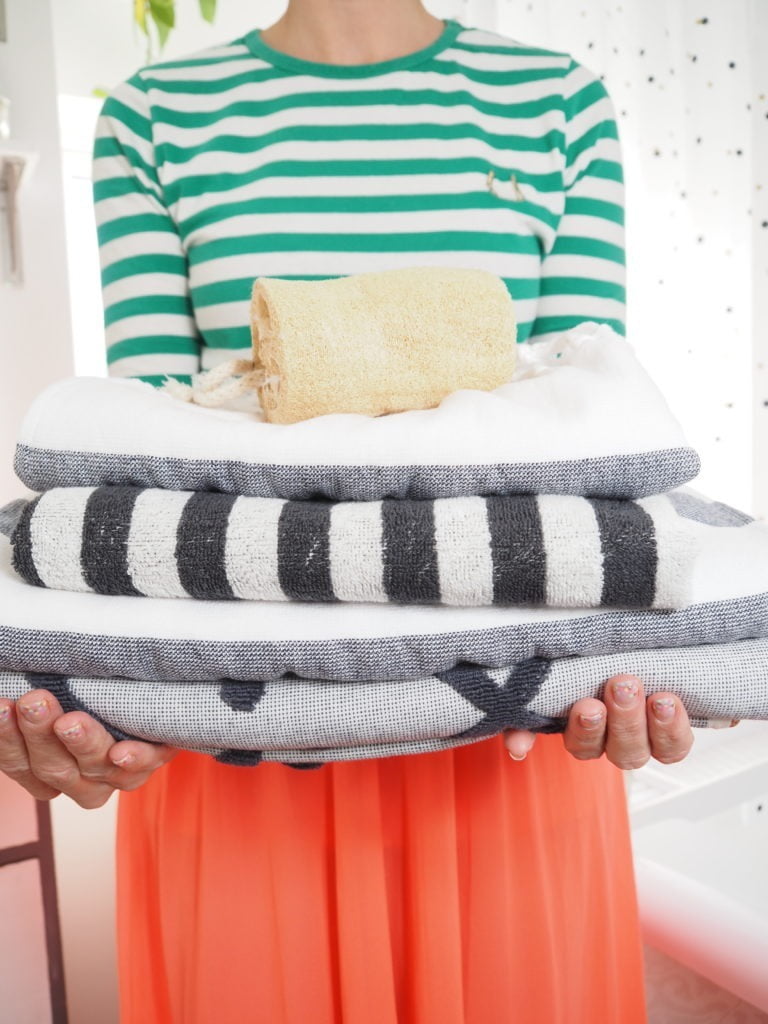 Are you adding these must-haves bathroom buys to your shopping lists?
Shopping for your bathroom is fun – and not expensive either! It's a great way to flex your styling skills and freshen your space, at minimum fuss or bother. Once you have sorted the clutter, folded away your tiles, and organised your beauty products, you'll want to spend so much more time in your bathroom. I reckon it will quickly become your favourite room in your home, for sure.
For more ideas on making the most of your space, look at my home on my instagram account @maxinebradystyling
Previous collaborative post with La Redoute.