Mid-way through my facial at Nu-Beau Clinic, Emma Nichols, Founder and Aesthetic Practitioner, turns on a sleek machine that looks like a computer that kick starts my Geneo+ Superfacial experience. It's aim? To hydrate my face, giving me instantly younger (and plumper) looking skin.
Welcome to the Geneo+ Superfacial at Nu-Beau– you're going to love it!
* I was offered a skin treatment for review for this post. All thoughts and opinions are my own.
How Do You Look After Your Skin?
I don't know about you but since turning 40, I've been try to take greater care of my skin. But it doesn't seem to matter how often I moisturise, or how well I eat, or how much water I drink – my skin is still showing natural signs of aging.
In the past, I have tried invasive treatments to help boost my skin and I was unhappy with the results (and the pain involved). After this experience, I'm more thoughtful about what I use on my face and am constantly looking out for gentler alternatives.
When Nu-Beau contacted me to offer me a non-invasive facial – which promises youthful, firmer skin (that lasts for up to 2 years) I was intrigued.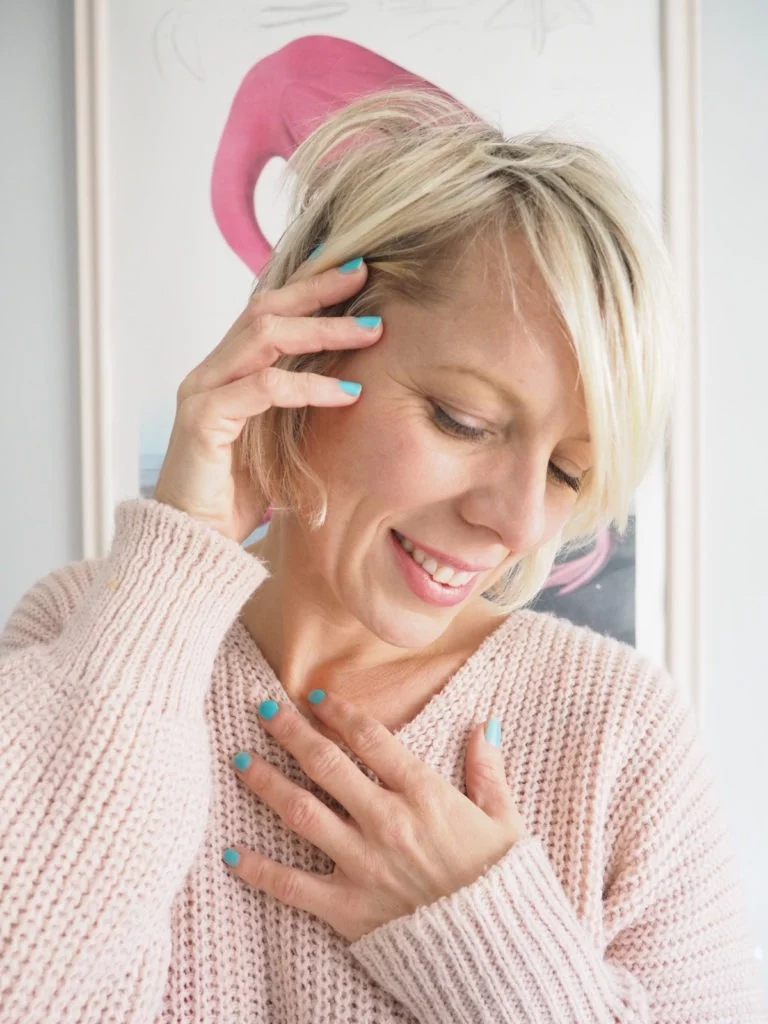 Discover All About Nu-Beau Skin Clinic In Sussex.
Founder of Nu-Beau, Emma Nichols has been a qualified Aesthetic Practitioner since 2010. She started in London with a celebrity clientele, and she wanted to bring the Geneo+ Superfacial to her Sussex skin clinic.
Emma wanted her clinic to be a relaxing and calm space where you will feel comfortable and relaxed. Her studio space, situated just outside Brighton, is a beautiful yet private clinic set deep in the Sussex countryside. Emma instantly puts you at ease.
On closer examination, Emma noticed that my skin looked and felt dehydrated and was starting to lose elasticity. She suggested I tried her Geneo+ Superfacial which tackles these two issues.
I've shared close-ups of my skin below with befores and afters so you can see the results below.
The Nu-beau clinic is in a beautiful countryside setting, just look.
What is a Geneo+ Superfacial?
The treatment I had is called the Geneo+ Superfacial. It takes i's name from natural hot springs – known for inducing skin oxygenation. By combines four essential treatments to form part of the 'super facial'. It starts with the exfoliation of the upper skin layer to remove dead skin cells, which prepares your skin to receive active nutrients in the infusions. The advanced technologies penetrate the deepest layers of your skin where your cells need it the most.
Geneo+ triggers a body response that sends oxygen to the treated area. At the same time geneo+ exfoliates the skin and creates an optimal environment for infusion of essential nutrients both during and after treatment. The ability to layer Radio Frequency induces collagen and elastin regeneration in the dermis layer, which leads to smoother and tighter skin and a reduction in fine lines and wrinkles.
Sounds fab right?
The Best No-Knife Alternative To A Facelift
They select one of two infusions, NeoRevive or NeoBright, depending on what we feel will most benefit your skin.
NeoRevive – for skin rejuvenations especially great if your skin has a pebbled appearance or fine lines
NeoBright brightens dull skin, improving the skin's texture, nourishing and lightening brown spots.
Step-by-step of my treatment:
First my skin was cleansed with the Jan Marini wash.
Then Emma applied a topical solution to suit my skin type.
Gently, the exfoliation process was started – this felt like fizzy bubbles on my skin.
The solution and dead skin cells were removed with hot towels.
After apply the remaining solution and Emma started the massage using the machine. Now all the dead skin cells were removed the topical solution can be absorbed easily by my revived skin.
Then with hot towels my skin was cleaned and left to dry.
The Treatment Uses Heat To Produce New Collagen
To finish, Emma performed the TriPollar RF skin tightening which lasted 30 mins. The RF (radio frequency) is used to stimulate skin tissue, tightening the collagen fibres deep within as well as encouraging new collagen formation. It's like a hot roller ball pen on your skin which heats up for a warming sensation.
The Geneo+ Superfacial exfoliates, nourishes and oxygenates your skin, leaving it rejuvenated, brighten, smoother and firmer.
MY BEFORE & AFTER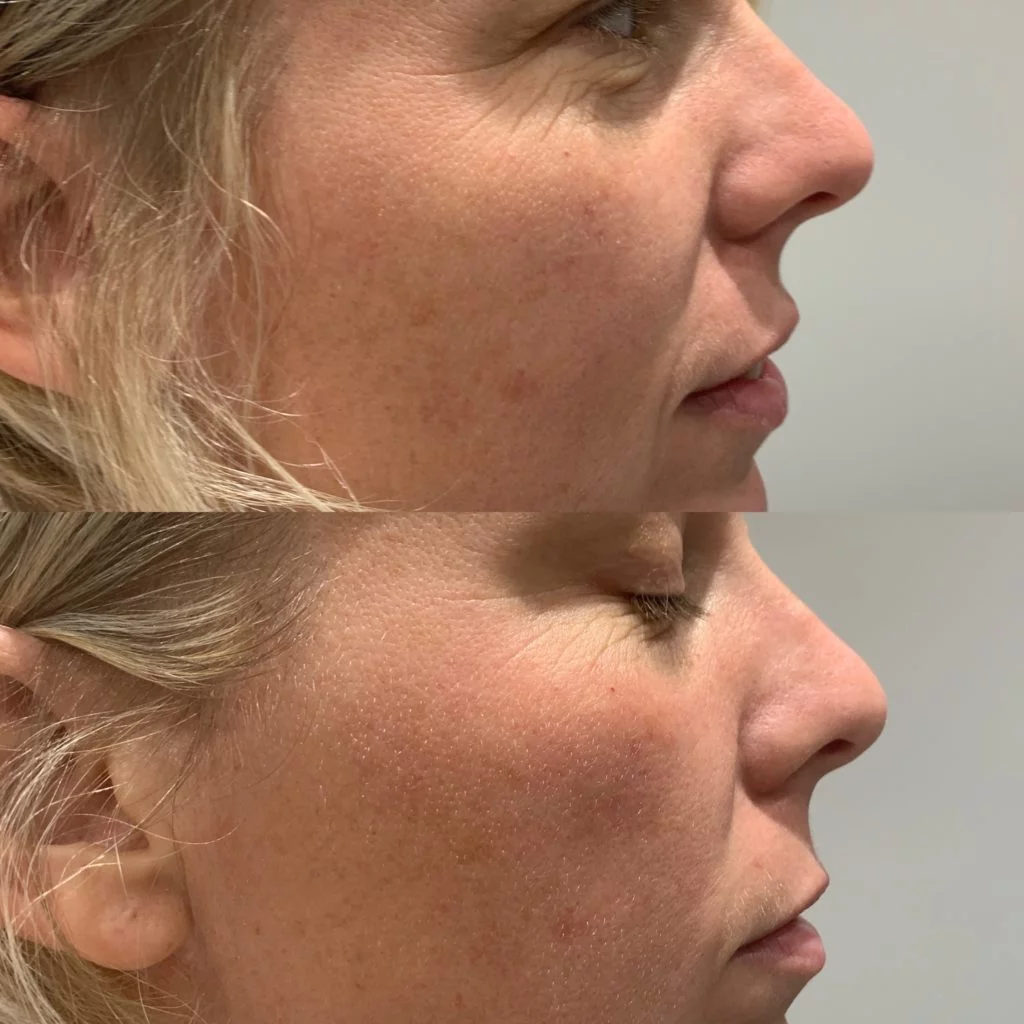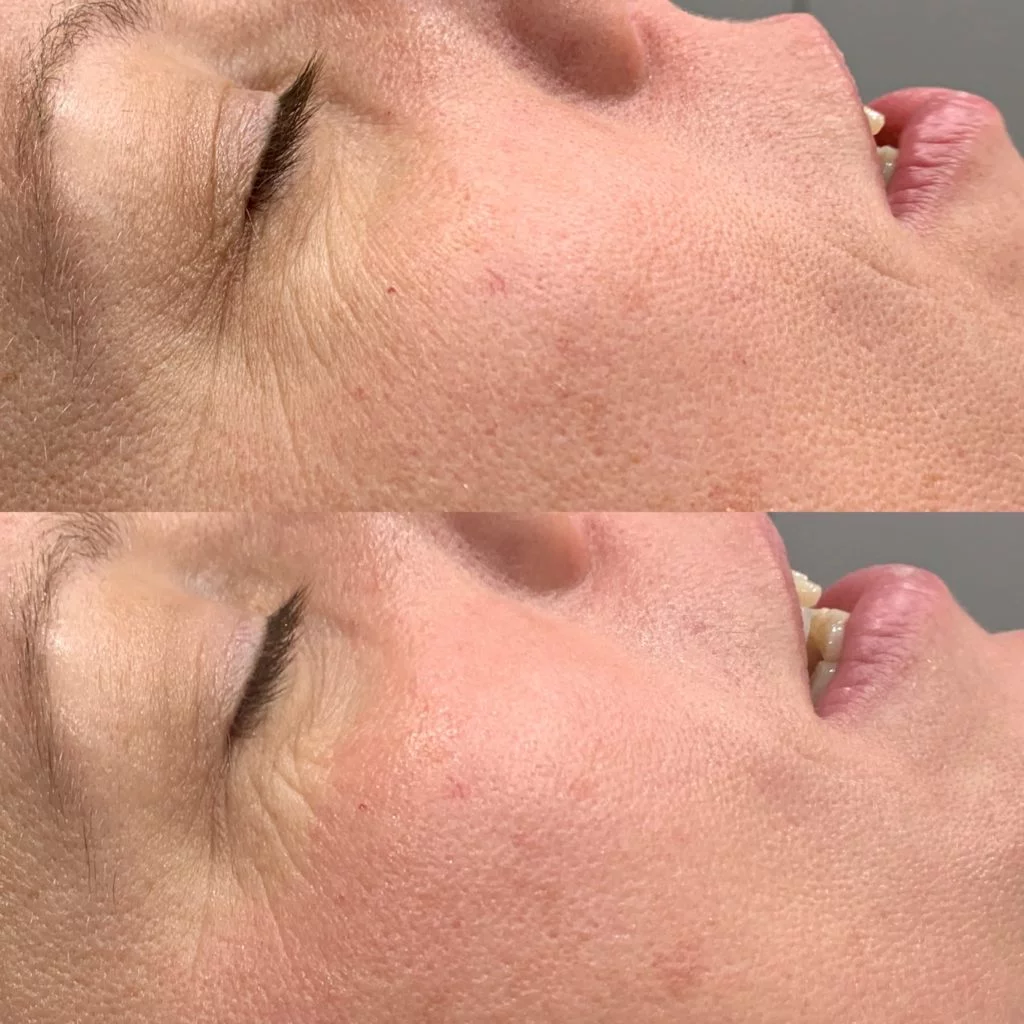 And what are the benefits of the Geno+ Super Facial for your face?
In a single, one hour treatment, the Geneo+ Superfacial gave my skin a glowing look and tightness. I felt no discomfort or redness after and my skin felt soft and smooth after. It's a gentle but highly effective treatment for all skin types.
And the facial itself feels as amazing as it sounds— like a cooling rush of moisture fizzing on your face.
Well, the list is both long and impressive:
Increases circulation, which leads to an increase in collagen production
Calms skin
Gently exfoliates
Tightens pores
Evens skin tone
Immediately plumps and hydrates skin, leading to a natural glow
Downtime And Pain Is Minimal. And There Are No Noticeable Side Effects
Oxygen in the Geneo+ Superfacial kills bacteria and bring down inflammation. Overall it brings a great glow to the skin, which is so important with all the stress and pollution we subject it to in every day life.
The Geneo+ Superfacial is suitable for everyone (except someone with cystic acne as it might be painful) but Emma also offers treatments for active acne and could treat that first, so that clients could move on to having the Geneo.
If you want to see more before and after results on different skin types and areas of the body check out Nu-Beau's Instagram page HERE.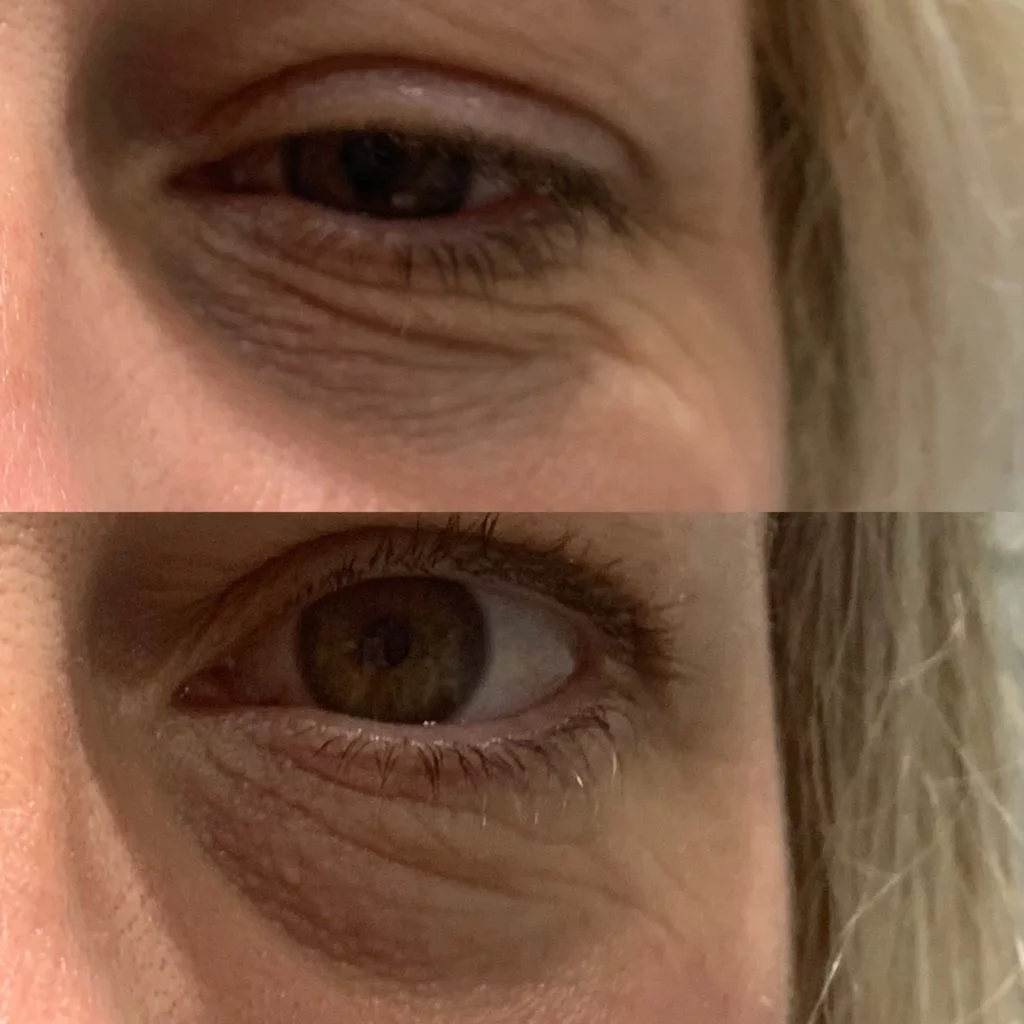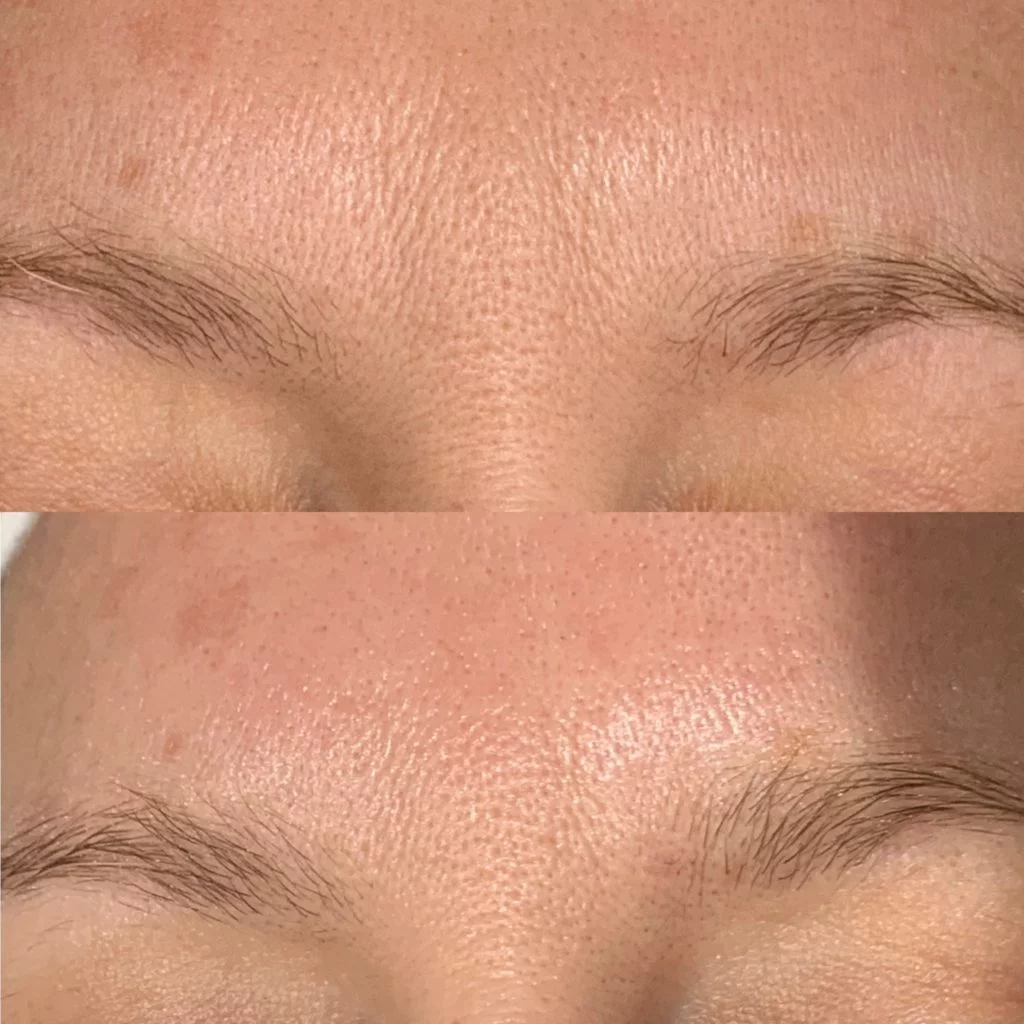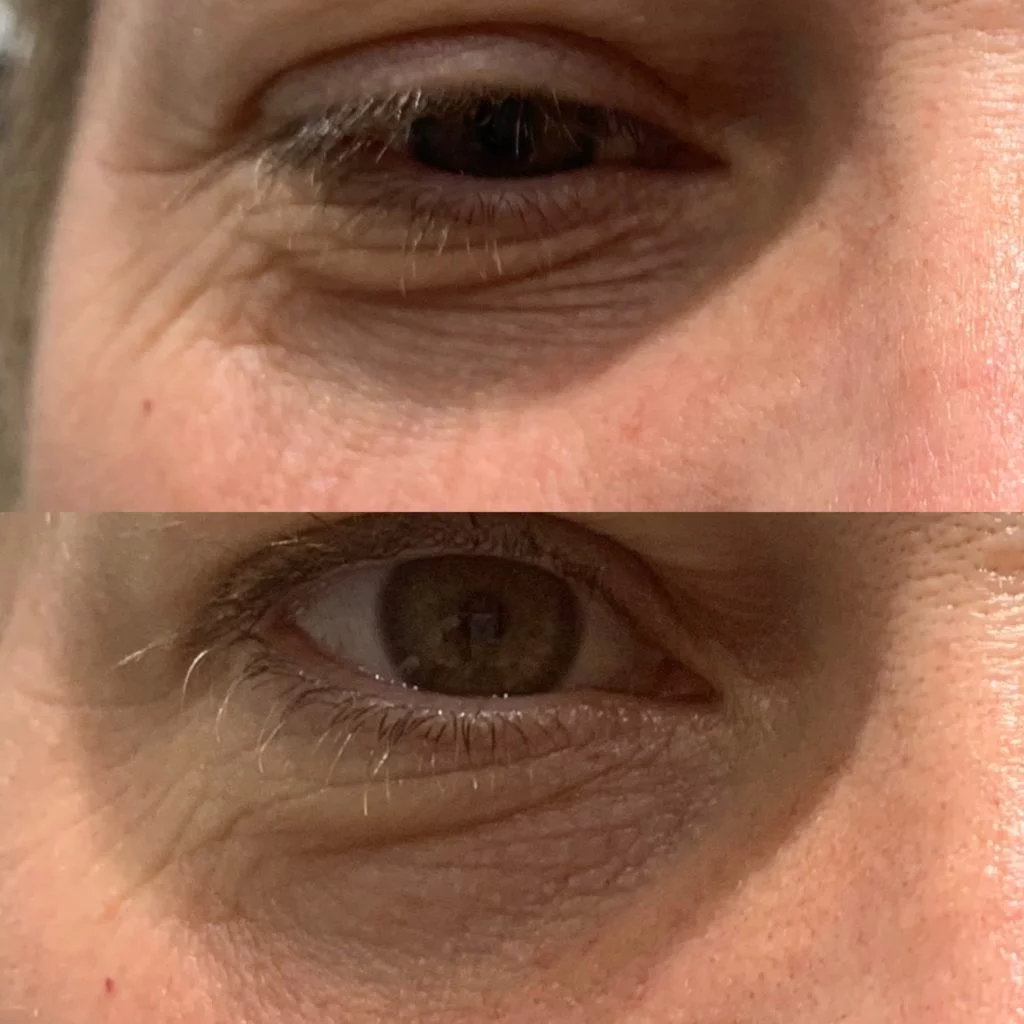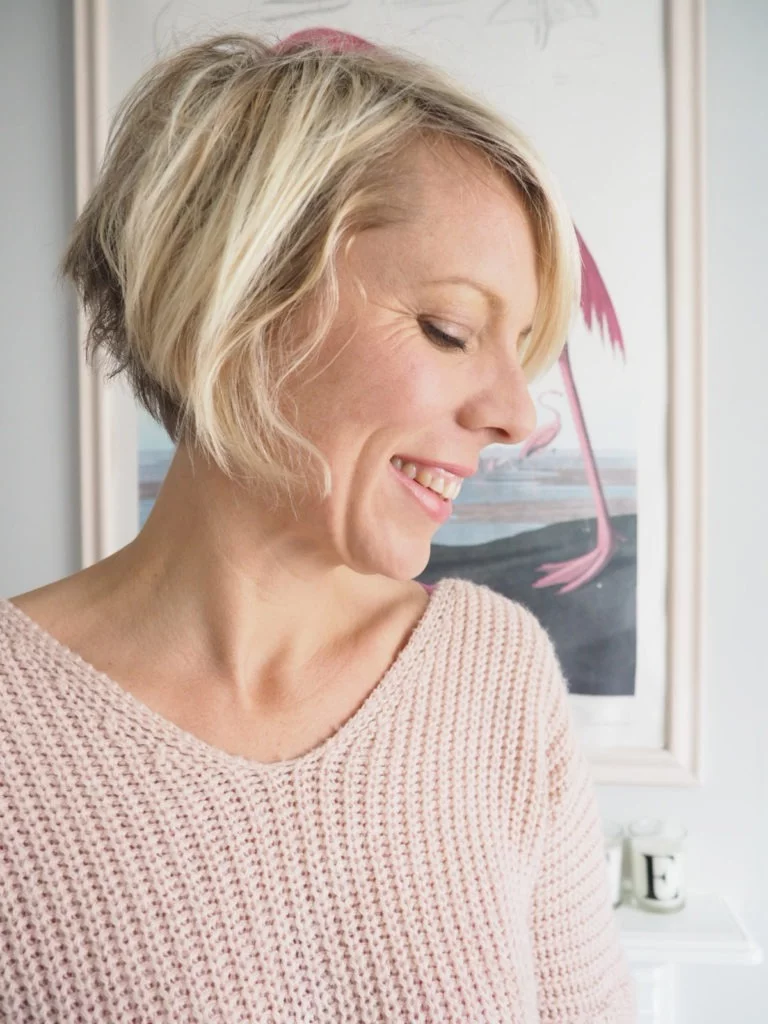 Results Last Up To Two Years
I noticed the difference pretty much immediately. Emma explained that over the next two weeks my skin will plump up more as more collagen is released. And less than four days later, my smile creases have plumped out. And my skin feels hydrated and smoother.
As the treatment is non-invasive, there was no peeling or redness which you get from surgical treatments like chemical peels or botox. My skin was subtly improved, and looks clean and healthy. In fact, on Thursday a close friend of mine ask me what skin creams I was using as my skin looked so fresh.
The Results On My Skin
The facial costs £100 but the results of this treatment can last up to two years if I continue to take care of my skin.
You can have up to 3 treatments, and I may go back at the start of the year for a top up depending on if Emma thinks I need it.
Like To Try The Geneo+ Superfacial?
A single treatment starts from £100 and including an expert consultation with Emma. For more information or to make an appointment visit Nu-Beau.
YOU MAY ALSO LIKE
BRIGHTON'S BEST KEPT SECRET – THE HARBOUR HOTEL SPA
STARTING A FITNESS JOURNEY THAT WORKS FOR YOU