Whether for a special occasion or just because you love blooms, learning a few flower styling ideas and tricks to decorate your home is an easy way to add colour, scent and style into your space.
Decorating with flowers has to be one of the simplest ways of making a room – indoors or out – feel special and look pretty. And if you choose beautifully scented blooms, they will announce their presence as soon as you enter the room.
These 9 floral styling ideas below are amongst the prettiest you'll have seen. Come take a look!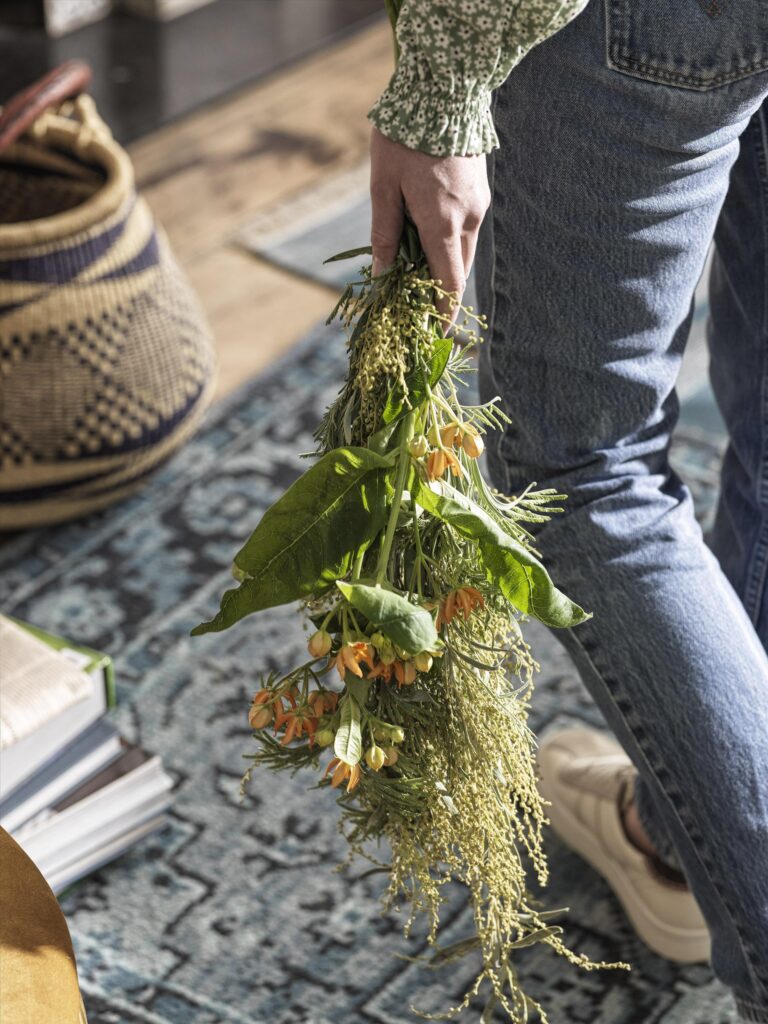 Why Decorate with Flowers?
Research shows that real flowers have a positive effect on our mood and well-being. How? Well flowers can trigger your happy brain chemicals: dopamine, serotonin and oxytocin. That's why a stunning bouquet can make us happier, relaxed, uplifted and even productive. That's why flowers make the perfect gift for loved ones who are having a bad time or if you want to show them some love.
In my interior styling work, I bring buckets of flowers to use in set as they help make my interiors look inviting and realistic. The same rule can be applied to your home…so if you want to create a pleasant atmosphere, you should include flowers in your home decor. To make floral arrangements, you don't have to have the skills of a florist, all you need is a little bit of time and imagation.
You don't have to spend a fortune either. You can pick up a bunch with your weekly shop, pick them from your garden or if you are short on time try a same day flower delivery in the UK and have fresh blossoms delivered straight to your door. I source flowers from an independent florist, when I'm on nature walks with my dog, take cuttings from my garden or even buy them at the supermarket. It's my little treat to myself to buy fresh flowers once a month for my own home. I adore them!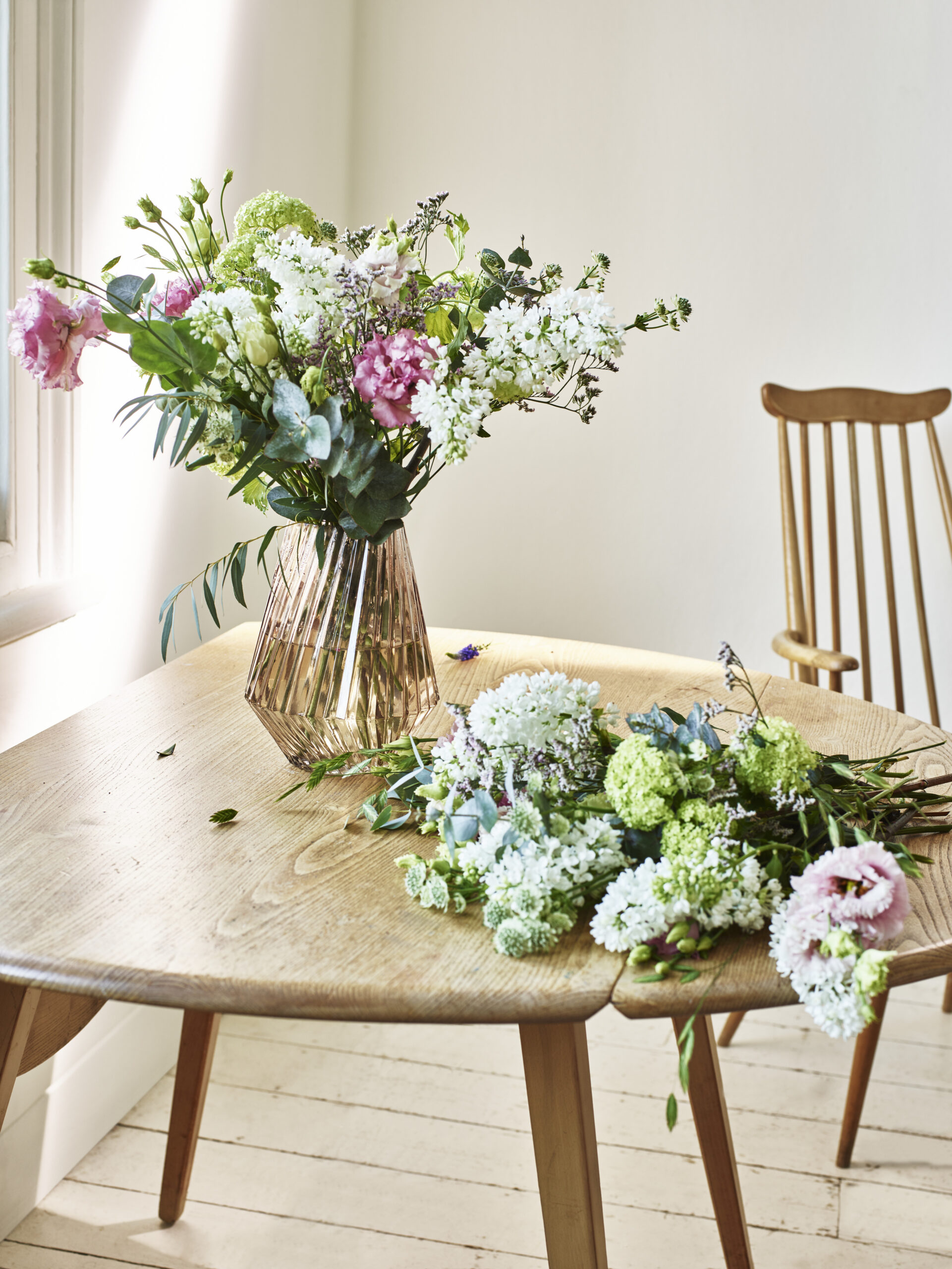 9 Ideas for Decorating with Flowers
Whether you arrange flowers in a bouquet or place them as individual stems in a vase, flowers can transform an area of your home into an eye-catching feature. If you have never decorated with blooms before start with these nine easy ideas: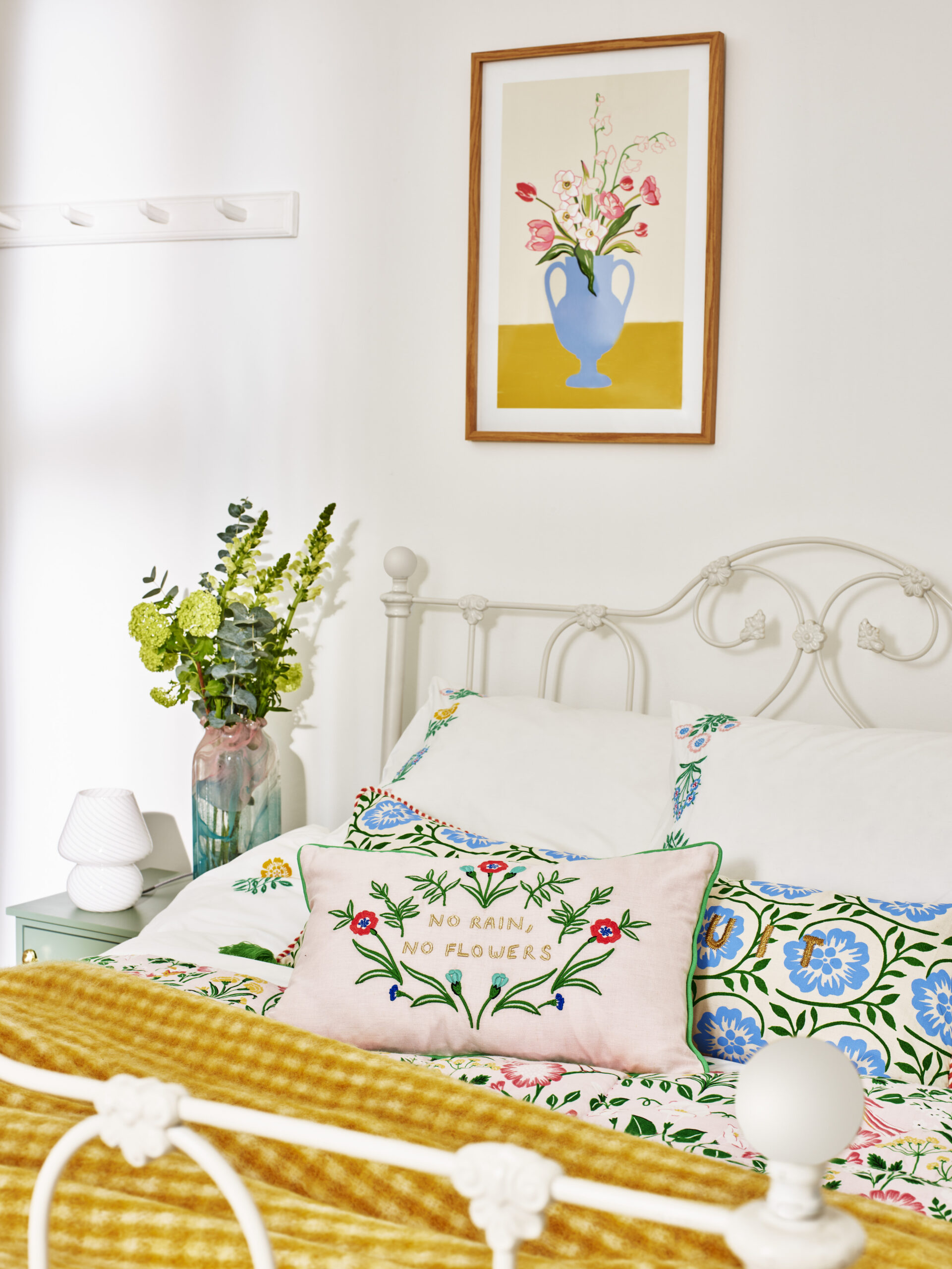 1. Use One ColoUr
There's no need to stress out about creating a complex arrangement! Sometimes, there's beauty in simplicity. So don't hesitate to pick a single floral colour and run with it. One trick is to use different flowers in the same shade within your arrangement. This technique can be especially effective if you pick a colour that complements your home's paint colours, wallpaper or accessories. See the image above where the Oliver Bonas cushions, throw and bedding sit in harmony with the green cuttings on the bedside table
Start by choosing flowers of different sizes to create an interesting arrangement. Be sure to cut each stems before placing them in your vase to make all the flowers in the vase are evenly arranged. You want your flowers to be of varying hight for a polished look.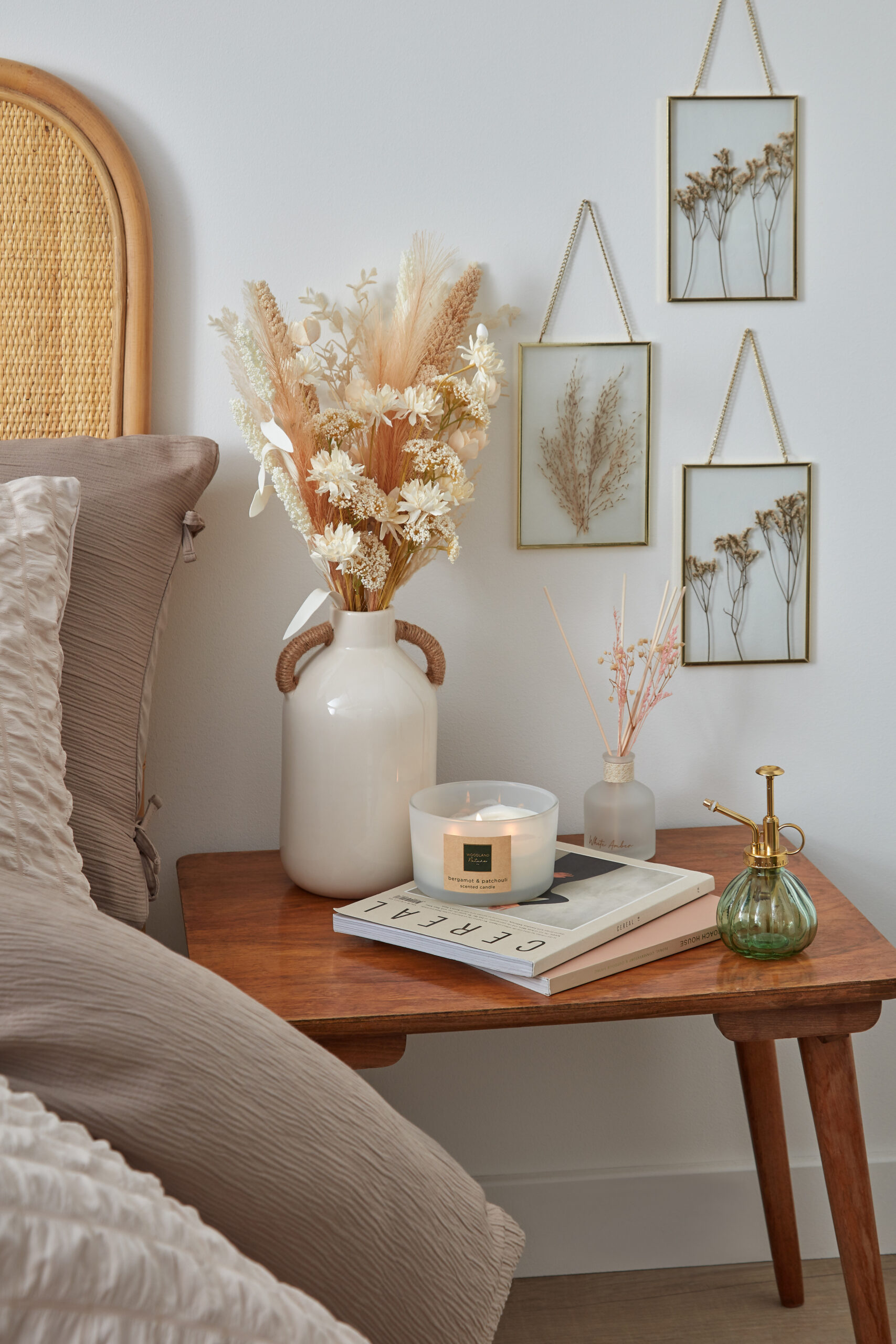 2. Use Dried Flowers
Dried flowers are a great way to create a permanent decoration that you can enjoy for longer. You don't have to buy them either, you can dry your favourite flowers then arrange them in vases or press them and frame to make a piece of artwork. I've heard of people doing this with their wedding bouquet as a keepsake from their special day.
Dried flowers, like pampas grass, bunnies ears or palm spears are popular in minimalist interiors. They have a natural colour and texture while appearing fuss-free.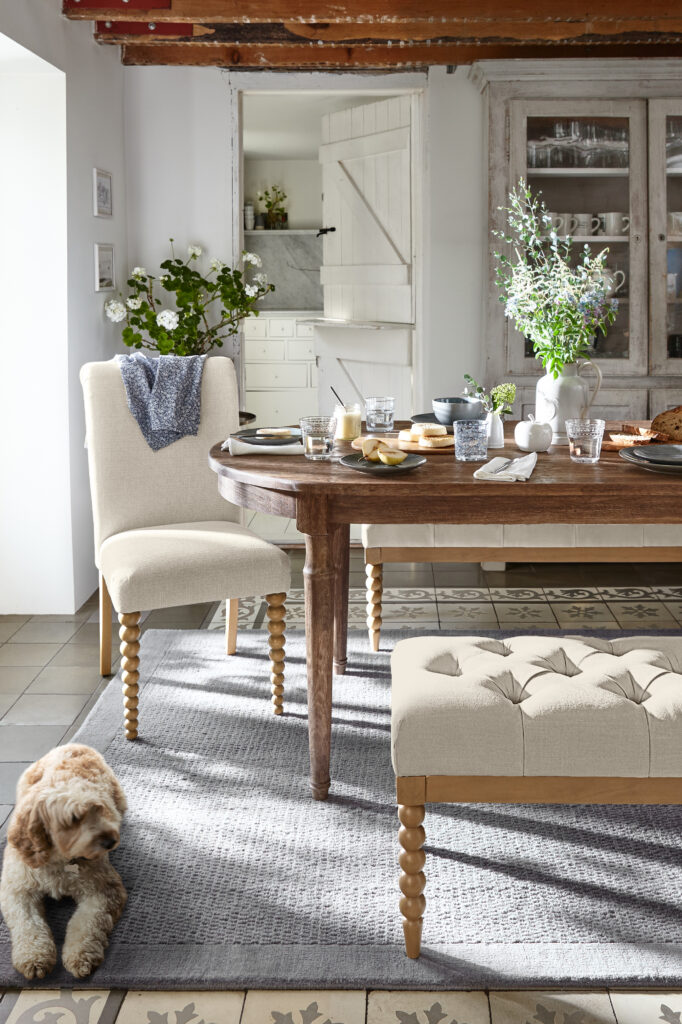 3. DECORATE YOUR TableTOP
Flowers are the perfect finishing touch when styling your table for a special occasion (or even for a nice dinner at home with loved ones) . Place a bunch of flowers in the centre of your table to make a focal point, place a stem at each place setting or even you could make a flower garland that runs the length of the table.
You could tie flowers to the back of your dining chairs with a ribbon for a personal touch that will elevate special meal times or diner parties.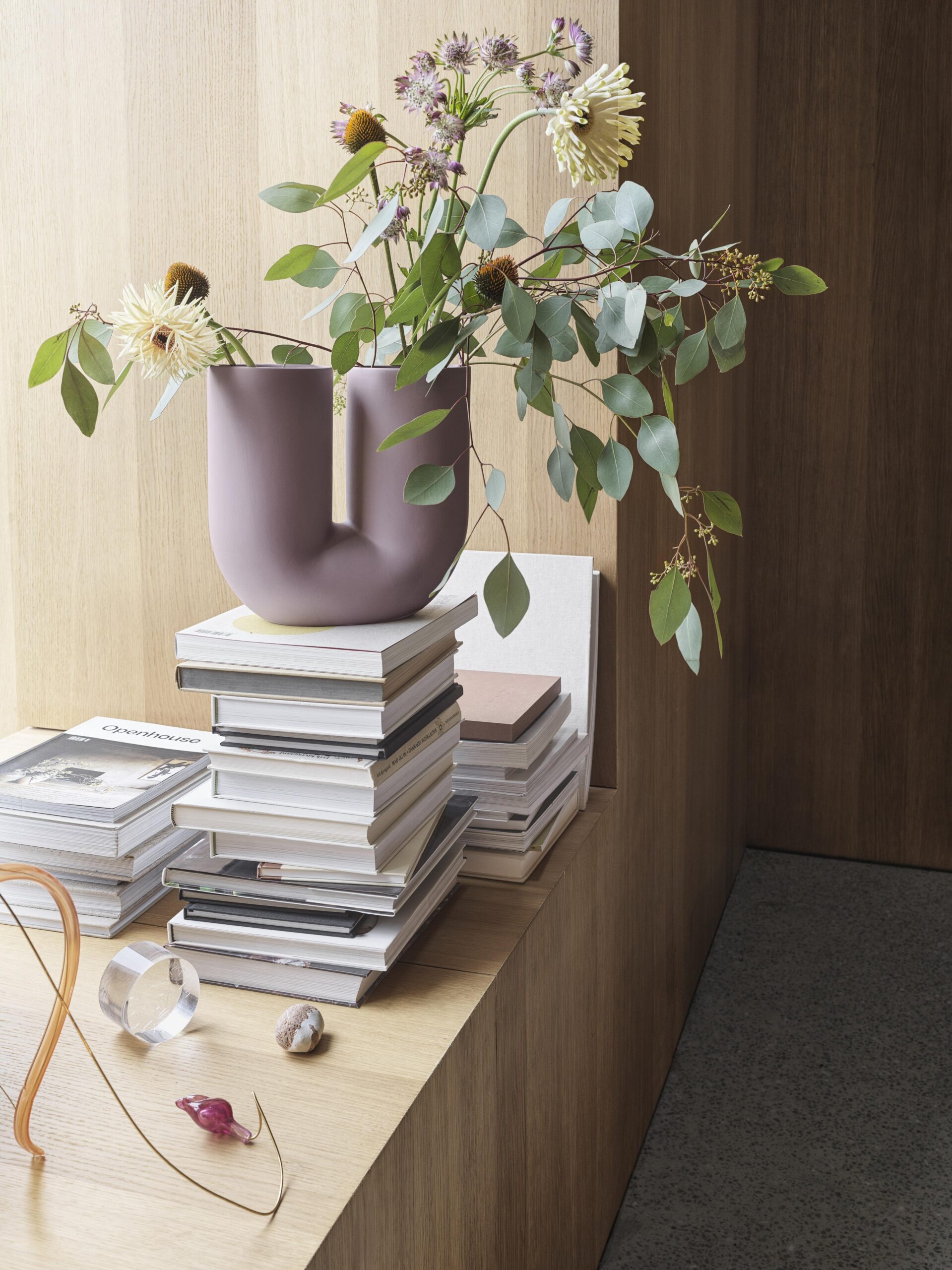 4. Add Bits of Greenery
You can also use green branches or leaves to bulk out your flower arrangement and bring a natural touch to your décor. Adding greenery can make an arrangement more interesting and appealing because it will add texture and depth to the composition. It's also a cost effective way to add flowers to your home when you're new to creating arrangements. Use inexpensive but pretty foliage like eucalyptus, asparagus fern, baby's breath, grasses and wax flowers.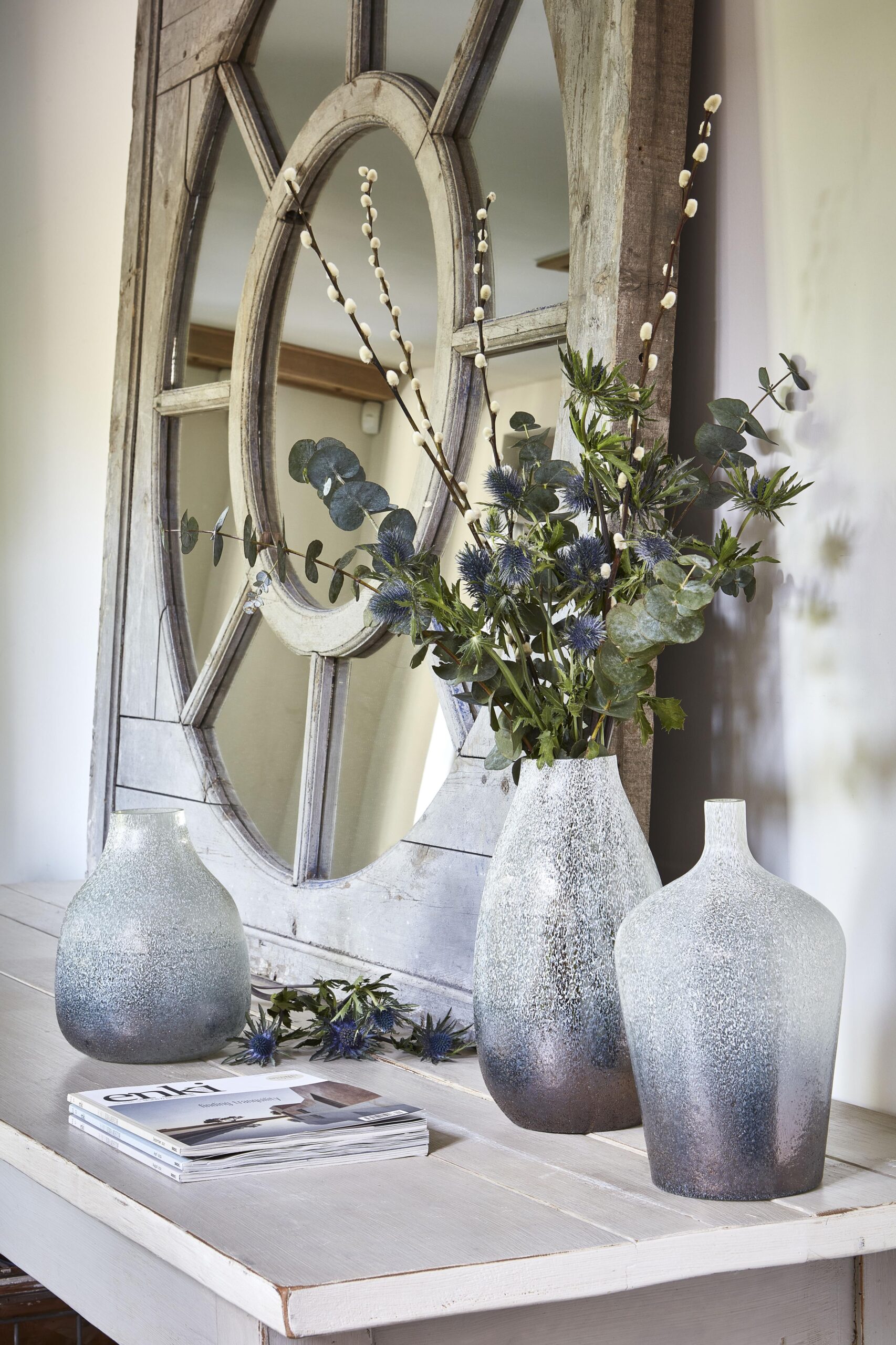 5. Combine Fresh and Faux Flower
If you want your flowers to look good for longer but also to have a natural aroma, then mix of real and fake flowers in your display at home. This will give you the best of both worlds, providing you with a beautiful and long-lasting decoration that you can switch up to reflect the seasons. Dunelm, Marks & Spencer and Matalan all have realistic fake flowers (and plants) which are worth investing in for year-round natural colour.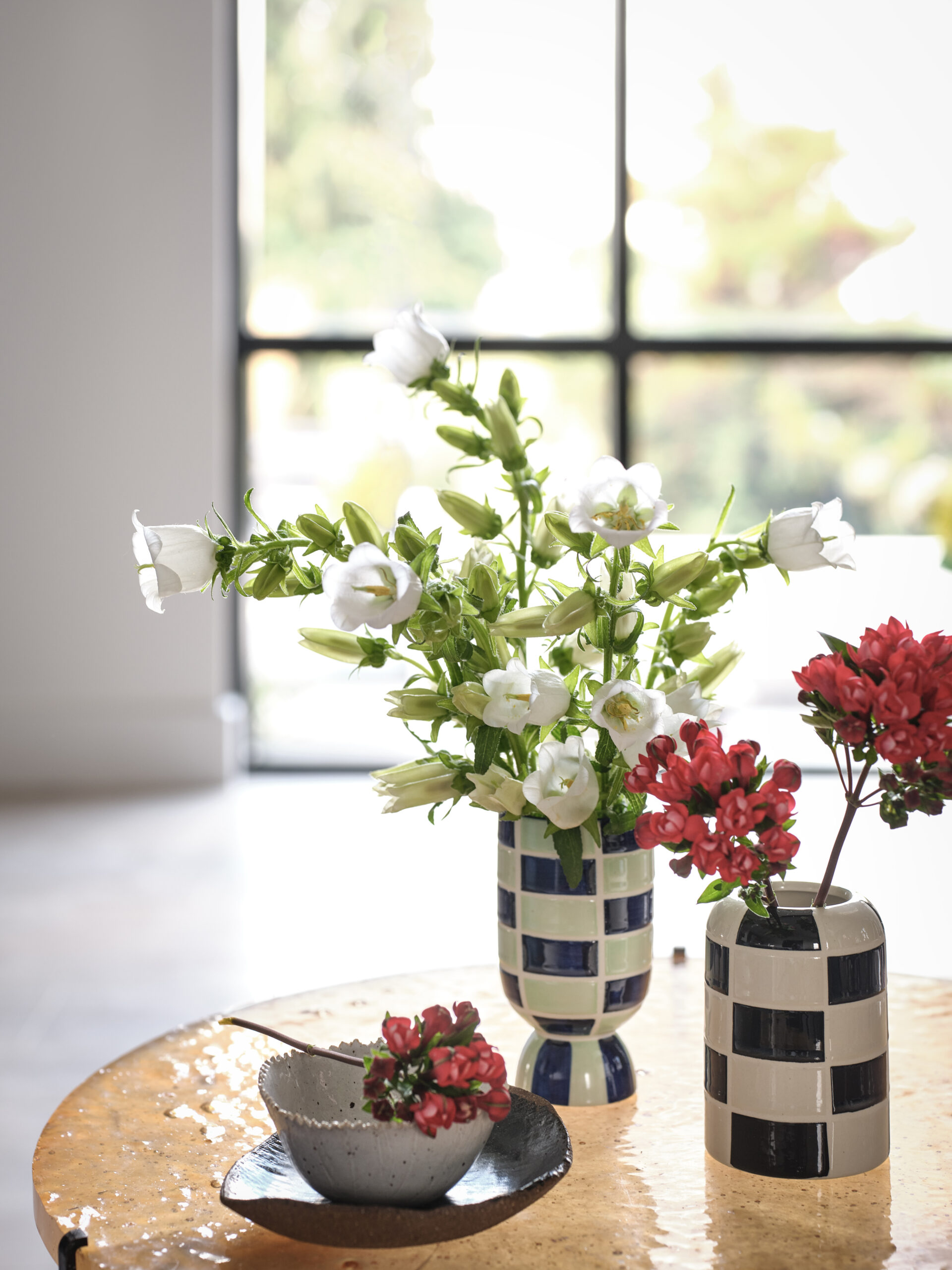 6. Use a Unique Vessel
A unique vase can turn a simple composition into a stunning piece of art. And a cool vase is also a clever way to reflect your personality and your home style. Choose vases in unusual shapes or colours to add interest to your floral arrangements.
Or think out the box! You don't have to confine your flowers styling to vases. Instead have a look around your home and see what you can use. You could fill your table top or mantlepiece with stems inside glass jam jars, empty candle holders or vintage ornaments. No vessel is off limits….so let your imagination run wild!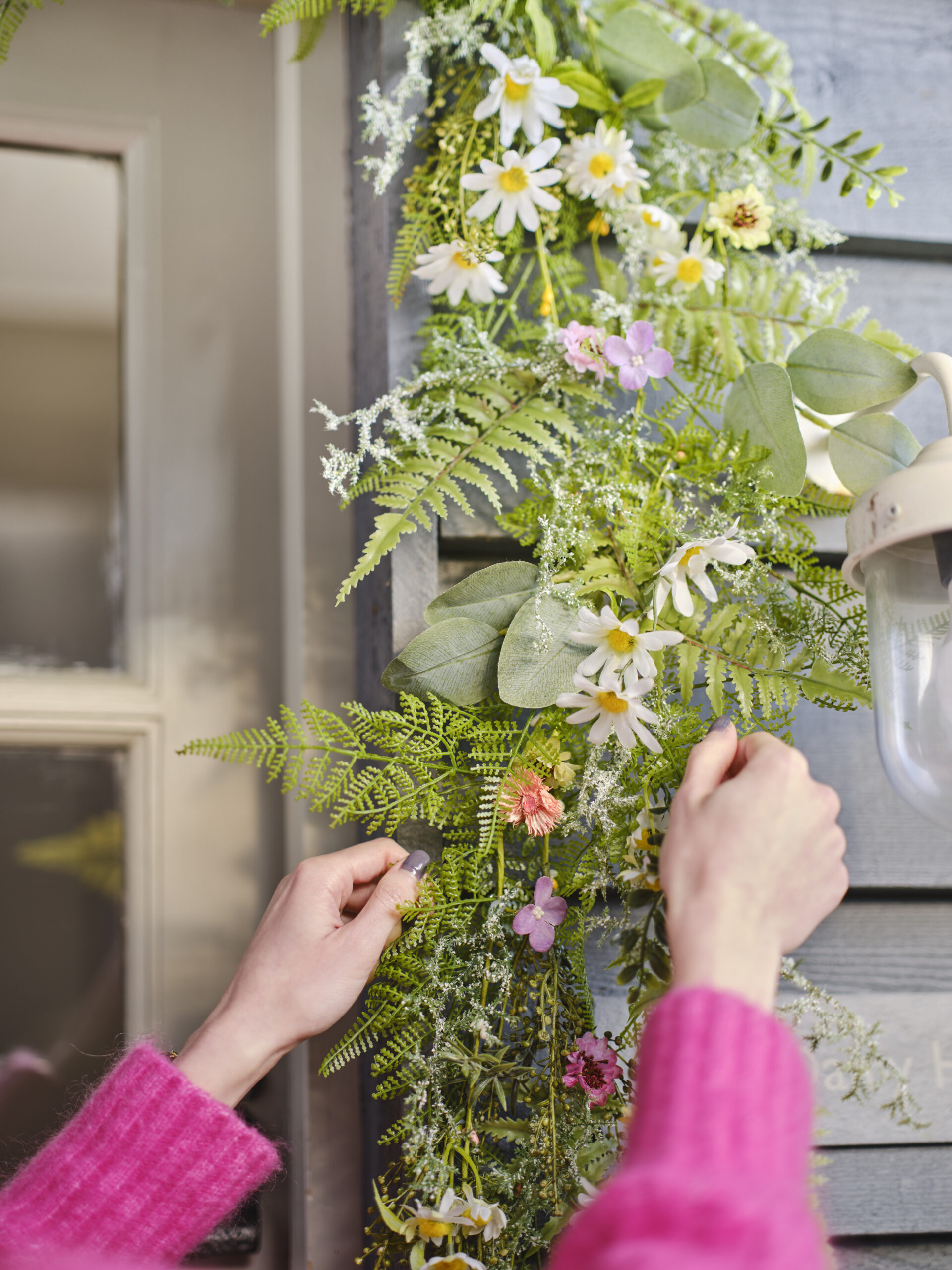 7. Create an Eye-Catching trailing arrangement
Flowers are great for creating an eye-catching design that can add floral drama to your home. Using chicken wire you can sculpt a shape that can you can then thread stems and branches into (just make sure to wear gloves when dealing with wire).
You can use this technique to create a flower cloud, decorate your front door, frame your fireplace in the summer months, or add sparkle at Christmas time. The tip here is to use blooms in different sizes and shapes to create an appealing and interesting design. If you want your trailing arrangement to have a beautiful aroma, then add roses, freesia, orchids and lilac in the summer months.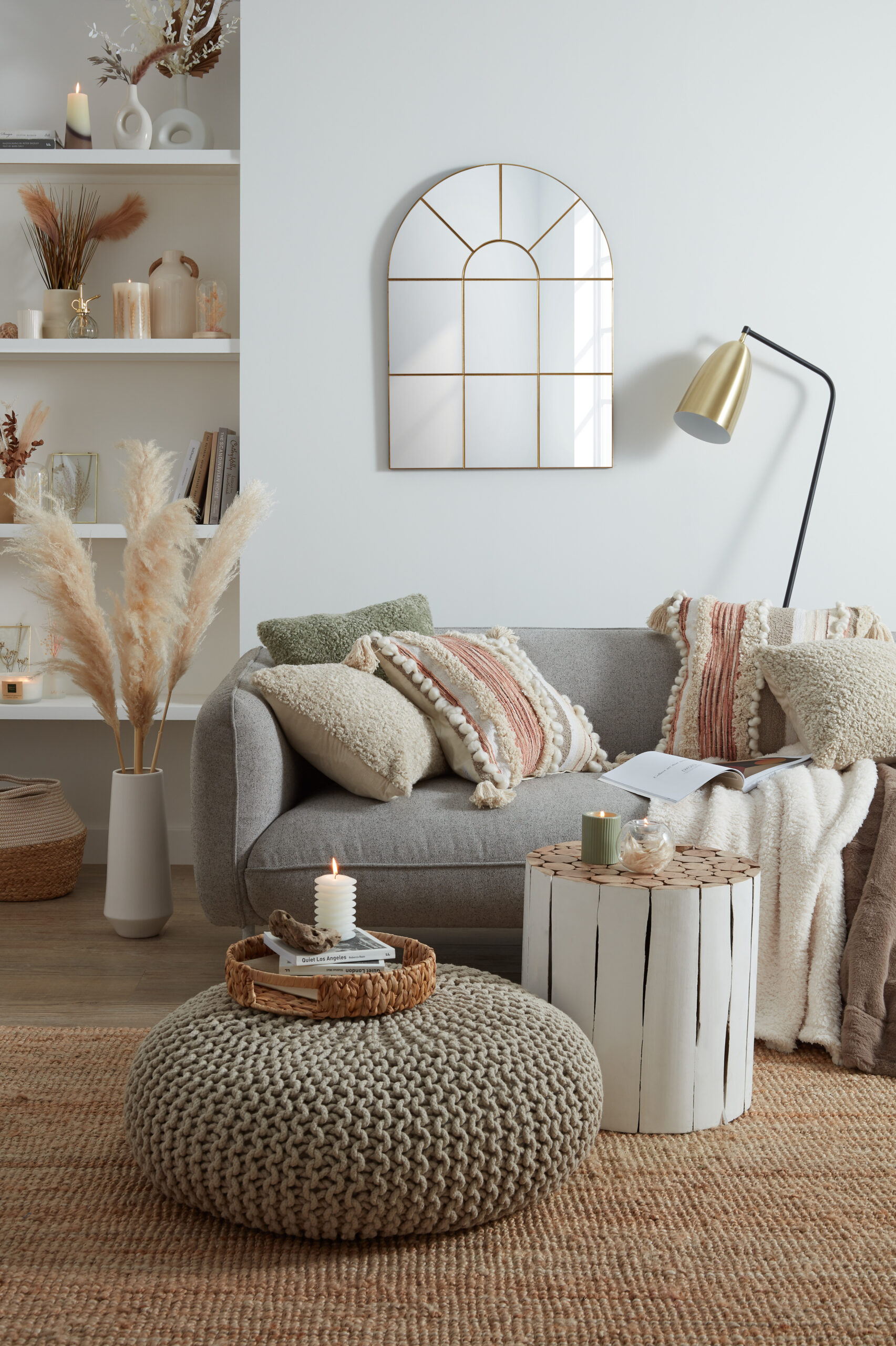 8. Use flowers To add life to your home
Flowers do look beautiful on your dining table or beside your bed. But they can also look fabulous dotted around your home in adding an organic element to your interior. Place a vase on your shelves, on your book case or among your picture frames for a layered look that feels lived-in and real.
Choose flowers in different sizes and shapes to create a interesting decoration that has depth. This can be especially effective if you use flowers in one colour or a limited number of colours.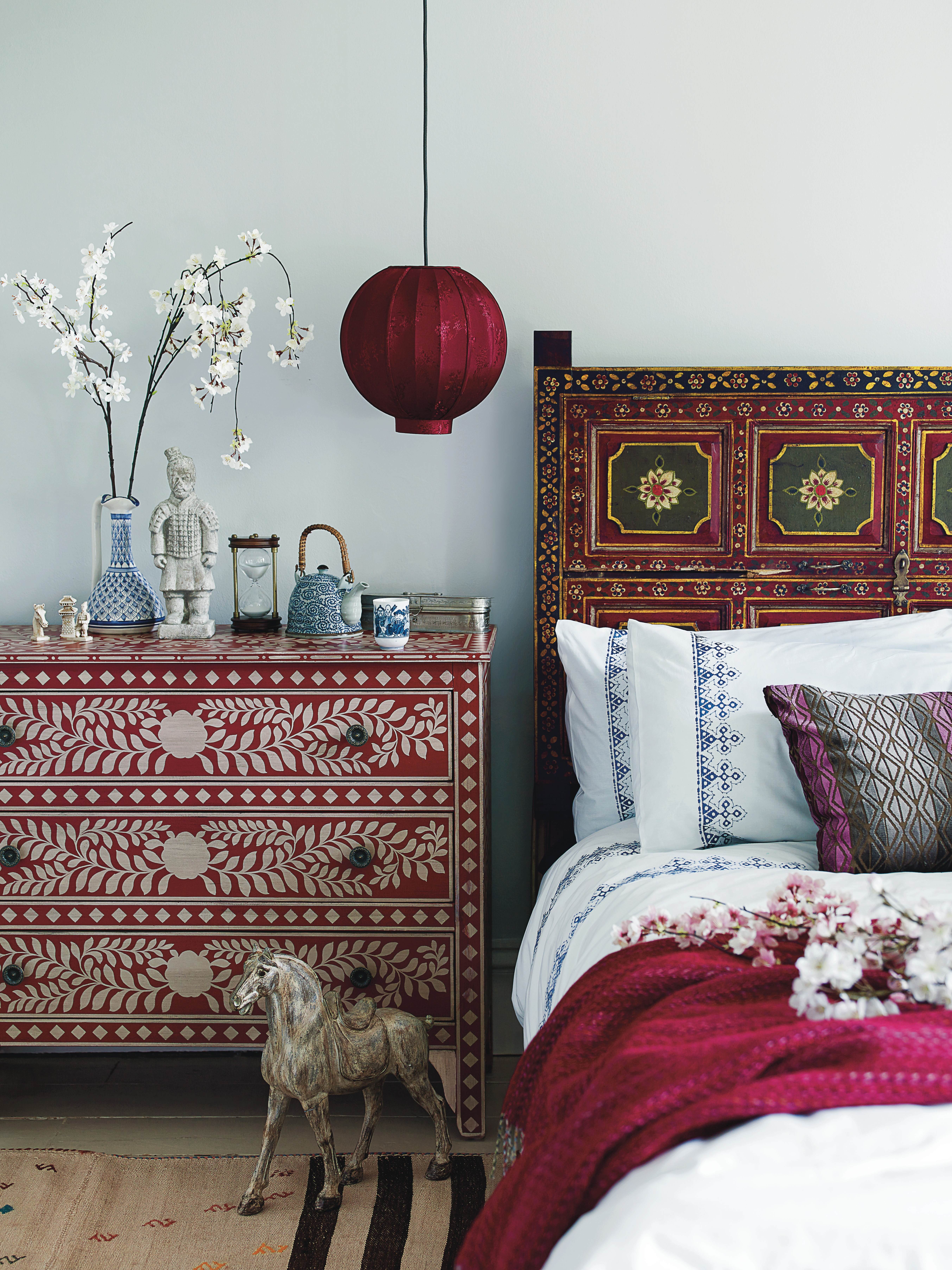 9. Put your arrangements in unusual places
Don't feel that your flower arrangements should only be placed in your dining room or living room. You can dot an arrangement around your home to bring joy to every room. In a kitchen, you can place flowers on your island or worktop – if you have a bunch with a scent they can help combat cooking smells. In a bathroom, a vase of flowers can bring cheer to your morning bathing regime. And you can't beat a small vase of flowers beside your bed. If you fill this arrangement with lavender, it will help you drift off to sleep.
And flowers don't always have to be styled in vases too! I like using the Japanese flower arranging method called 'Ikebana' which was developed into a distinctive art form in the late fifteenth century. Using a metal flower frog you can create an arrangement in an array of styles and variations, both modern and traditional.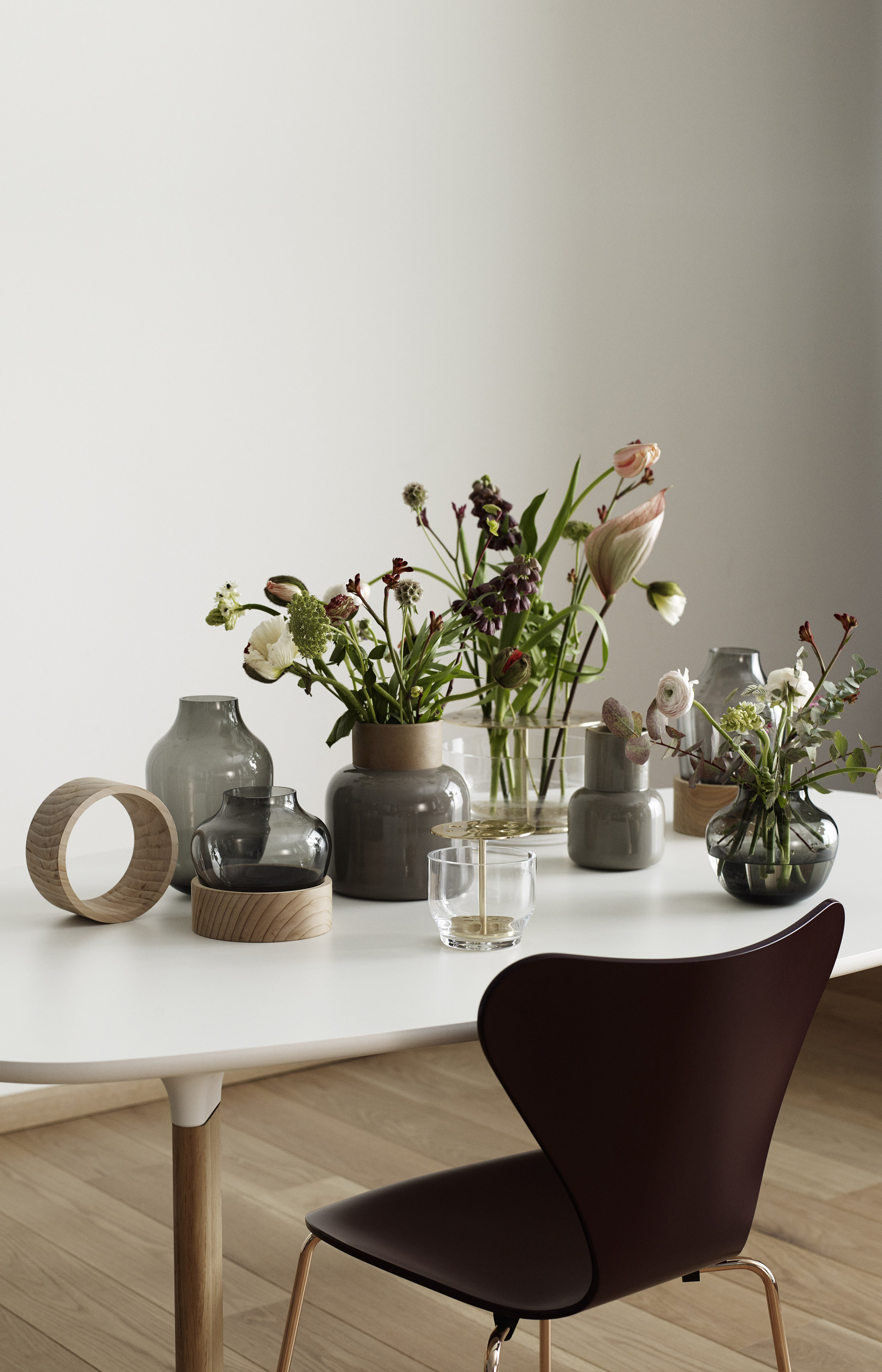 let me know Your thoughts on these 9 flower styling ideas
After reading this feature, I hope that the next time you are given a bunch of flowers you inspired to get creative by splitting the bouquet and spreading the blooms around your home in various ways. I'm looking forward to hearing which of these nine flower arranging ideas you plan to try first to bring natural colour to your home.
If you would like to see how I use flowers in my interior styling work click here.
What do you think of these ideas? Let me know in the comment box below 🙂
You May Also Like
6 SIMPLE WAYS TO STYLE A JOYFUL HOME
WHAT IS SCENT SCAPING? THE HOT NEW INTERIOR TREND YOU NEED TO TRY
WHAT IS AN INTERIOR STYLIST AND HOW TO BECOME ONE