Step inside the home of top UK interior stylist Maxine Brady with House Beautiful magazine.
Last summer, my home was photographed for House Beautiful magazine for a special feature looking inside the homes of interior experts. I was thrilled to be asked by the homes editor Carolyn Bailey to appear in this special May 2023 issue.
If you have ever wanted to appear in a magazine…read on!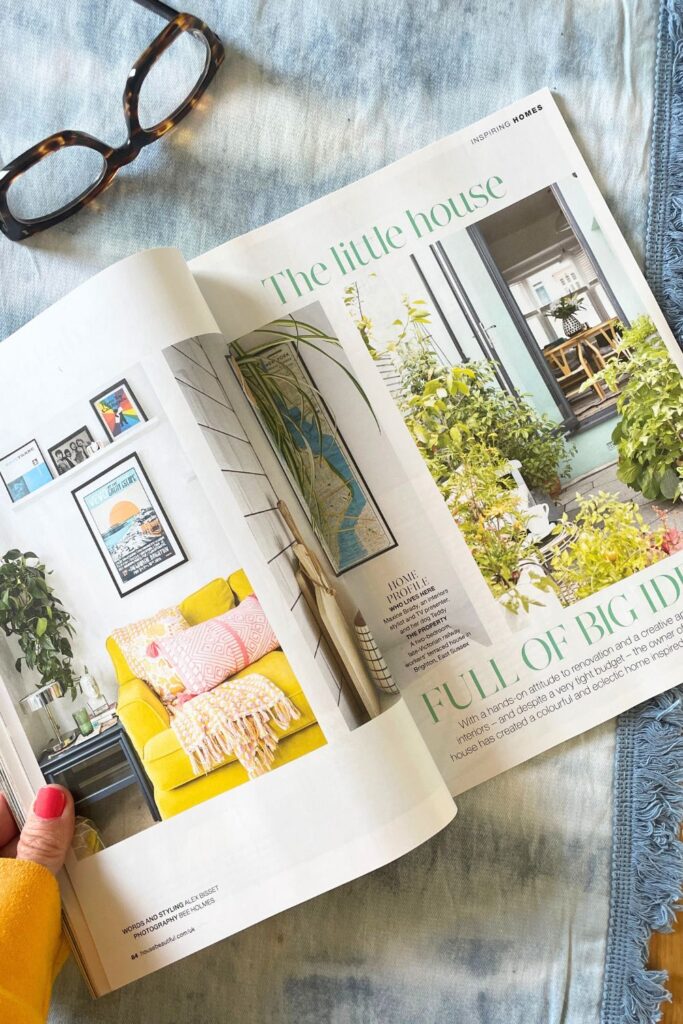 INSIDE THE HOME OF AN INTERIOR STYLIST
I love the title of the feature 'The little house full of big ideas' – which 100% sums up the work and styling that has gone into my home. If you have been following for me for a while on my blog or socials then you'll know the work involved to get my house to look the way it does today. Before it was empty for seven years and I had to make over every corner of this house, as well as inject personality and colour into every room. It's been a challenge doing it on my own but I'm very proud of what I have achieved.
And if not, then I'll link some key blog posts below – and give me a follow on instagram here.
Working On House Beautiful Magazine
This feature feels very full circle for me as I used to be a key plater on the style team at House Beautiful for five years when I was in my late 20s. I was the deputy style editor and I used to shoot the covers and decorating stories, including campaigns out in South Africa. It was my dream job working but after five very happy years, I moved into the world of freelancing – and haven't look back since.
You can see my interior stylist portfolio here. If you are looking for an interior stylist for your brand or company, please drop me an email here. And you can rent my home out as a location house – more details about that are here.
Check out the Cuttings from House Beautiful Magazine Feature – It's over 5 double page spreads!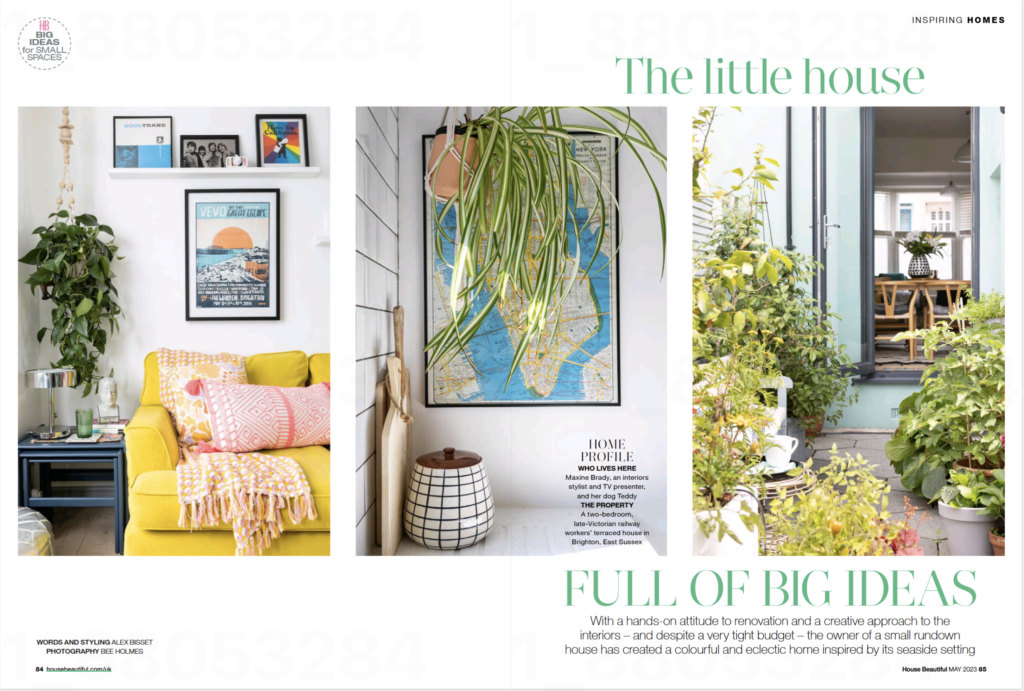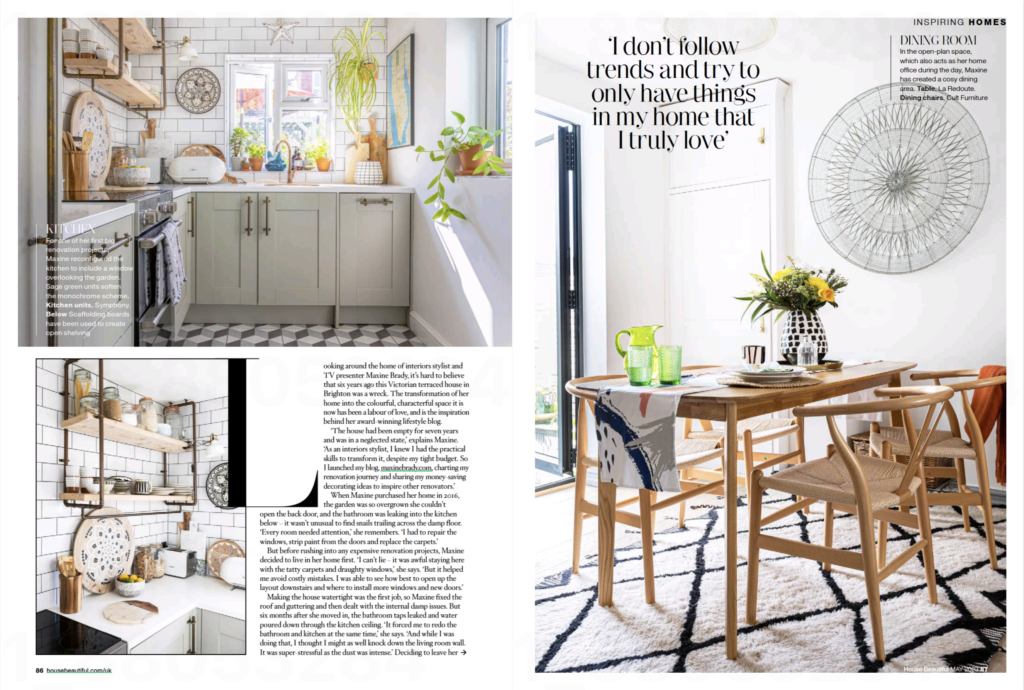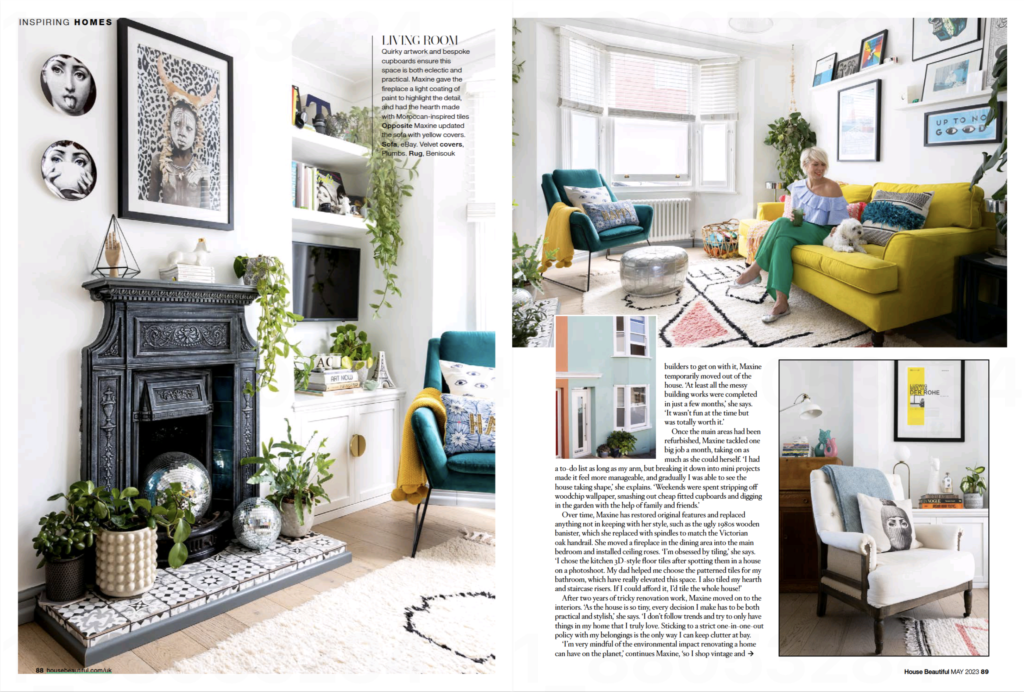 Styling my Home
The photos were taken by Brighton based photographer Bee Holmes who I collaborate closely with on many interior shoots. Together we shot all the rooms in my home which took a full day – even though my house is pretty small!
I did share an instagram reel on the preparation that goes into having your home photographed for a magazine which I think you'll find interesting.
I'm very pleased with how the photos have turned out. My garden looks stunning – and it reminds me to get out there now to give it a tidy so it looks just as pretty this summer too. I've still got big ideas for this space and as my home is always changing. This year I'm going to makeover my spare bedroom and my dining area adding a splash of colour. My living room also needs a freshen up for the warmer months.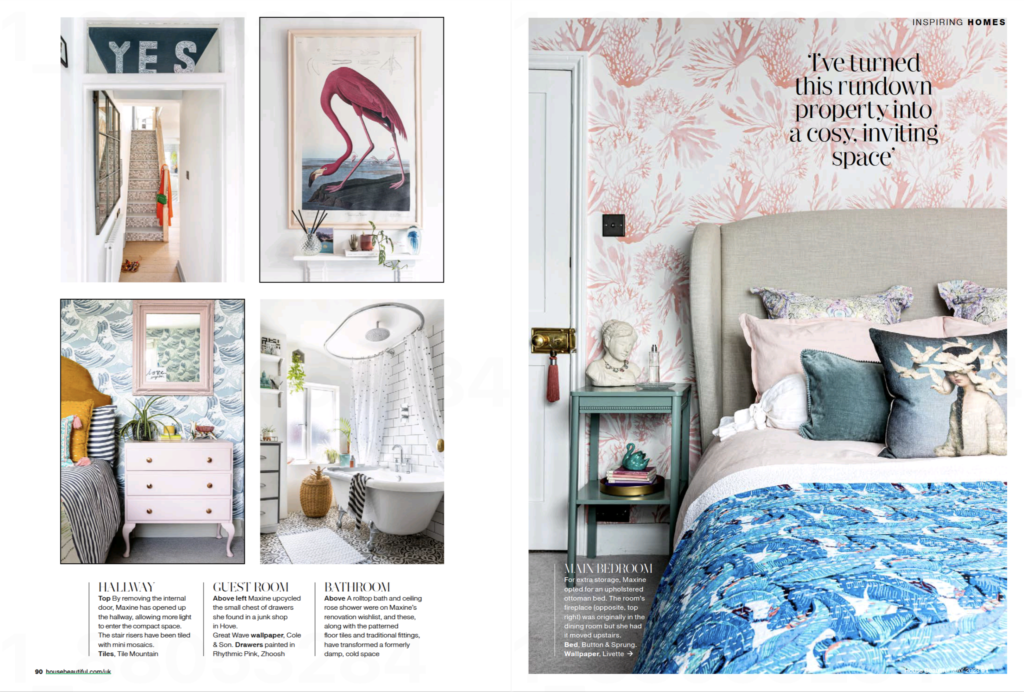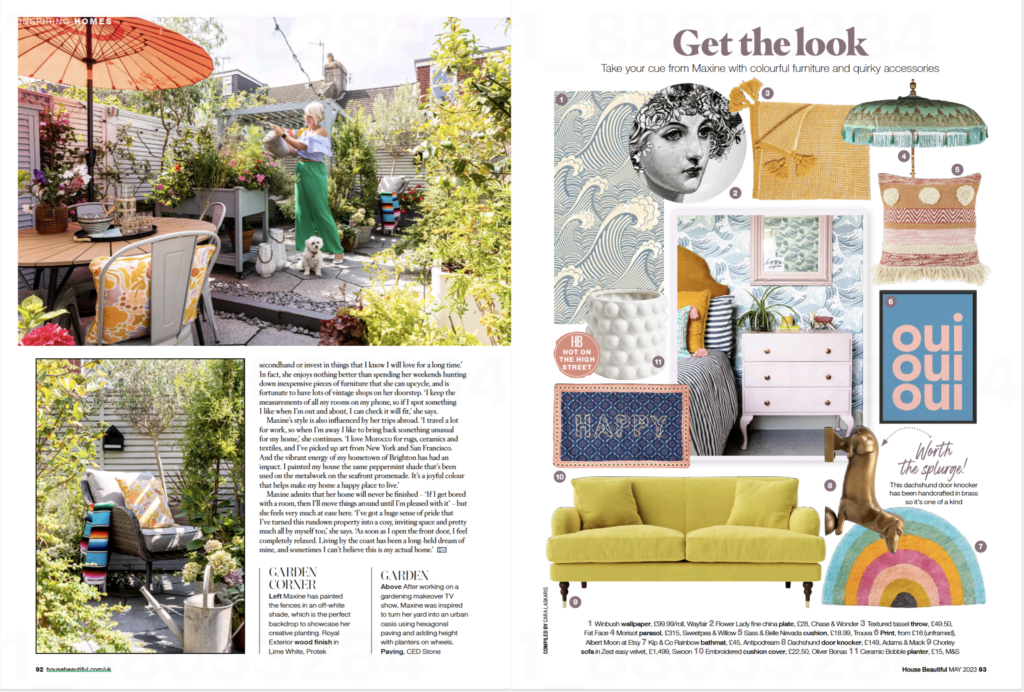 MORE Blog posts that you'll love
If you'd love to explore my home (and blog) please check out these links. You can also search for blog posts on all the makeovers & styling ideas on the home page of my blog 🙂 And don't forget I share so many home decor ideas on my instagram. Make sure to follow!
MY BEDROOM REVEAL THAT'S MODERN, FRESH AND PINK!
MY GARDEN – HOW YOU CAN GET THE LOOK
KITCHEN MAKEOVER WITH BEFORES + AFTERS
MY LIVING ROOM MAKEOVER WITH BEFORE + AFTERS
EVERYTHING YOU NEED TO KNOW ON HOW TO GET YOUR HOME INTO INTERIOR MAGAZINES
LOOK INSIDE THE HOME OF AN INTERIOR STYLIST – WITH HOUSE BEAUTIFUL MAGAZINE
Let me know what you think below. I'd love to hear from you!