Whether you've live in a petite terrace house or in a tiny apartment, small home living comes with its own set of challenges – one of them often being a lack of storage space!
If your small home needs help staying clean, tidy, and organised, then here are my 7 practical ways to create extra storage to maximising your space to it's very best!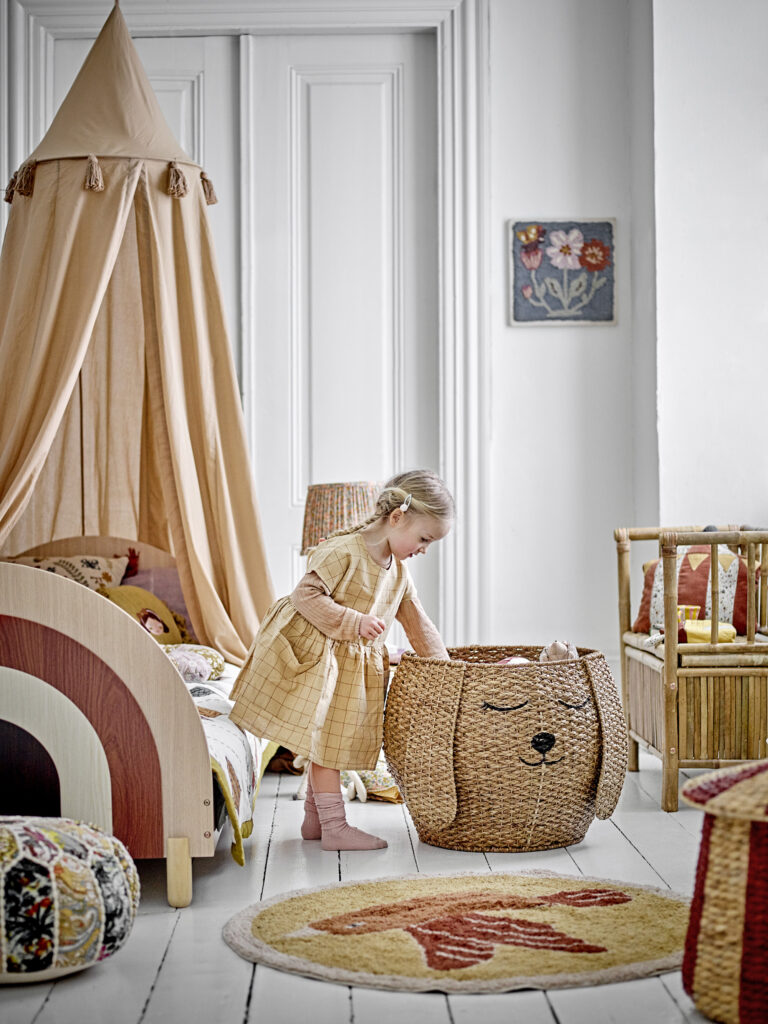 7 Practical Ways To Create Storage in A small Home
As someone who lives in a small home herself, I know how precious space can be. My pad is a traditional Victorian 'two-up two-down' terrace house and I have to make sure every inch of my property is organised. It's been hard not to let my rooms become overwhelmed by my belongings but I've used my interior design know how to make sure my home stays neat and tidy. I've picked up so many tips & tricks on my home storage journey that I want to share with you.
The most important thing I have learnt is there is only so much decluttering you can do, eventually you'll need a space for your essentials! In this blog post I share my top 7 tips to maximise your storage space. That is what I'm going to share with you today in this blog post.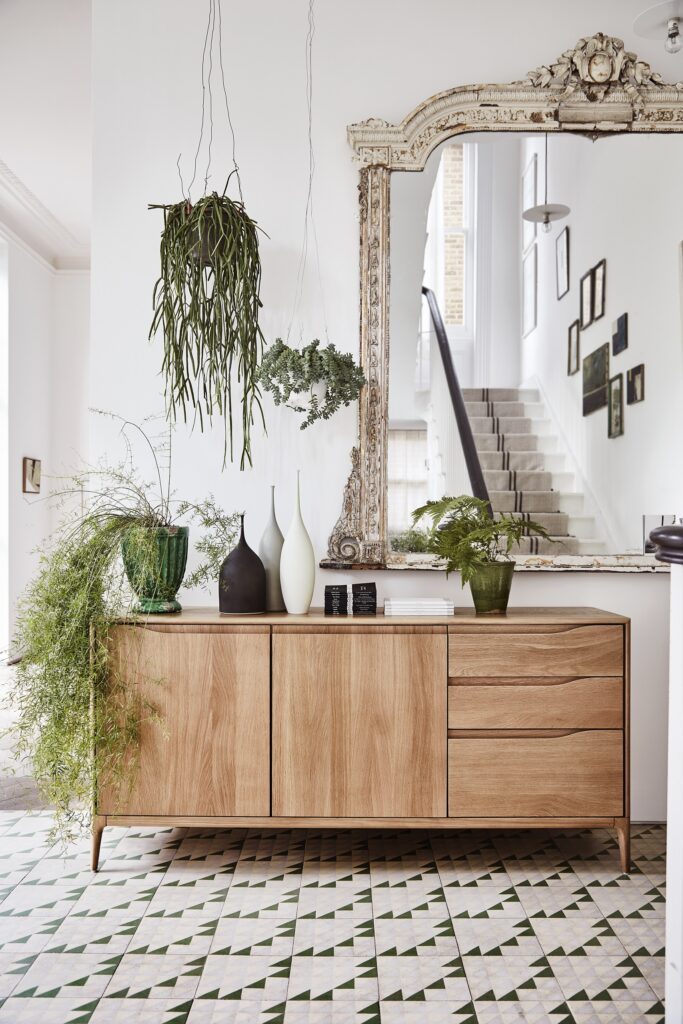 1. GET THINGS OFF THE FLOOR
When you have piles of belongings cluttering up your precious floor space, it's not uncommon that your home will feel messy and overcrowded. Instead, do your best to tidied them away and find a place for every item.
Have you thought about storing them up above? This could be as simple as installing wall shelves but also it can be more creative like hanging baskets from your ceiling or walls. Or placing an ornament on top of your picture frames or dado rail….turn it into a display. Let your imagination run wild.
Making use of space up above gives you options you didn't know you had when it comes to storage and organisation. The best part of using the wall space for storage is that you free up breathing room at the floor level. And your space will feel more spacious afterwards.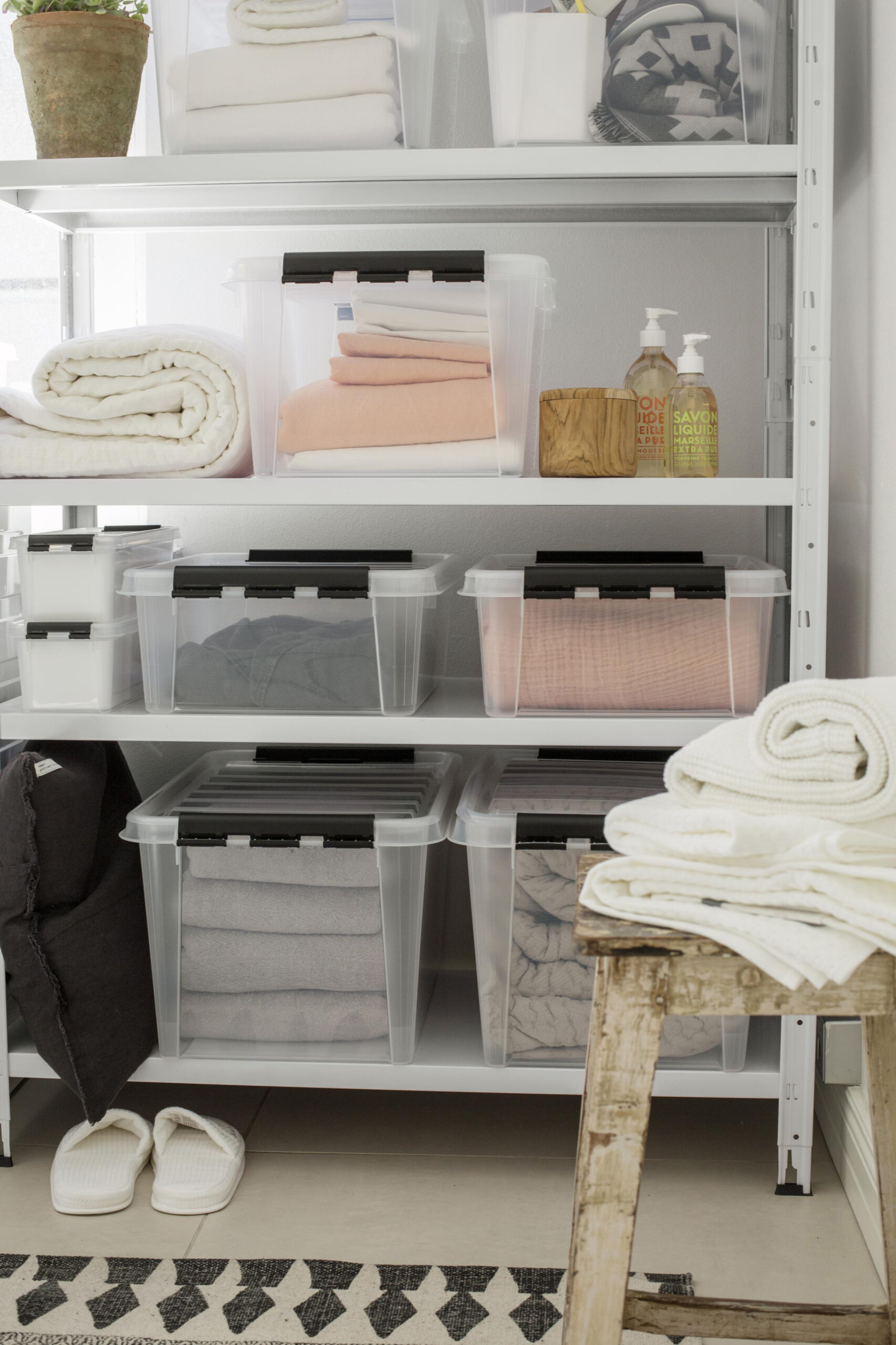 2. Utilise EVery ROom In your home
It's easy for clutter run riot in spaces we don't use every day because we tend to 'dump and run' when putting belongings away in these rooms. Underused areas of your home can be areas like sheds, garden rooms, garages, utility rooms or your loft – all of which should not be overlooked as they can be turned into heavenly storage areas!
An industrial-style storage racking is ideal for areas of our homes that might be cold, damp or both as they are rust proof and very hardy! Fill shelving with see-through storage boxes with clip on lids which will protect your belongings from damage.
For heavy duty items – like garden equipment, tools, bikes, ski gear or car parts then consider a pallet racking and shelving system that you can fix to your floor for extra stability. Once this is in place, you can pile up your belongings to fill a whole garage wall or up to the rafters of your loft.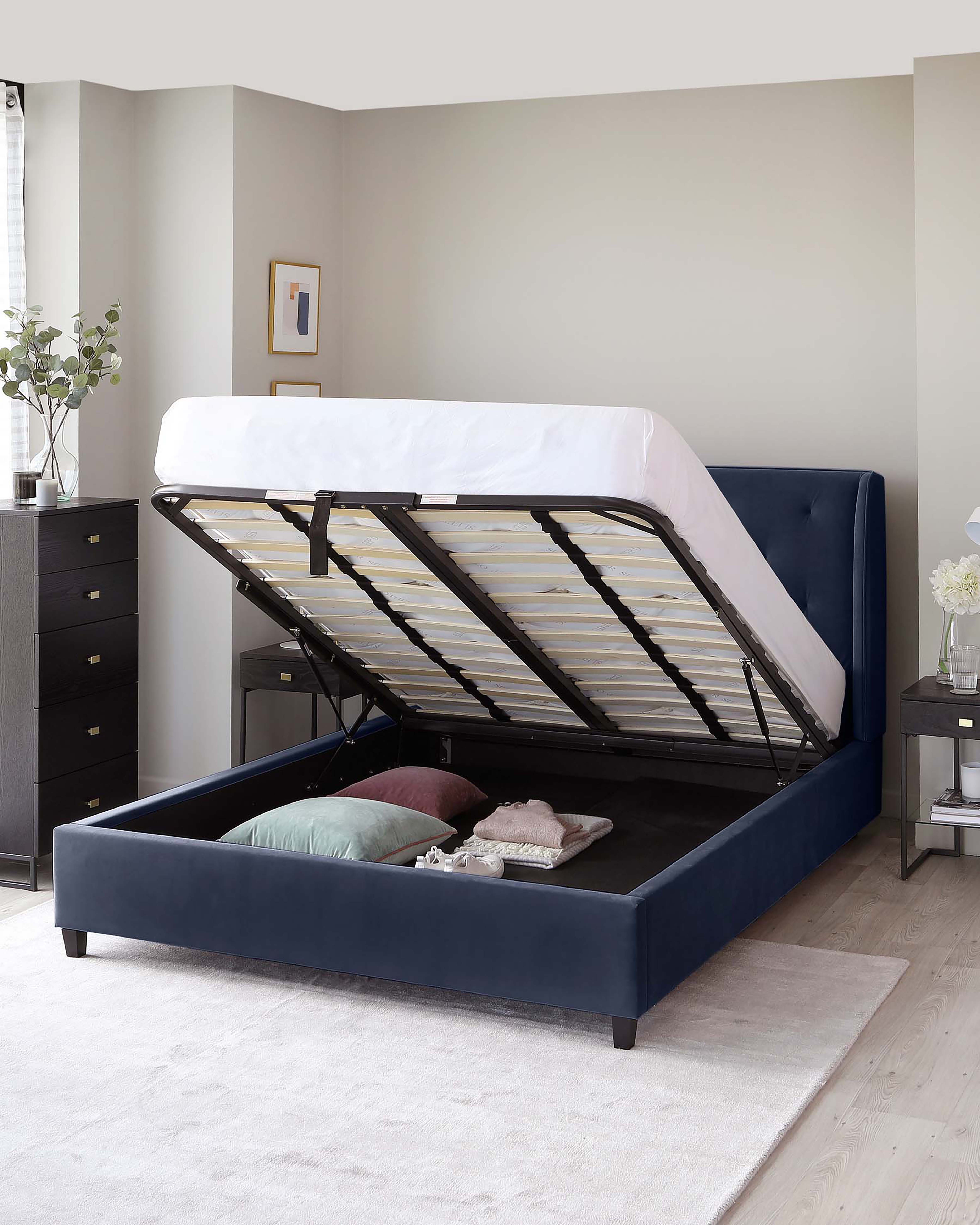 3. Look under the bed (or Sofa)
In small homes, big pieces of furniture take up a lot of vital floor space. That's why we have to make sure they give us extra storage room in return! Stashing items inside your sofa or bed will allow you to organise your small home.
In my own home, I've invested in ottoman beds for both my bedrooms that are packed with my props, extra bedding, lighting equipment, summer clothes, shoes, towels and suitcases. Together they provide as much storage space as my entire attic!
Next you need to turn your attention to your living room. Perhaps you buy a couch or sofa with built-in storage area. Modern corner sofas often have lift up offering a handy place for stashing extra blankets or bedding. I love LANGARYD corner sofa by Ikea or this one below by Sofa.com which has a nifty drawer hidden in the side. Team with a storage footstool so you have an additional places to stash your stuff.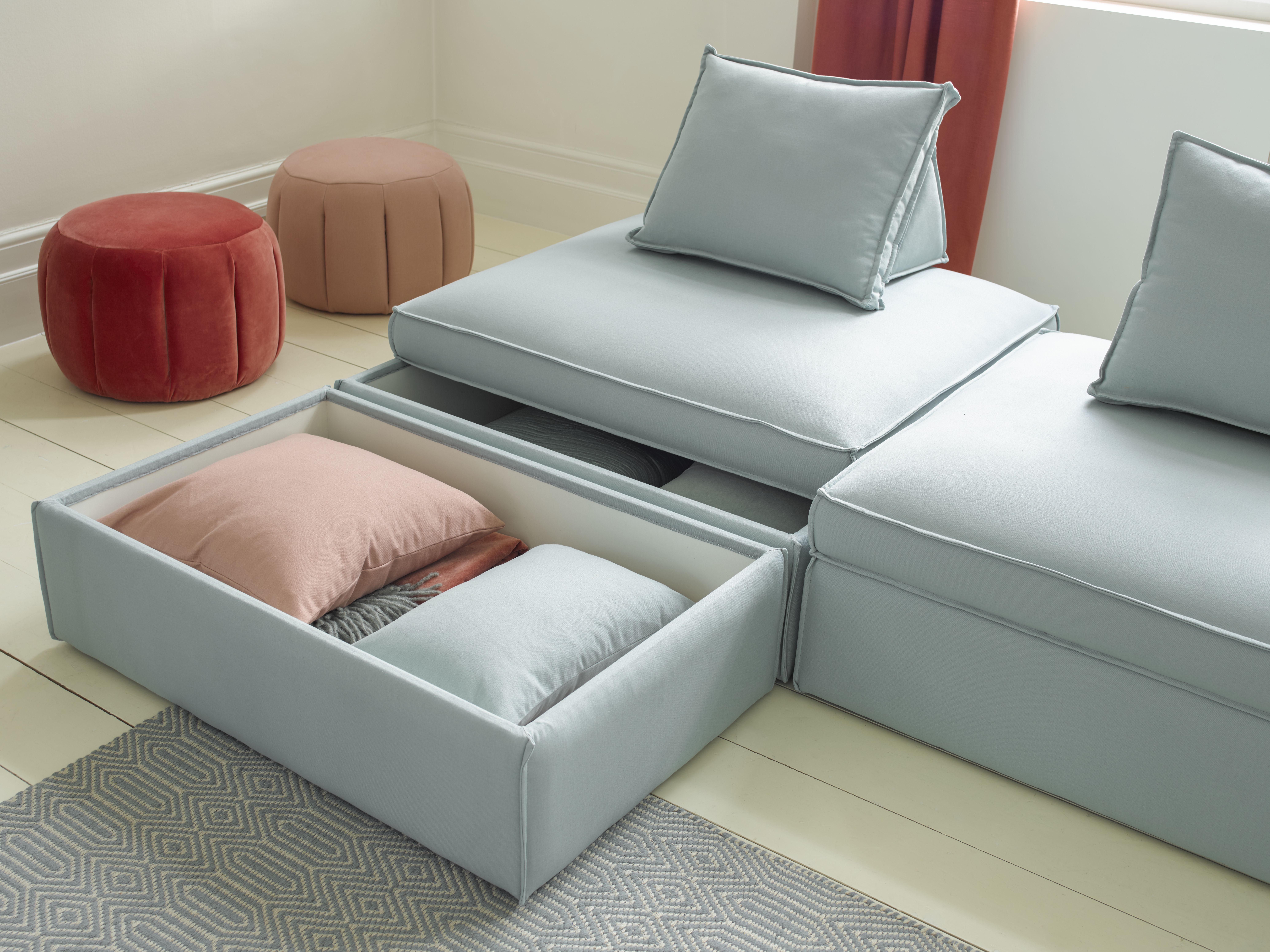 Alternatively, you could invest in roll-out storage drawers that fit under your sofa or bed which can be filled with play stations, TV remotes, wires and other home essentials.
For more advice on buying a sofa check out my buyer's guide.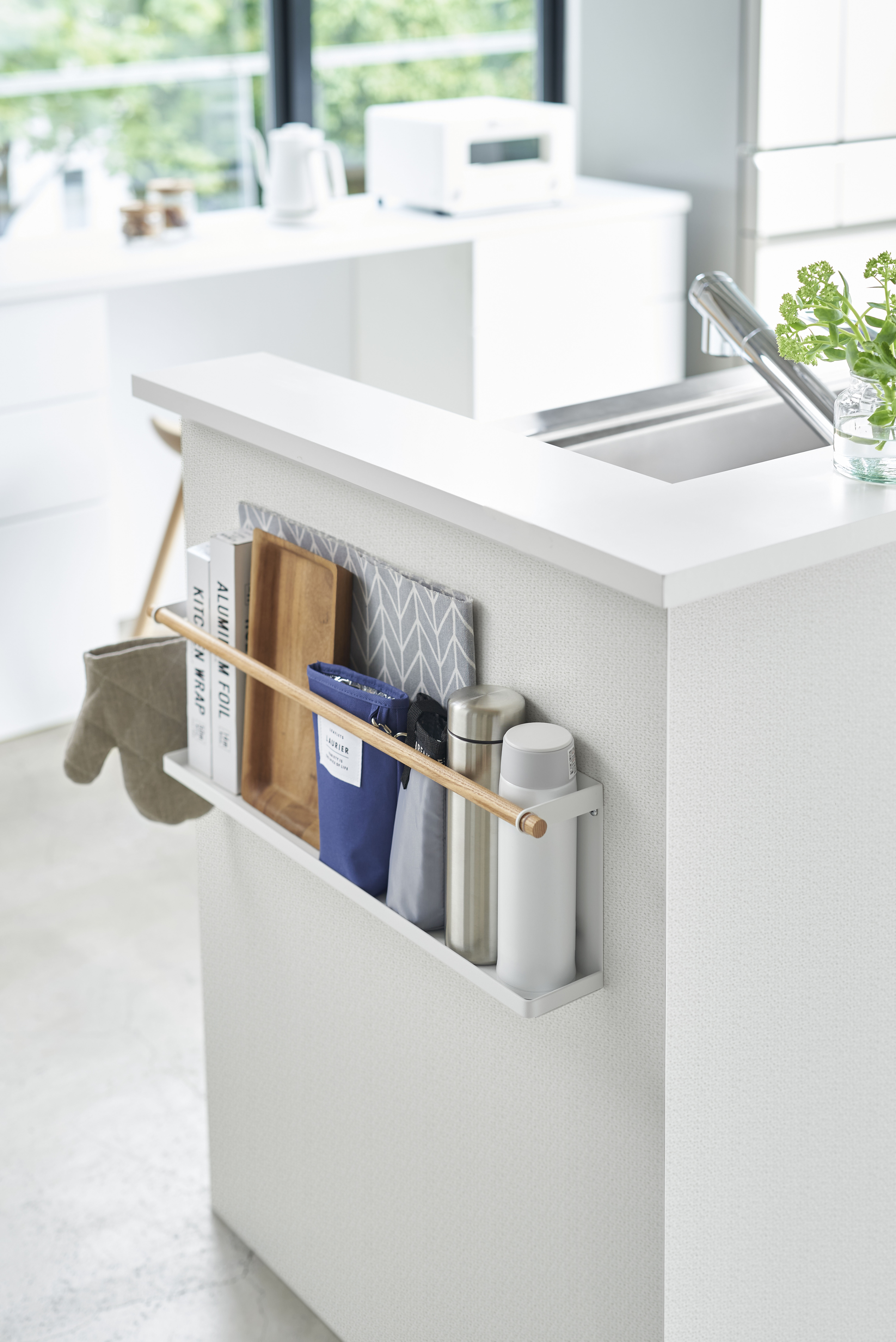 3. Fill Gap With Storage
In smaller homes, space comes at a premium so take a look around your home and look for gaps or 'dead' space. If you get creative, these can become prime locations to sneak in nifty storage solutions.
You'll be surprised how much more you can fit into your home when you do an audit of areas that you can make better use of.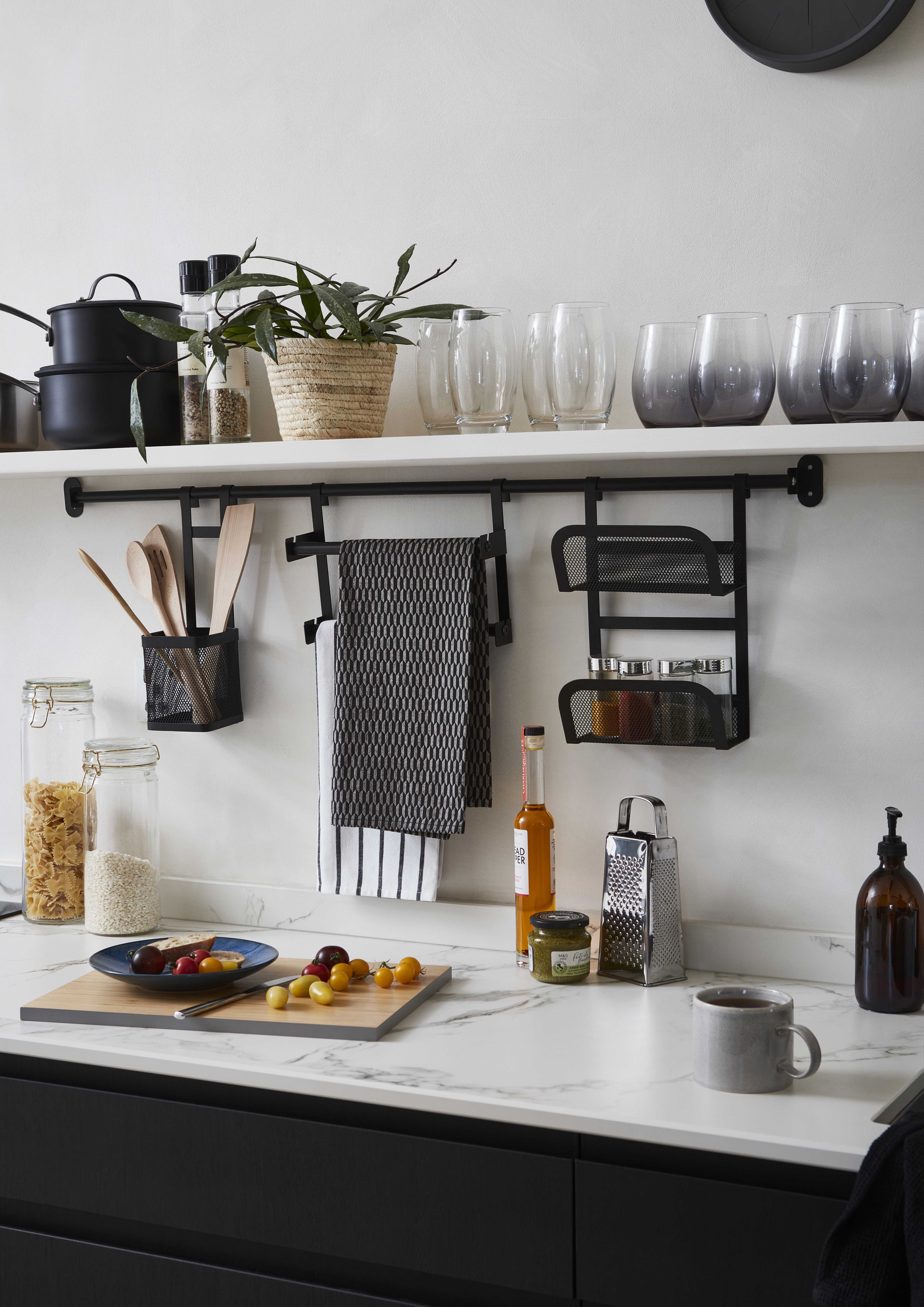 Here's some ideas how to transform 'dead spaces' into hardworking storage areas:
That gap above kitchen cabinets can house baking trays
Alcoves are a great way to maximise unused space
Use hanging baskets on walls to stash your recycling
Use vintage suitcases above your wardrobe to store away seasonal clothes
A narrow unit on wheels that can fit under your sink, basin or slot into gaps
A kitchen roll paper holder you can place under your wall units or inside a cupboard
Tiny corner shelves that free up counter space in the bathroom
Jewellery storage boxes inside drawers – clear ones are amazing for keeping your necklaces and earrings organised
Racks that you can double your kitchen cupboard space
Freestanding bathroom basin unit for your beauty items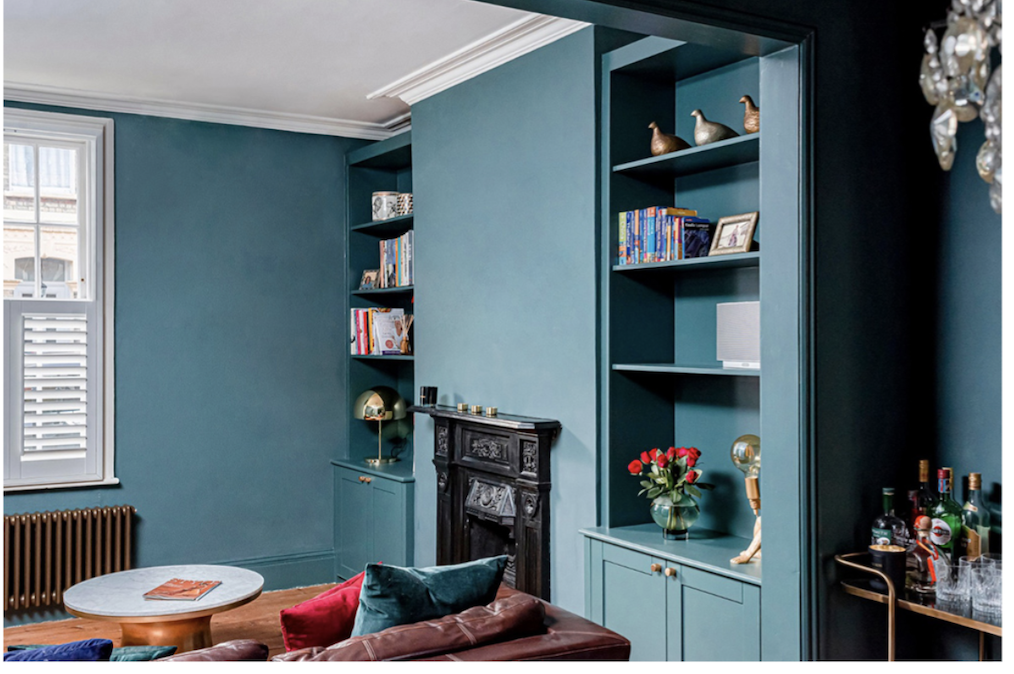 For more storage ideas for your kitchen have a look at this shopping list of pretty kitchen storage buys and these clever bathroom storage ideas.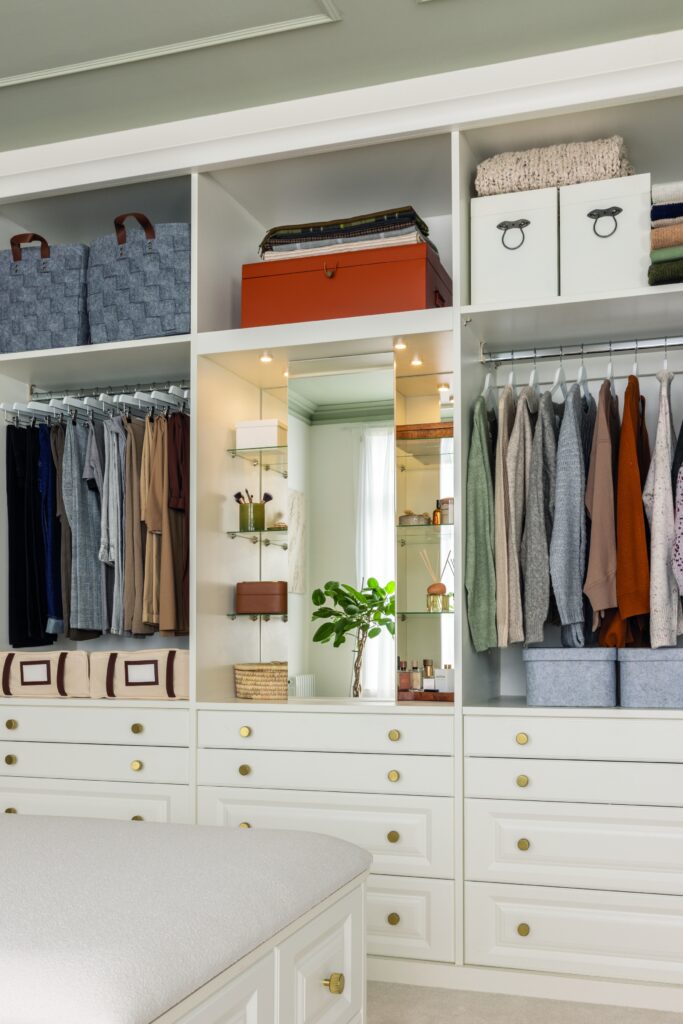 4. maximise closet space
If, like me, your wardrobe is bulging with clothes and you can't find anything to wear, it's time to have a sort out and create some order.
If you have a bit of money to invest, then I would HIGHLY recommend getting wall-to-ceiling fitted wardrobes. The ones I had installed in my bedroom doubled my storage space in my master bedroom. And I never have clothes on the floor any more! You can make the most of alcoves in your bedroom with fitted wardrobes that will provide so much storage for your clothes in bedrooms.

There are literally 100s of products that will help sort out your belongs but if you want a bit of advice on where to start, here's my blog post on how to declutter and organise your wardrobe.
Next, you'll want to tackle your drawers and rails. Hangers are your best friend in this situation. Personally, I love slim-line velvet hangers that mean I can squeeze in far more clothes (Dunelm have really cheap hangers at £9 for 25) and add in multi-level hangers for trousers (halving the space your clothes take up in your closet). In your drawers, you can invest in organisers like these foldable ones!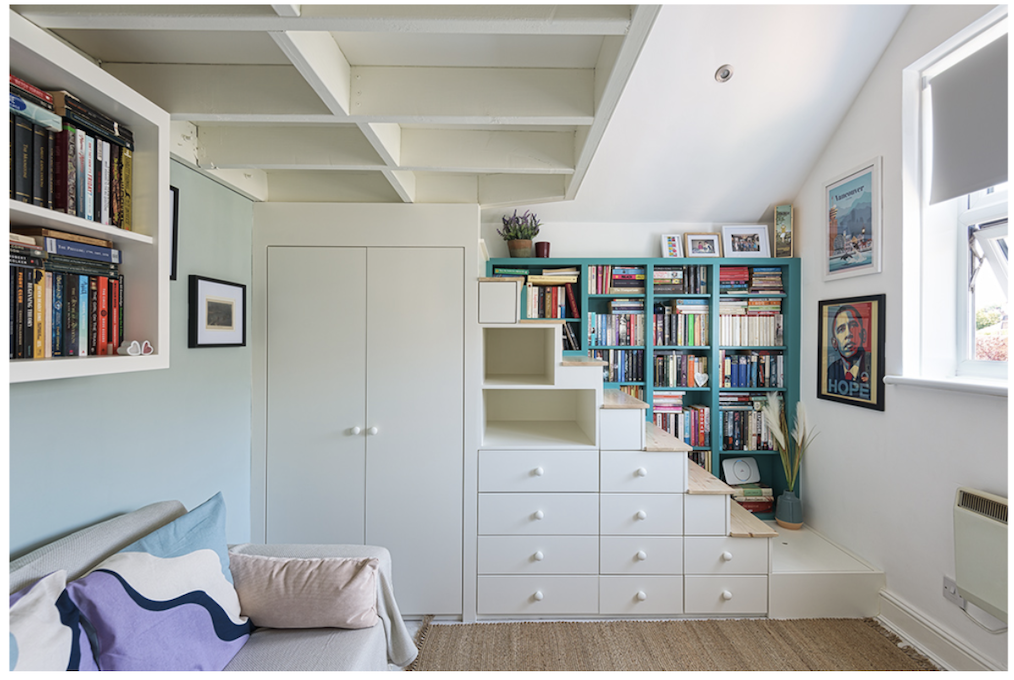 There's loads of stylish bedroom storage ideas in this post. But you can think out the box when it comes to bedroom storage with bespoke carpentry that will turn an unused space into an area that can house all your belongings.
Once you start organising your clothes, you'll look better every day too. Don't believe me – check out my instagram reel showing you how. Don't forget to give me a follow too!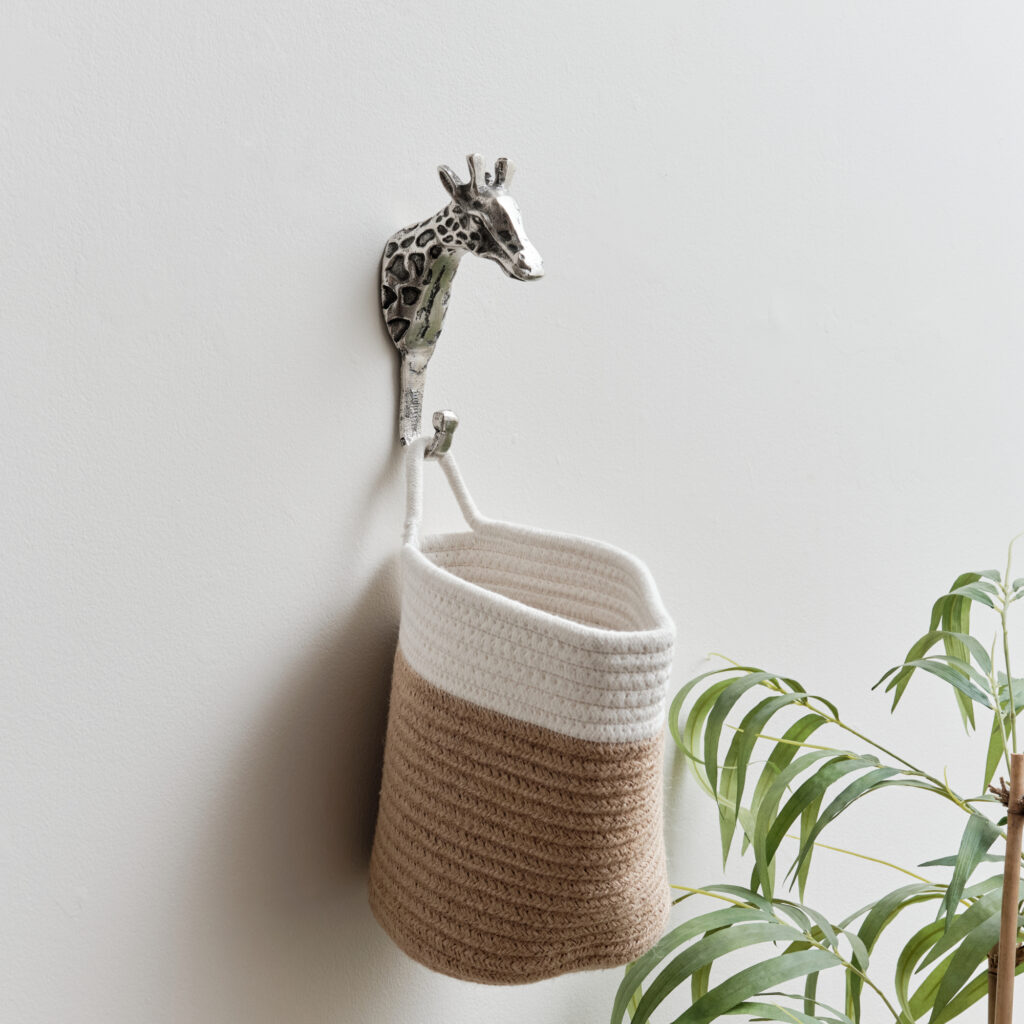 5. Add Lots of hooks
A simple hook is so useful in small homes – and they look pretty too.
You can add them to your kitchen walls, inside cupboards or have temporary ones that hang over your doors. This adds endless options for extra storage and home organisation.
You can also have hooks that suspend from your ceiling too which is ideal for hanging plants, bathroom accessories or fruit in your kitchen! And kids love hooks too especially if you personalise them with name stickers.
Hooks are ideal for busy hallways for coats & bags, for dog leads, hanging cleaning accessories, bags of toys…you name it.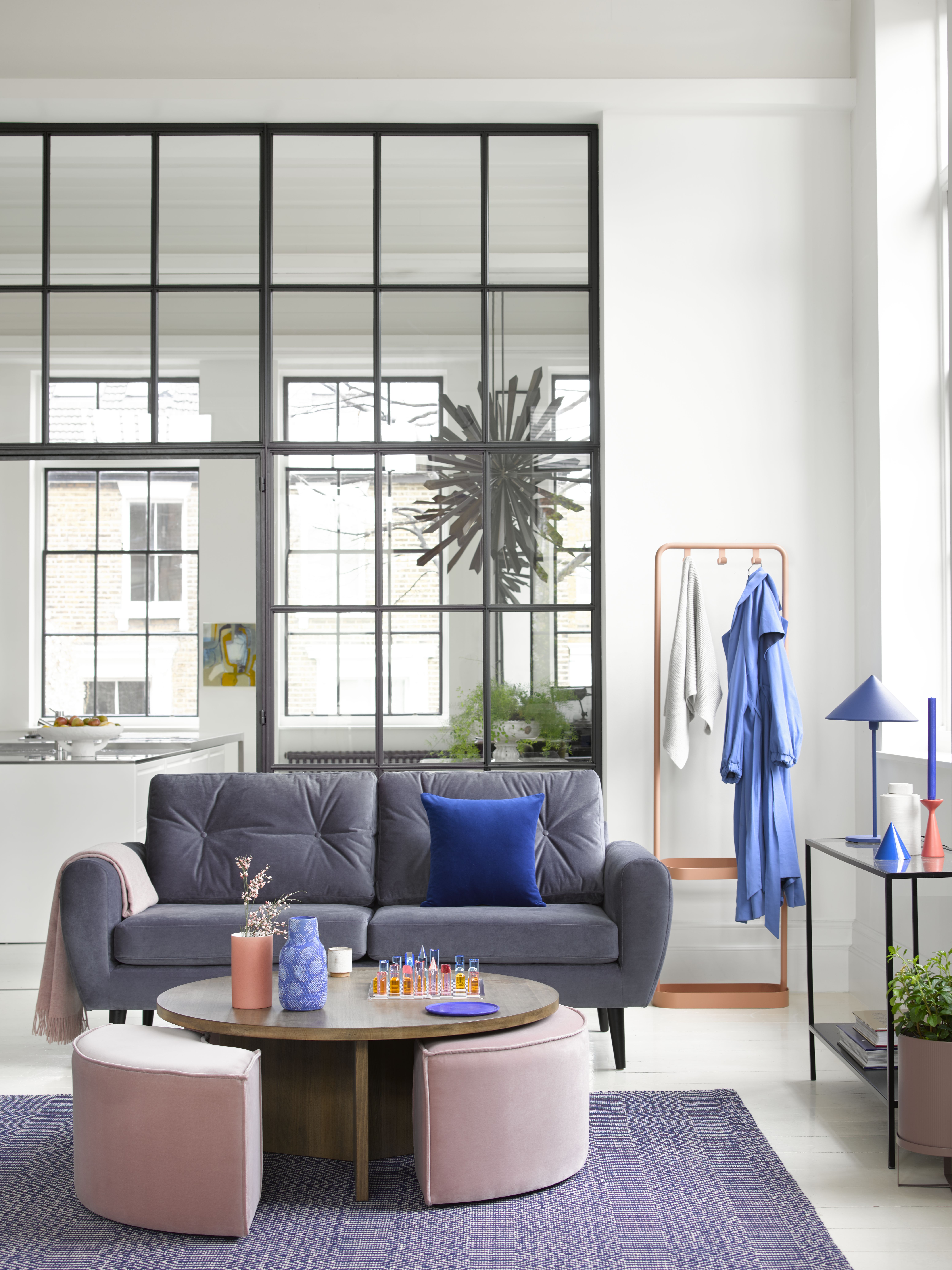 6 Multi functional furniture
Have a piece of furniture that serves many functions is the main hero in smaller homes! There are so many clever pieces of kit that solve all our home issues. Here's a list of some of my faves:
Lamp that will charge your phone
Storage table with a tray lid
Adjustable sideboard that comes in rainbow colours
Coat rack with shoe storage
Coffee table with a built in desk
Turn a unloved corner into reading nook with built in bookcase shelving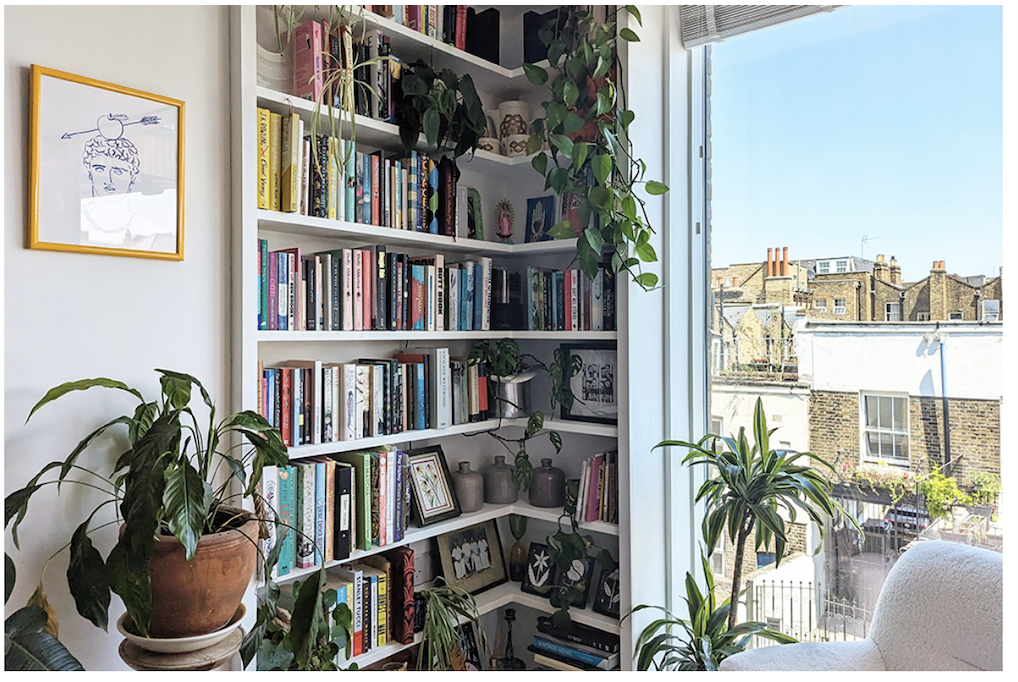 Think about what purpose your room serves you, and then look for a piece of furniture that offers a storage solution – from bunk beds to mini bars, there is a piece of furniture out there that will solve a space problem for you!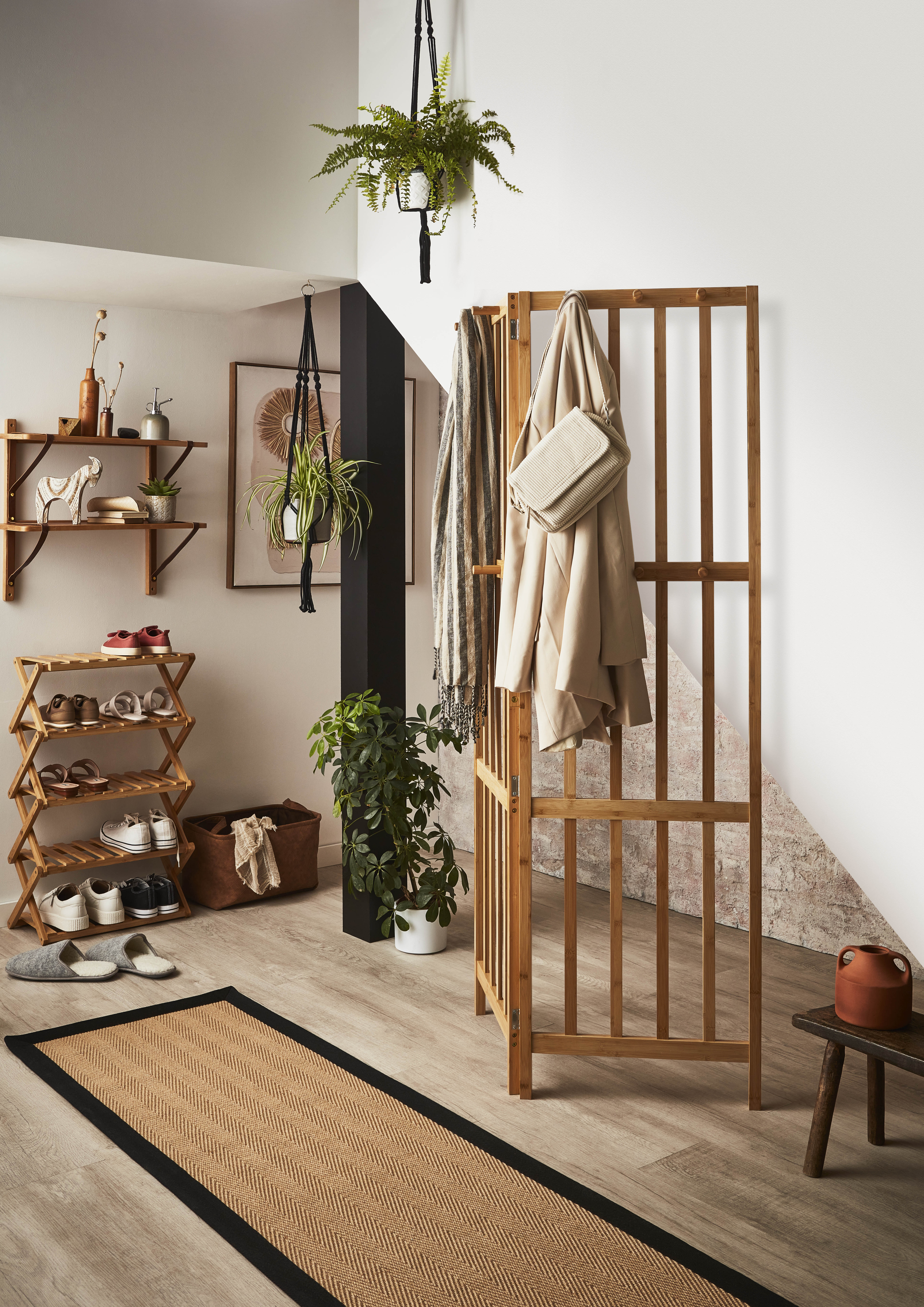 7 Fold it away
If you live in a tiny home or a studio apartment, every room might need to have several roles during the day. From home office in the day time, to a play room in the afternoons, where you watch TV in the evenings and then a bedroom at night! That is where folding furniture steps in.
There are so many clever storage solutions that you can find now that will make your space work harder. From drop-down folding beds, wall-mounted desks that flip down, folding chairs to putting your shoes on in the hallway … the list goes on and on!
And look out for folding accessories too – I have a folding wall mounted washing line that I love. As well as a pop up washing up bowl for my small space kitchen saving ample of storage.
Have you got ideas on how to create more storage in your small home or apartment? Let me know below! Share the love with us all.
And don't forget to follow me on social media so you don't miss a thing.
Love Maxine