Want to kill it on Instagram? Then you'll need to improve your Instagram engagement, and soon you'll be the boss of this popular app.
Instagram is one of the best places to reach your target audience and build a community of engaged fans. I love the app – it's so creative and fun – and I love chatting to people I have met on there. But growth can be HARD WORK! That's why I asked Kirsty from Greenbank Interiors (who has nearly 100K on instagram) to share her expert advice – her advice is actual gold. I think tip 9 will surprise you!
FOLLOW THESE 10 TIPS BELOW TO IMPROVE YOUR INSTAGRAM ENGAGEMENT
Let me introduce you to Kirsty From Greenbank Interiors…
Kirsty started her insta account in 2017 and she has seen it grow from zero to nearly 100K followers! Amazing results. All from having awesome instagram engagement. On the success of this, she launched her fabulous interior blog called Greenbank Interiors (go check that out!) She is one of the nicest people on Instagram – and she is always so happy to help.
This is why she is a pro-in-the-know when it comes to instagram.
Above is a snapshot of Kirsty's account (you can spot her in the top right corner here giving a talk about instagram at a bloggers' meet up).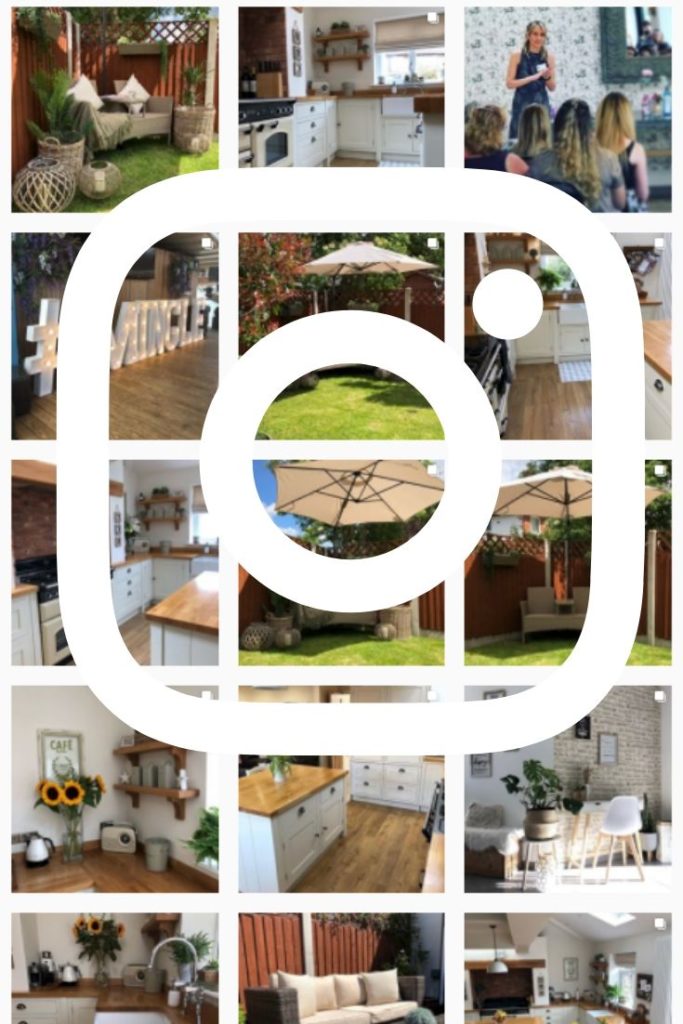 CLICK on my Instagram IGTV on how to improve your engagement right here. It's had over 3.5K views
We did an IGTV on this topic which you can sit and watch – or, if you prefer, you can read the highlights from our talk below.
What is Instagram engagement & why do you need it?
Although we would all love to have 100 K followers – if you have spent any time on the app you would know that growth on Instagram is a slow and steady progress! Realistically, you won't see a flood of followers overnight. But that doesn't matter!
Why? As a small business you want people who follow you to be really excited and interested in what you have to say. Forward thinking brands are not looking tons of followers. What they are actually looking for is accounts that have good Instagram engagement.
So what is engagement? It can can take many forms -' likes' 'saves' and 'shares' of your grid posts, Stories & IGTV videos as well as direct messages and comments. It's is a measurement of how much people are interacting with you and how excited they are to see your content.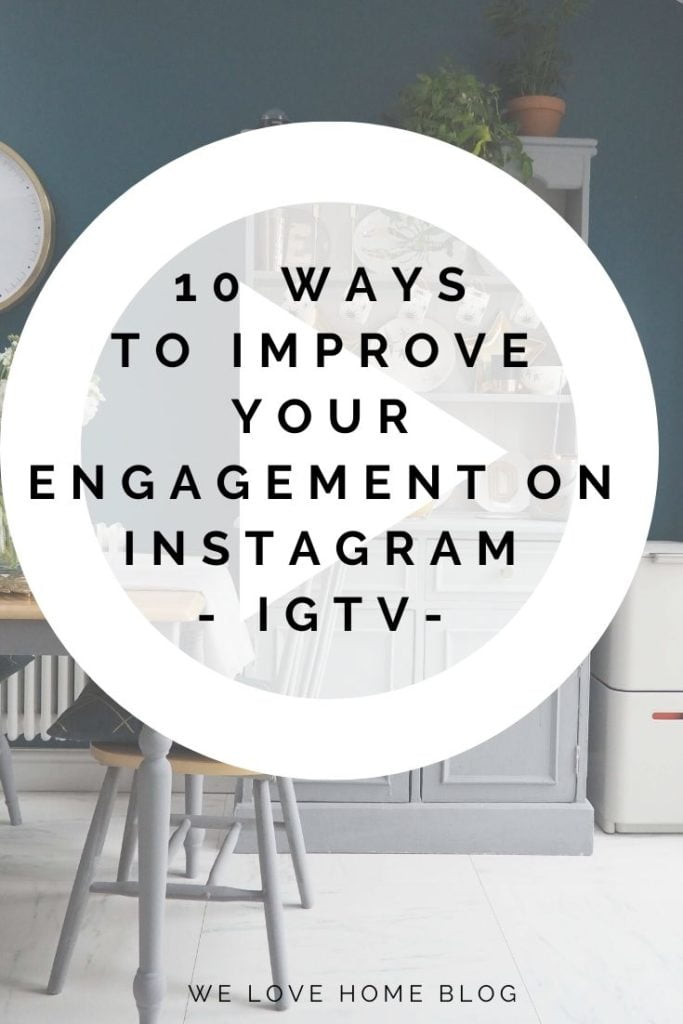 Click this image to watch the IGTV
'Engagement about drawing someone in and encouraging your followers to interact with what you are saying. It's like talking to a busy room full of 100os of people, and people stopping what they are doing and listening to you!'

Kirsty, Greenbank Interiors
What is the benefit of having good Instagram engagement? If a post does well (ie lots of likes, shares, comments…) then instagram will judge your content as high-quality. It will then share your posts across the platform with people that may not already follow you. That is called the algorithm!
Instagram will push content that has a good engagement rate to more users – and there is potential for you to gain more followers or reach out to more of your existing followers who are more likely to buy into you and your brand.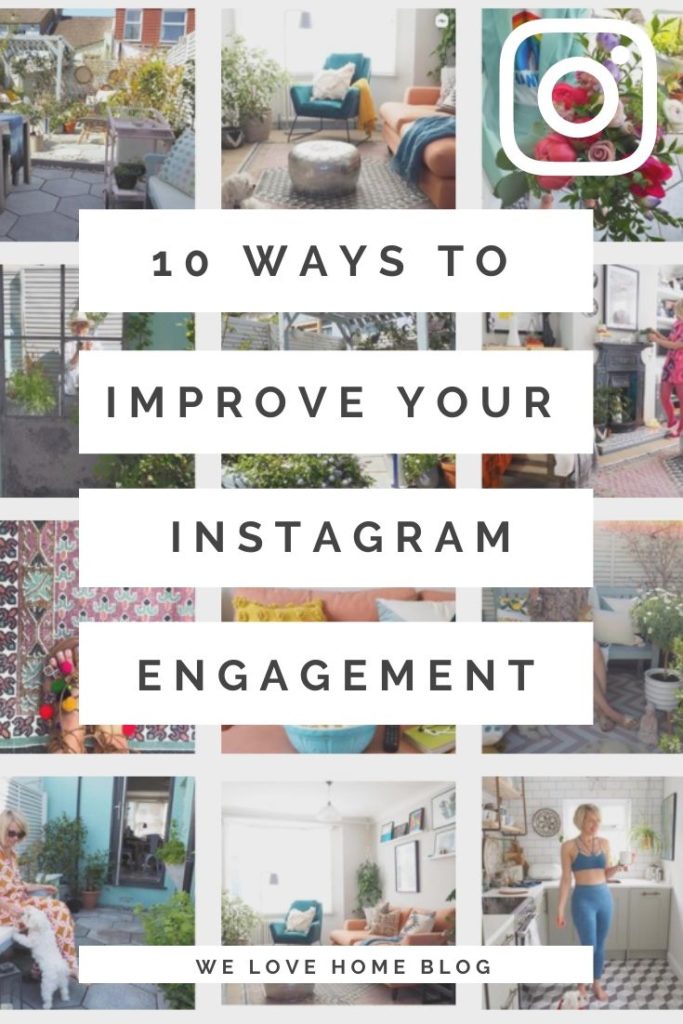 1. CHANGE YOUR ACCOUNT
First step is you need to switch to either a business or creator account. You'll find out how to do this in your settings.
Why? Well with these two type of accounts, you'll get access to your instagram statistics which will show you in detail who your followers are. That will include their age, sex, location as well as what time they are on the app.
Knowing what your followers look like, will give you an idea of what type of content they are looking for from you.

Kirsty, Greenbank Interiors
I have a creator account for @welovehomeblog – and it helps me see who is looking and following me. For example my followers are 85% women are aged 25-35 and live in London. My followers are looking for lifestyle inspiration and aspiration – they want to see more of my hometown of Brighton, home interior updates and styling demos.
It helps me create the right content that they will interact with them which will produce better Instagram engagement overall.
This is what my stats look like >>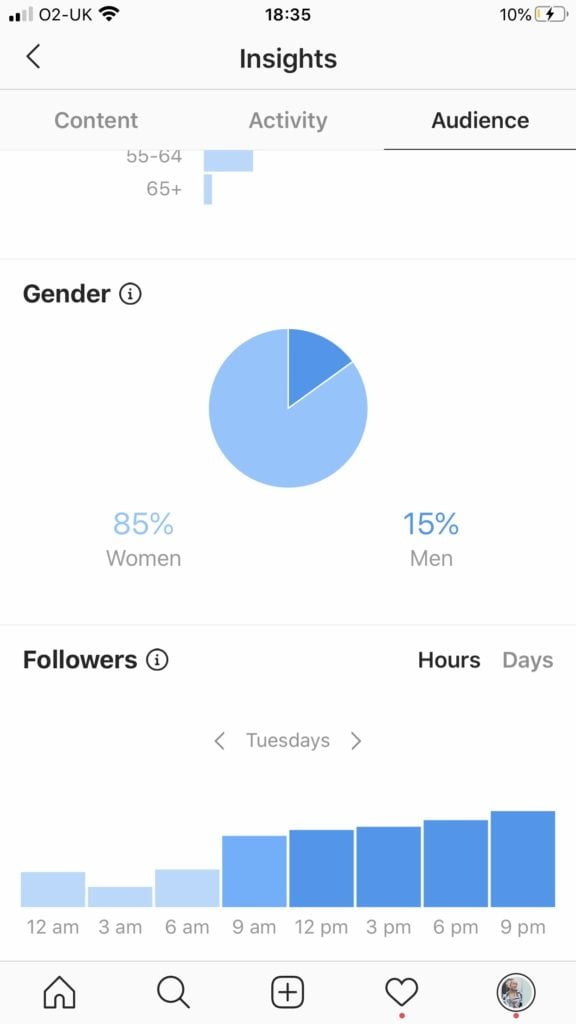 2. POST HIGH-QUALITY CONTENT
Make a promise to yourself to make the best content that you can! From great looking photos or interesting captions. The best posts on instagram are visually appealing and scroll-stopping are great images that capture the eye.
When you take photos have a think about the background, the styling, tidy up your room and make sure you are taking the best photos you can with the tools you have. You don't need a fancy camera – you can use a really good phone camera to take great photos.
Snaps of your lunch or blurry photos of your cat are not going to cut it if you want to grow your instagram account.
Using my Statistics I could see my most popular images on instagram are of my kitchen
3. USE HASHTAGS
You can add up to 30 hashtags onto your posts. DO IT! They are a great way of getting your content in front of people that don't follow you yet.
Have a look at what hashtags that the bigger brands are using. And note them down and start use them across your posts. Start saving up a bank of hashtags for your images. I use a planning app – Plannoly where I can save my hashtags and schedule my posts. If you use the link here – it's an affiliate link. I have them under themes – like living room or bedroom, then I have hashtags that are really popular for interiors like #apartmentherapy or so #domino
For more hashtag tips – watch my IGTV video.
My best performing posts usually have me in them!
4. SHOW YOUR FACE
Your followers want to see the face behind the brand. And that is YOU!
Feeling shy? Stories are a great place to start – chat to your followers and show them the behind-the-scenes of your home/wardrobe/business/life.
Be brave – and introduce yourself to your followers. Let them into your world and show your human side.
This post where I shared my dining table styling tips reached out to over 35K followers
5. REWARD YOUR FOLLOWERS
When you followers take the time out to share your content or comment on your post – then thank them by engaging with them.
How? Reply to comments on your grid posts, reply to direct messages in your instagram inbox. And make sure you sure comment on your followers posts as a thank you for engaging with you.
If you have interacted with your followers on their posts, they are more likely to comment back on your posts again and again.
Asking my followers what colour to paint my home made this post my top 10 on instagram this year
6. ASK QUESTIONS
Give your followers a reason comment or like your post. This is called a 'call to action'.
For example – I asked people what colour I should paint my house. I've shared my goals and I've asked my followers to share theirs with me. I've asked gardening advice or for an answer on what dress I should buy! Anything I need a second opinion on really!
Ask your followers to get involved is like asking them to invest in you and your brand. And they will love sharing their opinion with you.
7. INTERACT ON STORIES
Instagram want us to use all elements on the app. That is especially so on Instagram Stories. Give all the features and functions a try. There are stickers your followers can interact with – from polls, to questions, to swipe up features.
If your followers tap or engage with these polls on Stories, then Instagram will think you are creating popular content – and will share your Stories at the top of the feed. And it means you followers are more likely to see your grid posts too!
Kirsty chats loads more on Stories in the IGTV so make sure you watch it!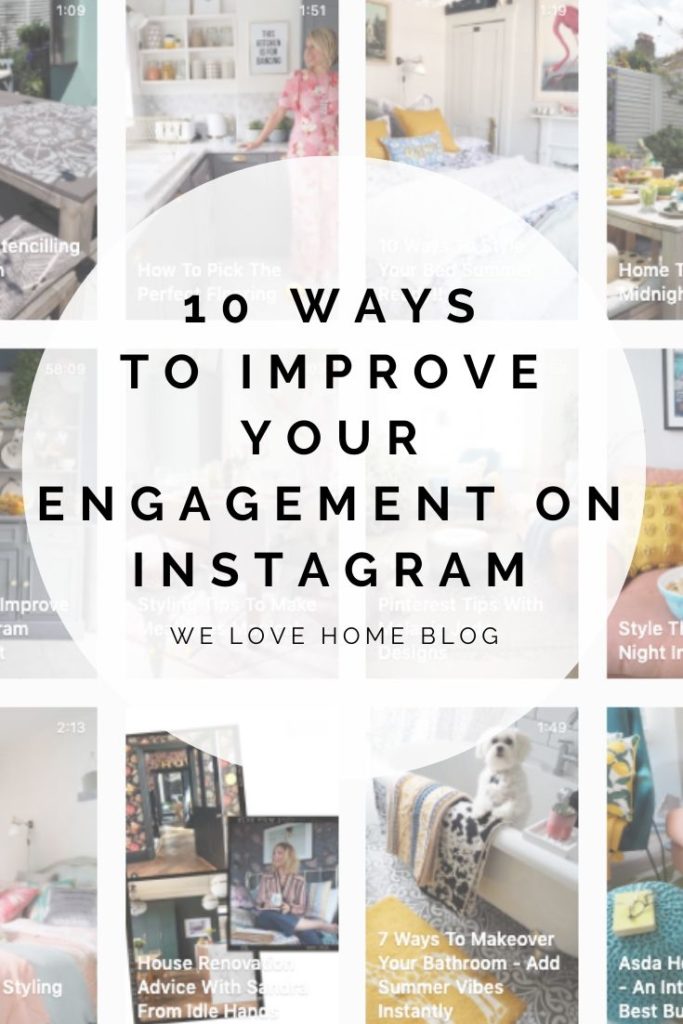 My LIVES & IGTV videos have so super popular with my followers and give them a chance to interact with me too asking me questions as I help solve their problems
8. POST AT THE RIGHT TIMES
You need to post your content when your followers are going to be on the app. As a general rule – you want to post around 7-8am and then around 9pm (after the kids have gone to bed).
But as we found out in our IGTV – Kirsty & I have different types of followers who come on the app at different times and at different days of the week. This is why it is so important to deep dive into your stats (see tip 1)
9. SHARE YOUR KNOWLEDGE
Teach people something new – and they will love you for it! Share your expert tips and inspiration in your captions and Stories. If you find an answer or solution to something that you know your followers will love – share! Because sharing is caring.
Teaching people something new gives your followers a reason to engage with your content. On my account – my followers love my styling posts and videos, as I show them how to style their home in an interesting way!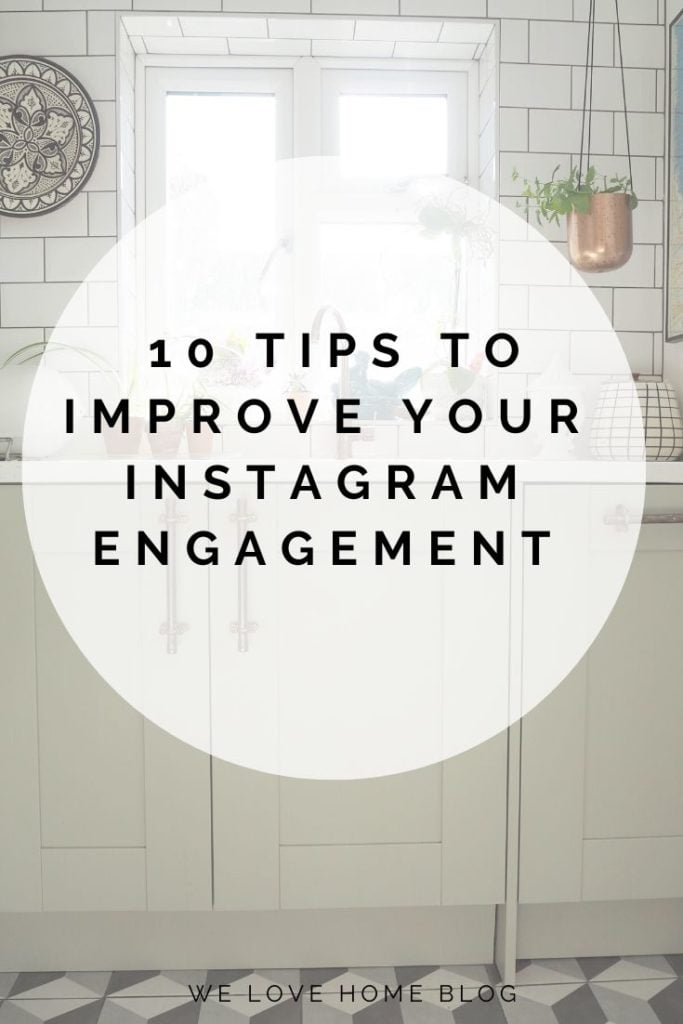 10. PUT IN THE EFFORT
Instagram takes time and effort. You need to put some homework and time into the app! You need to comment, like and share with your followers. You need to show your face. Think about what you are posting. There is no quick fix to getting growth quickly.
I spent about 2.5 hours a day on Instagram and I about 5 hours a week creating content. Not everyone is crazy as me – but the more effort you put in, rather than endlessly scrolling it will reap benefits.
What do you think of these 10 ways to improve your instagram engagement?
I hope now you feel you have a plan in place to get back on the app and increase your Instagram engagement. I know that after my chat with Kirsty, I was ready to get sharing, commenting and sharing with my followers.
Love to know your thoughts – pop them in the comments box below. And don't forget – to watch the IGTV and share this post with anyone else looking for instagram help,
Have you got any tips you would like to add or share? Please place them in the comment box below.