Just because you rent it DOES NOT MEAN you can't have a beautiful (and stylish) home. In this post, I'm discover top 10 cheap & easy decorating tips for renters – so you can have a space that will make your heart flutter even. Time to get creative with your rental!
---
Making your space feel like home when you're renting can be a real challenge. For years I rented horrible flats in London and I had to put up with my landlords magnolia walls, cheap carpet and dreadful furniture. As a budding interior stylist at the time, I was dying to flex my decorating skills but my Landlords said categorically 'NO!' That was way back in the 00s but times have since changed.
There are now blog and instagram accounts dedicated to showing you how you can create a stylist space even if you rent. I asked one of my favourite instagram accounts – Emma Jane Palin – who has built up a huge following sharing her DIY projects on three of her rented homes.
Check out these genius 10 cheap and easy decorating tips for renters
1. Just ask! Converse and pitch to your landlord.
Yes, that's right – talk to your landlord. Don't assume they will say no to painting a few walls. According to Precondo, it is in your best interest to discuss your detailed plans with your landlord before going ahead with anything. This will help you see what you're realistically allowed to do with your home design before making too many plans.
In order to get your landlord to agree to your designs – you'll need to be able to pitch your decorating ideas to them successfully. Emma suggested coming up with a mood board to visually show a landlord what you want to achieve with you rented home. This will help to show them what you want to do. I've written a how-to on mood board to give you a guide on what to include.
If you are in the process of looking for a home to rent, then bring up your styling ideas before you sign a rental agreement. As this when you have the most bargaining power with your landlord. Remind your estate agent or landlord that happy tenants are most likely to stay for longer terms in a rented home – which will save them on times and fees. Use that info to your advantage when pitching your decorating ideas.
If your landlord says YES! Also hold in mind that you will need to be prepared to paint back your rented home back (Emma had to paint her walls back to white several times).
2. Command strips for renter-friendly picture hanging.
Have you heard of Command Strips? As an interior stylist, I use them all the time on shoots when I want to avoid banging nails into a wall. Command strips are sticky pads that you can use to hang pictures, art, coat hooks or even plants to your walls.
And when you are done, you can gently pull them off and they leave no damage to your walls.
They can stick heavier items (like framed prints) to your walls. Emma created a instagram-friendly gallery wall in her home using Command Strips which has injected her home with cool-artsy-vibes.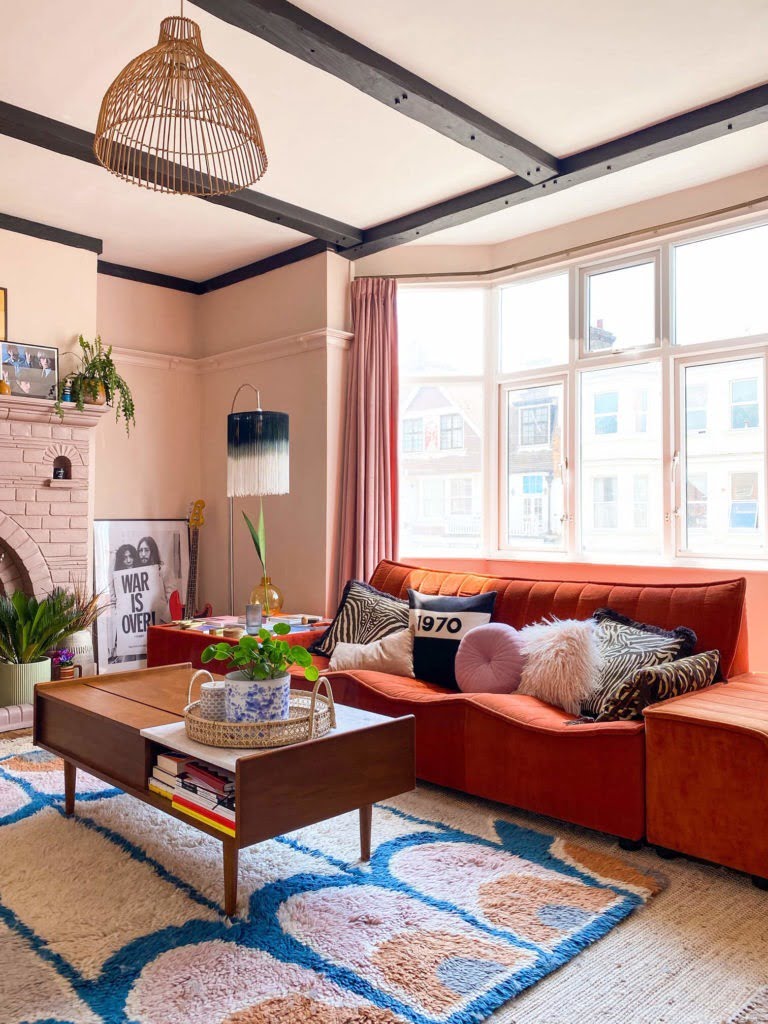 3. Shop vintage for affordable but long-lasting furniture
When you have paid out your deposit, estate agent fees and rent, there often isn't much money left to buy all the fun things – like furniture or accessories.
That is why every renter should be on first name terms with their charity shops! They are the best placed to pick up affordable art, furniture and accessories for your home. And when you move, you can sell them on if they don't fit into your next rented abode.
Emma is a huge fan of eBay. Most recently picking up an 1970s orange sofa for her living room which fits into the space perfectly. As she didn't pay mega bucks – if when she moves again, needs to sell it she hasn't wasted a ton of money.
Another good place for home bargains is Facebook Marketplace and Gumtree as they are both local to you and jam-packed full of goodies to suit all renter's budget.
Look for well made, good quality items and think about how things work together to create a stylish look. A jumble of hand-me downs will look cluttered and temporary. Be considered when buying for you rented home.
4. Hide ugly radiators
One bug bear for Emma are ugly radiators. Not only do they look vile, they can destroy the overall look of your room. She has loads of ideas on how to cover them up – from painting them or fixing inexpensive radiator covers or wraps which she chats about on her blog called How To Transform Ugly Radiators. Or you could just position furniture in front of them!
If you really hate them, pitch to your landlord that they replace them with prettier versions. Modern radiators are super affordable these days, plus they are more energy efficient. I replaced all my ugly radiators for old-school column style ones which has transformed my home.
If you do all the research, find good but cheap ones, and even get a quote for a handy man to fit them – how can your landlord say no? And if he does – well you haven't lost anything by asking, have you?
5. Removable wallpaper and flooring
As an interior lover, you will know that cheap flooring and ugly walls can ruin a room scheme. There are loads of cool ways to update your floors – even if you rent.
Use removable wall decals if you don't want to wallpaper everything which you can then take off when you move out. Emma covered the side of her bath which you can see here.
You can also use decals on your floor – check out Grillo Designs who has loads of cool ideas
Ask you landlord if you can sand the floorboards. You never know…
Cover over ugly tiling with sticky wall tiles. Check out this post by Kimberly at Swoonworthy blog
6. Painting small details such as stripes
Now this is one idea I can totally get my head around – rather than painting a whole wall – paint a cool design up above where the picture rail might have been. Or behind your bed to create a head board.
One tin of paint can make a huge transformation in a room. And the best bit? There is less to paint back when you eventually move out. Check out Emma's How-to paint stripes & scallops post.
7. Invest in door furniture
Change up fixtures and fittings (such as door handles, cupboard handles, curtain poles). You can always take these with you when you move out. Just makes sure you remember to safely stash the original ones you take out!!
Emma painted her kitchen units and swapped out the handles to give them a polished look.
8. Layer rugs to hide ugly carpets
If your rented pad has the WORST CARPETS EVER – then then large areas rugs can cover over horrible carpets (and you can take them with you when you move out).
You will find these posts helpful:
10 RENTER-FRIENDLY RUGS UNDER £150
8 RUGS FOR EVERY STYLE & SPACE
7 BOHO RUGS UNDER £200 – THAT YOU'LL WANT RIGHT NOW
THE BEST PLACE TO BUY DESIGNER CARPETS AT BUDGET PRICES

9. Make it all about the soft furnishings
Cushions & throws don't cost the earth but are an easy way to update a drab looking sofa or add colour to a boring bedroom.
Look out for furs, throws with bold prints – that you can use as a wall hanging, and treat yourself to a few chic scatter and floor cushions. Oh – and I'm a huge fan of a foot stool too.
10. If in doubt, add plants!
Plants instantly add personality to a space, turning a rented house into a happy home. Pop trailing ones on your shelves, create a feature in your fireplace or dot larger ones in corners to add leafy love to your home.
If you want to hang them – then a clever ideas is to use a tension rod in alcoves or in window frames and then hang them off there in cute planters.
What do you think of these 10 Cheap & Easy Decorating Tips For Renters?
And all the pictures above are taken from Emma's beautiful home. Her instagram accounts and renter-friendly blog are both worth a follow.
And of course, you can watch our IGTV on the topic of decorating tips for renters. We go in deep with our ideas on how to vamp up a rented home to make it feel A-MAZING!! It's had over 2K views so worth watching for a bit of deco inspo.
Love to know your thoughts on this topic below. And share any of your decorating tips for renters with us.
Have a great day.